You might have heard someone say that email marketing is dead.
That's just not true.
In fact, for every $1 spent on email marketing, the average return is $42. You're also 40 times more likely to get new customers from email marketing than social media.
Those statistics tell us everything we need to know about how effective email marketing can be.
To achieve those results, you need to find an email marketing service provider that offers top-of-the-line services.
I've written this article to help you, and I've listed the best email marketing service providers out there.
To start with, let's go through what features your email marketing service provider should have in order to be effective.
4 Features To Look For In Email Service Providers
There are certain features you should look for when selecting your email marketing service provider.
1. Marketing Automation Tools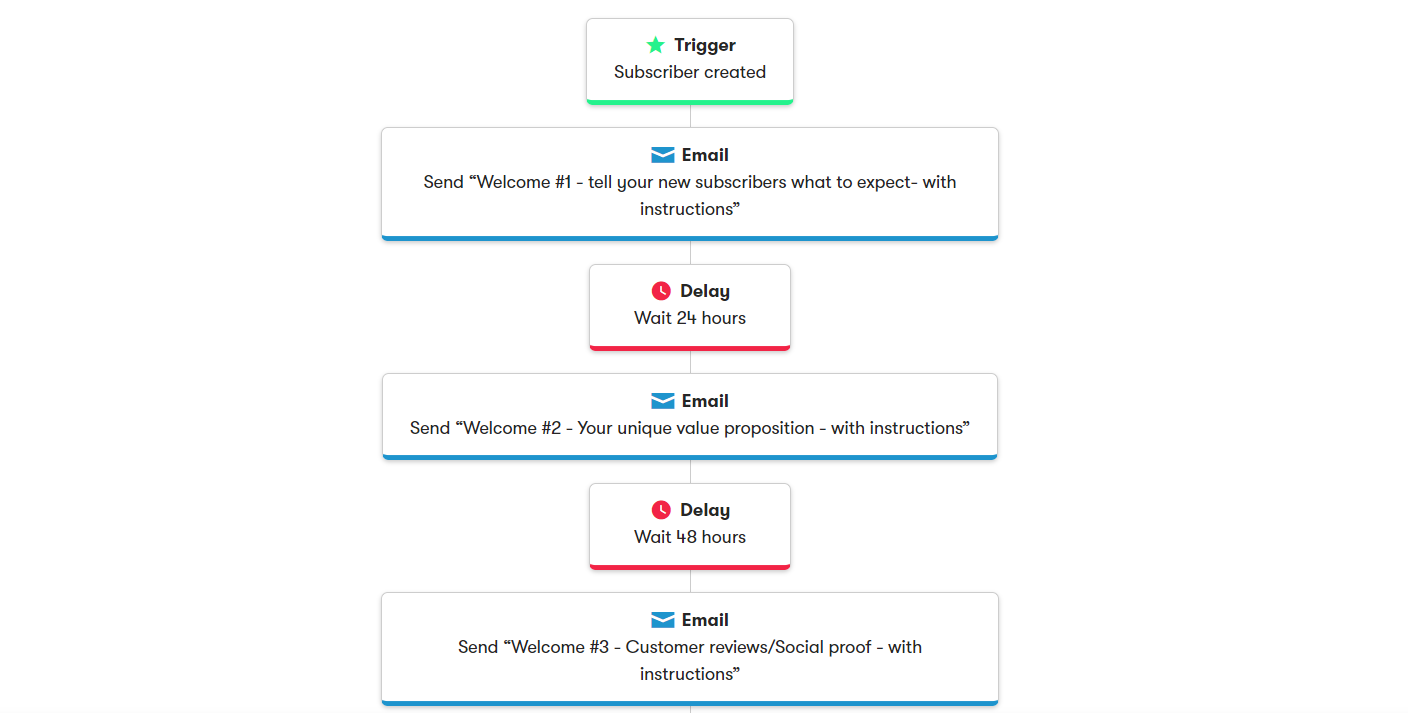 Without marketing automation, you can't properly segment, personalize, and optimize your email campaigns. Automation will enable you to track website visitor behavior and send personalized emails accordingly.
For example, with the help of automation tools, you can set up a welcome email sequence for new subscribers or an automated reminder series for people who have forgotten to complete a purchase.
2. Available Templates
If your email marketing service provider has a good selection of templates, that's a big plus.
Good marketing automation templates will not only help you create appealing visuals but also ensure that your emails look great across all devices and platforms. It's especially important that the templates are optimized for mobile, as the majority of email views come from mobile (41%).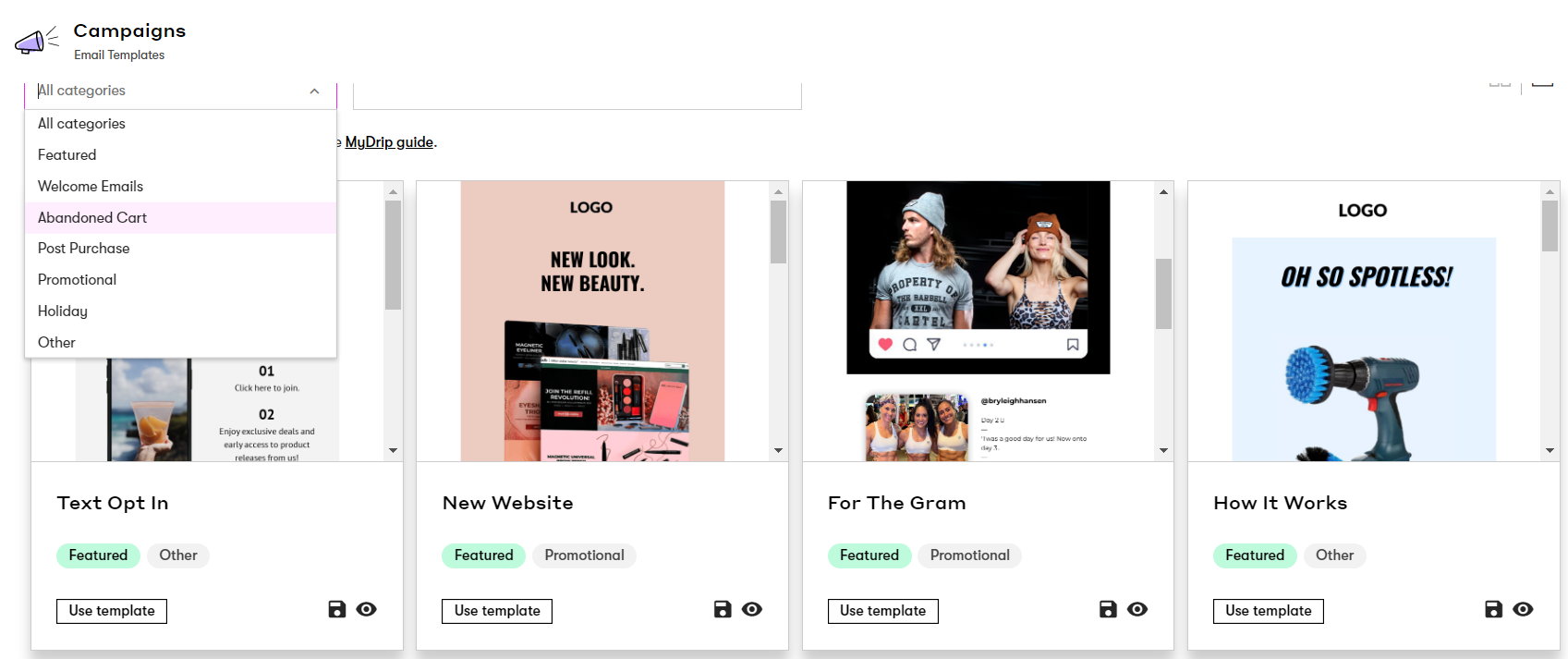 As with Drip, the templates should be divided into different sections like welcome emails, abandoned carts, post-purchase, and promotional. This helps you quickly identify the best template for your purpose.
3. Great On-Site Email Capture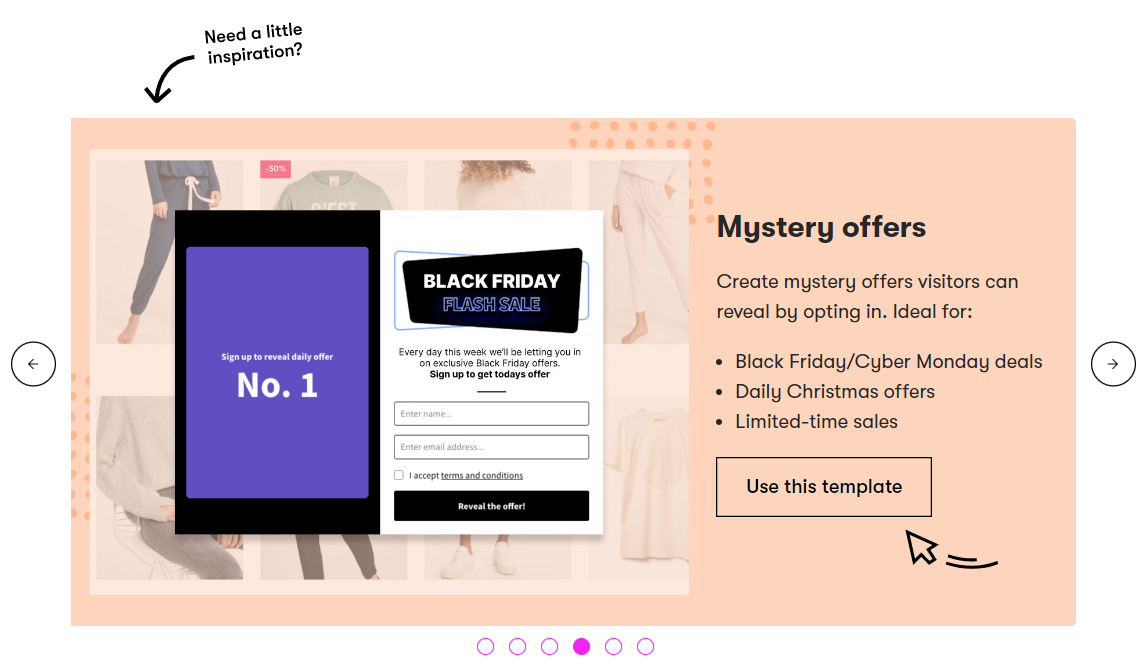 On-site email capture forms are necessary for gathering leads and building your email list.
Your service provider should be able to create different types of forms, such as pop-ups, banners, and lightboxes.
Look for features like the ability to customize forms, A/B test different versions and set up rules to decide when each form should be displayed.
4. Customer-centric metrics and reporting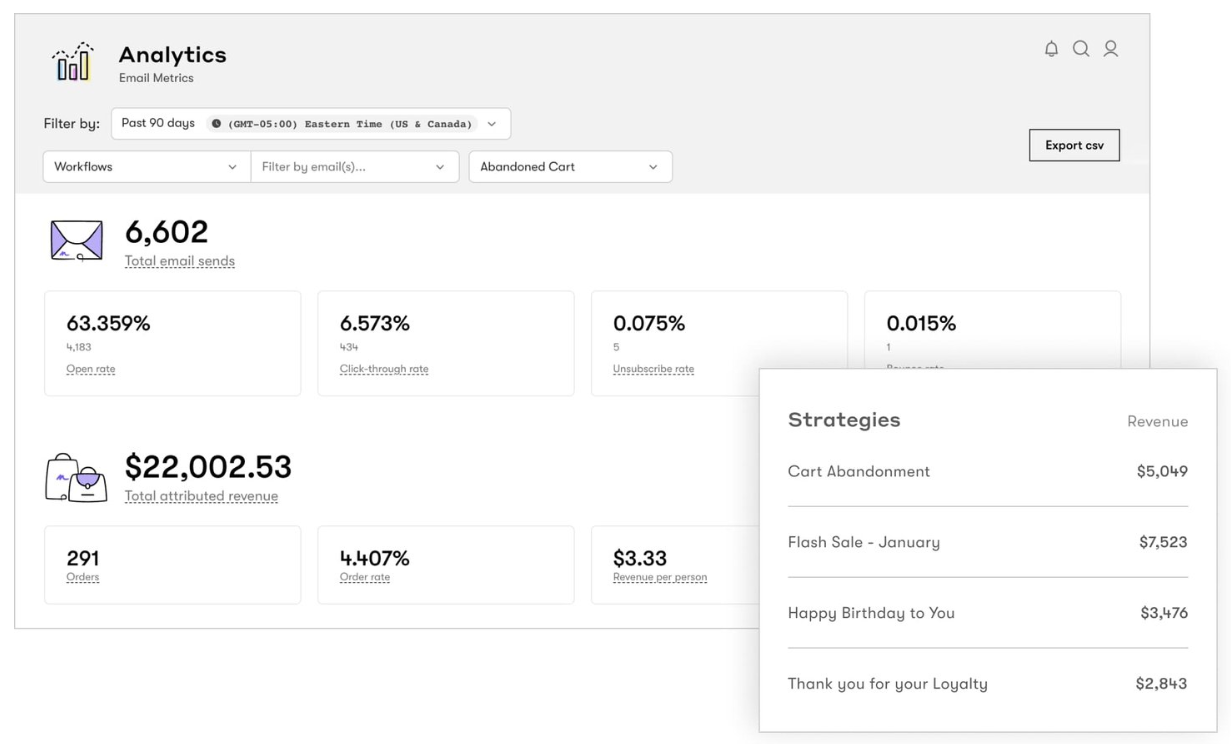 Without customer-centric metrics and reporting, none of the above features would be as useful.
Your service provider should have a dashboard that provides an overview of your email
marketing performance, including marketing metrics like open rate, click-through rate, unsubscribe rate, and more. It should also offer detailed reports about subscriber behavior so that you can identify trends and make data-driven decisions.
A good tool will have A/B testing capabilities so that you can evaluate different versions of emails against each other to find out which performs the best.
The 7 Best Email Service Providers in 2023
Let's start with our list of the best email service providers. For each section, I will explain what the provider is and their best features.
1. Drip: Best Overall Solution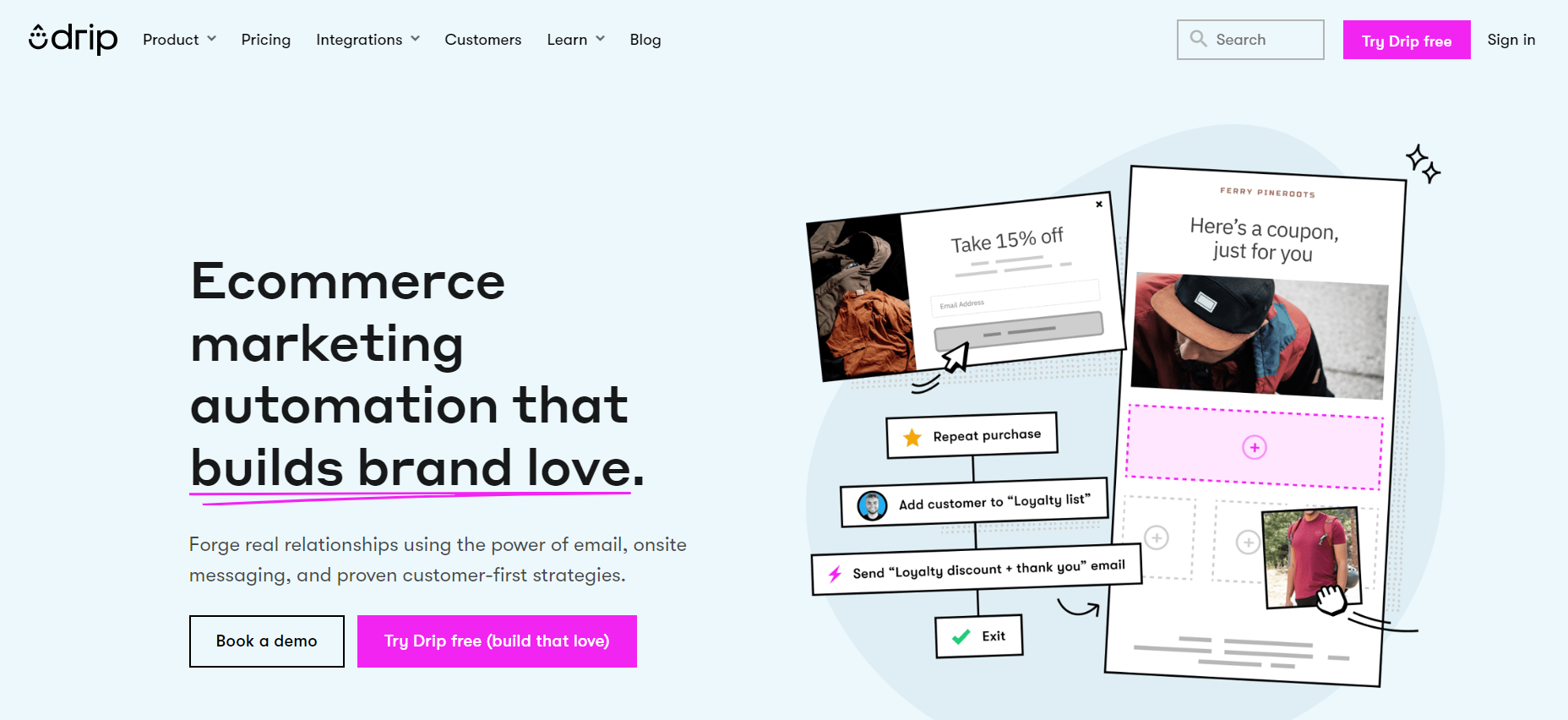 What Is Drip?
Drip is an email marketing automation platform that helps you craft beautiful emails, automate complex workflows, and create meaningful customer relationships. Drip's modern interface and intuitive drag-and-drop builder make it an ideal platform for beginners and more advanced users who want to use email marketing.
Drip Features
Automation features to catch every step of the customer journey.

Your customer goes through multiple phases in their

buyer's journey, and Drip makes it easy to segment and target each phase accordingly. Email workflows, advanced triggers, and powerful segmentation capabilities all help with this.
On-site email capture tools to not miss leads from your website.

Drip lets you add popups, promotions, quizzes, and other customizable on-site elements to capture email addresses from visitors.
Templates for creating beautiful emails.

You can choose from +50 pre-built email templates that you can then customize to be in tune with your own brand.
A/B testing tools for improved results.

You can compare two different versions of emails and popups with each other to decide which one is performing better.
Analytics to track and measure the performance of your campaigns.

You can also view reports that break down the metrics for each campaign, so you can track your progress and make any adjustments as needed.
Drip Pricing
Starting at $39 a month, the price goes up depending on how many people are on your email list.
Drip offers a 14-day free trial, so you can try it out before committing.
2. HubSpot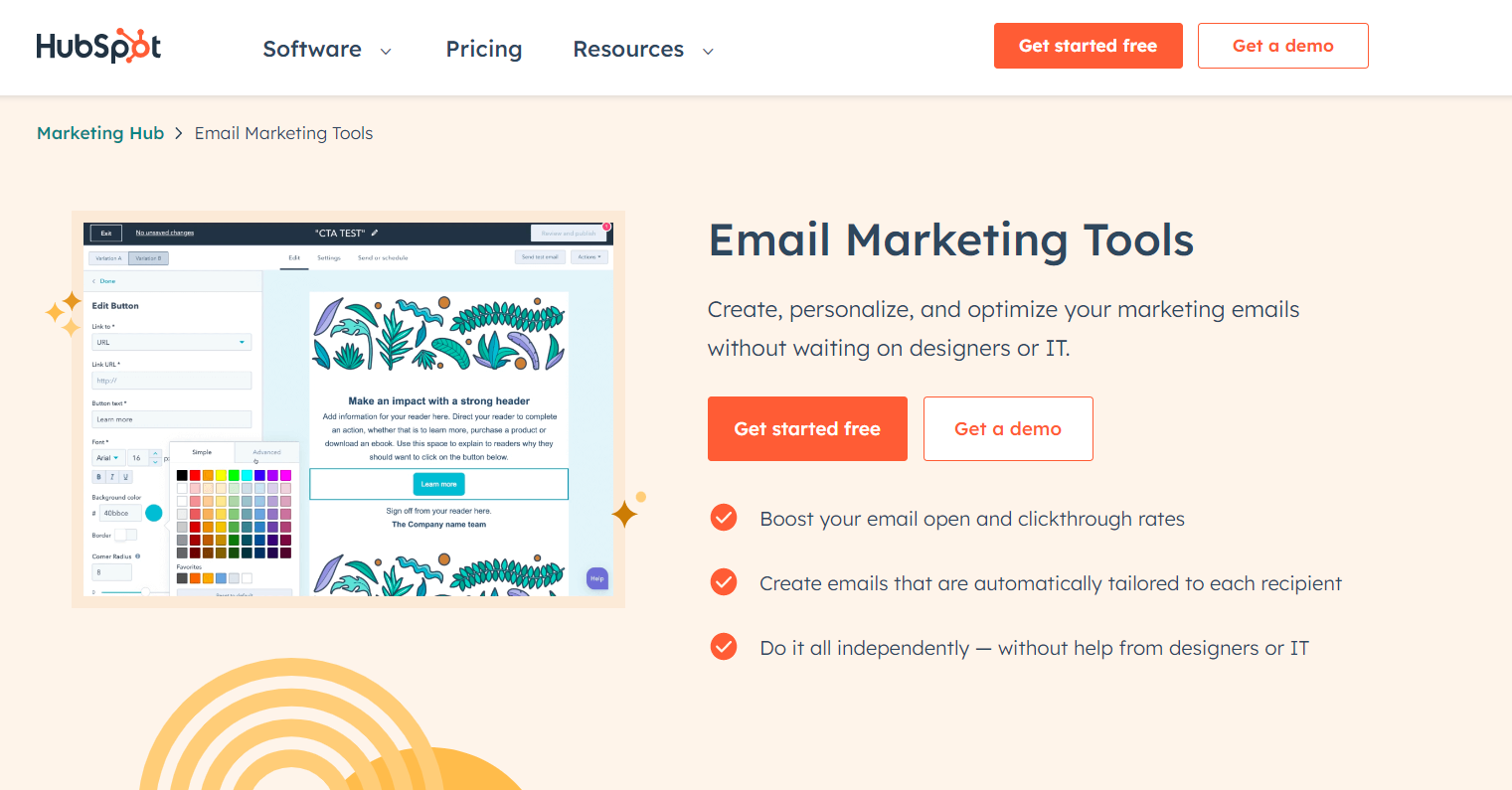 What Is Hubspot?
With HubSpot's email marketing software, you can design and send emails to your contacts and track email performance. You can create custom emails that match your brand and messaging and target contacts based on their interests.
HubSpot Features
Drag-and-drop editor for creating emails.

With HubSpot's drag-and-drop editor, you can create emails that display correctly on all devices. You can customize the layout to your liking and add call-to-action buttons, images, and videos.
A/B testing tools and analytics to learn more about your campaigns.

For example, if you're not sure which subject line works the best, Hubspot's A/B testing tool can help you compare them side-by-side and see which one performs better.
Personalization tools for better results.

To boost results, you can deliver relevant subject lines and call-to-actions based on your subscribers' lifecycle stage, list membership, or any other information.
HubSpot Pricing
HubSpot's Marketing Hub (includes the email marketing software) prices start at $20 a month and go up to $3200 a month. For small teams and individuals, there is also a free plan that gets you started with some basic email tools.
3. MailerLite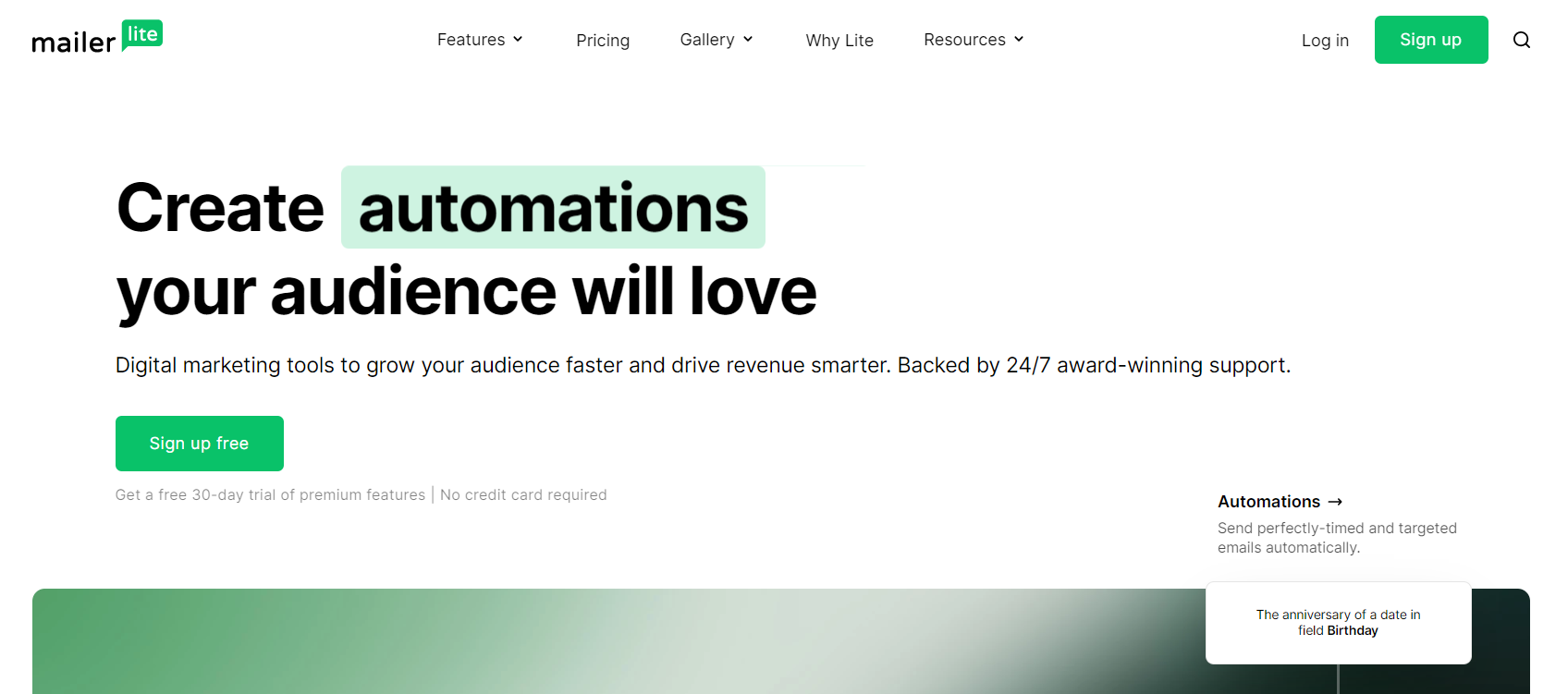 What Is MailerLite?
MailerLite is an email service provider that offers all the basic features you need to create and manage email campaigns. It's a tool with one of the easiest interfaces, and for that reason, it's especially suitable for beginners or those with a side hustle.
Mailerlite Features
Pick from three different editors to create email campaigns.

MailerLite has three different editors: a drag-and-drop editor, a rich-text editor, and a custom HTML editor to create your email campaigns. The drag-and-drop editor is more beginner-friendly, while the custom HTML editor will give you more control over the design.
Send emails based on triggers.

For example, when someone fills out your form, subscribes to your list, or purchases something, you can send them an automated email with MailerLite's triggered emails.
Basic analytics and reports to improve results.

You can track the open, click, and unsubscribe rates of your campaigns, as well as other important stats like subscriber activity, to help you improve future campaigns.
MailerLite Pricing
You can use MailerLite for free for up to 1,000 subscribers. After that, the paid plans start at $9 a month and go up depending on how many subscribers you have.
4. GetResponse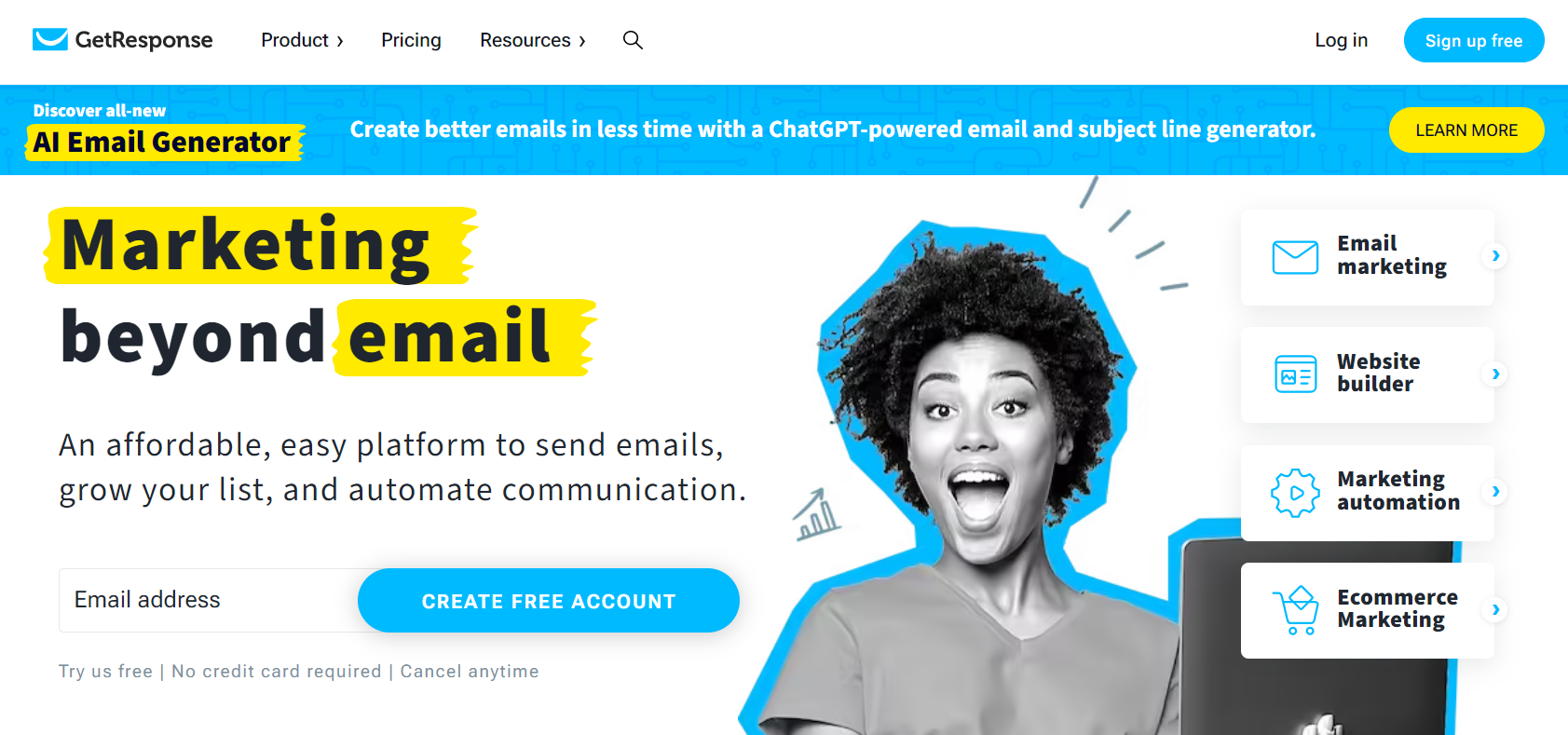 What Is GetResponse?
GetResponse is an inbound marketing tool that covers areas such as email marketing, landing page creation, and webinar hosting. It offers a comprehensive suite of features that allow businesses to engage and nurture leads, as well as build relationships with customers.
GetResponse Features
Free email templates to give you a good start.

GetResponse has a good amount of pre-designed email templates that are optimized for mobile and can be customized further. You can easily preview your emails on all devices before sending them.
A/B testing tools.

With GetResponse's A/B testing tools, you can split test subject lines, images, different layouts, and call-to-action buttons.
Ability to build contact profiles for email automation campaigns.

GetResponse allows you to create individual contact profiles based on their activity. This helps you create automated campaigns tailored to the user's interests.
GetResponse Pricing
You can send up to 2,500 emails for free with GetResponse. Paid plans start at $19 a month.
5. SendPulse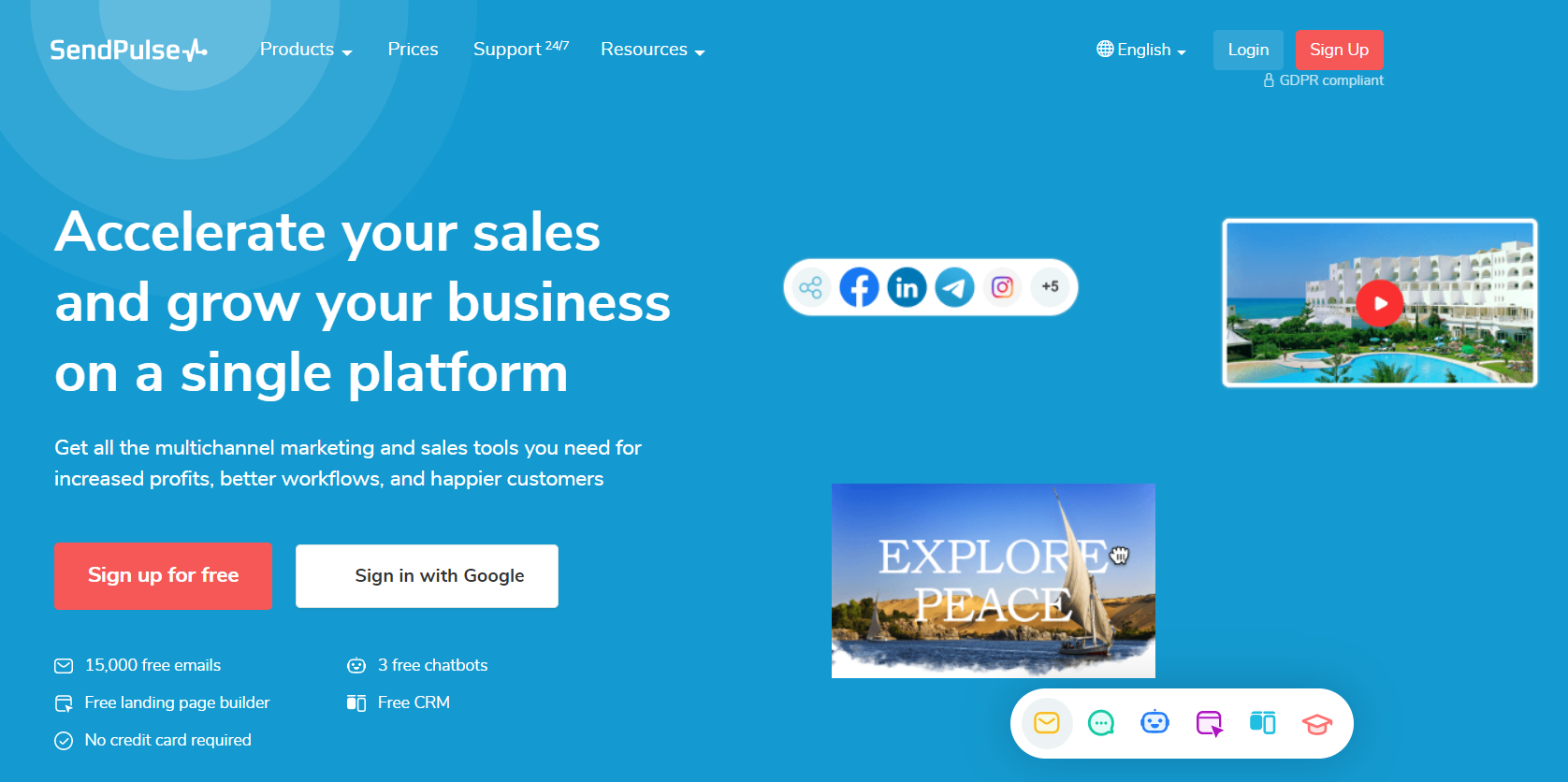 What Is SendPulse?
SendPulse is an email service provider and automation platform that helps businesses send automated newsletters, promotional emails, transactional messages, and other types of campaigns.
SendPulse Features
Create and send email templates.

Choose from over 100 templates and easily add elements like images, videos, and text to your emails. Change the background, fonts, and style to match your brand's tone and voice.
Send emails to verified email addresses.

Upon adding your emails, SendPulse automatically verifies if each email address is valid and properly formatted and declines all invalid entries.
Includes a free CRM.

Upon using SendPulse, you also get a free CRM, which enables you to collect data, build customer lists, and launch marketing campaigns.
SendPulse Pricing
SendPulse has a free plan that allows you to send up to 15,000 emails per month. Paid plans start at $8 a month.
6. Zoho Campaigns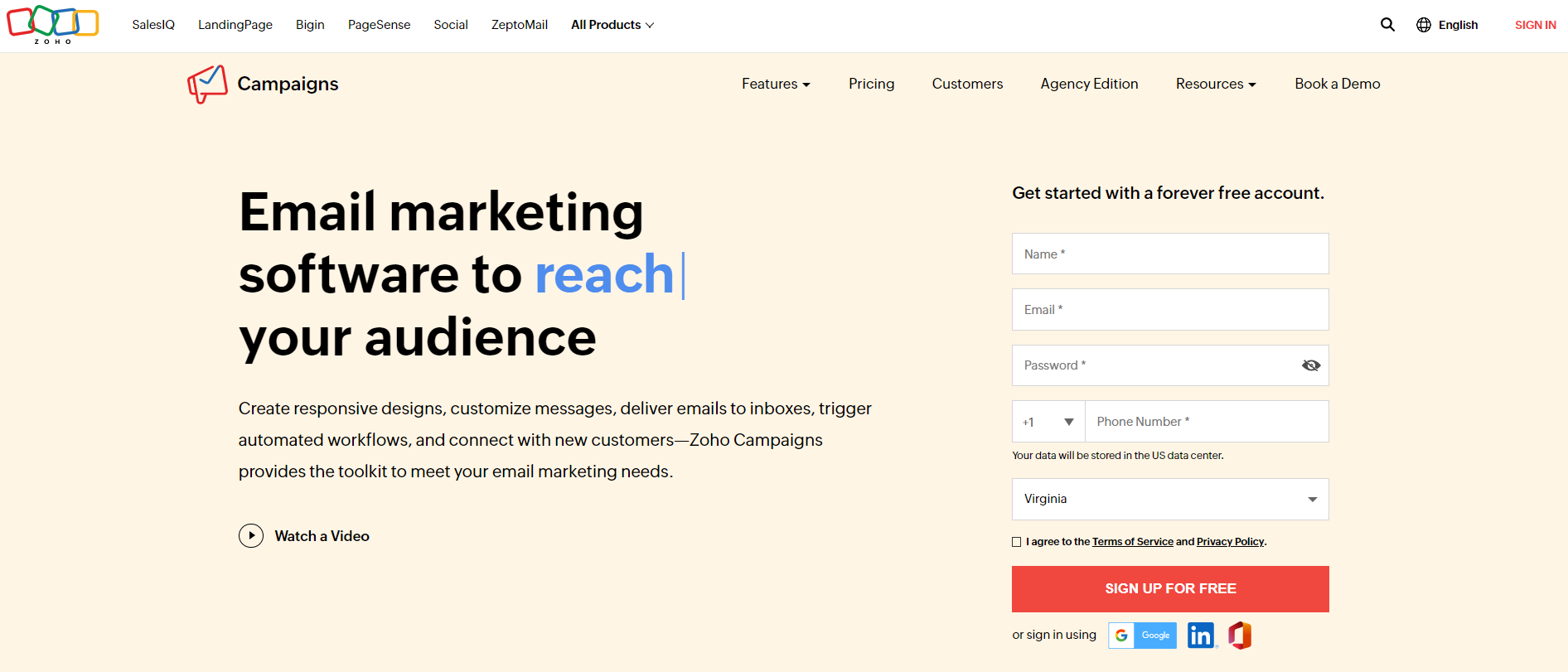 What Is Zoho Campaigns?
Zoho Campaigns is an email service provider that is part of a bigger product group at Zoho. It enables users to send emails, manage lists and campaigns, track performance, create automation workflows, and more.
Zoho Campaigns Features
Add interactive elements.

You can add interactive elements like polls, surveys, GIFs, videos, and reply tracking to your Zoho Campaigns emails.
Pre-defined workflows for better results.

Select from pre-built workflows such as welcome series, follow-up series, and promotional series for better email marketing results.
Understand the performance with reports.

With Zoho Campaigns, you get insights into the number of contacts who entered your workflow, their progress, and the success of each workflow.
Zoho Campaigns Pricing
The free plan of Zoho Campaigns allows you to send up to 6,000 emails for free. The paid plans start at $4 a month.
7. Mailjet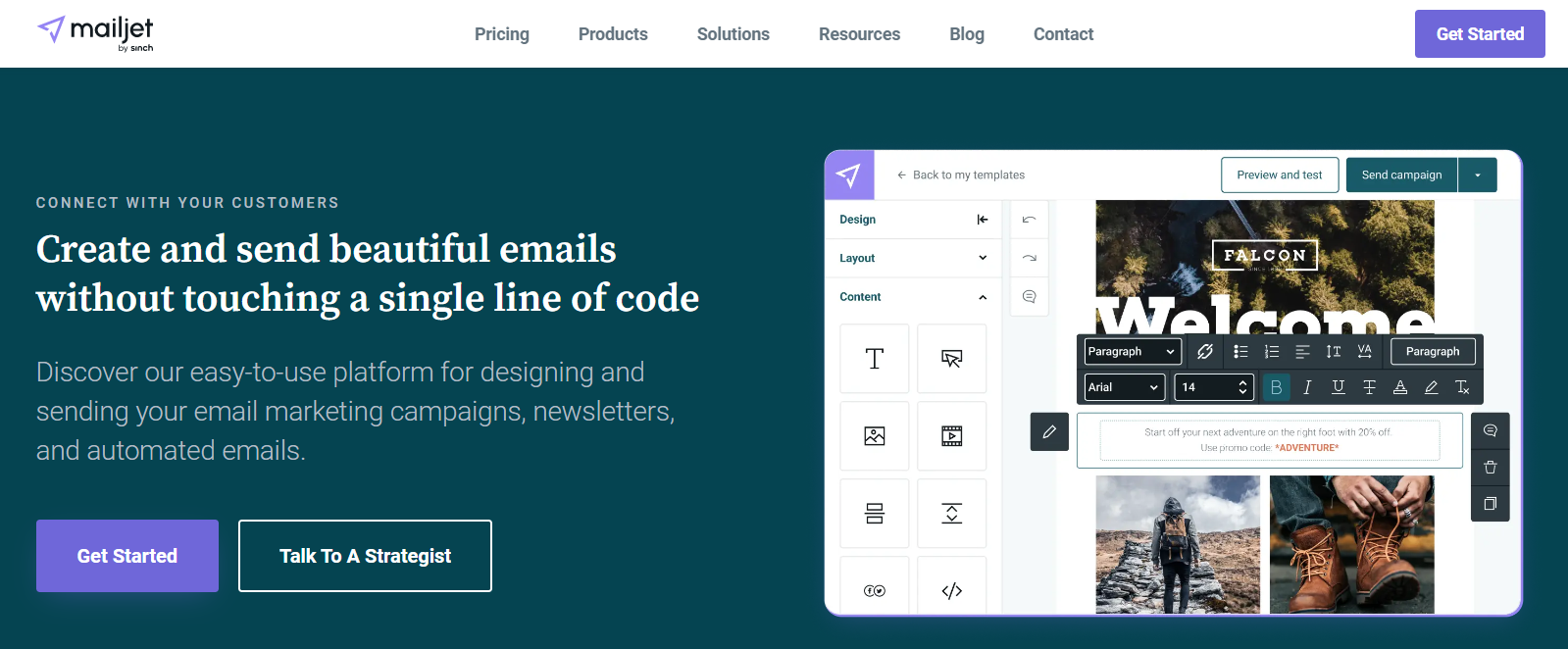 What is Mailjet?
Mailjet is an all-in-one email service provider that gives you solid features at an affordable price. You can create and send marketing campaigns and newsletters in Mailjet and track their performance with reports.
Mailjet Features
Easy-to-use email editor.

Mailjet's drag-and-drop editor is known for being intuitive and easy to use. You can add your brand content, videos, images, and other elements to your liking.
Collaborate with your team while building.

You can add comments and suggestions, make changes, and work with your colleagues on the emails in real time. You can also set user permissions for brand assets.
Statistics for email performance.

A standout feature of Mailjet is its real-time deliverability and engagement statistics. You can see how many emails land in the recipient's main folder and how many in the spam folder, as well as see your open rate, click rate, and reply rate.
Mailjet Pricing
You can send up to 6,000 emails a month for free with Mailjet. The paid plans start at $15 a month.
FAQs of Email Service Providers
What is an Email Service Provider?
An email service provider is a tool that provides features and tools to help businesses build, manage, and track their email campaigns. These service providers are designed to make it easier to create and manage email campaigns without the need for complex coding or expensive software.
What is the Best Email Service Provider?
Overall, we're biased towards our own solution Drip, but there are a number of great email service providers out there. I recommend doing your own research and weighing up the pros and cons of different providers. If powerful automation tools are your main priority, then Drip is the best option.
How Do You Change Your Email Service Provider?
To change your email service provider, you will need to export your data from your old provider and then import it into your new service. You also need to update your settings so that your domain name is connected to the new service.
Many email service providers will offer custom migration services to help you import your lists, rebuild your segments, and recreate your automation workflows.
Whether you prefer a white-glove migration service, or a do-it-yourself method, consider the ease of migration and set up when choosing a new ESP.
Checklist For Selecting Your Email Service Provider
Selecting the best email service provider for your business is an important decision.
Why would you want to pay for something that doesn't meet your needs?
As a checklist, your email service provider should have the following:
Marketing automation features to send out email sequences
Segmentation features to reach the right people
Templates to make email creation easy
Analytics and reporting tools to see how your emails perform
If you're looking for an email service provider that does all of these things, Drip is the perfect solution. It's designed to meet the needs of both small and scaling businesses.