One of the main things I love about ecommerce is the level of personalization it offers.
With the right tools, you can customize every aspect of your online store, from navigation to product layout to your shopping cart, and everything in between.
This is what enables you to build a one-of-a-kind ecommerce store that not only creates an amazing customer experience but helps capture the essence of your brand.
And thankfully, you don't need to be a programming wizard to do this.
Using an ecommerce content management system (CMS) allows you to easily create, publish, and edit your online store without a shred of coding skills.
On that note, here are my recommendations for the best ecommerce CMS platforms to design a jaw-dropping store your customers will love.
The 5 Best Ecommerce CMS Platforms
1. BigCommerce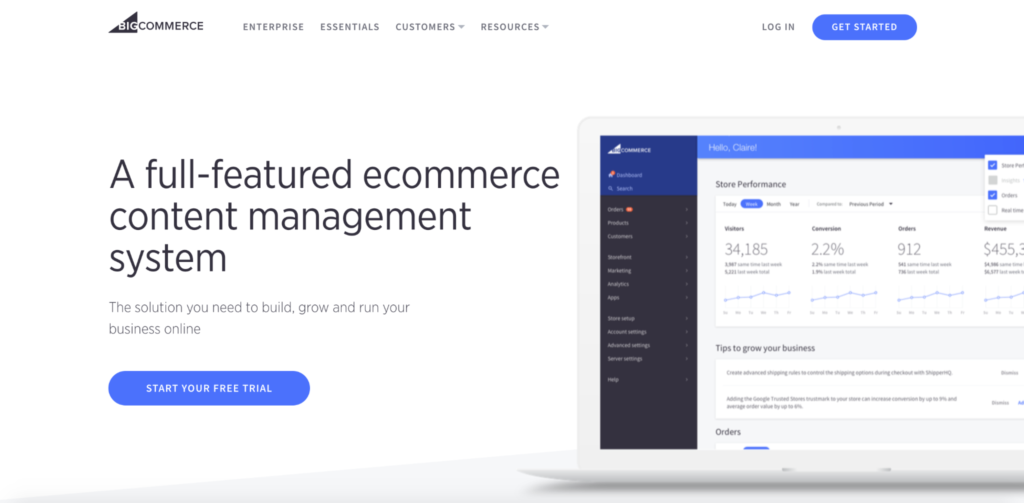 Let me start off by saying that most major ecommerce platforms offer CMS capabilities, allowing you to build and modify your online store. However, not all offer a full-featured ecommerce CMS. But that's exactly what BigCommerce does.
Their solution is specifically designed to make content management dead simple and give you a full range of control of your store.
Let's take a look at its core features.
For starters, BigCommerce makes it a breeze to manage your products. In their own words, "We make it easy to add, revise, and categorize your products, even for stores with complex catalogs or only a few items."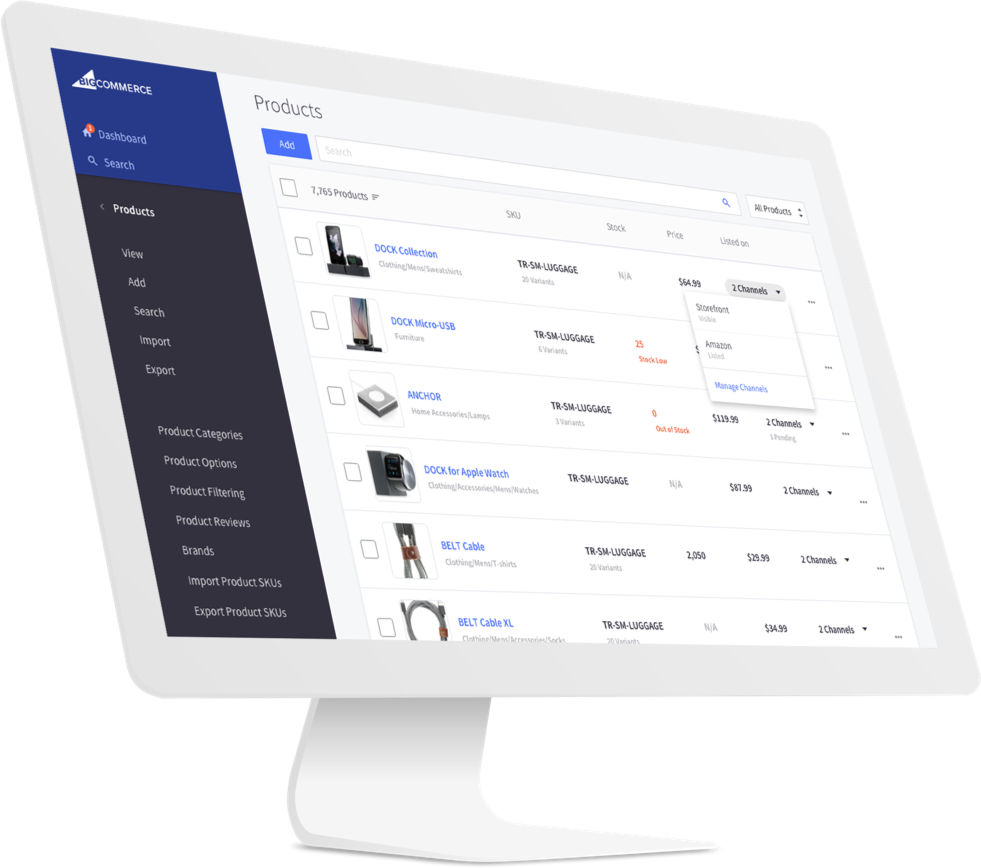 So, whether you're just starting out or have a massive catalog with hundreds of products, you can manage them with ease and scale up (or down) as needed.
Next, there's order processing and inventory management, which includes centralized inventory where you can seamlessly manage sales across every channel.
Note that BigCommerce integrates with major payment platforms like PayPal and Stripe, making it effortless to get a secure payment gateway set up.
BigCommerce offers a native blog CMS, which allows you to publish posts to reach more leads and drive more traffic to your ecommerce site.
This comes with built-in SEO tools to ensure your content ranks well with search engines. Rollie Nation, for example, is a brand that sells "the perfect travel shoe" and uses BigCommerce to power their blog.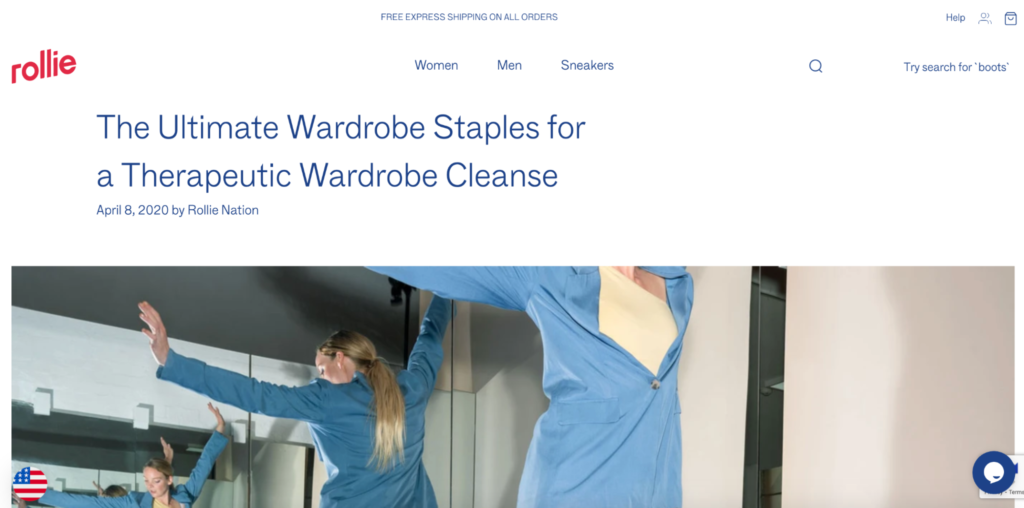 When it comes to order fulfillment, BigCommerce has that covered as well with their ecommerce CMS. The platform offers:
A shipping manager to provide customers with real-time quotes from leading carriers like USPS, UPS, and FedEx;
Third-party shipping options for product sourcing and fulfillment; and
Advancing shipping options to reduce costs and get multi-carrier support.
Finally, BigCommerce integrates with Amazon, Google Shopping, Facebook, Pinterest, and more, so you can sell through these platforms to generate more sales, and track all on a single dashboard.
To sum up, if you're looking for a one-stop-shop from a reliable platform, BigCommerce is a great solution.
They're not quite as big as some of the other providers I'm going to cover, but they're definitely heading in a positive direction.
2. WooCommerce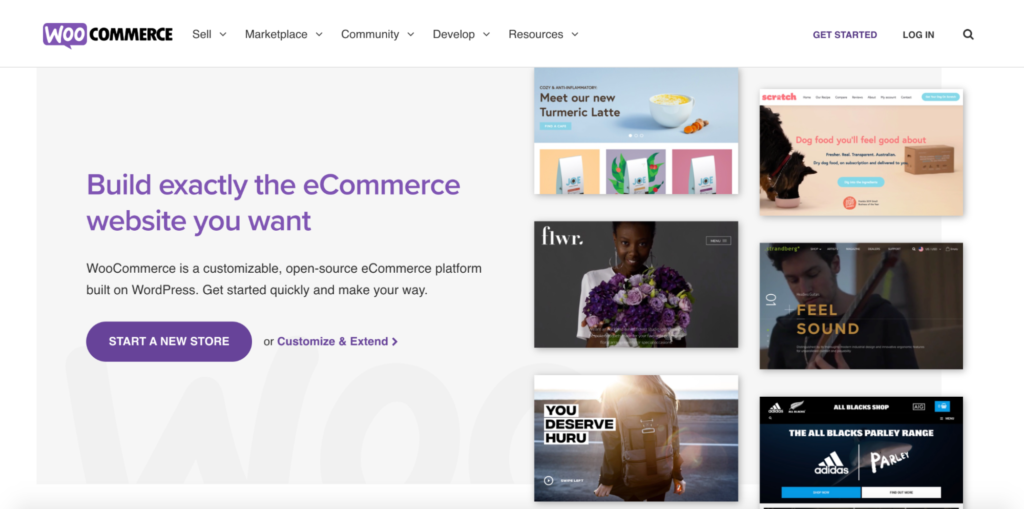 Speaking of popular ecommerce CMS solutions, WooCommerce is currently the world's most popular ecommerce platform with a 28.24 percent market share as of April 2020.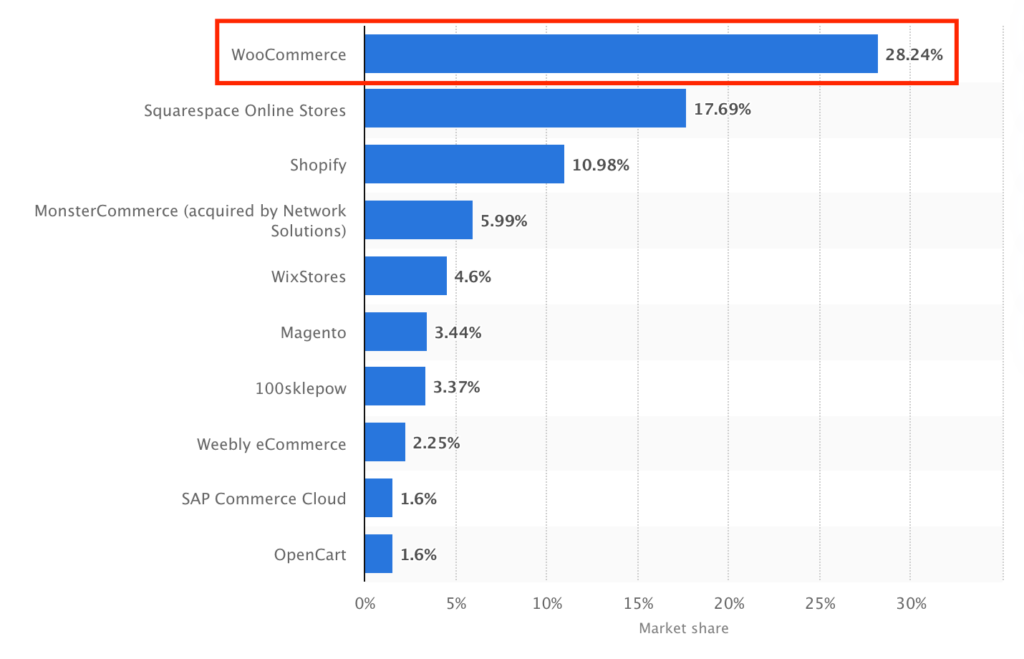 And it's easy to see why, given they place such a big emphasis on user-friendliness and customization.
WooCommerce is built on WordPress, so you know that personalization is baked into their framework—something that's largely done with their comprehensive selection of extensions.
As they put it, "From subscriptions to gym glasses to luxury cars, WooCommerce is fully customizable. Add features and extend the functionality of your store with official extensions from the WooCommerce Marketplace."
Browse through it, and you'll find an extension for everything under the sun, with many being developed directly by WooCommerce.

For instance, there are Product Add-Ons, which allow customers to personalize products while they're shopping in your store.
You can add checkboxes, dropdowns, sample images, and more from the backend to ensure your customers get the exact products they want without driving yourself crazy with complex coding.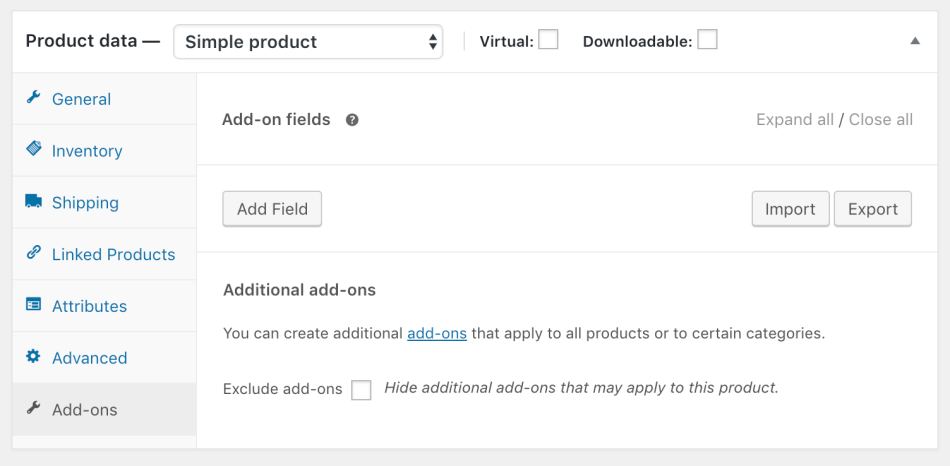 There's also WooCommerce Quick View, which lets customers do just that—take an up-close look at a product to see the full details.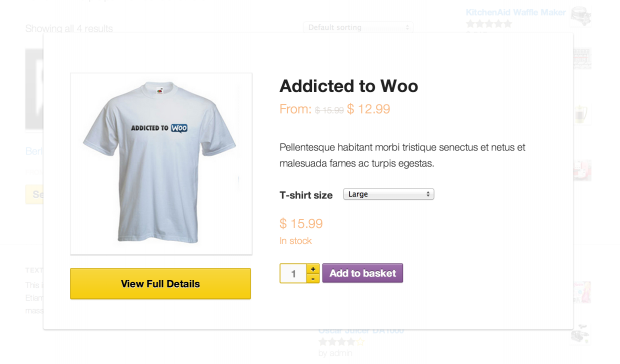 I also love that they have a wide range of in-store marketing extensions, such as:
When it comes to handling payments, WooCommerce has everything you could possibly ask for.
"Beyond the basics, there are 140 region-specific gateways to choose from and integrate with, including Stripe, PayPal, Square, and Amazon Pay. Apple Pay, Google Pay, subscriptions, and deposits are also supported."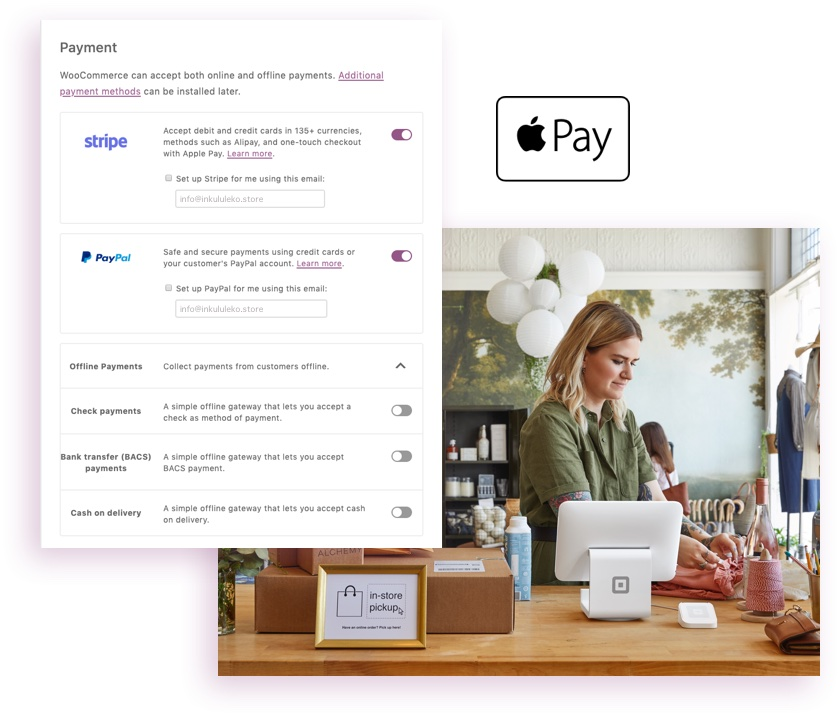 And that's just the tip of the iceberg. You can see a full overview of WooCommerce extensions here.
Lastly, note that WooCommerce integrates with a wide range of other platforms. Here are some of the biggest: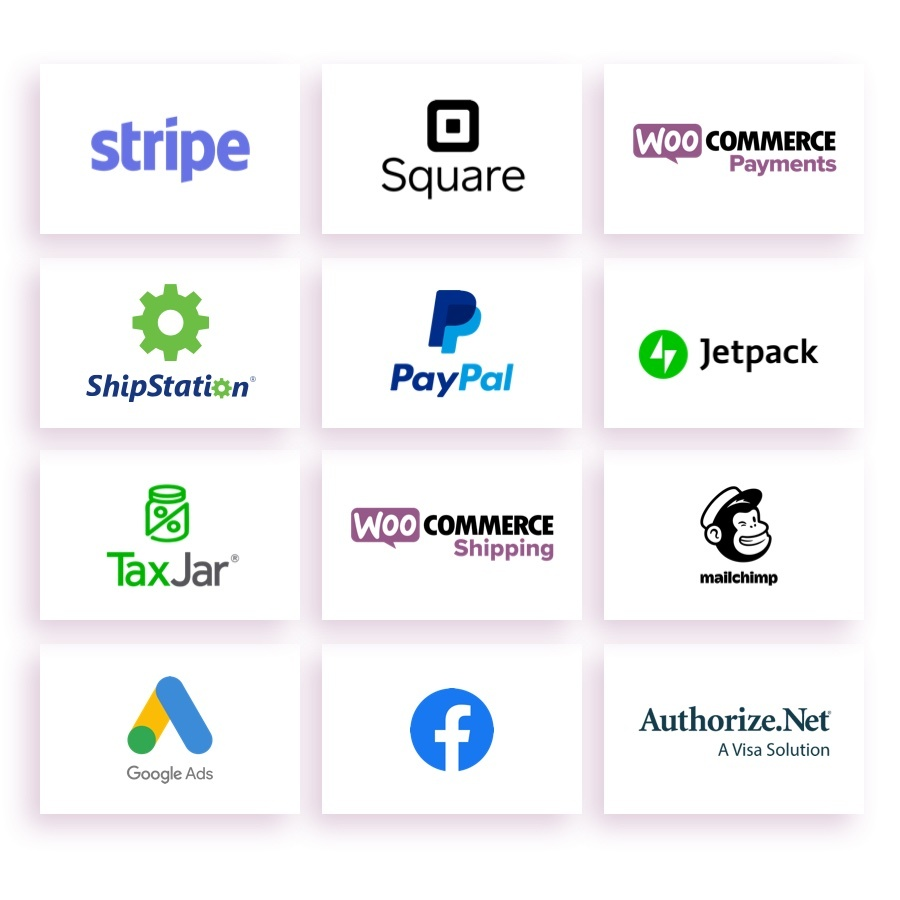 If you're a fan of WordPress and want a platform that's insanely intuitive and simple, WooCommerce is one of the best ecommerce CMS solutions around.
3. Shopify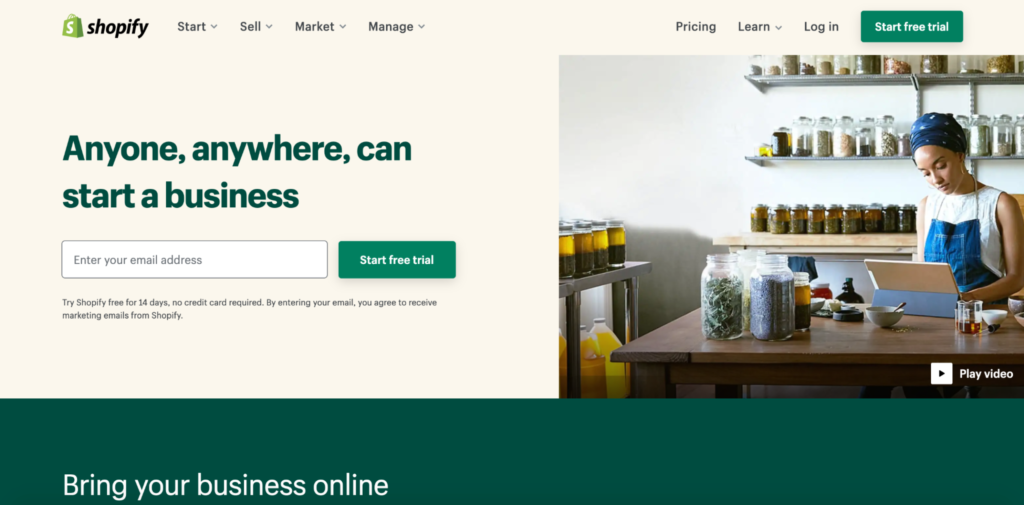 It's impossible to talk about ecommerce and not mention Shopify.
They're always a crowd favorite and make it a cinch to manage every aspect of your ecommerce content.
To get you started, Shopify offers a wide array of professional themes to give your online store a totally unique feel.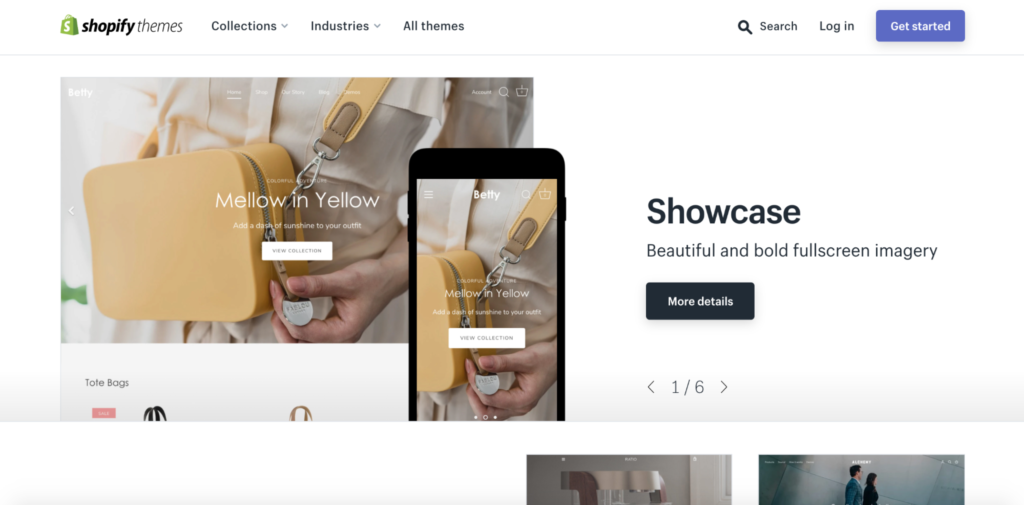 "Every template comes with its own intuitive settings so you can quickly and easily customize every facet of your storefront," to ensure your shop is on-brand right from the get-go.
Shopify lets you create an efficient layout with smooth navigation so your customers can conveniently find the products they're looking for with minimal effort.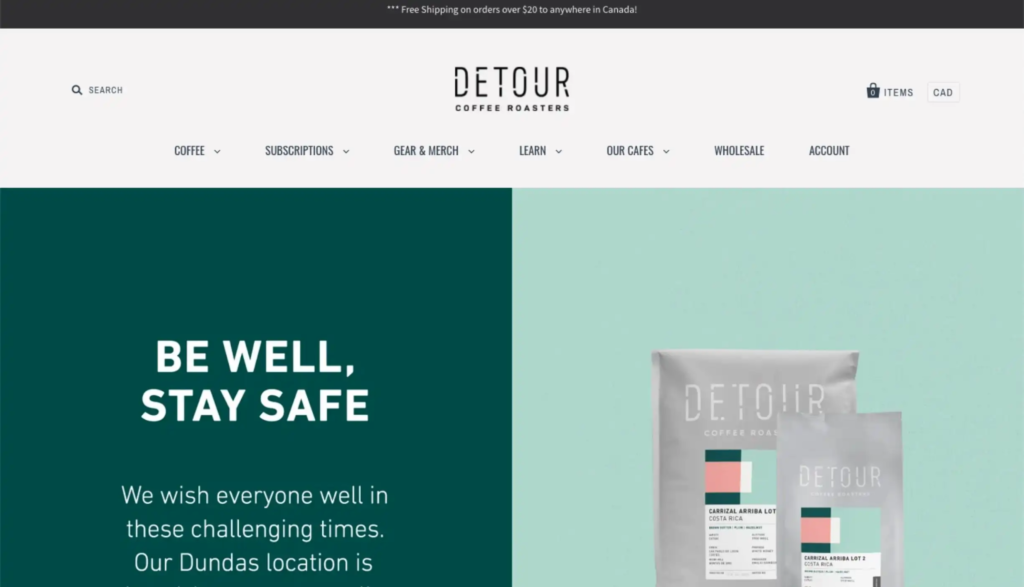 With Shopify's CMS product management, you can:
Conveniently add, list, edit, and organize products from your dashboard;
Create a beautiful catalog by drag-and-dropping product images;
Offer multiple variants for each product like color, size, and style; and
Incorporate keywords to streamline customer browsing.
There are also a ton of things you can do with your shopping cart, including:
Creating payment from over 100 different gateways;
Adding a free SSL certificate;
Setting up flexible shipping rates;
Automatically calculating taxes for maximum pricing transparency; and
Feature 50+ languages to create a smoother experience for international customers.
Like WooCommerce, Shopify has a massive selection of apps you can install to personalize your online store to a T.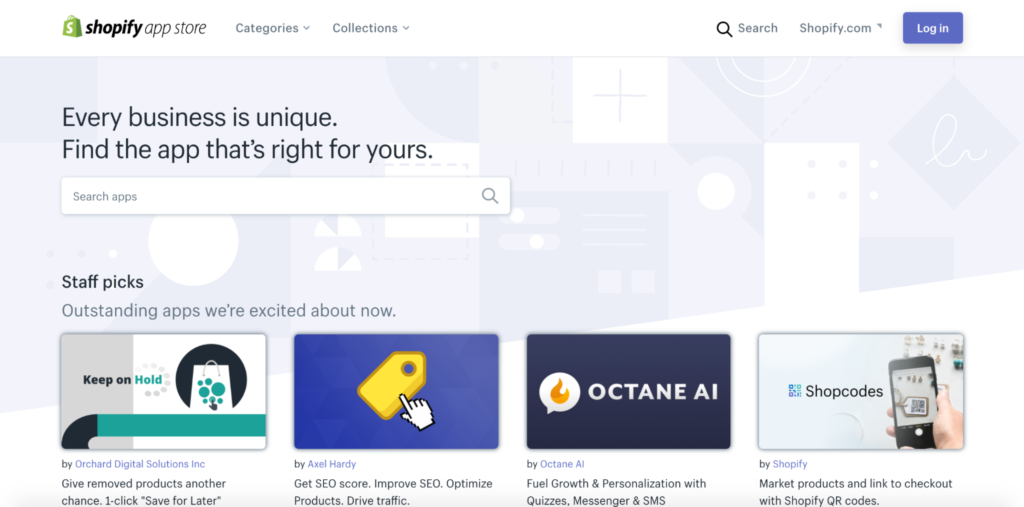 Wishlist Plus, for example, helps your visitors "bookmark their favorite products and pick up where they left off when they return."
When your potential customers come back to your store, they can quickly visit their wishlist and place an order.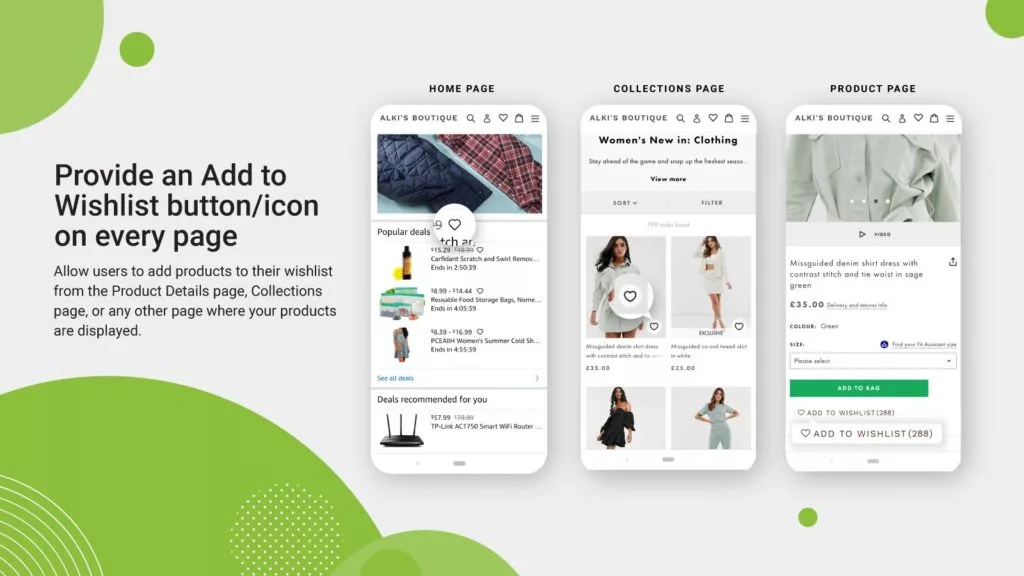 Another cool app is Shopcodes, which lets you create your own scannable QR codes that link to your online store.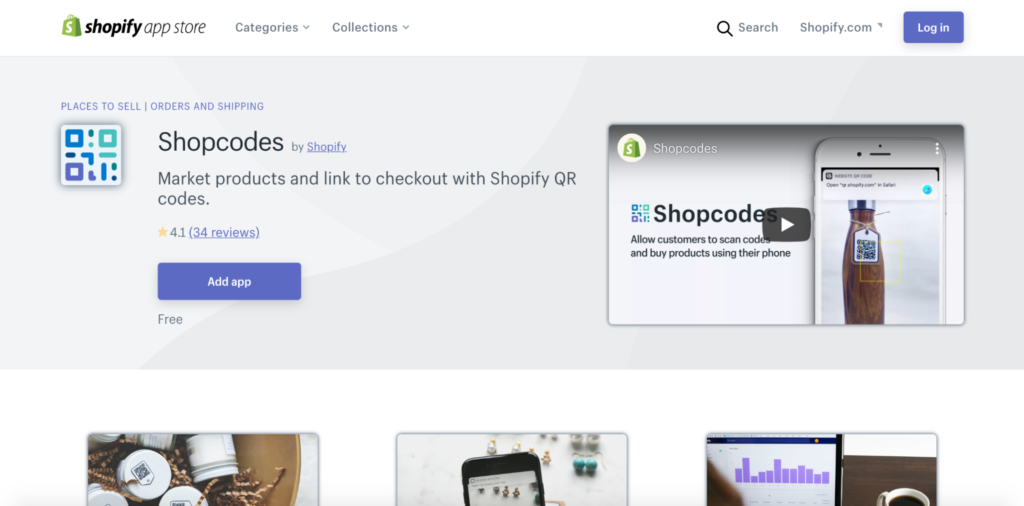 This way you can market your ecommerce store out in the wild and generate a ton of more traffic.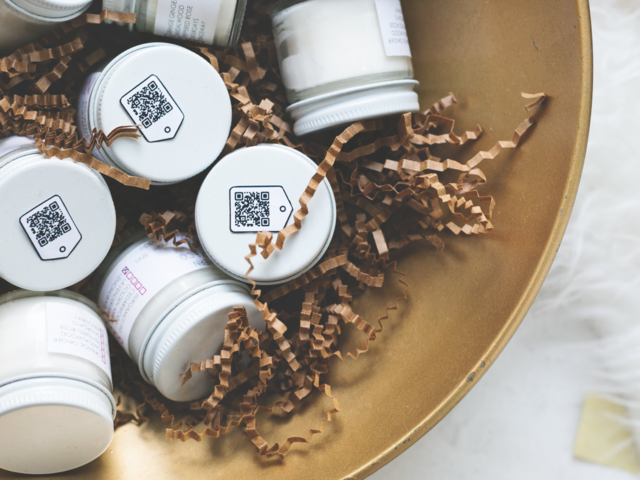 Shopify's CMS also features a blogging platform, allowing you to easily publish content like articles and lookbooks.
The possibilities are truly endless with Shopify's app store (which is always growing by the way).
And with their ultra-simple interface, you can keep tabs on sales, sessions, transactions, orders shipped, and so much more. Here's a quick glimpse of some of the data you can extract: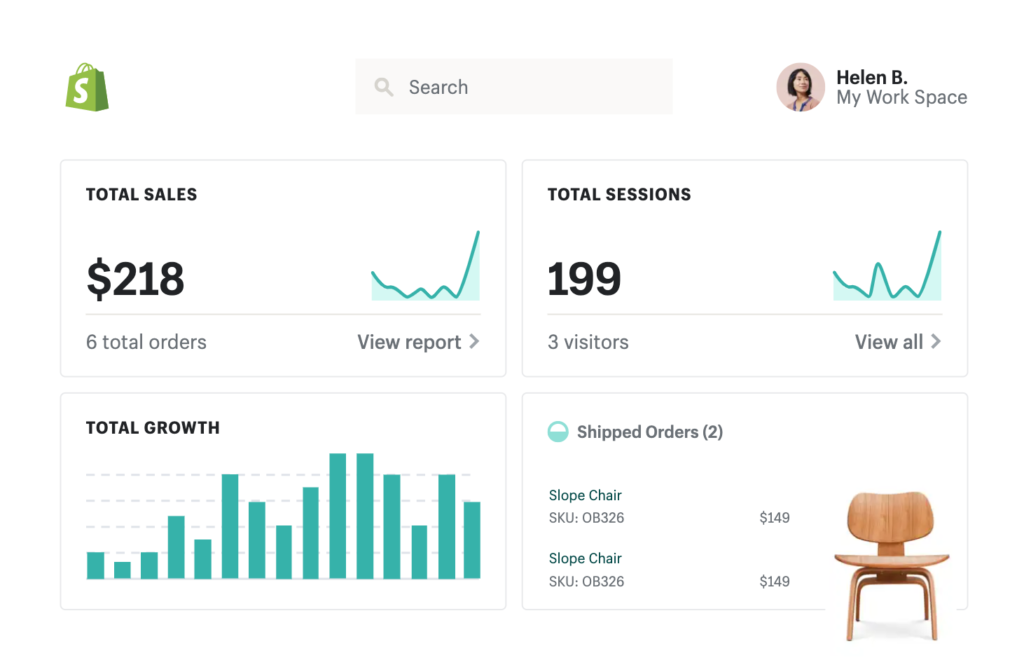 All in all, it's hard to go wrong with Shopify's ecommerce CMS.
4. Magento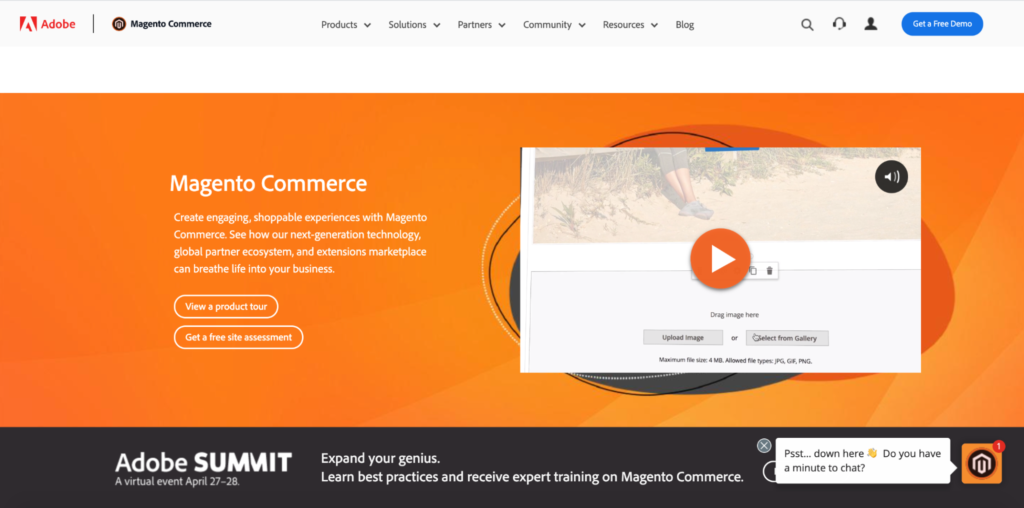 If you're a fan of drag-and-drop technology that's very non-technical, you'll love Magento.
"Use modern, drag-and-drop tools to quickly create and launch new compelling content and deliver best-in-class shopping experiences without the need for developer support."
Magento's Page Builder is very straightforward and has a minimal learning curve, which makes it ideal for beginners.
Start by uploading images or selecting them from a gallery to get your product pages set up.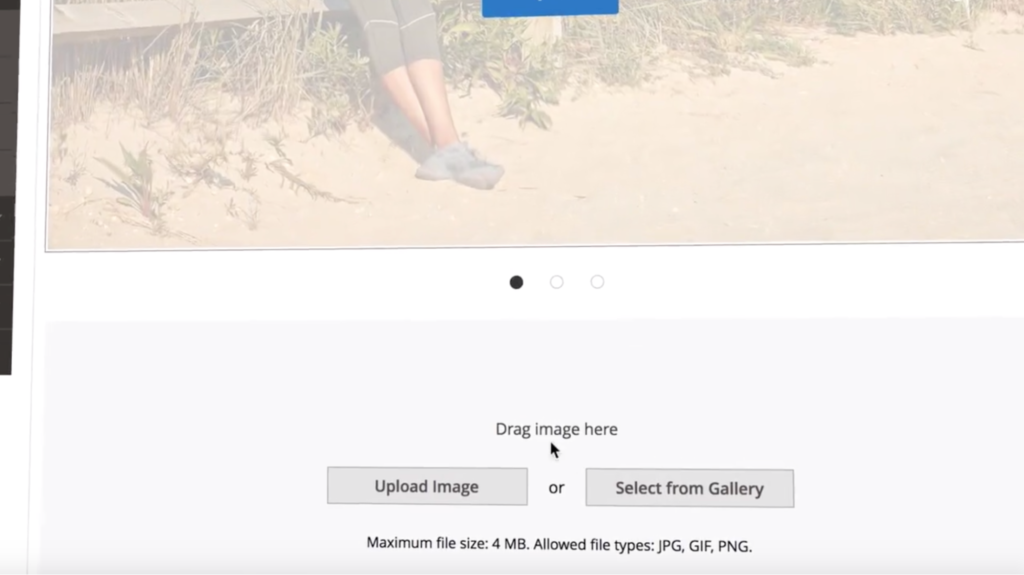 Create headers, text, buttons, dividers, banners, videos, or any other on-page elements you like for a professional look.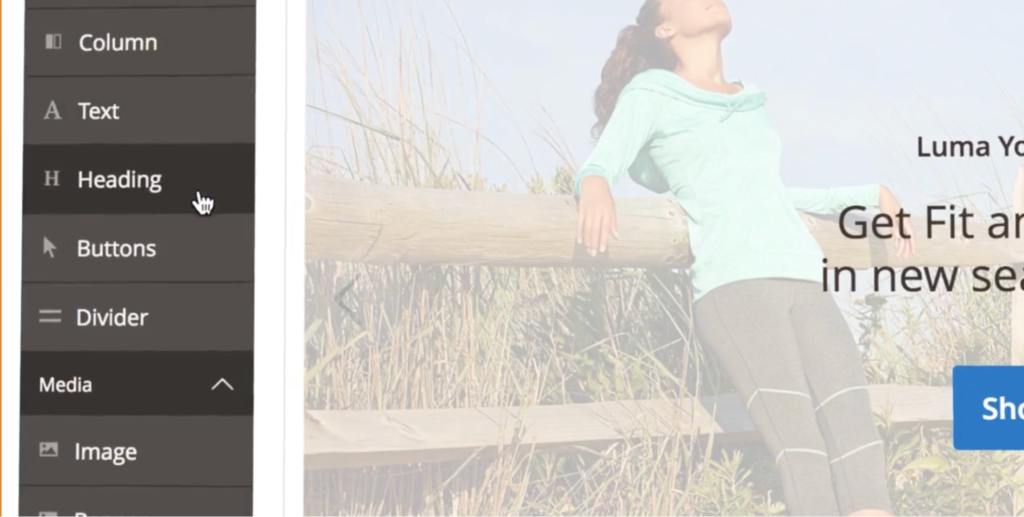 Choose the products you want to feature and move them around to organize your store perfectly how you want it.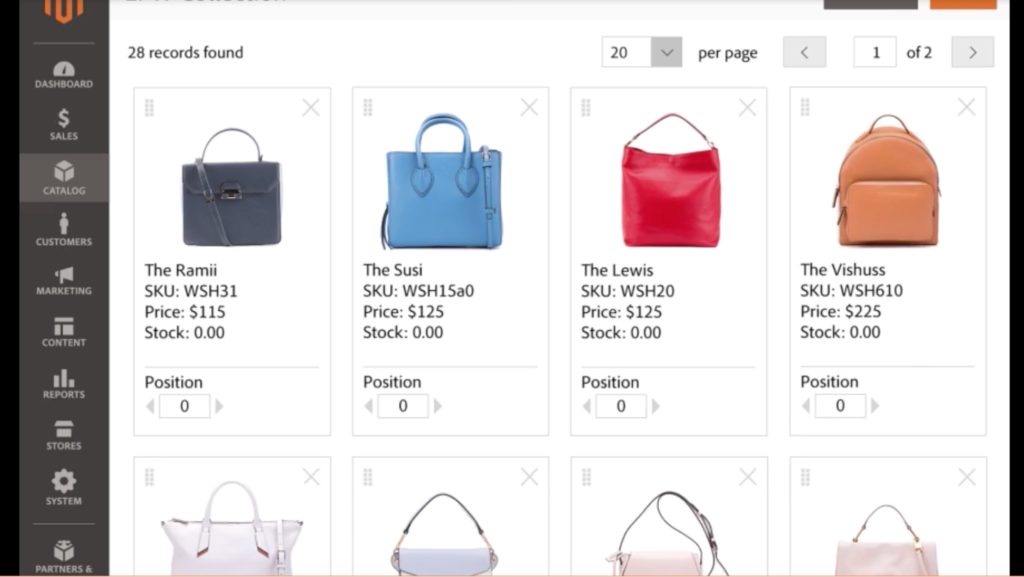 Or, you can set Magento to display products by price, color, release date, and other criteria.
With the grid system, you can move elements around to experiment with different designs and layouts without having a lick of coding experience.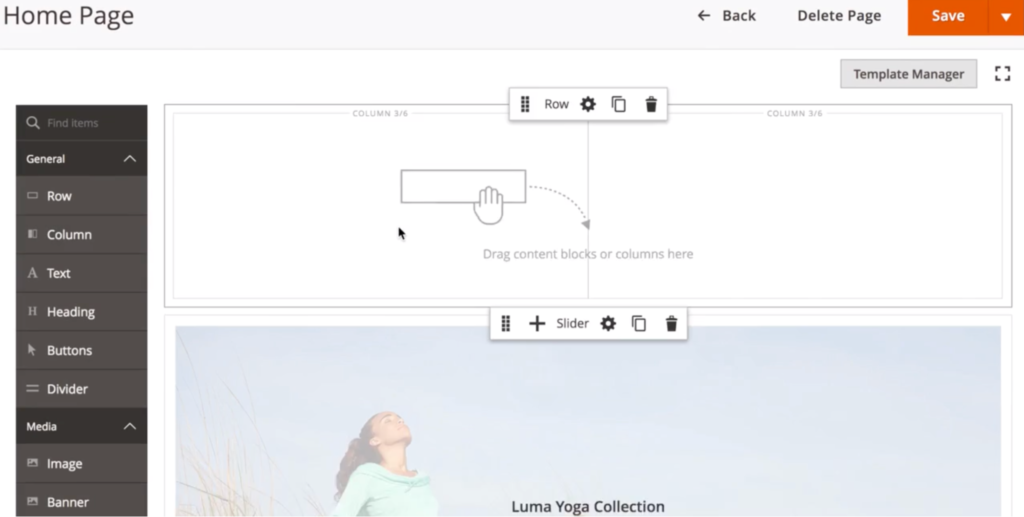 Magento's in-context text editing allows you to play around with your copy without having to jump back and forth.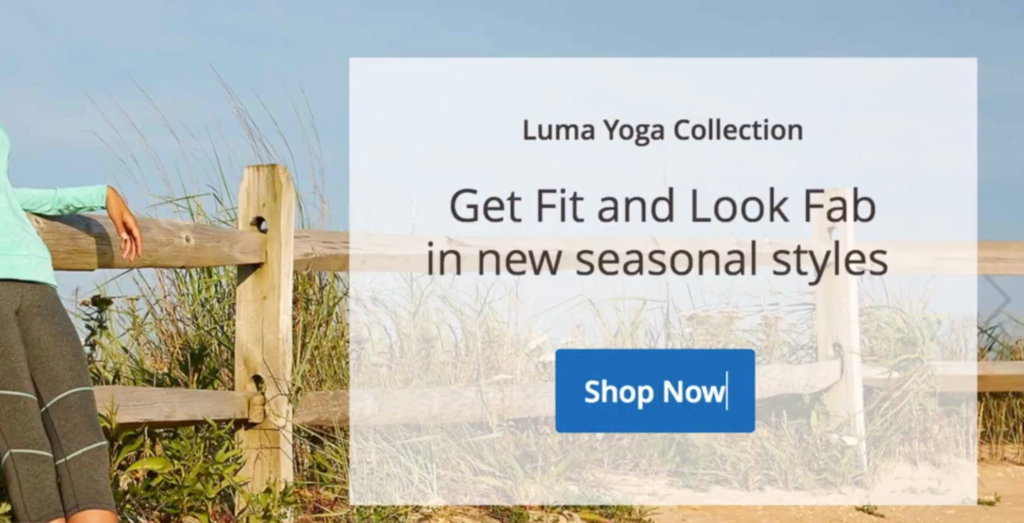 I also like how this CMS lets you quickly preview a page before saving so that you get everything just right.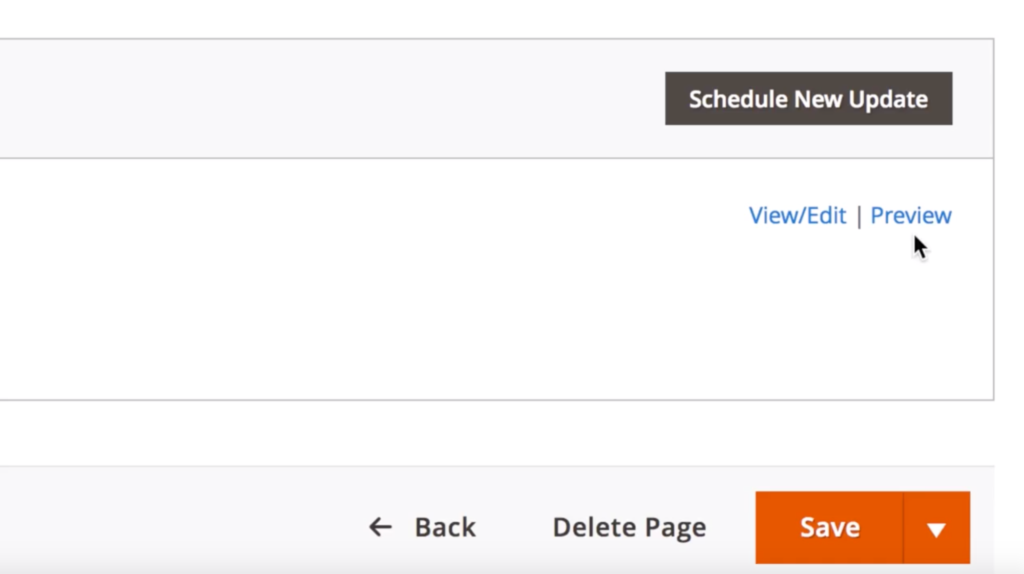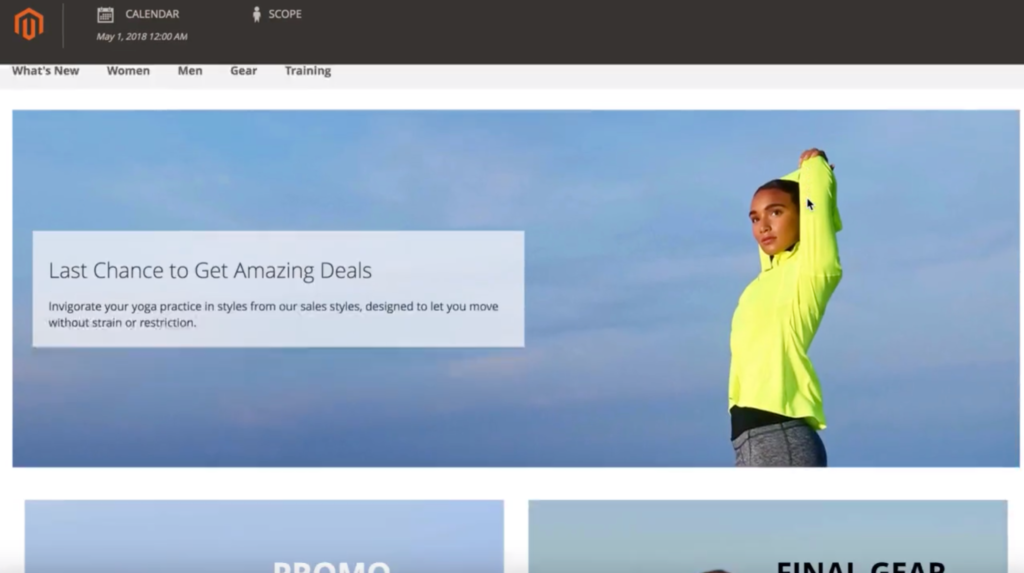 It's all very streamlined. And while it's not quite as robust as platforms like WooCommerce and Shopify, Magento definitely gets the job done.
If you want a no-fuss ecommerce CMS with maximum simplicity, this is definitely a great option to consider.
5. Squarespace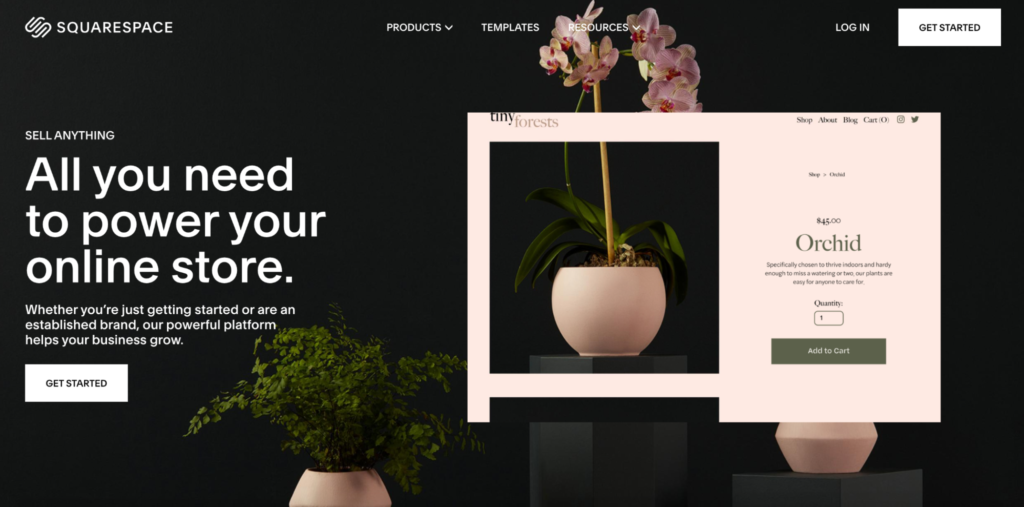 Although Squarespace is regarded by most as more of a traditional website builder, it has evolved into a formidable ecommerce CMS in recent years.
In fact, it currently ranks number two for ecommerce market share at 17.69 percent.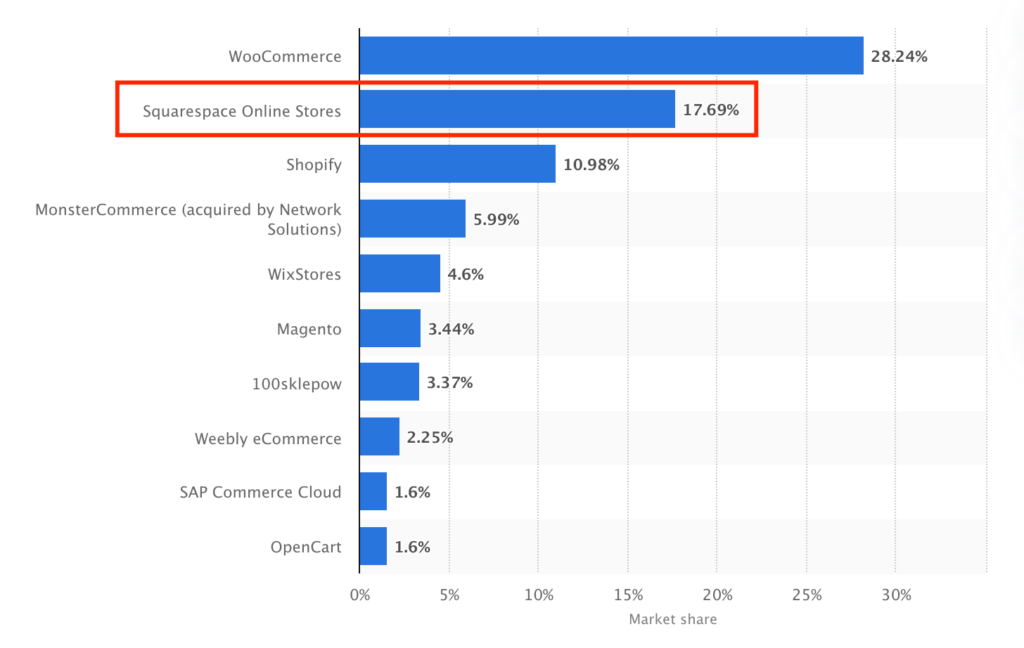 Take one look at a brand that uses Squarespace like Little Clay Land—a company that makes personalized small clay sculptures of its customers—and it's clear that this is a legit platform.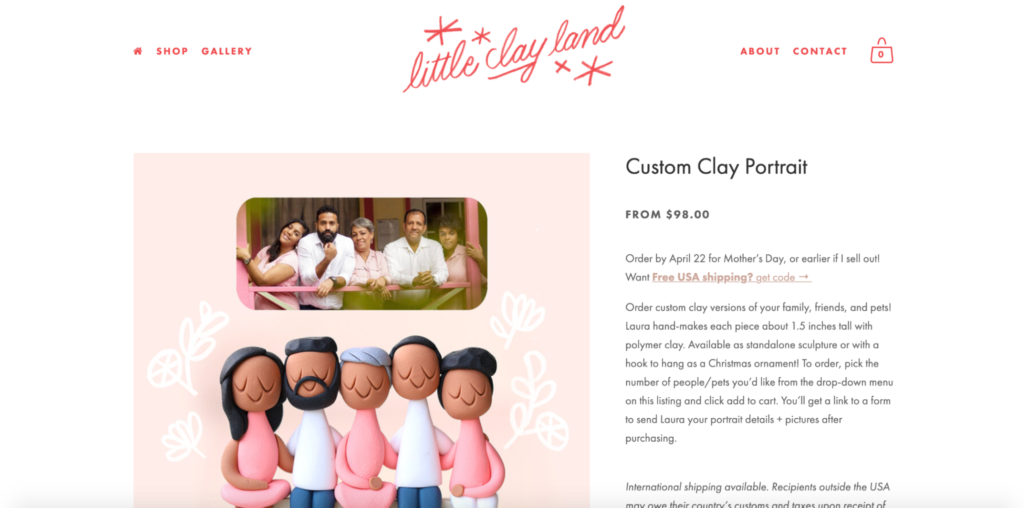 Here you'll find a ton of best-in-class store templates that run the gamut in terms of industries.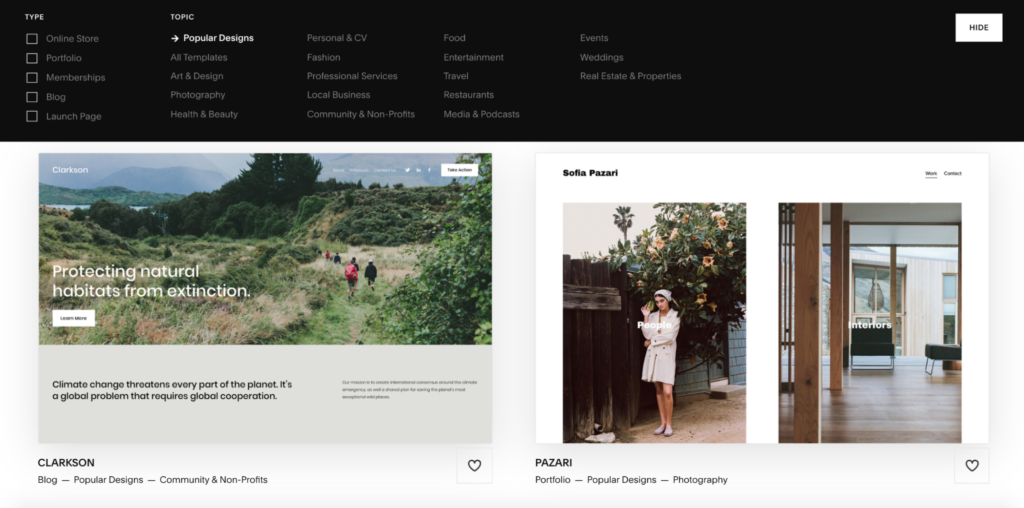 Squarespace allows you to quickly search by topic, such as fashion, and then matches you with relevant themes.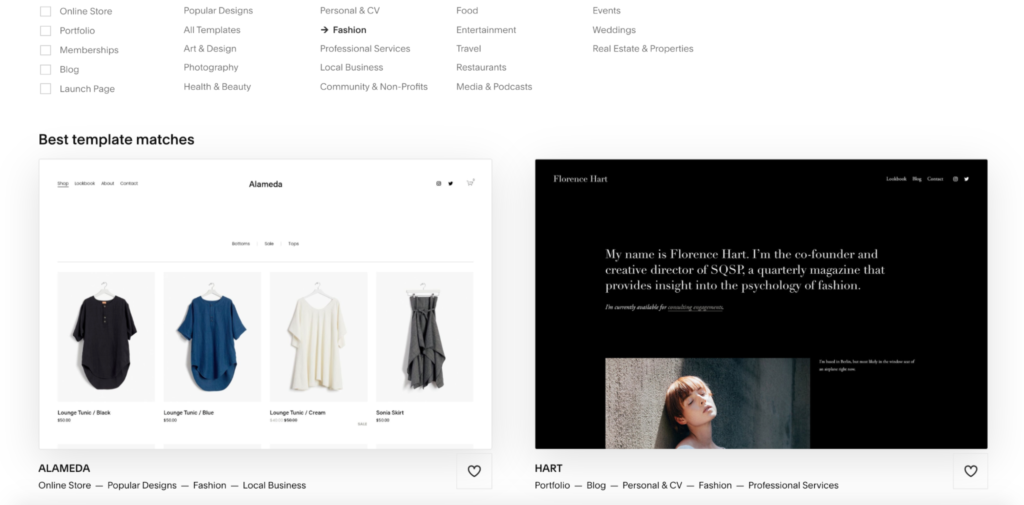 Adding and editing products in your store is super simple, and Squarespace provides you with "an easy-to-use interface that scales with you and gives you complete control over how products are arranged."
With Squarespace, you can create "rich product descriptions, embedded videos, images, related products, and more."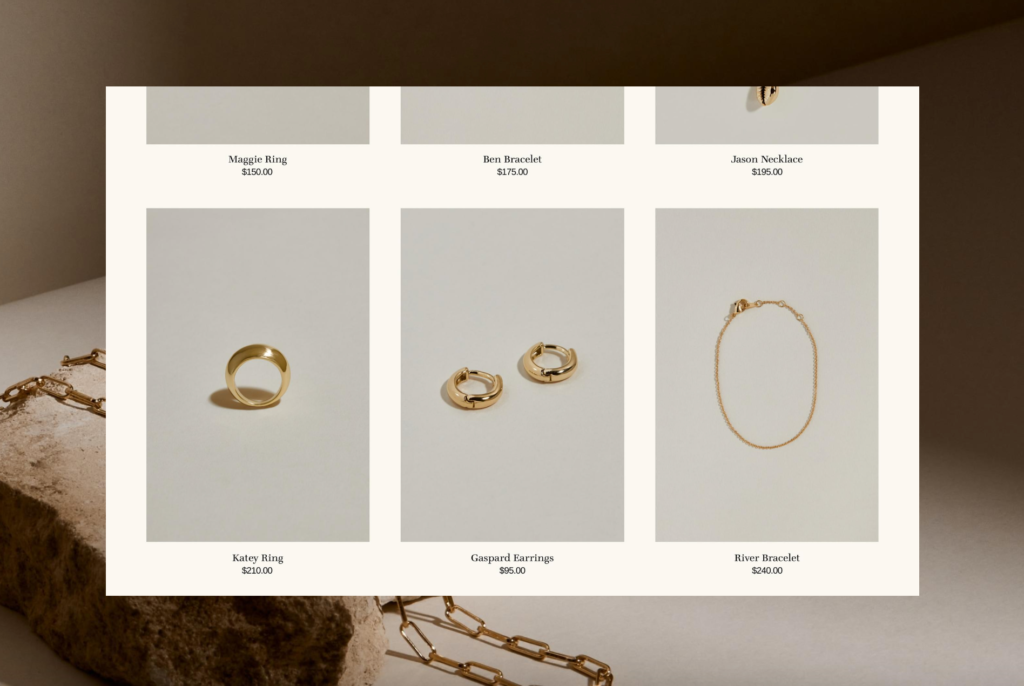 With this ecommerce CMS, you can build in-depth product catalogs and organize them to create a smooth, intuitive customer experience.
One of Squarespace's more notable features is the "product quick view" where customers can zoom in on the details without having to leave the page.
There's also auto-scheduling where you can create sales, promotions, and new product launches ahead of time by choosing a specific date. This way, you can batch tasks and stay ahead of the game.
Squarespace integrates with several major social media platforms like Facebook, Instagram, Pinterest, and Twitter, enabling you to conveniently share products and drive more traffic from these pages.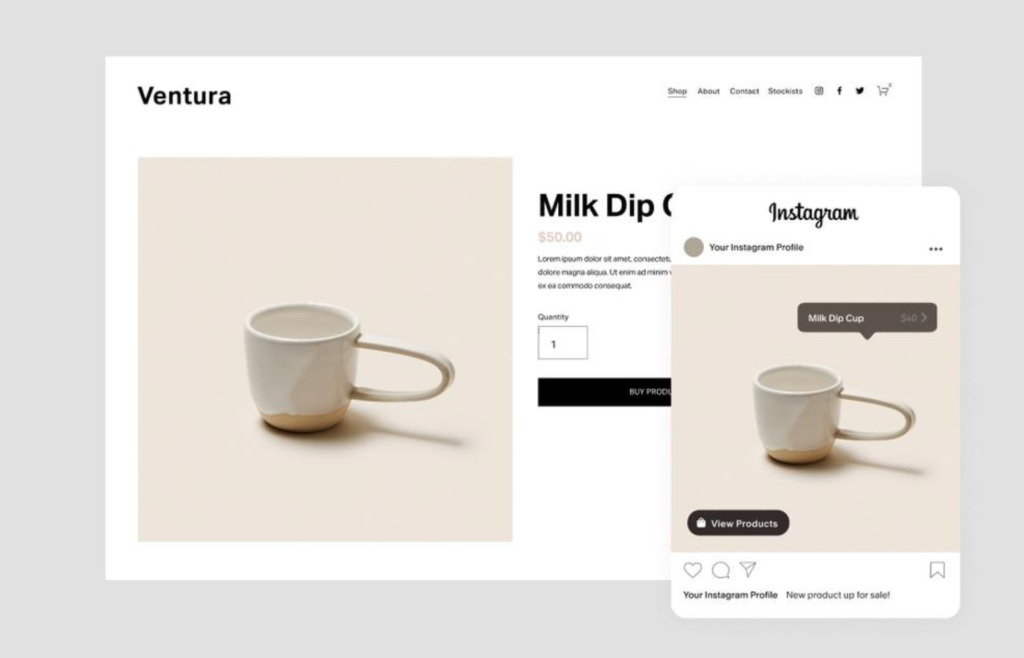 You can also allow customers to leave reviews and sync them directly from Facebook.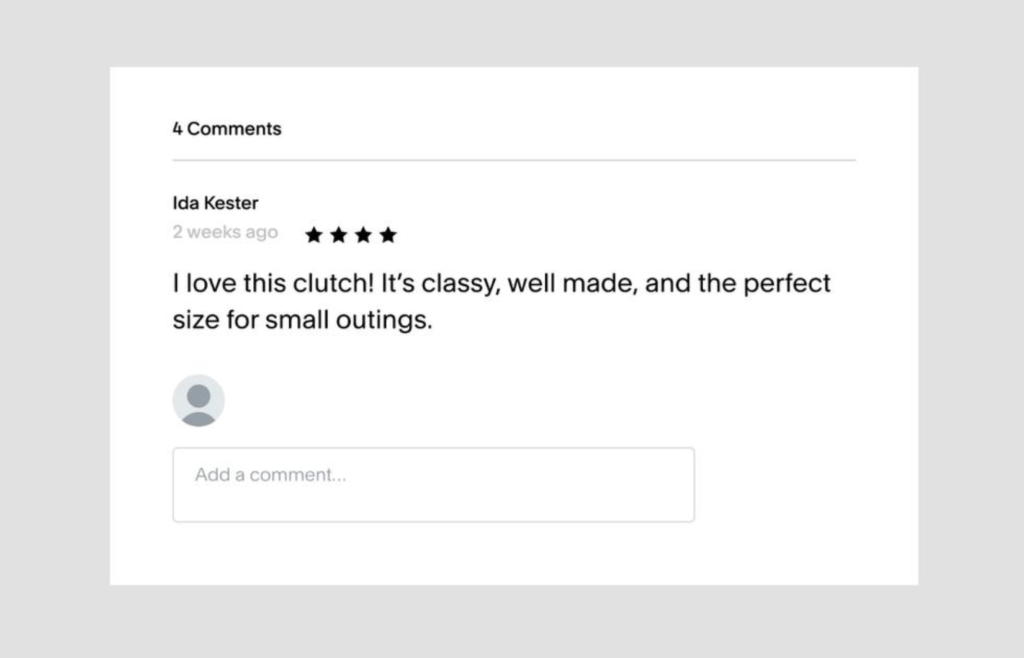 Considering 95 percent of customers want to read a review before making a purchase, this can be huge for increasing your conversion rate.
And when it comes to managing inventory, Squarespace offers:
An inventory panel to quickly add and edit items;
Inventory notifications to alert you when product levels are low; and
An inventory API that syncs with other ecommerce platforms.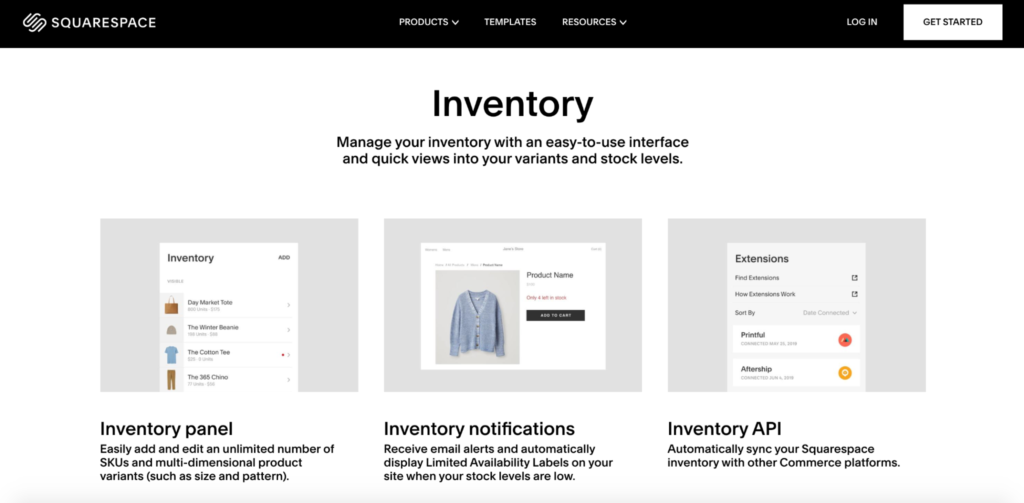 Handling payments is simple. Squarespace allows you to set up gateways and offers integrations with platforms like PayPal and Stripe.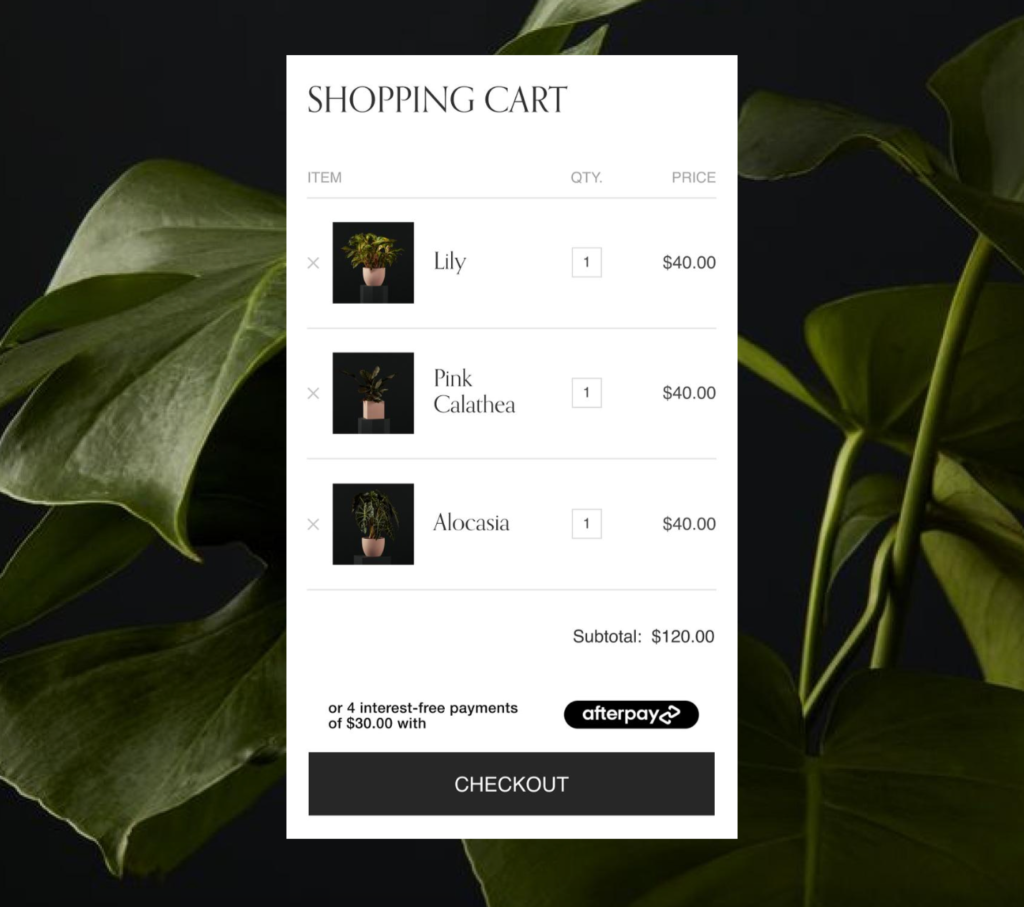 You can also set it up so that you can accept gift cards…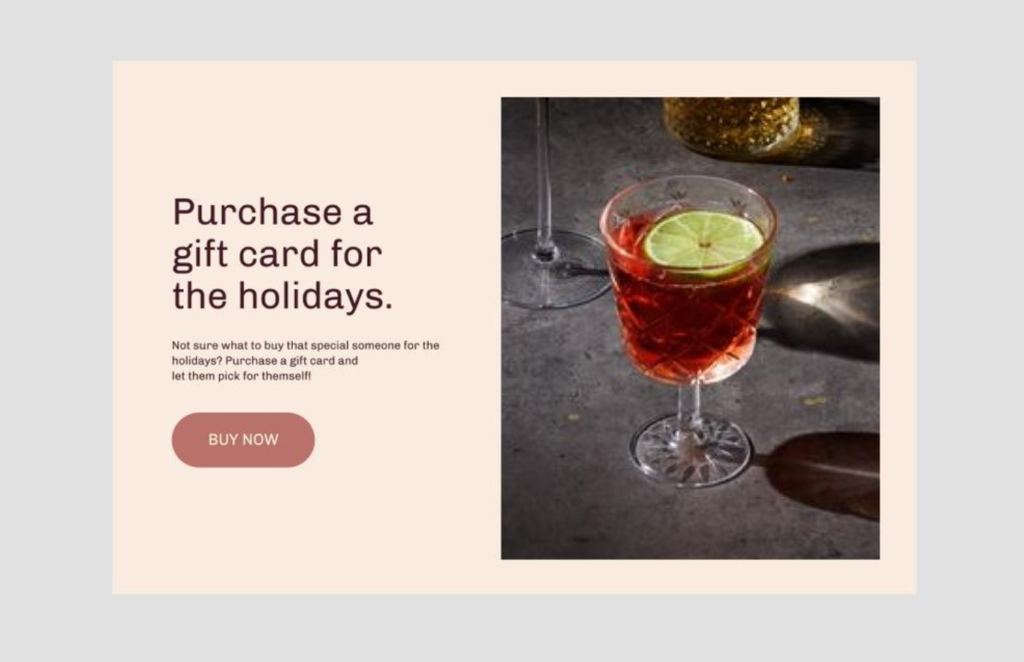 …and even sell product subscriptions.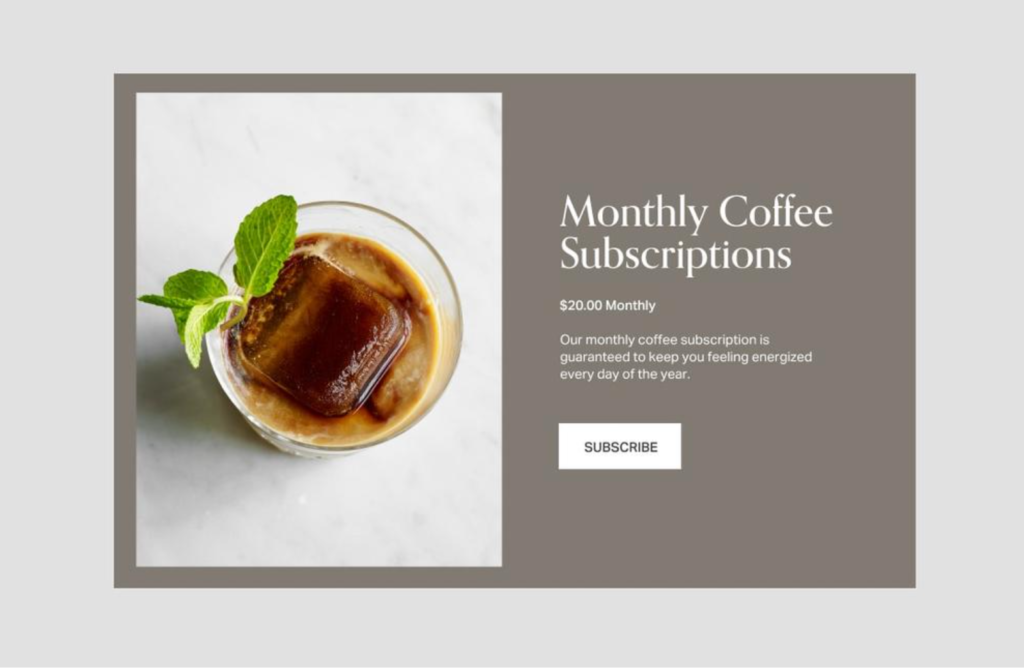 If you currently use a subscription-based model or are thinking about implementing one in the future, this feature is huge.
One last thing I love about Squarespace is that you can instantly insert any product you've placed in a catalog into a blog post or email. This makes for streamlined marketing and saves a ton of time.
If you're looking for a true all-in-one platform that's incredibly easy to learn, Squarespace is just the ticket.
Conclusion
I can empathize with ecommerce store owners who want to create an amazing shop but don't necessarily have the coding chops.
Fortunately, you don't need to be an expert, and ecommerce CMS solutions like these are the ultimate equalizer.
They make it a cinch to add, edit, and manage your online store and personalize it to your heart's content.
While there are numerous options available, I feel these are the best ecommerce CMS platforms based on their simplicity, user-friendliness, and the overall level of professionalism they bring to your store.
And with a robust list of features, you can create a look and feel that's all your own.