Some months it can seem tough to come up with newsletter ideas.
Fortunately, April isn't one of those months.
With a calendar that includes April Fool's Day, Easter, and tax return season, there's no shortage of email campaign inspiration. And if that wasn't enough, college graduations and Mother's Day are just around the corner.
So it's no surprise that April traditionally sees one of the highest average email marketing open rates of any month, at 20.86 percent.
(And, incidentally, it also sees the second-highest click-through rate. So people aren't just opening marketing emails—they're taking action, too.)
But, as you know, there are few guarantees in email marketing. You still need to translate your top-level campaign themes into compelling, revenue-driving emails.
To make your life a little easier, I dived into Drip's ecommerce marketing swipe file to pick out seven of my favorite April newsletter ideas.
Here's what I came back with…
1. Vinomofo: Launch an April Fool's Day Sale
Let's start with a slightly contentious topic: April Fool's Day.
Opinion is divided as to whether brands (or anyone else, for that matter) should join in the "fun".
A 2021 YouGov survey revealed that 45 percent of American adults find April Fool's funny, while 47 percent find it annoying. Under-30s were the only age group to find it more amusing than irritating.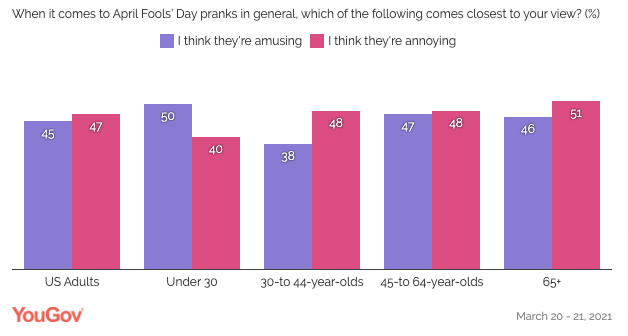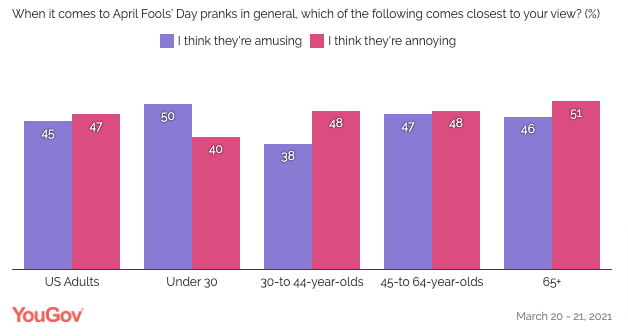 Meanwhile, an older (but still interesting) survey from Ask Your Target Market discovered that 24 percent of people generally enjoy when brands get involved with April Fool's Day pranks, while 27 percent actively dislike it.
So, on balance, it's better not to get involved, right?
Maybe not, because more recent research from Oracle (under the startling headline: "45 Percent of People Have Not Felt True Happiness for More Than Two Years") showed that:
91 percent of people prefer brands to be funny.
72 percent would choose a brand that uses humor over the competition.
To fool or not to fool? That is the question.
As with anything marketing-related, the answer depends entirely on your audience.
YouGov's study suggests younger consumers are more likely to enjoy an April Fool's email. But even then, we'd advise against pranking your customers. Because there's a fine line between telling a joke and making people feel like you're scamming them.
Instead, try delighting your audience with a flash sale, like Vinomofo did in my first April newsletter example. The online wine retailer opened with a strong subject line that plays into the April Fool's theme, while also teasing the prospect of a surprise discount:


The emoji works well here, too, helping the email stand out in a busy inbox.
Having secured the click, Vinomofo makes it clear that this is a real sale: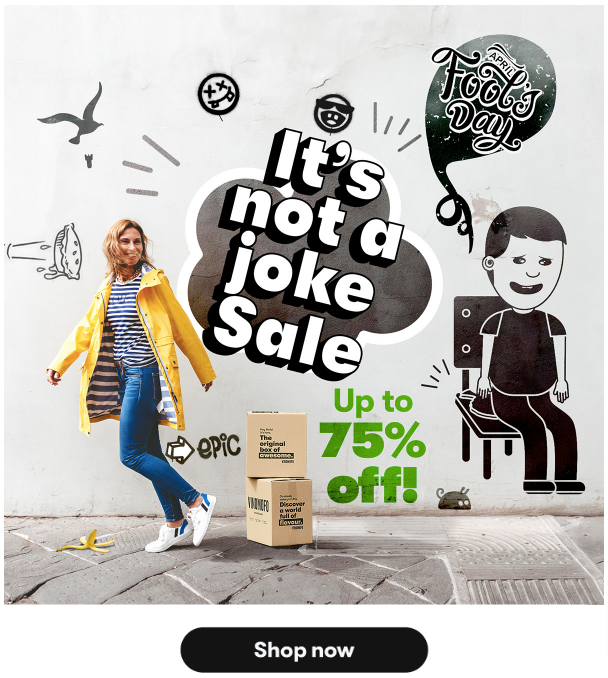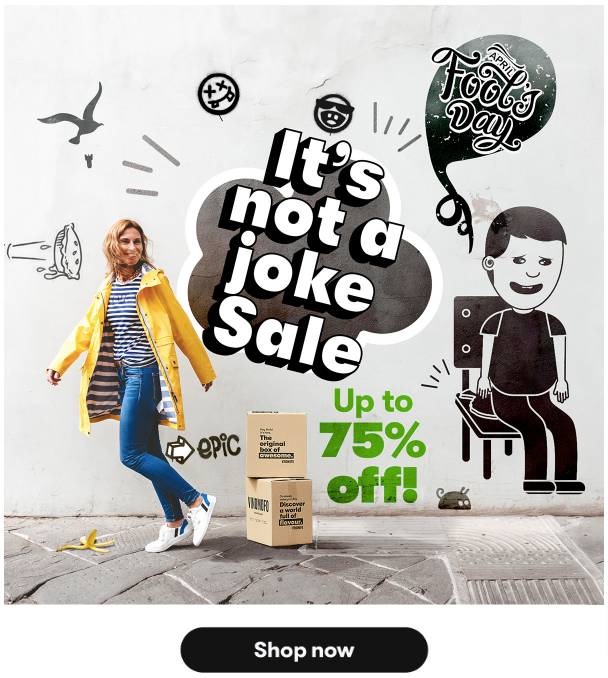 The prospect of a 75 percent discount is certainly attractive enough to persuade customers to click through and learn more.
Another great way to grab your customers' attention is through video. At Malouf, they've got a playful and innovative side – every April Fool's Day, they release clever videos that play up their disruptor image, enticing their specialty retail audience with almost-believable ideas, showcasing their in-house video team's creativity, and engaging their customers.
2. Black Goat Cashmere: Encourage a Spring Wardrobe Refresh
After the cold winter months, spring always feels like it takes an age to appear.
But it's well and trulyarrived by the time April rolls around, so you should definitely encourage your audience to freshen up their wardrobes for the new season.
There's just one tiny problem:
Spring fashion has an extremely short window of opportunity.
As we can see from Google Trends, search activity peaks in mid-March, then drops off sharply in mid-April:


So it makes sense to get your messaging out there as early as possible and push your spring collection aggressively before interest dries up.
Black Goat Cashmere clearly understands this. In April 2022, it reached out to customers with an email carrying the following subject line:


I like this messaging, because it speaks to how many of us are feeling: the relief that warmer days are here at last.
The brand follows up this strong opening by showcasing some of its top spring-related fashion picks: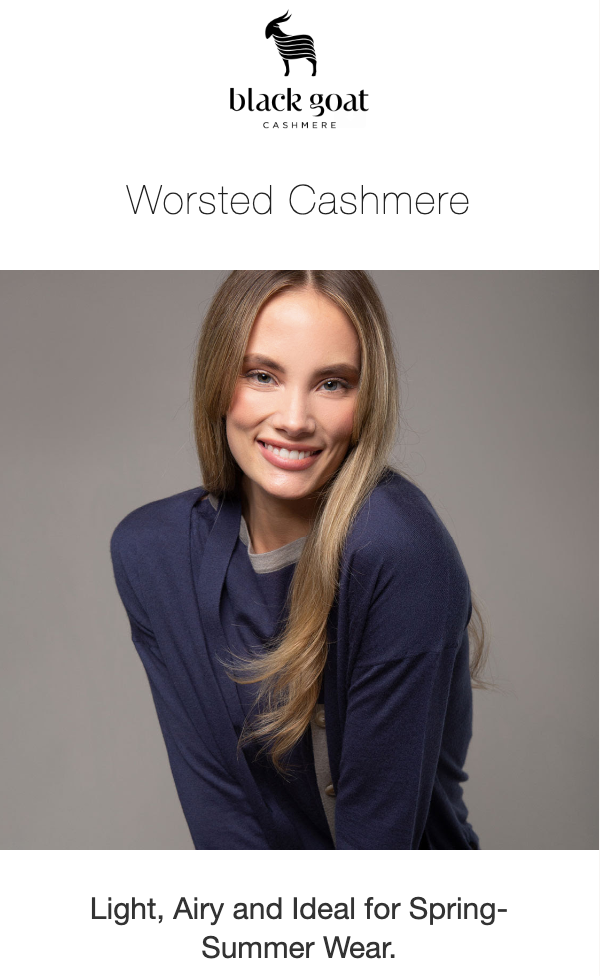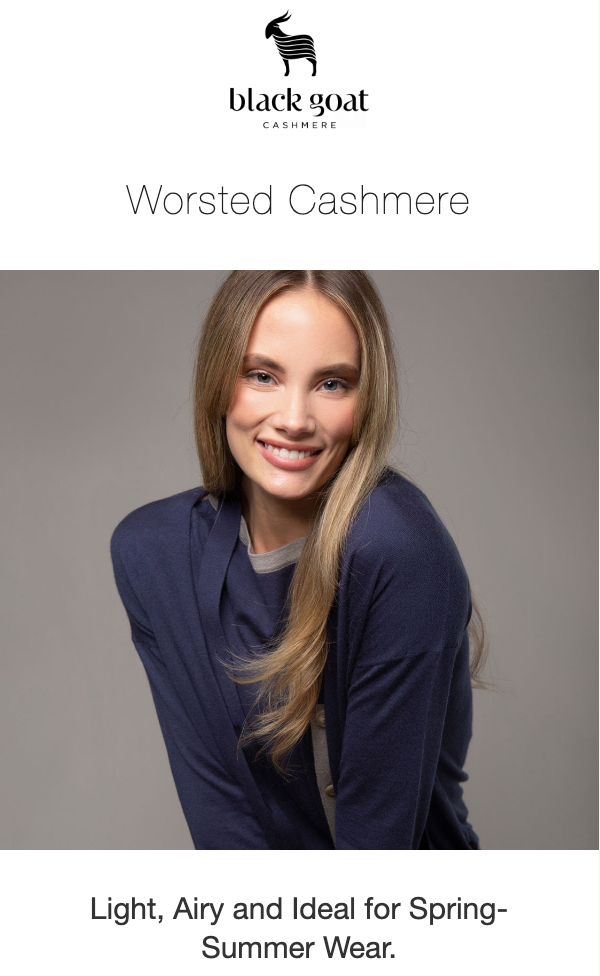 I particularly like how this email positions the products as spring and summer-wear, thereby keeping them relevant for longer. That's a smart play.
3. Torrid: Start Pushing Summer-Themed Products
Highlighting the problem with promoting spring apparel and accessories, search around the term "summer fashion" climbs steadily from mid-April onward:


In other words, no sooner have searches for spring-related clothing peaked than interest shifts straight to summer. No wonder fashion marketers are always so busy.
Plus-size fashion brand Torrid clearly got the memo. By late-April 2022, it had shifted focus away from spring messaging and toward summer-themed products: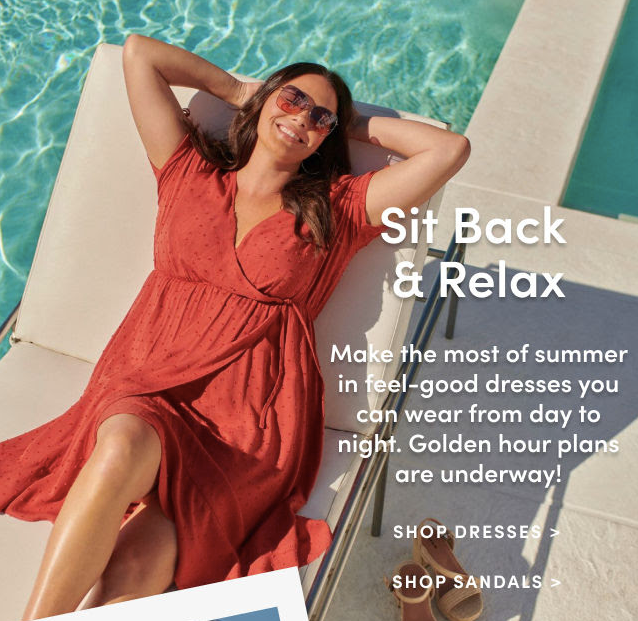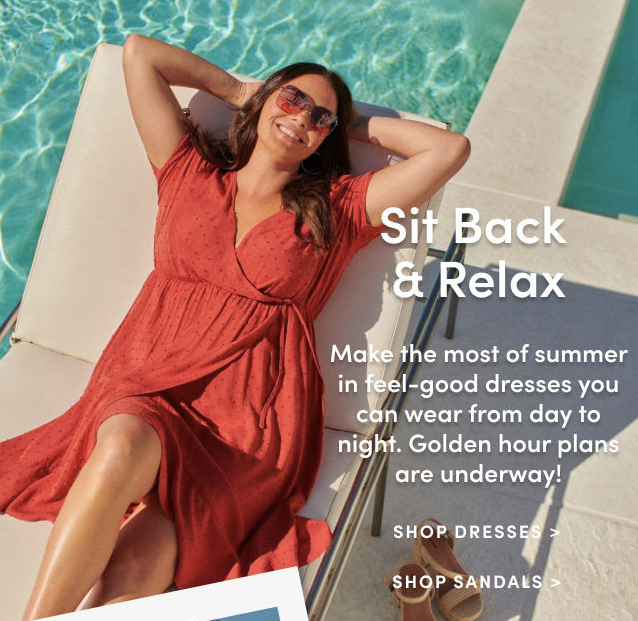 In fact, a quick scroll through our swipe file reveals that in the second half of the month, more than one-quarter of the brand's emails were summer-related (while none mentioned spring).
Of course, April isn't actually the height of summer.
For that reason, Torrid builds its messaging around planning for big, exciting summer events (like vacations).
That way, there's a reason for customers to buy now, rather than waiting a few more weeks for the temperature to warm up even more.
4. Nordic Nest: Promote Easter (As Early As Possible)
Easter is a big deal for retailers.
According to the National Retail Federation (NRF), four in five US households celebrate Easter, with the average household set to spend over $192 celebrating Easter 2023—for a combined spending total of $24 billion.
Compared to other major retail holidays, that's a similar level of expenditure to Valentine's Day.
When you think of Easter spending plans, you immediately picture one thing: chocolate. Unsurprisingly, it's the most popular Easter purchase, with 90 percent planning to buy candy (and 89 percent planning some sort of food purchase).
But it's not all about spending with our stomachs, with 65 percent set to buy gifts, 53 percent planning a clothing purchase, and 50 percent splashing out on decorations.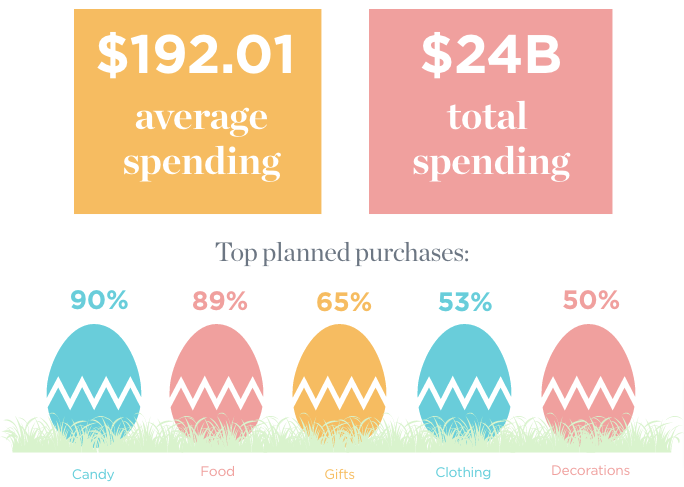 In other words, Easter holds opportunities for retailers across a range of categories, so getting involved is almost certainly worthwhile.
Now, let's talk timings.
Google Trends data shows there's a long lead-in, with Easter shopping-related searches climbing steadily throughout February and March, before spiking in the week leading up to Easter Sunday:


So it pays to start promoting Easter messaging as soon as possible—certainly by early April.
Nordic Nest got it right with this Easter email example, sent on April 2nd, 2022: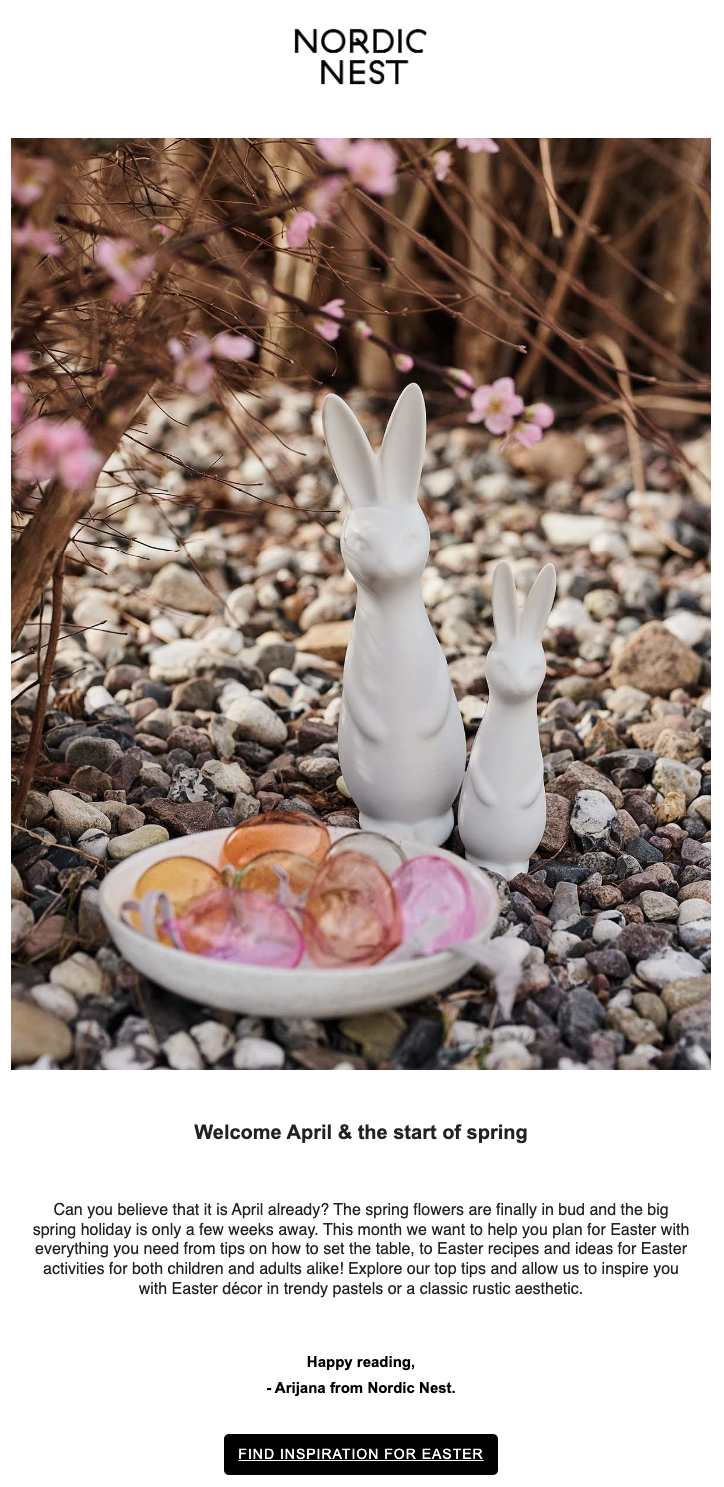 The whole theme here is around inspiration, from food and drink to decor and entertainment.
This makes the email feel helpful and distinctly un-salesy; but it all comes together at the end with a strong call to action pointing readers toward the brand's dedicated Easter collection.
5. One Kings Lane: Showcase Big-Ticket Home Decor Purchases
April is arguably the best month of the year to promote big-ticket purchases.
Why? Because it's tax return (and refund) season.
According to the NRF, the vast majority of Americans have already filed their returns by the time April comes around.
That's fantastic news for retailers, because 59 percent of consumers expect a tax refund in 2023—and the IRS issues most refunds within 21 days.
Or, to put it another way, a lot of people find themselves (comparatively) flush with cash each April.
Sensibly, most Americans plan to use their tax refunds to top up their savings, pay down debt, or cover everyday expenses.
But about one-fifth are planning a "major" or "splurge" purchase, and one in nine plan to invest in home improvement.


So if I was doing marketing for a home decor brand, I'd absolutely tune my April messaging toward encouraging big-ticket acquisitions.
That's precisely what One Kings Lane did in my next April newsletter example: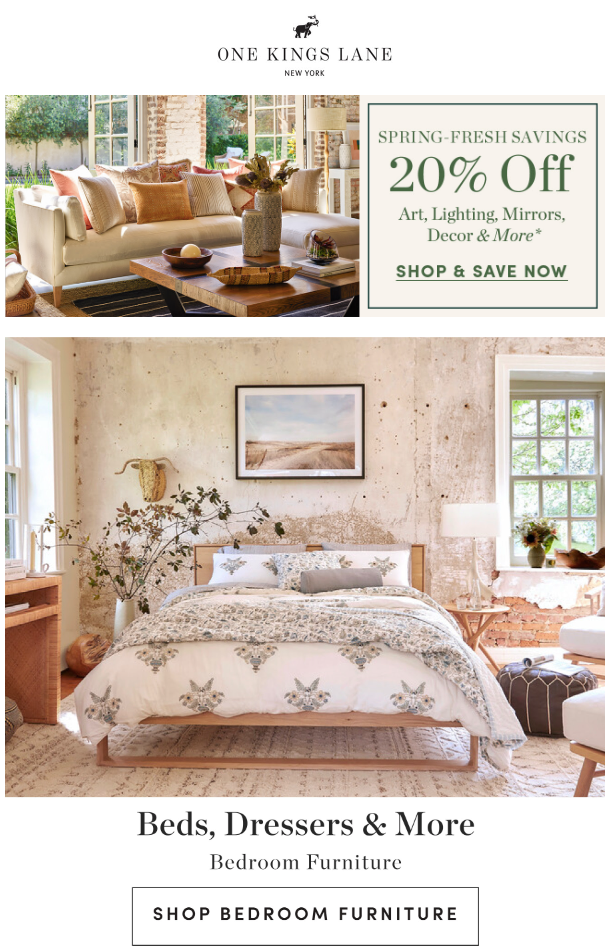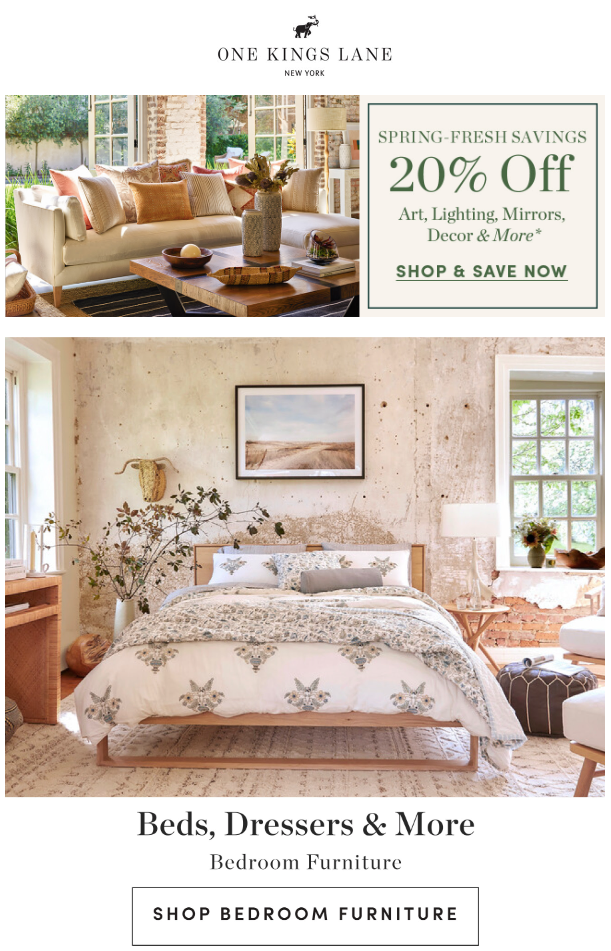 Not only does it push customers toward premium furniture products like beds and dressers, it also gives them an incentive to click through by referencing a 20 percent discount.
If you had a substantial tax refund burning a hole in your wallet (and you were in the market for a stylish new bedroom), there's a good chance you'd open—and click-through from—this email.
6. The Sill: Issue a Mother's Day Reminder
Sticking with big retail events, April is also a smart time to start promoting Mother's Day, celebrated on the second Sunday in May (in the US, at least).
NRF research revealed that 84 percent of Americans planned to celebrate Mother's Day in 2022, with per-person spending projected to hit almost $250.
Flowers and greeting cards are perennially popular gifts, but there's no shortage of opportunities for brands in other verticals—from clothing and accessories to homeware and electronics.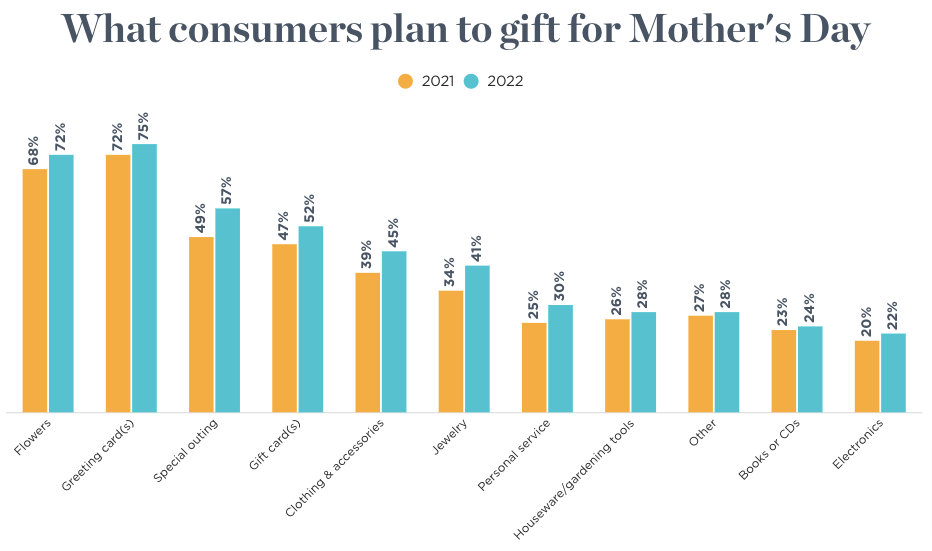 And with 36 percent of Mother's Day shoppers planning to buy gifts online, this is a holiday that ecommerce brands can ill afford to miss.
So what's the best angle for your Mother's Day email campaign?
One effective approach is to remind customers that the shipping deadline for Mother's Day gifts is approaching fast, just like The Sill did in this April email example: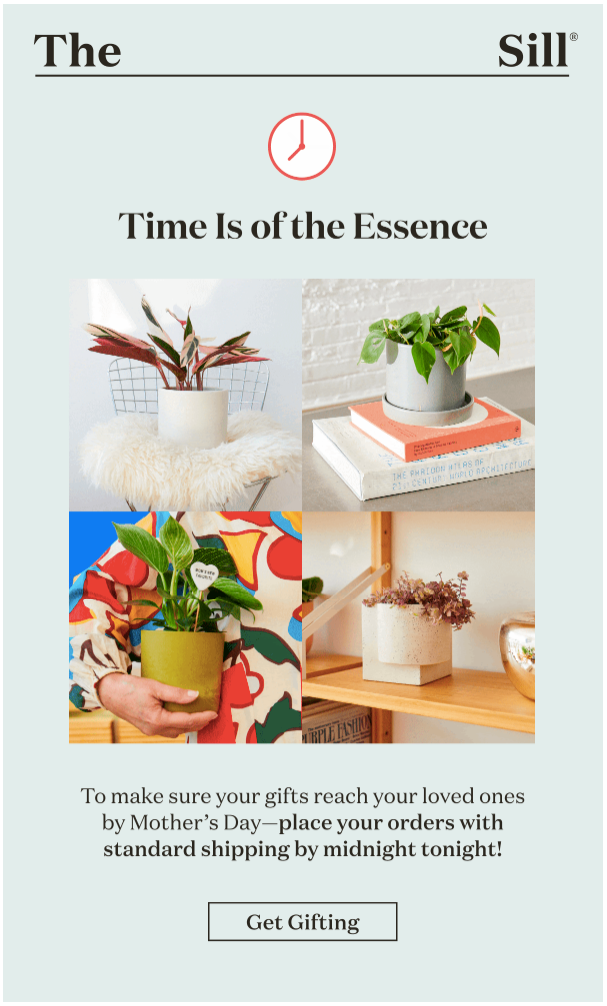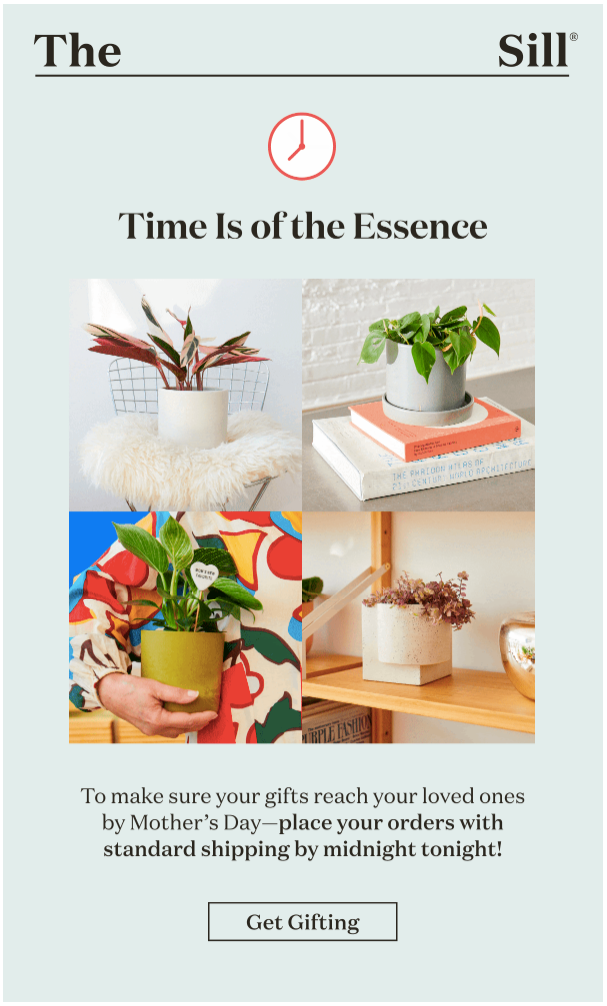 Literally no one wants to forget about Mother's Day—it doesn't bear thinking about.
By sending your audience a timely reminder, you're not just promoting your products; you're performing a valuable public service.
7. Monki: Capitalize on Graduation Festivities
And the big retail events don't stop there, because there's another key date (or series of dates) on the horizon: college and high school graduation.
Most US institutions hold their graduation ceremonies in May and June, so April is the ideal time to start pushing grad-related messaging.
Our trusty friends at the NRF found that about one-third of Americans plan to buy gifts for high school and college graduates, with top choices including gift cards, apparel, and electronics.


But graduation isn't just about gifting. Graduates are (understandably) keen to celebrate their achievements, so many will be looking to purchase party outfits for the occasion.
Which explains the uptick in search activity for the term "party outfits" in late April and early March:


Monki is one brand that's well aware of this trend.
In April 2022, it shared an email prompting customers to "dress up for the occasion", before referencing graduation dinners and garden parties: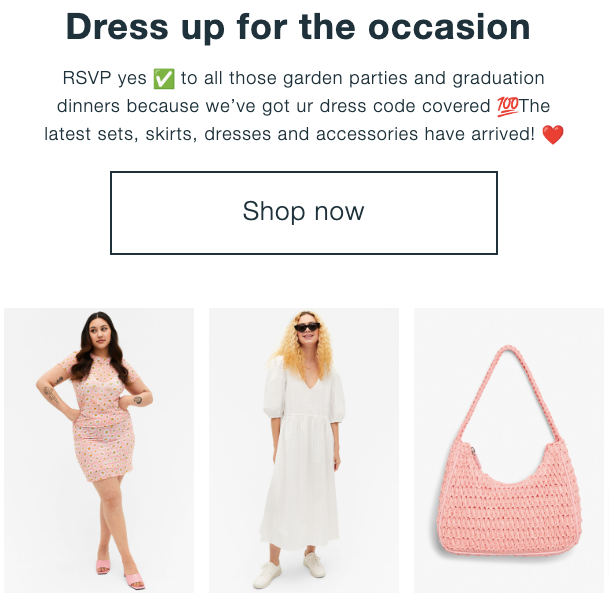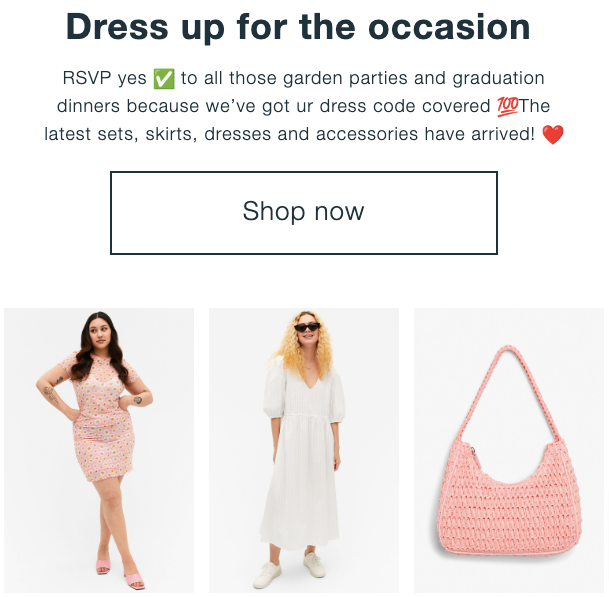 Do Better Email Marketing All Year Round With Drip
From designing assets to crafting snappy copy, email marketing takes a bunch of time. Wouldn't it be great if it was quicker and easier to design beautiful emails that convert?
Turns out it can be: you just need Drip in your corner.
Our platform helps you craft on-brand emails that stand out, while providing the data, insights, and personalization capabilities to hit your revenue targets out the park.
Of course, I don't expect you to take my word for it.
Instead, find out for yourself by signing up for your 14-day free trial.