Competition is fierce in the ecommerce world. Consumers have a ton of options, so it only makes sense that many want to compare prices before making a purchase.
A recent survey found, nearly four out of five (79 percent) of people actively try to find the lowest prices when shopping, and 78 percent compare prices from different stores before buying. Furthermore, 41 percent say they do it most of the time.
One of the main ways they do this is through shopping search engines. These sites make it a breeze to find products for everything under the sun. Whether it's clothing, furniture, gadgets, or anything in between, it's all available on shopping search engines.
As an ecommerce store owner, you'll want to take full advantage of these platforms and get your products listed on them. But which ones should you concentrate on?
Here are the top sites based on key metrics like popularity, traffic, user engagement, how much it costs to sell, and click-through-rate (CTR).
1. Google Shopping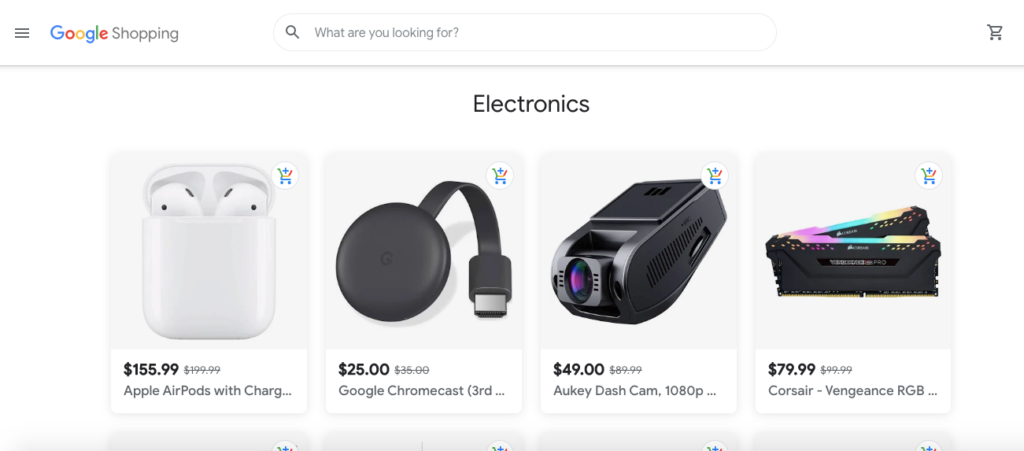 Previously known as Google Product Search, Google Shopping is a price comparison portal that's picked up a lot of momentum in recent years.
It's caught on with consumers and is the next phase of Google's ecommerce influence. And it's a focal point for many brands, with many willing to devote a significant chunk of their marketing budget to it.
"Across US online retail, Google Shopping Ads now make up 76.4 percent of retail search ad spend, and win 85.3 percent of all clicks," according to Smart Insights.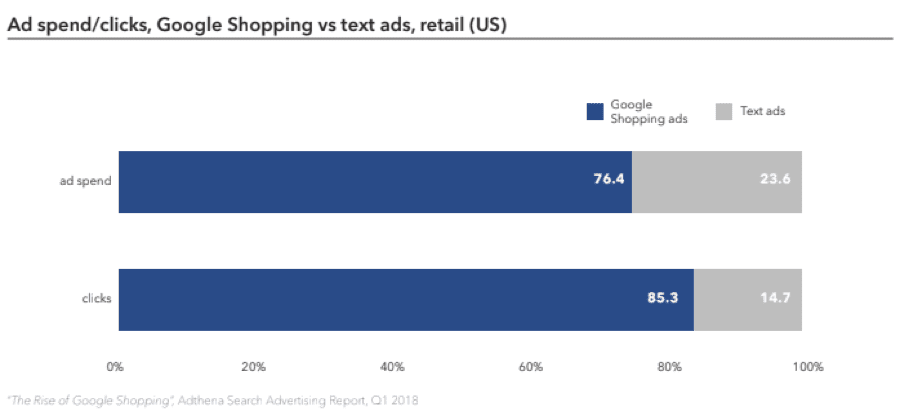 Like anything else from Google, it has a clean and user-friendly interface that allows shoppers to find what they're looking for seamlessly.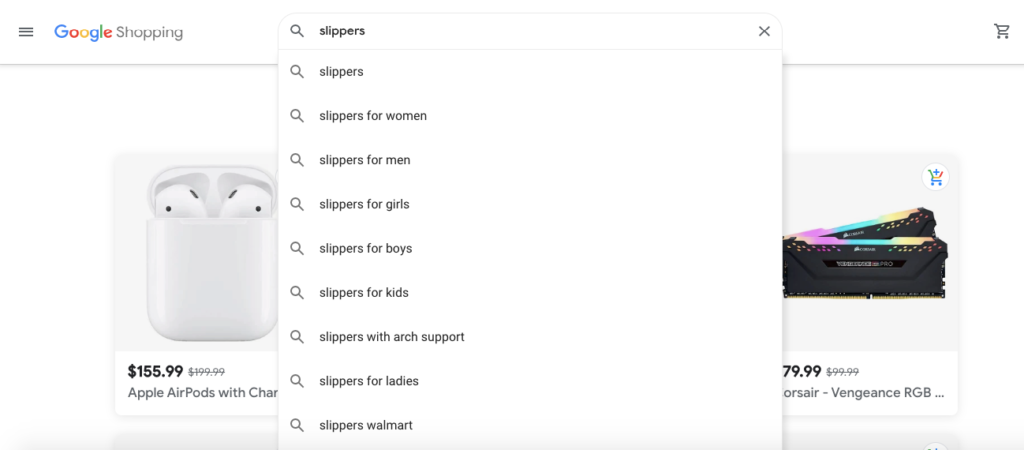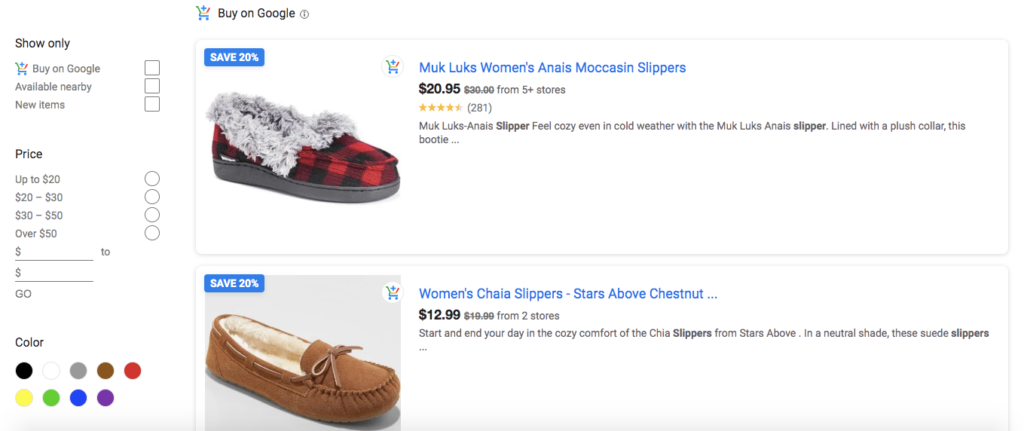 Google Shopping also allows users to narrow their search down by specific criteria like price, color, category, style, and so on.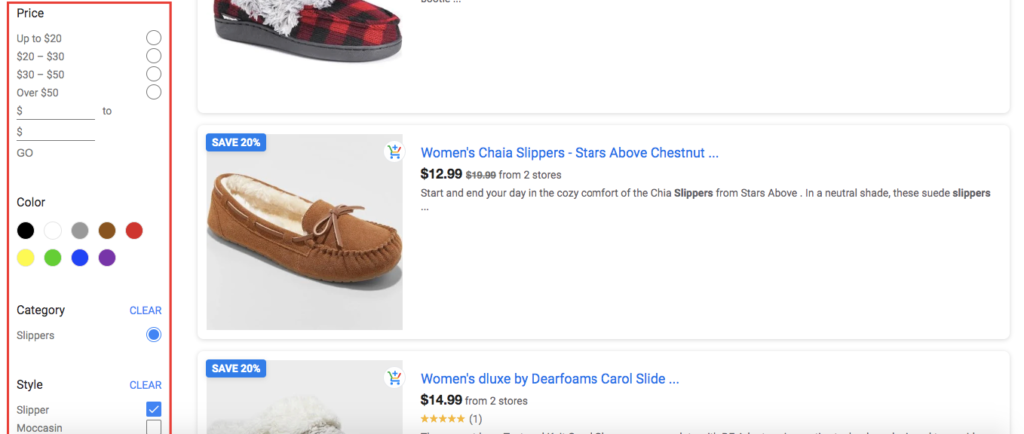 Considering the average cost-per-click (CPC) was just $0.66 as of mid-2019, running a campaign on this platform shouldn't break the bank.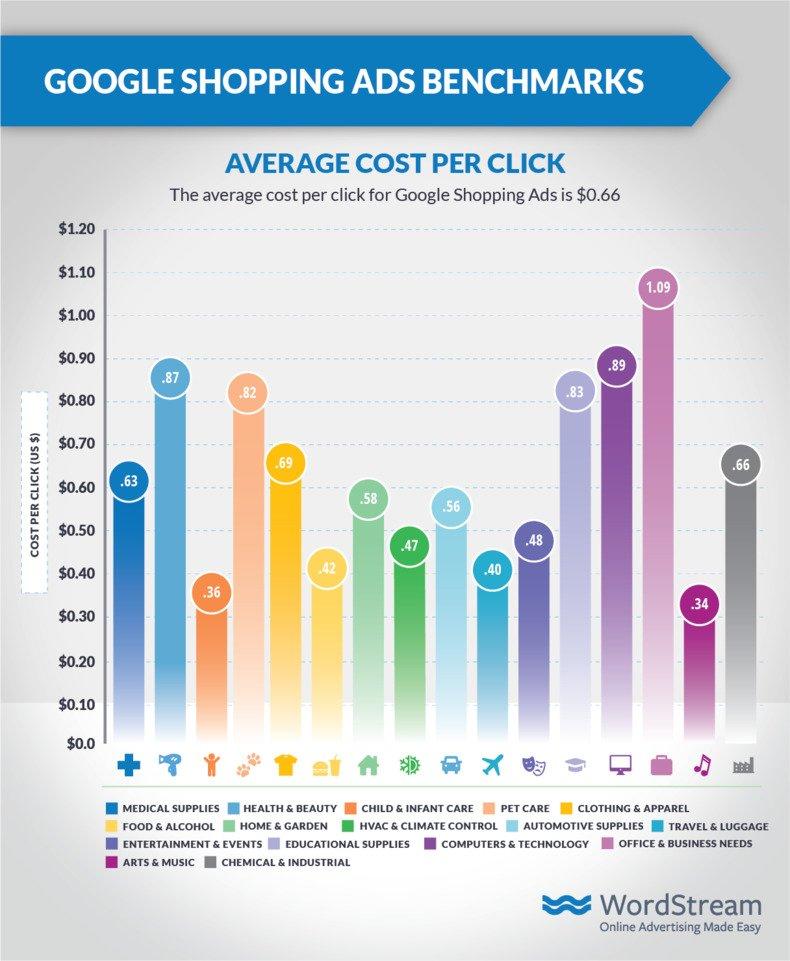 In terms of CTR, the average is 0.86 percent across all industries, which is substantial, considering the average for display ads, in general, is only 0.35 percent.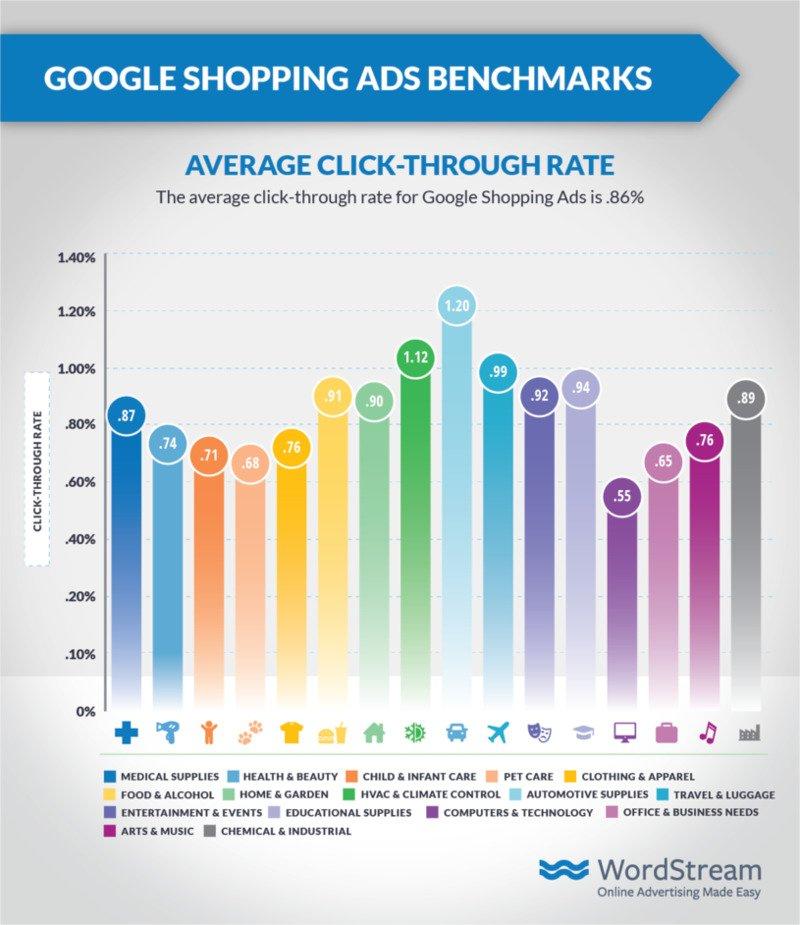 Given the full range of products available on Google Shopping, it should be viable for brands in most industries. There's a lot of competition, but the massive amount of traffic means you should still see results.
2. Bing Shopping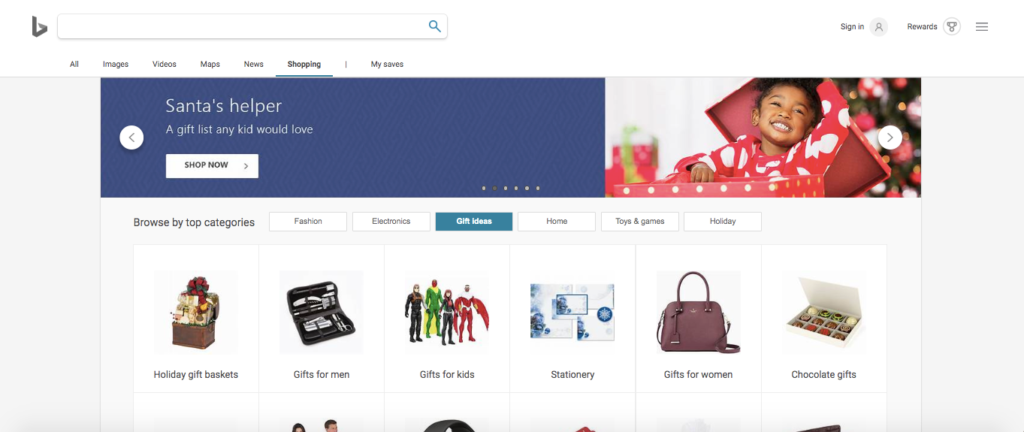 Although it doesn't have nearly the same firepower as Google Shopping, Bing Shopping is still an appealing option for many ecommerce store owners.
PPC and paid social services company Klient Boost says, "Bing accounts for 20 percent of the US search market share, and adding Bing's different partnerships brings that total percentage up to a little over 30 percent."
So there's plenty of potential with this platform. It has a nice interface, allowing shoppers to enter specific search criteria or shop by category.
For instance, clicking on "Fashion" helps sort out products where shoppers can quickly browse through dresses, boots, sweaters, etc.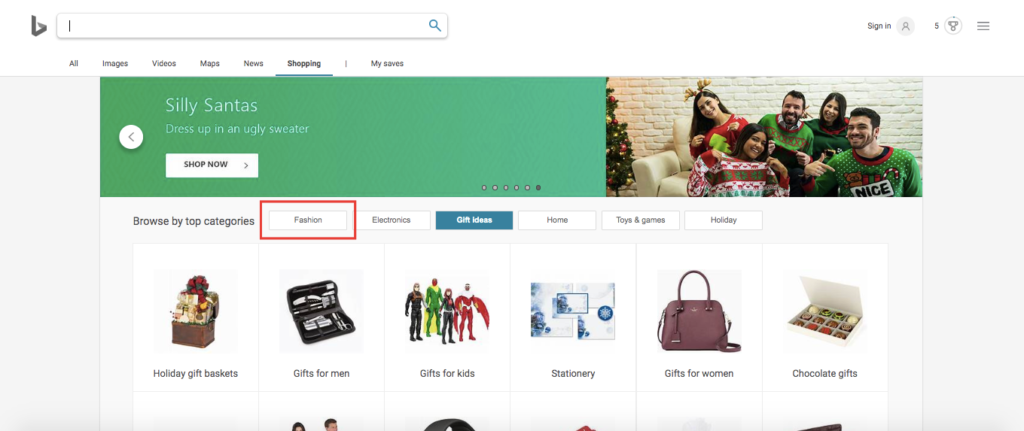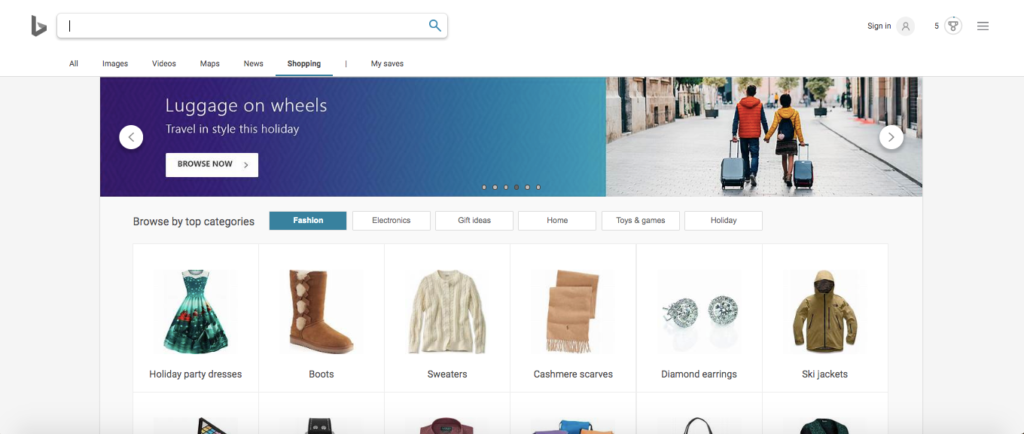 From there, they can quickly browse through different products and sort them out further by selecting additional criteria.
As for the average CPC, it's only a mere $0.46 on Bing Shopping and is even lower for specific industries.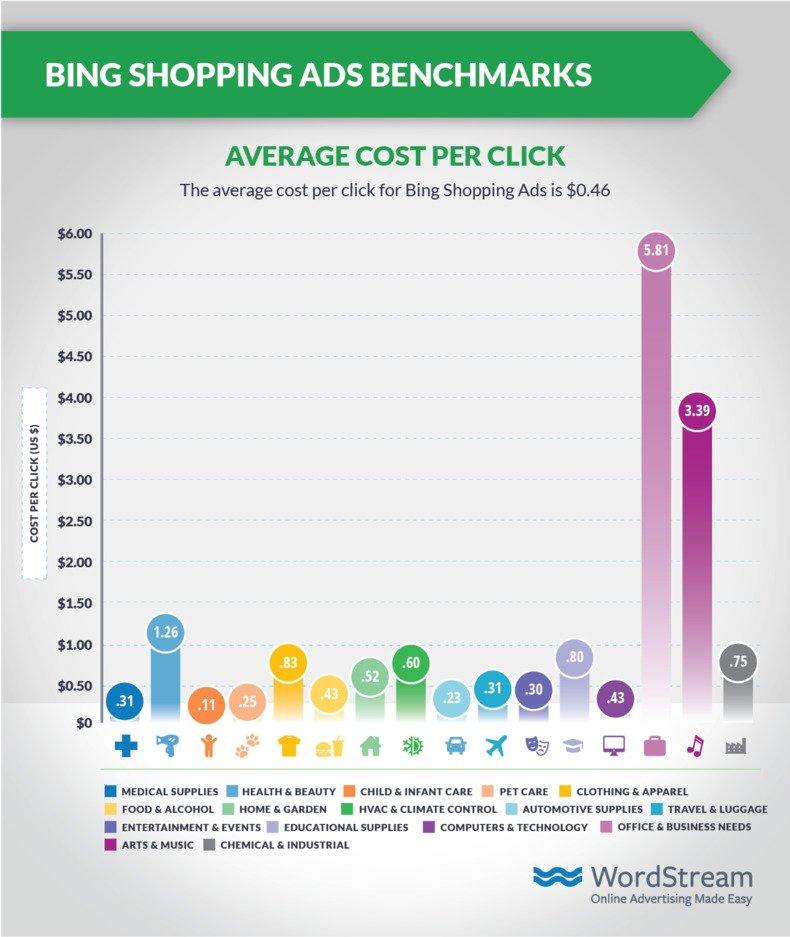 And it has a decent CTR of 1.25 percent.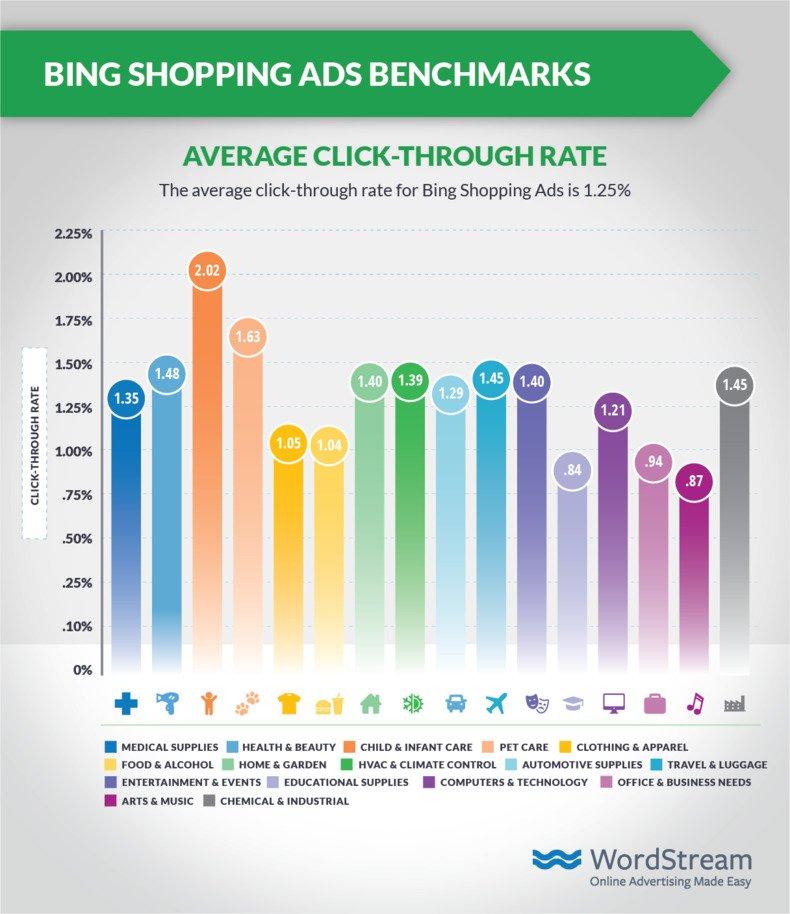 So it's something to consider, especially if you're looking to branch out beyond Google.
3. Yahoo Shopping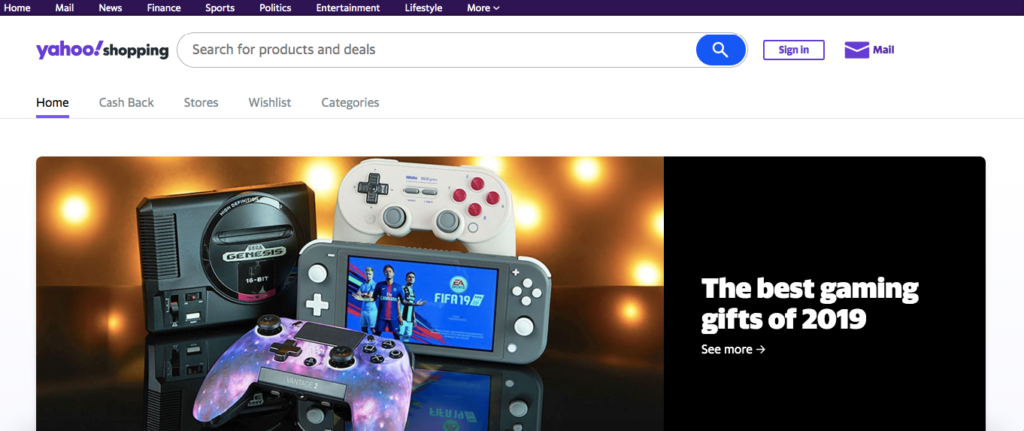 I probably don't need to tell you that Yahoo isn't what it once was and has lost the search engine battle to Google.
However, they still manage to bring in some significant traffic and had one billion active users in 2016. Believe it or not, their total monthly visitors on mobile was 600 million that year.
This tells me that there's still plenty of opportunity on this site, which is why I'm mentioning Yahoo Shopping as a top shopping search engine.
It has some pretty cool features, including popular cashback deals, a price tracker, shopping inspiration, and more.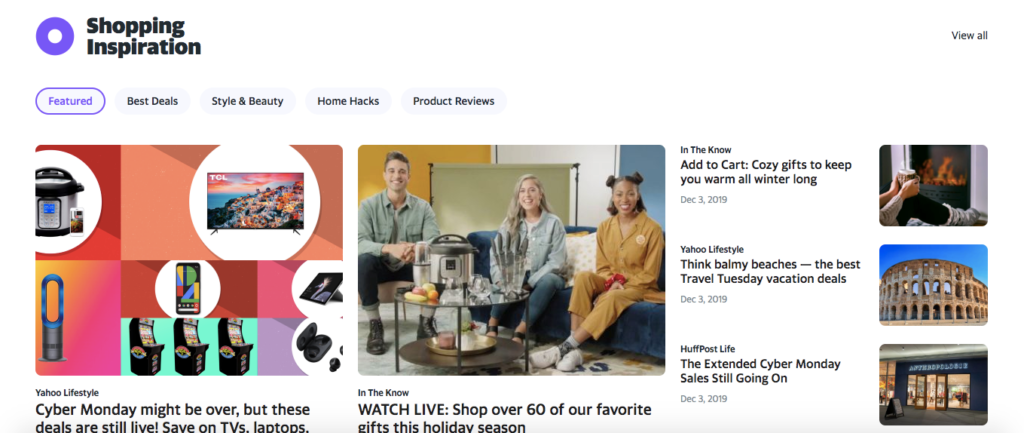 Yahoo Shopping is especially prominent when it comes to clothing and apparel, and always features exclusive deals on the homepage.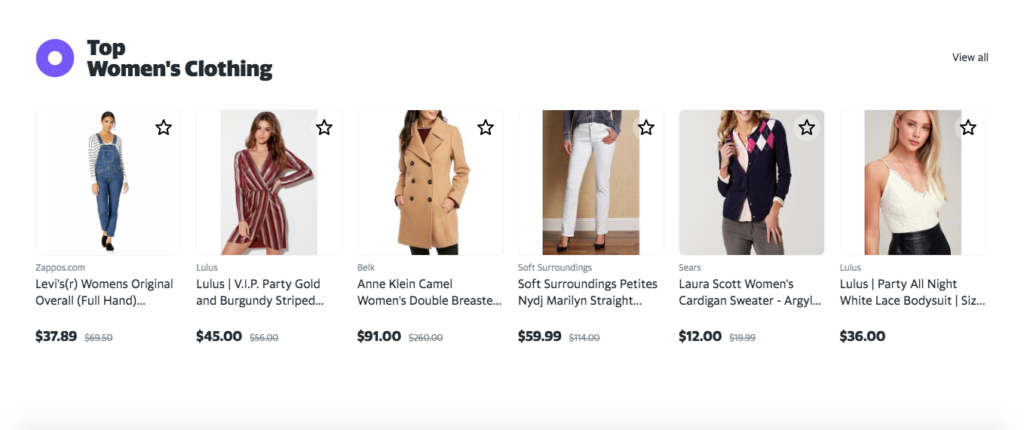 And they make it super simple for shoppers to find what they're looking for.
There's a nice, large search bar at the top.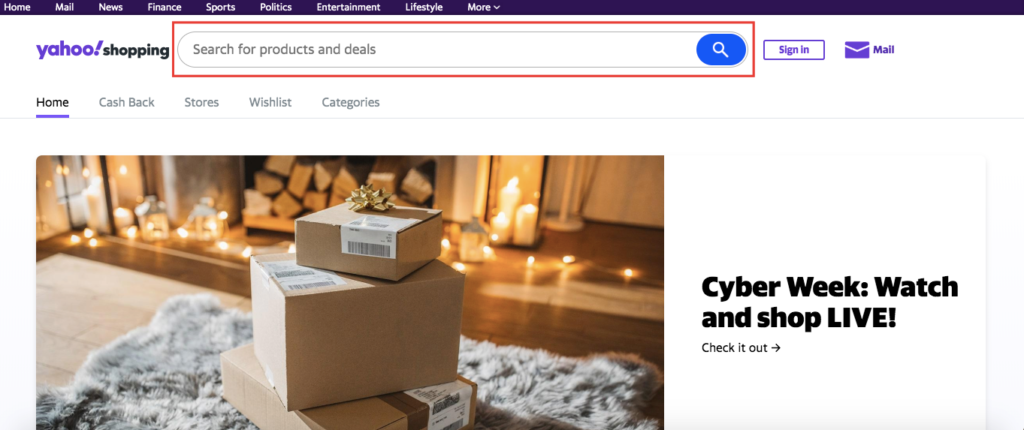 Shoppers can search by "Cash Back," "Stores," "Wishlist," or "Categories" just below that.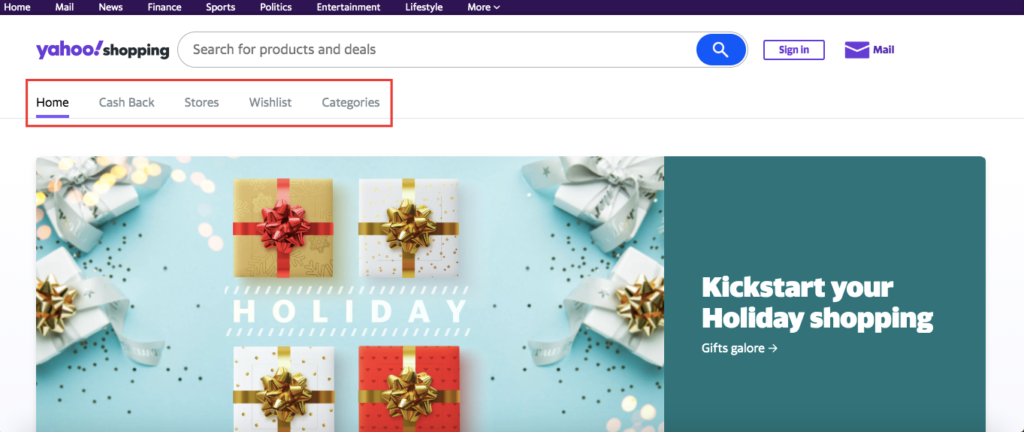 Or they can browse through a wide array of ever-changing deals by scrolling further down the homepage.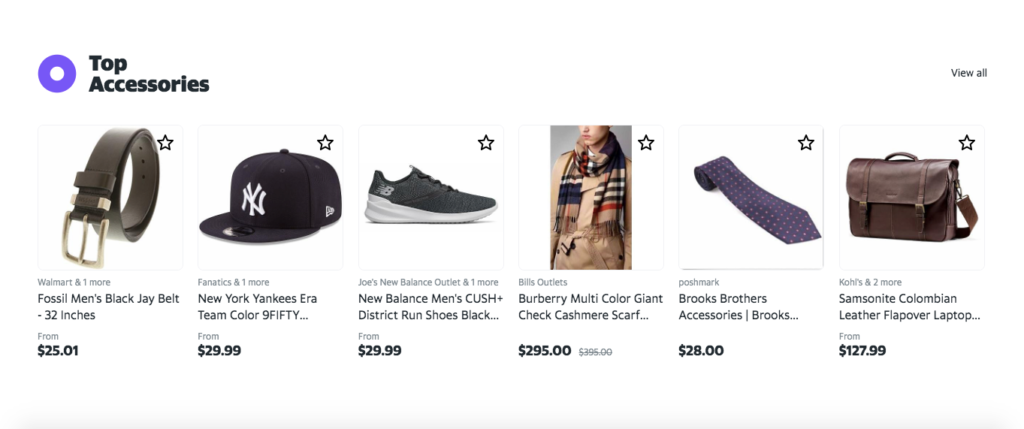 When a shopper is interested in something, all they have to do is click, and Yahoo Shopping redirects them to the product page.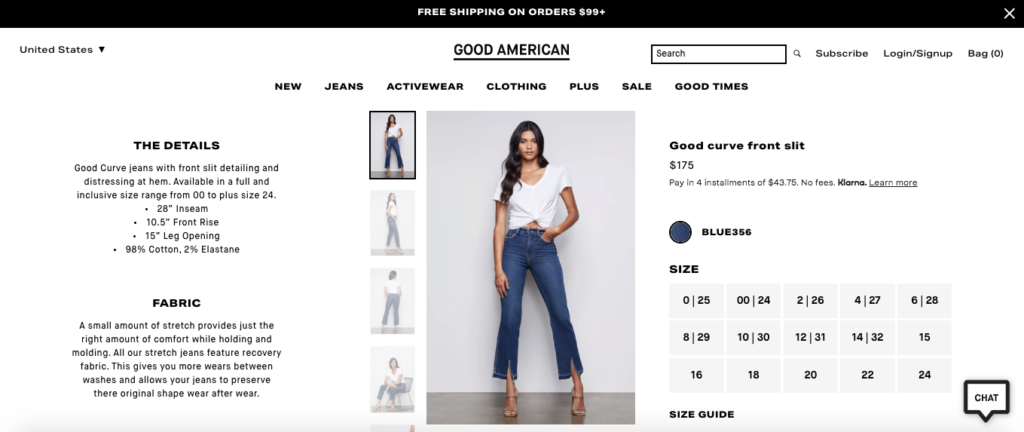 When it comes to getting your products featured on Yahoo Shopping, this is now done through Bing Ads.
"Back in January (of 2019), Bing Ads announced a strengthened partnership with Verizon Media in an effort to help improve how consumers find products and services across multiple platforms," explains marketing expert Anthony Capetola.
"Now, ads on both Yahoo and AOL (Verizon Media properties) are exclusively served by Bing Ads."
In other words, Bing Ads is now a one-stop-shop for Bing Shopping and Yahoo Shopping. So that's where you'll need to go to get your products featured here.
4. Wanelo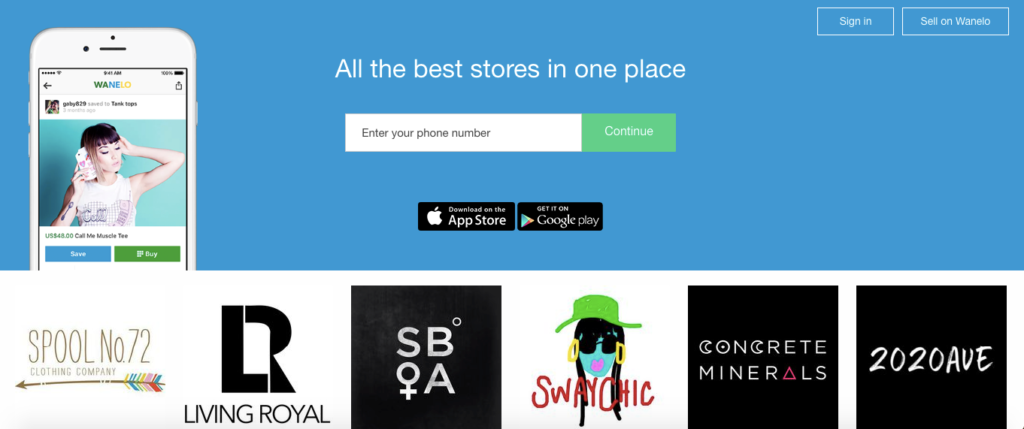 Short for want, need, love, Wanelo is a shopping and fashion app that helps people find great deals on over 20 million products.
As of late 2018, there were roughly 550,000 stores featured on Wanelo and 11 million users.
There's a major demographic skew, with 90 percent of users being female and only 10 percent being male.
So while it may not be great for brands who are trying to reach men, it can be a potential gold mine if you cater to women.
What I love is that the average user spends a staggering 50 minutes per day on Wanelo. Talk about engagement! This is higher than Facebook, where users spend an average of 41 minutes per day on the site.
Wanelo has a smooth, seamless interface where shoppers can search for products or check out individual stores like this one from women's clothing company Maude Boutique.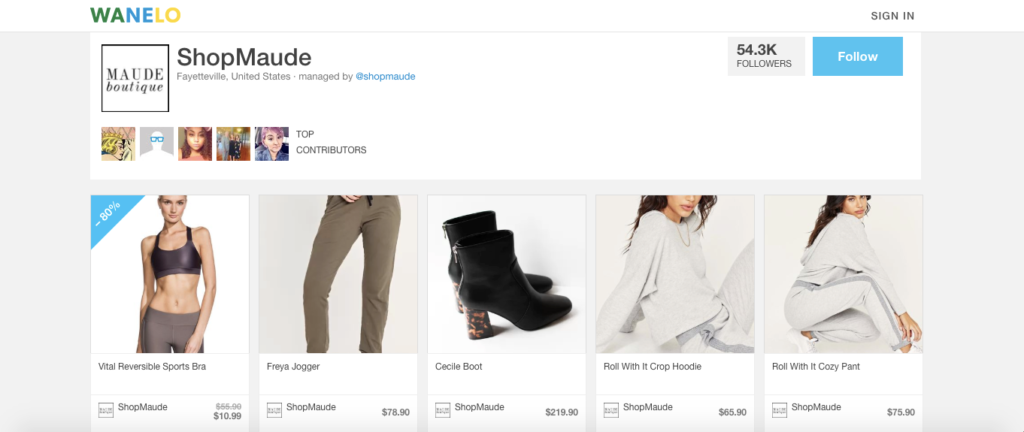 Users can click on an item, save it, or buy it in a snap.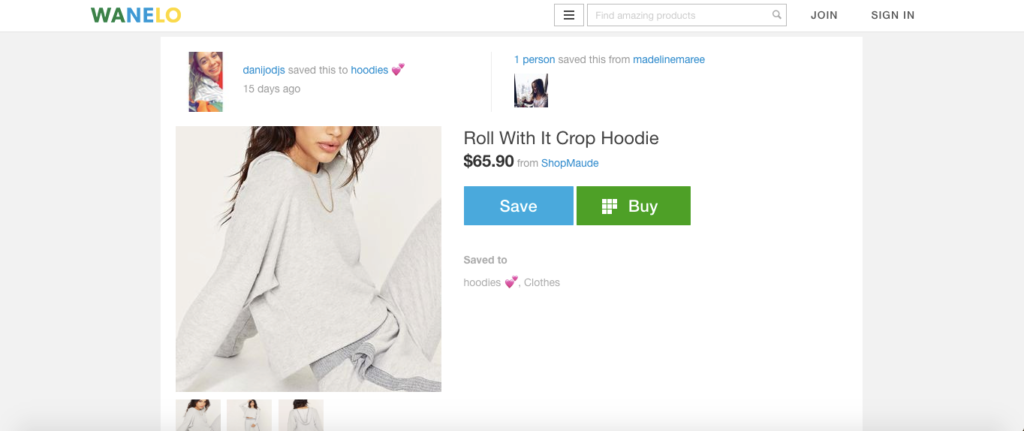 Selling on Wanelo is free. However, they charge a 16 percent commission on all fulfilled orders. So you need to factor this in. But when you consider the increased volume of sales you can generate, it should still be a profitable move for most ecommerce stores.
5. Pinterest
Although Pinterest is technically a social network, it also acts as a shopping search engine because it allows users to shop for and compare products quickly.
For instance, if you search for winter beanies, you get a ton of results and can conveniently check product details, pricing, and so on.
Here's what happens when you click on the "Winter beanie hat for men" from Agorasell.

It provides you with some quick product information.

And if you're interested, you simply click through directly to the product page and buy it.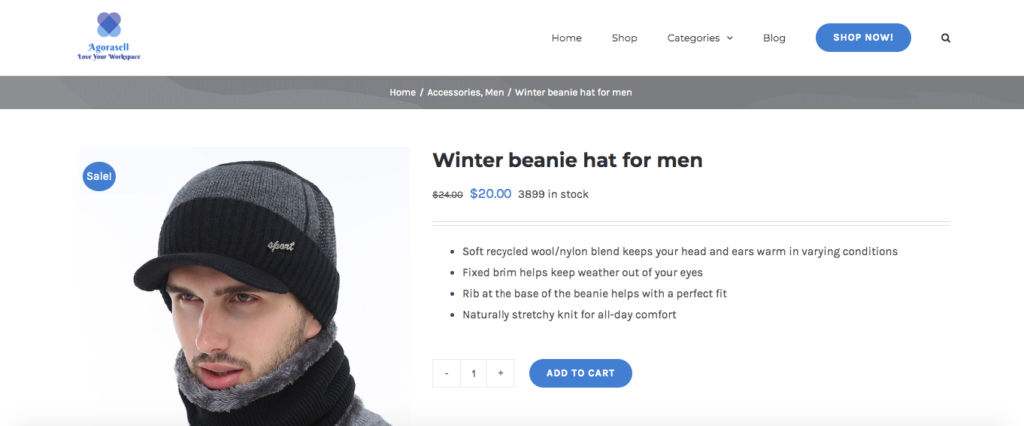 The whole process is smooth and friction-free. And Pinterest has a nice feature where users can conveniently shop for similar products by scrolling down the page.
Once they do this, they get instant pricing information on each product and can use filters to expedite their search.

So it's easy to see why Pinterest would be a popular platform for making product comparisons.
While it doesn't have nearly as big of user base when compared with Facebook, YouTube, and Instagram, it's still solid at over 300 million users as of March 2019. And it should also be noted that two million users save shopping pins on their boards daily.
This means that even if someone doesn't go through with a purchase right away, there's a decent chance they'll buy later on.
6. Shopzilla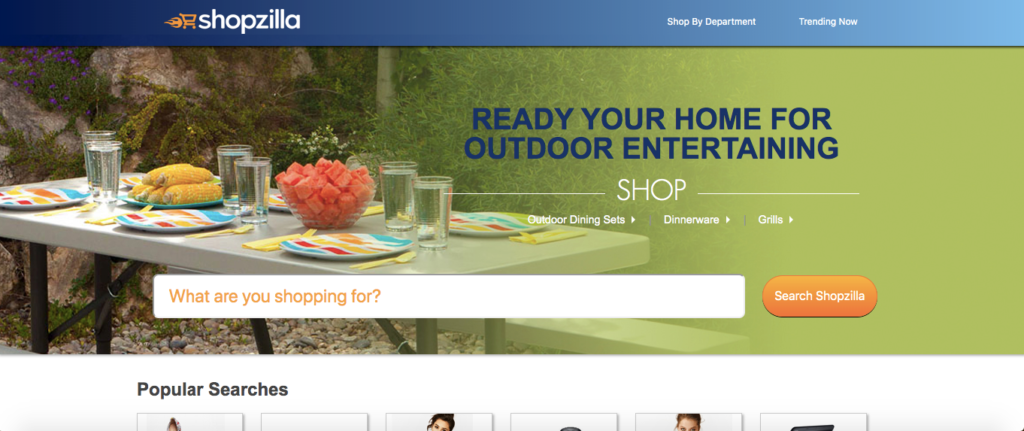 First launched in 1996, Shopzilla is one of the oldest shopping search engines out there. But it's still a great place to get your ecommerce products listed and generate leads.
Shoppers can enter specific search criteria from the Shopzilla homepage or browse via popular searches.

Here's what happens when you click on "Men's Shoes."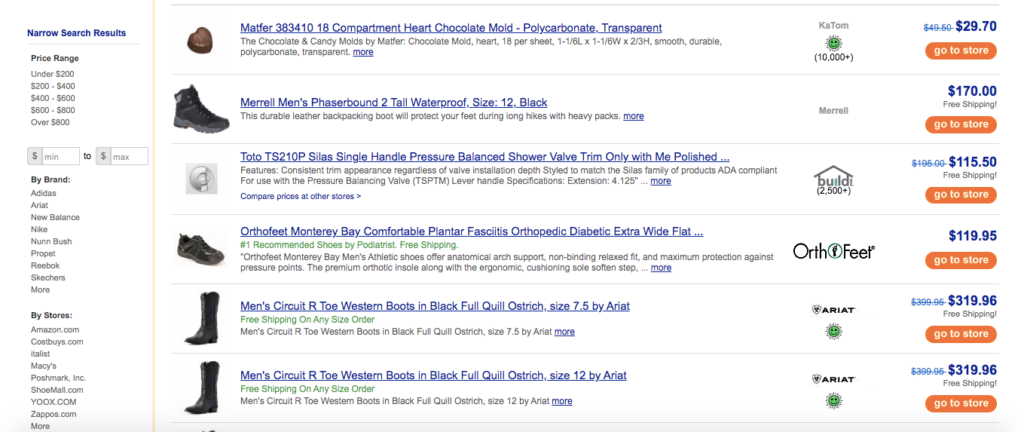 Users can instantly see the price of each product on the right side of the screen and also see when an item has been discounted or has free shipping.
By clicking on either the hyperlink or the "go-to store" button, Shopzilla will take shoppers to the product page where they can get more information and make a purchase.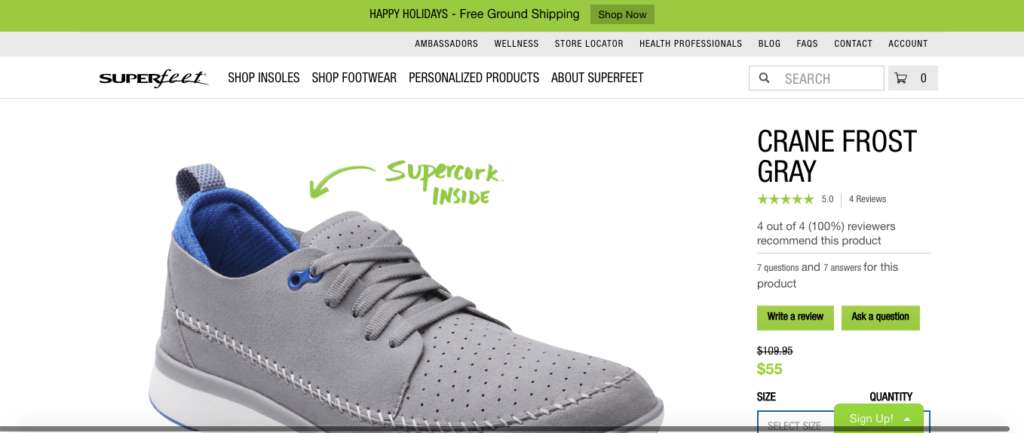 While Shopzilla doesn't have as nice of an interface as some of the other shopping search engines, it still gets the job done and is useful for helping brands bring in new business.
It's part of the Connexity network, which owns other sites like PriceGrabber and Become. To get signed up, you'll need to visit Connexity's website. It costs $500 to join, which is a substantial upfront fee. However, the money goes straight to your PPC account.
7. ShopMania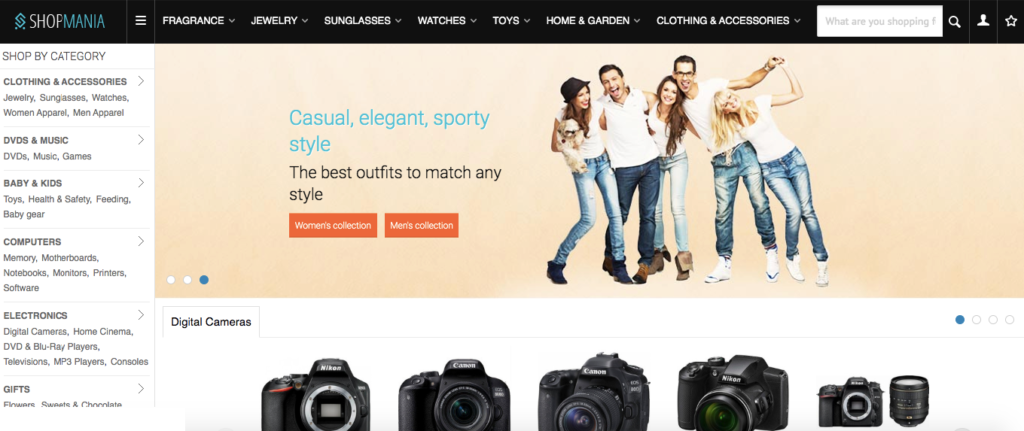 ShopMania features a massive list of products. They've got everything from perfume to clothing to rugs and home appliances, making it a viable resource for many ecommerce brands.
I like how simple and straightforward their interface is. The drop-down menus at the top allow shoppers to sort through the products quickly, or they can simply enter a specific search phrase.
Here's what happens when you search for "cologne."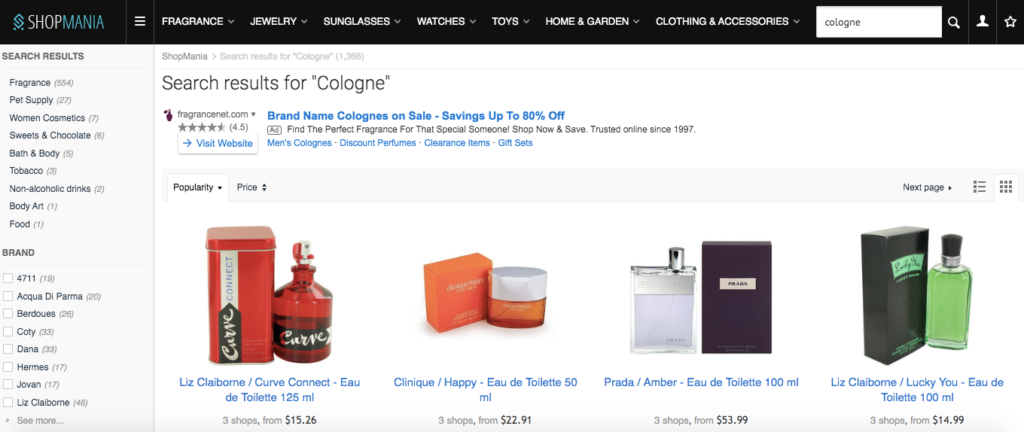 There are dozens of products to choose from that can be sorted either by popularity or pricing.
With just one click, you can quickly go from ShopMania to the product page, such as this one featuring Curve Connect Cologne from Fragrance X.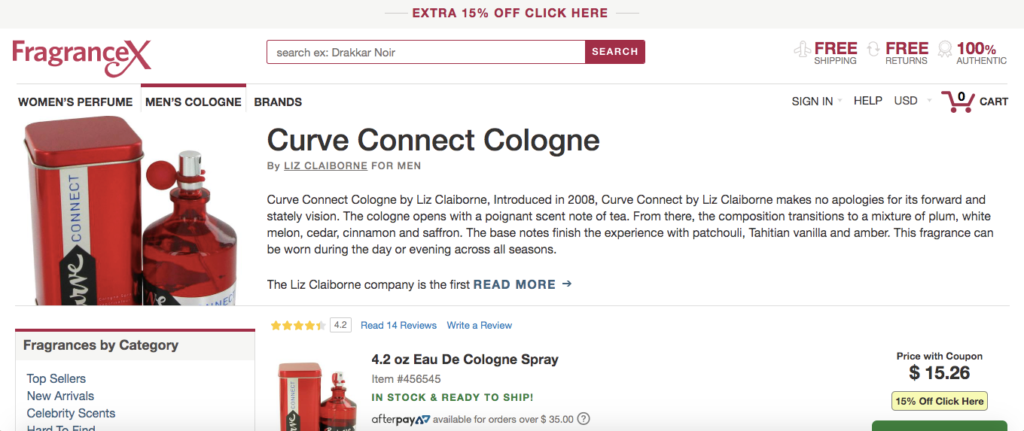 According to ShopMania, they operate in 25 countries and receive more than five million unique visitors each month, which is enough traffic to work with. So the potential for exposure is there.
Like many other shopping search engines, they operate on a pay-per-click model, and you can find all of the details and get signed up through this page.
8. URSTYLE
Let me start by saying that URSTYLE is primarily a high-end fashion and home decor search engine.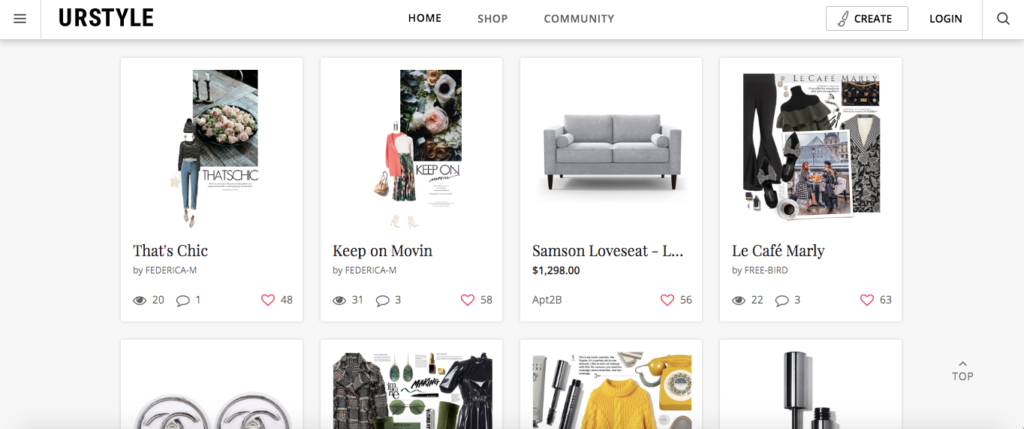 Therefore, it's only applicable to ecommerce brands that are in these industries. It also has a relatively small user base when compared to the other platforms I mentioned in this post.
That said, it can still help you generate some quality leads if your brand caters to URSTYLE's demographic. It offers a built-in "Shop" feature that allows users to search by women's products, men's products, kid's products, and home furnishings.
Here are just a few results that pop up when you search for women's clothing.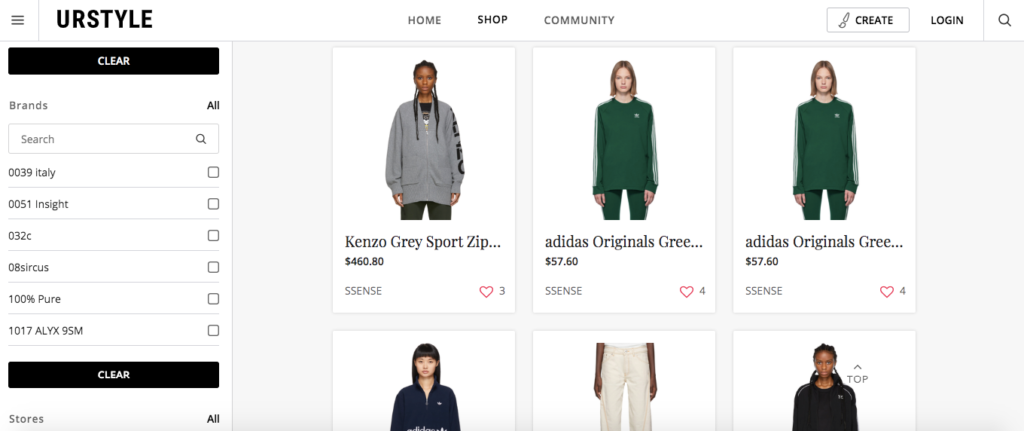 Users can filter their results with some hyper-specific criteria. And when they click on a particular product, it takes them directly to the sales page, like this one from SSENSE—a luxury and streetwear fashion company.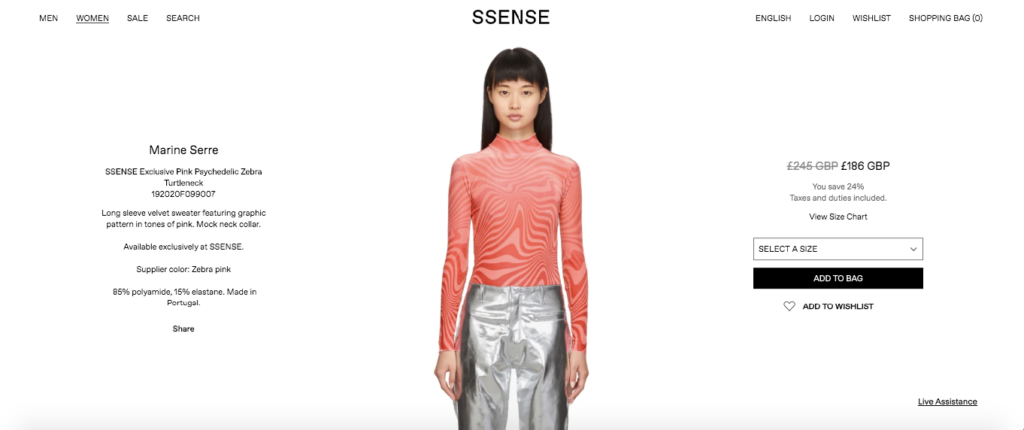 While URSTYLE isn't for every brand, it's certainly worth considering if you sell anything fashion or home-related. You can get started and add products by clicking on "Create" on their homepage.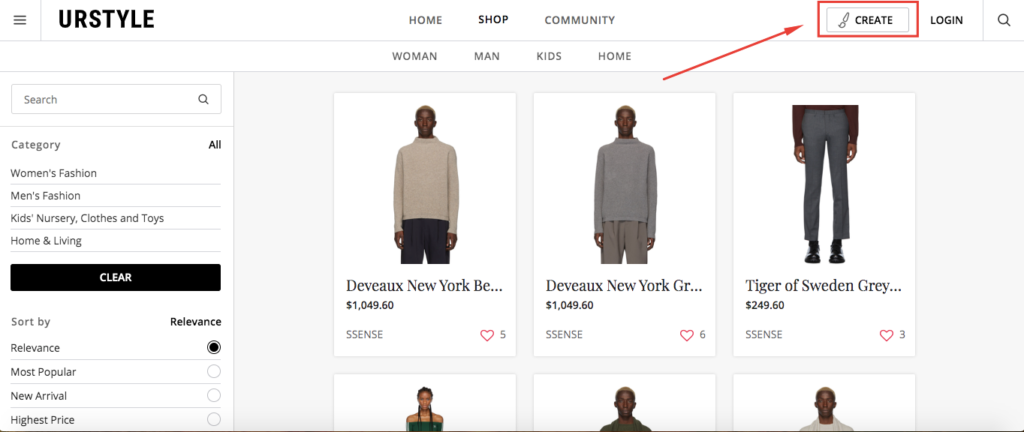 Conclusion
Ecommerce shoppers have more options than ever. So many are understandably reluctant to jump right into making a purchase.
Instead, they prefer to take their time and compare products to find the best deals. That's why there's been such a significant spike in the use of shopping search engines lately. These platforms help facilitate the comparison process and save users a ton of time.
Establishing a presence on some of the top sites is an excellent way to boost your ecommerce exposure and get your brand in front of shoppers who may never find you otherwise.
While there are a lot of shopping search engines to choose from, the ones I outlined here are some of the best and should help you connect with a broad audience.
So regardless of what industry you're in, you can use this strategy to catapult your brand to the next level.