The name Shopify has become synonymous with ecommerce.
Whenever I have an ecommerce conversation with someone, nine times out of 10, the first platform they mention is Shopify—for good reason. It's at the top of the totem pole.
Although it started with humble beginnings back in 2006, it's since become an industry leader and an absolute leviathan.
To paint a clear picture of where this ecommerce giant is at and the direction it's heading, I'm going to drop a ton of interesting Shopify statistics.
In this post, I'll discuss Shopify's market share, revenue, number of users, traffic trends, and much more.
Let's jump right in.
Shopify Statistics 101
1. Shopify Has Nearly 11 Percent of the Total Ecommerce Market Share (Statista)
Although WooCommerce has the largest ecommerce market share at 28.24 percent and Squarespace is second at 17.69 percent, Shopify is firmly positioned in third at 10.98 percent.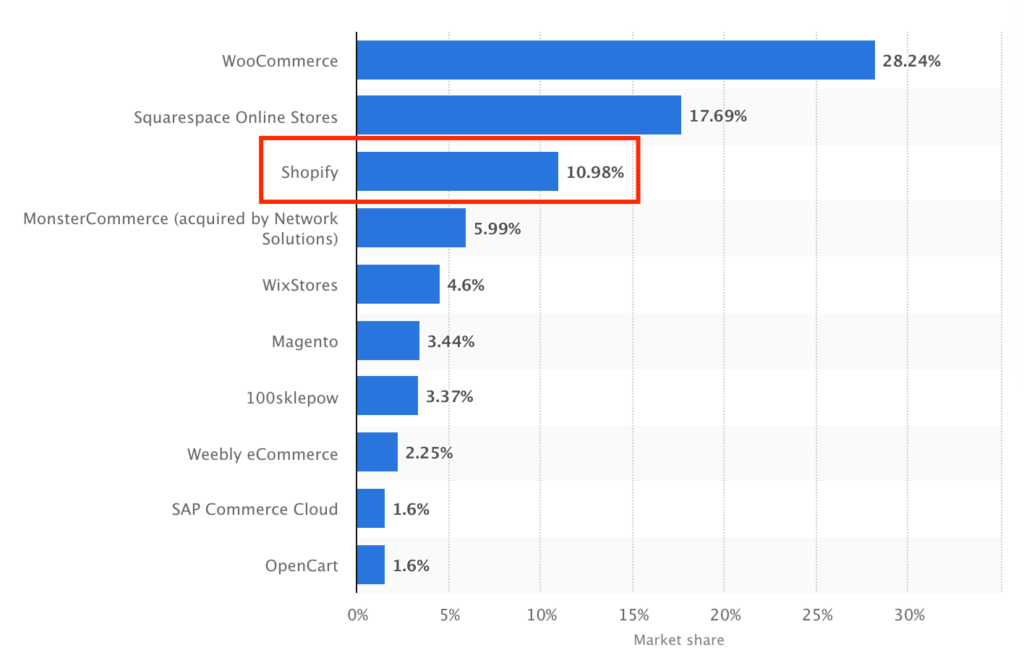 This puts them far ahead of all other contenders like MonsterCommerce, WixStores, Magento, and so on.
And with the way things are going, they should be giving WooCommerce and Squarespace a run for their money soon.
2. More Than One Million Businesses Currently Use Shopify (Shopify)
In a mid-2020 press release, Shopify announced that their platform "powers over one million businesses in more than 175 countries" across the globe.
And their list of customers includes some massive brands, including footwear company Allbirds…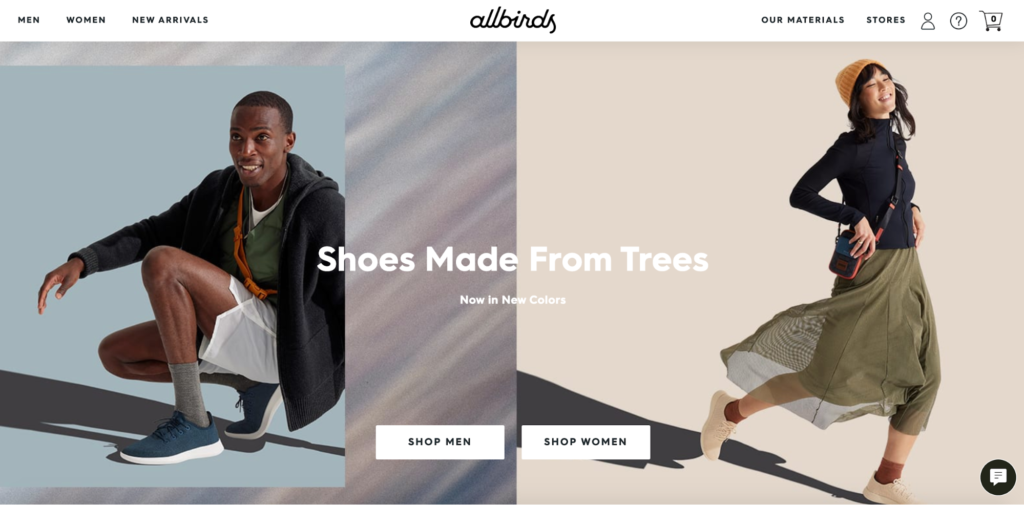 …Pepsi…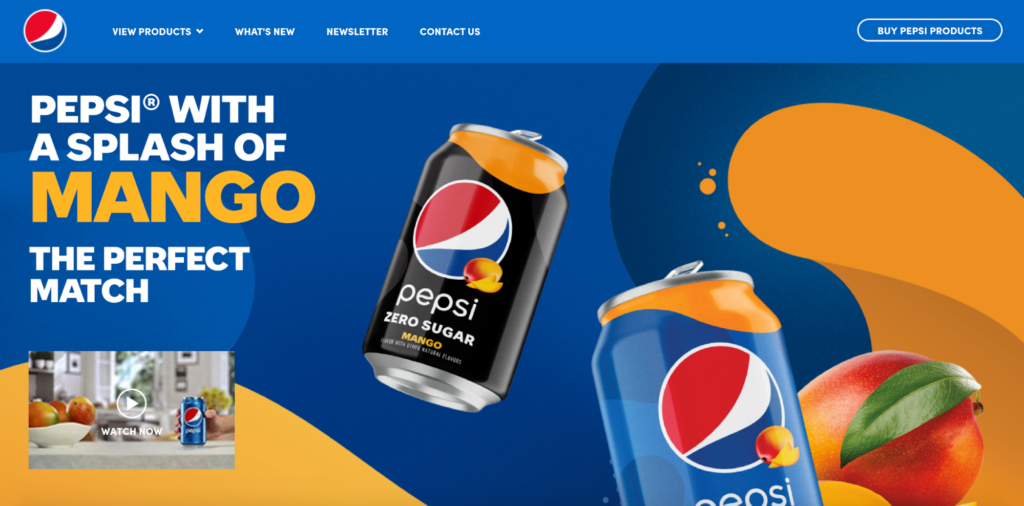 …and even Staples.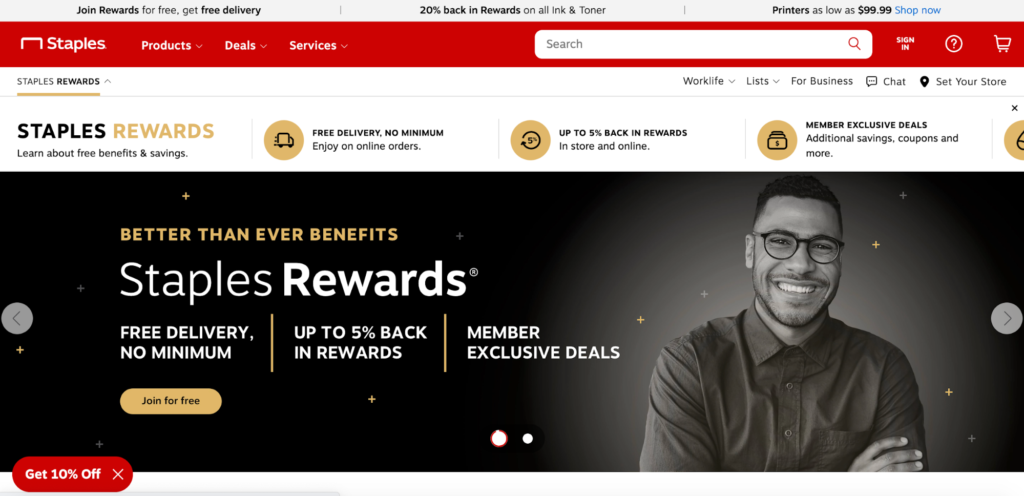 3. The Number of Shoppers Who Bought from Shopify Merchants Increased By 52 Percent from 2019 to 2020 (Shopify)
As a result, there's also been massive growth in the number of online shoppers that have made purchases from Shopify stores.
"2020 was a year of discovery of new merchants, as the number of consumers buying from merchants grew 52 percent from 2019 to nearly 457 million, an acceleration from the 38 percent year-over-year growth in consumers buying from Shopify merchants in 2019," the brand wrote in a February 2021 press release.
The fact that more people are buying from Shopify sellers isn't surprising. But the sheer volume is pretty staggering when you stop and think about it.
4. Shopify's Total Revenue Increased Year-Over-Year By 47 Percent (Shopify)
One of the most telling metrics of any brand's performance is what their total revenue is year-over-year.
Needless to say, hitting 47 percent from Q1 2019 to Q1 2020 is really impressive, and Shopify reached $470 million in that quarter alone.
This isn't anything new, though. Shopify has gained a reputation for its record-breaking quarters, and they don't show any signs of slowing down any time soon.
5. Shopify's Monthly Recurring Revenue Increase By 48 Percent Year-Over-Year (The Motley Fool)
Another stat I found mind-blowing was that Shopify cranked up their monthly recurring revenue (MRR) by a staggering 48 percent from Q3 2019 to Q3 2020.
And keep in mind that this happened during the peak of COVID.
In fact, their ability to adapt by offering merchants an extended 90-day free trial to ease the financial hardship during the pandemic was instrumental in their success.
"This extended time allowed more of its customers to generate sales (and cash) before having to pay a subscription fee," writes Brian Withers of The Motley Fool.
"As these longer trials are ending, more merchants than ever have joined the platform this quarter rather than let their access lapse. More merchants on the platform help spin the company's flywheel of growth even faster."
This graph illustrates the year-over-year spike in Shopify's MRR, as well as the 30 percent increase from Q2 2020 to Q3 2020.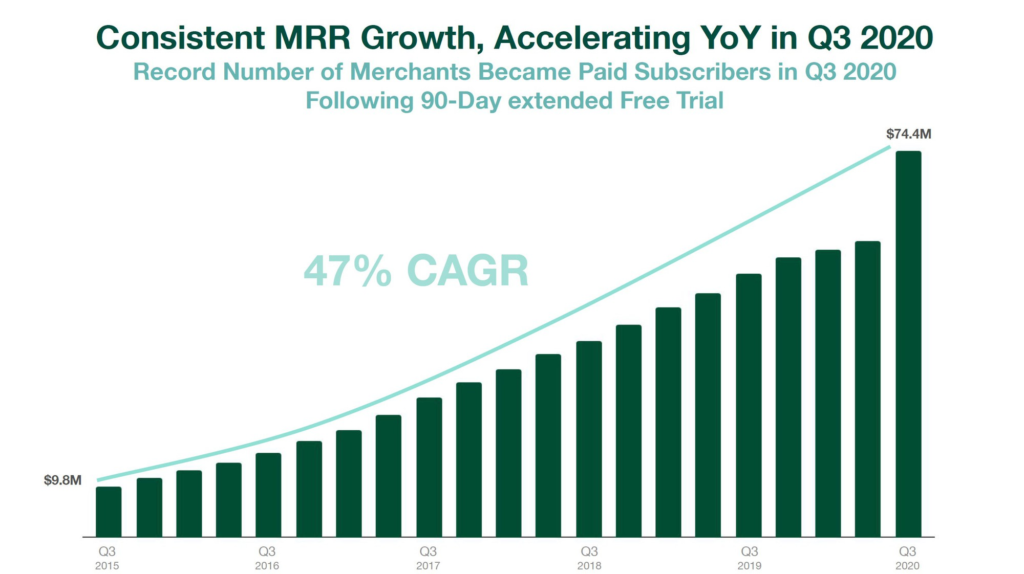 If you've ever listened to discussions from Shopify leaders (this episode of the Tim Ferriss show featuring president Harley Finkelstein is great), you'll know that innovation and adaptability are baked into their culture.
It's this ability to continually evolve and adapt that's been an integral part of Shopify's growth.
6. Shopify Has Contributed to $319 Billion in Global Economic Activity (Shopify)
When it comes to global economic impact, Shopify is off the charts.
As of late March 2021, the million-plus businesses that operate on this platform have generated $319 billion.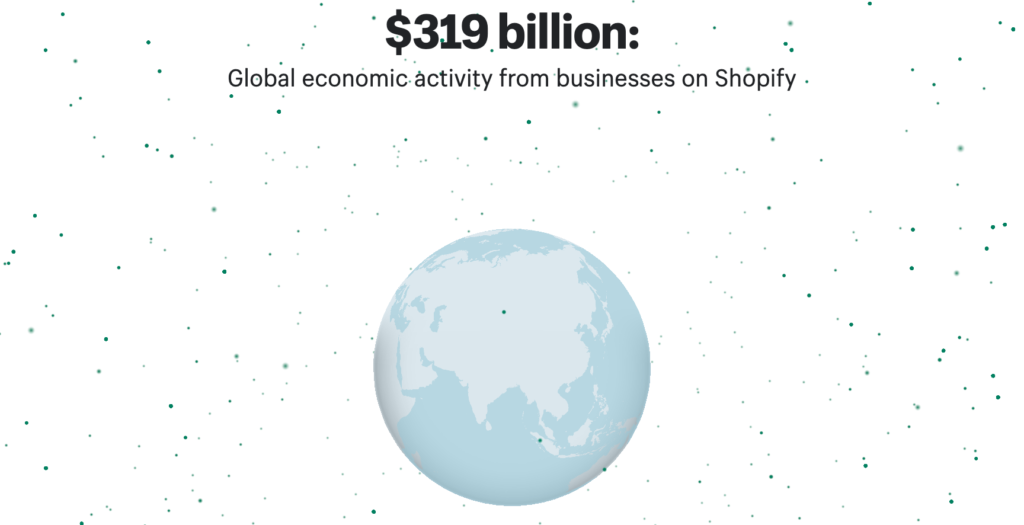 "We have spent more than a decade democratizing commerce, simplifying it, and making it accessible for businesses of all sizes," explains Shopify CEO, Tobi Lutke.
It'll be interesting to see how much this number climbs over the next decade as this powerhouse continues to innovate and progress.
7. Shopify Businesses Saw a 50 Percent Increase in Online Sales in 2019, Compared to 21 Percent By the Global Ecommerce Market (Statista)
Ecommerce sales are on the rise. That's no surprise.
But there's a huge disparity between the sales growth of businesses that power their stores with Shopify and the rest of the global ecommerce market.
In fact, the former saw more than double the growth of the latter, which is evident in this graph.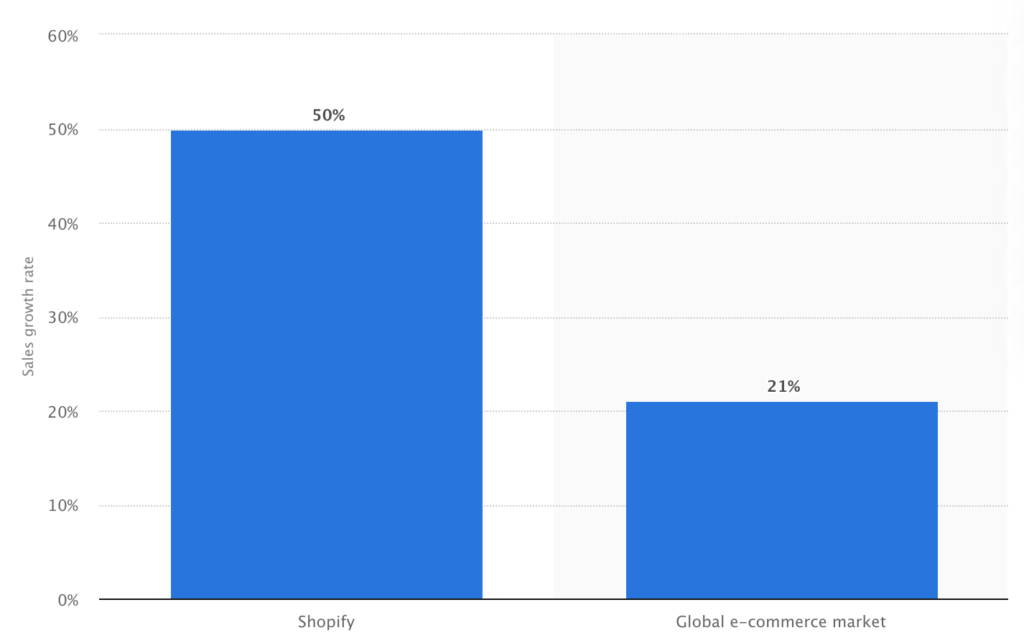 There are a ton of different factors that contribute to this trend, including Shopify's easy-to-use platform, innovative native tools, and built-in marketing.
But the bottom line is that ecommerce businesses that use Shopify get dramatically more sales than those that use other platforms.
What's really interesting is that more than half of shoppers who buy from Shopify stores end up making at least one other purchase.
More specifically, the average shopper buys 3.8 times from the same store.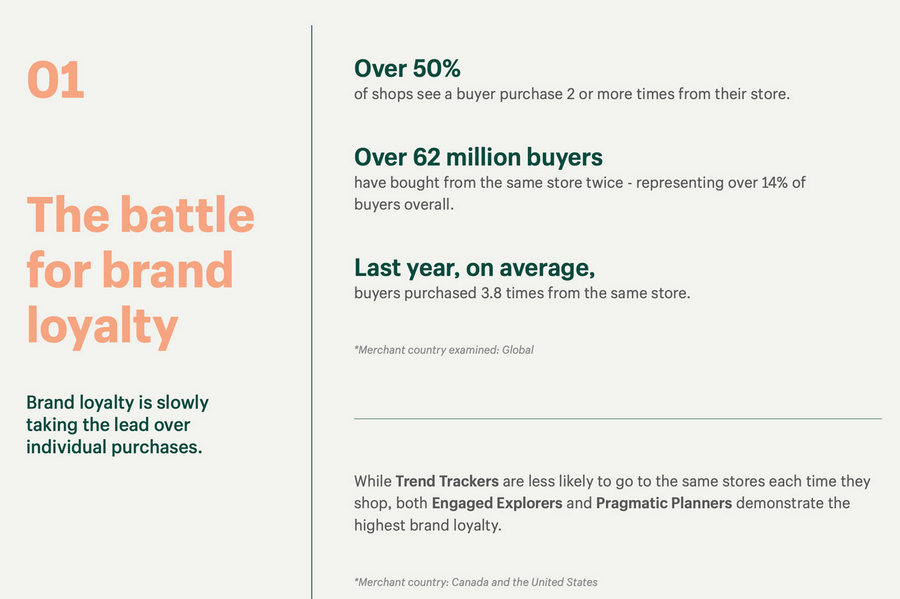 This Shopify statistic shows that stores on this platform are delivering a rock-solid customer experience—to the point that more shoppers than not come back for more.
9. 26,400 Partners Referred a Merchant to Shopify in the Last Year (Shopify)
Another effective way to gauge an ecommerce platform's health is how many referrals they get.
After all, if a company gets a high number of referrals, it usually means their existing customers are enjoying the platform enough to tell others about it.
Given that 26,400 Shopify partners referred a merchant between 2019 and 2020, it shows how popular they are and that many of their customers have no qualms about sharing their positive experience.
Some notable new acquisitions include Heinz….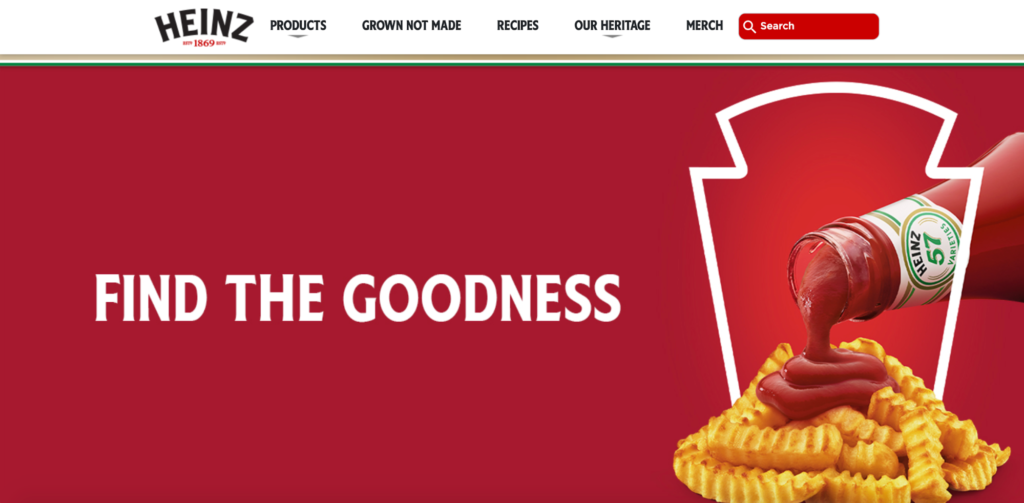 …and Bombas, the sock and apparel brand.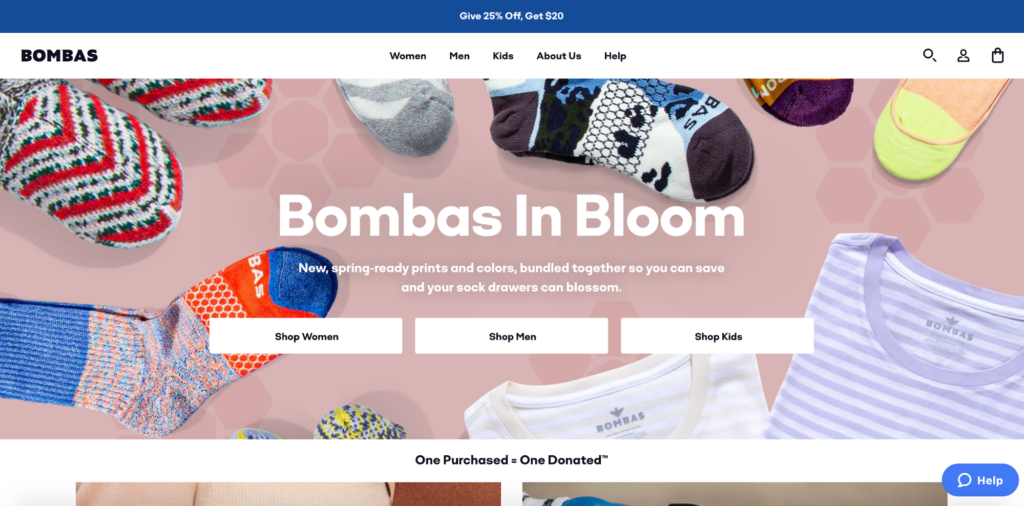 Hitting numbers like this is basically like rocket fuel for igniting sustained organic growth and should keep a steady stream of new sellers coming in.
10. The 3 Biggest Industries on Shopify Plus are Retail (17 Percent), Apparel and Fashion (11 Percent) and Computer Software (6 Percent) (Enlyft)
Brands from a wide range of industries choose Shopify Plus—the premium version of the platform—to power their ecommerce stores.
But retail, fashion, and computer software make up the biggest percentage at over a third (34 percent) collectively.
After that, there's:
Wholesale
Consumer goods
Health, wellness, and fitness
IT
Internet
Marketing
Cosmetics
Here's a breakdown of what this distribution looks like visually.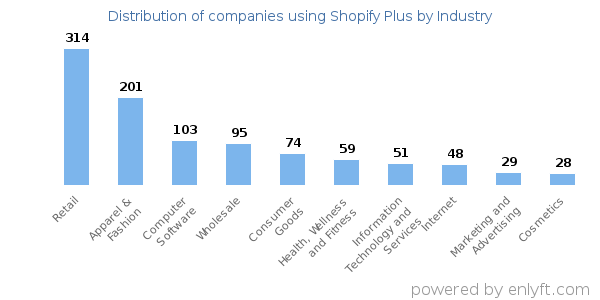 11. The Top Three Countries That Use Shopify Plus Are the US (62 percent), the UK (10 percent), and Canada (9 Percent) (Enlyft)
In terms of countries that are the heaviest Shopify Plus users, the US is hands down the biggest and accounts for nearly two-thirds of all Shopify Plus stores.
The UK and Canada are next at 10 percent and nine percent respectively.
After that, it's:
Australia
France
India
Denmark
Spain
Hong Kong
Finland
Here's what that looks like.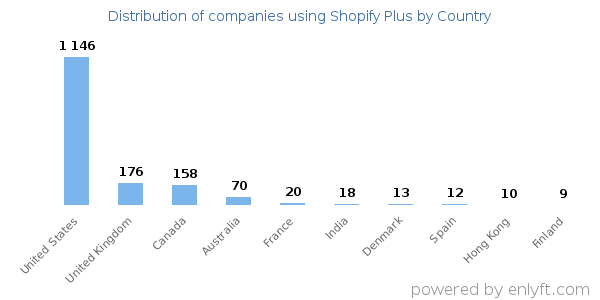 12. 79 Percent of Traffic to Shopify Stores Comes from Mobile (Shopify & You)
Mobile has accounted for the majority of traffic to ecommerce stores for some time. But there's been a huge upswing over the past six, seven years.
In 2014, for example, mobile traffic accounted for just over 50 percent of traffic to Shopify stores, but that number has grown by nearly 30 percent, reaching 79 percent in 2019.
This graph showing how people shopped during Black Friday and Cyber Monday of 2019 really put things into perspective.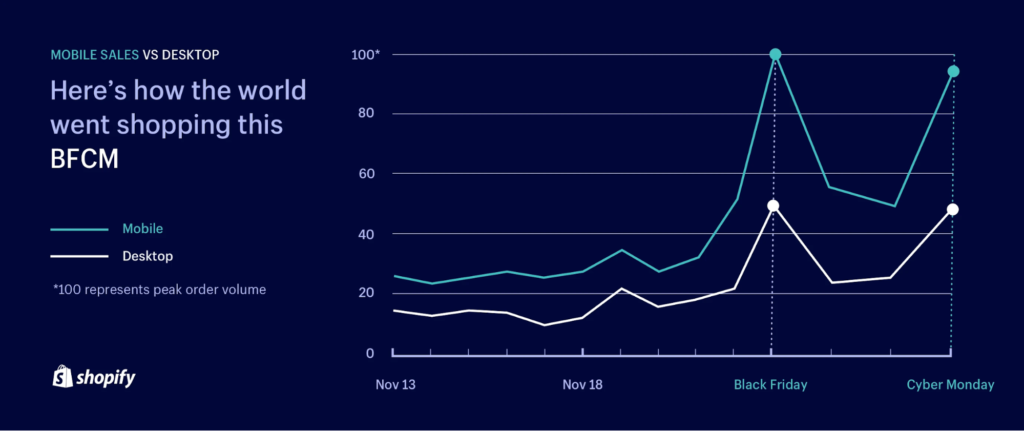 Notice how mobile traffic (illustrated by the green line) exceeds desktop traffic (illustrated by the white line).
With nearly four out of every five visitors arriving through mobile, this shows that creating a stellar mobile experience has never been more important.
13. 69 Percent of Orders from Shopify Stores Comes from Mobile (Shopify & You)
In terms of actual sales volume, just under seven out of every 10 sales are made by mobile users on Shopify.
That's why you also want to have a silky smooth checkout flow for mobile.
Some specific steps to take include:
Making it easy for users to access and update their shopping cart;
Using minimal form fields;
Offering guest checkout; and
Using full-width text rows to allow users to painlessly input text.
For more helpful advice on creating a better checkout flow for mobile, I suggest reading this article.
It'll walk you through the process step-by-step.
14. 87 Percent of Merchants Use Shopify Apps to Run Their Ecommerce Business (Shopify)
Another big reason for Shopify's success is how customizable their platform is. Even with little to no experience, it's easy for users to create a completely customized store their customers will love.
The main way Shopify has managed to do this is through its robust app store where users can find apps on anything and everything.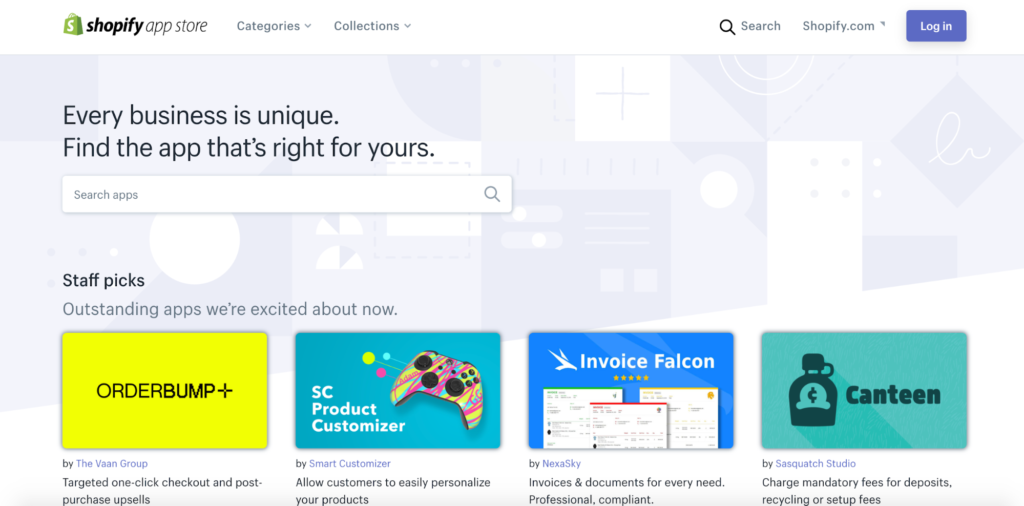 There are apps for checkout, shipping, bookkeeping, and much more.
The list is constantly being expanded and updated, and the vast majority of Shopify merchants are taking advantage of these apps, with 87 percent using them and the average merchant using six.
15. Using 3D Product Images on Shopify Can Increase Conversions By As Much As 250 Percent (Shopify)
In a March 2020 press release, Shopify mentioned they were placing a heavier focus on enabling store owners to use 3D product images.
This allows ecommerce shoppers to look at a product from different angles and pick "the right size, color, or variant," which adds a whole new dimension (literally).
Here's an example from Bumbleride, a company that specializes in eco-friendly strollers. With this innovative feature, shoppers can check out their strollers from the front…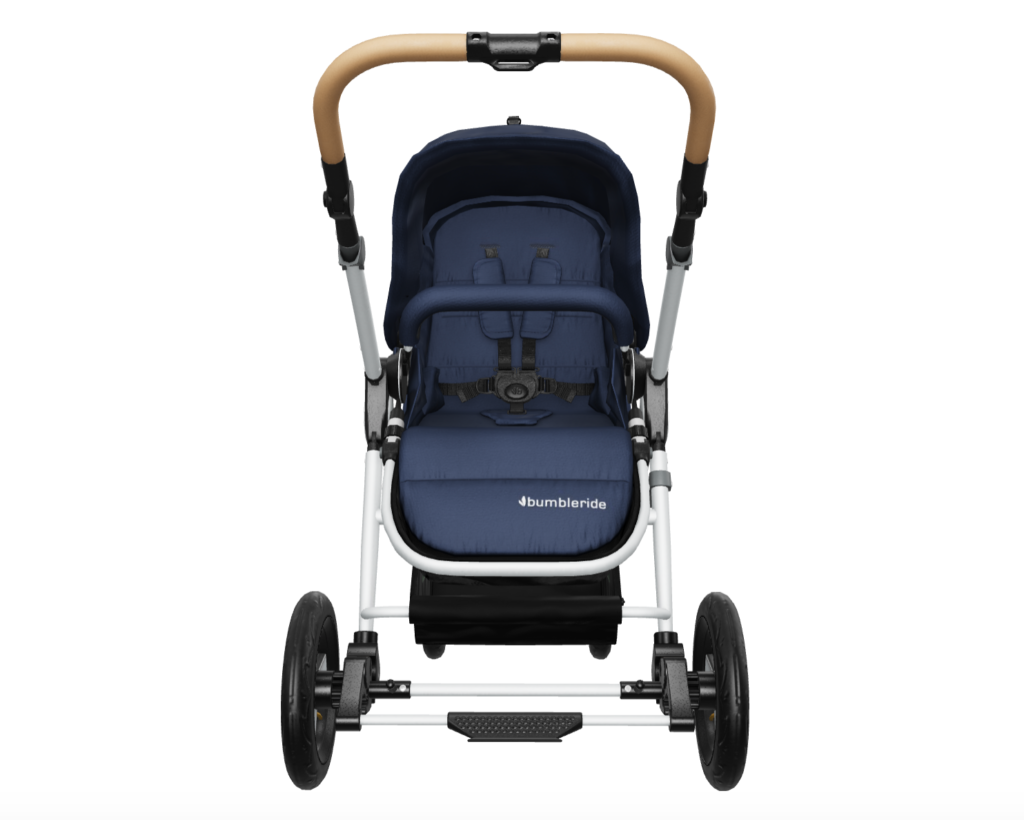 …the side…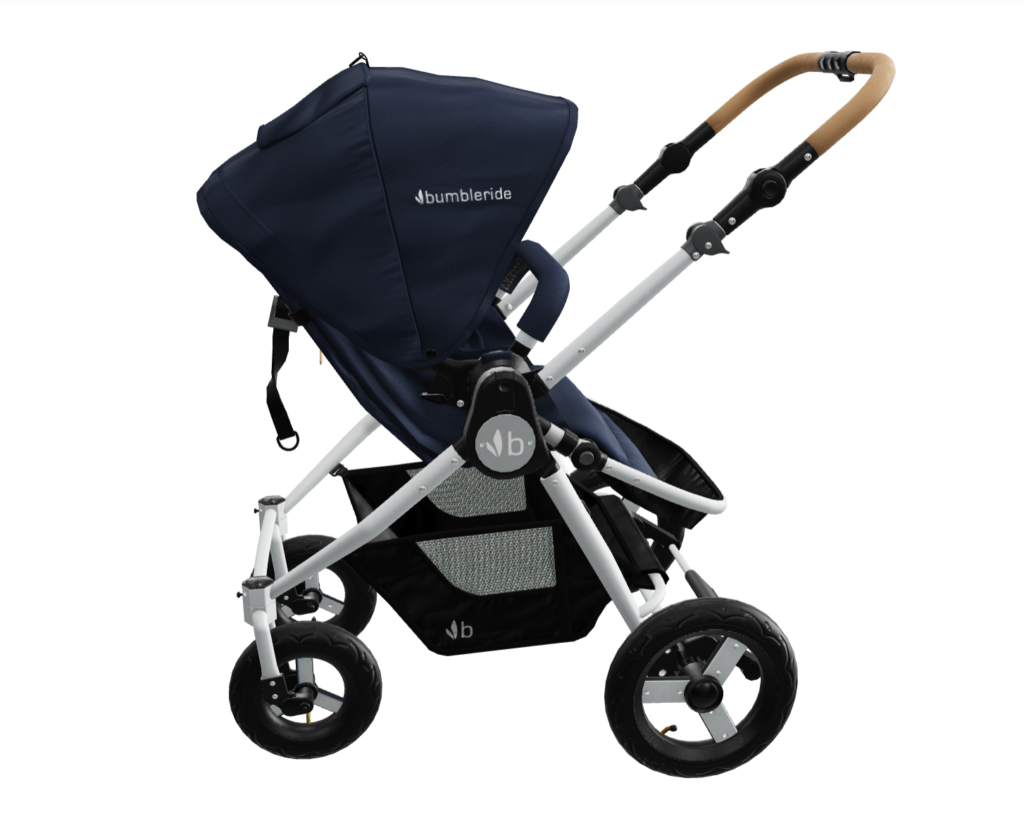 …and even from the bottom.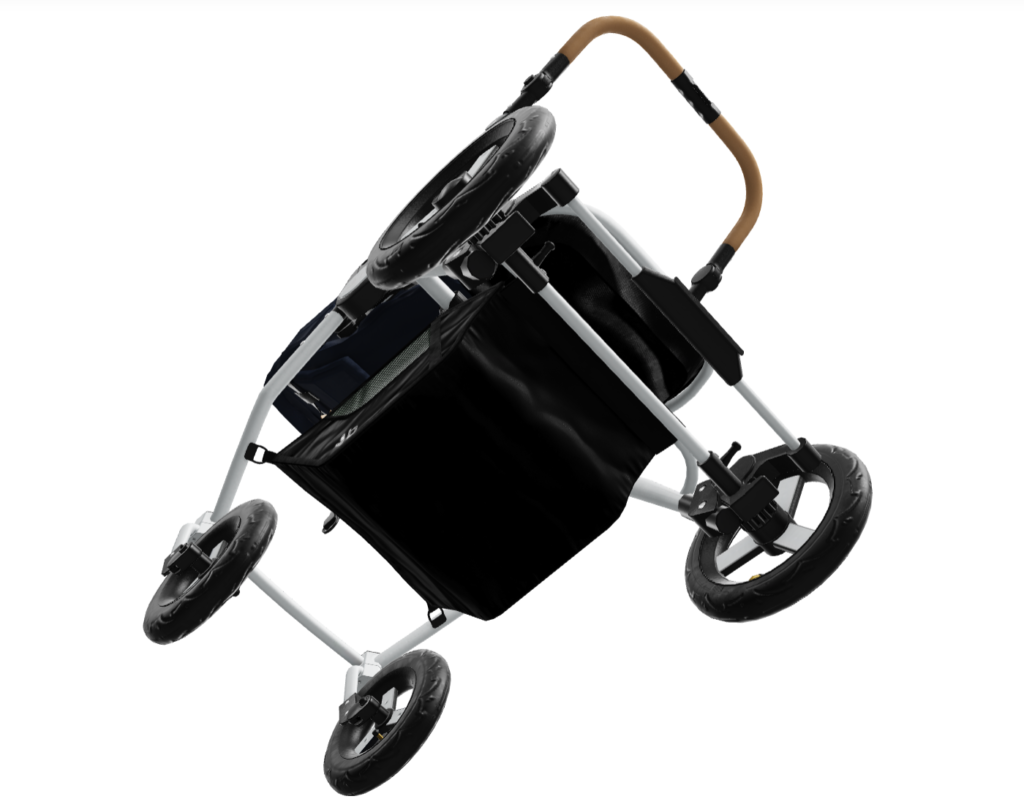 After checking it out firsthand, I can say that it definitely makes for a way more engaging ecommerce shopping experience.
More importantly, brands that use it see some dramatic results, with conversions increasing by as much as 250 percent in some cases. It also increases the average length of time shoppers spend on product pages, with Bumbleride boosting their average time on page by 21 percent.
So, if you're using Shopify, this is definitely a feature you'll want to take advantage of.
The best part is that Shopify makes the process simple and straightforward, and you don't even need custom code or a third-party app to do so. Check out this post for full details on how to use 3D product images.
16. Email Generates the Most Referral Conversions for Shopify Stores at 4.29 Percent (Shopify)
If you're wondering which forms of digital marketing bring in the biggest conversions for Shopify stores, email is number one, boasting an impressive 4.29 percent conversion rate.
After that, it searches at 3.04 percent, direct marketing at 2.93 percent, and social at 1.81 percent.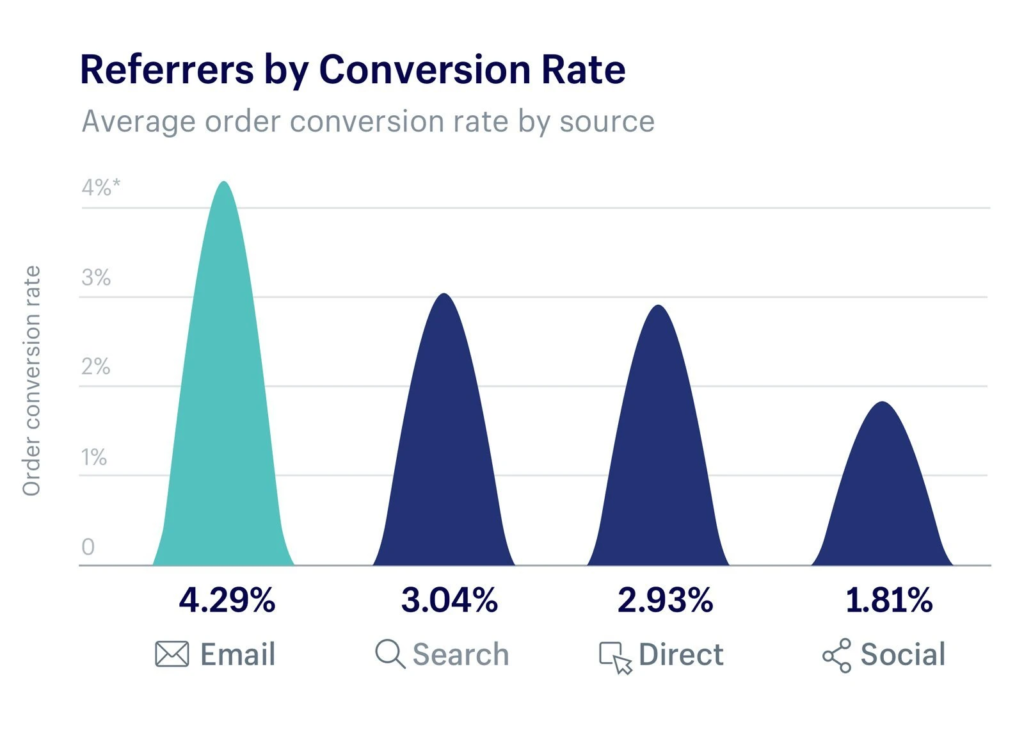 This shows that email is usually your best bet for digital marketing and is still the number one way to bring in targeted leads—many of which will convert.
Conclusion
Although not the biggest in terms of market share, Shopify is a true ecommerce juggernaut and has experienced record growth over the past few years.
The Shopify statistics listed above paint a vivid picture of how far the platform has come and the positive trajectory it has moving forward.
To recap, there are currently over one million businesses that use Shopify, spanning 175 different countries that collectively to date have contributed to $319 billion in global activity.
And unlike many companies whose growth has been stunted because of the pandemic, Shopify has absolutely thrived during the COVID era.
In fact, the 90-day free trial they offered to help struggling business owners in 2020 has played a key role in their success.
While there are several high-quality ecommerce platforms available, the numbers from these Shopify statistics speak for themselves and show that Shopify should be at the top of your list when choosing who to partner with.