If you're collecting emails on your site, you likely know this dilemma: You want to get more information from your visitors, but you also know that adding more input fields will hurt your conversion rate.
So, you may think that getting more leads and richer data are mutually exclusive.
Not necessarily.
By using quizzes as a lead generation tool, you can segment new leads, make relevant product recommendations, and personalize future campaigns.
In today's post, I'll show you how, with real-life examples from seven ecommerce brands.
Keep reading to learn:
How to cross-sell during quizzes;
How to increase completion rates using the commitment principle;
How to adjust your questions based on the buyer's journey;
And more.
Let's dive right into it.
What Is a Quiz Funnel?
A quiz funnel is a marketing initiative that uses a quiz-style survey to collect information and deliver a personalized experience. Quiz funnels are a great way to segment visitors by interest and deliver personalized product recommendations based on their answers. After all, who doesn't love a good quiz?
According to Jessica Totillo Coster, from Ecommerce Badassery, quizzes are one of the best lead generation tactics she tried. They attract so much engagement from customers, and they help you learn more about them without it feeling invasive.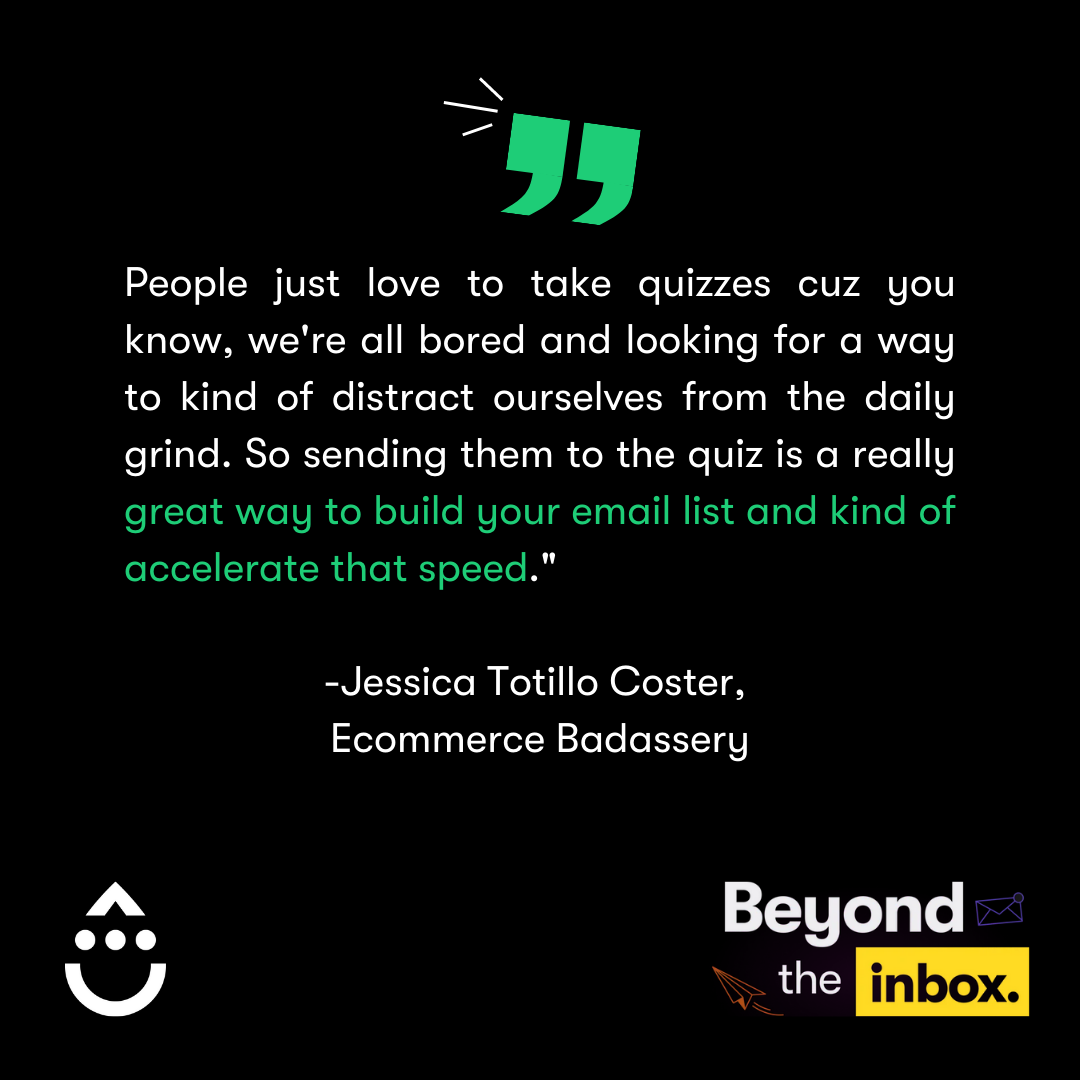 Not only does this work well for learning about your customer – it also helps you capture email addresses at a higher rate. According to Lisa Eberly of Bumpin Blends, their quiz captures 7.5 times more emails than any other form on their site.
1. Lifestyle Quizzes (Beardbrand)
Many ecommerce brands forget one crucial detail while creating lead generation quizzes: Making them interesting.
Luckily, Beardbrand isn't one of those brands.
When you visit their homepage, they open a curiosity gap by asking a question: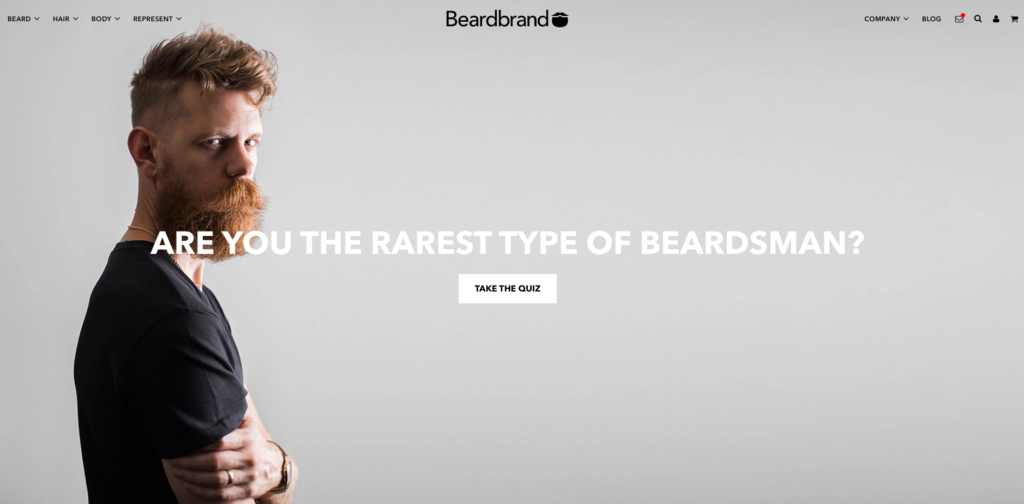 From there, they invite you to take a quiz to determine whether you are the rarest type of beardsman.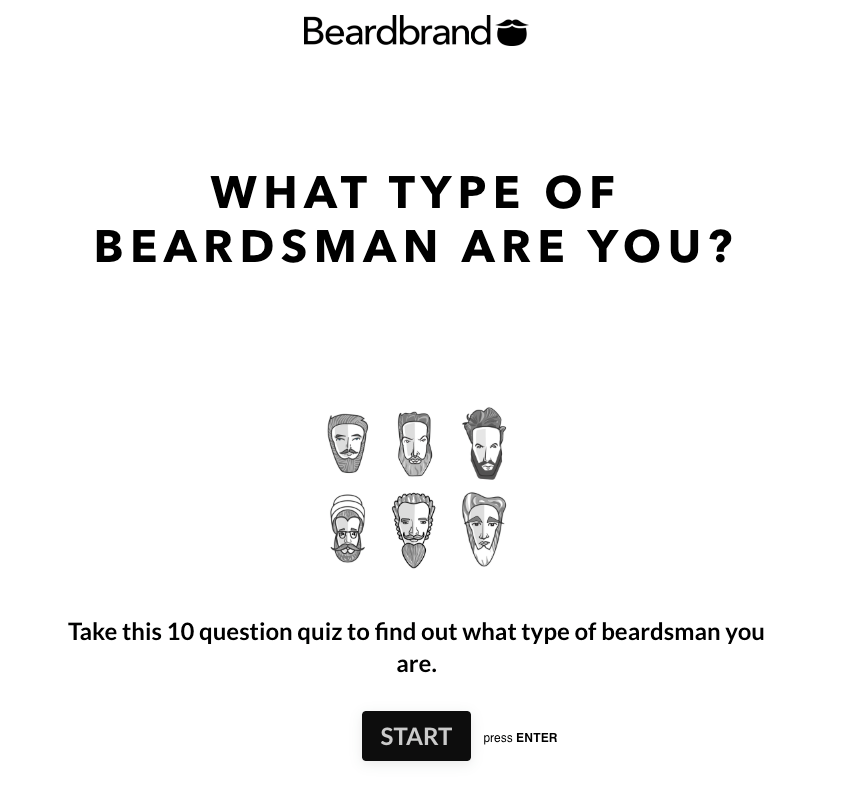 The company imitates Buzzfeed-type fun quizzes by asking, "What type of beardsman are you?"
(Note how they mention the number of questions in advance, so you know it's a quick and playful quiz.)
In addition to learning about your facial hairstyle and grooming habits, Beardbrand asks you questions about your lifestyle such as your favorite apparel brand, where you live, and more.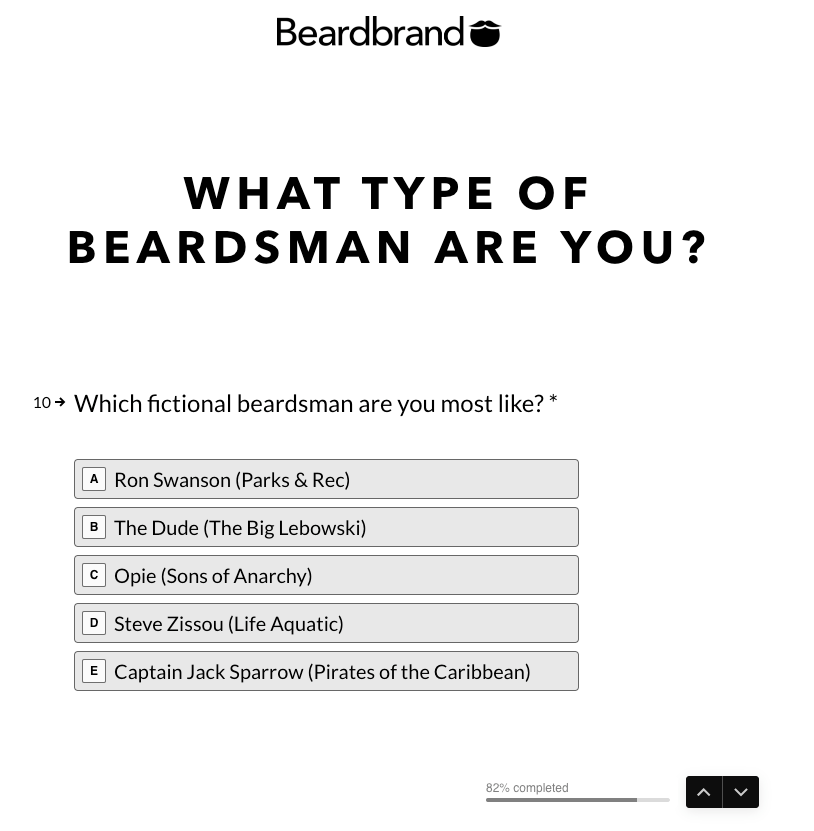 At the last step of the quiz, Beardbrand asks you to join their newsletter and briefly explains the benefit of doing so.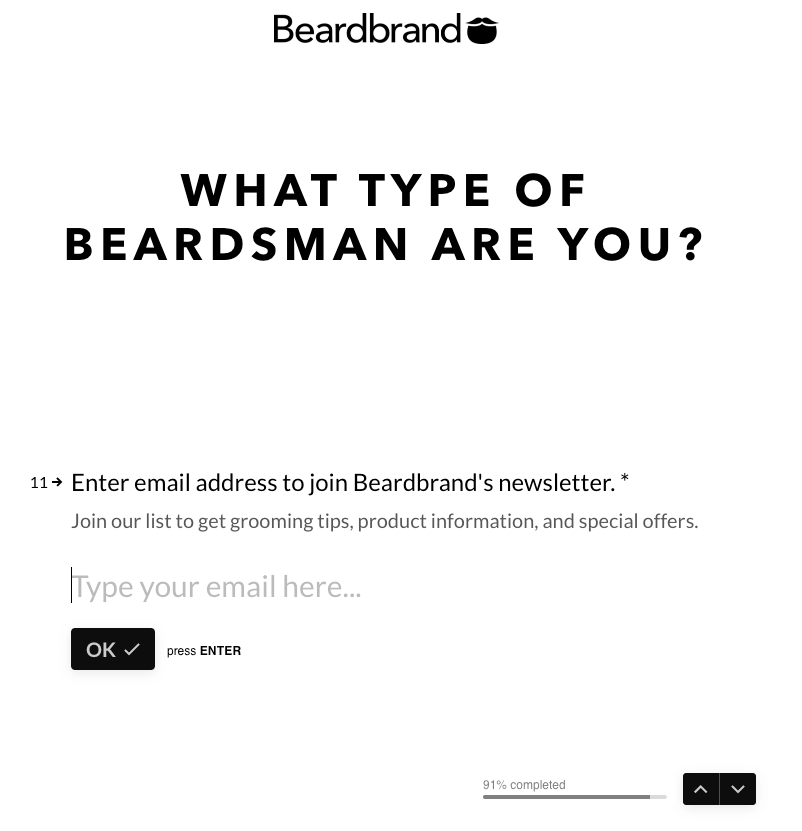 Beardbrand doesn't make it any more complicated than this; they know, at this point, you're curious about your results and willing to share your email address in exchange for them.
Similar to many online quizzes, they show your results with an image and a few lines about your character: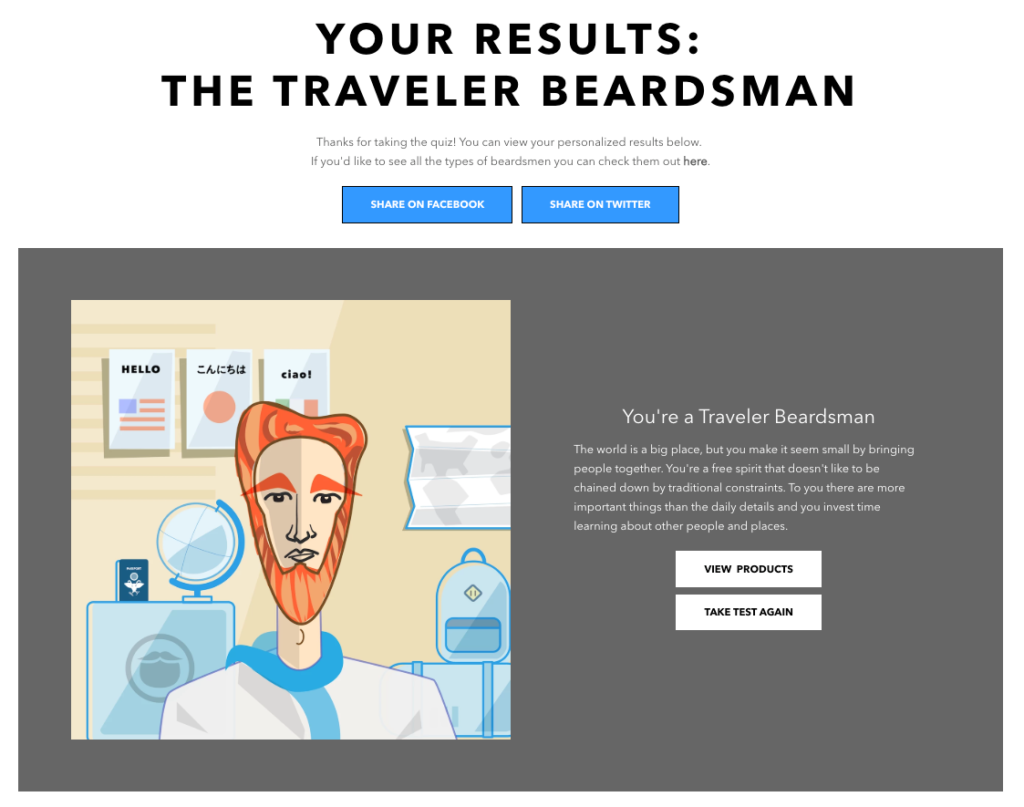 (Turns out, I'm a traveler beardsman.)
And it gets better.
When you click "View Products," Beardbrand recommends products that fit your personality type, without making you jump to a different page.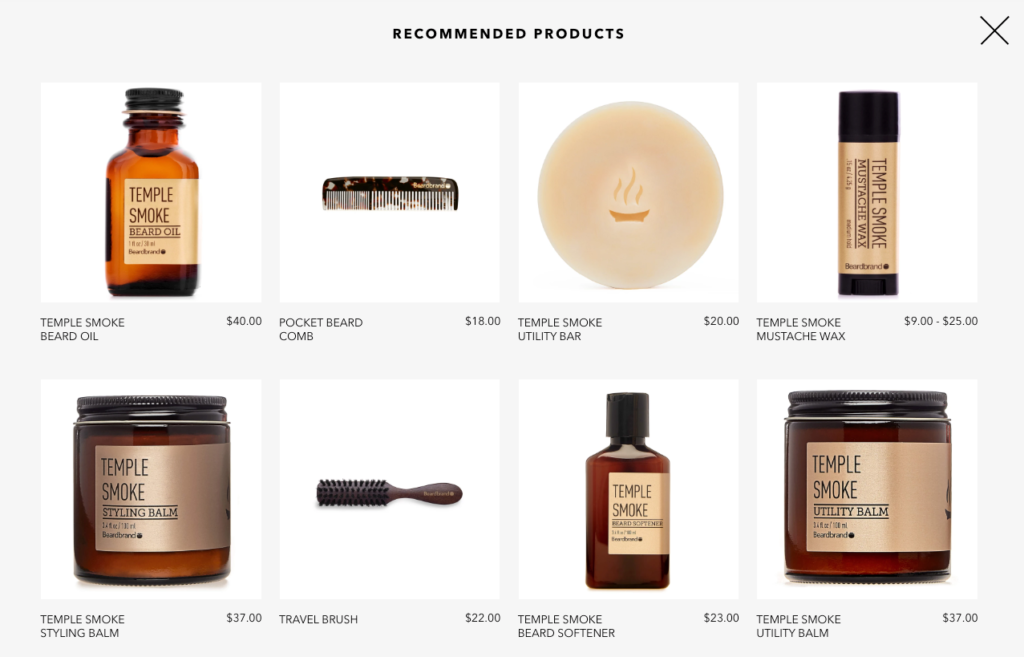 This is a great lead generation quiz example because it goes beyond Beardbrand's products and, instead, helps you explore your Beardbrand identity.
If the company asked only about your skin type or hairstyle, the results wouldn't be quite interesting. How fun would it be to find out, let's say, you have a dark beard and straight hair? Not much, I guess.
With this lifestyle quiz, Beardbrand:
Captures email addresses;
Knows about their prospects' interests and preferences;
Gets to nurture their segmented leads with email marketing;
Makes highly personalized product recommendations.
To be more accurate, Beardbrand collected more than 150 thousand leads and lots of quality backlinks, thanks to this simple Typeform quiz. Not bad, huh?
2. Personal Style Quizzes (Topshop)
While taking a fun angle is one way of creating interesting lead quizzes, helping your visitors make better decisions is another approach.
If you ever dreamed of having your own style advisor, Topshop makes your wishes come true with their personal style quiz.
Knowing that their target audience would love to get personalized style recommendations, the company uses a third-party service, Dressipi, to create "My Topshop Wardrobe":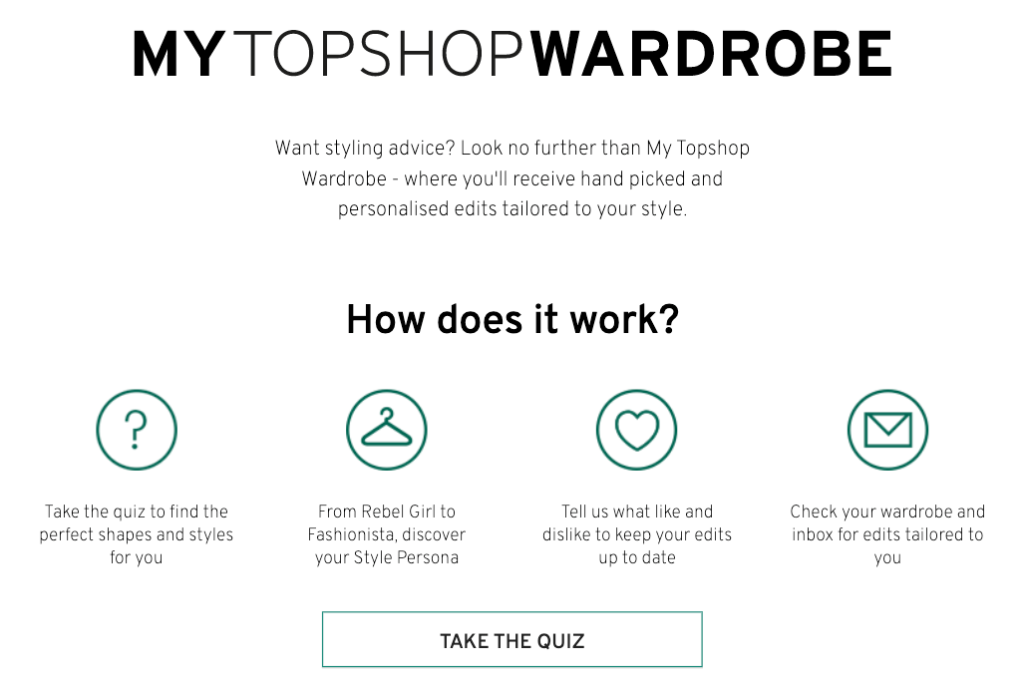 In addition to basic questions, such as your age, favorite colors, budget, and size, Topshop asks you to say "yay" or "nay" to specific products: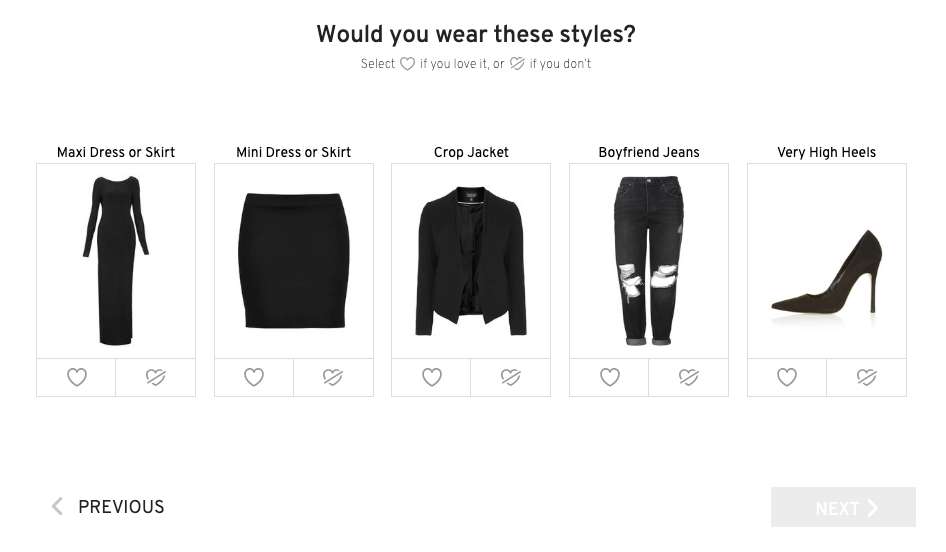 This way, Topshop not only gets to know your style but also learns how to tailor their future product recommendations based on your taste.
At the end of this highly visual quiz, Topshop invites you to start an account to create your personalized wardrobe and join their newsletter.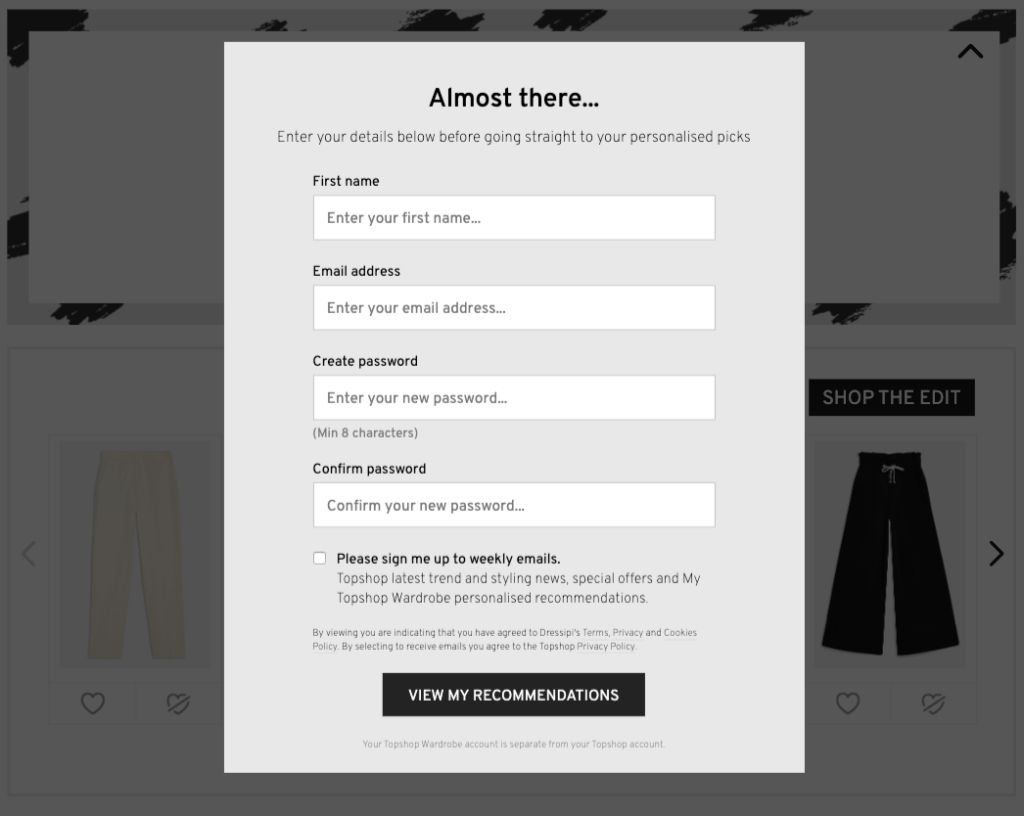 Notice how they show a preview of your results in the background. It feels almost impossible to leave without learning your style.
In the end, Topshop creates a personal wardrobe under your name and divides product recommendations into different categories for your convenience.
What's more, you can further customize your wardrobe by clicking like and dislike buttons under each product.
As a result, you get a virtual wardrobe, updated regularly with personalized products within your budget.
On the other hand, by being helpful to you, Topshop learns tons of information about you.
If you make a similar style quiz, make sure to segment leads based on the product categories users said "yes" and "no" to. This way, you can send them highly targeted email campaigns.
For example, if you run a promotional email campaign for new mini dresses, you can send them to prospects who chose mini dresses and exclude those who said no to them in your quiz.
3. Product Discovery Quizzes (Warby Parker)
While online shopping helps consumers buy with a few clicks, brick-and-mortar shops still have the advantage of an in-store experience.
Although etailers do their best to build a smooth virtual shopping experience, some products are simply difficult to shop for online.
Glasses fall squarely in that category.
Knowing this well, Warby Parker greets new visitors with a quiz to find the perfect pair of frames on their homepage: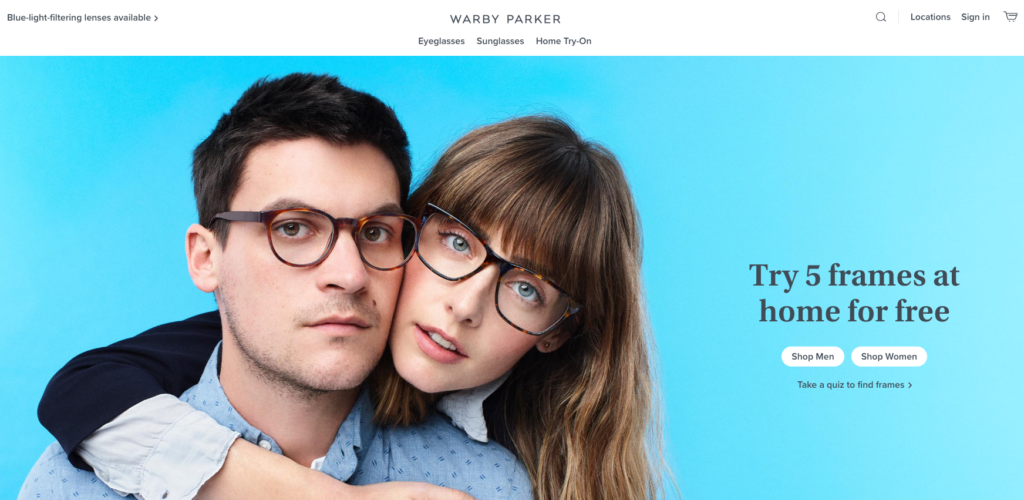 In this short quiz, Warby Parker asks about your face shape, your color, and material preferences, and if you're already wearing glasses.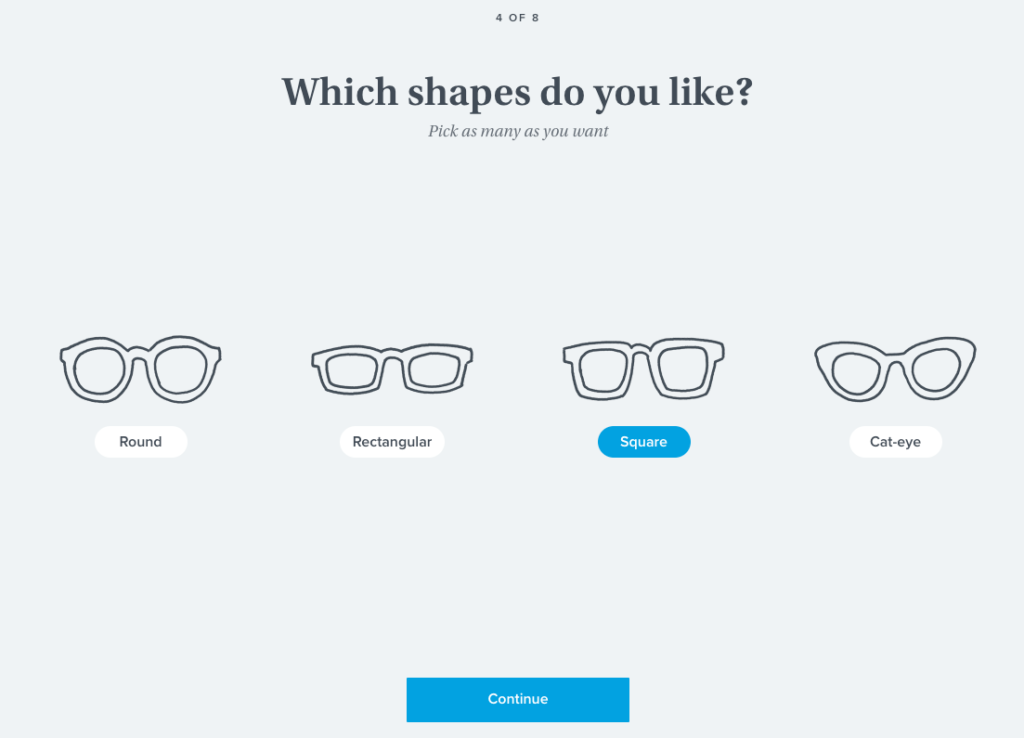 Next, things get interesting.
Warby Parker sets the scene to cross-sell you by asking if you want sunglasses recommendations, too: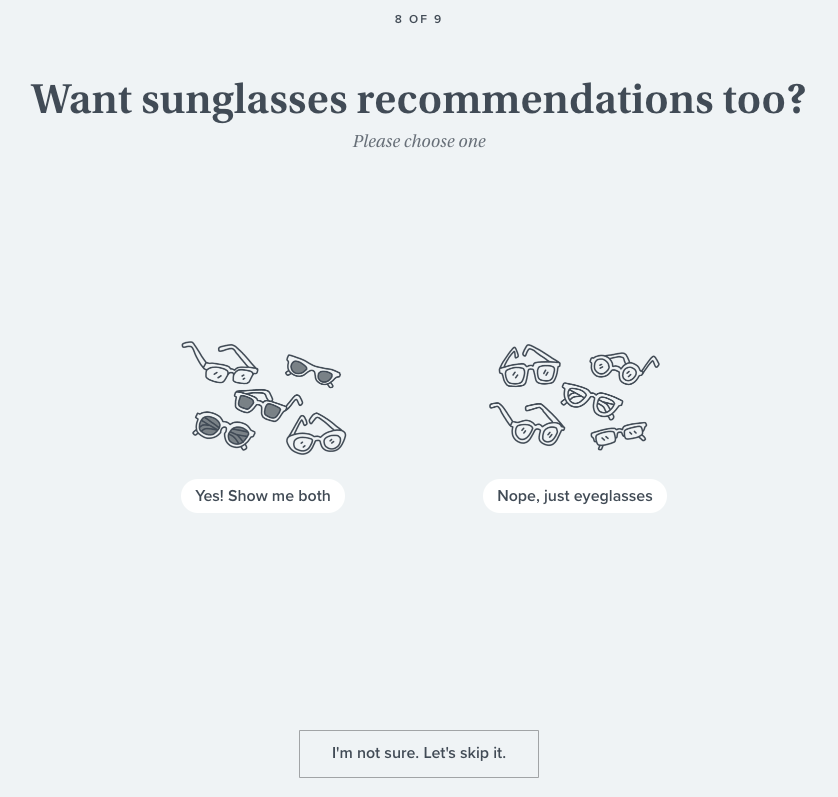 If you choose "yes," the company recommends products from more categories and, possibly, increase your average order value.
As the last step of their quiz, they invite you to enter your email so they can save your results for later.
However, unlike many others, Warby Parker keeps this step optional: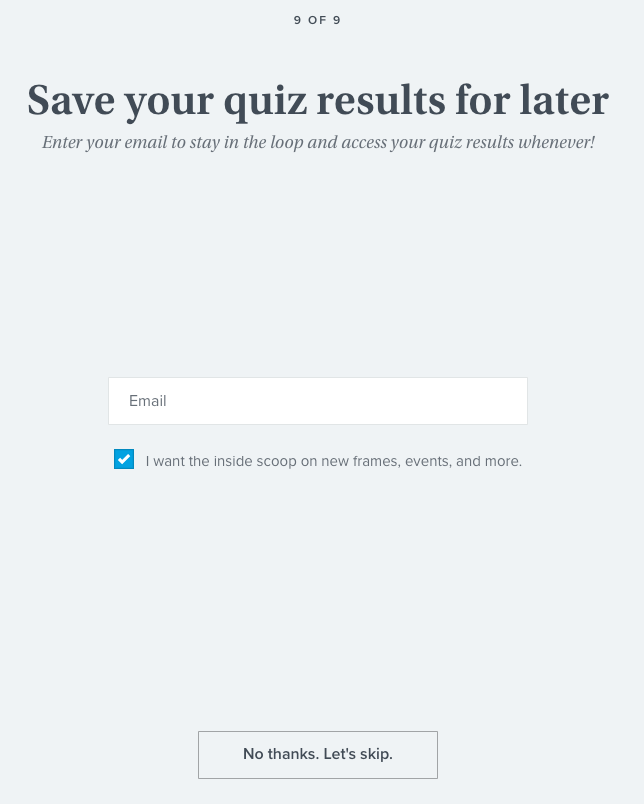 Then, on the loading screen, the company explains how its 5-day free trial works: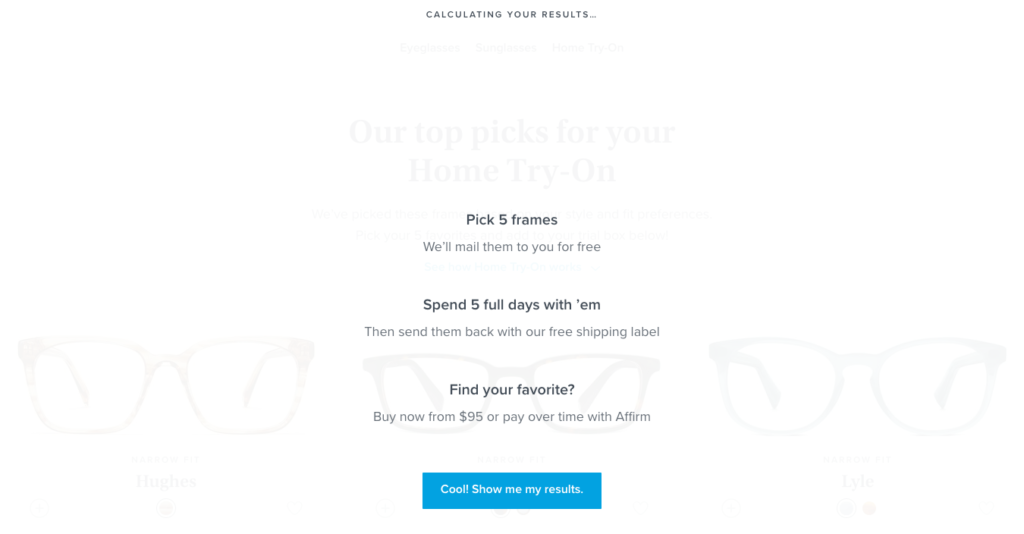 When you finally get your results, Warby Parker still avoids hard-selling you.
Instead, they encourage you to try five frames at home before making a decision: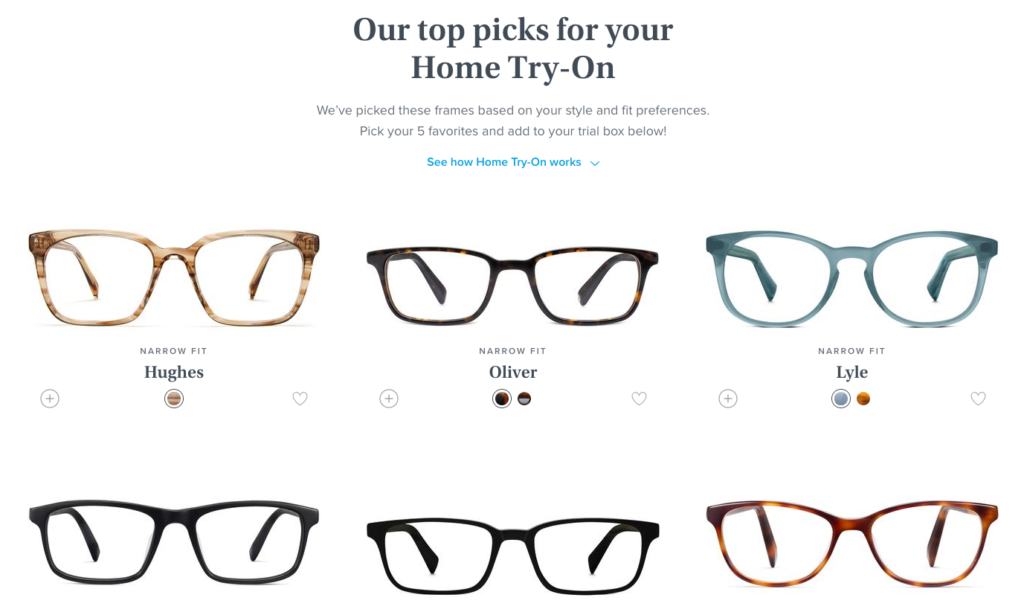 Even if you haven't left your email address at the end of the quiz, the company knows that they can hook you with their "try at home" option (which is an even bigger commitment than submitting your email address.)
In the meantime, they learn a lot about you.
While many brands make the email field required in lead generation quizzes, Warby Parker chooses a different path. You can test both options and see which one converts higher for you.
What's better is, you can add an incentive to email signups at this stage, and, for example, offer one-time free shipping for those who gave their email addresses.
4. Consultation Quizzes (OUAI)
While some lead generation quizzes are fun-to-take and worth sharing with friends on Facebook, others can help you identify problems you're experiencing.
For example, if you're having skin issues, you might find it useful to take a quiz that guides you to the right personal care products.
Knowing this well, OUAI invites you to take a quiz on their homepage, and they call it "Hair Consult":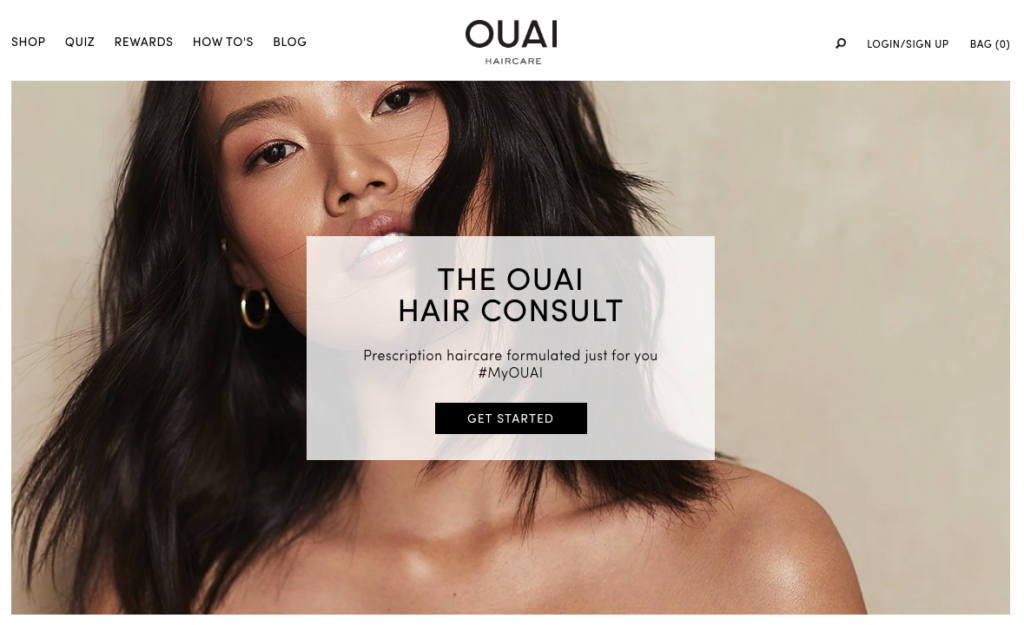 In this much simpler quiz, the company asks about your hair length, type, and goals.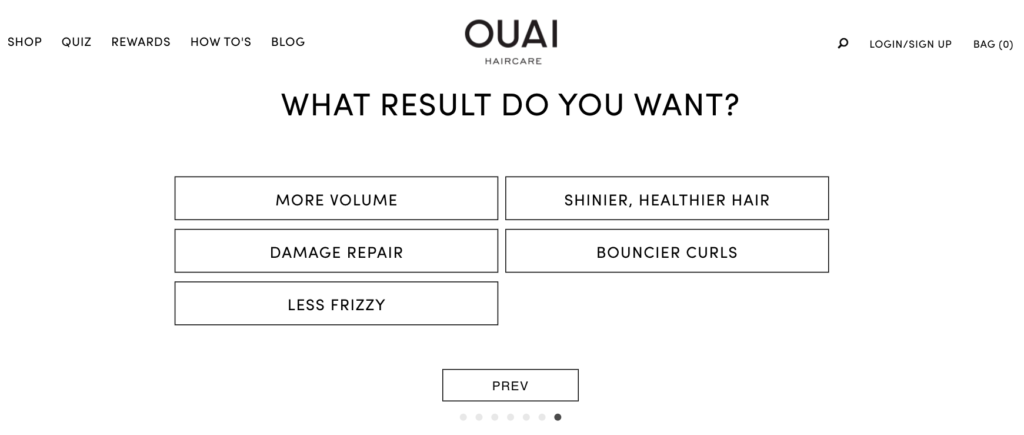 On the results page, they give you good news by saying, "it's treatable."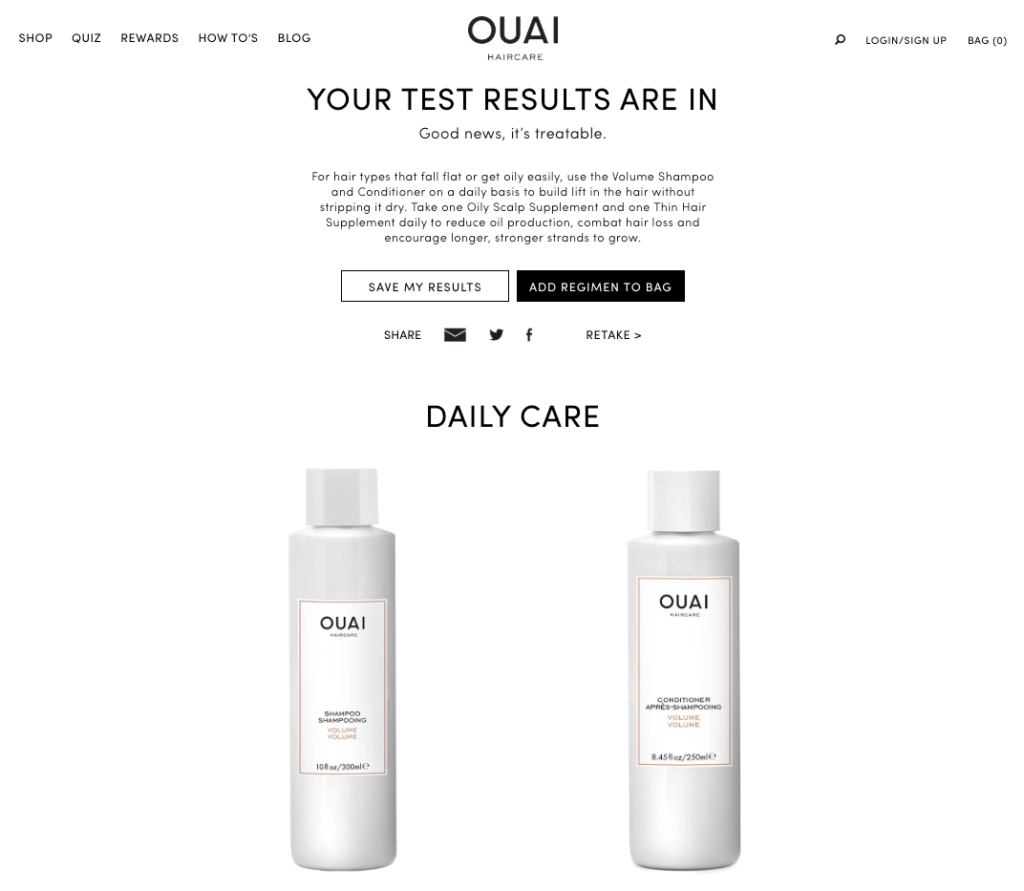 (In case you haven't already guessed, the treatment is OUAI's products.)
Between your results and relevant product recommendations, you see two call-to-action (CTA) buttons: "Save My Results" and "Add Regimen to Bag."
OUAI knows that not every site visitor is at the same stage of the buyer's journey.
For those who're not ready to become a customer yet, the company shows an email popup when they click the "Save My Results" button: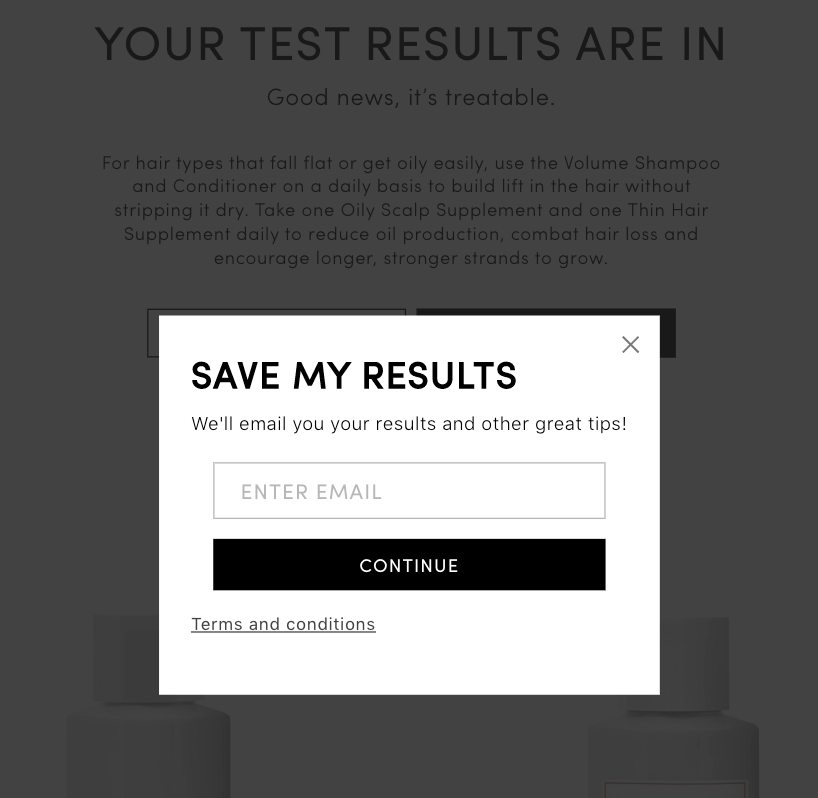 Similar to Warby Parker, OUAI takes a more subtle approach to list building with quizzes by making the email signup optional.
Yet, they demonstrate their expertise by offering you a quick consultation and learn valuable information about their new leads.
Another online seller who uses this tactic is Bumpin Blends. Lisa Eberly Mastela, Founder and CEO of Bumpin Blends is obsessed with quizzes (and so are we). She uses personalized quizzes to engage with her customers and see what products are best adapted for them. Quizzes are a great way to personalize the offer you give your customers to a point most other ecommerce sellers can't.
5. Analysis Quizzes (Care/of)
While the OUAI example above is the simplest form of consultation quizzes, companies like Care/of go above and beyond to build science-backed, detailed, analysis quizzes.
By taking a long and comprehensive quiz on the Care/of website, you get your lifestyle, living conditions, and health goals analyzed to find the supplements your body needs.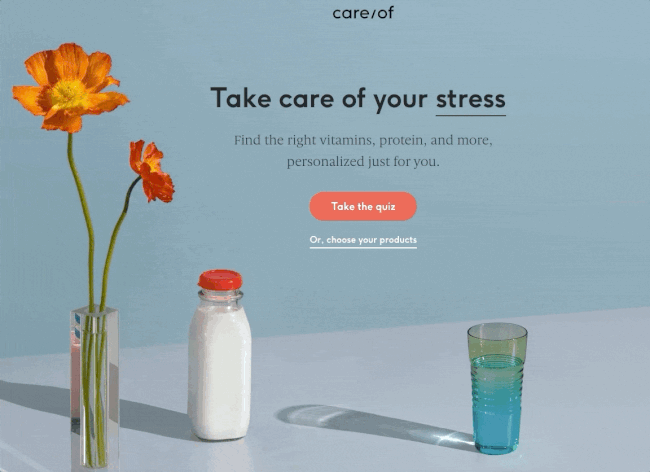 Although long quizzes carry the risk of having low completion rates, Care/of's case is different. Since their niche is something as serious as health, a detailed examination only makes the company more reliable.
What's fascinating is, Care/of adjusts their quiz based on where you are at their sales funnel: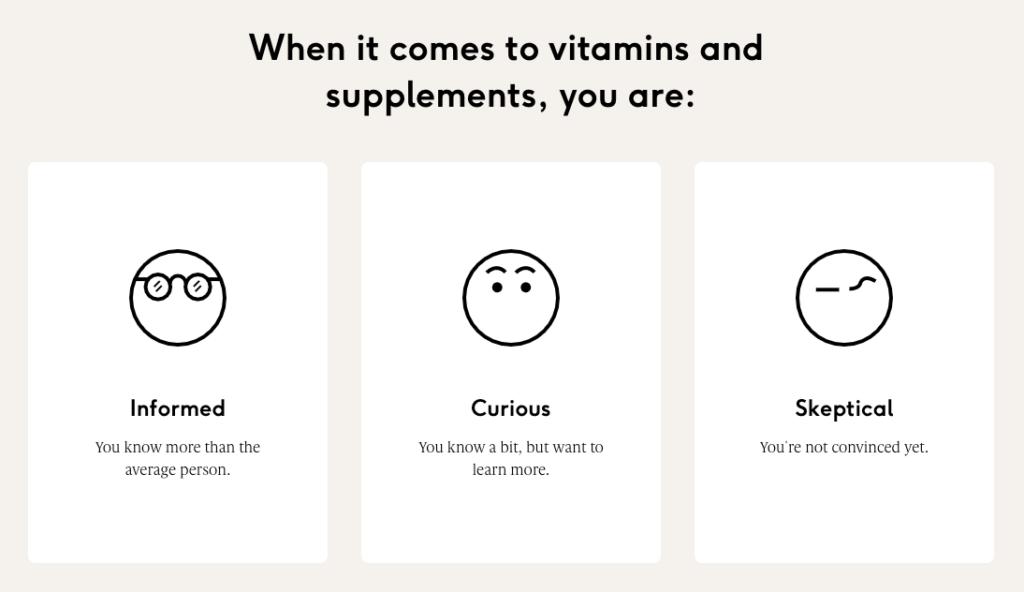 When you say you're skeptical about vitamins, you see this screen:

Built with smooth animations and personal copy, Care/of gets lots of information about you and, interestingly, asks for your email address in the middle of the quiz: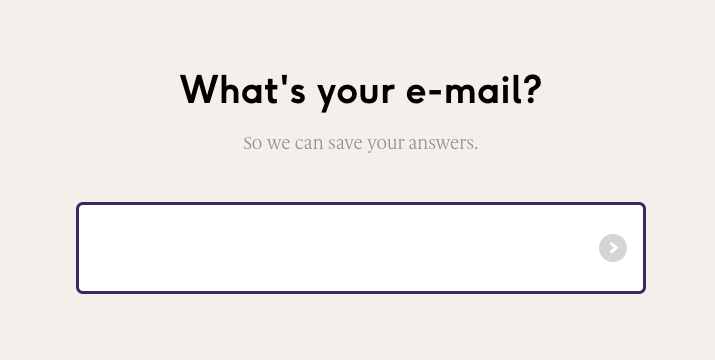 Since you're already halfway through the quiz, you do as they say because you already committed to completing it.
After answering the rest of the questions, Care/of sends you to your personalized landing page with product recommendations: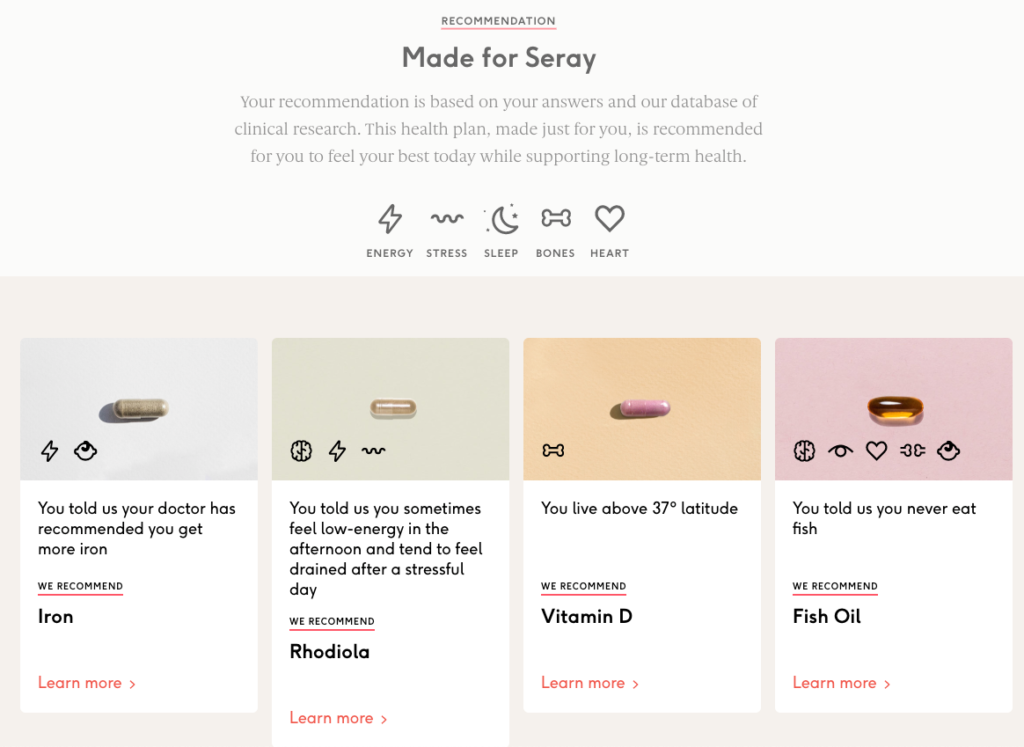 The company adds more credibility to their claims by saying that your results are based on their database of clinical research.
And the best part is they don't hard-sell you while making recommendations. Instead, they simply inform you that your body might need these supplements, which you can easily buy somewhere else, too.
Furthermore, they explain what each product is for and why they recommend it.
With this brilliant list building quiz, Care/of not only collects highly rich lead data but also makes it easy to buy their products.
After your results page, they automatically add your vitamin regimen to your cart, so you can start your subscription with a few clicks. And if you decide not to, Care/of already knows a lot about you to follow up with email marketing.
6. Gated Offer Quizzes (Fabletics)
Many companies open curiosity gaps or promise suggestions as a reward for completing their quizzes. However, some brands use special offers as an incentive to drive more leads through quizzes.
Fabletics belong to that last category.
If you're visiting Fabletics' website for the first time, they introduce you to a special offer, "2 leggings for $24," that you can claim by clicking "Get Started":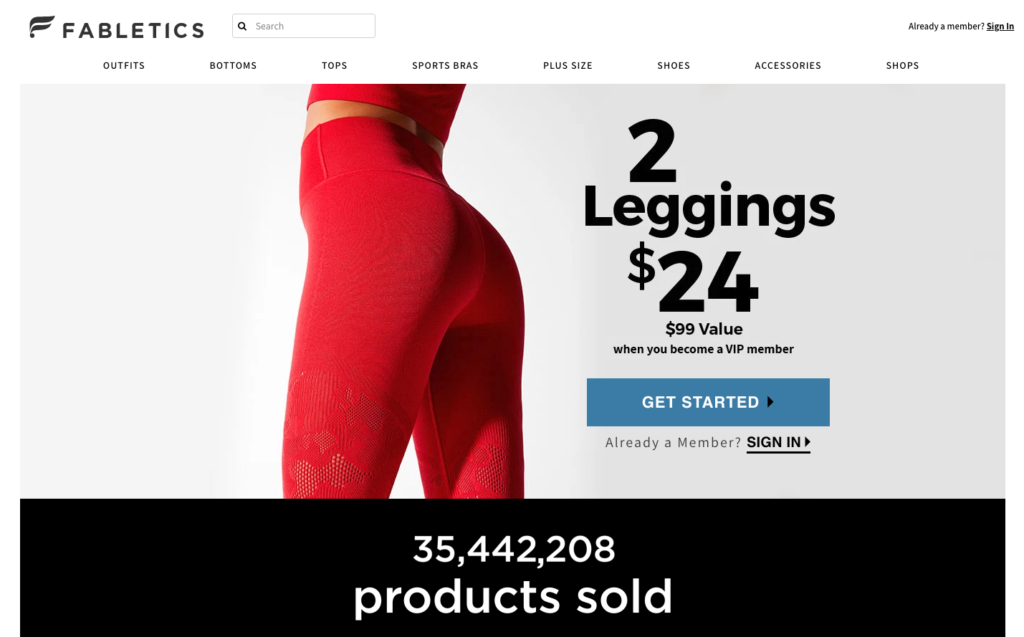 And when you click the button, a survey with six steps pops up, asking about your workout preferences, body type, size information, and more.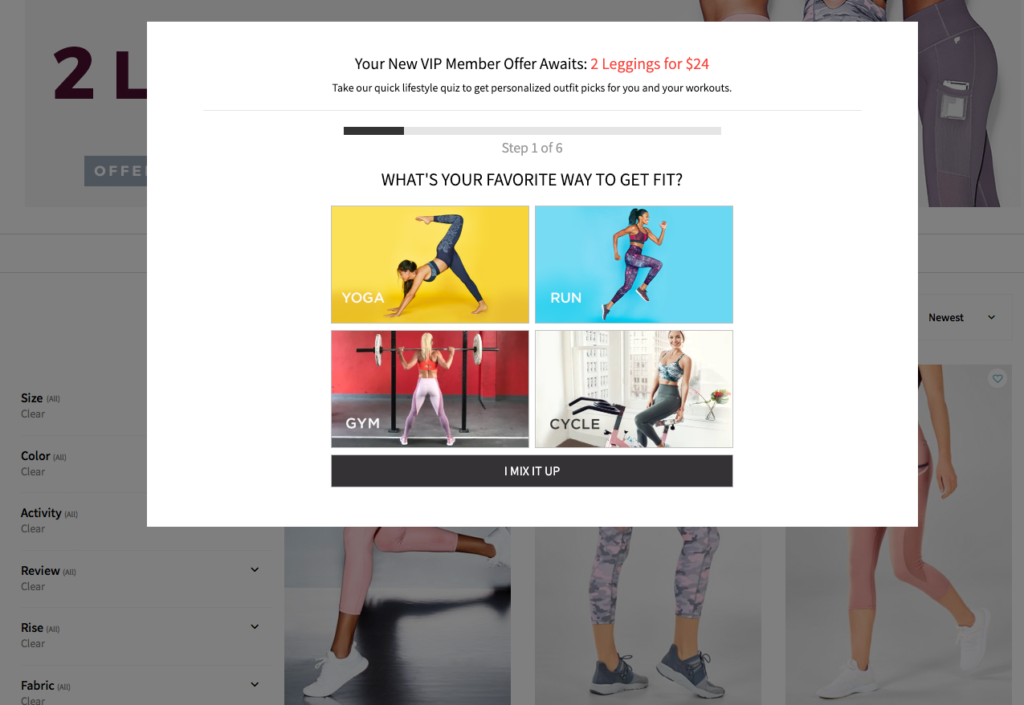 Notice how Fabletics nudges you to complete the quiz by reminding you of the special offer at each step.
At the final step, Fabletics, unsurprisingly, asks for your email address by emphasizing, "your exclusive offer is one click away":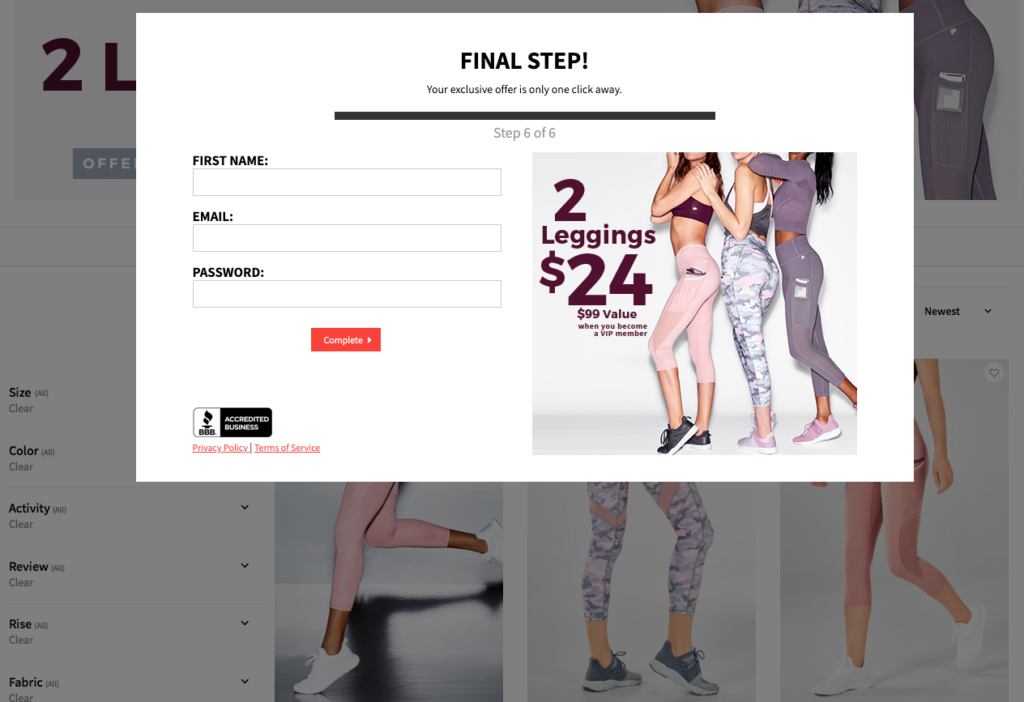 They also repeat what you'll get out of submitting your email address by using an image that contains the dollar value of your gain.
Even though Fabletics' quiz isn't fun or informative, they still give you two compelling reasons to complete it: an exclusive offer and personalized recommendations. All in exchange for your email address and a little more information.
This way, Fabletics not only segments their new leads but also aims to convert some of them into customers with the offer. If you're not convinced by the offer at this time, you can be sure that they'll retarget you with personalized email campaigns.
7. Incentivized Quizzes (Cup and Leaf)
It's a deadly mistake to assume that every visitor landing on your site knows what to buy or how to use your products.
To avoid this critical mistake, you need to guide your visitors the best way possible on your site and help them make more informed buying decisions.
By combining onsite messages with lead generation quizzes, you can achieve that goal, plus, more.
Here's an example by Cup & Leaf: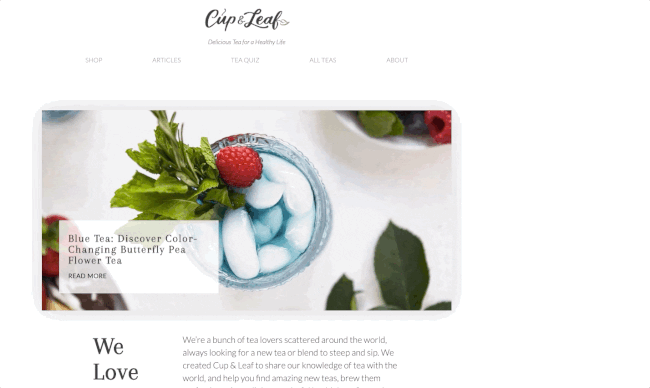 When you visit the Cup & Leaf homepage, you don't get bombarded by intrusive popups. Instead, the company uses a teaser to grab your attention without hurting your reading and shopping experience.
When you spend seven seconds on the website or click the teaser, the survey popup shows: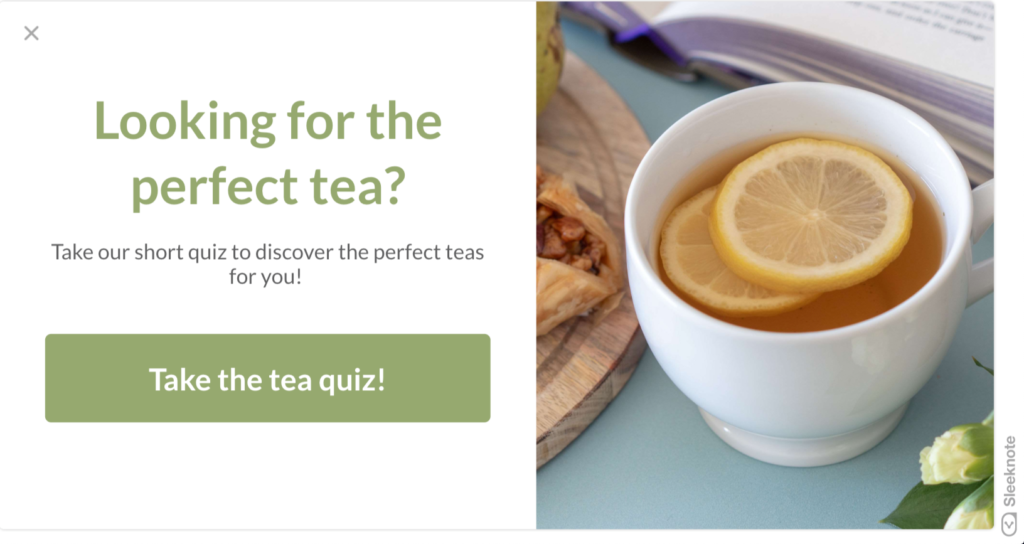 Repeating the question from the teaser, Cup & Leaf asks if you're looking for the perfect tea and invites you to take a short quiz to discover your new favorites.
Clicking the CTA button takes you to the quiz page: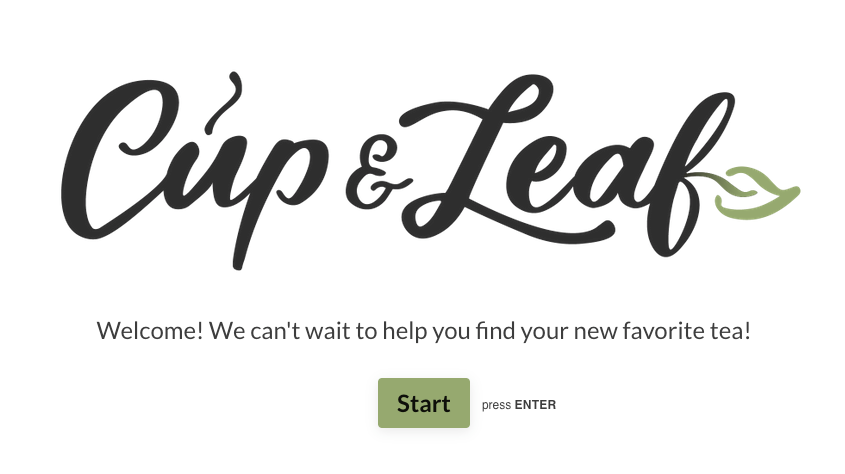 Similar to Beardbrand, Cup & Leaf uses Typeform to create their quiz. After asking about your preferences and favorite flavors, they invite you to submit your email address:

Once again, after answering six questions about your taste and committing to finding the perfect tea, you type your email address without thinking.
As a result, Cup & Leaf not only finds the best fit for you but also gives you a discount on your first order: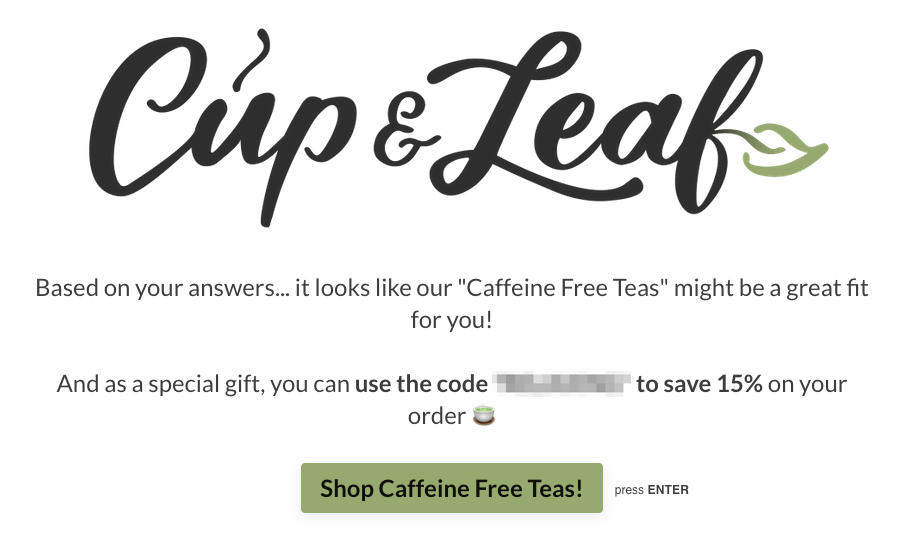 What's more, they lead you to the relevant category page with the CTA button.
As opposed to Fabletics, who hides an offer behind the email step, Cup & Leaf surprises you with a discount code in addition to improving your shopping experience.
Now that Cup & Leaf learned your preferences, they can retarget you with hyper-specific email campaigns and website popups.
In fact, Cup & Leaf increased their email signups by 528 percent and doubled their purchases from direct traffic, by combining a Typeform quiz with a non-intrusive popup campaign.
Conclusion
Not all lead generation quizzes are created equal.
Ranging from "Which comfort food are you?" to car troubleshooting quizzes, there are countless different ways to grow your email list by using quizzes.
Whether you take the fun approach or incentivize them, with quizzes, you're guaranteed to collect segmented leads that are interested in your products.
Make sure to follow up on your new leads with personalized email campaigns and website popups, and you'll convert prospects into lifelong customers.