Pinterest is a powerful tool for e-commerce stores. With 55% of pinners using the platform to shop on a regular basis, it provides a big opportunity for you to grow your sales.
And now, Pinterest is making it even easier or e-commerce brands to succeed on the platform by launching what they call "Buyable Pins."
These are ads that allow the user to go directly to your product in just one click.
In this article, I'll cover how to start advertising on Pinterest. I'll also share the results from our experiment with ads that increased our Pinterest referrals by 63%.
What are Buyable Pins?
A normal pin looks like this: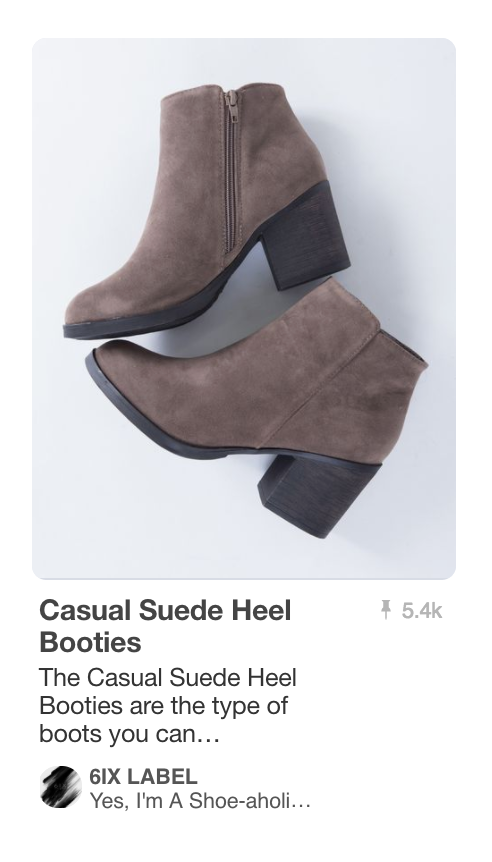 When you click it, you're taken to a second page like this, with more details about the pin.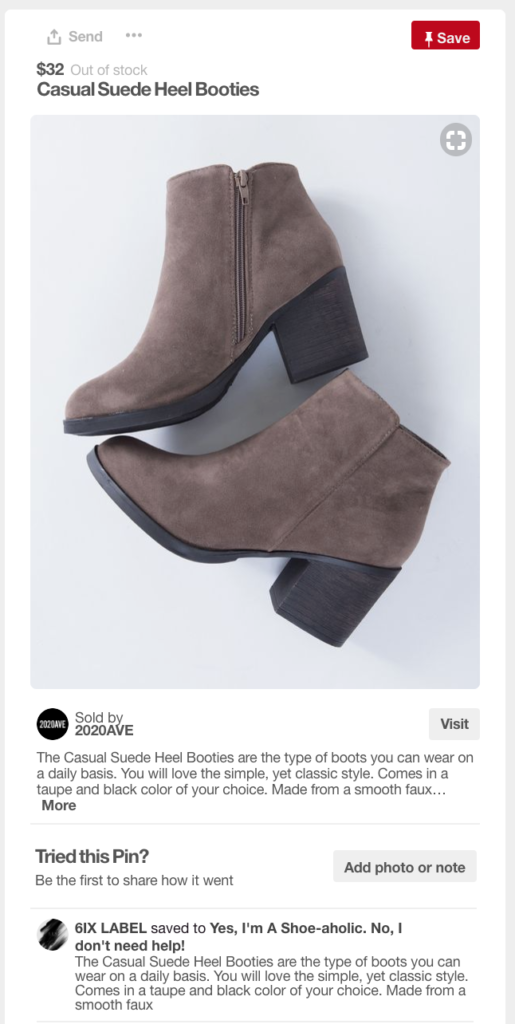 If you click on the grey "Visit," button on that page, you're taken to the merchant's website.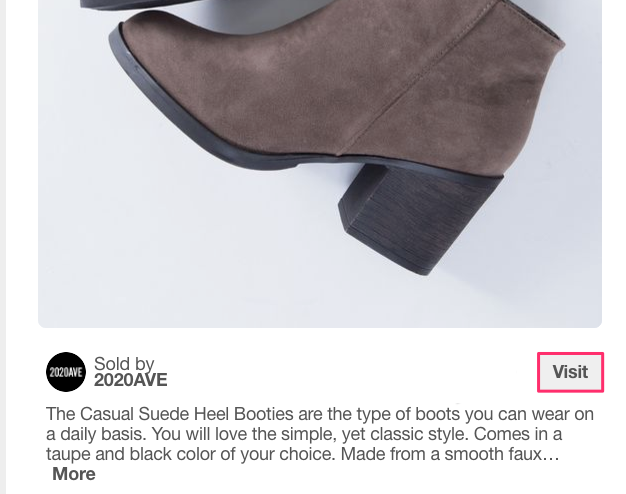 Buyable Pins shorten those steps.
A user clicks the pin and goes to your website right away, without the screen in the middle.
Why Pinterest?
You might be wondering, "Why Pinterest?"
It's only a platform for hair, makeup, home decor, and fashion posts, right?
But all kinds of people with all kinds of interests visit Pinterest.
And more importantly, people come to Pinterest to shop.
Pinners are big shoppers.
93% of Pinterest users plan purchases on the platform. And, over 2 million product pins are saved every single day.
In fact, 87% of pinners made a purchase because of a pin they saw on Pinterest.
Whoa! That's a lot of potential sales waiting for you.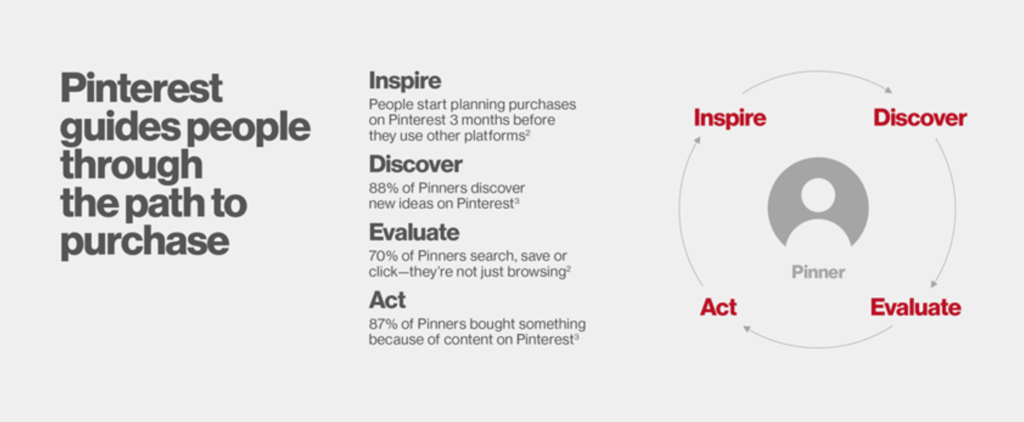 (Source: smallbiztrends.com.)
Over half of all users earn more than $50,000 per year.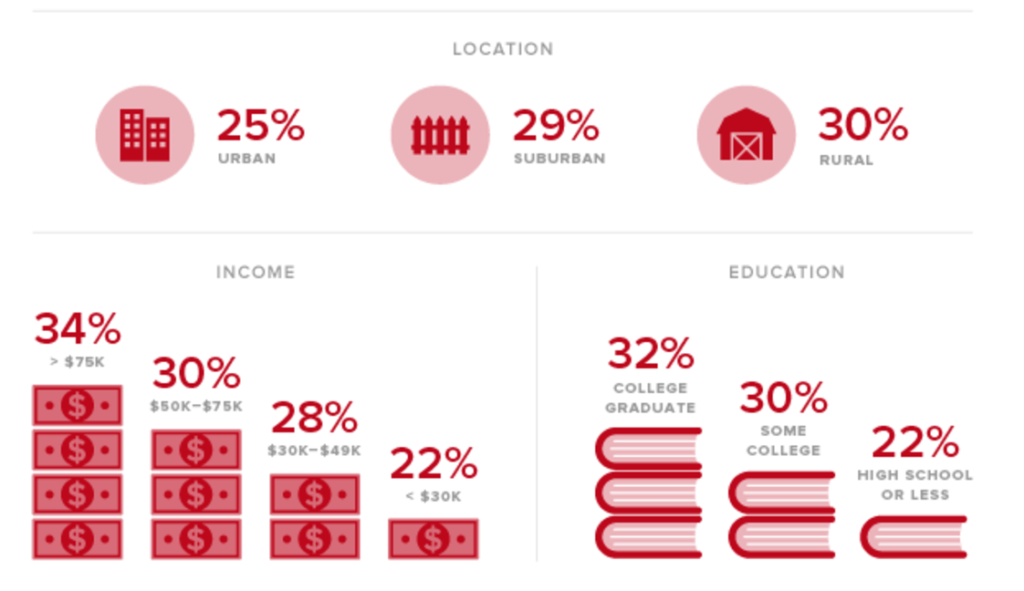 (Source: ThinkDigitalFirst.com.)
Some other interesting facts about Pinterest users are:
Pinners are a pretty desirable bunch of customers, too.
80% of users are female
Millennials are as active on Pinterest as they are on Instagram
10% of pinners earn over $125,000 per year
60% of all users are in the United States
Average session length is just over 14 minutes
…and, they're 47% more likely to be introduced to a new brand on Pinterest than any other social platform!
To capitalize on their ready and willing shoppers, Pinterest launched their Shopping app to the US market in 2017.
It's currently only available via mobile app download (separate from the main Pinterest one), and it allows users to browse and buy items on Pinterest without ever leaving the app.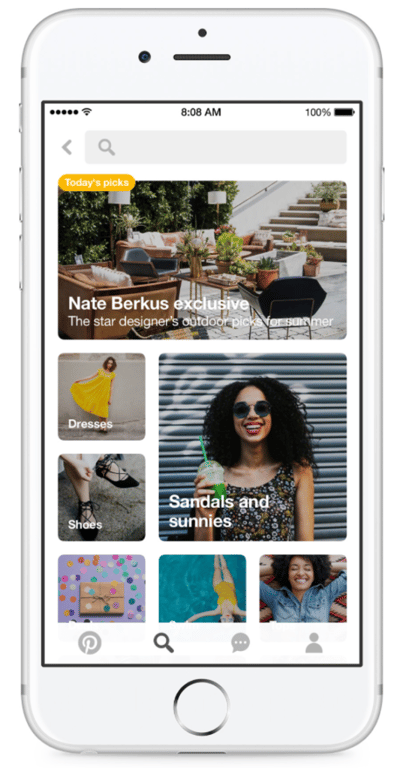 (Source: Pinterest.com)
We hope the Shopping app gets released to the rest of the world soon!
In the meantime, Promoted Pins and Buyable Pins help users on all devices find your products on the main Pinterest website and app.
You can tell a pin is a Buyable Pin by the arrow indicator, like this JustFab ad: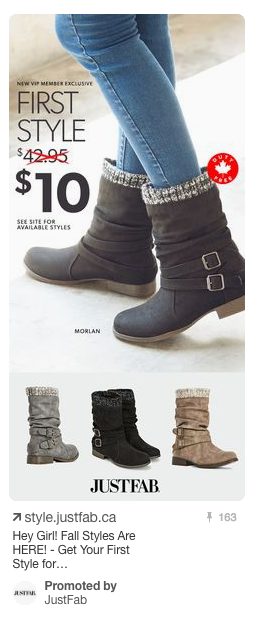 There's another big benefit to promoting your pins on Pinterest: increased organic reach.
When a user saves (or "repins") your ad, it now lives on their board, too. A portion of their followers will see it.
One of them could save the pin, too.
The cycle goes on, and your pin gets out to an increasingly larger audience. All for free, because all you paid for was that initial paid impression to the first person who saved it.
Pinterest says the average promoted pin gets 20% more clicks for free in the months after a paid campaign!
That really adds up over time.
So, let's move on to actually creating an ad!
How to create a Pinterest ad
There are five steps to creating a Pinterest ad:
1. Create a Pinterest Business account
2. Know your advertising goals
Let's look at each in detail
1. Create a Pinterest Business account
You need to have a Business account to place ads.
Plus, a Business account lets you view analytics, like how many people you reach and your most popular pins.
To create a Business account, log in with your existing Pinterest profile.
View your profile, and click the three dots at the top. Click on "Switch to a business profile," in the menu that comes up.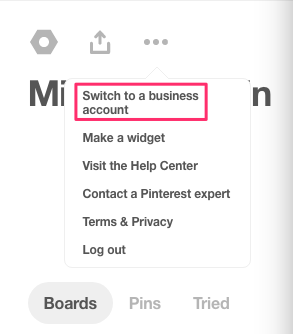 Pinterest will ask for your business name, website, and business category, which is a drop-down list.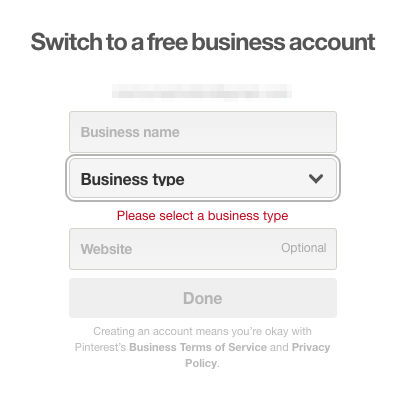 Once you enter this information, you magically have a Pinterest Business account.
2. Know your advertising goals
Now that you're ready to advertise, you first need to know what your goals are.
Do you want to sell more product?
Attract followers?
Get people to visit your website?
Generate brand awareness?
Encourage app downloads?
Whatever your main goal is, there's a Pinterest ad format to match.
Click on the red plus sign at the top right of your screen and choose, "Create ad."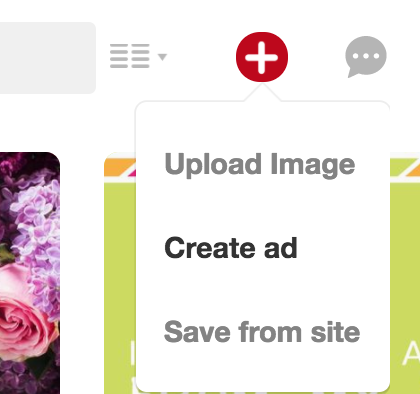 You'll see a list of ad campaigns to choose from, each with a description of what you get.
For this example, I'm going to choose, "Boost engagement with your Pins."
Another good one for e-commerce stores is, "Get traffic to your website."
I'm choosing to focus on engagement here because I'm pretending to be an e-tailer who is new to Pinterest, and I want to grow my following.
More than purchases, I want follows and saves.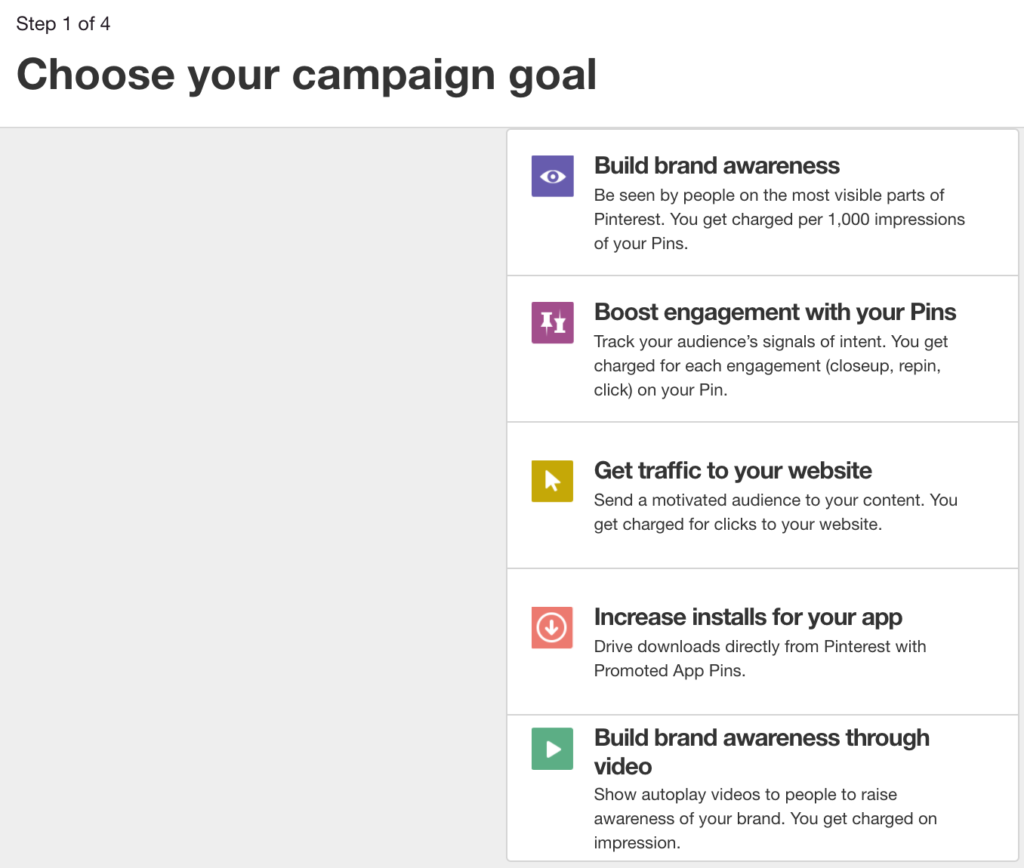 Then, give your campaign a name and set your budget (optional).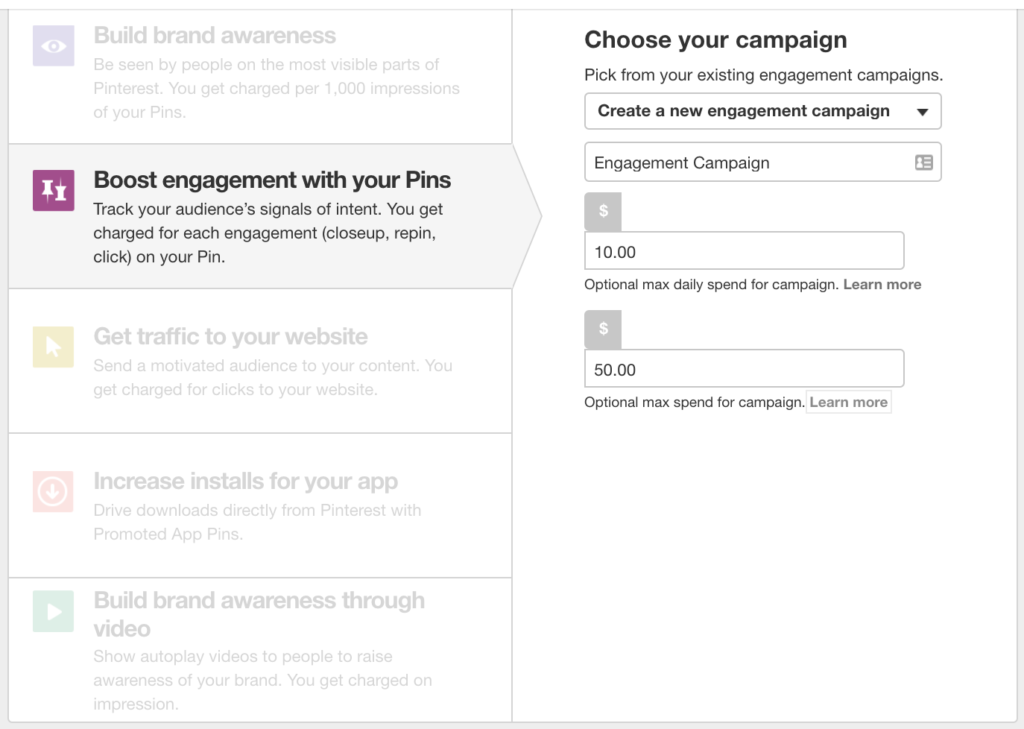 On the next screen, give your ad group a name.
Choose something you'll remember. This is how Pinterest will refer to the campaign in your Analytics.
You can also set start and end dates here, or leave that blank to run the campaign until you decide to end it.

Next up is targeting your ad to the right people.
3. Target your ideal audience
Pinterest gives you some cool audience targeting options.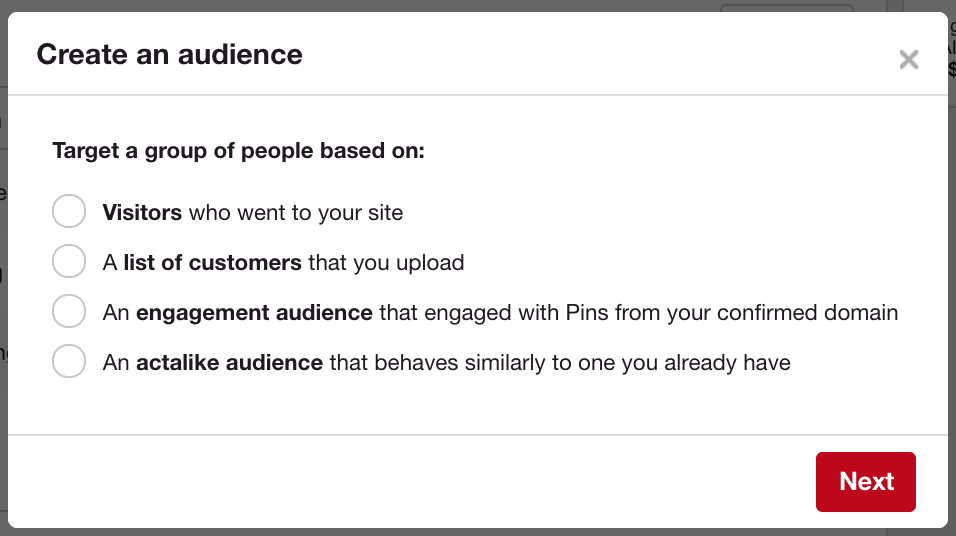 Or, if none of those options fit, you can create your own audience.
To do that, leave the "Your Audiences," tab blank and move on to "Interests," below it.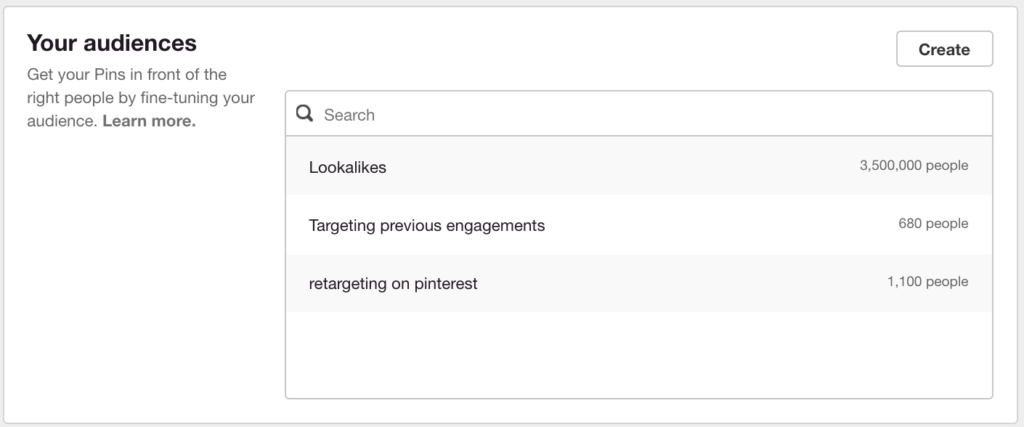 In the "Interests," box, choose the things your ideal customer or audience likes.
In this example, I'm a women's fashion store. So, I chose some things my customers are into, mostly under the "Women's Fashion," category: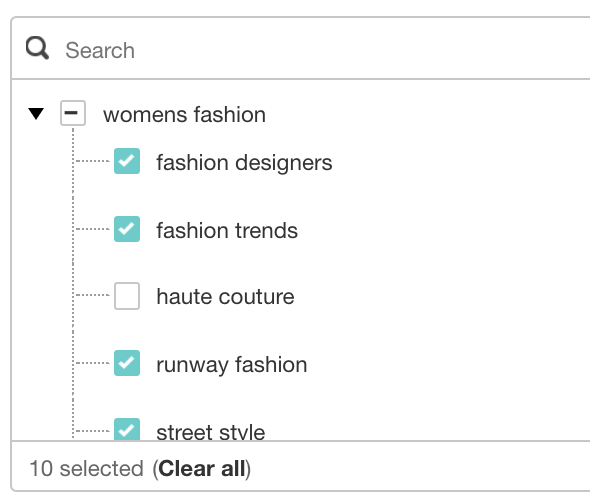 Next, enter keywords your ideal customer is likely to search for on Pinterest.
These may be similar to your SEO keywords, or they could be totally different, depending on what kinds of products you sell.
For example, let's say I sell casual women's clothes.
The SEO keywords I use on my website might be, "women's summer clothes," "fashion skirts," or, "women's denim shorts."
Those might work on Pinterest, too. But there are lots more keywords I can use for Pinterest.
To find them, type in your product into the search bar on Pinterest. Watch what suggestions come up.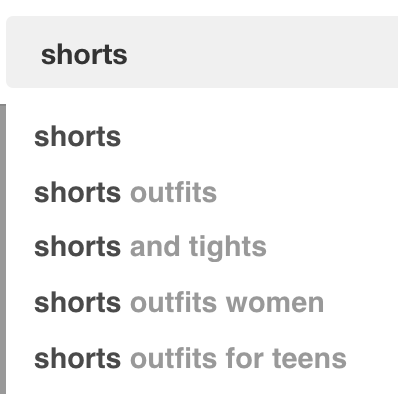 You can also think of where your customers wear your items and find keywords that way. A popular destination during the summer is music festivals: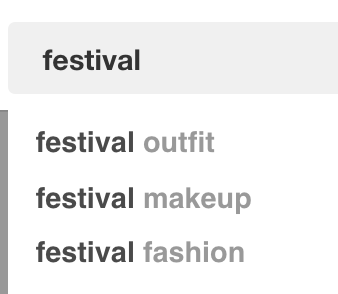 Enter in all the keywords that are relevant for this campaign. Remember to focus them on the pin or pins you're going to promote.
So, if your pins contain shorts, use keywords about summer outfits and shorts.
Pinterest will suggest keywords for you in the ad builder. Just click on them to add them to your campaign.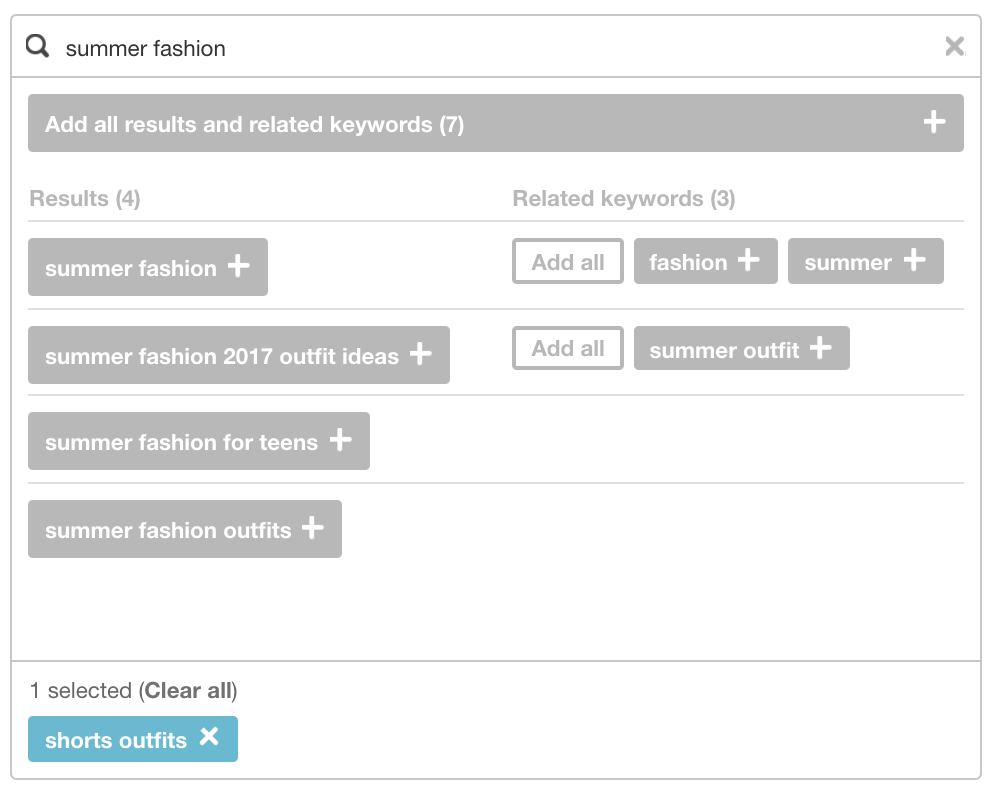 Clicking the, "Add all results," button at the top, well, does what it says it will do:

Once you're happy with your keywords, move on to Locations.
You can include or exclude any region in the world, language, gender, or device.
So if I only wanted to advertise to American consumers, I would click on the U.S. option. It selects all 210 regions in the United States for me.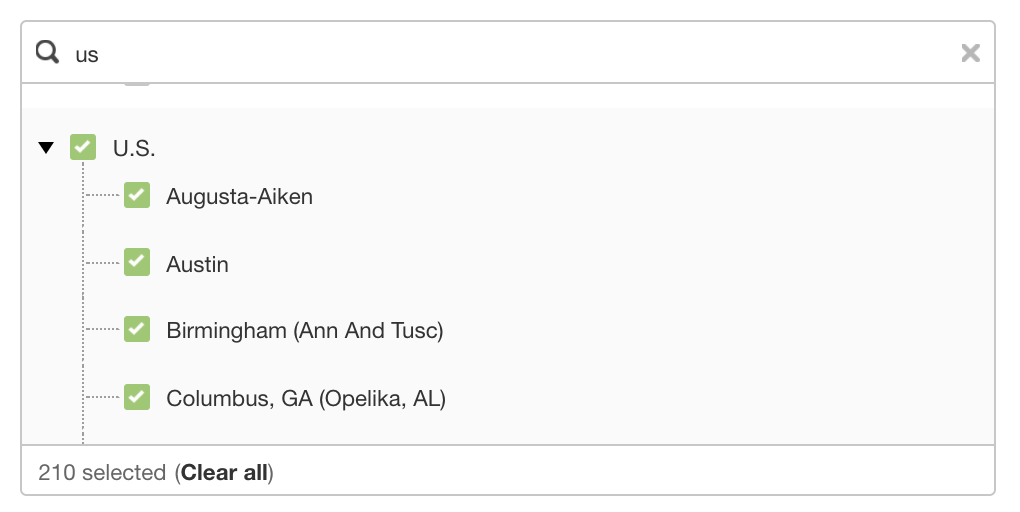 You can target all languages, devices, and genders if you want, or choose specific options here.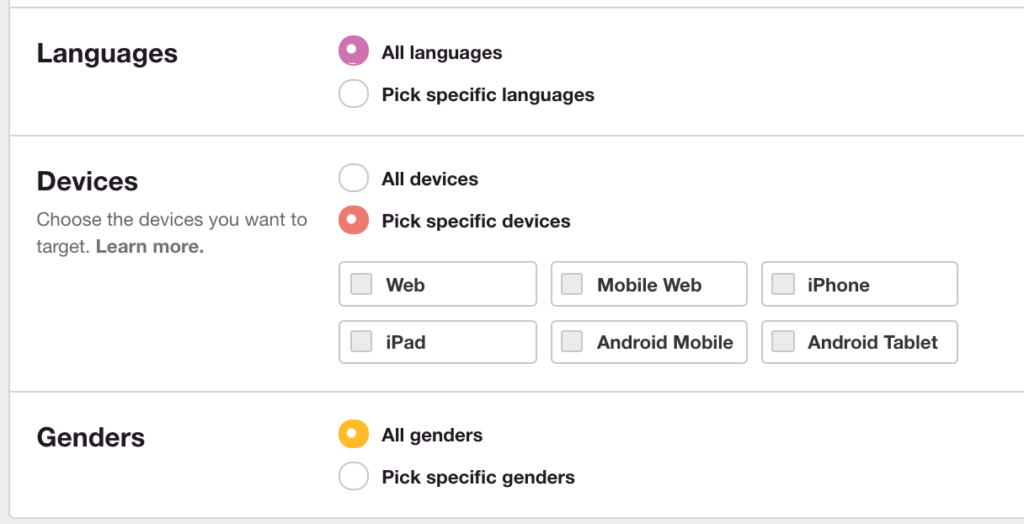 4. Set your budget
Next is your budget.
If you filled in a daily or lifetime budget in the first step, Pinterest will suggest a maximum Cost Per Engagement (CPE) bid amount for you here.

You can edit this to anything you'd like. A good rule of thumb is to set it to your Cost Per Engagement on other platforms, like Google AdWords or Facebook Ads.
You're likely to pay a similar rate on Pinterest, and it's a good place to start.
If you're not sure what your CPE is on other ad networks, go with Pinterest's recommendation.
You can change this amount anytime if your campaign settings.
Click "Pick a Pin," at the bottom to move on!
5. Make your pin buyable
Buyable Pins aren't available to everyone yet, but if you use Shopify or BigCommerce, you're in luck!
You have to meet a few guidelines first:
Have a Pinterest Business account (You're good! We did that in step one!)
Include an email or phone number in your "about" section
Have a profile photo
And, disclose that you're using Pinterest's conversion tag, if you are
Then, log in to either Shopify or BigCommerce and follow their instructions for enabling Buyable Pins.
How to measure the effectiveness of your ad
Nine out of ten ad campaigns on Pinterest increase sales for the advertiser.
(Source: smallbiztrends.com.)
I would call that pretty darn effective!
Pinterest helps bring new customers to your brand, and they're looking to spend money.
What more could an e-tailer ask for?
Measuring the success of your Pinterest campaign depends on the original goals you set at the beginning.
Some goals are easier to quantify than others.
If your goal was to sell $5,000 of winter tires from your Pinterest campaign, that's pretty easy to measure.
Not sure how?
Add a UTM code to the destination URL of your Promoted Pin.
A UTM code lets you track who came to your site from where, and see what those people did, in Google Analytics.
Instead of just showing up as a referral visitor from Pinterest, you can set a specific name for your campaign.
You can easily make custom UTM links using Google's free Campaign URL Builder.
For example, your winter tires campaign may have a UTM code like this: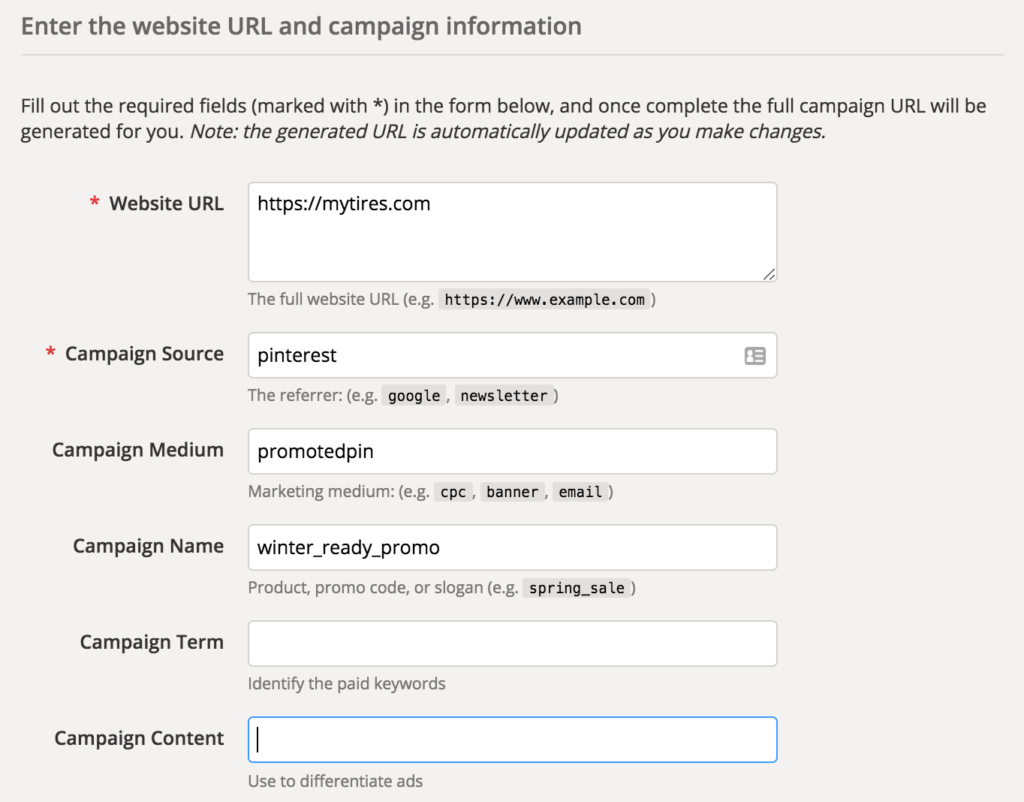 Google then creates a custom URL you can use for your Promoted Pin, like this:

You'll be able to tell exactly who came from this campaign and made a purchase on your site in Google Analytics.
To view your campaign results, click on "Acquisition," and then click, "Campaigns."
Click "All Campaigns." The campaign name you set will show up here with your user data and conversion rates.
In our tire example, the campaign name would be, "winter_ready_promo.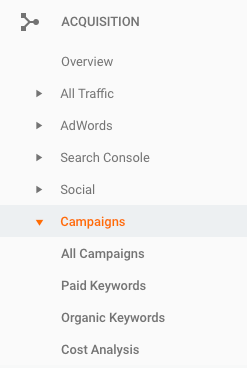 Note: For Google Analytics to display sales numbers alongside your campaign, you need to have e-commerce conversion tracking setup.
Understanding Pinterest analytics
Pinterest also has its own analytics and reporting dashboard for advertisers.
You can see it by clicking "Analytics," at the top left of your screen.

To see what actions people took on your site, you need to install the Pinterest conversion tracking code on your website.
Click on "Ads," at the top, then choose, "Conversion tracking."
I recommend opening it up in a new tab so we can easily come back to setting up the ad.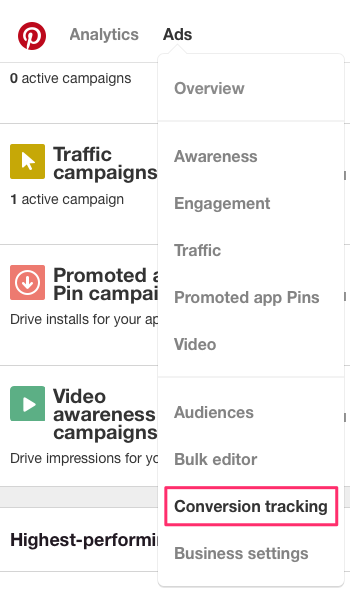 Click the "Create a Pinterest tag," button.

Choose a name for your tag and click, "Generate code."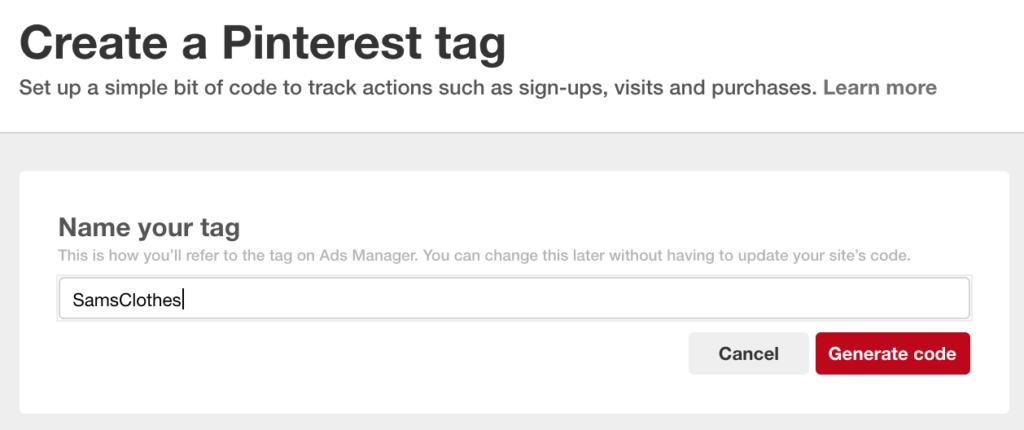 You'll get your unique Pinterest tracking code, which looks like the one below. Copy it (your own code!) and enter it in the <head> section of your website.
If you're not sure how to add this code to your <head> section, see this guide.
It tells you how to install our tracking code, but the steps are the same to install the Pinterest code above, too.
Once that's added, you need to define what actions you want to track on your site.
An action could be adding a product to the cart, checking out, signing up for emails, viewing a category, or anything you'd like.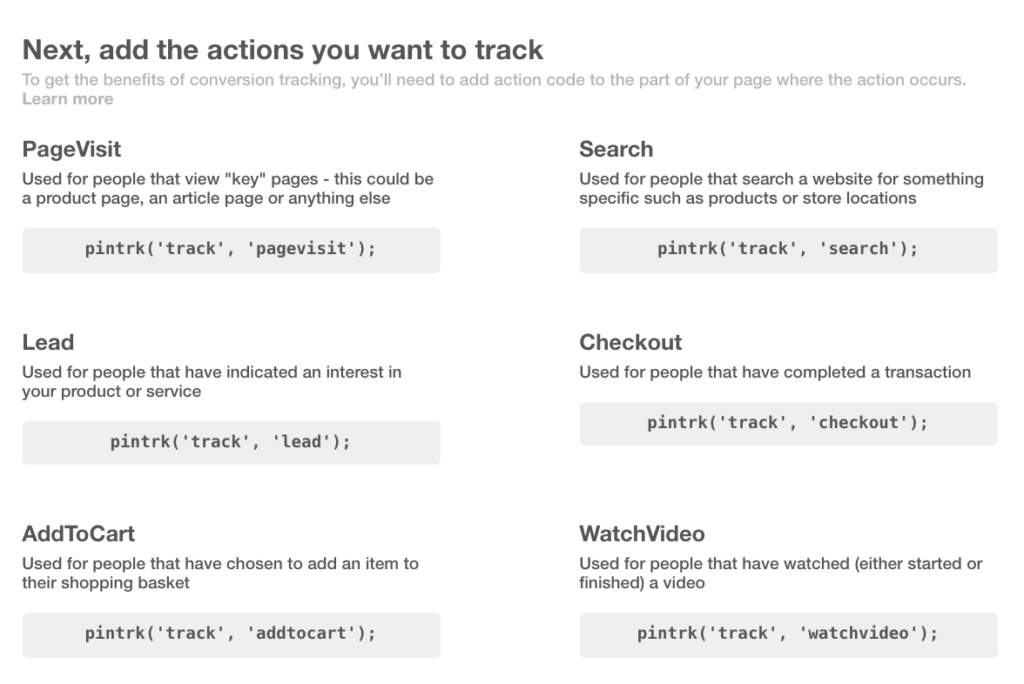 These actions are recorded when a page loads.
Pinterest gives you some code examples to implement on your site. For example, if I choose lead, I can paste this in the <body> area anywhere on my webpage.

Make sure you replace the blue, "YOURTAGID," field with your tag name you entered at the beginning. In my case, that was "SamsClothes".
You can track as many actions as you'd like.
Once you have them all in place, you'll be able to see your conversion rate within Pinterest's Analytics dashboard.
Just click on, "Ads," and then, "Overview," to see it.

You can see your impressions, engagements (saves, clicks, etc), and conversions all in one spot.

The results of our Pinterest Ad experiment
We decided to try out Pinterest ads for ourselves with a quick campaign.
We promoted several of our pins, focusing on an infographic, a few blog articles, and a few product-focused images.
We ran a "Get website traffic," campaign to bring as many people as possible to our site.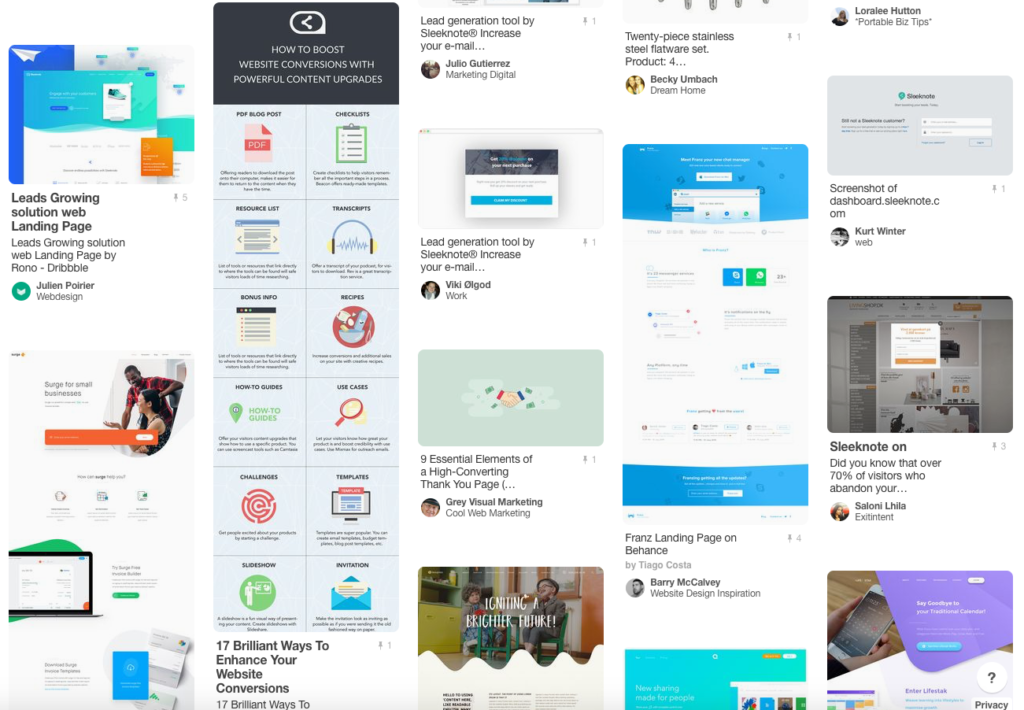 Those pins got saved by other Pinterest users, exposing our content to a larger audience for free.
Yep, the organic reach really gets boosted with promoted pins!
We targeted an audience of people interested in most items in the "Technology" section of the Interests tab: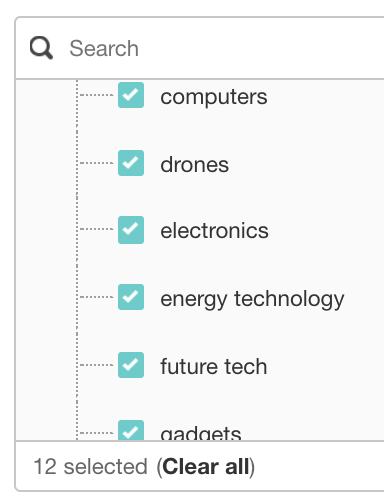 We chose keywords people would type in to learn more about list building:

This quick campaign resulted in a … drumroll, please …
Traffic growth of 63% from targeted traffic ads
During the one month campaign, we increased our Pinterest traffic by 63%!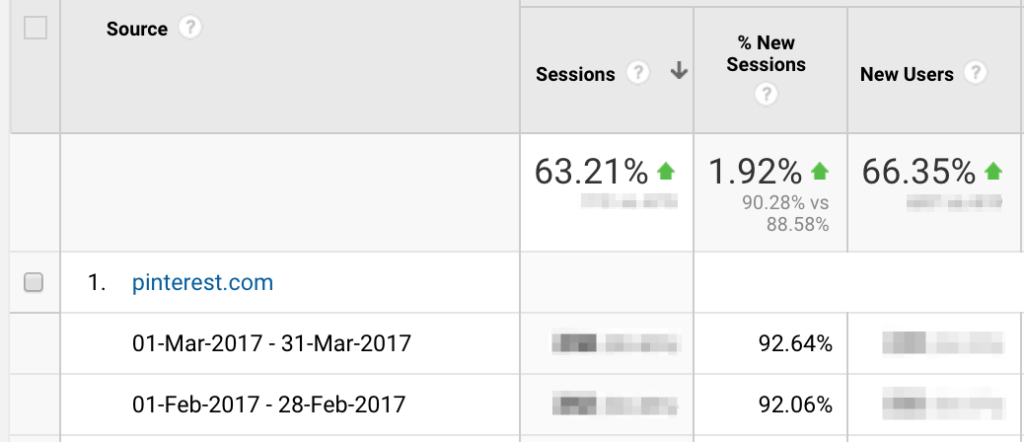 Our promoted pins were all about email marketing and list building. We wanted to attract our key target market: companies that need help growing their lists.
We wanted to see how powerful Pinterest advertising was for software companies, too.
Of course, selling a snazzy new purse or pair of leather shoes is a lot more attractive to most Pinterest users than a SaaS product, but hey, it still worked.
Conclusion
Pinterest isn't just for clothing or makeup retailers.
Brands in all industries can successfully use Pinterest Ads to sell more products to a willing, engaged audience.
The best part is you can significantly grow your organic reach with paid ads, as more users see and save your pins.
Buyable Pins are especially powerful for e-commerce retailers looking to ramp up sales.
Pinterest users can now shop your products in just one step. And, American consumers can shop without ever leaving Pinterest if they're using the Shopping app.
Pinterest is much more than just a social network for retailers. It's a sales machine.