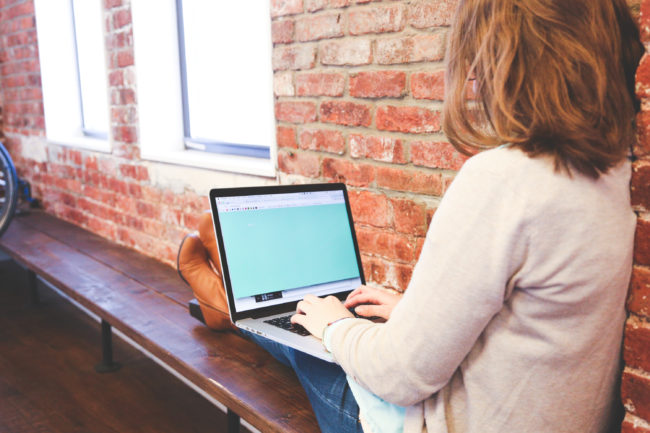 Have you tried to sell online courses or ebooks with Facebook ads and given up in frustration?
Does the unpredictable algorithm have you wondering if anybody even saw your post?
Do you think there are just too many distractions on Facebook and that it's impossible to reach an audience that way?
Here's the deal:
It is true that it can be difficult to attract attention to your business's Facebook page.
People come to Facebook to catch up with old friends, post pictures of their vacations, and maybe play a game or two. They don't come to hear a sales pitch. But if you can "crack the code" on building your email list from Facebook, you can follow up with those leads via email to sell more your digital products.
But you'd be surprised (and have probably heard) how much you can grow your business through Facebook. If you know the right tools to use, this social media tool can really help you increase your customer base.
The primary way Facebook can help you grow your business is through lead generation. To build your business and make it thrive, a list of qualified leads is an absolute necessity. Without those leads, your business is going nowhere.
According to the BBC, more than one billion people use Facebook every day.
More than one billion!
That's a lot of untapped potential! So to tap into that huge market and fill your sales funnel by following the tips below.
Tip #1: Add an Opt-In Form to Your Facebook Fan Page
Chances are, you're already posting content on social media.
Maybe you automate your posts with Buffer or Edgar. Or maybe you manually plan out your social media calendar every month.
Regardless, the easiest way to start driving leads from Facebook is by putting a sign-up form directly on your fan page or business page. Essentially, you're passively growing your email list straight from Facebook… without paying for advertising.
There are a couple of ways you can do this. The easiest way is to add the "sign up" button to your business page.
To accomplish this, all you need to do is go to your business's Facebook page and click "add a button" found at the bottom of your cover photo. From there you can simply put the address of a contact form found on your website. When people click the button on your Facebook page, they will be directed to the contact form.
If you're not very tech-savvy, this is the easiest option. But the problem is a lot of people don't like being redirected away from Facebook to other sites. Luckily, there is another way to set up a contact form that will be more user-friendly.
The second way to add a sign-up form to your page is by customizing the tabs on your business page (using tools like LeadPages). Setting this up is a little more complicated than the option above, but it does provide better results in the end. Here's a screenshot of our recent offer: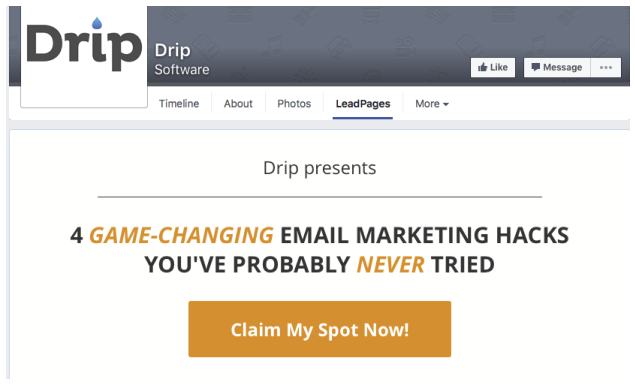 LeadPages does a good job of making this as painless as possible and you'll be provided with instructions on how to add the app and customize the form. It only takes a few minutes to complete and you'll reap the benefits of a growing email list for years.
Tip #2: Promote Your Mini Course on Facebook
Many businesses make the mistake of only sharing content on Facebook. But with one billion users, why shouldn't people hear about your lead magnet on Facebook, too?
When you give people the opportunity to join your e-mail list, you don't need to offer any kind of incentive. There may be some people who like your content well enough that they want to receive it regularly and directly, instead of trusting that Facebook's algorithm will choose to post your updates in their feed.
But if you're really wanting to fill your funnel, you need to give people a reason to sign up. "Join our newsletter!" alone probably won't cut it.
People are more likely to provide you with their name and e-mail address if you give them some sort of valuable content that has a higher perceived value in exchange for their contact information. A lead magnet draws customers to you.
You can use a variety of things as lead magnets. Some people choose to offer cheat sheets or lists of tools and resources as lead magnets. The benefit to these is that they're relatively easy to produce.
Ebooks are the most common lead magnets used these days. But the problem is, consumers have been inundated with these offers. And many people save your PDF to their downloads folder, never to see the light of day.
That means you've got to step up your game. You could try giving people something like a webinar, an email course, or a three-part video course. In these cases, you build a relationship with subscribers beyond the initial opt-in.
Pro Tip: Whatever you choose to offer, make sure it's something so good that you could actually charge for it. People want to feel like they're getting something really valuable.
If the lead magnet you use is really helpful and high-quality, it's more likely the lead will stay engaged and eventually become a paying customer. Promote these lead magnets on Facebook regularly with Edgar or Buffer.
Tip #3: Hold a Contest to Drive Viral Traffic
Another great way to find potential customers is to hold a contest on Facebook. First, think of something that your audience will find enticing. It can be any kind of product, service, or opportunity.
For a standard brick and mortar business, like a restaurant, they could offer a gift card for a free meal. For companies that offer digital products, maybe the giveaway could be for a video course or a collection of their best material. Whatever you choose to offer, make sure that its worth is great enough to attract contest entrants.
Once you select the prize, then you can set up the contest through Facebook. The process is simple – just type in "contest" in the Facebook search bar and it'll direct you step by step through the configuration process. Here are some basic tips:
Simplicity is Key: One of the things you get to specify when you're configuring the contest is the requirements for entering. You should make it as easy as possible for your Facebook fans to enter the contest.
Figure Out What's Important: All you really need from them in exchange for a chance at the prize is their e-mail address. That's your end goal, so don't make entering the contest unnecessarily difficult.
Time It Well: It's also recommended that you limit the contest to just a few weeks. If you allow the contest to go on for a month or more, people may not feel any sense of urgency to enter. They may procrastinate and then forget about it.
For generating viral traffic, check out KingSumo Giveaways.
Running the contest for a few weeks gives plenty of time for word to spread so you can get a decent number of entrants. The shorter time frame also puts a bit of pressure on people to enter quickly instead of putting it off, which helps you draw in more potential customers. When the giveaway ends, be sure to keep following up and soft selling your course.
Bonus Tip: Another way to generate excitement on Facebook and grow your e-mail list is by hosting an in-person event. If you're in a metro city, you could host a teaching session or workshop at your office, and build connections with local influencers in your industry.
When people register for your free event, be sure to collect their e-mail addresses for further use. Hosting an event not only helps you fill your sales funnel with leads, it also provides you with a way to connect with your Facebook audience more personally.
Tip #4: Accelerate Your Email List Growth with Facebook Lead Ads
Believe it or not, you can pay Facebook to help you generate leads. Facebook offers a specific type of ad strictly for that purpose.
With these ads, subscribers won't have to take time to manually complete the contact form. When they click on the action button, the form is automatically filled in with information they have already provided to Facebook.
Some of the benefits of this program include:
Lead ads are easier to use compared to ads in the past.
You don't have to worry about redirecting people away from Facebook to a landing page on your site, which could cause any number of problems.
Conversions will be higher. There's always a possibility that the page won't be formatted correctly for whatever device the person was using.
It just takes two simple clicks and the information is sent your way.
Here's an image showing how it works, courtesy of WordStream: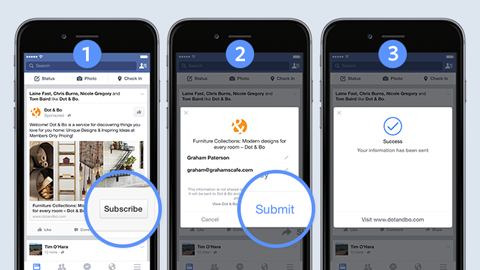 There is some work to be done on your part to put the ad in place, though. First you need to create a design for your ad. It's best to actually come up with a few different designs and test them out before purchasing a full run.
You'll probably also want to offer a lead magnet in order to make the offer as attractive as possible. Make sure you mention in the ad that signing up is free, but it is a limited time offer to create a sense of urgency.
Be sure to think about who exactly you're targeting. If you think your product will appeal to everyone, think again.
The more specific you can be about your ideal audience, the more successful you'll be.
Who will be most interested in your product? How old are they? What gender? What level of education have they reached? What are their interests?
Narrow down your focus to gain a more loyal customer base.
Put Facebook to Work for Your Online Business
Putting these suggestions into practice can help you capture the attention of your Facebook audience and sell online courses or other digital products.
In the end, it boils down to a pretty simple process – make yourself known through all the options Facebook has to offer, use a high-quality magnet to generate interest, and watch your list of qualified leads expand.
So what are doing to generate leads and fill your sales funnel? Which one of the tips do you think will help your business the most?
Tell us in the comments below. We'd love to hear from you.