Who doesn't like a good laugh? It's one of life's simple pleasures and has a ton of benefits.
According to Psychology Today, laughter reduces pain, improves the flow of oxygen to the heart and brain, and allows us to better tolerate discomfort. So being able to make people laugh is always advantageous, both in life and in business.
One particular way to inject humor into your marketing arsenal is with your email subject lines. Getting a subscriber to crack a smile or straight up a laugh when browsing through their inbox is a surefire way to rise above the noise and grab their attention.
In turn, this can raise your click-through rate considerably and get more eyeballs on your offers. So on that note, here are some funny email subject lines you can learn from to improve the humor of your e-commerce brand.
9 Funny Email Examples
1. Screw it, let's just give everyone free stuff (Chubbies)
I think men's shorts company Chubbies is one of the funniest brands in existence. Check out their Instagram page, and you'll see just what I'm talking about.
They have posts like this.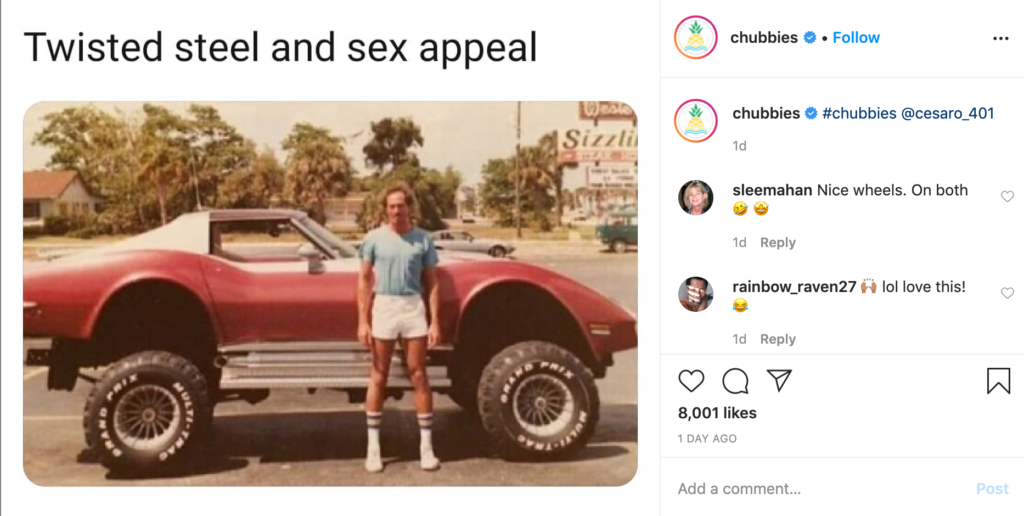 And like this.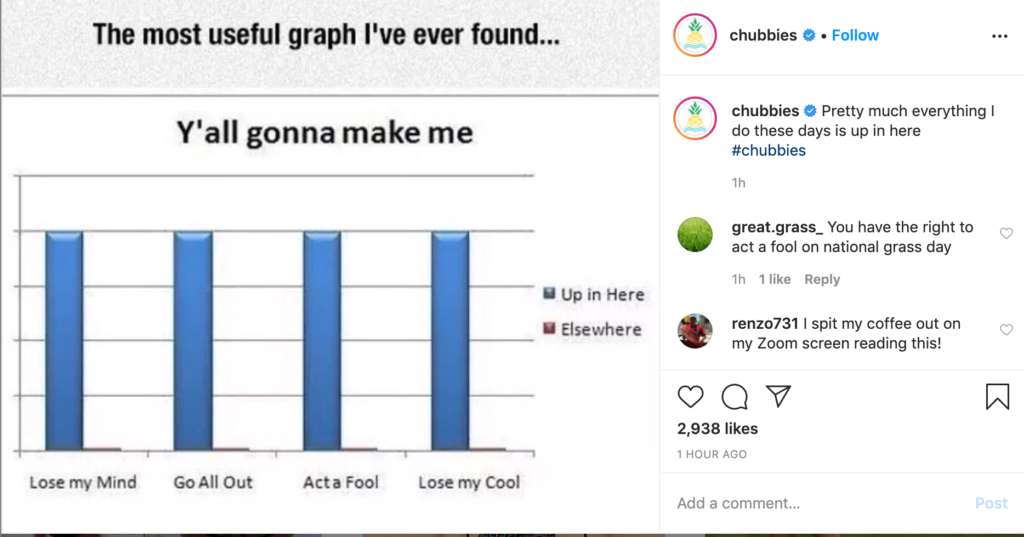 Their brand is built on humor and judging by their audience engagement, it's served them well. Therefore, it should come as no surprise that Chubbies has seamlessly worked humor into their email marketing campaigns.
The particular subject line, "Screw it, let's just give everyone free stuff," was the perfect way to announce the Chubbies "Julyber Monday" where they gave away free items for 12 hours.
Here's what the email looked like.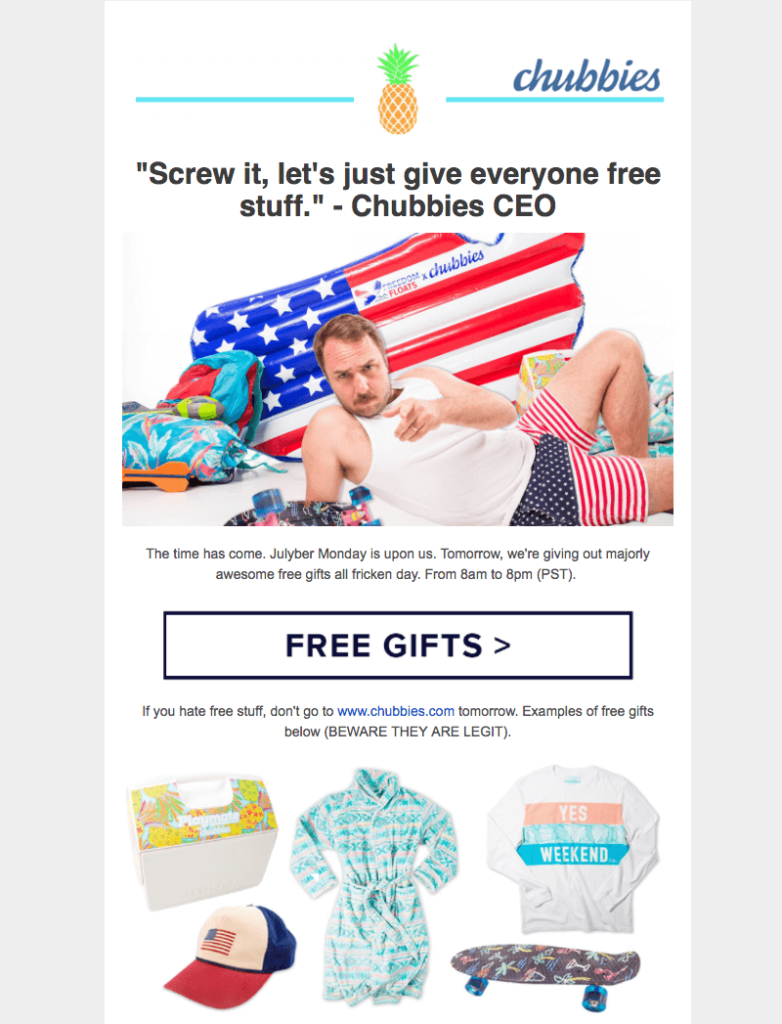 Source: EmailDesign
It keeps the humor going and contains all of the elements that readers have to expect from Chubbies—hilarity, retro cheesiness, and machismo.
Besides the inherent funniness of this email subject line, it's also a huge attention grabber for the simple fact that it mentions giving away free stuff.
After all, anyone who's already a fan of Chubbies and learns that prizes are up for grabs should be compelled to open the email. So this is an awesome two-pronged attack that other e-commerce brands can learn a lot from.
If you're unsure about using humor in your promotional emails, try using a workflow that split-tests your sale announcements to see what works best for your audience.
Want to make a workflow like this?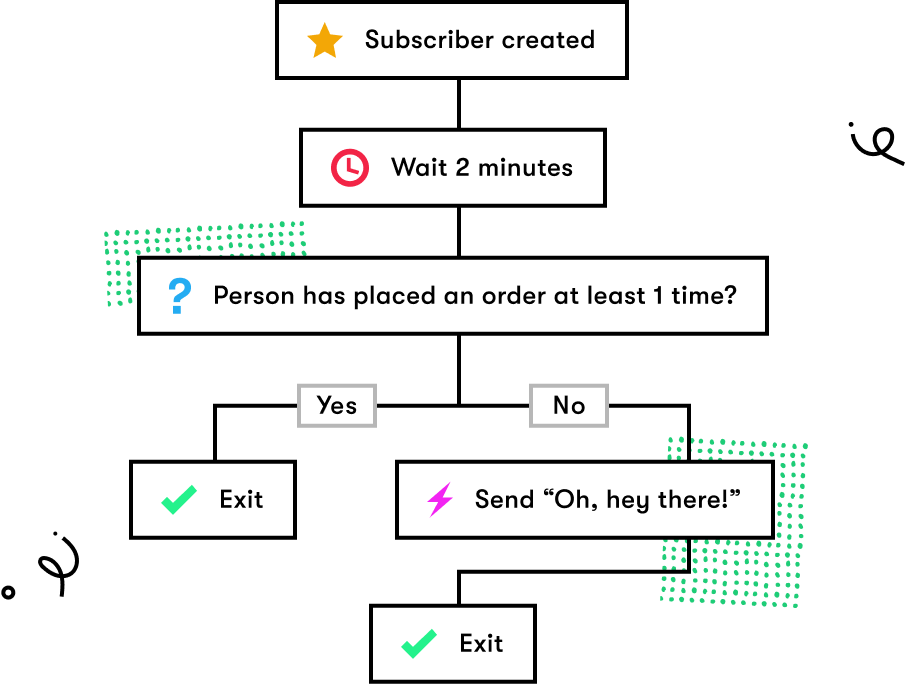 Hit the ground running with our pre-built workflows.
2. Are You a Genius? You Could Be. (Dollar Shave Club)
Pretty much everyone is familiar with Dollar Shave Club by now. They're known for their quality razors and simplifying the grooming process, as well as for their top-notch humor.
In fact, it was their 2012 commercial entitled, "Our Blades Are F***ing Great," that put them on the map.
It features their founder Michael Dubin using his deadpan humor to promote Dollar Shave Club's blades and takes a zany approach that was unheard of up until that point.
And that humor definitely spills over to their email marketing campaign as well. In fact, nearly all of their subject lines are witty, and this one is no exception.
In just a few words, it lets readers know that they'd be foolish to waste their money paying for overpriced razors from big-name brands and should instead make the smart move by getting their razors from Dollar Shave Club.
Once the email is opened, readers get more details and see a picture of a kid performing some seriously complex mathematical equations on a chalkboard.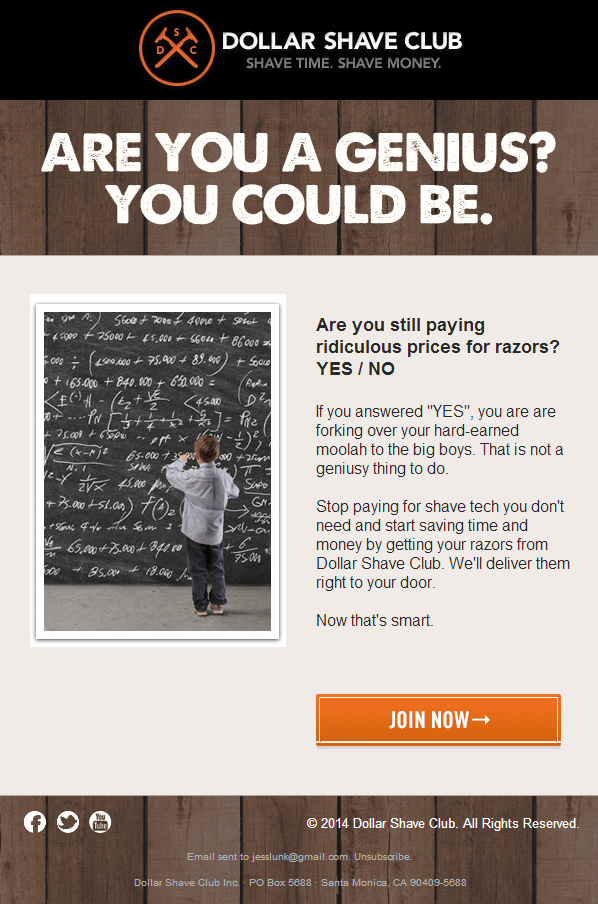 Source: FlexMail
There's also a straightforward CTA encouraging them to join right away.
When you put it all together, you see how great this email is, and it should hopefully provide you with some inspiration. As an added plus, here are some other funny email subject lines from Dollar Shave Club:
Put your old blade out of its misery
Who's the genius?
Hey babyface, not so hairy?
3. C'mon, it's Friday and You're Killing Time Anyway (RebelsMarket)
Let's be honest. Most of us have mentally checked out of our jobs and businesses by Friday afternoon. We've already got one foot in the weekend and have trouble focusing on whatever task is at hand.
This subject line from RebelsMarket, a curated alternative clothing brand, speaks to this phenomenon. "C'mon, it's Friday and You're Killing Time Anyway" is a fun and playful way to encourage readers to open the email and check out their offer.
Once they open it, they find some of the top sunglasses from RebelsMarket and a bit more humor with the line saying, "On a serious note…These options pair nicely with your wallet."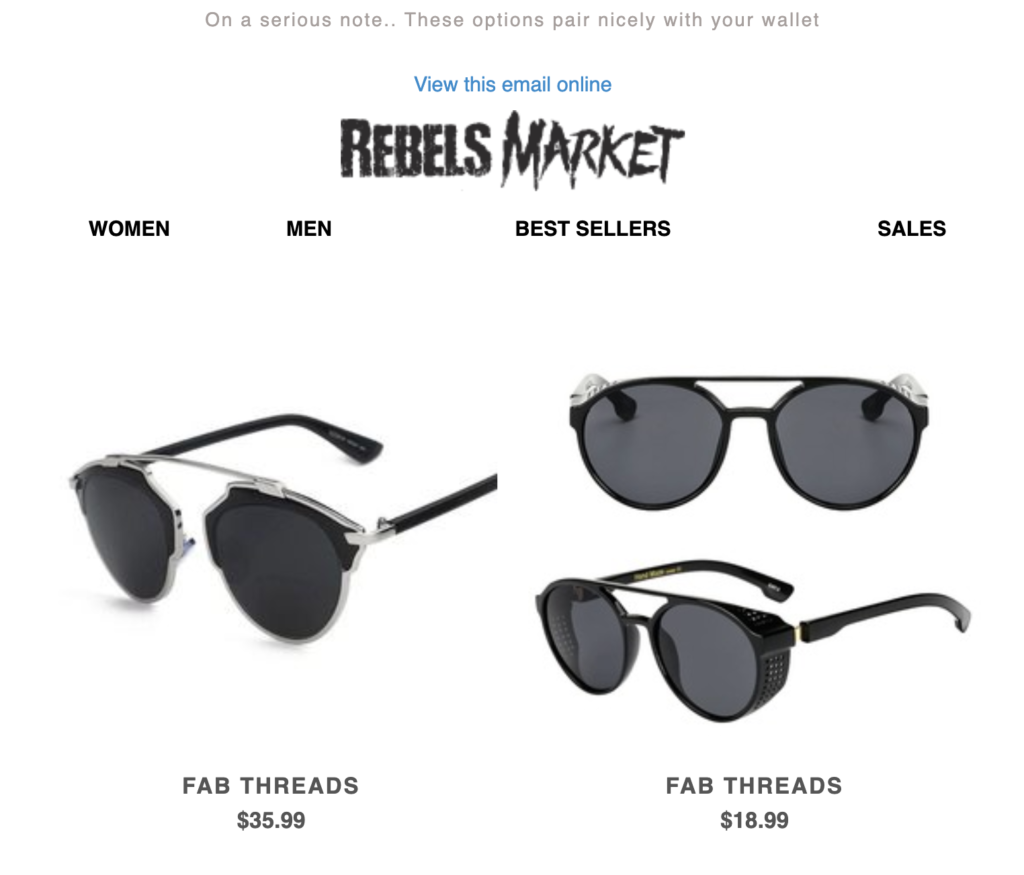 By creating a targeted offer like this and sending out an email when lethargy is at a high point during the week, RebelsMarket was able to pique the interest of many subscribers to maximize their open rate.
And it's a style of humor that can easily be implemented to most email marketing campaigns. It just boils down to identifying a universal feeling and creating a comical subject line that captures it.
4. We See Something Awesome in Your Future (Birchbox)
Birchbox is a brand that sells monthly beauty and grooming subscription boxes. They don't have the over the top humor of companies like Chubbies or Dollar Shave Club, but they definitely have a lighthearted, upbeat energy.
And that shines through with their email marketing. I like this particular subject line for two main reasons.
First, it's playful and shows that Birchbox doesn't take themselves too seriously—something most readers find appealing.
Second, it's intriguing and should rouse many people's curiosity. Many can't help but wonder what exactly it is that's awesome in their future, which can serve as a strong incentive to find out.
After opening the email, readers quickly discover that Birchbox is running a game promotion where anyone who plays has the chance to win a free prize.
There's a cool image of fortune-telling origami, along with a dead-simple CTA that says "Let's Play."
Source: Really Good Emails
So I think this is a great example of how to add a dash of humor to an email promotion where you're offering a prize.
5. Hey, We Need to Talk… (Missguided)
No matter how amazing your email marketing campaign is, many subscribers will eventually lose interest and engage less and less with your content over time.
They may even get to the point where they stop opening your emails altogether. That's why every e-commerce brand needs to have an effective win-back email on standby.
This one from women's fashion company Missguided is the perfect example of how to go about that.
Using the subject line, "Hey, We Need to Talk," is pretty hilarious and is something readers expect to hear from their significant other during the midst of relationship drama rather than from an e-commerce brand.
It gets even funnier once a reader opens it, where Missguided elaborates saying, "We used to be solemates," when promoting their shoes.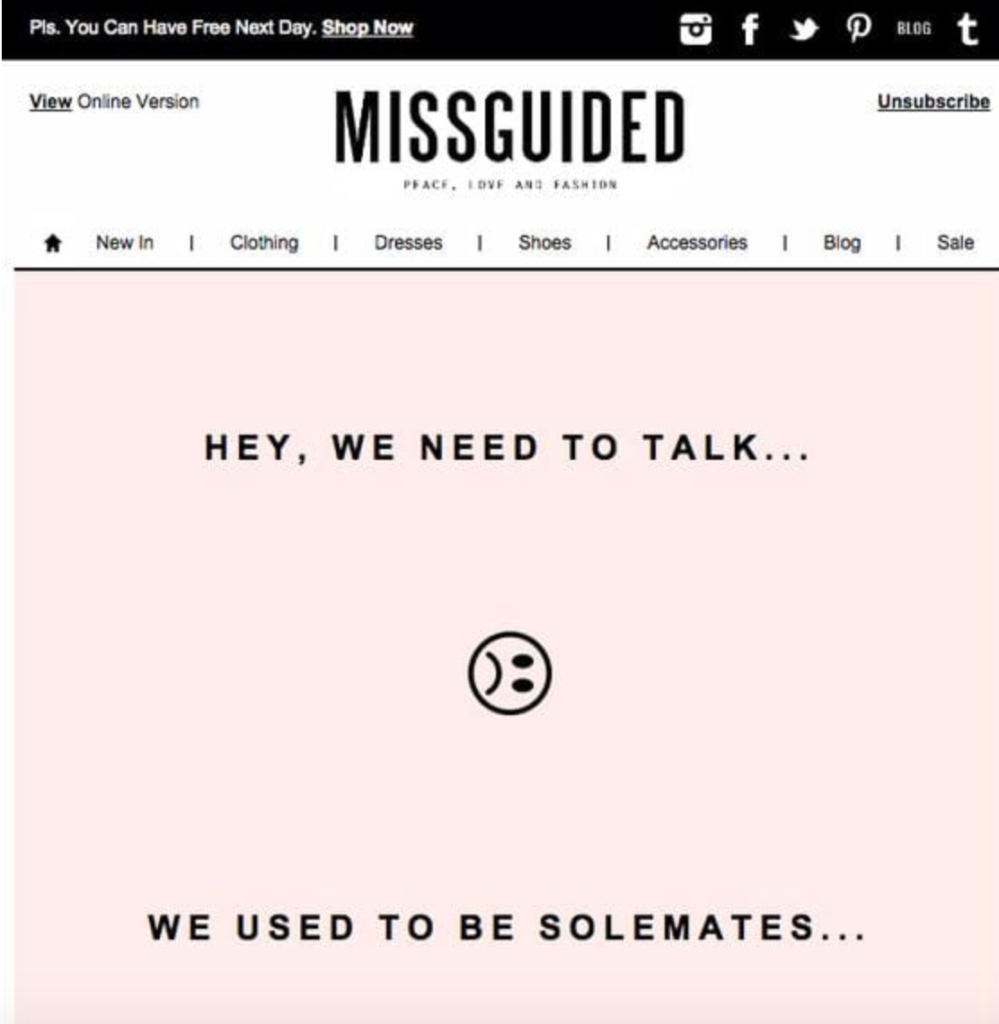 And it keeps going…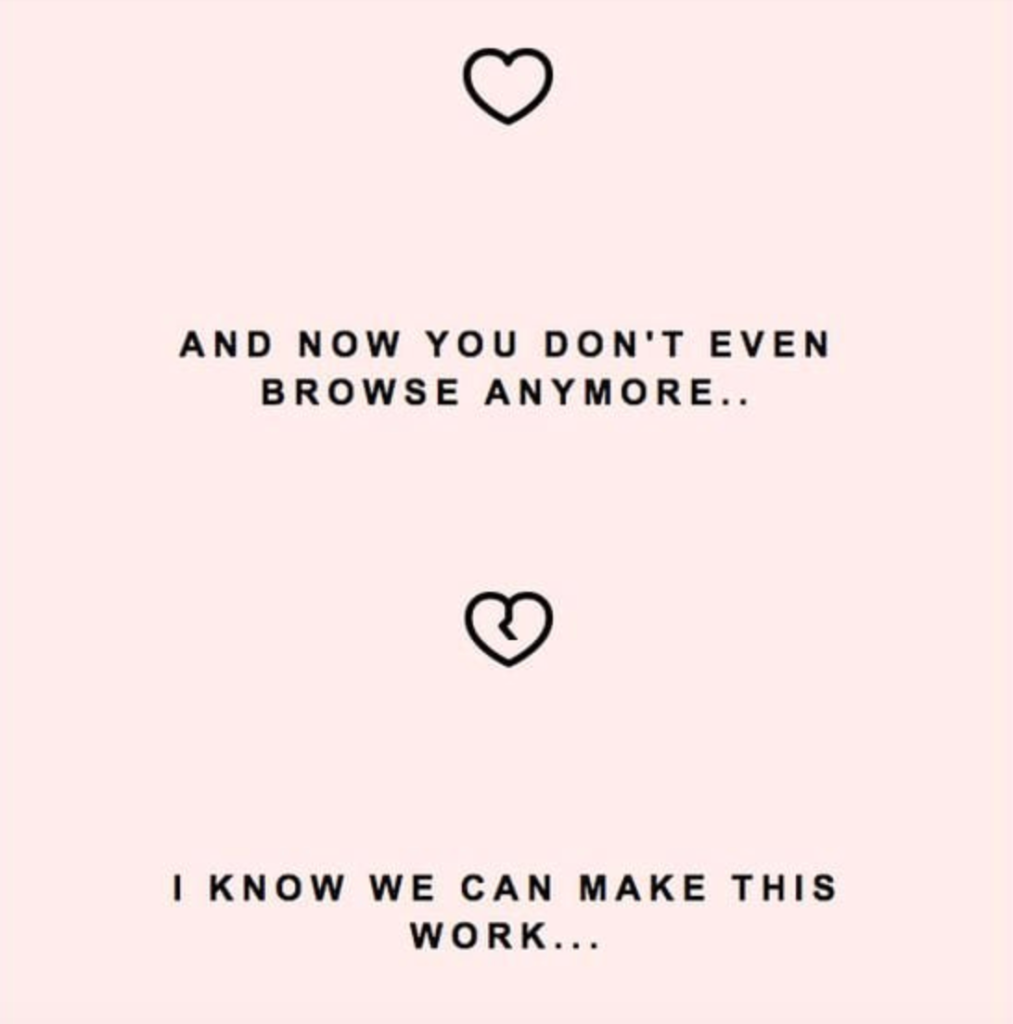 Then, Missguided offers free next day delivery as an incentive for making a purchase.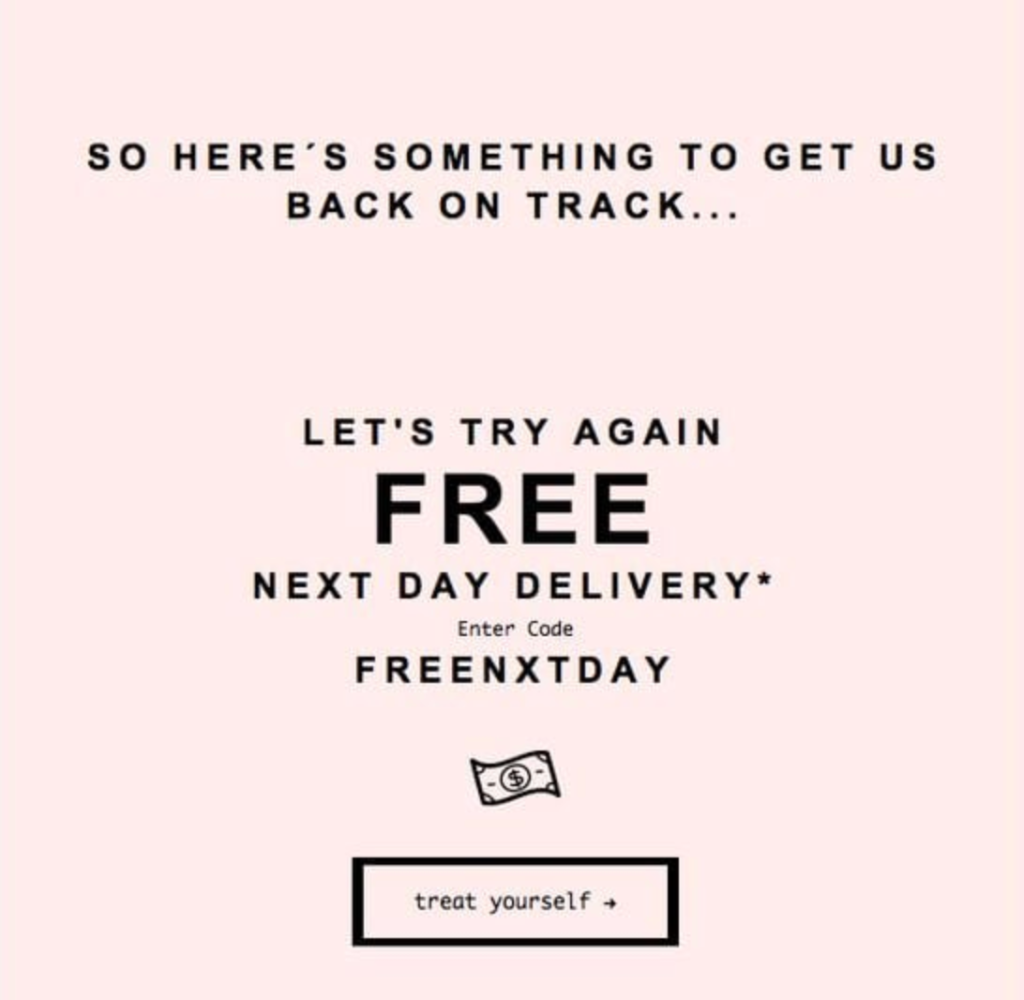 I think this is an ingenious way to capture the interest of readers and motivate those who have cooled off to buy. And you can't help but appreciate Missguided's brand of humor, making it an excellent win-back.
Having something like this up your sleeve should help reduce your email churn rate and keep things fresh.
6. We're bringing sets-y back (Sephora)
Another strategy for weaving in humor to your subject lines is to play off of pop culture. That's exactly what Sephora does with this email where they promote their makeup sets.
The reference, of course, is to Justin Timberlake's 2006 song, "SexyBack," where he says, "I'm bringin' sexy back, them other boys don't know how to act." It's a line that's forever ingrained into pop culture and a song most people instantly recognize even though it's nearly 15 years old.
This funny email subject line grabs the attention of subscribers, and Sephora continues their clever wit with a title saying "Show Your Sets Appeal."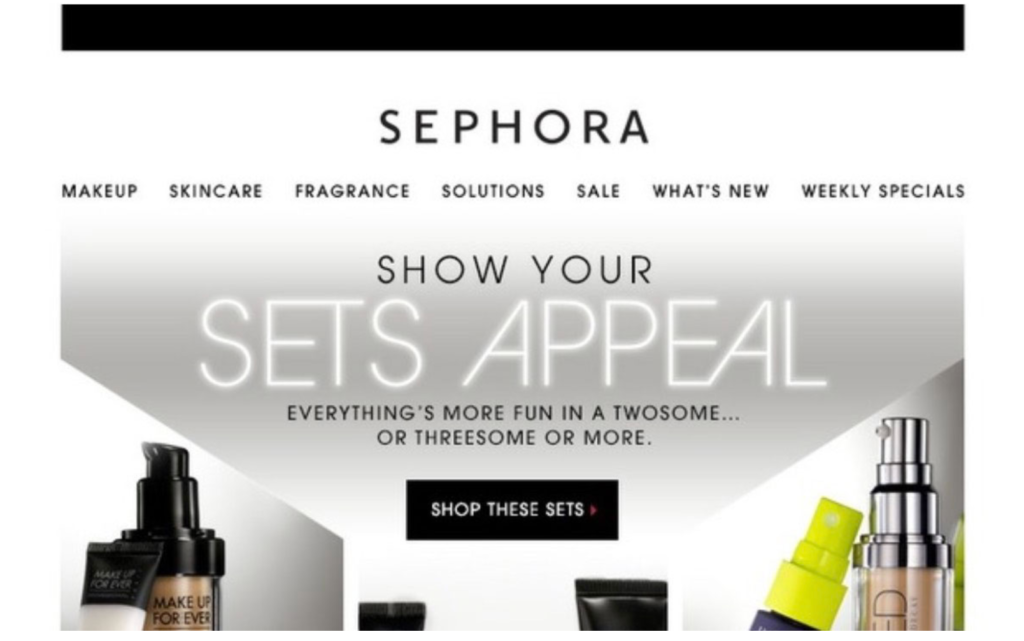 Source: Jilt
This makes it an email that stands out from others that litter a subscriber's inbox and is the perfect setup for promoting Sephora's makeup sets. And it illustrates the power of tapping into pop culture to tickle a reader's funny bone.
Just make sure to not be too obscure your reference so the majority of readers instantly get it.
7. Witch, Please
ModCloth is "an American online retailer of indie and vintage-inspired women's clothing." They have a brand identity that's bright, playful, and lively. And they're definitely not afraid to throw some humor into their email marketing.
This particular subject line is for a Halloween themed email that encourages readers to "Shop at the Boo-tique"—a CTA that's wonderfully cheesy.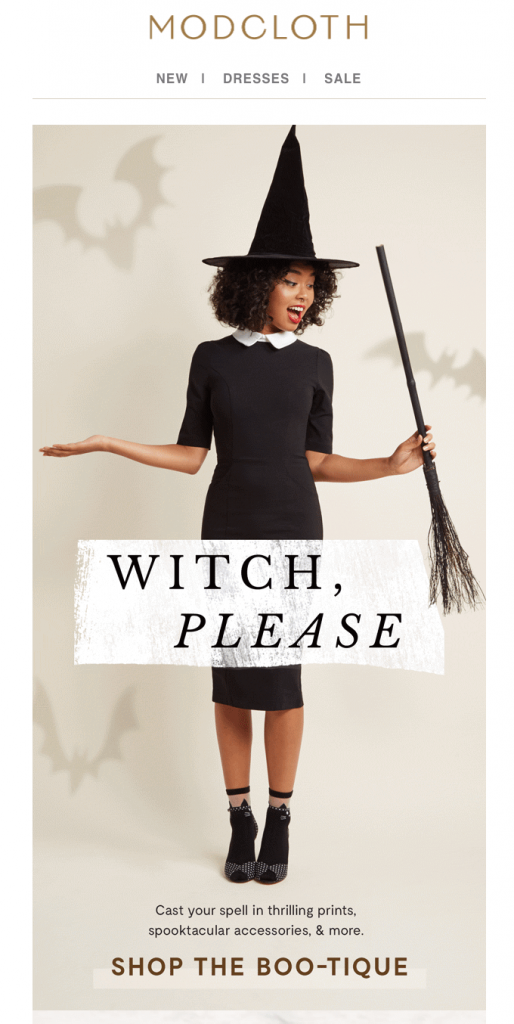 Source: Chamaileon
Although some might consider "Witch, please" to be slightly risque, I wouldn't say it's over the top and is a play on words that many people will find entertaining. I know that I literally laughed out loud when I first saw it.

So the takeaway is that it pays to look for ways to capitalize on holidays and seasonal trends. Taking a widely known saying and tweaking it so that it matches a seasonal theme while being relevant to your offer can win many readers over and get them to browse through your products.
8. Warning: Unattended items in your bag may be eaten by gnomes
I probably don't need to tell you that shopping cart abandonment is a major issue for many e-commerce brands. According to recent research, the average shopping cart abandonment rate is nearly 70 percent.
One of the best ways to combat this problem is by sending abandoned cart emails that subtly remind shoppers of what they left behind. Roughly 45 percent of these emails are opened, and 10.7 percent of people end up making a purchase. So there's obviously something to it.
But in order to pique a shopper's interest and get them to open your email, you need an awesome subject line. And this second example from ModCloth is just the ticket.
With a subject line like "Warning: Unattended items in your bag may be eaten by gnomes, it's hard to not be at least a little curious. Once a reader opens it, they get even more humor with, "POP QUIZ! What did you leave behind in your ModCloth shopping bag? Here's a hint."
They then proceed to display images of the specific products that were left behind, along with a link that conveniently takes them back.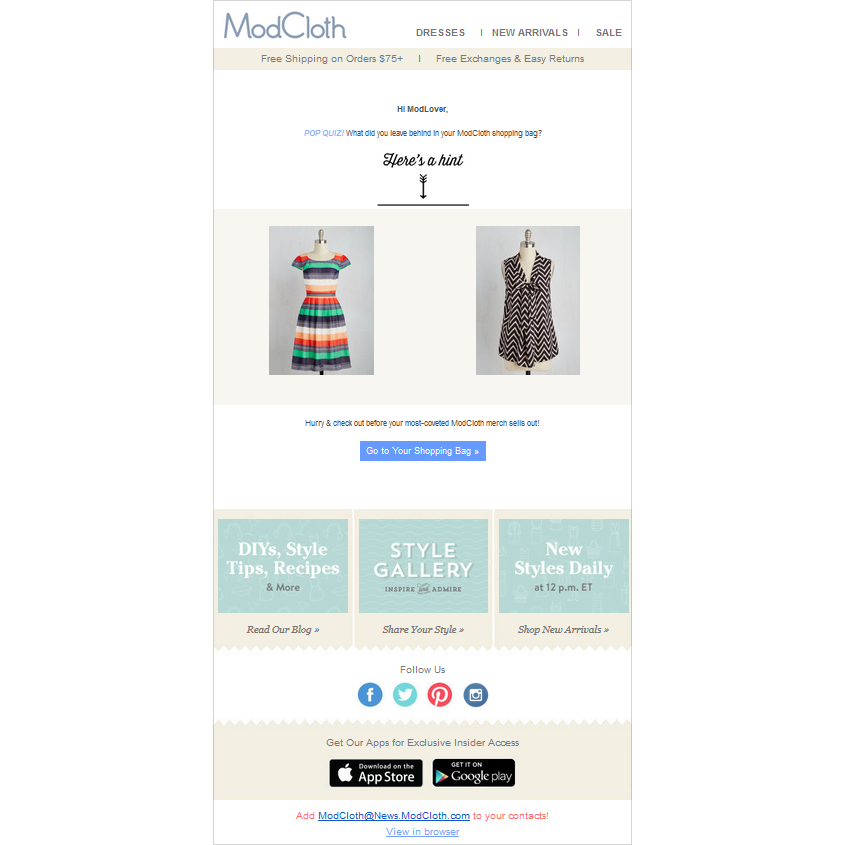 Source: Redrokk
It's incredibly off the wall and catches subscribers off guard. And it definitely stands out from the competition, showing that sometimes it pays to get a little crazy with your subject lines.
9. "I'll call you later." "Don't call me later, call me Dad." (Mack Weldon)
This subject line would be classified as a dad joke, which is "a wholesome joke of the type said to be told by fathers with a punchline that is often an obvious or predictable pun or play on words and usually judged to be endearingly corny or unfunny."
Although there's an inherent amount of cringiness to dad jokes, many people find them enjoyable. I know I do. And apparently premium men's clothing brand Mack Weldon does too, considering they used this terribly awesome dad joke as the subject line for one of their emails.
After opening it, readers are greeted by some more clever copywriting that says, "If you can't improve his jokes, improve his wardrobe."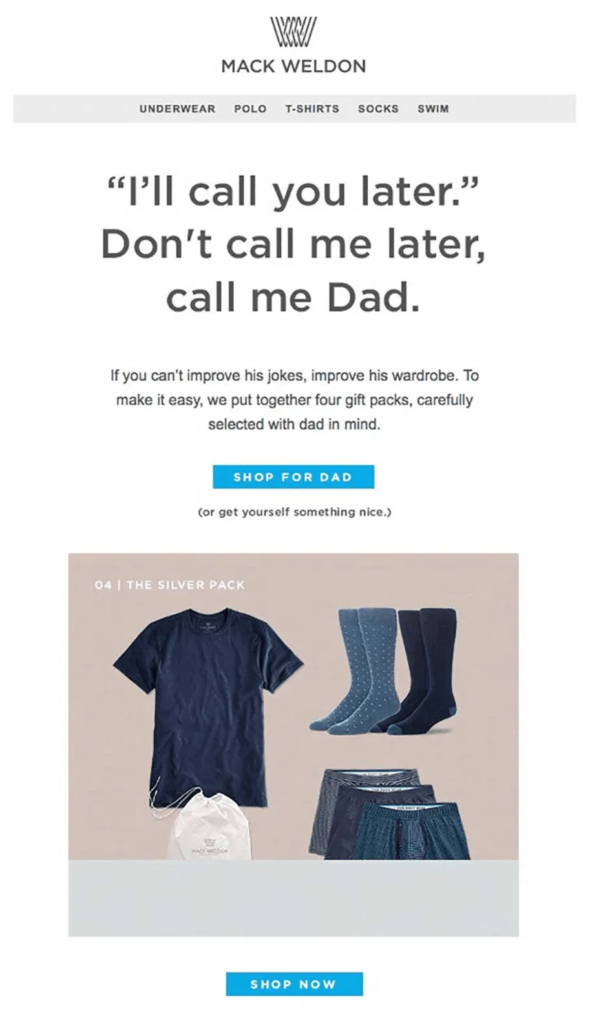 Source: GetGist
From there, they see some specific products that would be great for dad along with a straightforward CTA. The fact that it's intentionally cheesy makes it one of the funniest email subject lines I've seen and something most of their demographic should appreciate.
Conclusion
Humor is a highly potent yet often underutilized tactic for e-commerce brands. Chief marketing strategist at Oracle, Steve Olenski says, "Humor breaks down walls, shows personality a.k.a. shows a brand's human side."
Incorporating it into your email marketing can be especially effective and help motivate a larger number of subscribers to open your emails. And doing that, sets the stage for further engagement, meaning more readers will ultimately check out your offers.
Getting inspiration from these funny email subject lines should get your comical creative juices flowing and help you connect with more of your subscribers.