Sometimes you want to go where everybody knows your name.
That's true of American dive bars, and it's true of ecommerce sites. According to Accenture, nine in ten consumers say they're more likely to buy from brands that recognize them, remember their preferences, and provide relevant recommendations and offers.
It makes sense, in that case, for you to consistently reach out to customers and prospects with targeted, personalized communications based on specific actions, goals, and pain points.
That way, you prove that you know them.
This is where drip marketing comes in.
9 Drip Campaign Examples You Need to See
What is Drip Marketing?
Drip marketing is an email marketing strategy that involves targeting current and would-be customers with a "drip" of regular, automated emails.
Brands use drip marketing campaigns to deliver personalized, targeted communications that align with an action the recipient has just performed or a goal they're hoping to achieve. Those goals and actions (or even inactions) could include:
Making a purchase
Registering to receive a newsletter
Completing a lead capture form to download an ebook
A regular customer not placing an order for a set amount of time
Abandoning a shopping cart mid-transaction
Signing up for a virtual or in-person event
Making a customer support query
1. Framebridge: Show New Subscribers What to Do Next
You've got a new subscriber to your email newsletter.
That's a very good thing, with research from the Data & Marketing Association revealing that email marketing delivers:
An average ROI of $35.41 for every $1 spent
An average customer lifetime value of approximately $45
But you won't see those benefits if you don't greet your new subscribers with a practical and engaging drip email campaign.
Framebridge shows us how to do it with this onboarding email: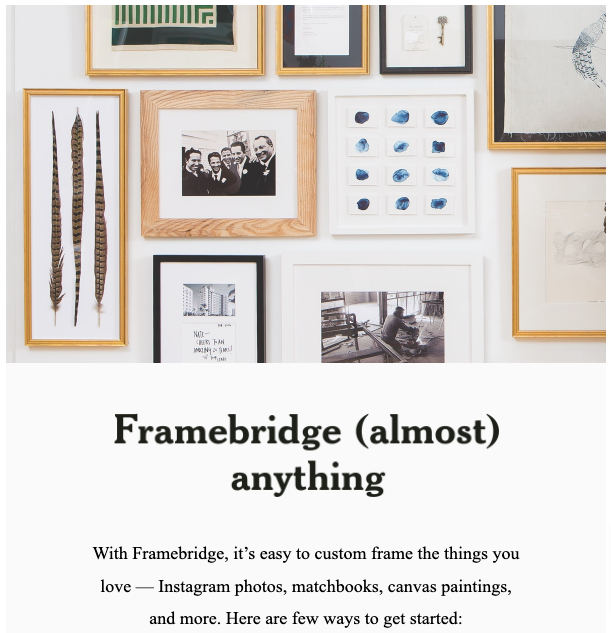 In just a couple of lines of copy, it briefly explains why you'd use Framebridge and the sorts of things you can do with it.
As well as welcoming customers with an onboarding drip campaign, it makes sense to point them in the direction of the types of products and services they might be interested in.
Again, Framebridge does this well, highlighting its various product categories and incorporating calls to action for people to find out more: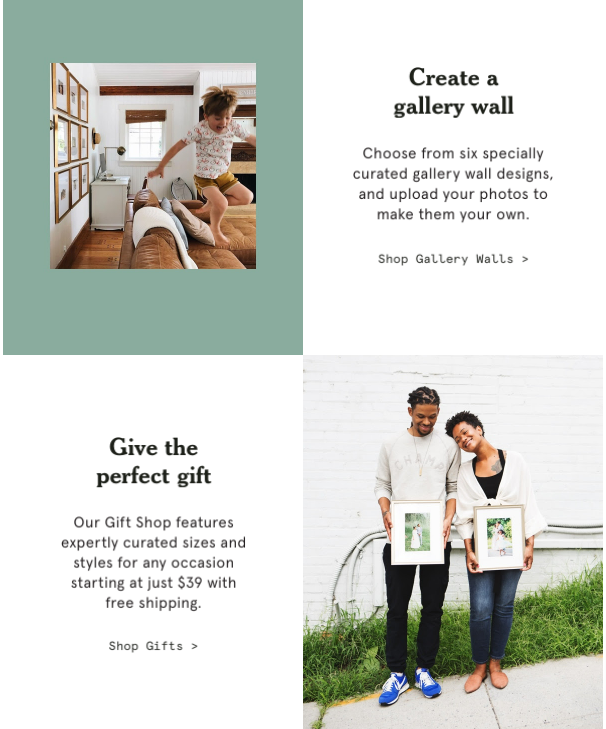 This is important stuff—just because a prospective customer signs up to your marketing list doesn't mean they're planning to buy soon.
So it's wise to showcase the various products and services you offer in your onboarding email—you never know, you might pique their interest enough to drive an immediate purchase.
2. Proven: Drive Action From Cart Abandoners
Cart abandonment emails are one of the most effective drip marketing examples, with research from Barilliance revealing that abandonment-related emails consistently see open rates of above 40 percent.
For context, that's about twice as high as the average email open rate across all email types and industries.
That's a good thing because, unfortunately, there are a lot of cart abandoners out there. Indeed, data collected by the Baymard Institute places the average cart abandonment rate as almost 70 percent.
Ecommerce brands and online retailers are missing out on a massive chunk of revenue from abandoned shopping carts. So if you're not already taking steps to reach and drive action from cart abandoners, it's time to take a leaf out of Proven's book: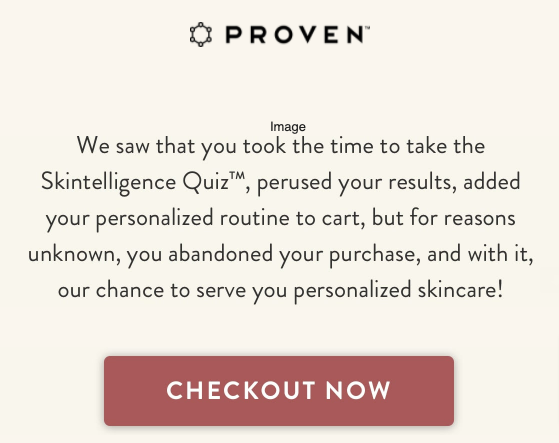 This is an excellent cart abandonment email because it reminds the recipient of all the effort they put in to find the right product in the first place, only to give up on the transaction at the last minute.
Best of all, the copy strikes the right balance between fun and action-oriented. It compels you to complete the purchase, but it doesn't come across as too pushy.
It also adds an element of customer support by asking the recipient if there was an issue that prevented them from completing their purchase: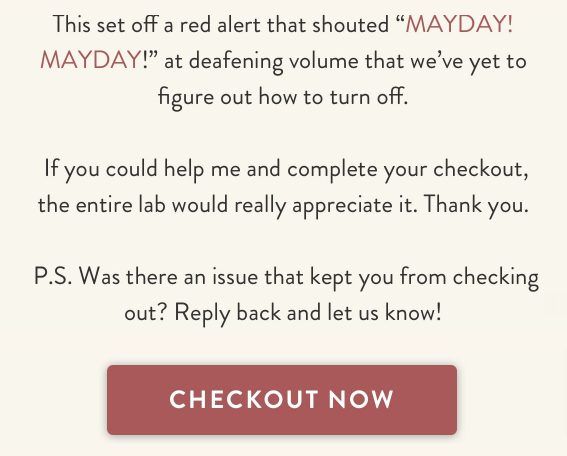 Again, that's a valuable addition, with Baymard's research revealing that one in eight cart abandonments happen because the website crashed or an error occurred.
Combining these elements results in an email example that's subtle and doesn't feel like it's nagging us to buy.
Remember, the purpose of drip emails is to engage your customers and make them feel like you understand.
You won't do that by endlessly screaming "BUY NOW" at them.
3. Mango: Send Useful Order Confirmation Emails
Drip email campaigns aren't rocket science.
Getting them right is about understanding the purpose of each person behind the email and figuring out what information the email should contain based on the recipient's needs and goals.
This is particularly true of transactional emails like order confirmations.
It makes sense that customers love order confirmation emails. If you've bought something, you want to know if the transaction was successful. And you want to find out when your order's going to arrive.
Mango nails its order confirmation emails by demonstrating it understands what the customer wants to hear.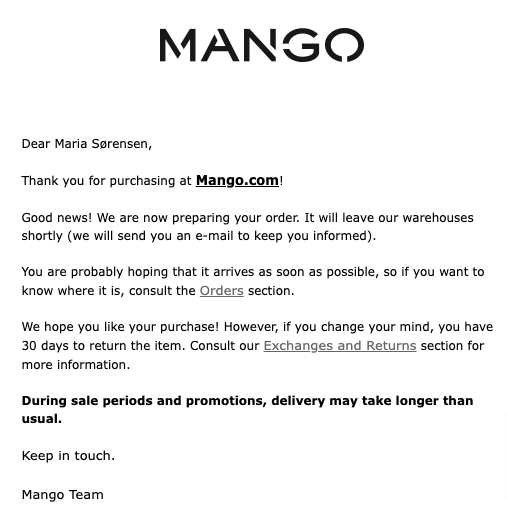 There's no jazzy HTML or fancy copywriting here; just a few short paragraphs explaining:
What happens next
How to check the order status
What to do if you want a return or exchange
Anything more than that is just unnecessary noise—and there's enough of that in your customers' inboxes already.
4. Birchbox: Use Events to Showcase Your Values
Increasingly, it's not just about what you sell; it's about what you stand for.
That's particularly true for younger audiences. Indeed, research shows that 83 percent of Millennials believe it's essential for the companies they buy from to align with their beliefs and values.
Drip campaigns give you a fantastic opportunity to showcase your values and the issues that matter to your team, just like Birchbox does here: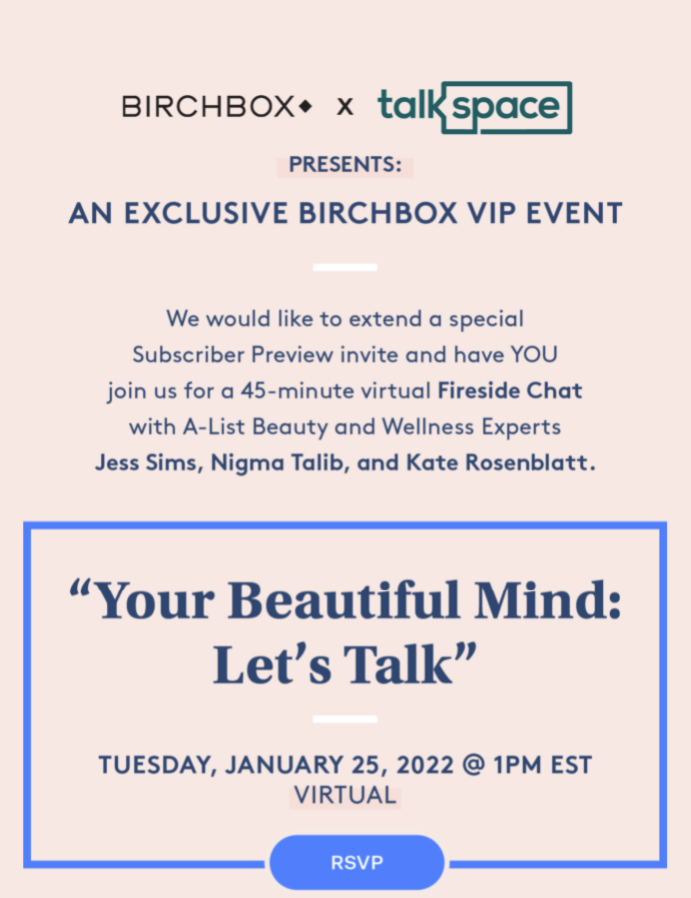 By hosting such an event, Birchbox demonstrates that it cares about mental health and wellbeing and is willing to do something to raise its awareness.
With nearly one in five US adults living with some form of mental illness, that's a message that likely resonates with a vast swathe of its audience.
5. The A&F Club: Win Back Lapsed Customers
I've already discussed how valuable it is when someone signs up for your mailing list.
Maybe they've placed an order or two as well.
It feels like everything's going swimmingly. Then suddenly, they ghost you.
What happened? Was it something you said?
Unfortunately, that's the sad reality of ecommerce. There are so many options out there. There's so much noise, and trends move so quickly that it's easy for customers—even previously loyal ones—to fall out of love with you in a heartbeat and move on.
But loyal customers are precious, with research from KPMG revealing that:
86 percent of loyal customers will recommend a company to friends and family
66 percent will write a positive online review after a good experience
46 percent will remain faithful even after a bad experience
In other words, it's definitely worth the time and effort to re-engage loyal customers who haven't bought from you in a while and stop them from becoming someone else's loyal customers.
In this drip marketing example, The A&F Club does this by reminding customers of the benefits it offers.

This works as the first step in a re-engagement campaign because it highlights all the fantastic things about shopping with The A&F Club without the brand giving anything away.
If that doesn't do the trick, the next logical step in this drip marketing example would be a follow-up email offering incentives—like free delivery or a small discount—to lure back a lapsed customer.
6. Joybird: Showcase Five-Star Customer Service
You're probably already aware that customer service is kind of important.
According to a survey from Shep Hyken, 52 percent of Americans will pay more if they know they'll receive excellent customer service.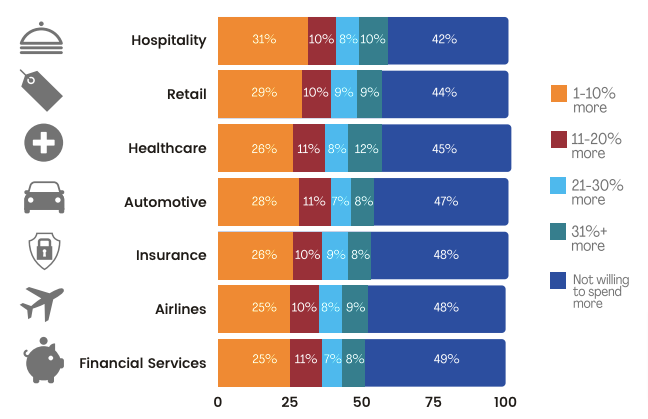 When looking at the retail sector, almost a third of consumers would be happy to pay up to a 10 percent premium, while one in 11 would pay 31+ percent more for fantastic service.
You're undoubtedly proud of the superb customer service you provide, so why not shout about it?
Joybird does this by demonstrating how customers can book a showroom appointment even if they're not able to visit a physical store: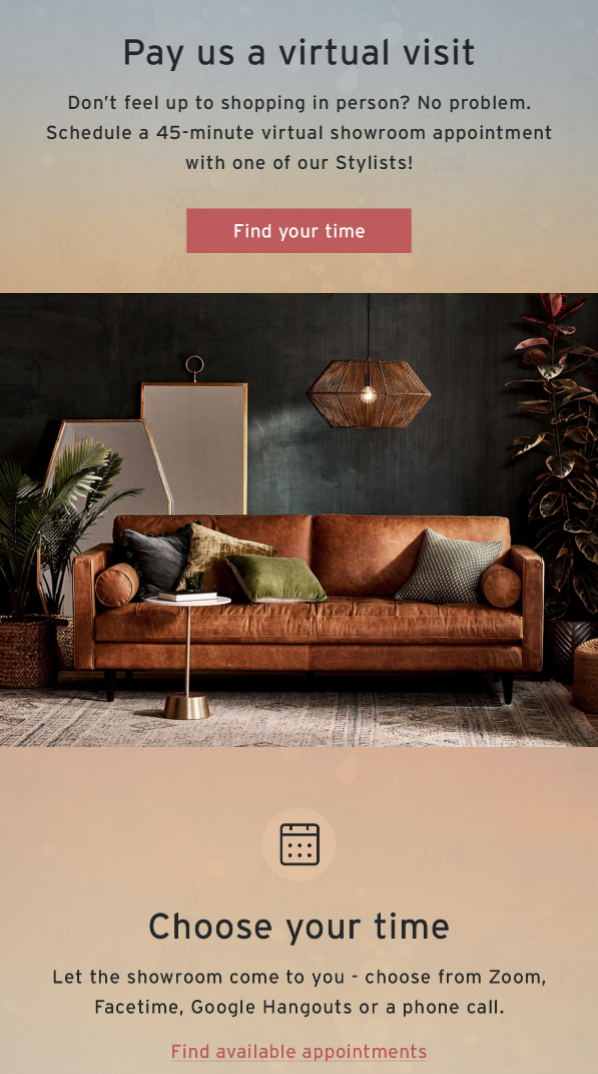 It's a great example of a brand anticipating a potential pain point and taking steps to resolve it before it becomes an actual problem.
That sort of understanding lies at the heart of fantastic customer service.
7. Everlane: Offer Timely Product Recommendations
Remember at the start of this article when I explained how customers are more likely to buy from brands that provide relevant product recommendations and offers?
Let's dig into that statement because "relevant" recommendations can take a lot of forms. Being relevant could involve giving:
Personalized recommendations based on previous buying habits
Seasonal recommendations based on key events (e.g., Valentine's Day or Christmas)
Timely recommendations based on topical events (like the weather)
Everlane clearly understands the value of tapping into current events when recommending products: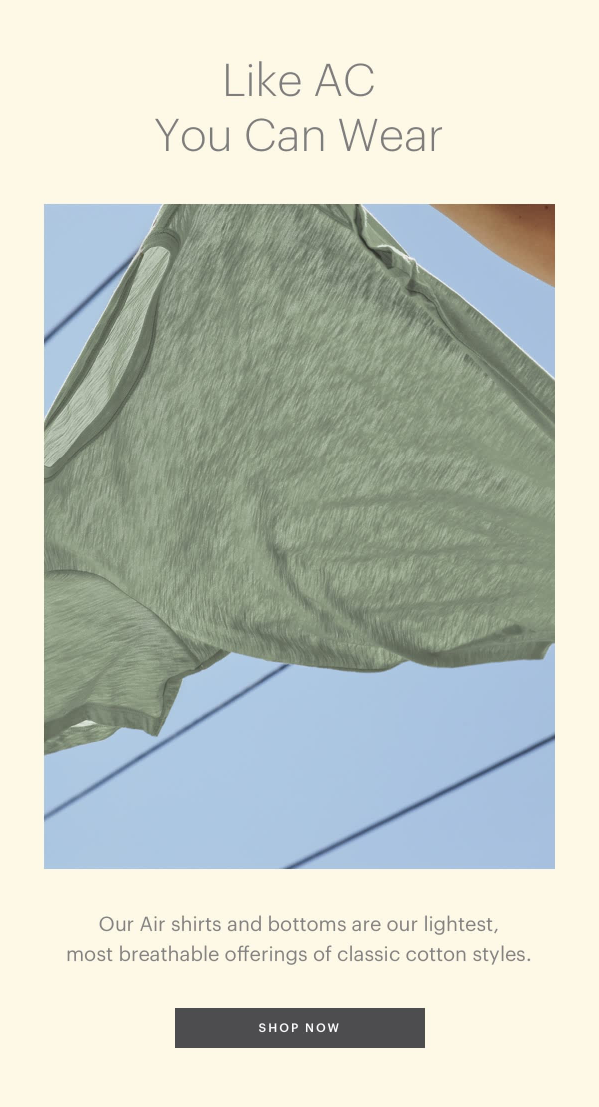 In this drip marketing example, it offers weather-based product recommendations, emphasizing qualities like breathability and lightness.
It then showcases some of the products that fall into those categories: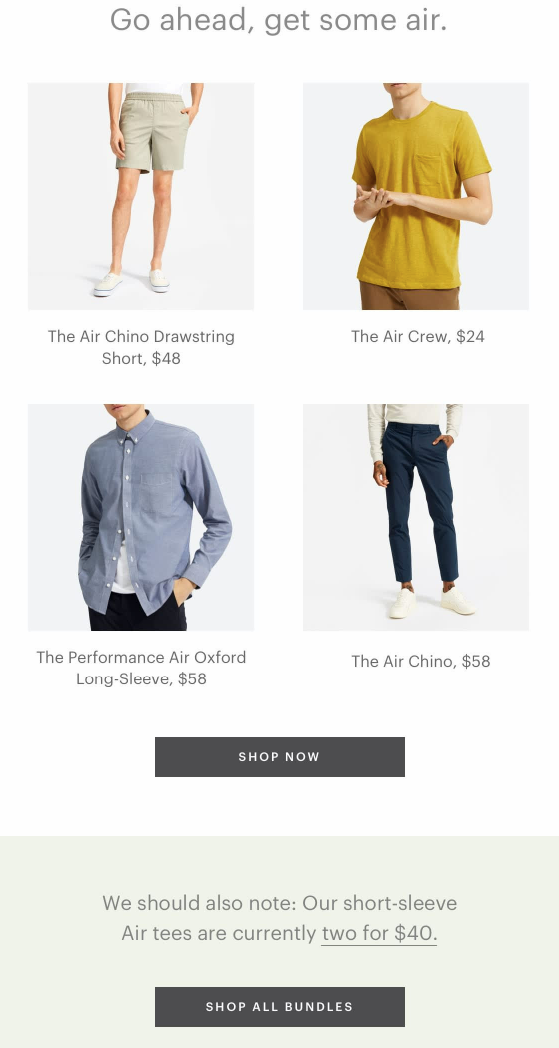 Finally, it signs off by referencing a multi-buy product bundle, allowing it to drive upsells.
8. MAC Cosmetics: Boost Revenue With Product Bundling
I've already noted how drip marketing campaigns shouldn't only sell, sell, sell.
But at the same time, you're in this to make money, so it stands to reason that you'll want to promote your best offers.
Especially when those offers sound so good, your audience will want to hear about them.
That's why product bundling is an excellent fit for drip campaigns.
Here, MAC highlights a mixed bundling promotion, whereby customers can purchase multiple regular products at a substantial discount: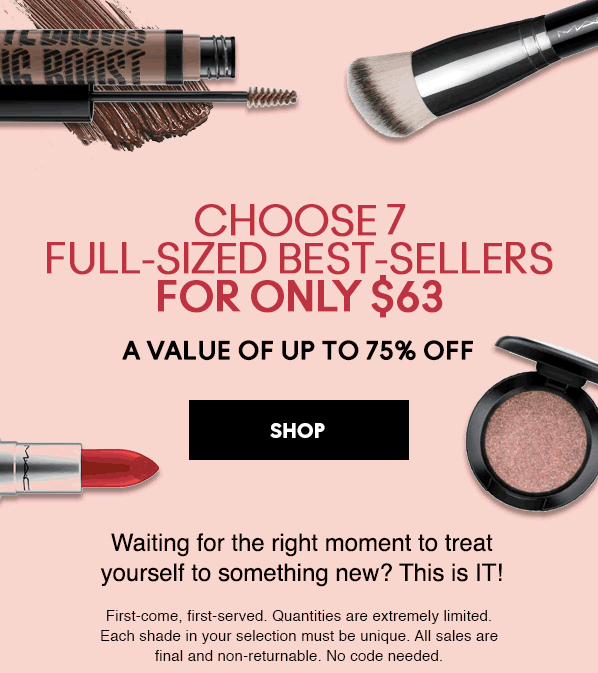 This email demonstrates just how great this deal is by highlighting:
The comparatively low bundle price
The savings available to customers who buy this bundle
The fact that this offer is on full-sized bestsellers, not samples or end-of-line stock
It also throws some scarcity into the mix by stressing that the quantities are minimal.
And, talking about scarcity…
9. Anastasia Beverly Hills: Promote a Limited-Time Offer
Scarcity is one of the most impactful ecommerce marketing strategies.
If you give me a permanent 10 percent discount on a product I want, I might purchase it tomorrow, in a week, or a month. Or maybe I'll forget all about it.
But if you tell me that my 10 percent discount expires in 24 hours, there's a much better chance I'll act right away because I don't want to miss out.
Anastasia Beverly Hills clearly understands the power of scarcity, launching a 15 percent sitewide spring sale—but only for a limited period.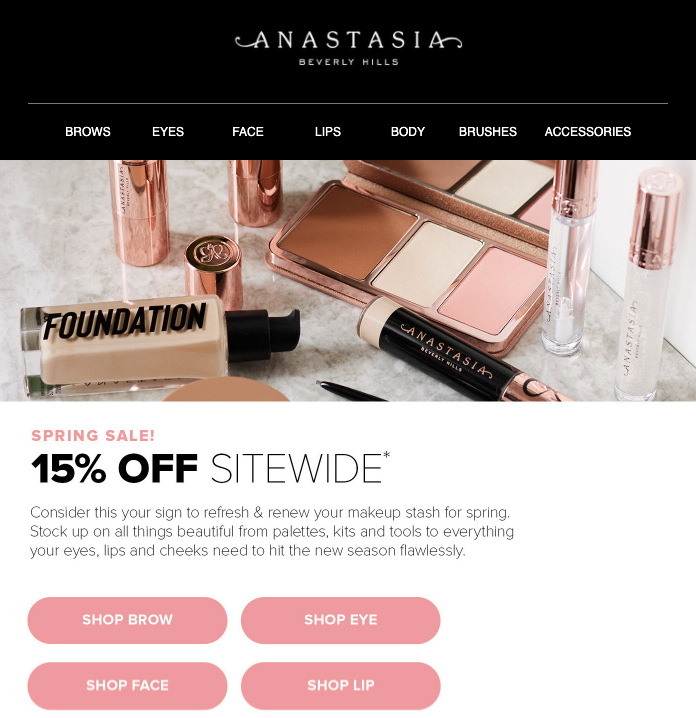 But it's not enough to simply announce a time-limited promotion.
You also need to offer periodic reminders that time is running out through your email drip campaigns.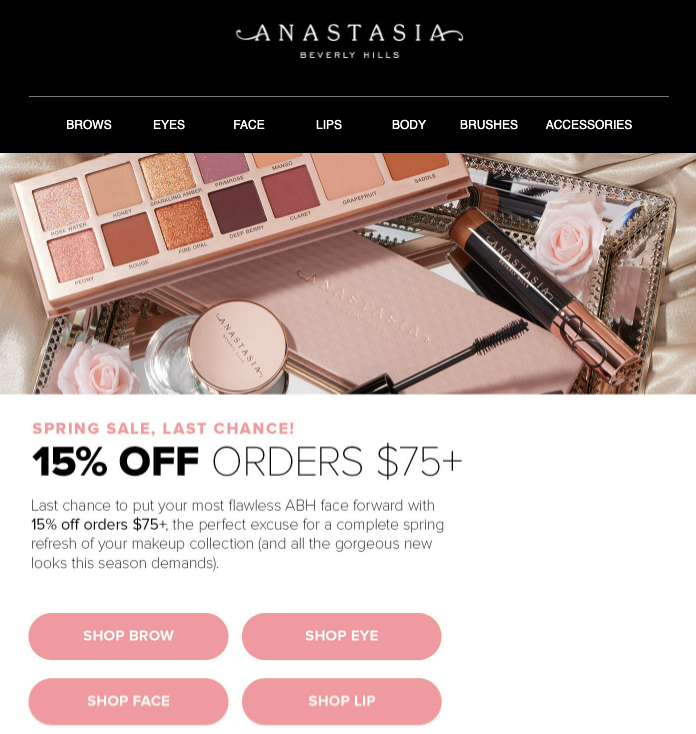 Phrases like "last chance" and "ending soon" are a great way to compel customers to act now. That's what FOMO marketing is all about.
Conclusion
Drip marketing is effective because it's often based on customer behavior, thus almost guaranteeing high relevance.
Sure, not all of the drip marketing examples in this article will lead to immediate sales. It's pretty rare for someone to open an order confirmation email, then think: "I will buy something else right now."
But the more relevant and helpful emails you send, the more likely those emails are to be opened, and the more positively people will feel about your brand.
Positive brand sentiment naturally builds customer loyalty—and loyal customers buy more.