The e-commerce world is dominated by a handful of huge players.
Based on gross merchandise volume, only 13 companies accounted for three-fifths of the global e-commerce market in 2020, leaving literally millions of smaller e-tailers to scrap it out over the remaining 39 percent.
So should the "little guys" just pack up and go home? Absolutely not.
Because while you might not be able to compete with the biggest names on price or reach, those aren't necessarily the most important things to consumers.
Increasingly, what matters most is customer experience.
According to PwC, shoppers are prepared to spend up to 16 percent more for products and services if it means they get to enjoy a great customer experience. Not only that, but they'll be more loyal to the brand that delivers that experience.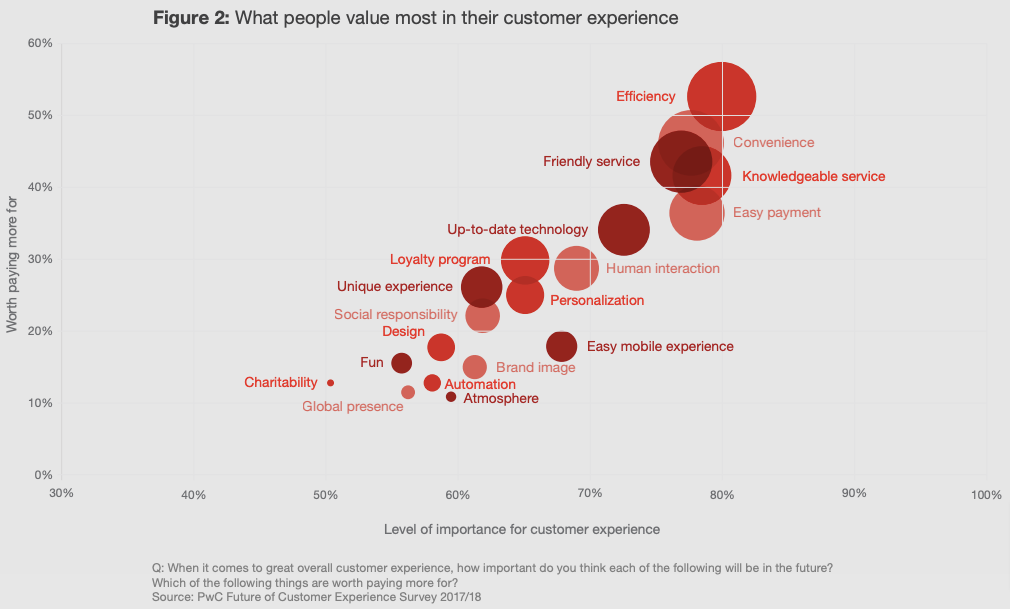 PwC's data also shows that consumers place the greatest value in three elements of customer experience:
Convenience;
Efficiency; and
Friendly, knowledgeable service.
Those are all things that can be delivered, or enhanced by following these conversational commerce examples.
7 Best Conversational Commerce Examples
What Is Conversational Commerce?
Conversational commerce is about using messaging apps and platforms to connect with customers and promote products and services.
It's big on convenience, because it's about reaching shoppers on their favored communications platforms, whether via:
Live chat. Live chat services allow brands to reach and help customers while they browse the retailer's website. By using live chat apps, customer support agents can assist multiple customers simultaneously, offering highly personalized advice and support.
Messaging apps. Instant messaging platforms like WhatsApp and Messenger are kind of like live chat, except they don't have to take place on your website. By allowing users to share rich content formats like videos and gifs, they make for more natural, engaging conversations.
Chatbots. A piece of software used to answer consumers' questions via text-based messages, typically through on-site chat portals. Capable of handling multiple consumers at once, 24/7.
Voice assistants. Tools like Alexa and Google Assistant can be leveraged to provide consumers with immediate answers or direct them to your website.
Whatever platform you use, the benefits to customers are clear. After all, wouldn't you rather wait 10 minutes for a reply on WhatsApp than spend 10 minutes listening to hold music?
No wonder, then, that research from LivePerson shows consumer interest in messaging brands is at an all-time high.
Indeed, 71 percent of consumers say they'd be more likely to buy from a brand that allows them to message rather than call, while 75 percent would spend more with brands that offer messaging rather than phone-based support.
Clearly, there's a lot for brands to like about conversational commerce. But how should you implement it?
To answer that question, let's take a look at seven examples of e-commerce brands using conversational commerce tools to engage customers and drive sales.
1. Crew Clothing
UK-based casual fashion brand Crew Clothing wanted to promote itself as an ideal choice for gifting in the run-up to Christmas.
Specifically, it hoped to target customers in the under-34 demographic. Given that usage of Facebook Messenger is higher among 25 to 34-year-olds than any other age group, it seemed like an obvious fit.
So Crew Clothing ran a Facebook Ads campaign that directed users toward an automated Messenger conversation.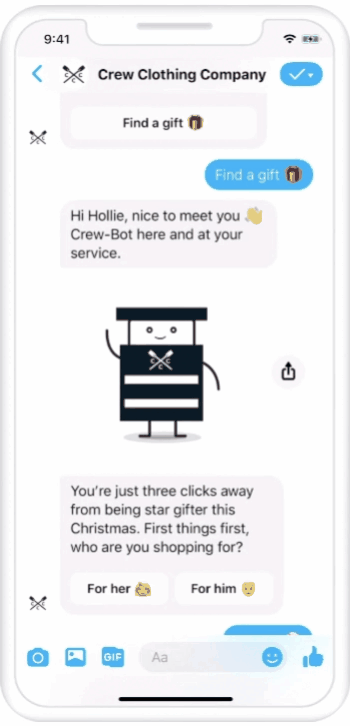 When customers struck up a conversation with the brand, they'd be guided through a series of questions designed to hone in on gifting options. That way, shoppers would be presented with the perfect gift for their friend or loved one, then click through and buy it.
It's the sort of smooth, intuitive, convenient user journey that makes for a superb customer experience.
And the campaign clearly delivered results. Almost half of all Messenger conversations triggered by the ads ended up in a purchase, helping the campaign deliver a 5X return on ad spend.
2. REN Clean Skincare
Cart abandonment is an e-commerce brand's worst nightmare.
You've closed the deal, your customer has started the checkout process, then they suddenly vanish—possibly forever.
Unfortunately, it's an extremely common problem, with the average documented online cart abandonment rate standing at 69.82 percent, according to the Baymard Institute.
Chances are you already send abandoned cart emails—if not, you definitely should, because they consistently see open rates above 40 percent. But cart abandonment is also a great opportunity to re-engage your would-be customer via conversational commerce.
In this abandoned cart campaign, REN Clean Skincare used text messaging to reach shoppers who'd ditched their shopping cart before purchasing: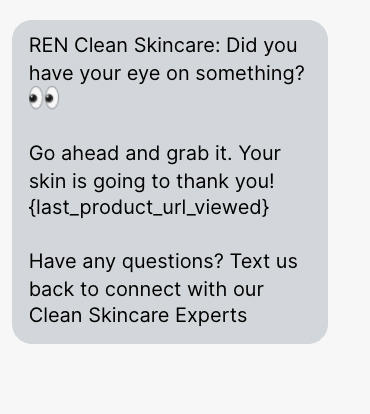 (Source: Fantastic Texts)
It leaned into the playful, easy-going nature of text messaging by adding an emoji and personalized the campaign by incorporating a link to the recipient's most recently viewed product.
It's smart, it's automated, and it's an extremely effective way to persuade cart abandoners to take the next step and convert.
3. Maggi
Maggi is one of Germany's biggest culinary brands. Its products are bought by 71 percent of German consumers, while its online cooking school—Maggi Kochstudio—reaches over 1.5 million people a day.
But that doesn't mean it could afford to stand still. In a bid to keep itself relevant by leveraging new communications channels, the brand launched a conversational commerce campaign via Facebook and WhatsApp.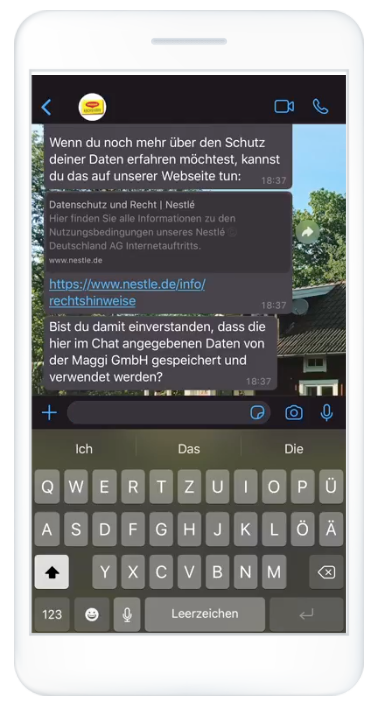 Effectively, the campaign brought the Kochstudio experience to WhatsApp.
Users could contact Maggi directly, at any time of day or night, and have their cooking-related questions answered by "Kim"—a purpose-built digital assistant.
Not only was Kim capable of sharing step-by-step cooking instructions, offering personalized advice, and linking to relevant videos, but she could also put together a list of ingredients for each recipe. She could even educate users about nutrition and food handling through short quizzes, all from within the WhatsApp environment.
But this wasn't just using technology for the sake of it; Maggi's campaign delivered real results. It sent 200,000 messages in the first eight weeks of the campaign alone, demonstrating the level of customer interest in the conversational commerce strategy.
Not only that, but consumer surveys showed that it delivered a 4.2-point upturn in standard ad recall and a three-point lift in campaign awareness.
4. American Leather
American Leather sells customized furniture made from—you guessed it—leather.
Unsurprisingly, its products aren't cheap. So customers are going to need a high degree of confidence in the brand if they're going to buy online. And that's where its on-site chatbot comes in.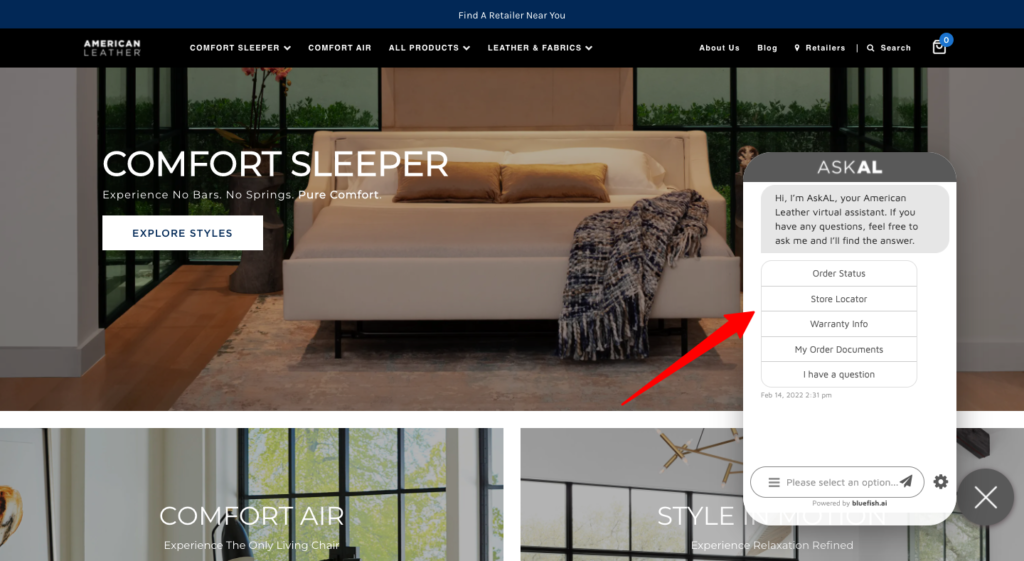 Called AskAL, it's capable of quickly tracking down information on order status, warranties, and order documents, or pointing customers in the direction of their nearest store.
Alternatively, if users have a different query in mind, they can also find info on cleaning instructions, repairs, prices, and more.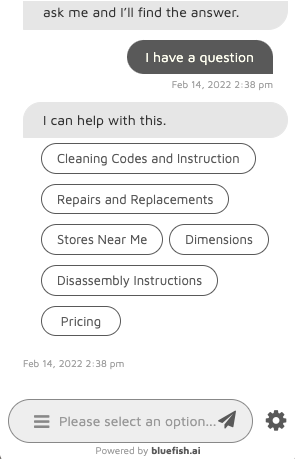 Sure, it's not the most innovative or exciting use of conversational commerce. It's probably not going to win American Leather any "campaign of the year" awards. But it's an effective example of conversational commerce fundamentals.
It helps customers find what they're looking for, in a way that's fast and convenient, at any time of day.
If you want to start your conversational commerce journey with baby steps rather than diving straight into a more sophisticated campaign, this is the perfect approach.
5. Alpha Lion
By this point, it should be clear that conversational commerce is about way more than customer support.
Sure, chatbots and instant messaging are great ways to deal with customer queries and resolve complaints. But they're also highly effective at driving sales.
In this example, we can see how supplements brand Alpha Lion uses text messaging to upsell customers who've made a recent purchase: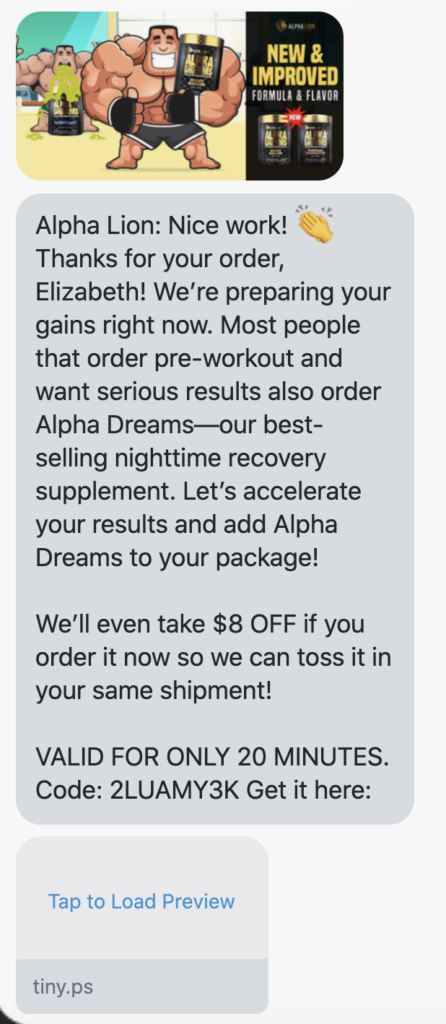 (Source: Fantastic Texts.)
There are several reasons why I love this strategy. Firstly, it's timely. Alpha Lion is reaching out to customers when they're already in the buying mood, which means there's a good chance of persuading them to buy something else.
Not only that, but it suggests that if the customer doesn't buy this additional product, they won't see the best results.
Finally, it throws in a time-limited discount for good measure: buy in the next 20 minutes and you'll get $8 off. That makes for a highly compelling offer.
6. Maev
The thing about conversations is that you don't need a reason to start one.
You don't wait until you have a big piece of personal news to chat with your friends, family, or workmates. You talk whenever you want to because it's a nice thing to do.
That's an important thing to understand about conversational commerce.
Done well, it shouldn't be all about pushing sales or promoting your latest product—conversation should feel spontaneous and natural.
Raw dog food brand Maev clearly understands this. In this example, its goal isn't to drive an immediate sale; it's simply to strike up a conversation with its audience: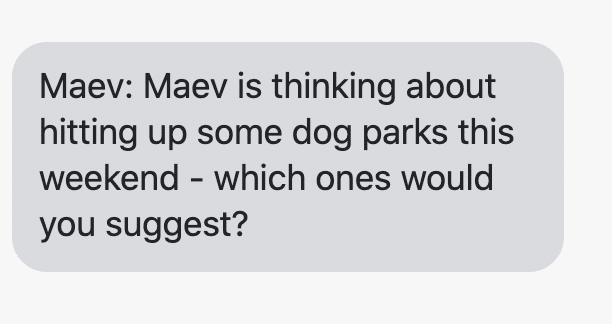 (Source: Fantastic Texts.)
By asking its customers a question, Maev looks like a brand that's genuinely interested in all things canine-related, rather than one that's just out to make a quick buck.
What's more, this approach helps to keep the company at front of mind when the recipient is ready to make their next dog food purchase.
7. Muddy Bites
Think about your standard email marketing product launch campaign. You'd probably send one message a month or so before the launch to drum up excitement and maybe register some pre-orders.
Perhaps you'd drip-feed additional information over the next few weeks. Finally, you'd send an email on launch day, and maybe another message or two in the following days to drive sales.
Simple, effective, and… not very engaging.
For the vast majority of brands, email marketing is a one-way conversation. You send your message and hear nothing back. Obviously, conversational commerce is very different—"conversation" is literally in the name.
Let's look at how a product launch campaign could work via instant messaging or text. Here, snack brand Muddy Bites sends out a teaser ahead of the launch of a new product: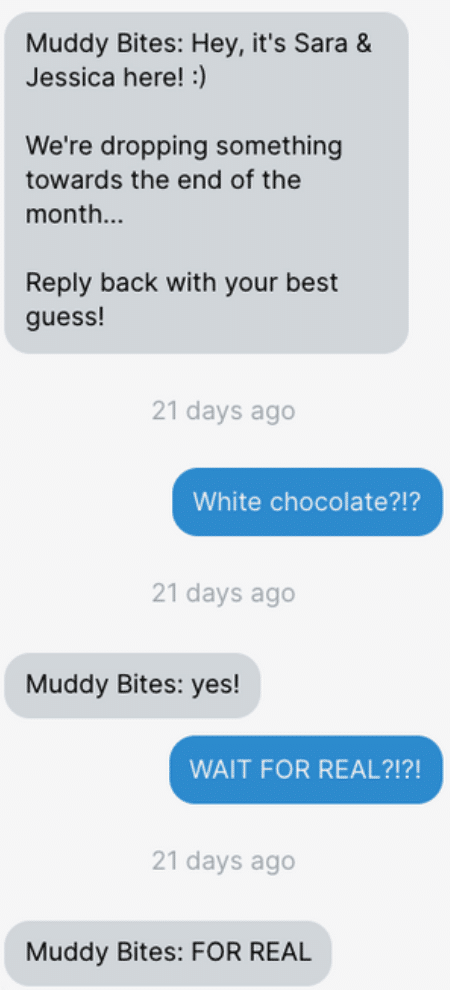 Source: Fantastic Texts
So far, so standard. But it takes things a step further by asking the recipient to guess what that new product will be.
Straight away, it's turned a one-way communication into a two-way conversation. That makes for a much more engaging experience.
Conclusion
The word "conversational" can be off-putting to a lot of brands.
It makes conversational commerce sound soft—heavy on engagement, light on sales. Just another trend that excites marketers but does nothing for the bottom line.
However, as demonstrated by the examples in this article, there are lots of use cases for conversational commerce.
Sure, it's a great way to engage your audience and strike up a back-and-forth dialog.
But more than that, it's also a highly effective tool for resolving customer queries, building brand awareness, and reaching out with timely sales opportunities.
That's the power of conversation.