Commitment and consistency is one of Robert Cialdini's 6 Principles of Persuasion, which influences buying decisions.
In its simplest terms, "It describes the way in which people want their beliefs and behaviors to be consistent with their values and self-image." Cialdini explains that one of the main ways we judge one another, as well as ourselves, is through our actions.
Consistency is usually viewed as a desirable social trait and shows that we're logical, stable, and trustworthy. So, once we've made a choice and committed to something, there's a natural compulsion to behave consistently with that commitment. And this can have massive implications within the context of e-commerce marketing.
If you can get a shopper to commit to a choice, even if it's relatively insignificant, it can often lead to them making bigger commitments in the future, while encountering less resistance. It's all about getting your foot in the door and encouraging the shopper to make a small choice, which sets the stage for them to make a large choice later on.
Now, let me take a deep dive into this topic and provide you with several commitment and consistency examples so you can gain a better understanding of how e-commerce brands are using this powerful psychological principle. And more importantly, you can use the takeaways to guide your own strategies and elevate your brand.
4 Commitment and Consistency Examples From E-Commerce
1. Stitch Fix
One of the best commitment and consistency examples is Stitch Fix, which offers "personal styling for men, women, and kids that sends clothing to your door (with free shipping and returns)."
Founded in 2011, this brand came up with an original concept that helped shoppers create the perfect wardrobe by picking and choosing the clothes they love.
It's like having a dressing room come right to them. Here's what shoppers see when browsing the Stitch Fix website.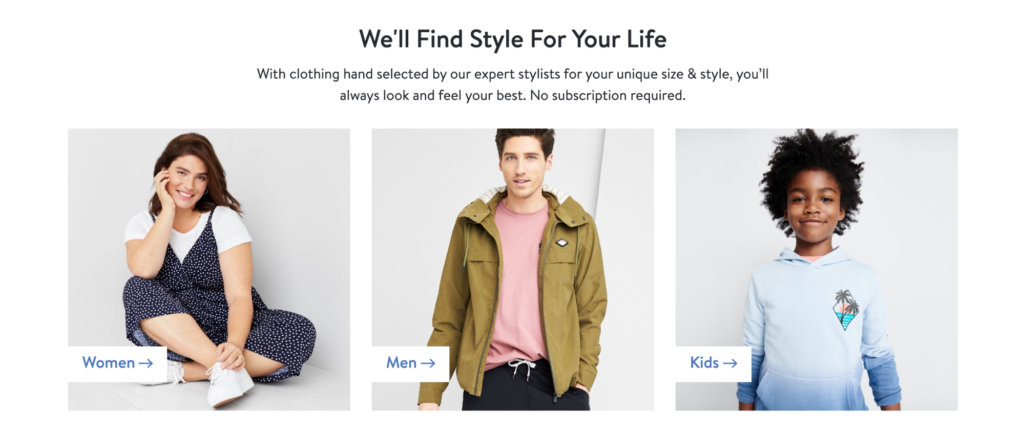 They start by taking a style quiz that lets Stitch Fix assess their fashion and shopping preferences, size, and budget.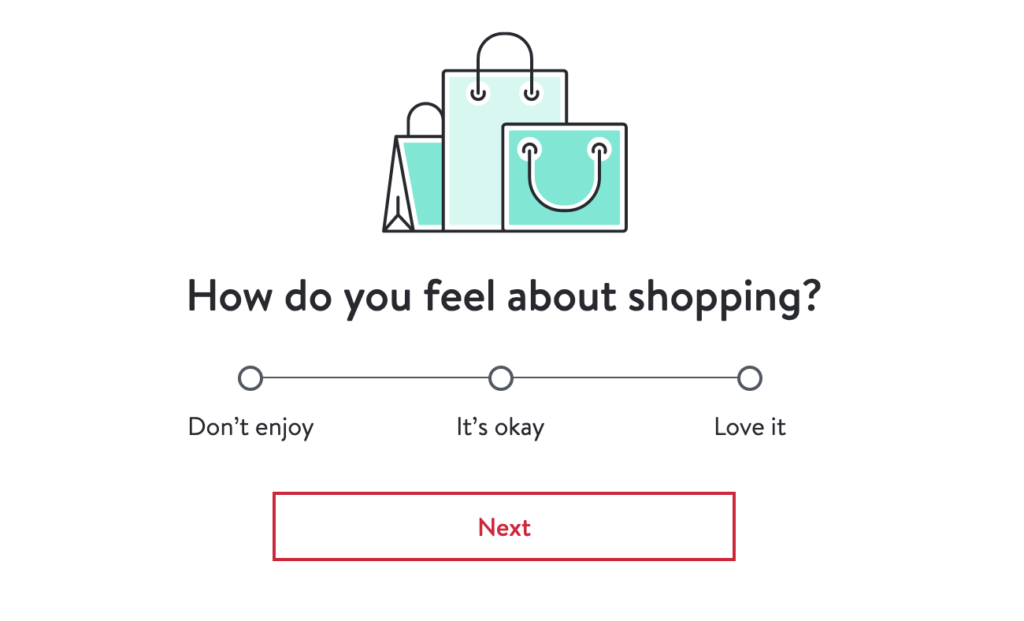 Then, the shopper creates a profile.

From there, Stitch Fix will send them a box of clothes to try on, where they can purchase whatever they like.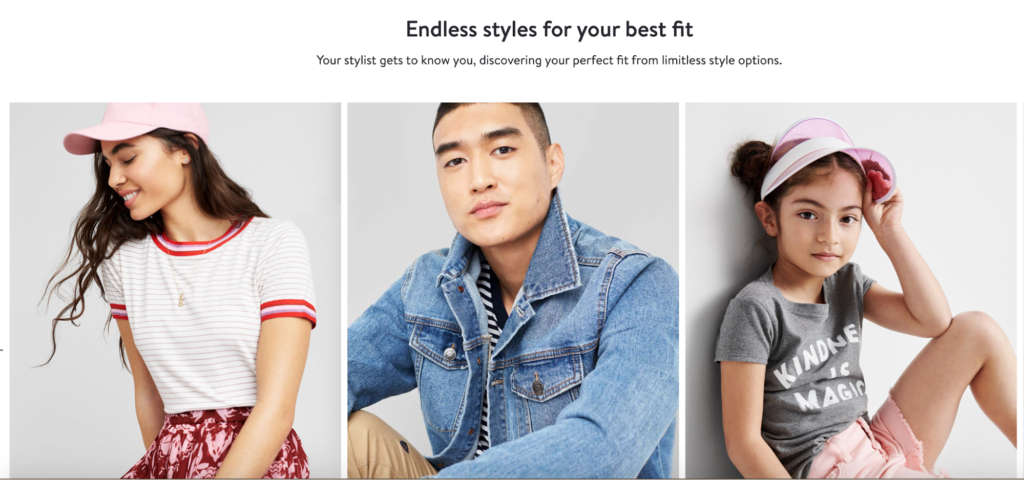 As for the clothes the shopper doesn't like, they can simply send them back (a return envelope is included to make it simple and painless).
Here's how Stitch Fix makes full use of commitment and consistency. Whenever someone orders a box of clothes to try on, they pay a $20 styling fee, which is credited toward the clothes they keep.
This provides a strong incentive to make a purchase because a shopper has already committed to ordering a box and has invested $20. If they go ahead and buy, they recoup their money.
And since they already have the clothes to try on, they might as well go ahead and do so. To sweeten the deal, even more, Stitch Fix offers a 25 percent discount if the person buys everything in the box.
By getting a shopper to commit to something small by filling out the style guide and receiving a box of clothes to try on, Stitch Fix greatly increases the odds of the shopper ultimately making a purchase.
And having the $20 styling fee, along with offering a 25 percent discount if they buy everything in the box, provides even more motivation.
2. Casper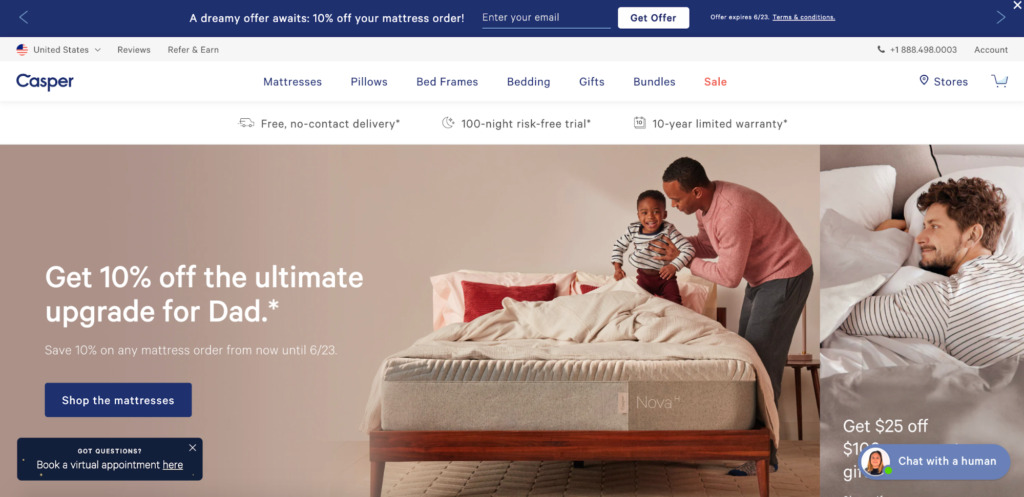 Founded in 2006, Casper is a brand that's known for its award-winning mattresses and sleep products. Browse through their website, and you'll quickly see that Casper makes the online shopping process simple and transparent.

And they've also perfected the art of using commitment and consistency to grow their business. They accomplish this with their 100-night risk-free trial—an offer shoppers see as soon as they land on Casper's site.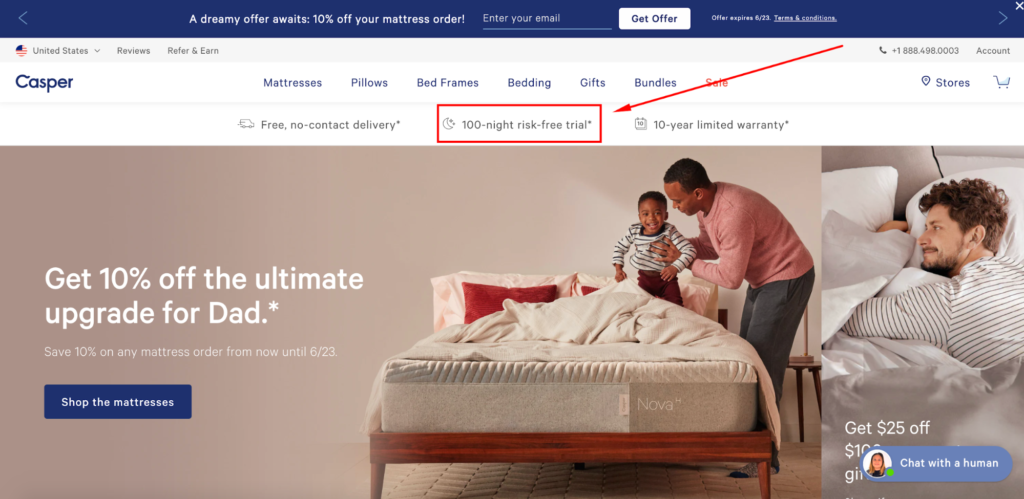 Whenever someone clicks on this link, here's what pops up.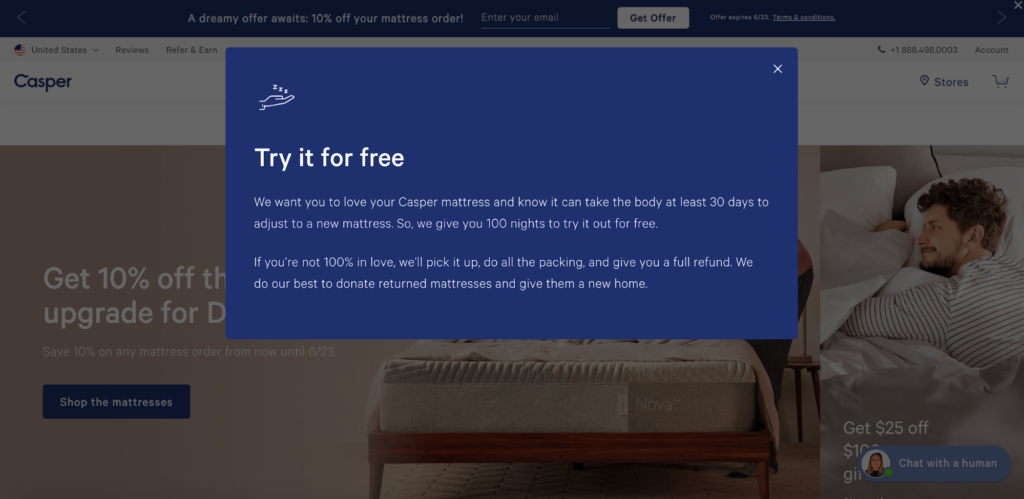 Casper lets them know they understand that it takes at least 30 days to adjust to a new mattress. So, they not only give shoppers 30 days to try out one of their mattresses—they give them 100. They can learn about the full details on Casper's trial page, including how mattress returns work.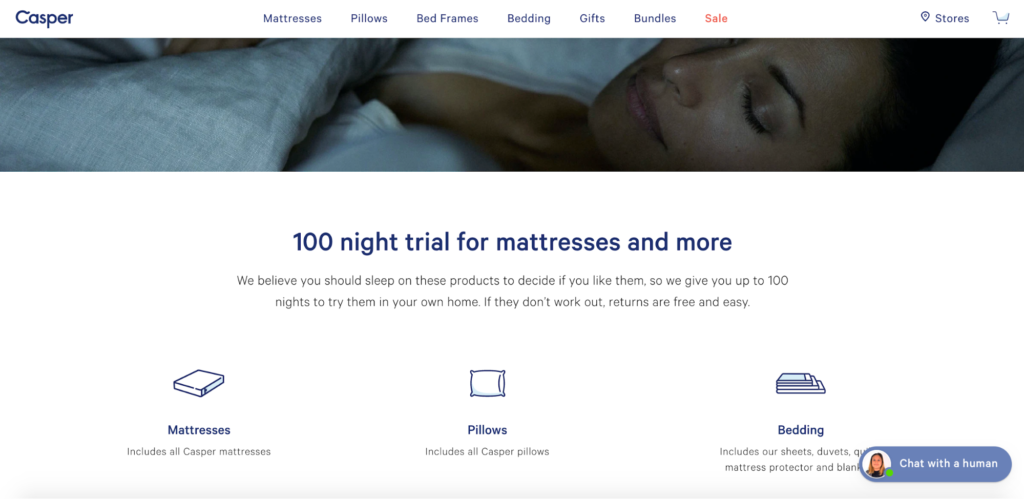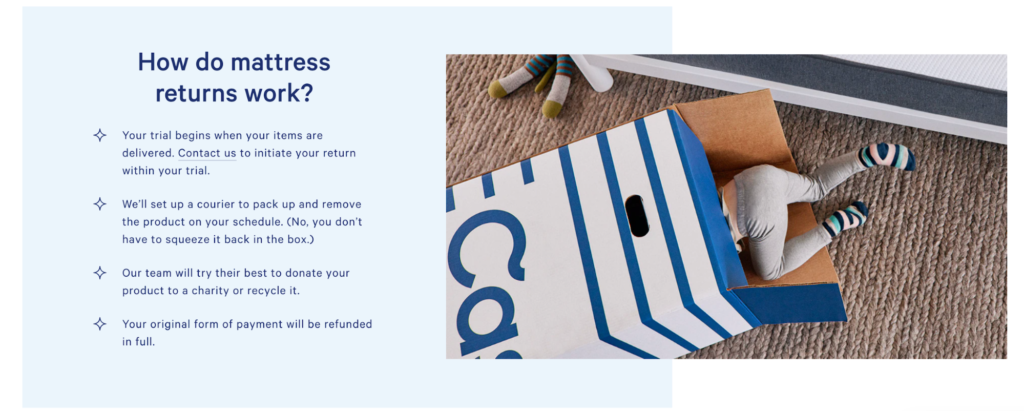 Besides that, Casper also gives shoppers a 30 day trial on other sleep products like glow lights, furniture, and dog beds.

And this is no doubt an offer that piques the interest of many shoppers.
Getting a person to invest in something expensive, like a new, high-end mattress, isn't easy. But giving them a free trial like this is enticing and helps Casper get their foot in the door.
By offering a dedicated return center that's ultra-transparent, can motivate a good portion of shoppers to take action.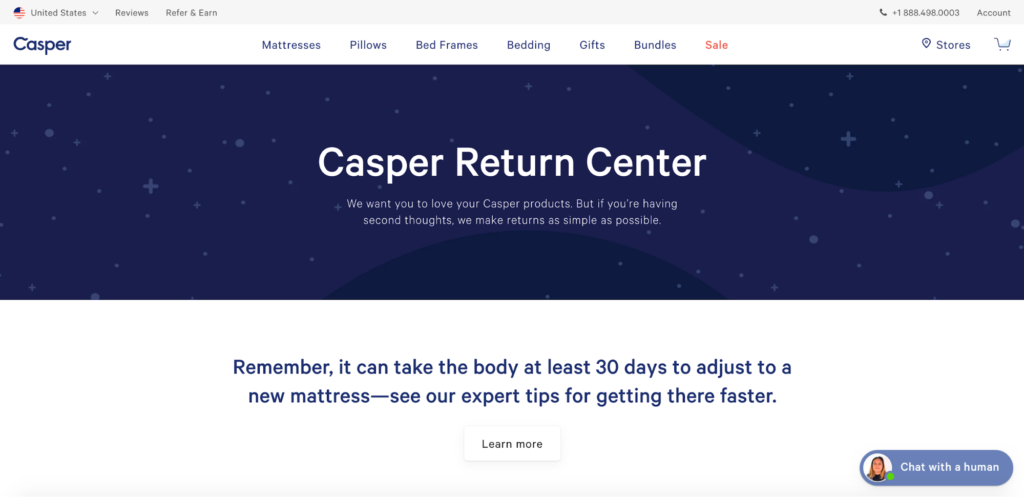 Here's why it's one of the best commitment and consistency examples.
Casper's attractive offer is effective for getting many shoppers "over the hump" and encouraging them to try their products. And once they receive a product, they get to test it out firsthand in the comfort of their home without any major pressure. Considering they have 100 full days to try out a mattress and 30 days for other sleep products, this gives them time to acclimate and get used to it.
While Casper does make the return process simple and straightforward, it still requires a considerable amount of effort on the part of a shopper. So, if they enjoy the product or at least think it's okay, the odds are good that they'll just keep it.
After all, in the case of a mattress, they would have to go to the trouble of returning it, then researching a new mattress, buying it, trying it out, and so on.
This gives Casper a tremendous amount of leverage, which not only helps them generate quality leads but should result in the vast majority of shoppers keeping the products they try. And according to research, this is the case.
I couldn't find any official data, but Michael Magnuson of GoodBed.com projects that Casper's return rate is somewhere between 12–14 percent, meaning only 1 out of 8 Casper mattresses are sent back.
Given that the average e-commerce return rate is much higher at around 20 percent, it's clear that Casper's strategy is working. And to minimize the chances of shoppers returning their products prematurely, they have educational information like this on their return page.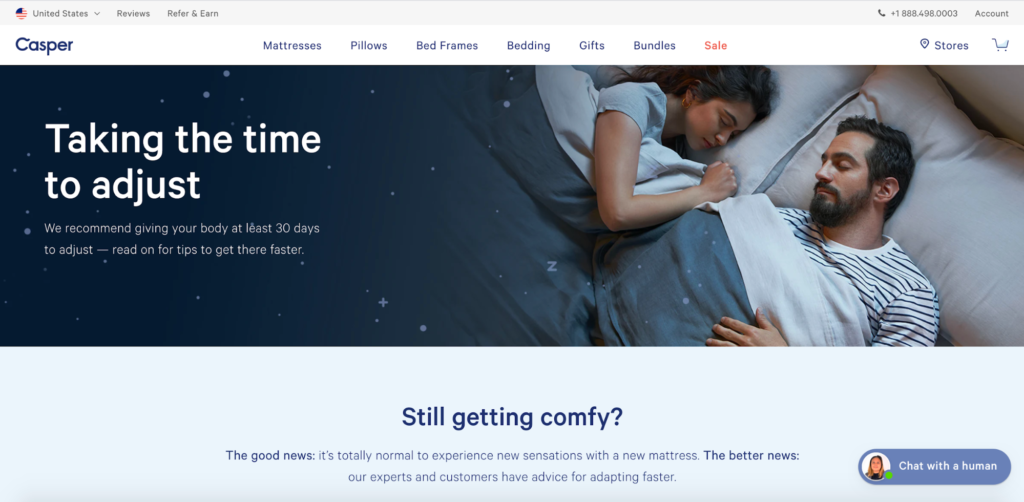 So, even if someone was intent on sending a product back, this could potentially dissuade them from doing so.
3. Articles of Style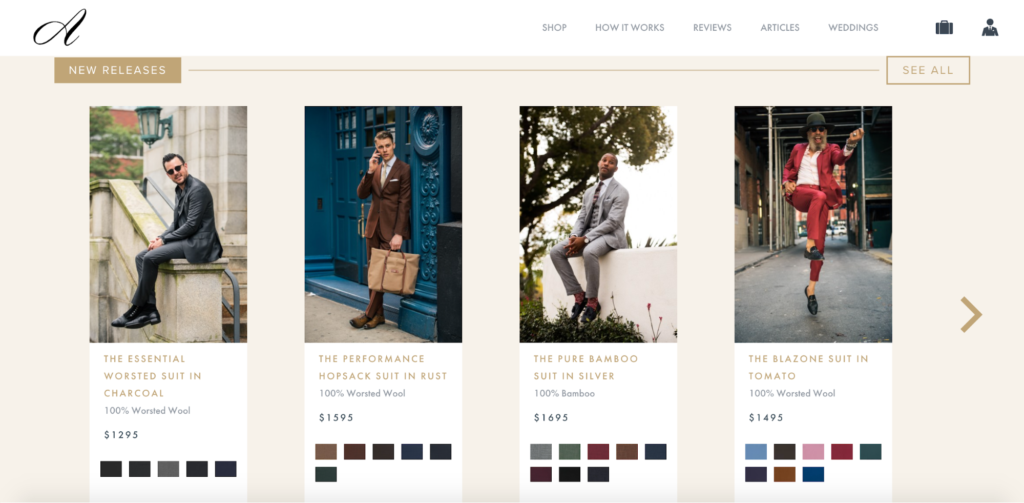 Articles of Style is a custom menswear company that sells luxury suits, shirts, outerwear, and tuxedos. There's an emphasis on the word "custom" because their entire business model is based on offering suits that are completely tailored to each individual.
And that's where the psychological principle of commitment and consistency comes in.
Articles of Style has a section on their site called "How it Works," which thoroughly explains the unique process they use to ensure customers end up with an amazing suit that fits them perfectly.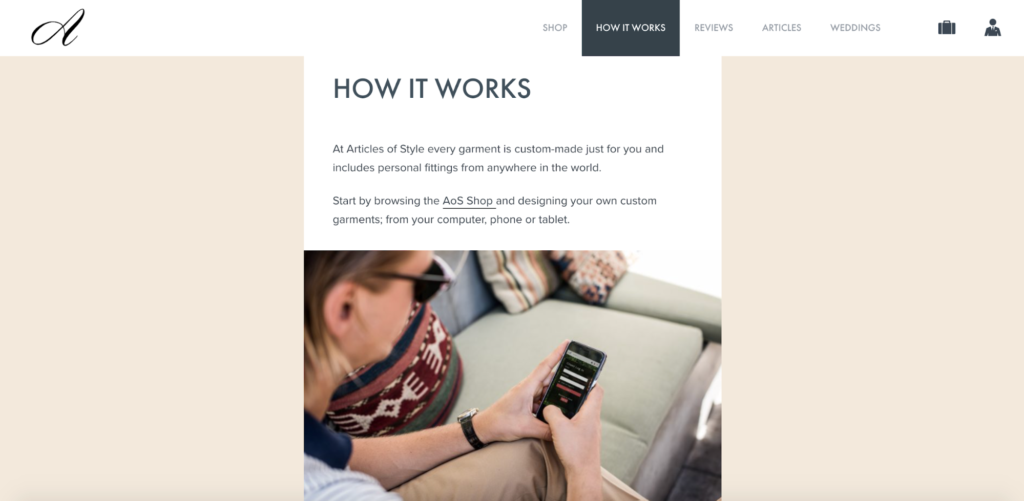 First, a shopper browses through the Articles of Style shop, where they choose which specific suit they want and customize it according to their individual preferences.
Say, for example, someone was interested in "The Performance Hopsack Suit."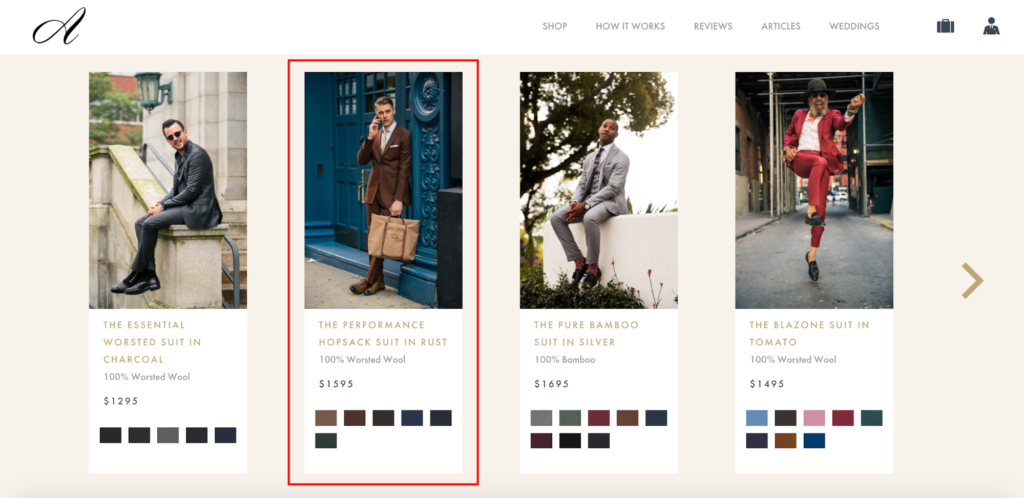 They would click on it and choose the color they want and whether or not they want to add a vest for $200.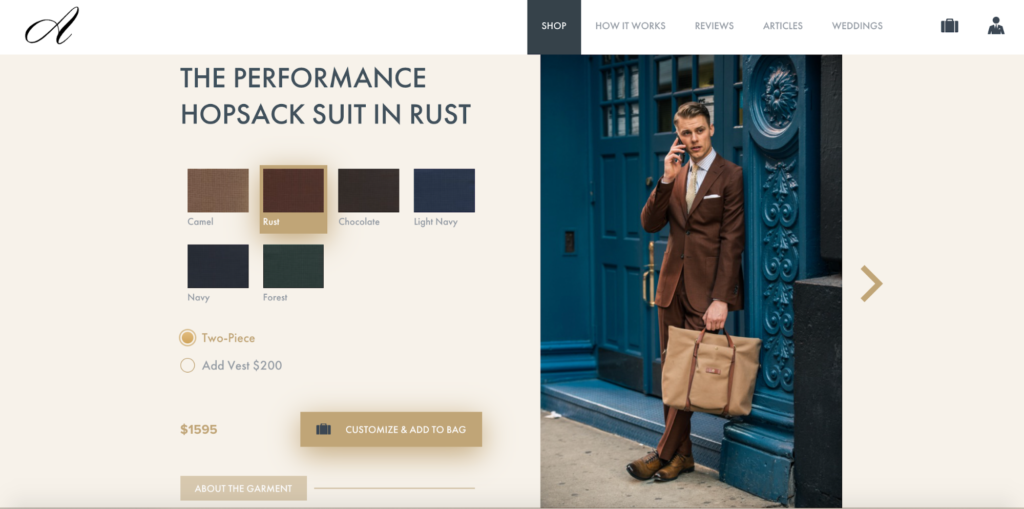 Let's say they want to go with a light navy and stick with just a two-piece suit without the vest.
They would then click on "Customize & Add to Bag." From there, they customize the rest of their suit, including the jacket and trousers, and then save their customizations.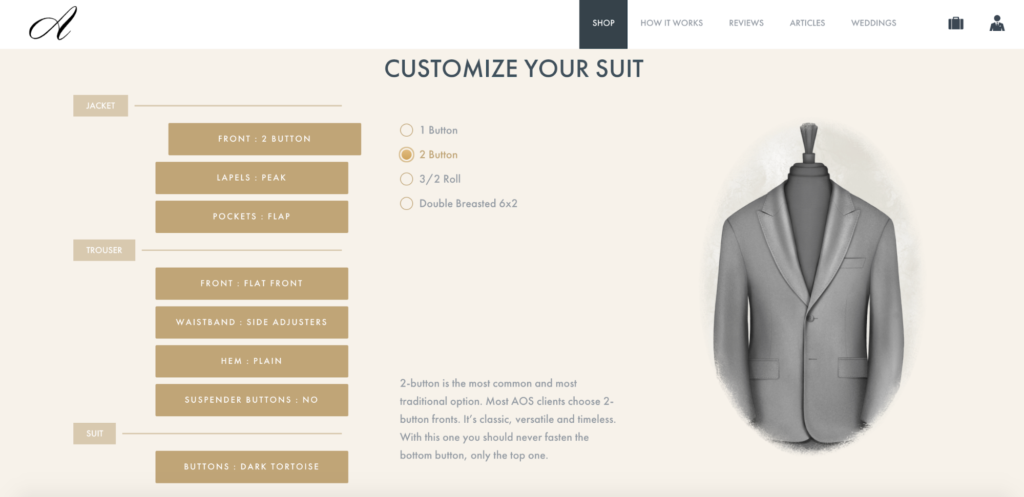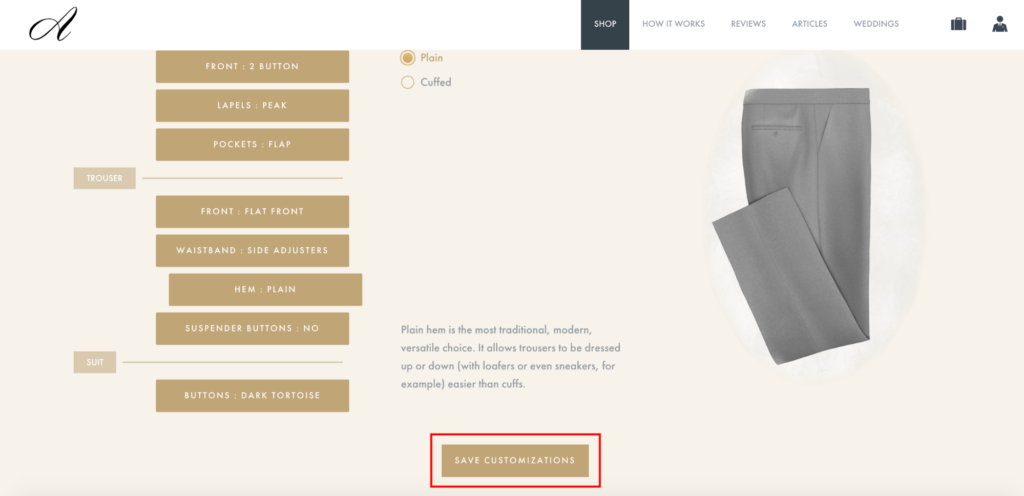 Once they've done that, a shopper can provide Articles of Style with information about their body type, fit preferences, and any other details they'd like their tailors to know about.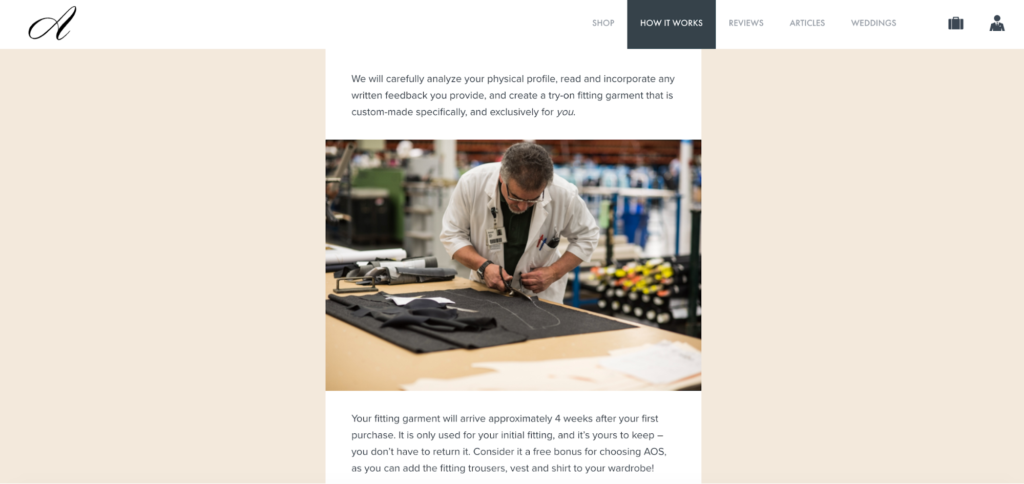 At that point, Articles of Style analyzes their shopper's physical profile, looks at the information they've provided, and creates a try-on fitting garment for the person.
The shopper receives that roughly four weeks afterward and uses it for their initial fitting. It's theirs to keep, and they don't have to return it.
But assuming they want to follow through with the process and have their custom suit made, the shopper takes four pictures of themselves wearing the try-on garment.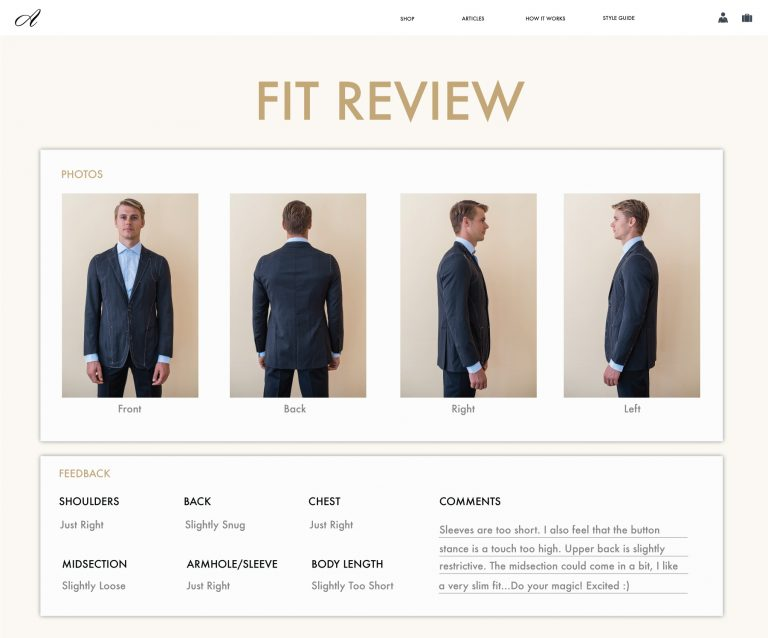 Once Articles of Style receives the fitting photos and feedback, their experienced tailors carefully analyze it and create the final garment, which the customer receives approximately eight weeks after they upload their try-on fitting. If it needs any adjustments, Articles of Style will reimburse the cost for alterations done by the customer's local tailor.
Here's why this works as a commitment and consistency example. The brand provides a simple process for men to design their own custom suit. All they have to do is select the type of suit they want and answer a few basic questions to design it to their liking.
Now admittedly, it does take a while for the entire process to be completed—about eight weeks. That's because there's a lot that goes into designing a fully customized suit, especially when ordering is done online.
What I think is smart is that Articles of Style sends out a fitting garment after about four weeks that the customer doesn't have to return.
But after they've invested the time and energy into completing these steps and received a fitting garment, a shopper might as well go ahead and make a purchase.
In other words, the brand gets its foot in the door by streamlining the customized design process and giving a shopper a fitting garment. And this greatly increases the odds that the shopper will complete the rest of the steps and buy. After all, they've already got skin in the game.
Another smart move Articles of Style makes is keeping each customer's updated pattern on file, so they can use one-click-custom for any additional purchases.
So if they wanted another suit in the future, they could get one with their exact sizing and preferences without having to repeat the process. This gives Articles of Style and huge competitive advantage and leaves them perfectly positioned for repeat orders.
4. Warby Parker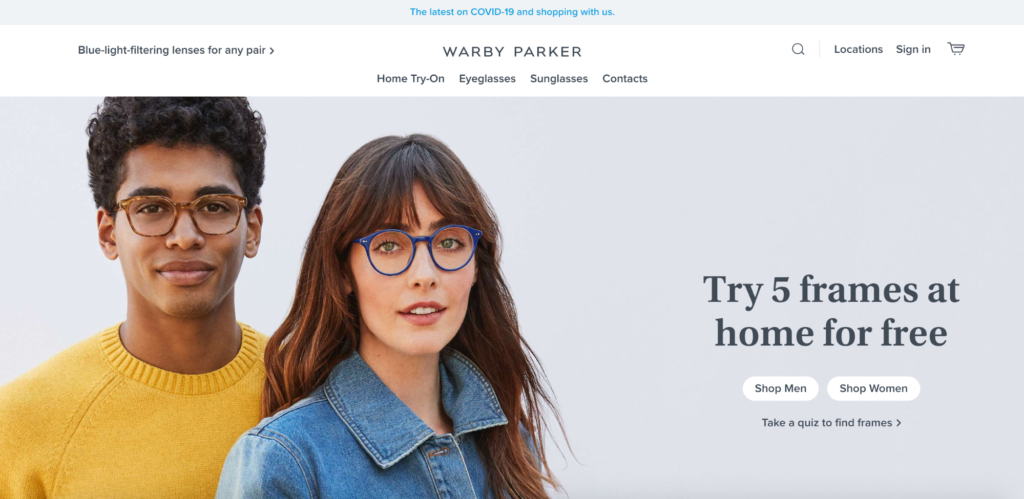 Finally, there's Warby Parker, a company that sells prescription glasses and sunglasses. Its unique selling proposition (USP) is that they allow shoppers to try out five frames at home free for five days.

First, a shopper takes a short quiz, answering some basic questions to help Warby Parker narrow down the list of frames that are right for them.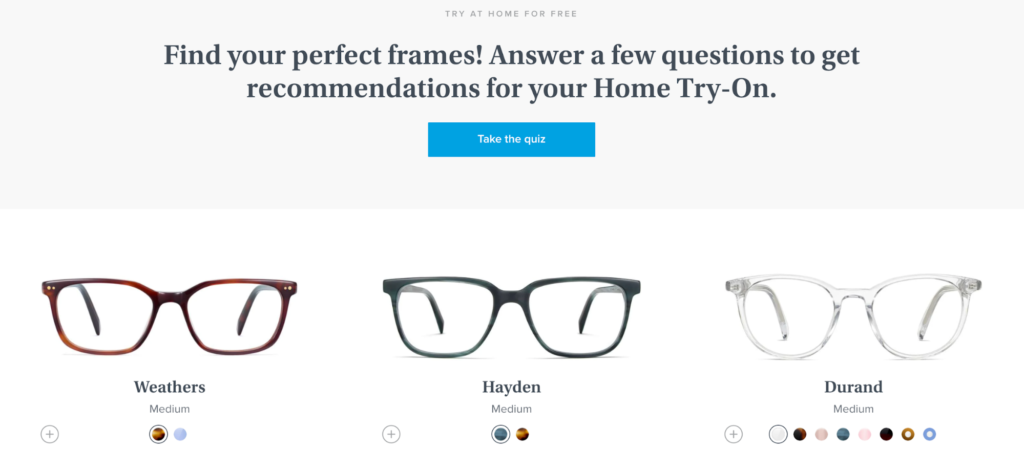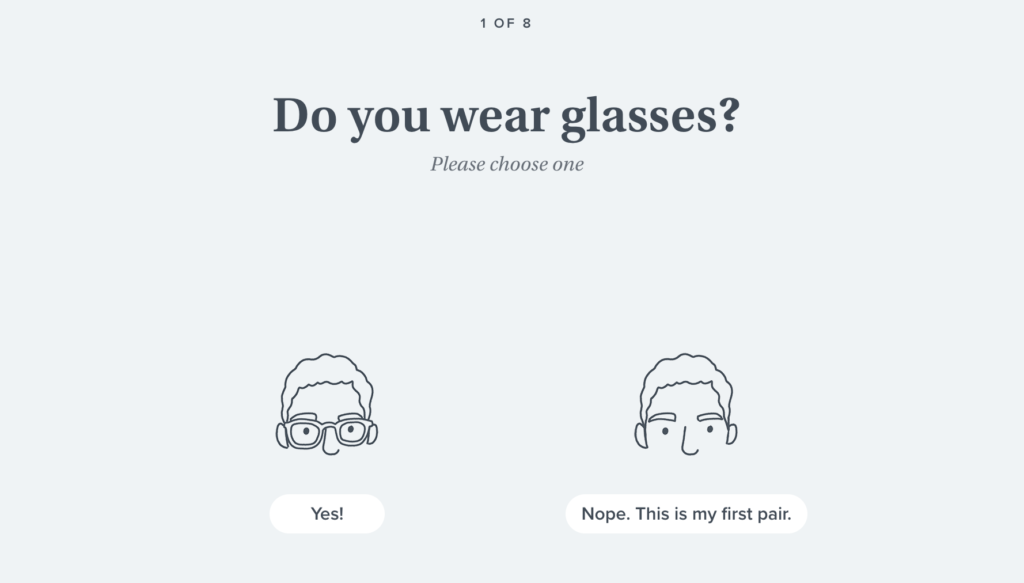 Then, based on that information, the shopper picks the five frames they want to try out.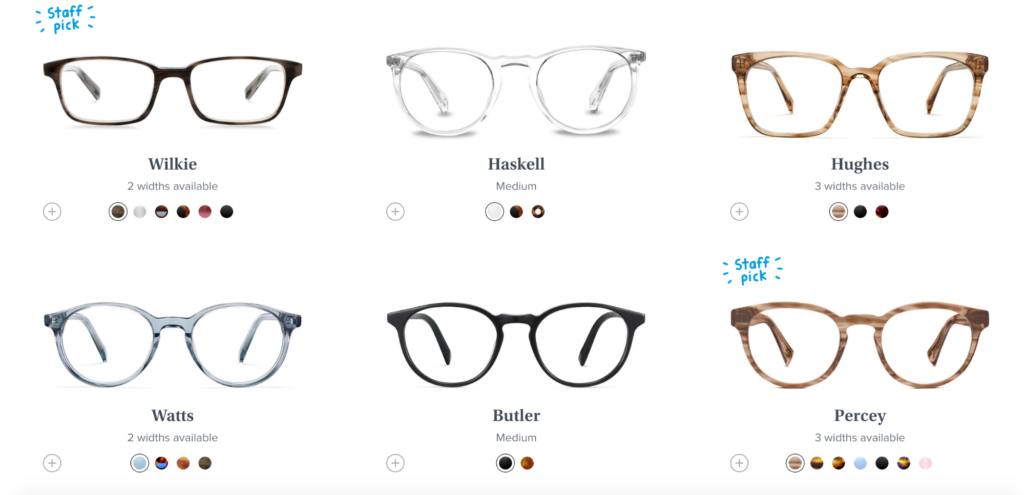 They simply click on the "+" button and choose "Add to Home Try-On."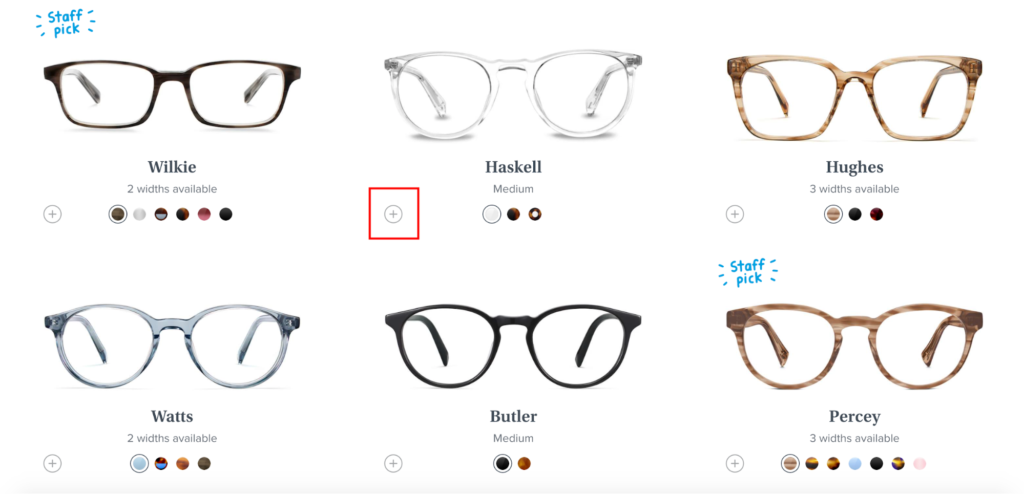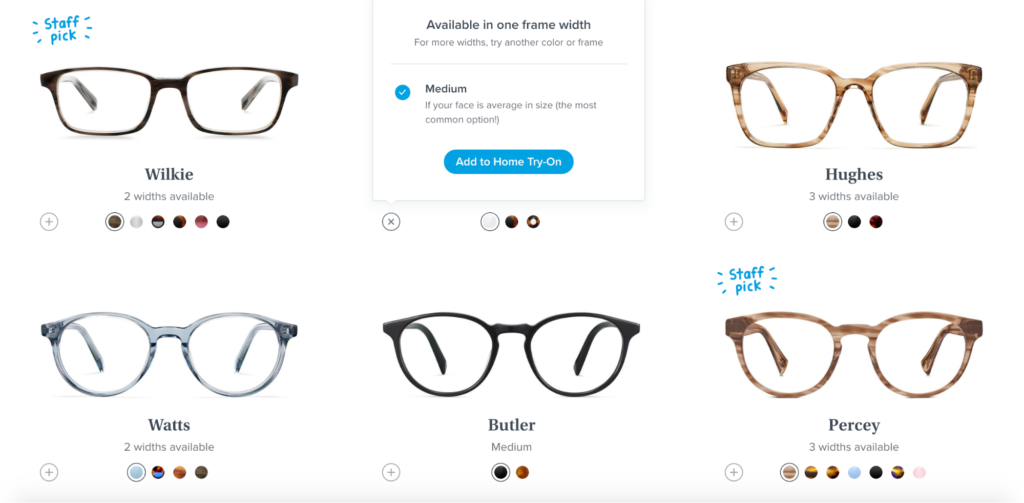 After they've selected five frames, Warby Parker automatically sends them to this screen where they can finalize it and have the frames shipped to them.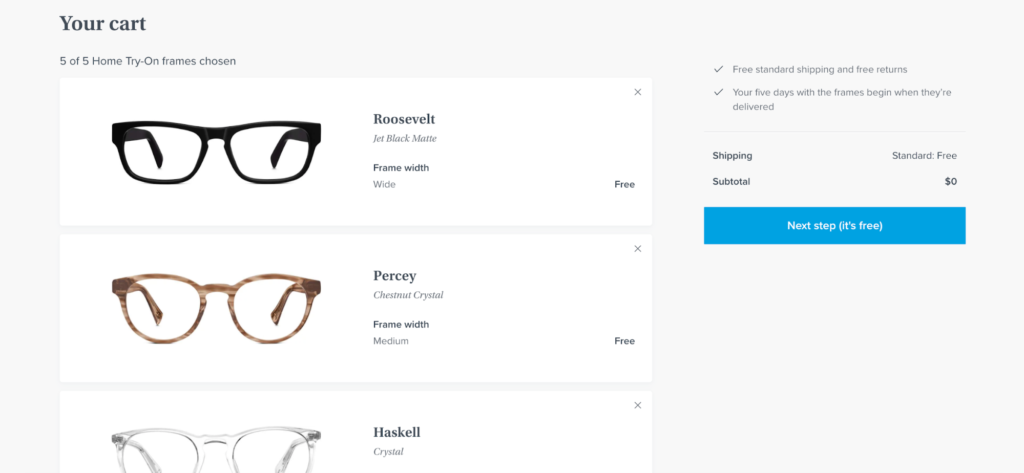 It's all very simple and straightforward. And if that wasn't enough, Warby Parker also has a mobile app that allows shoppers to see how they would look in frames using their "Virtual Try-On."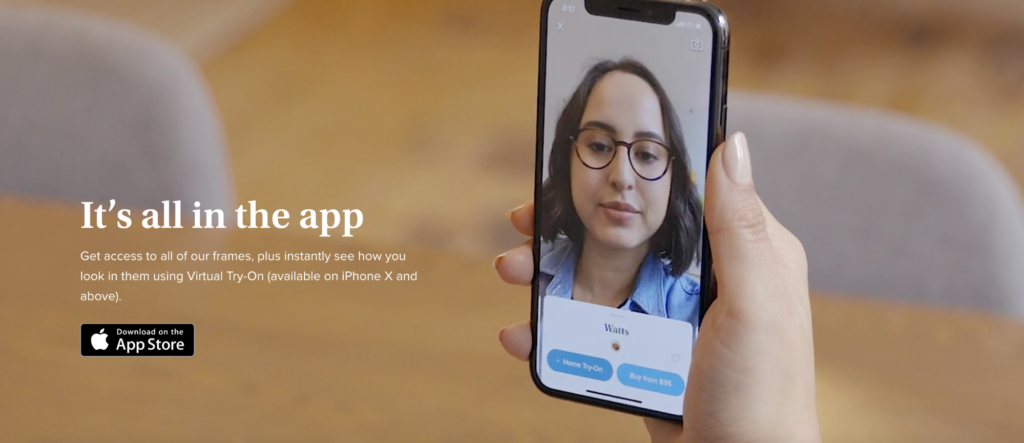 These features make them one of the most innovative companies in this industry.
And this is a great example of commitment and consistency because they grab the attention of shoppers with an awesome USP, reeling them in with five frames to check out free for five days, as well the Virtual Try-On app. Even though there's technically no commitment, Warby Parker understands the psychology of shoppers.
By putting their frames in a shopper's hands over the duration of five days, the odds of making a sale increase dramatically.
Conclusion
As I've mentioned throughout this article, the main purpose behind commitment and consistency is using it as a means of getting your foot in the door.
Even though it doesn't usually involve an official commitment where someone is obligated to buy, it leverages a proven psychological principle that gets a shopper to make a small commitment which often ends up leading to a sale.
The commitment and consistency examples I covered above all take slightly different approaches, but all achieve the same thing. Closely examining them should provide you with insight and inspiration that you can use for catapulting your own brand.