Black Friday is a busy time, not only for us marketers but also for consumers, having to sift through the many promotional emails in their inboxes.
In this immense virtual competition, especially this year more than ever, you need compelling Black Friday subject lines that'll get your emails opened.
If you're missing email marketing inspiration or wondering how top e-commerce brands are sending emails before, during, and after Black Friday, I got you covered.
I put together 86 of the best Black Friday subject lines I've seen to inspire yours, so you can have a head start in your Black Friday marketing this year.
1. Pre-Black Friday Subject Lines
The days leading up to Black Friday are precious.
Whether you want to build excitement around your big sale, set clear expectations, offer information, or create mystery around Black Friday, use these days wisely with well-thought pre-Black Friday emails.
For example, you can gradually reveal your sales or give a sneak peek at what's about to come. Or you can inform subscribers of when you'll hit the start button in your subject line, as Drunk Elephant does: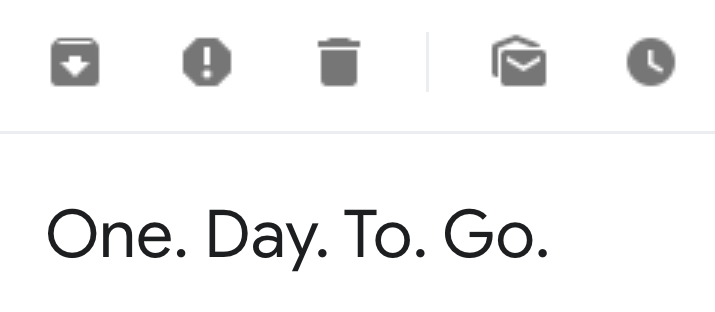 Above else, Drunk Elephant's subject line evokes curiosity. Yet, you get from the context that they're counting down to Black Friday.
If you're interested in Drunk Elephant's Black Friday, which begins in a day, you open its email to see this: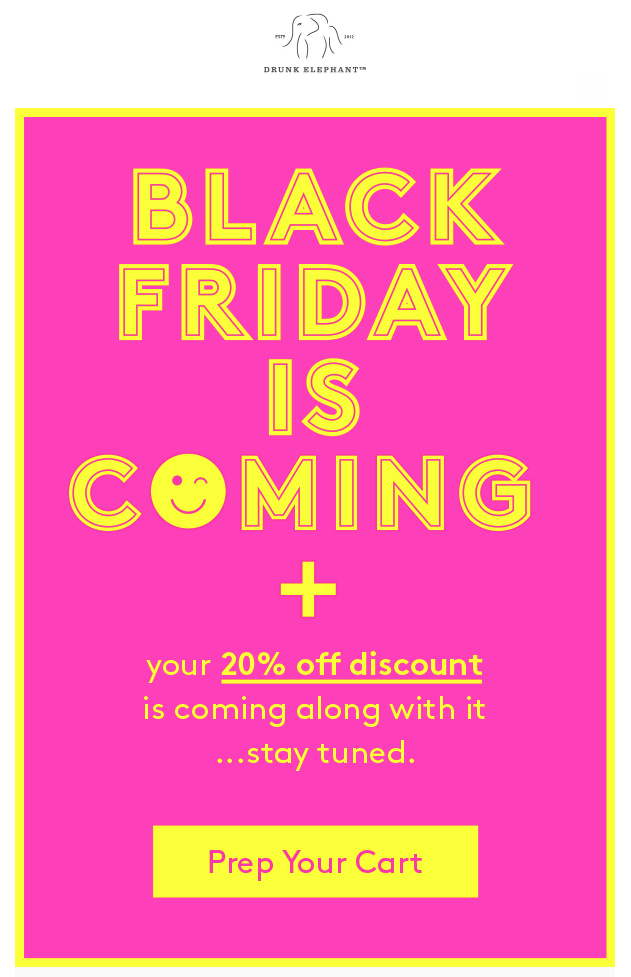 In this minimal email, the company lets you know that Black Friday is coming, and a 20 percent discount is coming with it too.
Notice the call to action (CTA) "Prep Your Cart".
When you prepare your cart in advance, you'll be ready to buy when the sale starts. And when you have a full cart at a reduced price, you'll be more likely to buy from Drunk Elephant's sale.
While Drunk Elephant leaves a little mystery about its timing, Pull&Bear gets highly specific and I, personally, appreciate it.

As an avid online shopper, one thing I hate about Black Friday is not knowing when the sales begin—at 00:01, in the morning, or when people are back from work?
Pull&Bear leaves the guesswork out in its subject line and tells you exactly when to be in their app and on their website.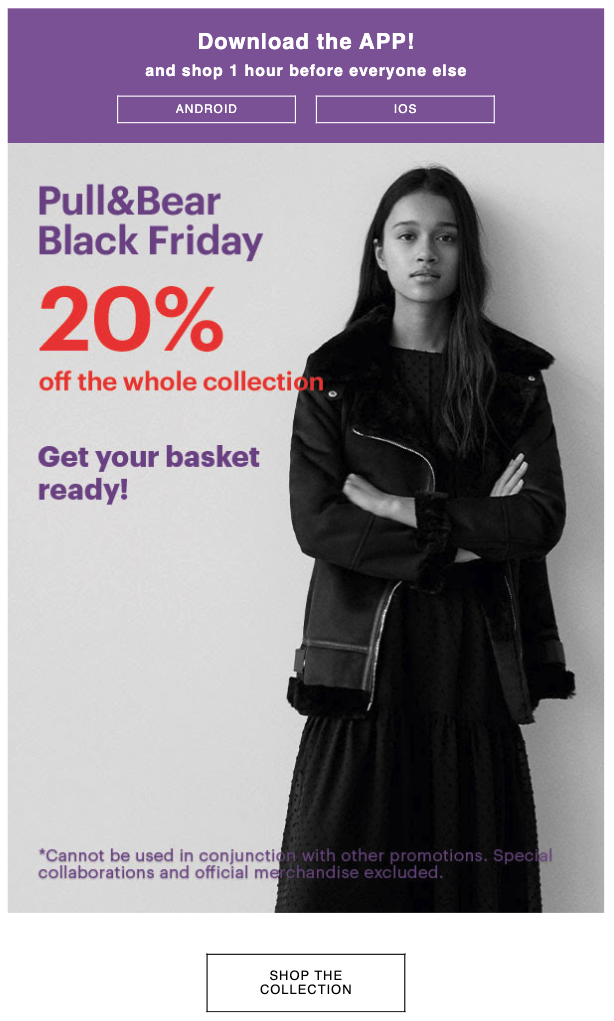 The company invites you to download a mobile app to grab the deals one hour before everyone else and cleverly promotes its apps.
The CTA "Get your basket ready" is similar to Drunk Elephant's, and the idea is the same. Get your basket ready, so you can shop your favorites before they sell out.
If you have a wishlist option in your store, pre-Black Friday period is the perfect time to mention it. It'll make the decision-making process much faster for your visitors, which means more Black Friday sales for you.
More Pre-Black Friday Subject Lines:
Shinesty: Good things happen when you check email on Thxgiving
Everlane: Tomorrow: The Black Friday Fund Returns
Legacybox: Turkey can wait. Our BLACK FRIDAY sneak peek won't!
Rebel8: REBEL8 Black Friday Sale Starts in 120 Minutes
Greetabl: Sale Starts in 3…2…
Boozt: BLACK FRIDAY starts tonight at 19.00!
Bed Bath & Beyond: 🤯 Something BIG is coming tomorrow. (You don't want to miss this!)
Calvin Klein: Get your Black Friday shopping bag ready
tarte: SAVE THE DATE
L'Occitane: Black Friday Starts Tomorrow! Fill Up Your Cart NOW 🛒
Bellroy: It's coming! In 3 days.
Macy's: Black Friday Preview—get a head start!
2. Early Access Subject Lines
If you've built a special email list for Black Friday or promised an exclusive deal to your new signups, you'll likely deliver on your word by emailing your subscribers when the time comes.
While doing that, remember to focus on the exclusivity of the offer in your email and subject line, too. Check out how Bellroy does that:
With this direct subject line, Bellroy invites you to grab its Black Friday exclusive and nudges you to open the email (if nothing else, out of curiosity.)
From top to bottom, Bellroy's email is built on exclusivity. (They even use the words "Subscriber Exclusive" in the pre-title.)
While Bellroy indulges its subscribers with an offer, they use a dollar value discount rather than a percentage. As Jonah Berger mentions in his book Contagious, dollar-off discounts may seem like a better offer than percent-off discounts, especially for higher-priced products, such as Bellroy's backpacks and premium collections.
What's more, Bellroy writes its exclusive offer in different currencies to make it easily understandable for customers in different target markets.
While Bellroy prefers a straightforward approach, One Kings Lane chooses mystery in its early access subject line: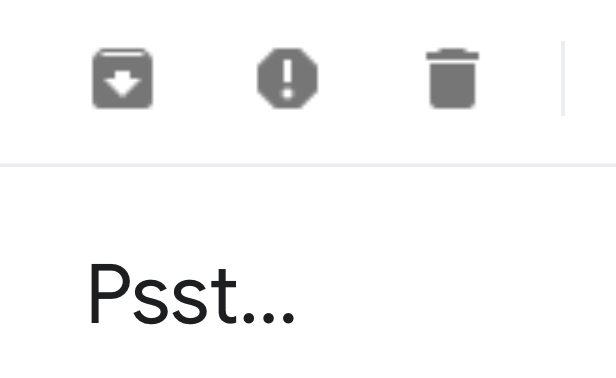 With this brief, curiosity-triggering subject line, the company stands out among hundreds of promotional Black Friday emails. This is what the email looks like: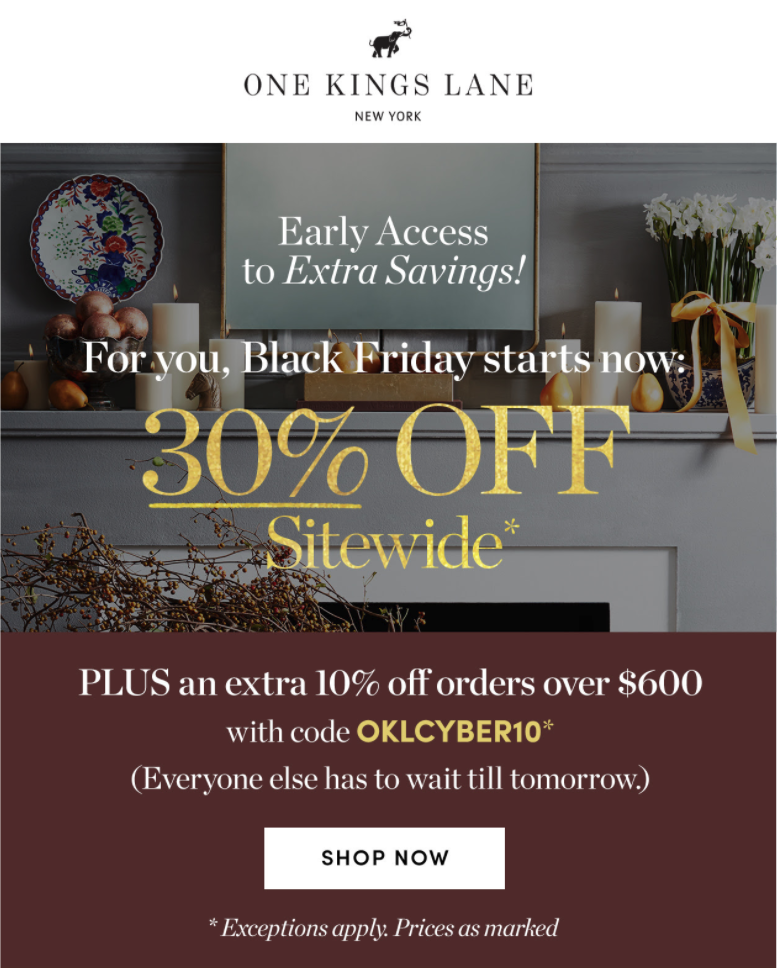 In it, One Kings Lane gives its subscribers early access to Black Friday, as well as an additional discount for high-value orders.
Notice the phrases "for you" and "everyone else has to wait till tomorrow." It's a smart copywriting angle you can use to appreciate your subscribers in your Black Friday emails and popups.
More Early Access Subject Lines:
Levi's: Early access to Black Friday deals unlocked.
Paperchase: You're on the nice list – 25% off for you
Miss Selfridge: Been waiting for Black Friday? TODAY'S THE DAY🤩
Cloth & Paper: Black Friday's Starting Early! 🙈
Greetabl: Early Access: Up to 30% Off Gifts 💃
Ralph Lauren: Black Friday Priority Access: Up to 30% Off
Torrid: 🦃 🦃 🦃 Black Friday's here early 🦃 🦃 🦃
Fenty Beauty: Black Friday's early to the party this year
Estee Lauder: Rikke, 25% Off for E-Listers Only 🦃 We're Thankful for You!
Hollister: ❗ Seray, get 25 to 40% off BEFORE. EVERYONE. ELSE.
Forever21: VIP STATUS: 30% Off Everything NOW!
Bath & Body Works: Black Friday REVEAL: Just for Rewards Members!
OUAI: Skip the Line – Shop Early
Brooklinen: [EXCLUSIVE ACCESS]
3. Sale Subject Lines
Time for the big day… 🥁
When your Black Friday sale starts, you likely notify your subscribers via email (and hopefully popups, when they return to your site.)
While many companies go with the simplistic "Black Friday is on" subject line, I know you can do better.
Rather than say your sale has started and send people to your homepage, you can give your subscribers a better starting point, as Frank and Oak does:

The company knows that a lot of brands are competing for attention when Black Friday starts. That's why they make it easier for their subscribers to make a decision and start shopping from their store, instead of others.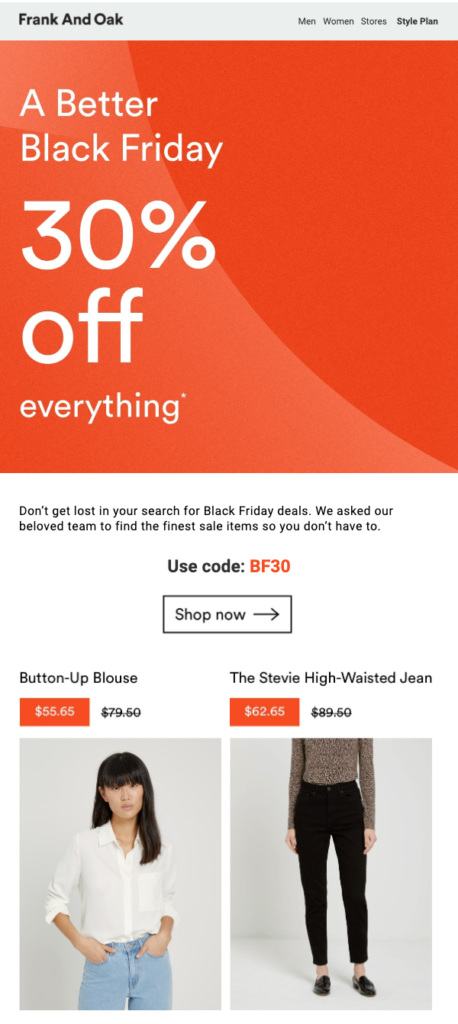 On what Frank and Oak calls "a better Black Friday," the company doesn't want you to get lost while searching for good deals. In the email, they curate a few products their team selected for you, so you can easily click through and start shopping.
If you're offering an irresistible discount level, as Old Navy does, you can consider writing it in your subject field, too:

Old Navy's subject line easily grabs attention, but not just because of the discount. Once the company catches you with its bold opening "Call in Sick," the 50 percent discount makes the email irresistible.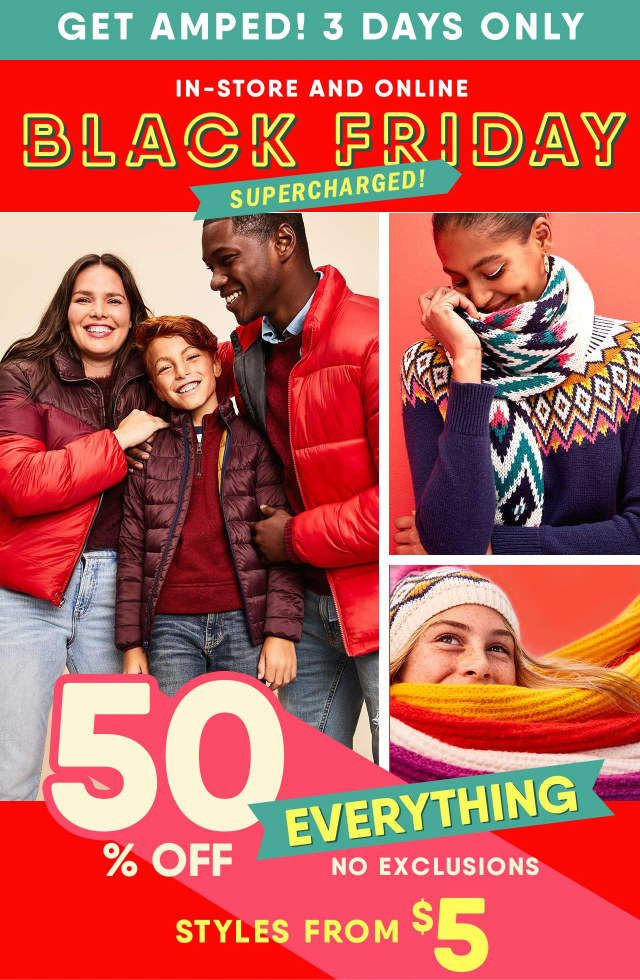 In the email, you learn more about the sale, which is so amazing that you should call in sick.
It's a subtle touch that makes Old Navy's Black Friday subject line different from the rest. You don't have to ask people to call in sick, but think about the ways you can frame your sale instead of the classic "30 percent off."
More Sale Subject Lines:
Ssense: Why Settle For Less? Shop Best Of Sale, Up To 50% Off
quip: Our only electric toothbrush sale of the year 🏁 Ends Today
OUAI: The sale is still going strong – but not for long.
Framebridge: The perfect gifts are on sale
Old Navy: $5 STEEEEEALS
Rebel8: Black Friday $8.88 Sale
American Apparel: Black Friday Weekend = Half Off Everything
Crate and Barrel: TGI BLACK FRIDAY.
Torrid: 50% off for Seray 👈
The White Company: 20% off everything | Forget Black Friday, it's all about The White Weekend
Urban Decay: 📞 Hello, Black Friday is calling : 25% off sitewide!
4. Incentive Subject Lines
Black Friday is all about discounts. Nothing new there.
If everybody's discounting, though, what sets your offers apart from the competition?
Incentivizing Black Friday offers with an additional coupon, an extra gift, free delivery, or gift wrapping service can help you move ahead of competitors, even when your prices aren't as low. This means more revenue without hurting your profit margins.
If you're offering any additional benefits, even as small as free returns, make sure to use it in your subject line. Here's how KVD Vegan Beauty does that:

While all other brands are focusing on discounts and sales, KVD highlights what they offer—and it's more than just a sale.
It's hard to say no to a gift, and to this subject line.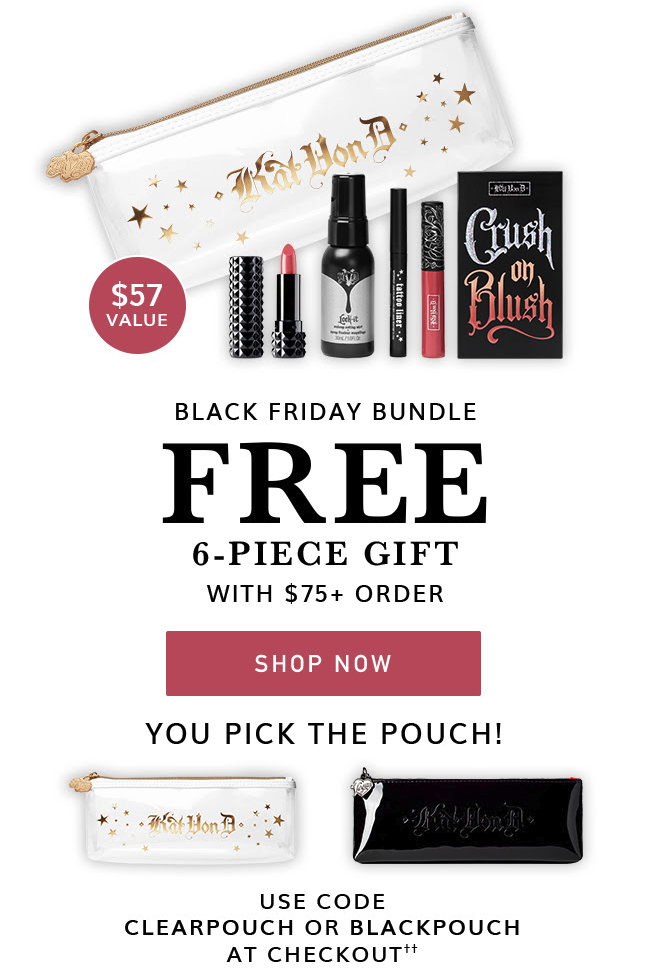 In the email, the company expands on its gift offer, which is only valid for orders over $75. Cleverly enough, KVD writes the dollar value of the gift set, making it easier for you to make a rational decision.
kikki.K, a stationery and gift company, chooses another incentive on Black Friday:

After informing you that the sale is on and you can expect 20 percent off everything, they let you know that you can also use their personalization service for free.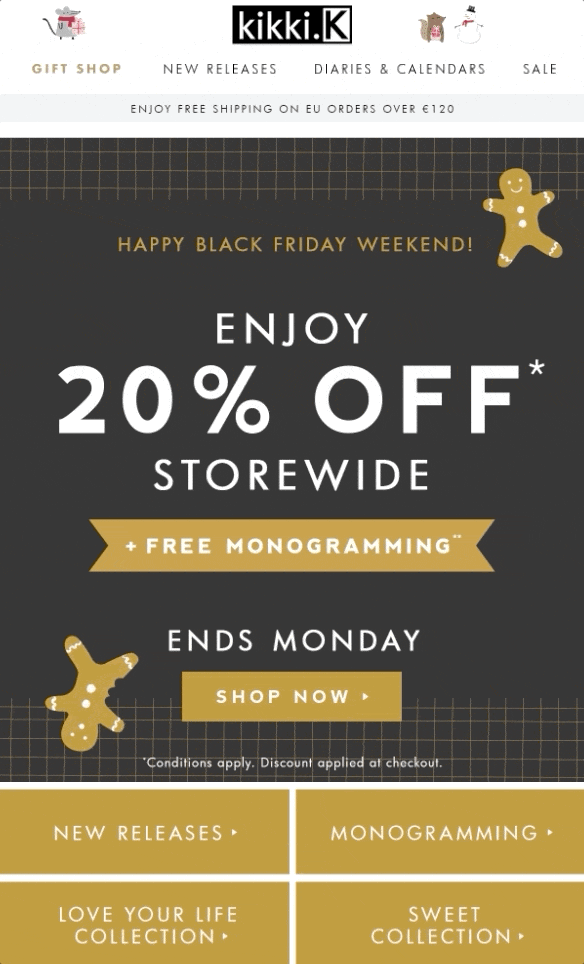 By making its monogramming service, which normally starts from $10, free, kikki.K aims to get more orders during Black Friday.
More Incentive Subject Lines:
Wool and the Gang: Re: Your Free Pattern
Bobbi Brown: 25% off AND pick a full-size eye ends soon.
MAC Cosmetics: It's Black Fri-Yay! Get 25% off. Plus, a free gift.
Pura Vida Bracelets: FINALLY Black Friday!! 50% off + free shipping!
Ipsy: Can we send you a gift? It's an extra Glam Bag
5. Urgency-Driven Subject Lines
Black Friday is built on FOMO.
It's all about grabbing too-good-to-miss deals that won't come back for another year. Time is running out and you're competing with fellow shoppers to get your hands on your favorite products.
It's almost common sense to use scarcity and urgency in Black Friday subject lines. But the key is to use them in moderation—without driving people into a panic.
Check out this subject line by Snakehive, a retailer of phone cases and covers:

While Black Friday is about to end, Snakehive sends out an urgency-driven email, but in a subtle way. Instead of saying "HURRY UP," the company uses a gentle tone, simply reminding you that this is the best deal you can get at least until next year's Black Friday.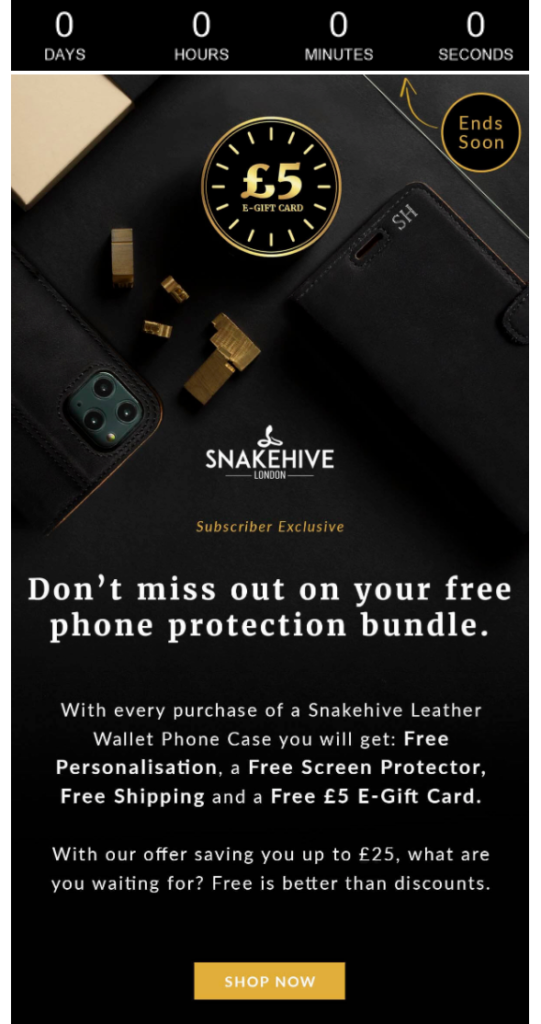 Snakehive's Black Friday offer doesn't even include discounts. The company offers gifts worth £25 with every purchase and makes a point by saying "free is better than discounts."
The email itself is full of persuasion elements, such as the countdown timer, "ends soon," "subscriber exclusive," and "don't miss out". And their subject line is successfully driving a sense of urgency, without sounding annoying.
More Urgency-Driven Subject Lines:
Allies of Skin: Just 12 More Hours to Enjoy Our Black Friday & Cyber Monday Sale!
Crocs: 🥺 Black Friday deals end in mere hours
Paperchase: Our black magic will vanish at midnight ⏰
Esqido: Your secret deal is expiring…
Brooklinen: you are MISSING OUT
Kina & Tam: It's Almost Over…
Bonobos: Say 👋to Black Friday Week. 30% off ends tonight.
The North Face: You're running out of time—Black Friday sale ends today
Foot Locker: ⏰ Black Friday: The Clock is Ticking… ⏰
Michael Kors: The Final Hours Of Black Friday
Esqido: Time is ticking, Seray…
Torrid: Is this goodbye? 😢
6. Salient Subject Lines
Whether in style, format, or tone of voice, most Black Friday subject lines resemble one another.
Using proven tactics to create salience in subject lines, such as humor, short sentences, capital letters, emojis, and questions, can help catch the eye on Black Friday.
One of the subject lines that stood out in my inbox last Black Friday is from Bonobos:

Bonobos' subject line checks out a few boxes I covered in this post:
It drives urgency by counting down to the end of the sale;
It promotes the sale by highlighting the discount percentage and scope; and
It contains a relevant emoji that makes sense in the context.
Crate & Barrel takes a different approach to announce its sale and it's a funny one:

With this subject line, the company indirectly invites you to shop before it's too late, but does it in a memorable way.
More Salient Subject Lines:
Esqido: Shhh… Don't tell anyone
The Spinsterz: Bizarre story why it's called Black Friday
Bath & Body Works: 🤚 HOLD UP 🤚
Frank and Oak: Our Better Black Friday is rated ⭐⭐⭐⭐⭐
Banana Republic: BLACK. FRIDAY. ENDS. SOON.
tarte: OPEN ME (you won't regret it)
Fenty Beauty: Ay, bay bay… It's Black Friday!
BarkBox: How The Grinch stole (record scratch) BLACK FRIDAY!?
ThinkGeek: Get a jump on #000000 Friday with these Black Friday Markdowns
7. Extended Black Friday Subject Lines
It's not a secret that when Black Friday sales end, oftentimes, they make a comeback, either in the form of Cyber Monday, Small Business Saturday, or an extended Black Friday weekend.
It's a great opportunity to follow up on Black Friday and convert prospects who haven't shopped from your sales yet. However, as more and more companies start using this strategy, consumers become numb to it.
Make sure to give a good reason for why you're extending your Black Friday sales or find an inventive angle for announcing the restart of Black Friday. Otherwise, your emails will go unnoticed, or worse, you'll risk losing credibility.
The Spinsterz, a hula hoop e-tailer, tries an interesting approach:

In its subject line, the company informs you that they extended the sale and the reason is a "stupid website glitch."
This is what the email looks like: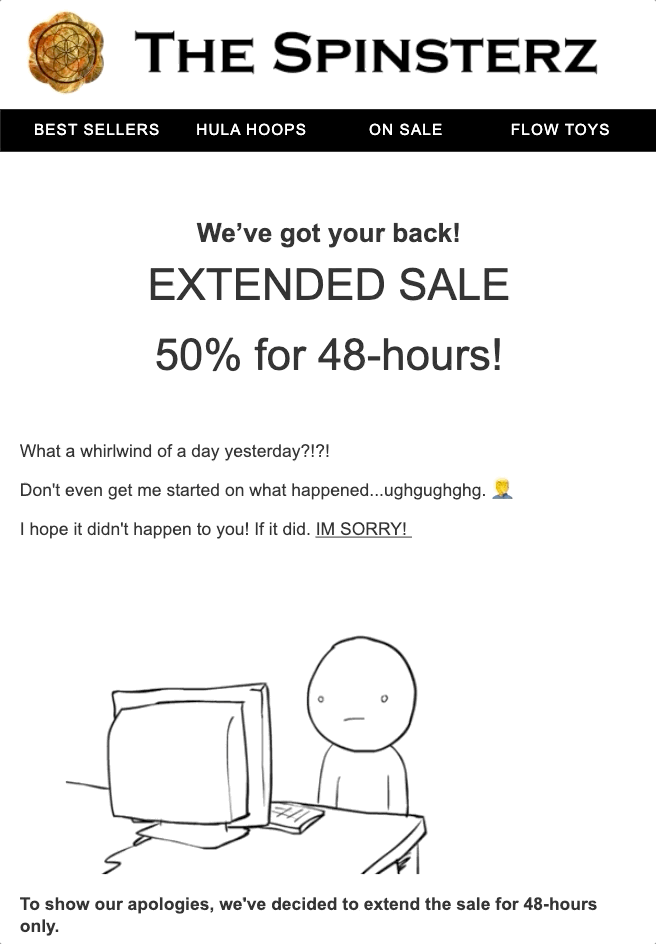 In it, the Spinsterz relates to how its customers might have felt when they experienced technical issues due to high Black Friday traffic.
The company simply apologizes for what went wrong and lets you know that this is the reason why they extended their Black Friday sale for 48 hours.
I can't tell if this really happened or that you should follow the company's lead even if your site doesn't glitch. But a lot of stores experience technical problems during Black Friday and being honest about it might do the job in your subject lines.
More Extended Black Friday Subject Lines:
United by Blue: They're Back: The Socks that Sold Out on Black Friday
Dollar Shave Club: EXTENDED: Sale ends today at Midnight 🕛
Brooklinen: [EXTENDED] just for you
PatPat: Black Friday Continues!
Marc Jacobs: Surprise! Black Friday Extended
Urban Outfitters: ONE MORE DAY | Black Friday now extended
Esqido: Second chances don't come along often…
Fenty Beauty: Black Friday's over, but this promo's still taking over
Legacybox: Did ya miss Black Friday? It's Back!
Pura Vida Bracelets: Forgot to shop on Black Friday? NBD!
Kate Spade: offer extended… need we say more?
Conclusion
Whether you want to promote upcoming Black Friday offers, appreciate your subscribers with an exclusive deal, or increase sales during and after Black Friday, your subject lines play a crucial role in grabbing attention in this hectic month.
Even if you don't know where to get started with your Black Friday subject lines, you now have 86 inventive examples you can use for inspiration.