You might have an incredible product, a beautiful website, and a ton of traffic.
But it doesn't count for much if you can't convert site visitors into paying customers.
Unfortunately, it seems conversions are increasingly hard to come by.
According to Shopify's 2023 Commerce Trends report, half of global Shopify Plus have seen a downturn in site traffic and conversion rates, while one in three are having to contend with shrinking average order values.
Landing pages play a vital role in the path to purchase.
They capture potential customers from various channels—PPC, social media, email marketing, organic search—and guide them down the sales funnel until they're (hopefully) ready to buy.
With that in mind, I've rounded up five of the very best landing page builders for ecommerce brands.
But first, let's tackle some terminology…
Landing Page vs. Website: What's the Difference?
Websites and ecommerce landing pages are both "destinations" for showcasing your brand and products. But they're not the same thing.
Landing pages are solely designed with conversions in mind. Websites, on the other hand, might have any number of objectives, including (but not limited to):
Showcasing your brand story
Providing customer support
Explaining company policies
Capturing leads
Generating sales
As such, landing pages can be seen as standalone offers that typically exist within a broader website environment.
For instance, here's a landing page we built to encourage visitors to request a demo: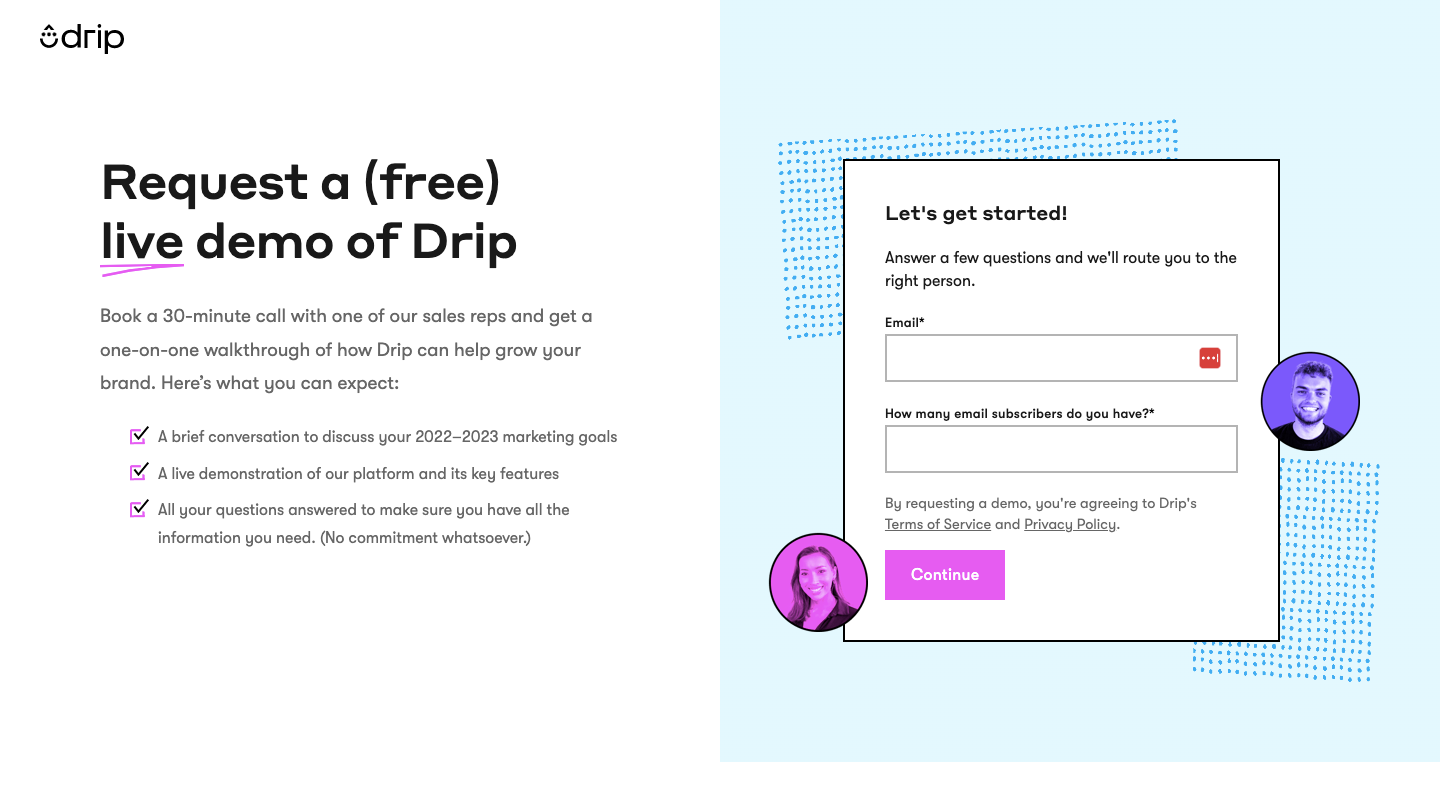 That's the sole purpose. When people land on that page, we're not looking for them to explore other areas of the site; we just want them to complete the contact form.
Contrast that with our homepage, which (briefly) explains what we do and who we're for, then provides various navigation options for visitors who want to learn more about us: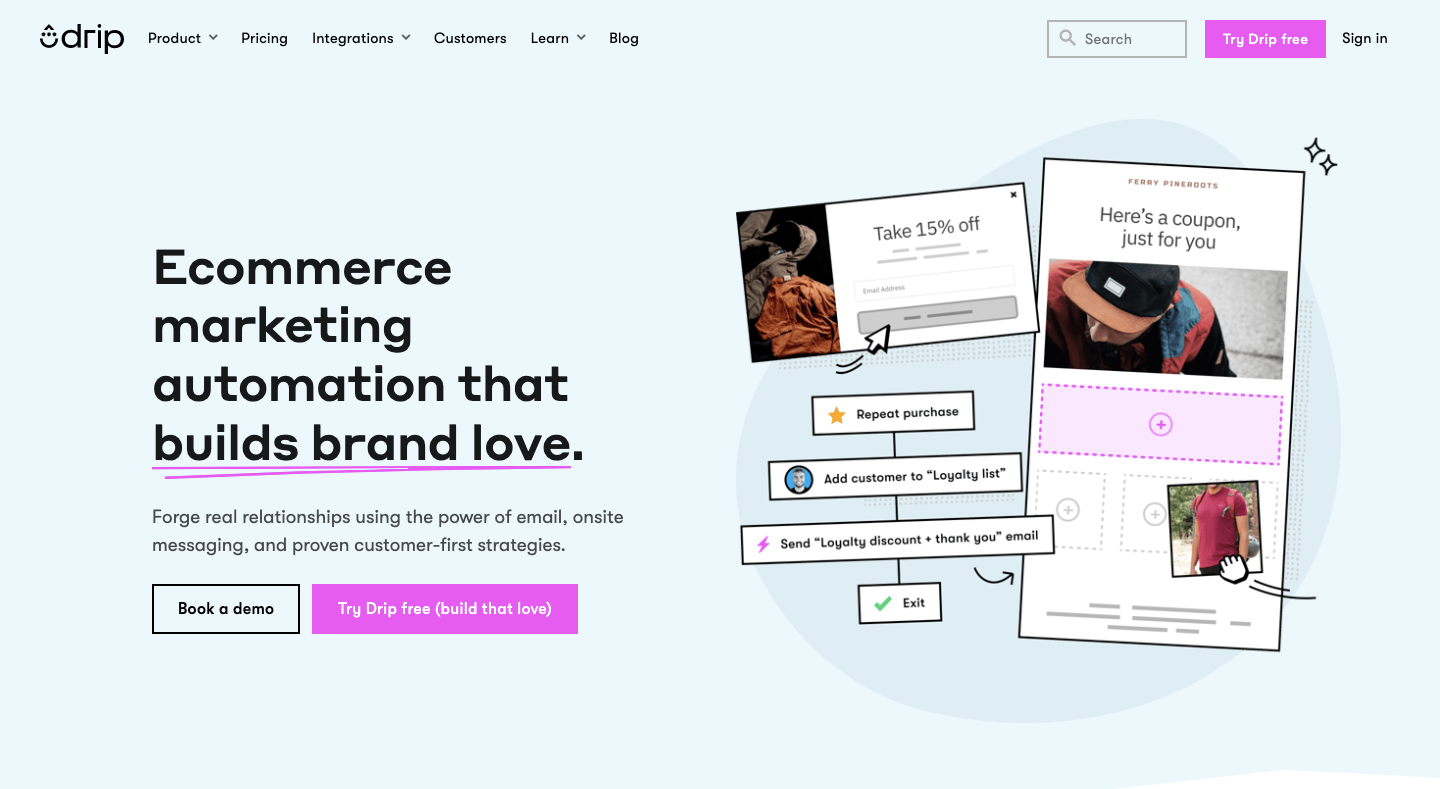 Most websites feature multiple landing pages geared toward different products and promotions.
Can I Use a Landing Page as a Website?
So can a landing page be a website?
Sure.
Take this example from Sprint Report App, a reporting tool for scrum masters: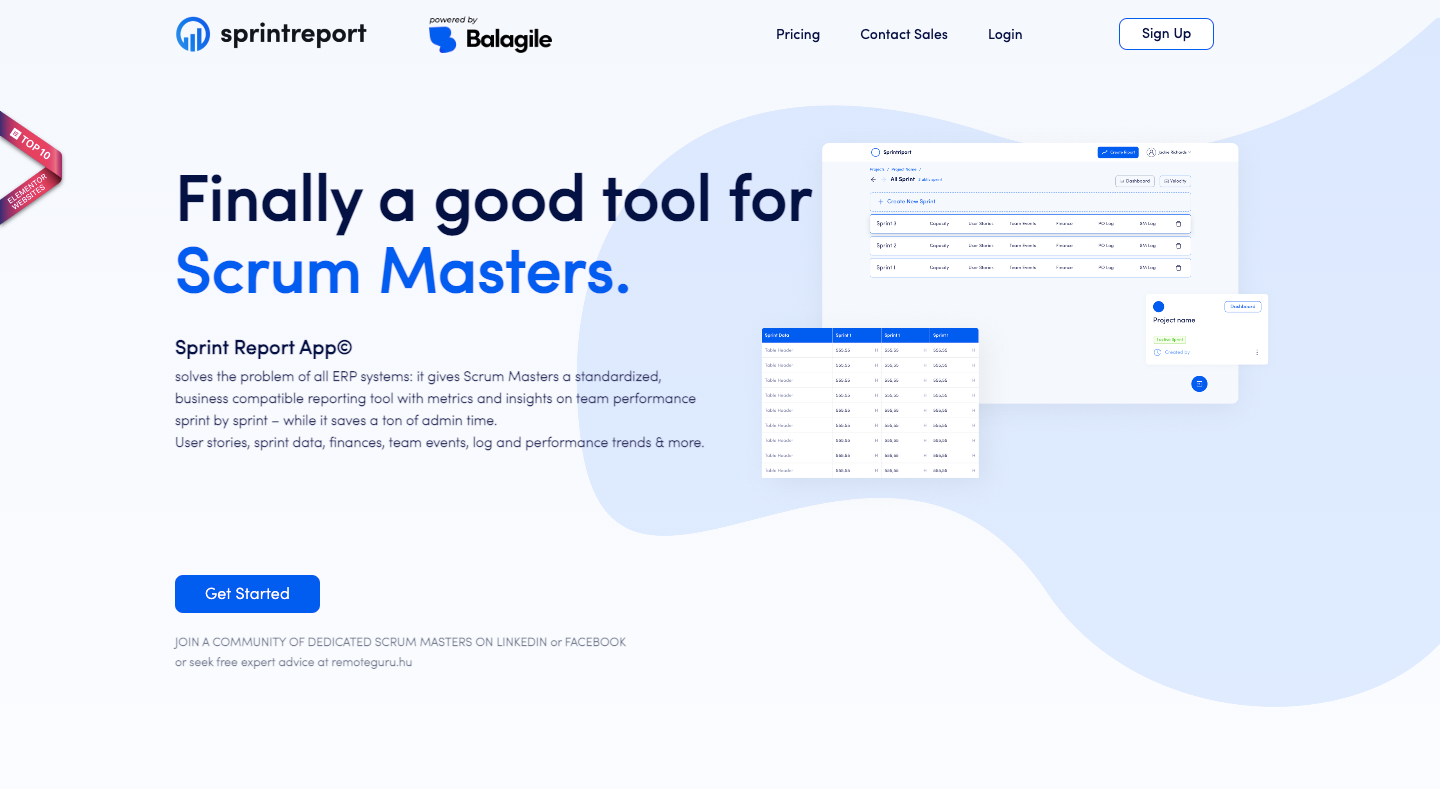 It looks like a regular website, but all the information is on a single page, and everything on the page is geared toward generating account signups.
That's all well and good for SaaS companies that only sell one product and don't offer a self-service checkout process. Things get a little trickier when your site sells multiple products, while also handling all that messy transaction-related stuff.
For that reason, one-page websites like Sprint Report's are less common in the world of ecommerce, where most brands sell a range of products that require more than a single page to explain them.
Plus, ecommerce sites typically need to incorporate essential stuff like:
Checkout pages
Shipping information
Returns policies
And much more besides. That's (generally) far too much info to cram into a single landing page.
Can't I Just Send Visitors to Product Pages?
Landing pages are all about driving conversions.
But so are product pages. So why even bother with landing pages? Why not just send visitors straight to an existing product page?
Well, you can. Just don't expect amazing results.
According to Monetate, "product detail pages" (PDPs) represent almost one in four of all ecommerce landing pages. Yet visitors who enter via PDPs are only half as likely to convert as those that land on other pages.
Why?
Because product pages aren't engaging; at least, not to people who aren't already on the cusp of buying. When shoppers are pointed directly at PDPs, they're far more likely to bounce, and they view significantly fewer pages per session.
So it's in your interests to create high-quality landing pages.
Now, here are the best landing page builders to help you do just that…
5 Best Responsive Landing Page Builders
1. Wix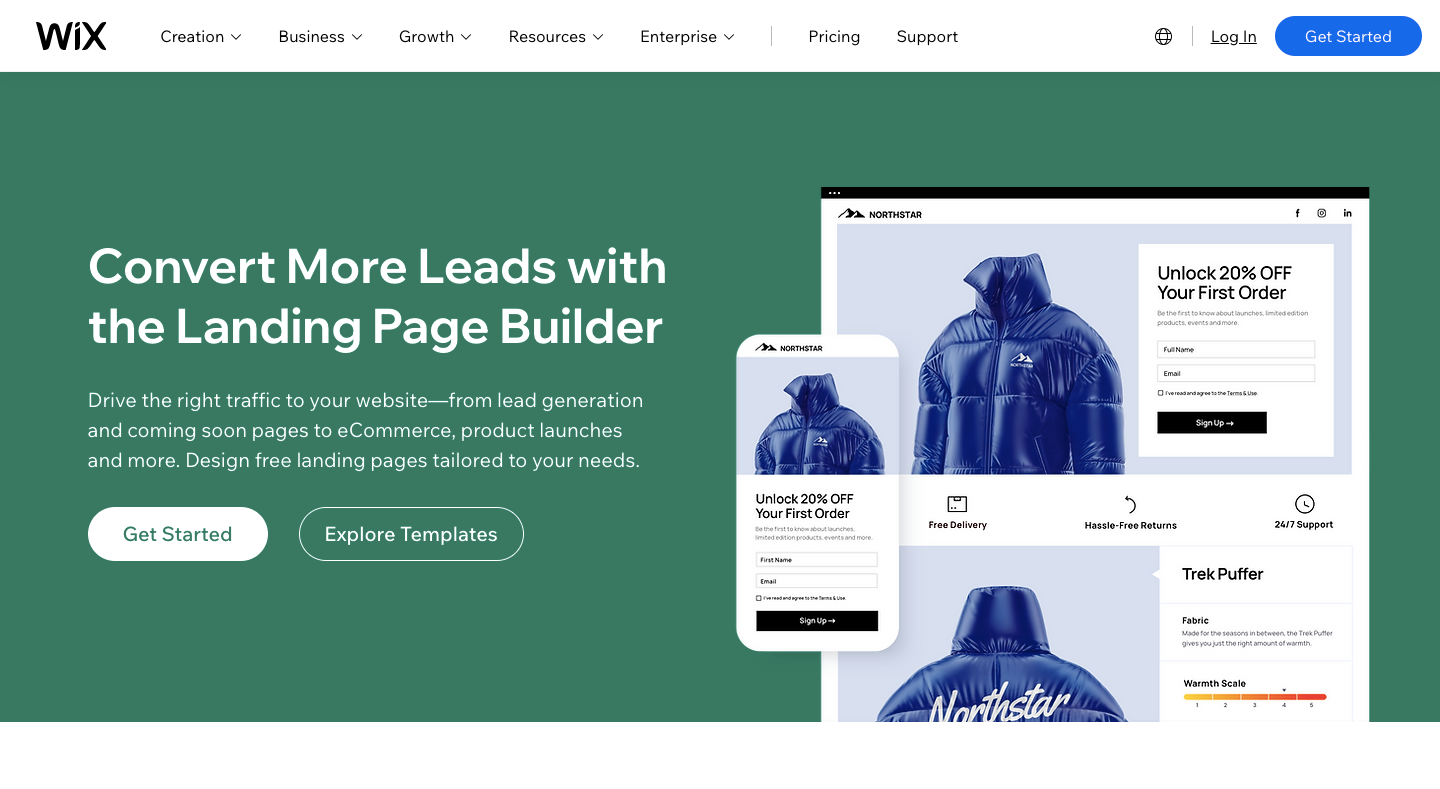 What Is It?
Wix is an enterprise-grade web development tool, but it also offers one of the best free landing page builders on the market. Over 220 million people worldwide have chosen Wix to help grow their brand and business online, including ecommerce brands like Izzy Wheels, Love Her, and Vivi et Margot.
Why Do We Love It?
Leverage dozens of landing page templates:

Wix offers 40+ landing page templates, from product landing pages to coming soon pages. All are made by designers and are 100 percent customizable to your ecommerce business.
Design landing pages (with no coding skills).

The simple Wix drag-and-drop editor allows you to tinker with any element on your landing page.
Plug-in advanced functionality.

Need a landing page that

does more? Add your own code or hook it up to a third-party API.
Build landing pages at scale.

Once you've hit on a winning landing page design, convert it into a template, making it quick and easy to create

future

pages.
Make data-driven decisions.

Connect Wix Analytics to tools like Google Analytics and Hotjar to understand how visitors are interacting with your page (and how to improve it).
How Much Does It Cost?
As I noted, you can use Wix's landing page builder without paying a single cent. The only catch is you'll have to use a Wix subdomain and display a bunch of Wix branding on your page, which isn't ideal. Paid, branding-free plans start at $16 per month, but you'll need to upgrade to a Business and Ecommerce Plan (starting at $27 per month) to add online payment functionality to your landing page.
2. Unbounce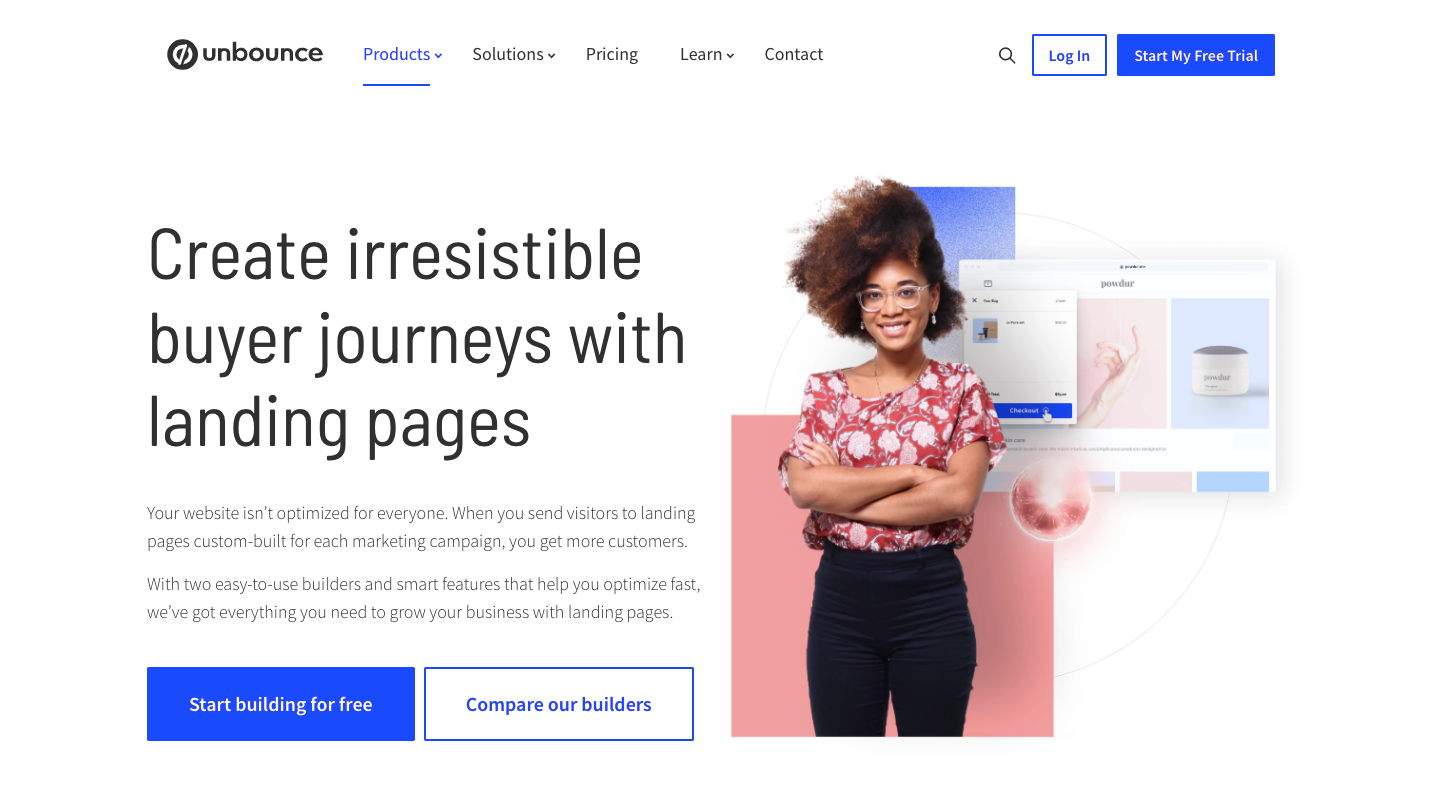 What Is It?
Unbounce is a landing page app used by 15,000+ brands to create high-converting pages without requiring advanced technical skills. Ecommerce stores like Alps & Meters, Nectar, and Zola use Unbounce to build, test, and customize their landing pages.
Why Do We Love It?
Use the simple drag-and-drop builder…

Unbounce's classic landing page builder features a drag-and-drop editor with options for advanced customization and coding.
…or leverage the AI-powered Smart Builder.

Alternatively, use the Smart Builder to access AI assistance and data-driven recommendations.
Add ecommerce functionality.

All Unbounce landing pages can be customized with ecommerce-specific features like "Buy Now" buttons and review widgets.
Create faster pages.

The Auto Image Optimizer and Speed Boost tools help you build landing pages that load faster. That's important, with

53 percent of online shoppers

expecting ecommerce pages to load in three seconds or less.
Match page copy to search intent.

Dynamic text replacement allows users to swap out any text on a landing page to match whatever term the customer was searching for in Google.
How Much Does It Cost?
Unbounce doesn't offer a free product tier, but it does allow new customers to try any plan free of charge for 14 days. Its paid plans start at $99 per month and include unlimited landing pages on a single domain, with up to 500 conversions and 20,000 visitors a month.
3. Leadpages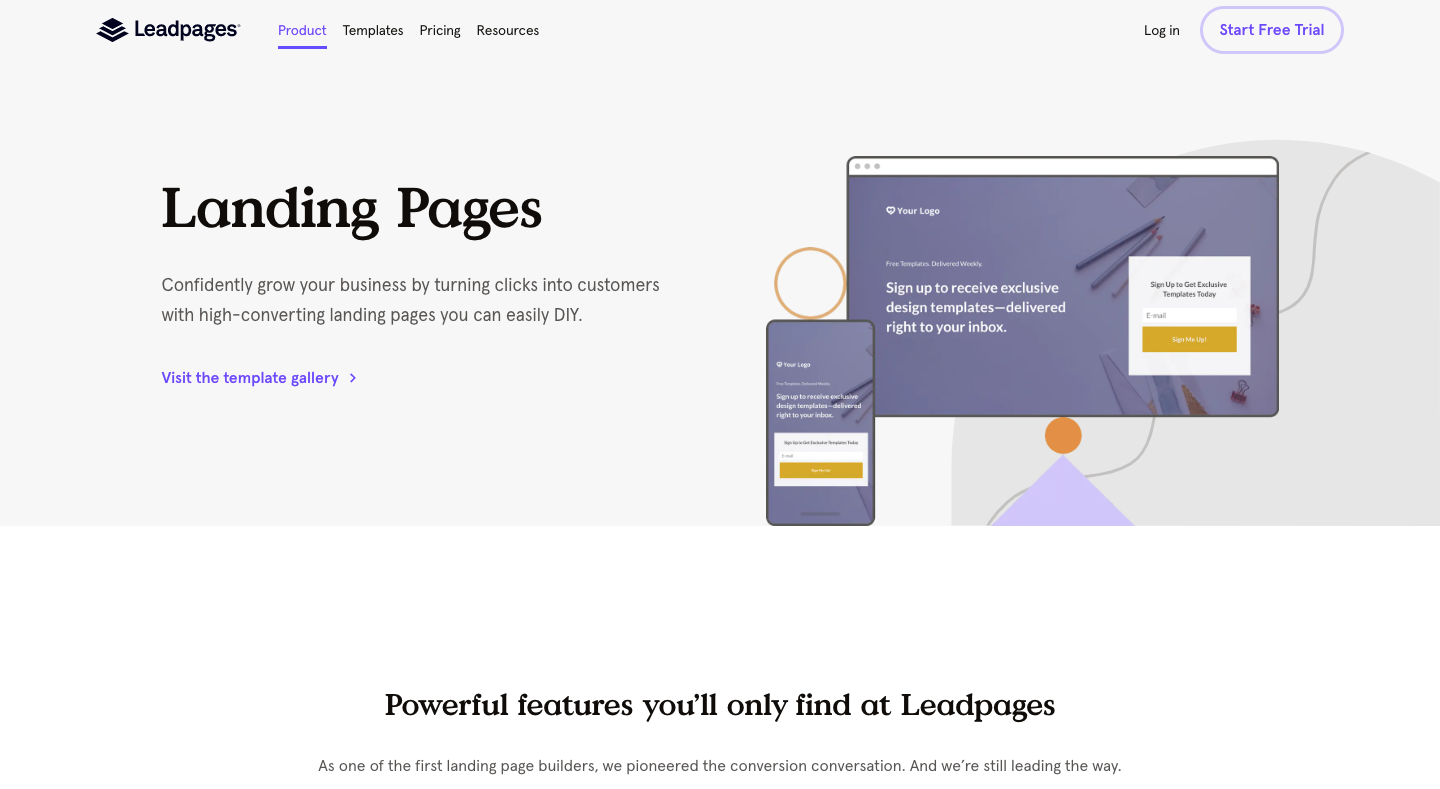 What Is It?
One of the first (and best) landing page builders, Leadpages is designed to help small businesses reach new audiences, gather leads, and generate sales. More than 40,000 small businesses use the platform, including ecommerce brands like MAS Distro.
Why Do We Love It?
Access a wealth of landing page templates.

At time of writing, Leadpages offers 230 high-quality landing pages across over a dozen industries, so you're pretty much guaranteed to find something you like.
No conversion or traffic limits.

Some of the best landing page builders impose caps on the number of monthly conversions or visits you can drive. That's not the case with Leadpages, which allows

unlimited

leads and traffic.
Publish unlimited pages.

As well as removing traffic and lead caps, Leadpages allows users to create unlimited landing pages, with no bandwidth or publishing limits.
Optimize with conversion-driving recommendations.

Leadpages is capable of predicting the performance of your landing page before you set it live—and provides practical tips to help boost conversions.
Enjoy rapid page load speeds.

According to Leadpages, its landing pages load 2.4 seconds faster and have a 30 percent higher performance score than other leading landing page builders.
How Much Does It Cost?
Whereas platforms like Wix have a wide range of plans covering different business types and use cases, Leadpages only has two: Standard and Pro. Both allow for unlimited traffic and leads, and include a free custom domain. Prices start at $37 per month and both plans come with a free 14-day trial.
4. Swipe Pages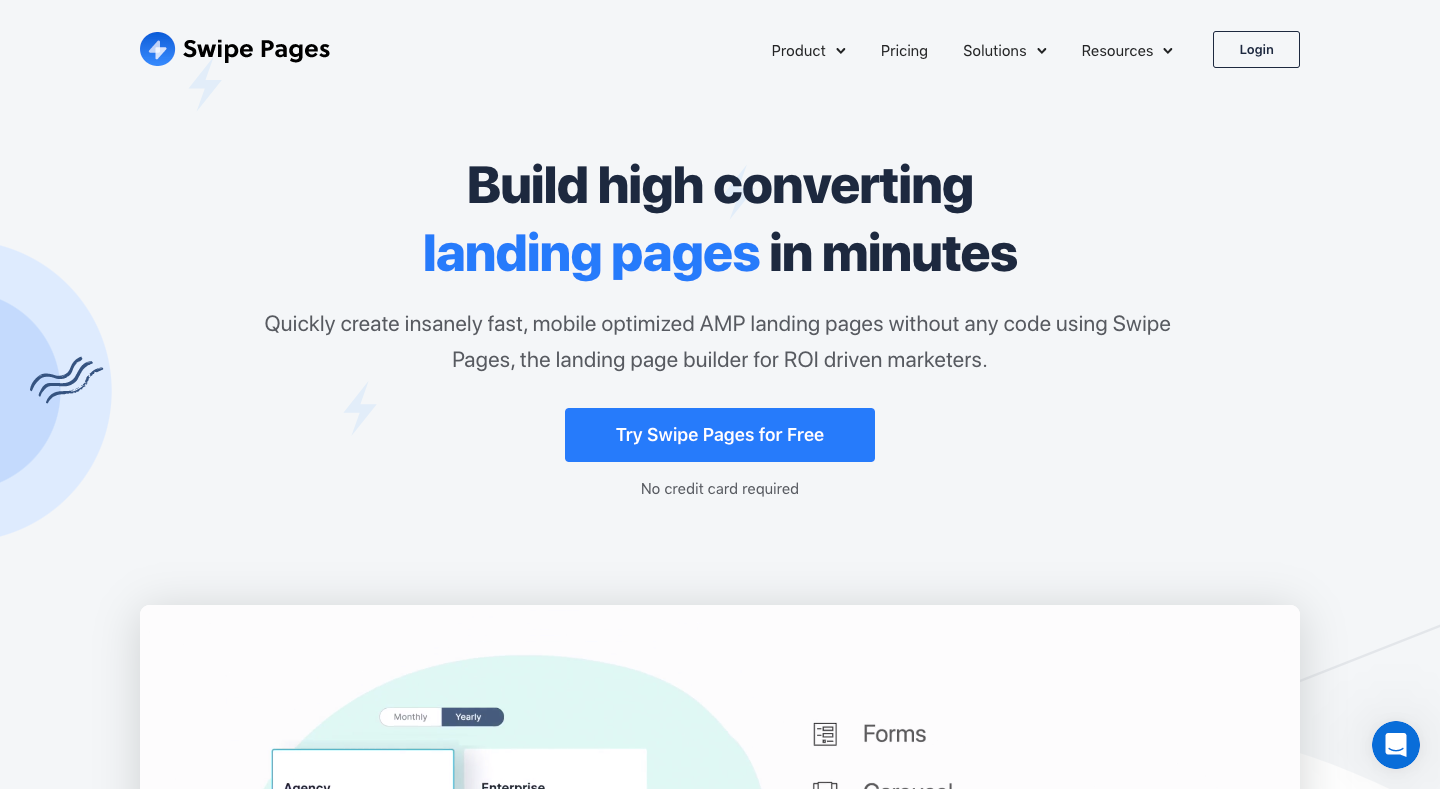 What Is It?
Swipe Pages is an affordable landing page builder for SaaS companies, real estate agents, affiliate marketers, agencies, and ecommerce brands. Over 7,500 customers use the platform to craft high-speed, high-converting landing pages in minutes.
Why Do We Love It?
Access 40+ landing page templates.

Swipe Pages offers a library of over 40 responsive landing page templates, created by pro designers and optimized to drive conversions.
Customize pages with code-free elements.

The platform includes 25+ landing page elements, including pricing tables, image carousels, and

multi-step forms. Best of all, you can use every one of them without typing a single line of code.
Optimize with A/B testing.

Swipe Pages' built-in analytics and testing tools allow you to test two competing landing page designs to understand what works best for your audience.
Personalize pages for different devices.

Choose to hide or display specific landing page elements based on the user's device type.
Replicate your best designs.

Once you've created a high-performing landing page, you can clone or duplicate it with a single click.
How Much Does It Cost?
Swipe Pages offers a 14-day free trial on all plans. Prices start at $29 per month for one custom domain and a traffic limit of 20,000 monthly visitors. But if you want to leverage useful functionality like server-side A/B testing and dynamic text replacement, you'll need to upgrade to a Marketer or Agency plan, priced from $59 per month.
5. Instapage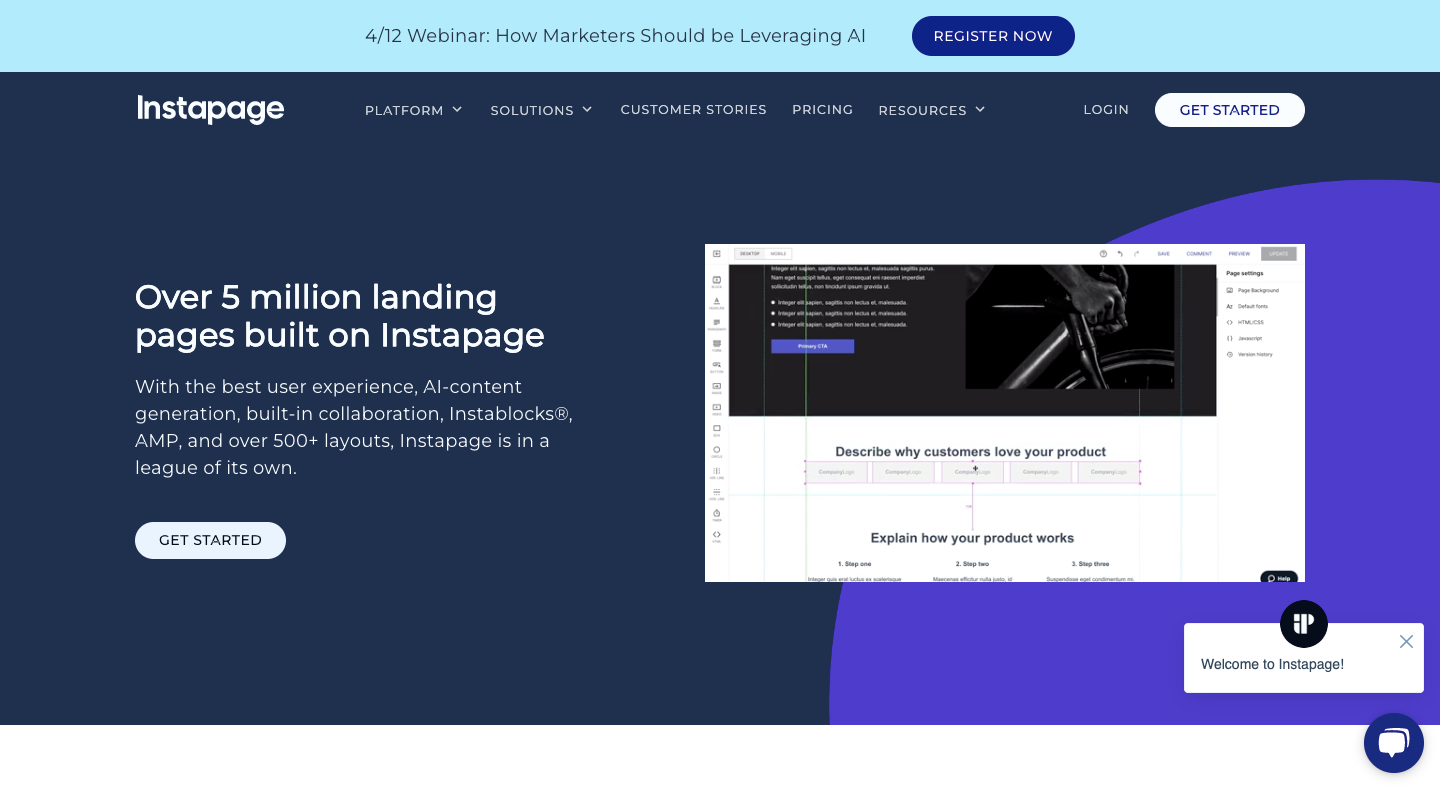 What Is It?
Instapage is one of the most popular landing page builders, used by big names like HelloFresh and Honey to create 5+ million landing pages. As one of the pricier tools on the market, it's perhaps best-suited to larger companies, although G2 also rates it highly for mid-market and small businesses.
Why Do We Love It?
Create personalized AI-generated copy.

Instapage offers an AI writing assistant capable of crafting headlines, copy, and CTAs based on ad group and audience type.
Access hundreds of customizable page layouts.

Browse a catalog of more than 500 landing page layouts across 20+ categories, including product sales and product launches.
Build on-brand landing pages.

Instapage offers sophisticated design tools and a library of brand assets, helping brands create pages that perfectly fit their branding.
Easy for anyone to use.

The intuitive drag-and-drop editor is simple to pick up, meaning anyone on your team can build landing pages—even if they don't have web design or coding skills.
Re-use (and update) content blocks across multiple pages.

With Instapage, you can create reusable content blocks, add them to as many landing pages as you want, and edit them globally at the click of a button.
How Much Does It Cost?
Instapage only publishes pricing information for its entry-level plan, Build, which costs $199 per month and includes a 14-day free trial. For additional functionality—including heatmaps, custom fonts, and conversion rate consulting—you'll need to request a custom quote for Instapage's Convert plan.
Drive More Revenue From Landing Pages With Drip
Building your landing page is only the first step.
Next, you want to optimize your pages to eke out every last conversion.
Drip makes it easy. Our drag-and-drop editor makes it simple to add high-converting popups, slide-ins, and sidebars to your landing pages.
And because we're built for ecommerce brands like yours, everything we do is geared toward helping you capture more leads, gather more valuable data, and drive more purchases.