It's an exciting time to get into e-commerce. Worldwide revenue was over $3.5 trillion in 2019 and is predicted to reach over $6.5 trillion by 2023.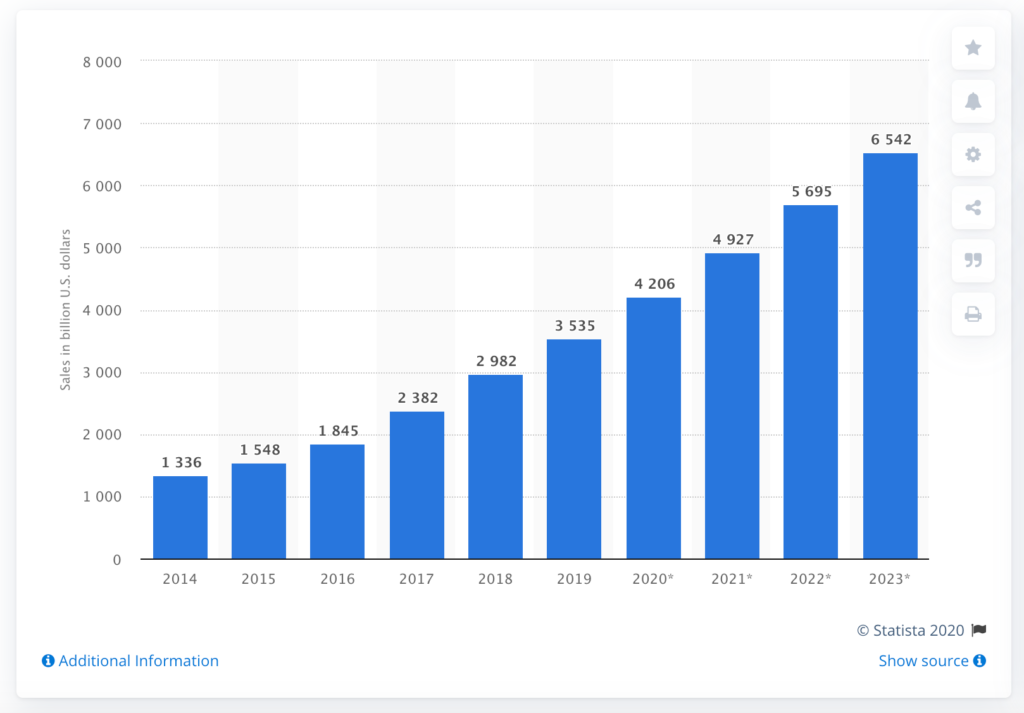 That's some impressive growth. And with a trajectory like this, there's a ton of opportunity. But just like with many industries, the initial stages of breaking into e-commerce are often the most difficult.
That's why it's so important to build a firm foundation and properly educate yourself on the ins and outs. Mistakes are inevitable, but you can minimize them and accelerate your progress by learning from experts who have been there and done that.
So for this post, I'm going to share some of the best e-commerce marketing books for up-and-coming digital entrepreneurs.
These will cover the essentials and show you how to optimize many different aspects of your campaign, such as copywriting, content marketing, SEO, social media, and so on.
Let's get started.
Table of Contents
1. An Introduction to Marketing Psychology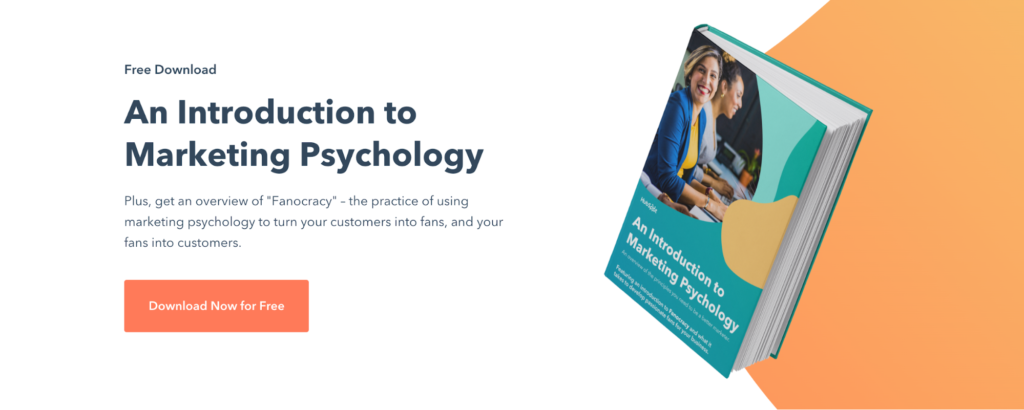 HubSpot is one of the most popular sales and marketing software companies out there, and they offer a wide range of digital tools.
They also run one of the most epic content marketing campaigns I've ever seen and have a ton of amazing resources, including in-depth blog posts, guides, reports, and eBooks.
So I highly recommend exploring the "Resources" section of their website. It's jam-packed with great content.
One particular book that's incredibly helpful is An Introduction to Marketing Psychology.
This is an excellent 101 level resource that offers readers an overarching look at the basic principles of human behavior, the mindset e-commerce shoppers have, and how to effectively influence their buying decisions.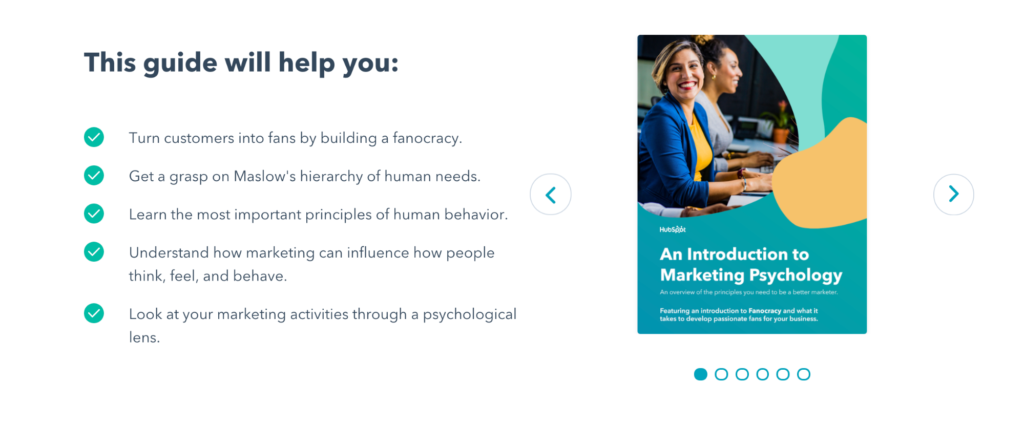 Considering that psychology plays such an integral role in marketing, this book can be a huge help for a better understanding of why online shoppers do what they do and reach them more effectively.
The best part is that it's completely free.
2. New Rules of Marketing and PR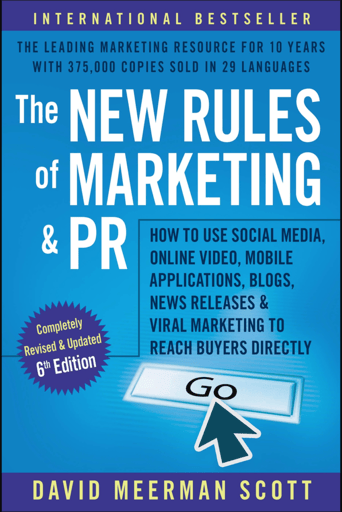 David Meerman Scott is a world-renowned online marketing strategist and has published multiple books on marketing. But The New Rules of Marketing and PR is one of his most famous and a great read for understanding the new reality of marketing.
The crux of this book is that there's been a paradigm shift where buying advertising through traditional forms of media is quickly dying and rapidly losing its effectiveness.
Meanwhile, new media, which focuses on inexpensive channels like search engines, social media, and blogs, have become highly effective and are ideal for connecting with a large scale audience.
Getting on board with these mediums and knowing how to utilize them properly is key for winning in the digital age. Scott gives great advice on how to do this while offering several examples "so you can confidently market any product, service, or idea — for a fraction of the cost of traditional marketing and PR programs."
So if you're on a budget but still want to have a big impact, this is definitely a book you'll want to check out.
It was on the BusinessWeek bestseller list for six months and has been used by hundreds of colleges and universities, as well as by many companies all over the world as a template for marketing success.
It was originally published in 2007 but has been revised six times to account for changes and updates that have happened over the years.
3. Epic Content Marketing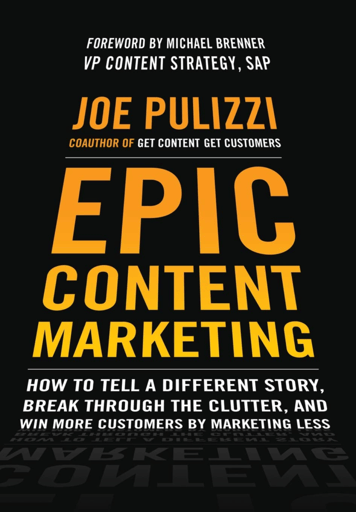 Inbound marketing is a strategy that's based around drawing customers to your e-commerce brand by providing them with value. It's far less annoying and intrusive as traditional outbound techniques that interrupt prospects by pushing messages they don't want.
And there's a sound body of evidence that shows inbound marketing is far more effective than outbound marketing. For instance, inbound produces 54 percent more leads than outbound, and those leads cost 61 percent less. And at the heart of inbound marketing is great content.
That's what Amazon bestselling author Joe Pulizzi focuses on in his book, Epic Content Marketing. Pulizzi makes the point that e-commerce brands can't interrupt customers with mediocre content and sales messages they don't care about and expect them to buy.
In order to draw them in and win them over, brands need to create epic content that customers truly want to engage with. If you can do that, it puts you far ahead of the competition.
Just look at a top e-commerce company like Beardbrand, which sells men's grooming products. They've found creative ways to provide their shoppers with genuinely valuable content like the "Beardsman Quiz" to help them figure out what style of facial hair is right for them.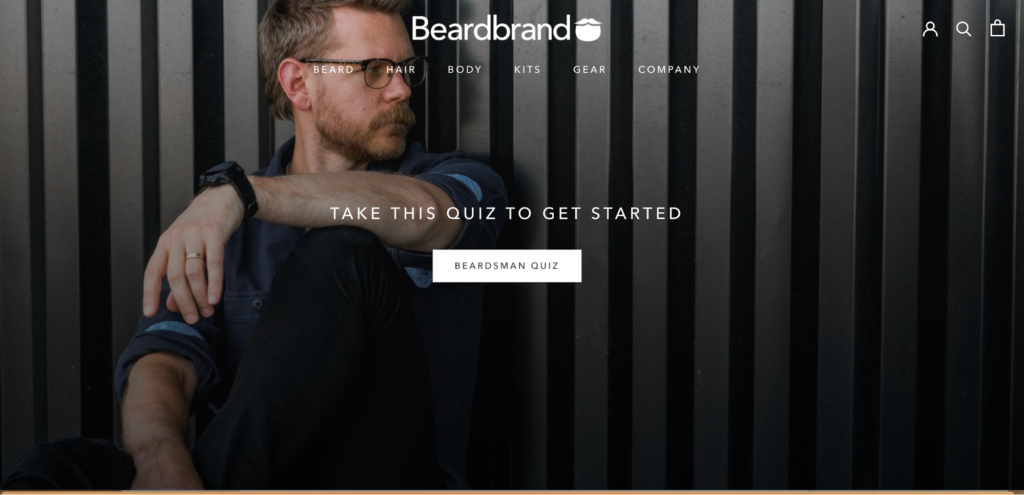 They also have a lot of helpful blog posts, like how to grow a thick beard that many shoppers find useful.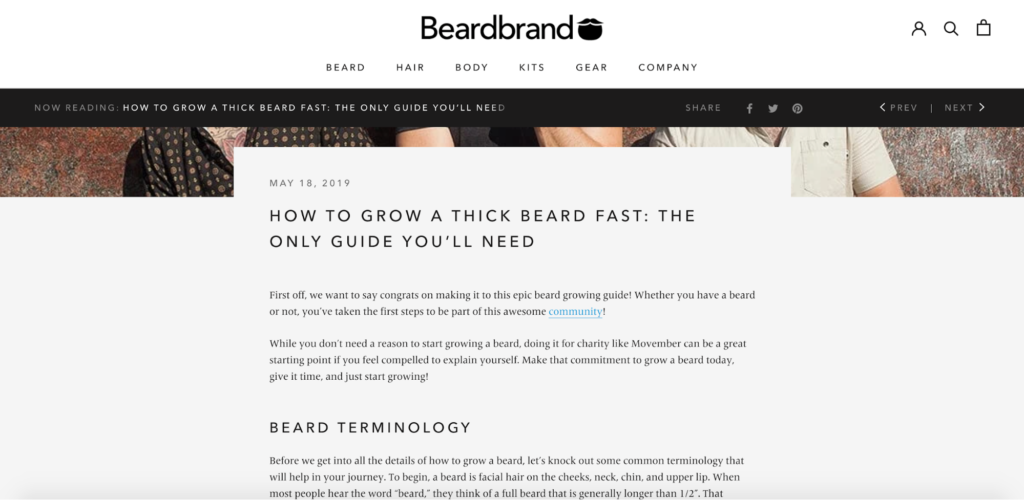 In this book, Pulizzi breaks down the fundamental principles behind a great content campaign and specific strategies to implement in a way that's easy to comprehend.
This brings me to my next pick.
4. Everybody Writes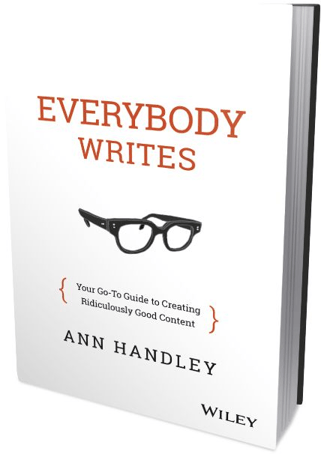 A huge part of creating great content is writing well. You don't need to be a Steinbeck or Hemingway, but it's important to understand the basics of how to create sharp concise copy that your audience will respond to. And that's what digital marketing pioneer Ann Handley discusses in this book.
A quick background on her—Handley is the CMO of MarketingProfs, one of the most respected marketing education and training companies in the world. She's also a regular contributor to The Wall Street Journal and an influential marketer on social media.
In her book Everybody Writes, Handley talks about all of the different mediums where e-commerce brands need to write copy, including websites, email, social media, and blog posts.
Therefore, it's important to have a base level understanding of how to write well and tell a story through text. Handley walks you through the essentials like:
How to improve your writing
Basic grammar rules to tighten your copy
How to approach marketing tasks
She also provides info on helpful tools and resources that you can turn to. So even if writing isn't your forte and you haven't thought about it since English class, you can use the knowledge from this book to produce consistently great work.
5. SEO 2020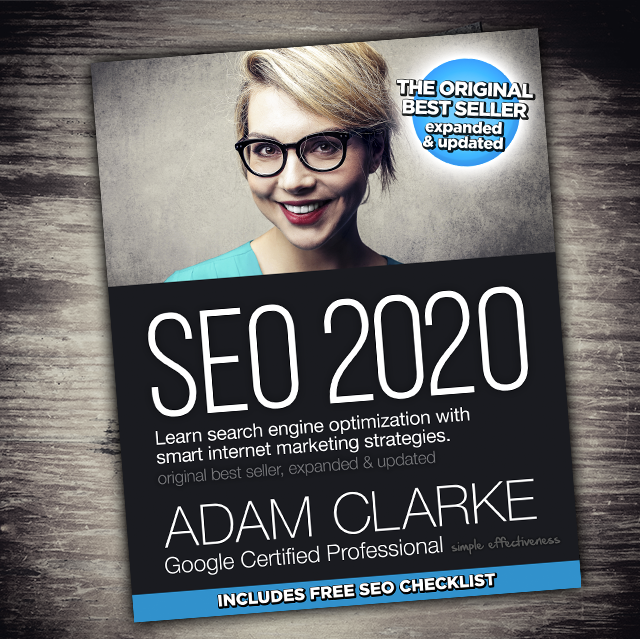 "Ninety-three percent of online experiences begin with a search engine." So it should go without saying that having a presence on search is essential to the success of an e-commerce store.
This is your ticket to getting your brand in front of your target audience and driving ongoing organic traffic to your site. There are a ton of books on SEO out there, but this particular one from SEO and online marketing expert Adam Clarke is one of my favorites.
Here are some of the highlights he discusses in SEO 2020:
Fundamental SEO concepts
Insights on how Google's algorithm works and how it determines search results
How to find targeted keywords your customers are searching for
Link building strategies
Helpful SEO tools to maximize your results
Besides that, Clarke also goes over some of the most recent Google updates and how events like machine learning and the Covid-19 crisis are affecting search.
If you're interested in learning the ropes of SEO but aren't sure where to get started, this is the perfect resource.
6. Jab, Jab, Jab, Right Hook
Gary Vaynerchuk is an ultra-successful entrepreneur and one of the true "OGs" of digital marketing. He's also a bonafide social media influencer with 7.8 million followers on Instagram alone.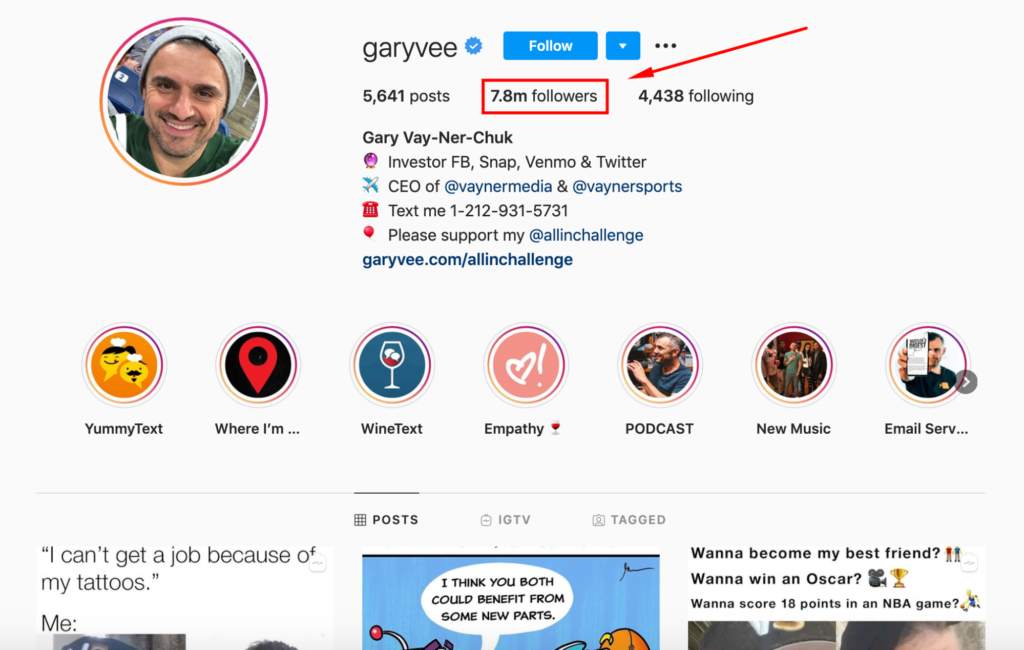 So he's definitely got the credentials to write a book about thriving on social media. And that's what he does with Jab, Jab, Jab, Right Hook. It's all about mastering the art of communication with your customers on social media and standing out from the competition.
While this book was published in late 2013, making it fairly old by social media standards, I love it because it helps you understand the underlying mindset that it takes to succeed on social media.
Networks will come and go, but knowing what users respond to and how to connect with them will never go out of style. The information is definitely still applicable and offers a firsthand perspective from someone who clearly knows what they're talking about.
And just think about the advantage that e-commerce brands with engaged social media followings have over others that don't.
Chubbies, a company selling "radical shorts" for example, has 492k Instagram followers, and their super funny posts receive a ton of engagement.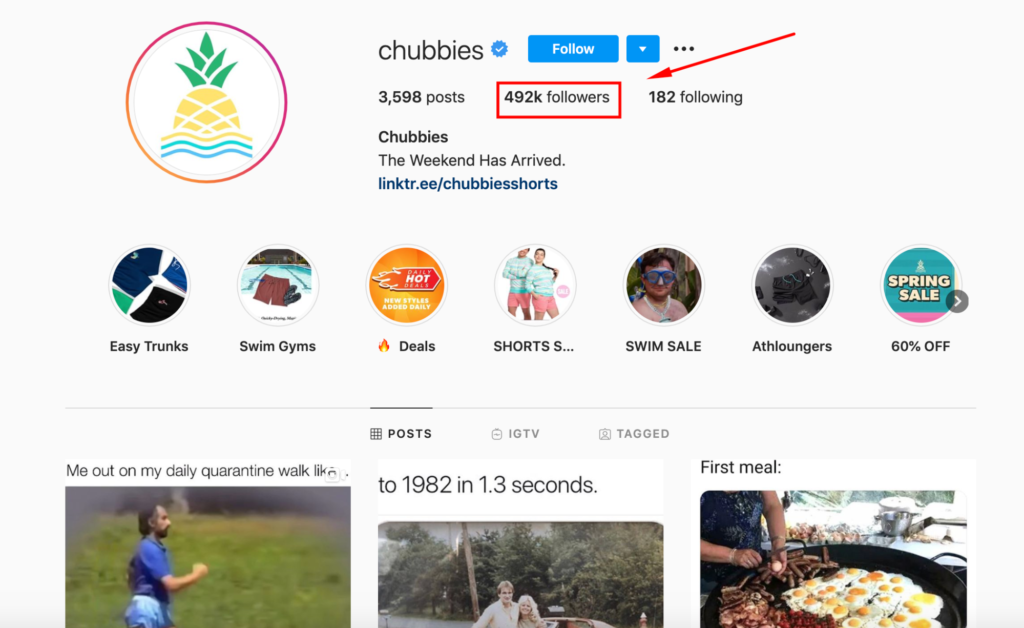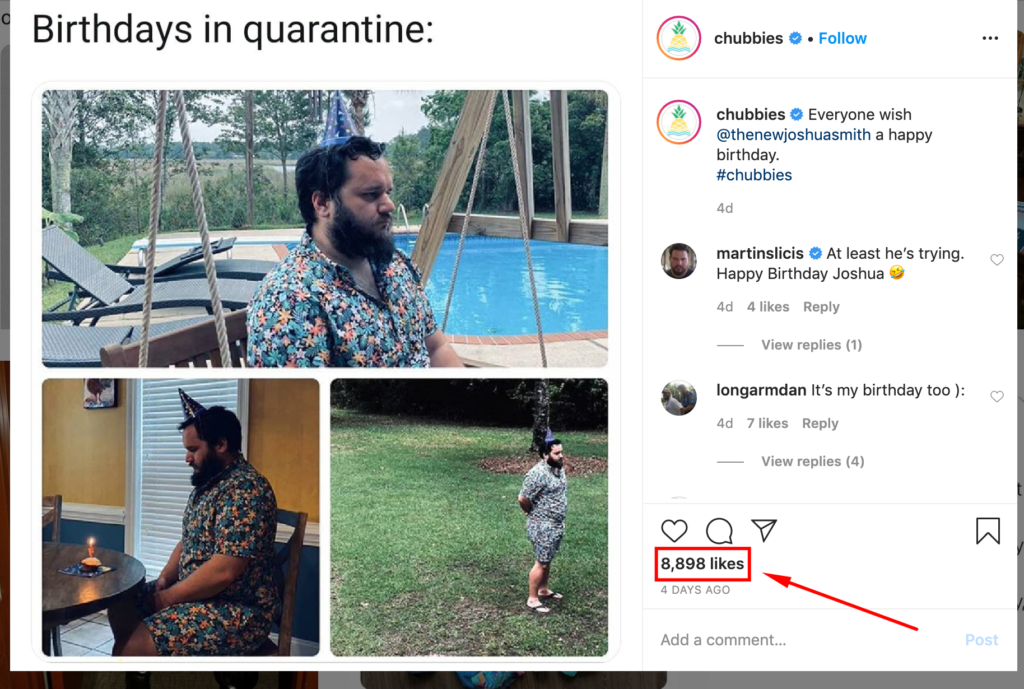 This book will point you in the right direction, helping you quickly grow your following and prevent you from wasting time on run of the mill strategies that everyone's doing.
So I highly recommend it.
7. Built to Scale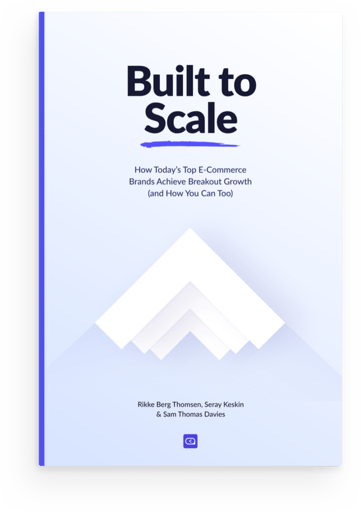 E-commerce has evolved dramatically over the years. Not all that long ago, building an e-commerce store was only something a handful of tech-savvy brands with deep pockets could do. Now, it's available to everyone with an internet connection and a little capital.
Sleeknote's book Built to Scale focuses on the modern online marketplace and the opportunities that are out there for those that know how to rise above the noise.
Here are some of the highlights:
Common mistakes new brands make when getting into e-commerce
How to attract targeted customers, even with a limited budget
How to write persuasive product descriptions
How to grow your revenue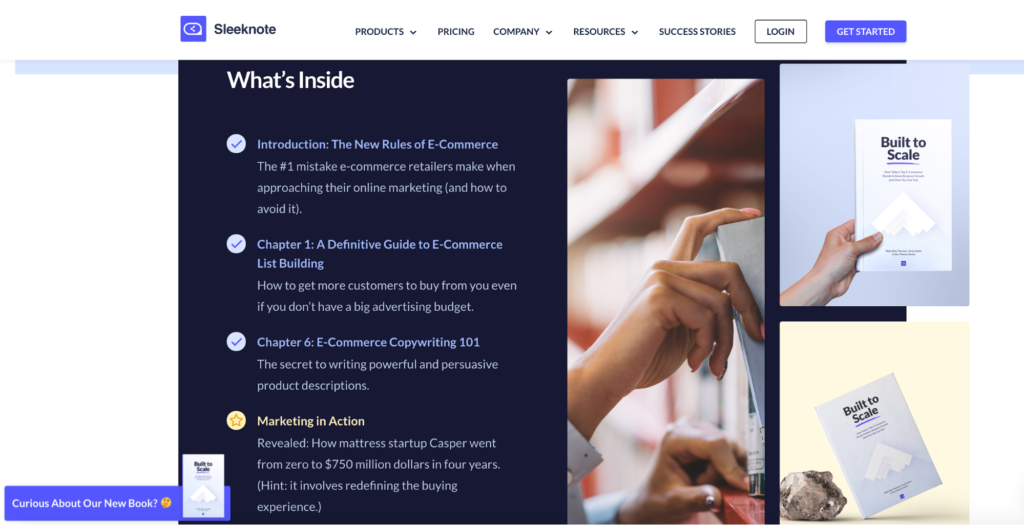 This book also features real-world case studies so you can see examples of how companies have gone from fledgling e-commerce brands to major players in their industries.
You can also borrow ideas and get inspiration that you can apply to your own company.
Using this as a resource, you can transform your brand into a business that's built to scale.
8. The Everything Store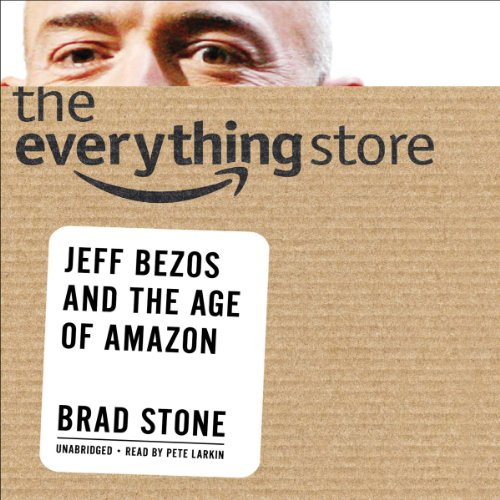 If anyone knows how to win at e-commerce, it's Jeff Bezos. He took Amazon from being a small-scale online book store to an absolute juggernaut that accounts for nearly half of all online sales—45 percent as of 2019.
While this isn't an e-commerce marketing book in the conventional sense and is actually a biography, The Everything Store is a superb resource for learning how to thrive from one of the true industry titans.
The author, Brad Stone, had unprecedented access to several former and current Amazon employees and Bezos family members who supplied him in-depth information on how Bezos transformed his company to make it what it is today.
Reading it will provide you with a great perspective and is perfect for new digital entrepreneurs looking to get started out on the right foot.
Conclusion
E-commerce has truly revolutionized the world. It offers a platform that gives anyone with a great idea the ability to build an online business from the ground up and reach a global audience.
That said, it takes a lot of hard work, and due to the growing amount of competition, you have to be more innovative and adaptable than ever to succeed. But it can certainly be done.
It just takes the right combination of knowledge and hustle to make it happen. There are many great resources out there that can help up-and-coming digital entrepreneurs, but these are some of the best e-commerce marketing books I've come across.
They cover all of the bases—everything from understanding basic marketing psychology to copywriting to SEO and social media. It's all here.
By soaking in this wisdom, you can bypass a lot of the mistakes new brands make and accelerate your growth so that you end up with an online business that's poised for long-term success.