Managing customer relationships can be exhausting. Fortunately, there are many great tools in the market to help make this a more efficient process for online stores.
When used to its full potential, a savvy CRM tool can be a huge difference-maker in your e-commerce business.
When choosing a CRM, you want a tool that tailors to the exact needs of you—an online business owner. So, the best e-commerce CRM tool is one that addresses your most important customer relationship needs with constructive solutions.
After meticulously researching dozens of e-commerce CRM tools, I've compiled a list of the five best CRM software you can choose from. I've also included key features, benefits, and pricing for each, to help you make a better decision.
Table of Contents
1. HubSpot
HubSpot is a feature-rich service, sales, and marketing CRM tool for businesses of any size.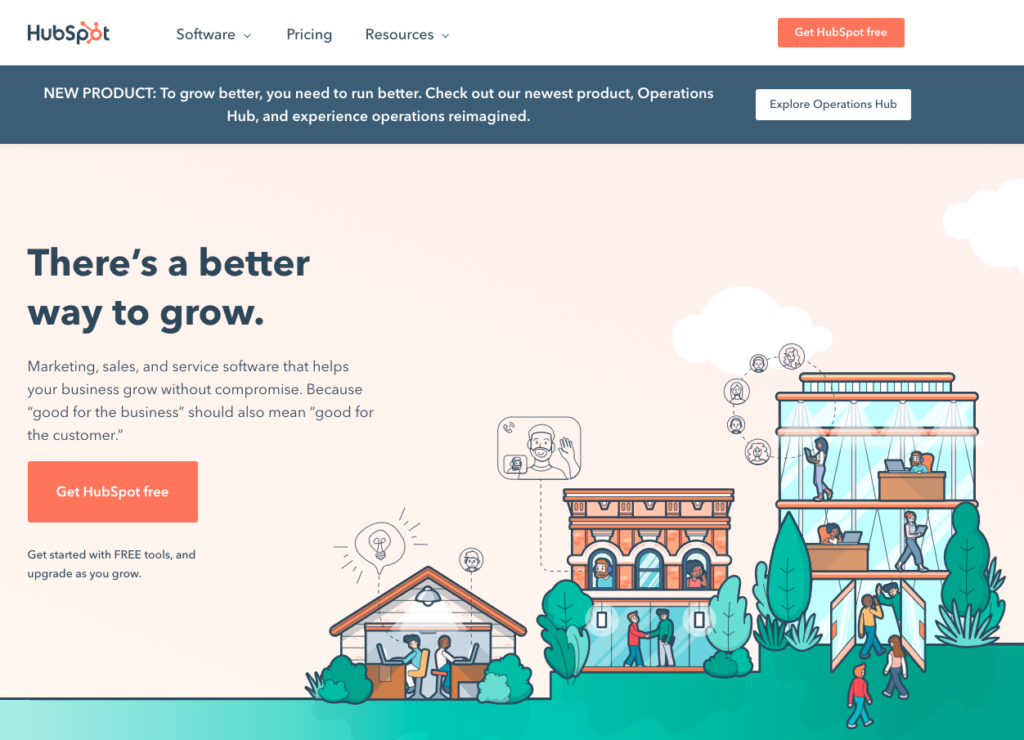 HubSpot has many great features, such as automated marketing campaigns you can set up based on contact filters. This ensures the perfect email is sent to a hot lead at the right time.
The software platform also lets you create targeted workflows for each contact in your CRM. You can use workflows to find new leads, turn leads into sales, and personalize your emails.
It's worth noting that HubSpot's visual editor gives workflows a smooth appearance rather than a jumbled mess of data.
According to HubSpot, businesses that track inbound marketing ROI are 17 times more likely to see equal or greater ROI than the previous year. However, less than 55 percent of marketers measure ROI.
With HubSpot's direct attribution reporting, you can easily measure ROI and determine exactly where your marketing efforts are succeeding.
Say an e-commerce business selling women's shoes spends half its marketing budget on YouTube ads and half on Facebook ads. Using HubSpot's direct attribution reporting, the company then learns that 85 percent of its sales come from YouTube ads, while only 15 percent come from Facebook ads.
Thanks to HubSpot's attribution data, this company could optimize its ad spending by going all-in on YouTube ads and ditching Facebook.
E-Commerce Benefits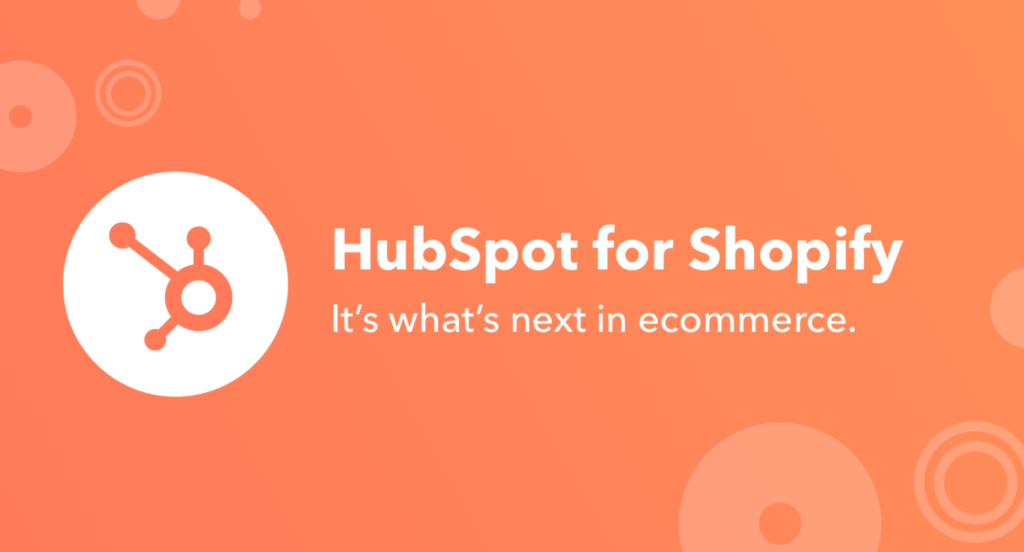 HubSpot can directly integrate with e-commerce leaders like Shopify, BigCommerce, and WooCommerce. This means that you can use upsells and abandoned cart nurturing to increase your e-commerce revenue.
Don't worry if the e-commerce platform you use doesn't integrate directly with HubSpot. With HubSpot's Ecommerce Bridge, you can seamlessly connect any store with the CRM.
Pricing
Some CRMs charge based on total contacts, regardless of their type. HubSpot is different—You can add up to 15 million non-marketing contacts for free with HubSpot's Marketing Hub.
The Marketing Hub Starter plan starts at 1,000 marketing contacts, the Professional plan starts at 2,000, and the Enterprise plan starts at 10,000.
HubSpot's pricing structure is complex. There are free plans offered, but you must pay for sales and marketing additions. While the Starter plans start at $45 per month, the Professional and Enterprise plans get expensive quickly.
For example, the Enterprise Marketing Professional plan costs over $3,000 per month. It's important to determine exactly what you need before choosing a plan.
2. Zoho CRM
Zoho CRM is a tool that helps businesses grow revenue, interact with customers, and convert leads.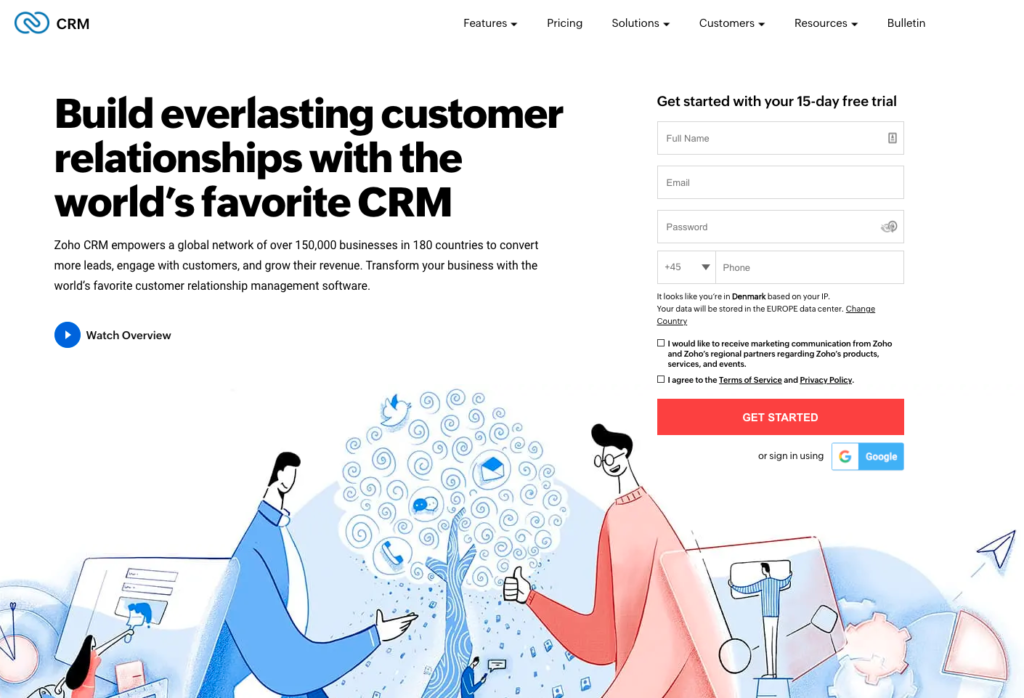 Zoho lets you organize webinars and conduct presentations. It gives you webinar reports and helps turn attendees into leads. If you hate manual data entry, Zoho has automated workflows that trigger when certain actions are taken.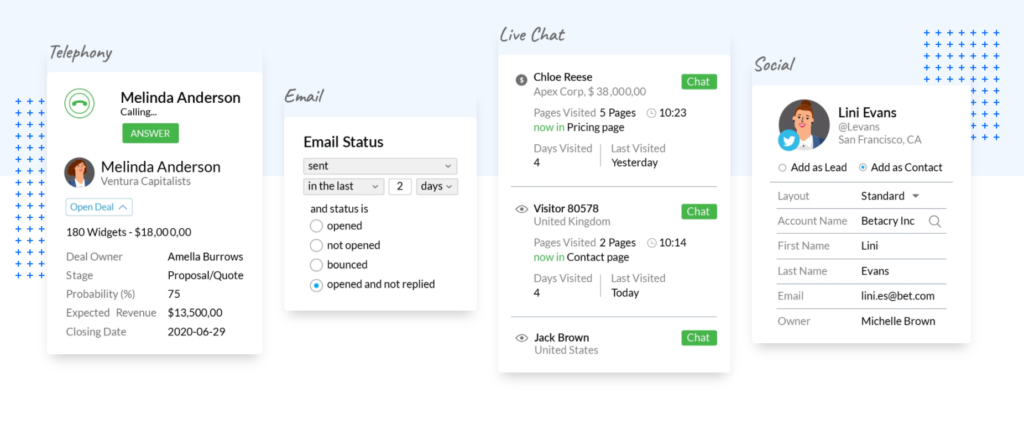 It has robust contact management which keeps track of how much revenue a contact brings in, which contacts are leads, and provides email tracking statistics.
On the reporting side, Zoho has business analytics that tracks future predictions, current trends, and sales performance across territories. It also includes an AI-powered sales assistant that helps you quickly access data and navigate the CRM.
The platform helps you see exactly where all your deals stand. It shows you which deals require immediate attention and the amount of expected revenue that's near closing. Using Zoho filters, you can quickly sort through and find the exact deals you're looking for.
Zoho makes sending quotes to customers easier. Inside the Deals module, you can create quotes to send directly from the CRM. You can include information like customer data, price, quantity, and product type to keep things organized.
E-Commerce Benefits
Zoho has e-commerce integrations that can give your business a competitive advantage. For example, it lets you seamlessly integrate with e-commerce players like Shopify.
Additionally, Zoho's live chat feature lets agents interact with website visitors in real time. This helps visitors determine which products are right for them and encourage impulse buying by offering discounts and upsells.
Pricing
Zoho is mostly tailored to small and mid-size businesses, and its pricing is inexpensive compared to its competitors. Besides Zoho's free version, the plans available are Basic, Professional, and Enterprise.
The Basic Plan costs $17 per month billed annually and includes three operators, while the Professional Plan costs $53 per month with five operators, and the Enterprise Plan is $116 per month, which includes 10 operators.
3. Salesforce Commerce Cloud
Salesforce Commerce Cloud is a cloud-based CRM dedicated to helping e-commerce businesses grow and nurture customer relationships.
Salesforce has efficient tools for contact management. For each contact, you can view activity history, log phone calls and meetings, and link to social media sites like LinkedIn and Twitter. It lets you set up email marketing campaigns, add contacts to desired campaigns, and keep track of orders.
Salesforce reporting is intuitive and allows you to track important sales data. If your e-commerce business has sales reps, you can use the reports to see who is dominating their territory and who needs to improve.
E-Commerce Benefits
Salesforce uses its Commerce Cloud platform for B2B and B2C e-commerce integration. With Commerce Cloud, you can launch new sites, create new promotions, and continuously innovate your online store.
Salesforce's order management and store operations assist digital commerce. Automated tasks and centralized site management let you focus on moving the needle instead of on minor tasks. This platform has pre-integrated apps and 99.999 percent uptime.
Not all industries should be treated the same, and Commerce Cloud lets you personalize your website based on your industry.
Pricing
Salesforce Commerce Cloud pricing differs depending on if your business is focused on B2B or B2C. There are three plans within each, and they vary based on the number of storefronts and products.
Prices also completely vary based on your order volume. Depending on your business needs, you may also need to purchase a Sales Cloud plan.
4. Act! CRM
Act! CRM is focused on sales, marketing, and creating raving fans for your e-commerce business.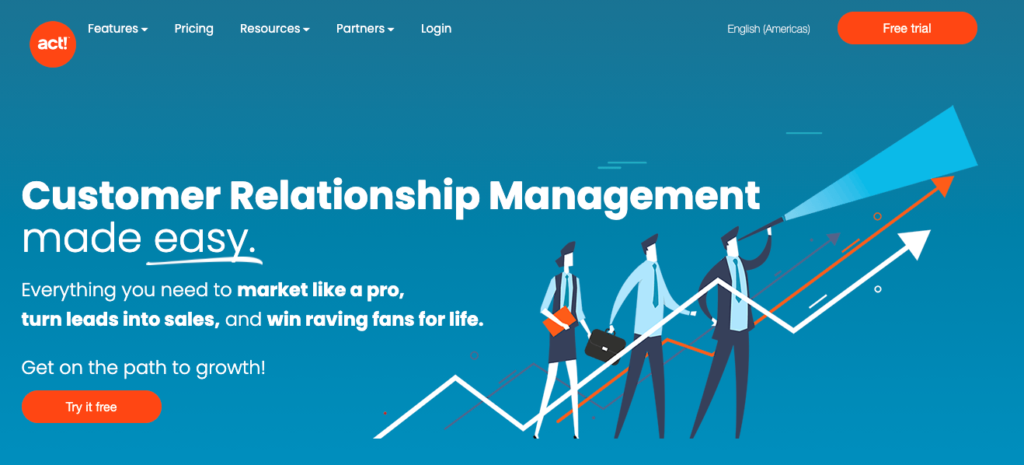 Act! CRM stresses the importance of knowing your current customers. When you receive a call, Act! allows you to instantly access vital client information.
This includes the last time you spoke, what product the client likes, and personal information like family names and favorite hobbies. This lets you instantly personalize your conversations and will make your customers feel important.
Act! also provides automated outbound marketing and analytics, helping you understand what your contacts respond to. It has automated communication tools that free up your time. This allows you to build relationships with existing clients while also attracting more.
E-Commerce Benefits
Act! doesn't fall short of e-commerce platform integrations and benefits. The software directly integrates with platforms like BigCommerce, Ecwid, Etsy, Shopify, Volusion, and WooCommerce. It can also connect with accounting software like Quickbooks and Freshbooks to help your back office.
When Act! is connected to a platform like Spotify, the price, order ID, and quantity of items are sent directly to Act!'s contact record. This allows you to have informed conversations and send email campaigns to a targeted group of customers.
Pricing
Act! CRM is a more affordable tool compared to others. It's broken down into three pricing plans, and you can save money by choosing annual billing. It also includes a free trial.
The Essentials plan is $15 per user per month billed annually. It is a basic CRM marketing tool with up to two gigabytes of cloud storage and 2,500 emails per month.
The Standard plan is $30 per user per month billed annually. It has more advanced features and includes phone support, four gigabytes of cloud storage, and 10,000 emails per month.
Finally, the Expert plan includes advanced features like sales pipelines and priority support. It costs $45 per user per month billed annually and includes six gigabytes of cloud storage and 25,000 emails per month.
5. Capsule
Capsule is a simple CRM tool focused on sales, relationships, and saving time.
Capsule has features like sales pipelines, analytics, contact management, and task administration to help run your e-commerce business.
The sales pipelines not only keep track of current opportunities, but also use total opportunity value and probability to forecast future revenues. Its drag-and-drop interface lets you easily view and manage the pipeline.
Capsule's analytics track important metrics like won and lost opportunities, average sales value, and average time to win. It effectively organizes and tracks existing clients. It also lets you quickly import new ones from Outlook, spreadsheets, and vCard.
Capsule also offers mobile apps that you can use to access your sales pipeline directly while on the go.
E-Commerce Benefits
Capsule has countless integrations to help support your e-commerce business. It integrates with email marketing software like Mailchimp, Mad Mimi, and MPZ Mail.
If you enjoy working with Google Workspace, Capsule is compatible with Gmail, G Suite Single Sign On, Google Contacts, Google Data Studio, and Google Calendar.
Capsule also connects with apps that focus on contracts, customer success, help desk, accounting, and inventory management.
Pricing
Capsule has three competitive pricing plans with tons of storage. The Professional plan for small teams costs $18 per user per month. It stores 50,000 contacts and 10 gigabytes per user.
The Teams plan for growing businesses costs $36 per user per month. It includes 100,000 contacts, 20 gigabytes of storage per user, and helpful features like advanced sales reporting.
The Enterprise plan offers dedicated account management, 200,000 contacts, and 40 gigabytes of storage per user. It costs $54 per user per month.
Conclusion
All in all, if you're willing to break the bank on an all-encompassing CRM tool, HubSpot is for you.
On the other hand, if you run a small to mid-size e-commerce business, Zoho CRM may be the right fit. If your business has sales reps and you need optimum contact management tools, consider Salesforce Commerce Cloud.
Act! CRM is ultra-focused on creating the best possible customer service experience, whereas Capsule is perfect for e-commerce businesses needing in-depth analytics and abundant integration options.
Choosing the right e-commerce CRM doesn't have to be difficult. If you understand your specific needs and which CRM fills them, deciding which to purchase is easy.