B2B sales pitches can make or break deals. Get your pitch right and you get the business. But get it wrong and you'll risk losing a customer.
Think of a sales pitch as your verbal business card that should be solid enough to make an excellent first impression. It must be concise and crisp to ensure the listener believes what you want them to.
But here's where things get tricky: Our brains are wired to resist sales messages. So you need to nail down your sales pitch before meeting the potential client.
Luckily, there are a few tried-and-tested formulas that can help you come up with winning B2B sales pitches.
Read on as I discuss the best sales pitch strategies, along with foolproof B2B sales pitch examples that'll make your pitching game stronger.
Strategy #1: Keep It Short and to-the-Point
Shorter is better when it comes to B2B sales pitches.
A concise and direct pitch generates more interest for at least two reasons. First, the prospect is likely to listen to the whole thing as opposed to a rambling summary of product features, and second, you can get your point across faster and more easily as you're forced to use simpler terms.
Here are two brilliant examples.
Adam Goldstein's Two-Line Pitch
Selling is a delicate science. Instead of pages of elaborate descriptions, you only need the right words—even if it's two sentences long.
Adam Goldstein, the CEO, and co-founder of the travel deal site, Hipmunk, realized he needed a unique page, one that stands out from others, when he struggled to get sufficient funding for his startup.
The result? Goldstein came up with a two-line pitch that effectively summarized Hipmunk's value proposition: Lowering distribution costs.
He sent the pitch to the CEO of United Airlines and got a response within 15 minutes. Eventually, Goldstein's company went on to secure over $55 million from investors.
Shultz Photo School's One-Liner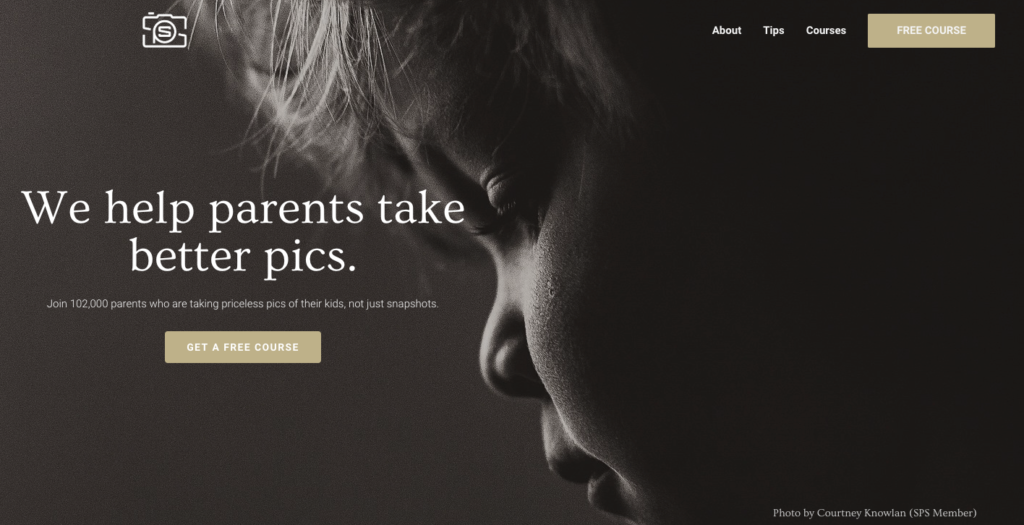 Shultz Photo School takes an even shorter route with its website one-liner: We help parents take better pics.
Despite using six words only, the photography school manages to communicate to its visitors exactly what they can do for them.
But how was Shultz able to do this?
They correctly identified their target audience's (parents) biggest pain point, which was not being able to capture their children's priceless moments properly, and then incorporated it in their one-line pitch.
Shultz doesn't mention any photography technicalities like camera lenses, composition, lighting, angles, or any jargon that could potentially confuse the client.
All they say is how the company can help customers solve a specific problem.
Takeaway
Think about the following questions when creating a short and concise B2B pitch deck:
What does your product or service do? What are its benefits?
What is the unique selling proposition (USP) of your product or service? How is it different from your competitors?
What is the ultimate goal of a product or service? Think about the pain points that it can solve.
Strategy #2: Make It All About the Customer
Many sales executives make the common mistake of focusing their pitch around the product or service instead of the customer.
Everybody likes to be the center of attention, and your customers are no exception.
Your pitch should provide a perspective based on your audience, so they know how your product or service can benefit them and why they should buy it from you.
This is also where personalization comes into the picture.
Make sure your sales pitch is relevant to your target audience and interesting enough to pique their attention. You should customize your messages in a way that addresses points that are most important to your customer.
Here are two examples of customer-centric sales pitches.
G2's Elevator Pitch
G2 is a platform that gives software users the chance to share their opinions about a specific product or service.
In their sales pitch, G2 covers all the highlights of its platform and explains in basic terms how its service can solve the biggest pet peeve of its target audience (the disconnection between what customers need and what they get) in just 20 seconds.
What's more, the pitch frames the customer's needs and pain points while subtly mentioning how G2's categorization method lets them easily compare competing software products in one place.
Ryan Robinson's Email Pitch

Image Source: Ryan Robinson
Ryan Robinson is a content marketing consultant who relies on cold emailing to reach out to potential clients—but not without doing his homework.
Before sending out cold emails, Robinson provides real upfront value to his recipient by either sharing their posts on Twitter or mentioning their brands or products on his blog.
This helps him earn points in the recipients' eyes that makes Robinson's sales pitch stand out from other cold emails.
Robinson doesn't talk about himself and his services until the third paragraph, followed by an effective call to action that invites the reader for a chat. Overall, the recipient remains the main focus of the email.
Takeaway
Here are a few tips to make your live pitches fun and engaging:
Explain the advantages of your product quickly.
Add humor to your demonstrations.
Add additional visual aids, such as graphs, statistics, and charts, to make your story more interesting.
Practice how you'd approach the audience with the product beforehand.
Strategy #3: Show What Your Product or Service Can Do
What do door-to-door salesmen, magicians, and late-night infomercials have in common?
They try to create a "wow" moment by demonstrating the product or service's most unique feature.
Although giving a demo of your product in your sales pitch costs time and resources, it's a worthy investment. Check out how you can do that.
Joe Ades's Live Peeling Demo
You likely heard about this video before. A salesman, Joe Ades, shows his product (a carrot slicer) to pedestrians with an energetic attitude and a friendly smile, making him look more approachable and trustworthy.
He pitches his product directly by showing potential customers how the carrot slicer can help them have an easy peeling experience. Seeing the salesperson peel the carrots so effortlessly, in turn, compels his audience to give the product a try.
Why not do the same in your sales pitches?
Aaron Krause's Scrubbing Tool Pitch
If you're an avid follower of Shark Tank, you might already be aware of Aaron Krause's genius.
Krause, a contestant in Shark Tank, presents his sales pitch for a scrubbing tool that changes texture based on water temperature.
Although the product itself isn't particularly inspiring, Krause uses his storytelling skills to strike a chord with the audience and judges by sharing how he came up with the idea.
Next, he supports his claims with a live presentation of how the product solves a common household problem (cleaning), showing the audience how useful his scrubbing tool can be. Krause also adds humor to his sales pitch to keep people engaged.
In the end, Krause's pitch becomes a big hit with the judges, and his company, Scrub Daddy, goes on to make more than $50 million in sales.
Takeaway
Here are a few tips to make your live pitches fun and engaging:
Explain the advantages of your product quickly.
Add humor to your demonstrations.
Add additional visual aids, such as graphs, statistics, and charts, to make your story more interesting.
Practice how you'd approach the audience with the product beforehand.
Strategy #4: Use Your Brand Story to Create Hype
Storytelling appeals to both children and adults, which makes it an excellent B2B sales pitching tactic that you must incorporate in your pitches.
If your product is similar to your competitors and you're using similar marketing campaigns to promote and advertise it, you should use the power of storytelling in your pitches to stand out among your competitors.
Instead of reading out specifications, set a narrative around your product or service and tell your story.
Apple's Keynote Video
Apple's keynote videos are a masterclass for those wanting to create the perfect sales pitch.
It begins with the company's rich history and moves the specifications of its products in a relatable and easy language. There is absolutely no use of jargon—only features that appeal to Apple's audience.
The company ends the video by mentioning how Apple is excited for the future, where their customers will live a much easier life thanks to their products and features.
Amy Cuddy's Personal Story
The American social psychologist, Amy Cuddy, starts to narrate her personal story to the audience and eventually segues into her pitch.
Cuddy talks about how she had to drop out of college because of her car accident at the age of 19 and how she overcame the odds by simply "faking it" until she made it.
She also discusses how she adjusted her body language, shaped her mind, and her behavior—in less than two minutes.
The bottom line is, throughout her pitch, she keeps the focus on her story. Something you can model while improving your B2B sales pitches.
Takeaway
Here's how to create hype through your brand story:
Explain your brand history briefly.
Create a backstory that's interesting enough to attract prospects' attention.
Avoid using metaphors.
Back your claims with facts.
Avoid jargon and instead, use a relatable and easy language.
Strategy #5: Build an Emotional Connection
One of the best ways to write a successful B2B sales pitch is to understand your customers and then convey it in your pitch.
Using emotional appeal, for instance, can spark sympathy, which can compel the customer to buy your product or service.
The main goal is to trigger your customer's emotions, and here are two examples of it.
Mark Cuban's Phone Pitch
Mark Cuban, the owner of Dallas Mavericks, had his work cut out for him when his team was struggling to win matches back in the early 2000s, which resulted in low ticket sales.
Cuban knew that low ticket sales would translate to heavy losses, which could really shake his company's future. So he decided to take charge of the situation and get the ticket sales up.
Cuban got on the phone with former season ticket holders and asked them to come back to the game, reminding them of their experiences of going to the games as kids. He also emphasized how winning or losing of a team didn't matter—the feeling did.
He was able to stroke his listeners' nostalgic chords by talking about the stadium, the game, and the memories they had with friends and families.
Cuban's compassionate and understanding approach was impressive. In turn, his pitch helped him make many customers believe that spending $8 on a match ticket was more valuable than going to the movies or McDonald's.
Cuban had bought the Mavericks for $280 million. The team is now valued at $2.25 billion.
Drift's "Don't You Agree" Campaign
Drift's campaign is another stellar example of how building an emotional connection with your audience could work wonders for boosting sales.
The above slide shows that you don't have to agree with everything your audience believes in and how instead, making a claim bold enough to raise a few eyebrows can make them see things your way.
The first part of Drift's slide starts with an undeniable truth ("Technology has changed the way we operate"). Out of the blue, they make a contrasting claim: "Forms, emails, and calls are bad". This isn't something the reader expects after seeing the first slide.
They then offer the reasoning behind their bold claim ("We should focus on creating real conversations") while cleverly leveraging Drift as the perfect solution to solve this problem.
Takeaway
Here are a few tips to create more emotionally-appealing sales pitches:
Adopt a more compassionate and understanding approach when writing your pitch.
Create a phone sales pitch script that has nostalgic or emotional value.
Avoid making false claims while pitching.
Include commonalities between you and your customers.
Try to add shock value to your pitch.
Over to You
Sales is definitely a tough ball game. That's why I wanted to include sales pitch examples that offer a wide range of style options that you can model based on your niche and audience.
Crafting quality B2B sales pitches will help you get new clients, attract investors, and persuade more people to do business with you.
Think of your pitch as a conversation between two people, and you'll get the message just right.