Facebook Lead Ads
Facebook Lead Ads (FBLA) let you collect information from people showing interest in becoming your customers. FBLA look like your typical Facebook ads, but when clicked, they send a curious person to a simple form where things like name, phone number, and email are collected. When you connect Drip to your FBLA, you'll be able to send those leads directly into your Drip account and trigger automations. Use a FBLA form submission to trigger actions like applying tags, sending email campaigns, segmentation, and much more.
Automate actions based on Facebook Lead Ads form submissions.
Grab Your Demo
Key Features
Generate more leads with Facebook Lead Ads

Send Facebook Lead Ads submissions to Drip

Use Facebook Lead Ads to trigger automation steps

Stay engaged with Lead Ads traffic through email campaigns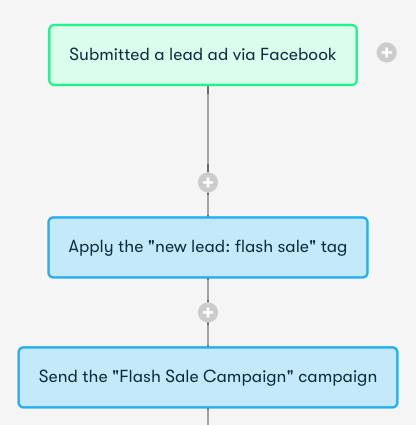 x
Free Guide to Black Friday & Cyber Monday
Ready to rethink Black Friday? Focus on long-term loyalty, not just short-term sales. Grab our free guide full of whys and hows for this holiday season.
Get my copy