SMS isn't just a trend. It's a tentpole of ecommerce marketing that's arrived without apology and is here to stay.
Ecommerce businesses thrive when they build meaningful connections and community with their customers. While email has been at the forefront of these connections (and still is—email is not dead), SMS is starting to add another useful dimension to ecommerce marketing efforts everywhere. With SMS, you get to engage in a way that meets customers exactly where they're at (their phones), in the ways that they want to connect (creatively and concisely, with a GIF or two).
Excited to get started with SMS, but not quite sure what to say or how to craft your pithy pocket messages? You are not alone, and we're here to help. Writing for SMS is a unique skill, and you'll definitely want to adjust your approach in order to get the best results from your campaigns.
And now, it's time to dig into "how to write for SMS in an engaging, conversational, creative, and conversion-worthy way." Let's go!
A quick how-to on using SMS
Say you've stumbled across this post without so much as an inkling about what SMS marketing entails, or how it can be useful in your own marketing plan. Fair enough.
While we've got a longer SMS-focused piece for you to sink your teeth into (as well as 8 effective ways to build your SMS list), let's take a quick, ten-thousand-foot view on using SMS strategically before diving into the fun messaging tactics. Here's what you need to know:
SMS is short for short message service and is more commonly known as texting.
SMS marketing involves messaging your customers directly so it appears as a text message on their cell phones.
Though it's largely due to the fact that humans are smartphone-obsessed—plus there's no spam folder or email inbox for your SMS to get lost in—SMS marketing has a 98% open rate.
On average, SMS texts are opened within ~90 seconds of being received.
With consumers looking to connect and interact with their favorite brands in more humanized ways, SMS is proving to be essential to the future of ecommerce marketing.
In short, SMS offers a fun, personalized, conversational lens into your brand. It lets you get in touch with your customers more easily and effectively, and is both the present and the future of ecommerce marketing.
Now that you have some SMS marketing basics under your belt, let's talk about knowing your customer base so you can determine the right content to send them via text.
Determine your goal ahead of time
With every piece of marketing collateral that goes out into the ether—SMS messages included—there is (or at least should be) a goal attached to it.
Of course, we want every message we send to drive conversions and make people buy or act or love us even more. But those conversions are more likely to come down the line, once you've put in the work to foster brand loyalty and get people interested and engaged in what you're saying, selling, or doing.
As you're planning out your SMS sends, consider not only the context of the message but what you hope people will do with it. Perhaps you want to:
Drive traffic to another relevant piece of content, a new collection, or a video about your brand → to measure clicks and traffic
Showcase a fan-favorite product or upsell an additional product to add on to what folks are already loving → to measure clicks, traffic, and conversions
Drop a promo code for a special occasion, a holiday, or a simple surprise-and-delight → measure promo code usage and overall profit from that campaign
Engage your audience (and get their input) by sending them a survey link → measure engagement, response rate, survey results, and any other important data for your campaign
Sure, sometimes SMS is about driving traffic, getting people to use a promo code, or showcasing your latest product drop. Sometimes, though, it's just about making a connection that builds loyalty and enthusiasm. Texting as a medium suits both of these purposes.
Texting to confirm a customer's purchase, let them know their items have shipped, or offer delivery updates? That's transactional.
Texting to share behind-the-scenes updates about your brand, letting your customers know you appreciate them or sending a link to a product you think they'll love? That's brand building.
Text Me
So the question is, how do you actually write for SMS?
Short is sweet
Here's what SMS marketing all comes down to: keep it short and keep it sweet. After all, messages are limited to 160 characters (Though, thanks to something called concatenation, most modern phones know how to split longer messages into smaller ones, and then re-create the original message on the recipient's phone). What does 160 characters or less look like?
Here's an example: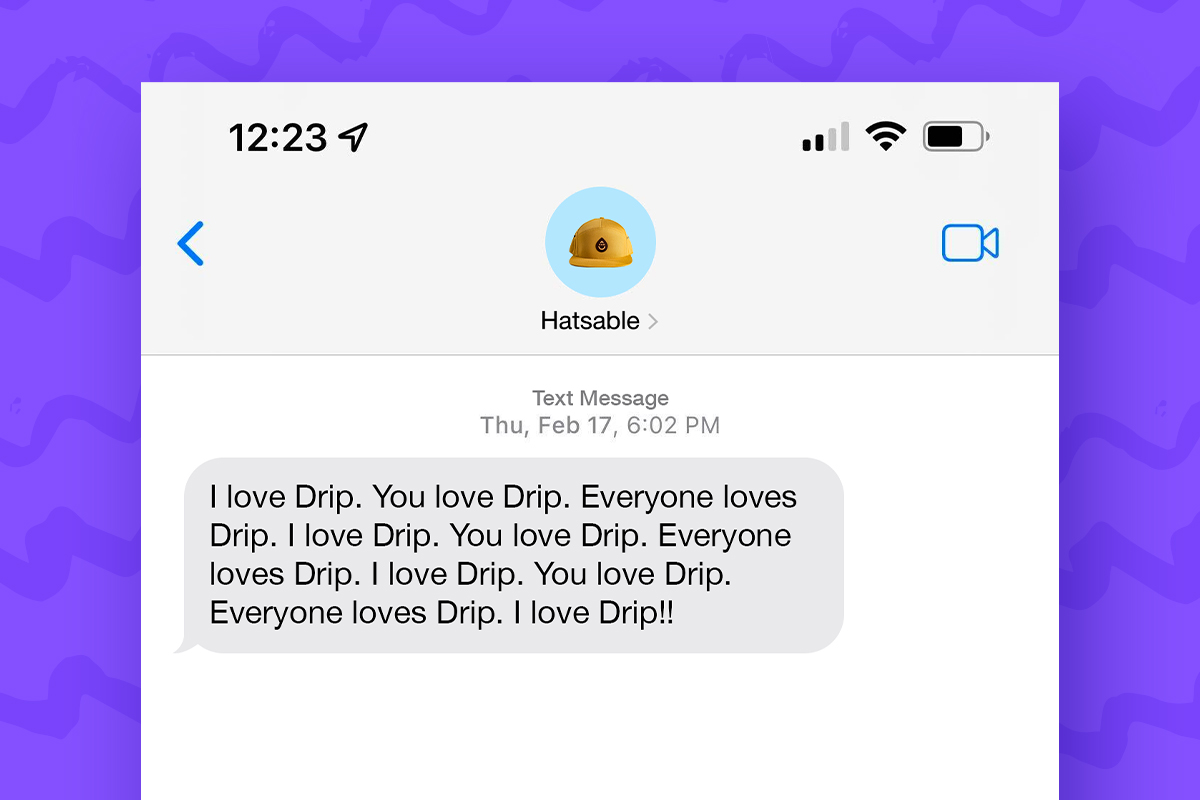 If you're accustomed to the wide-open space of an email, 160 characters isn't a lot of copy. Don't worry, though. Customers aren't interested in reading extensive texts. Really, they just want their interest piqued enough to remember they like you, and maybe want to hang out a little more (AKA click the link you sent).
Have more to say? Introduce the idea then push it to a blog, a landing page, or a social post.
Is that you?
Voice and tone are core components of every brand. How does your brand speak and sound? Is it serious, playful, caring, warm, or direct? Together, all of these components make up your brand voice + tone and should align with your brand ethos and target customer.
For example, if your target customers are Gen Zoomers then internet slang and pop vernacular will connect with them. If they fall into another demographic, however, that same pop-inspired language will leave your customers scratching their heads and feeling out of the loop—which is the last thing you want.
Every communication you send should "sound" like you, and this is especially true for SMS where copy is the main medium. Is your brand playful and warm? Add an emoji or a "we miss you." Is your brand serious and value-driven? These elements should drive the "why" for all your sends.
Titles, headlines, subject lines, oh my!
Your email writing skills have been buffed and shined to perfection (with maybe a little sweat?), and that means your subject line, title, and header game is on point. Well, guess what? All that hard work feeds directly into creating a great SMS marketing campaign.
Subject lines, titles, and headers are meant to grab attention, communicate a core point (just enough), and introduce what's to come without being overly long or wordy—the exact qualities of a superb SMS.
So as you consider your SMS copy, head over to your Drip Analytics Dashboard to see which subject lines have the highest open rates, what titles and headers claim the prize for the largest clickthrough rates, and what copy elements feel the most on-brand. All of these things will give you inspiration and guidance on writing for SMS.
Learn from social
The soundbite nature of social media is an excellent way to think about SMS strategy. For one, you are seeking to engage your community, build brand affection, and communicate a message—all with minimal copy and customer attention.
Like social, SMS can also be used for a wide array of purposes and goals. You might want to share helpful content with a blog link, make your customers smile with a fun video, share limited and exclusive deals to drive sales, add personality to your brand with a behind-the-scenes moment, or share gorgeous images to announce a new product launch.
The approach you bring to your social—in variety and form—translates well to SMS marketing. So look at what has worked (clicks, likes, shares, saves, etc) on your social channels, and use that as guidance for your SMS copy and messaging.
Need to say it with an image? Send an MMS!
When you add any sort of emoji, image, or other media to an SMS, it transforms that SMS into an MMS (multimedia messaging service). While using MMS costs more to send, it's often most appropriate for key brand-building moments or when showcasing a new product. MMS also gives you the option to send up to 1,600 characters (for longer-form writing), though we recommend keeping things short and sweet.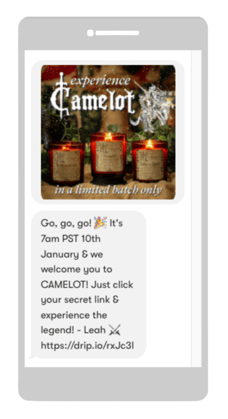 Using imagery also aligns with the ways your customers already engage with social media. Especially when implementing a newer channel, it's helpful to tap into familiar habits (this is the "familiar behavior to activate" point we just mentioned) that already have an appealing element to them. People like to scroll, look, and tap. Including an image in your SMS takes that familiar scroll-look-tap behavior, and boosts engagement right from the palms of customers' hands.
Good content is clickable
Here's the thing, you can send an SMS in just the right way at just the right time, but if you aren't sending content that connects with your customer you won't get the results you want.
"Good content" might seem vague or hard to reach, but it can be as simple as thinking about why your customer needs or wants or enjoys your product. Now take it a step further: what else do they have going on in their lives, how do they like to spend their time, and what other challenges do they experience? Have a few ideas? Great, this is your guide for creating content, because you'll want to craft your messaging to underscore these things.
So what does this have to do with SMS? If you have content that solves a customer problem (whether that's a desire for entertainment or a more tactile need), then SMS is a way to deliver that solution in seconds. How thoughtful of you to make it so easy for your customer! They'll thank you with clicks and conversions galore.
SMS must-haves: how to structure your messages
Now that we've gone through some of the essentials of SMS writing—voice and tone, message length, the importance of good content, MMS vs. SMS—it's time to look at the actual structure of your SMS.
Whenever in doubt about what your message should look like (and include), use the following guidelines:
Always include your brand name.

Make it easy for subscribers to recognize who the message is from. Your brand name should be the first component of every SMS you send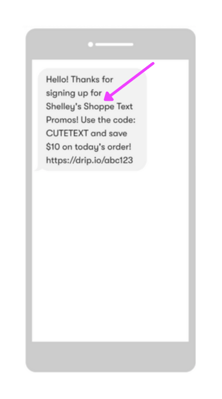 Concise copy.

Period. We covered this one already, but it's worth repeating. A single SMS is limited to 160 characters, so keep the message short, sweet, and to the point
Make use of negative (blank and text-less) space.

Avoid sending paragraphs or walls of text. Space out your SMS copy so it's easy to scan and absorb at a glance
Use clear CTAs.

Every message should have a clear call to action. Make it easy for your subscribers to know what to do
Include short URLs.

Always include a link, and make it a short one. Drip shortens links automatically to ensure character counts are maximized
Include an opt-out.

Make it easy for subscribers to unsubscribe by including clear language on how to opt out
Bonus SMS writing tips
Use first-person POV.

Meet your subscribers where they're at (texting friends and family members) by writing in first-person POV. Writing from the "I" helps you sound much less like a brand and much more like a close friend
Get visual.

Images, GIFs, and videos under 500KB (square or portrait) are a great way to communicate without having to worry about character count—though, as we touched on earlier, when you add an image and turn your SMS into an MMS, the character limit increases to 1,600. They also add a touch of fun to your SMS marketing
Give the people a choice.

You like having options, don't you? Well, so do your subscribers. Give them the gift of choice by offering more than one product option/recommendation per SMS
Tell 'em how you feel.

Let your subscribers know how much you appreciate them and their loyalty. Thank them for being your one and only all these days/months/weeks/years. Make 'em feel good, real good
Catch attention with time-sensitive text.

Have a sale happening for the next 24 hours? How about this weekend, for a limited time only, or ending soon? Use this kind of time-sensitive language to let your subscribers know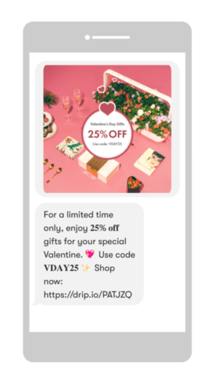 Test that ish.

Proofread. Send yourself a test SMS. Proofread again. All before you ever hit the big send
Pack a (value) punch.

Just like anything else you send out into the world as a brand—emails, blog posts, products—make sure your SMS messages deliver value to your subscribers. This can be in the form of free shipping, sneak previews, and insider tips
SMS ideas (for what to send)
Recipe.

It's Friday night and that means… drinks! Here's our go-to elixir featuring our seasonal spice blend: [insert link to recipe]
Creative board.

Our team has been hard at work on the new collection and our vision board is making us swoon. How about you?
Social media. Winter is the season of sensitive skin, but don't fret! We shared an IG reel that's the quickest way to calm your complexion no matter the freeze outside.
Single product flash sale. Our BFFs (that's you) are just a text away and always know our big news first. Here's a link to our 24-hour flash sale: 50% off on travel sets!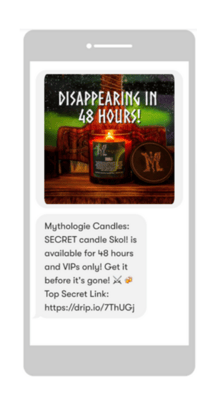 Human-powered. Our limited-run products are lovingly crafted by local artisans. Here's Shelly, working on the Willow Ceramic (still in stock!) at our Asheville, NC studio.
Product use / social proof. We wish this text could send smells. Lauren (our founder) is burning the best-selling pumpkin spice candle in her living room right now and it's divine...
Send a playlist. Our monthly playlist is up! It's the soundtrack at the shop tonight, where we'll catch a slow desert sunset, drink in hand. Tune in for vibes where you are, too!
Send a youtube video. Our latest collab is making a big impact. In this 2-minute video, our founder Sylvan shares why it matters (and the gift each of our grantees is taking home!).
How you'll know your SMS strategy is working
Like any good campaign or marketing strategy, you'll know how your SMS strategy is working (or at least, which types of SMS messages are nailing it and which aren't) after you've had a few sends go out.
Be sure to keep an eye on your metrics throughout. With the visibility SMS can offer a brand, it's important to listen to the data and then fine-tune your messaging from there. In regards to which metrics to watch, you'll want to see whether:
Your subscriber list grows
No attrition here. If you send great texts, people will tell their friends. Those friends will tell friends. You get the picture.
Your audience regularly engages… or ghosts
Your engaged audience is arguably your most important because they will engage others. Keep an eye on engagement rates, as well as who seems to have their phone on airplane mode.
Clicks or traffic improves because of SMS
Once you've got people hooked on reading your texts, they'll be more likely to click on the important stuff like product launches, conversion-driving links, and other content that's intended to push a purchase.
Your overall customer sentiment improves
You'll be amazed what solid SMS messaging can do for customer rapport. Watch the happy messages roll in (and send them right back).
Conclusion
SMS is a massively important channel that only stands to enhance your larger marketing plan. Adopt it now, use it with intention, and good things will come. Keep it light, fresh, on-brand, and fun, and start texting your customers as if they were your besties (which, if we're talking brand-growth goals here, they kinda are). Oh, and email and SMS together? Ohh, that duo is unstoppable!