Think back to the time your brand made its first sale. Or its 100th, 1000th. Or that order that pushed your sales over $1 million, then $10 million.
Remember the elation? The sheer joy of hitting certain milestones?
Now think about how your customers feel when they buy from your brand.
Does the joy that you feel translate into your post-purchase experience?
Our guess is, it's not even close.
Most brands think a post-purchase email workflow consists of the transactional emails that go out via Shopify (or any other store platform): order confirmation, shipping confirmation, and delivery confirmation.
But it's so much more than that. A post-purchase workflow is your chance to take the shopping experience to the next level for your customer.
Buyer's remorse is the highest right after someone places an order. Did I make the right choice? Will it be the right shade/size/color? Will the quality be worth it?
While online shopping has become the norm, buyers' anxieties have remained the same, especially for first-time buyers.
When creating your post-purchase email workflow, put yourself in your customers' shoes. What do they need at this point to feel confident in (and excited about) their decision to shop with you?
Mostly, they're looking for reassurance.
They're looking for cues to justify their decision, even if they're at a subconscious level. With your post-purchase email workflow, you can:
Reassure customers they made the right choice.
Set expectations about what will happen next.
Keep customer excitement high about receiving their order.
Honestly, it doesn't take much to delight customers. All they're really looking for is clarity, and your post-purchase emails can easily provide such a thing.
Done right, the post-purchase email workflow will give you higher customer satisfaction, retention, and more repeat orders. And, according to research by Bain & Company, increasing your current customers' retention rate by just 5% can lead to an increase in profits between 25% and 95%.
So how do you create a post-purchase email workflow that boosts your profits by these percentages? We thought you'd never ask!
The secret sauce of a highly effective post-purchase email workflow
When it comes to automated or lifecycle email workflows, they all have four goals:
Connect with your customers.
Build trust.
Inspire brand loyalty.
Sell on autopilot.
Here's how these goals translate into your post-purchase email workflow:
Connect with your customers by personalizing your order confirmation email
Not all customers are the same. Some of them are new customers. Others have bought one or two times before. And a select group of them are your hard-core fans who have bought multiple times.
Don't make the mistake of sending these three groups the same order confirmation email. Just like you'd write differently for different audiences, send each group an email that fits the relationship they have with you.
New customers
With new customers, you're meeting them for the first time. This means in addition to making them feel welcome, you also need to earn their trust. One of the easiest ways to earn that trust is to tell them what happens next.
ASOS does this incredibly well in its order confirmation email. They tell their customers what's going to happen next, the last date they can cancel their order, and how to reach out to their customer service.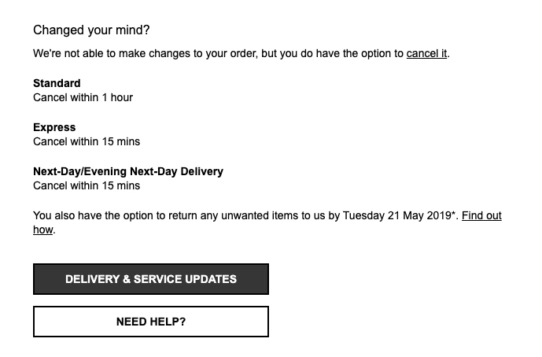 Returning customers
Treat your returning customers like friends. They've ordered from you before, and are familiar with how the post-purchase process works. So while you still need to give them the same information, the tone and voice can be a lot more friendly and casual. Most importantly, acknowledge that they've bought from you again. This alone will go a long way in making your customer feel seen and appreciated.
VIP customers
Next are your hard-core fans. These are your VIPs. They buy from you again and again and deserve special treatment as a result. What that special treatment is going to be is something your brand needs to decide for itself. Think about what "laying out the red carpet" means for you, and how you'd want to treat and address your VIP customers.
Build trust by telling customers what happens next
The time between purchase and delivery is exciting but also nerve-racking for your customers. They've ordered and paid, but haven't yet received their order. This period of time is what we call the "twiddling thumbs" phase. There isn't anything for the customer to do except wait.
Most brands tend to go quiet during this phase. While they're hard at work fulfilling orders, they forget that the people who placed them can't see what's actually happening behind the scenes.
Without any kind of communication during this phase, customers are left wondering about what happens next. How long will it take for the order to ship? When will it arrive? Who should I contact if I have questions, concerns, or just want to follow up?
This is where being proactive in your post-purchase workflow will help your brand stand out and build trust. Give your customers the information they're looking for by:
Showing and telling them about the next steps and what to expect.
Giving them a way to contact you.
Sharing order processing and delivery timelines.
Mugsy did this ridiculously well when reflecting back on a difficult 2020.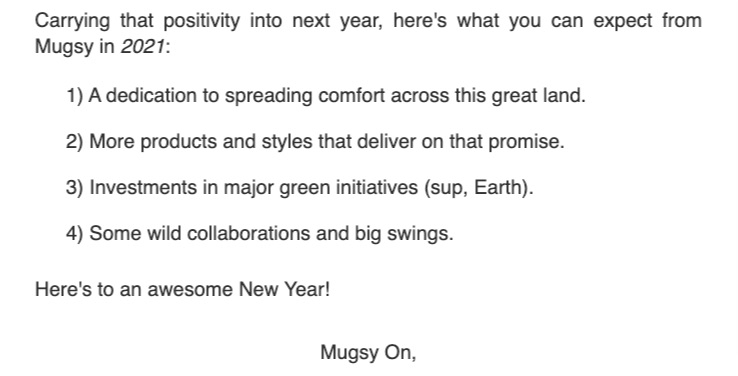 Inspire brand loyalty by "checking in" with customers
Nothing makes a customer feel special and well taken care of like a personal email from a brand asking if everything went okay with their order.
Another way to make your customers feel well taken care of is by sending instructional emails or care tips.
We call these types of emails "proactive customer support emails." They're for when you don't have a specific reason to email your customers but do anyway because you care about them and want to make sure they're happy.
Allie Donovan, Director of Email & Retention at Brooklinen puts it nicely:
One of my biggest recommendations is that you [should] start changing the way people feel about your brand even before delivery. People are excited when they make a purchase […] They feel that love for you already. You need to think, how can we contact them and give them useful information before they get their item that's going to make their experience better?
We couldn't agree more. It's why we almost always add a "shipment check-in" and the "care/usage" email to any post-purchase email workflow. It allows you to add a personal touch, show you care and provide customer support from the get-go.
For Brooklinen, they let their customers know ahead of time that they will need to wash their towels and sheets before using them: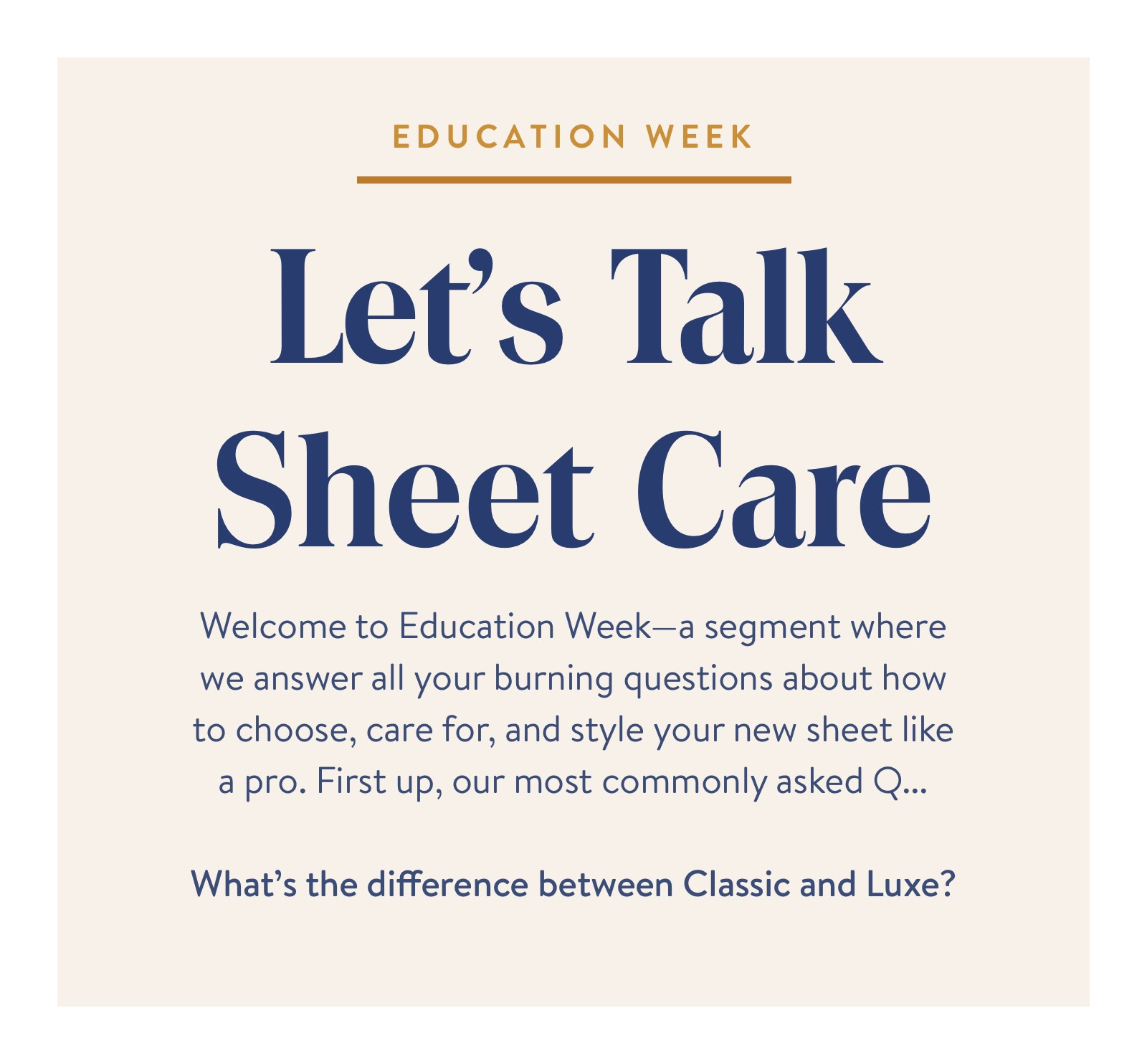 Makeup brand Glossier sends a "how to use" email after purchase and pre-delivery. In these emails, they don't just explain how to use the product, but also build excitement about the order.

Sell on autopilot by enticing customers to come back and shop again
What's a post-purchase workflow without an enticing offer for the next purchase? A missed opportunity! Remember, it's way easier to convince existing customers to buy from you again than it is to convince a new customer to buy for the first time.
Fortunately, there are a number of different ways to bring customers back for that second buy. You can promote your referral program, offer a discount for the next purchase, upsell, cross-sell—the options are unlimited.
As Jenny Durre, Beardbrand's Digital Coordinator says, "We actually make quite a bit of money from the order confirmation email itself, which cracks me up all the time."
New Look adds a "You might also like" section at the bottom of their order confirmation email.

Baronfig uses their order confirmation to offer a referral discount.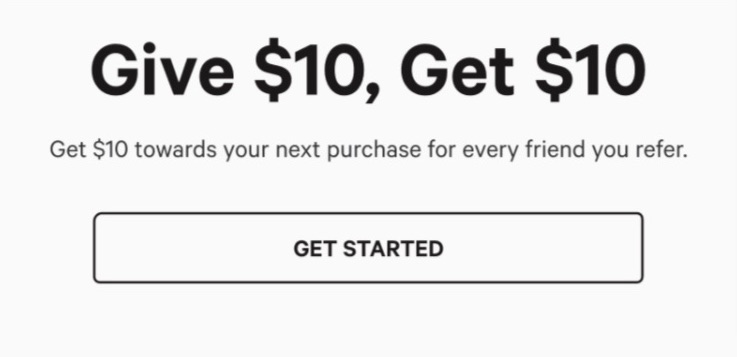 How to keep your customers engaged and excited post-purchase
This is the one email workflow where you don't have to work hard to engage your customers. They've just placed their order, and are excited and very engaged. Your only job is to make the entire experience as easy and clear for them as you can.
That said, there are a few places in this sequence where you can create extra engagement.
Cross-sell relevant offers
When you offer links to other products that might be interesting, make them relevant to what the customer has already bought. And please don't offer the same thing the customer just bought. That doesn't help anyone.
Cutting-edge wellness brand Goop uses a "see the full routine" cross-sell banner at the bottom of their order confirmation.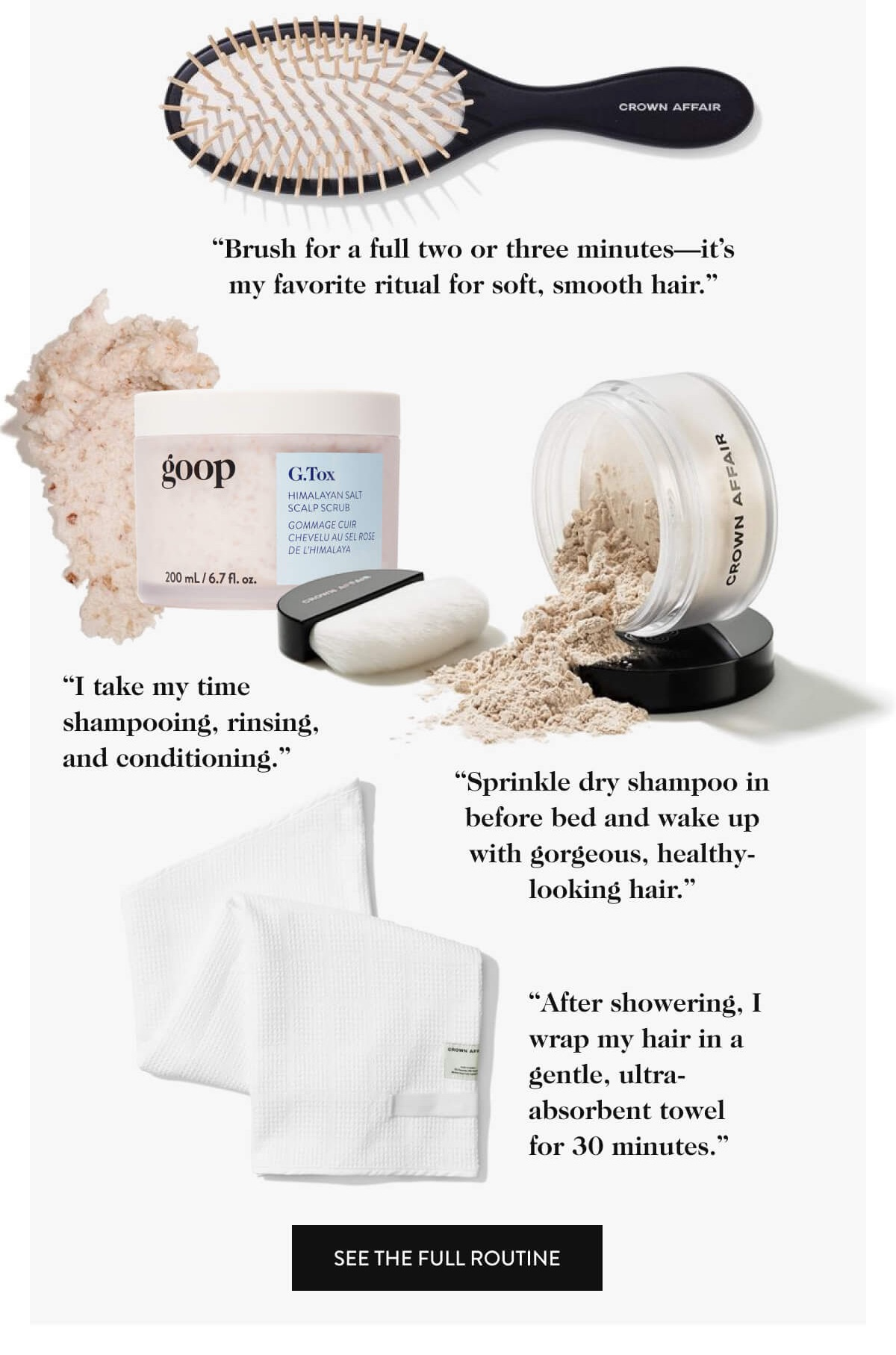 Add excitement through care instructions
When you send an email with care instructions, don't just send out a dry list. Build a little excitement for your customers by letting them know how their life will be better (more organized, simple, or fabulous) with this product.
hers does this brilliantly by sending routine check-in/encouragement emails to their customers who've bought their products and are starting a new skincare routine.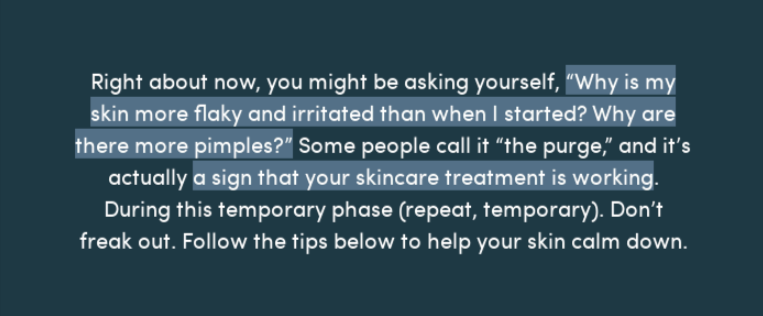 (Image Source: Really Good Emails.)
Pick the perfect time for feedback
It will come as no surprise to know that in order to get the most enthusiastic reviews, you should ask your customers for feedback when their satisfaction with your product is at its highest. Unfortunately, the timing of that perfect moment depends on your product and your customers. When in doubt, test to see what gives you the best results.
And for the love of all things post-purchase, don't send a review request before an order has been delivered! Get your timing right.
Zalando sends a review/feedback request email 30 days after delivery. For a carry goods brand that focuses on quality and slim designs that pack more, they know that using their products takes some getting used to.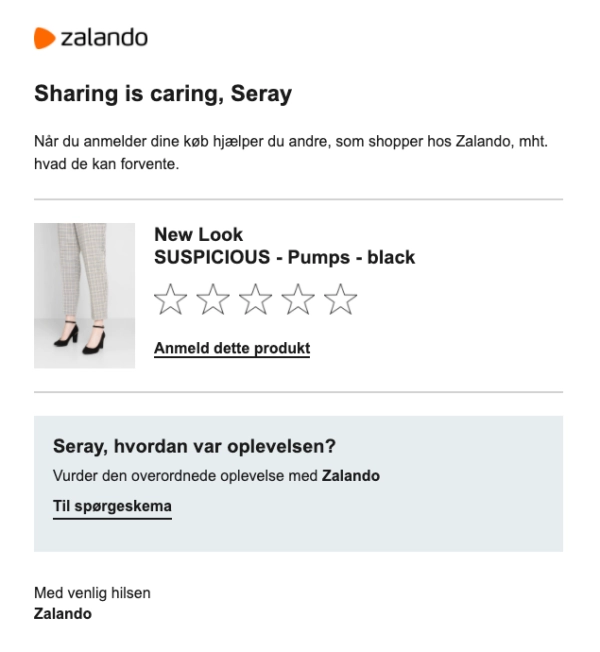 Offer an incentive for feedback
When you use a survey to ask for customer feedback, try offering an incentive (like a discount on the next purchase), a gift card, or even an entry in a drawing for a big prize.
ADIDAS incentivizes their review request email by entering everyone who leaves a review in a draw for a $200 gift card. Compared to their product prices, it's a big enough $$$ amount that customers will want to win, especially if they're happy customers.

Wrap up
When done right, your post-purchase email workflow will keep your customers excited about their order before it arrives. It will also help them get the most out of their purchase, and leave them feeling appreciated.
Not only will your post-purchase emails generate more revenue, but they'll also give you higher customer retention rates and more repeat orders—all because they help build trust and brand loyalty.
As you get ready to create your post-purchase sequence, keep these key points in mind:
Keep your emails on-brand so the customer experience from website to email is cohesive
Let your order confirmations reflect where the customer is on their journey with you: new, returning, or VIP
Send useful information about the product your customer is about to receive. Doing so builds excitement and helps them get the most out of their experience with your product
Be proactive. Show customers what the next steps are, encourage them to reach out if they have questions, and ask them about their experience with your brand