For any healthy ecommerce business, email is a significant source of revenue. But with so many channels to connect with customers, it's easy to put growing your email list on the backburner.
Continually growing your list is a crucial and valuable way to reach the ideal customer in your target demographic and maintain a steady stream of revenue for your business.
Email is also an algorithm-free channel where you can alert customers about restocks, announce new products, and build brand loyalty through effective and personalized content.
With key metrics and data, you can segment the audiences to send emails that are helpful and valuable wherever they are on their journey as a customer. Let's look at how to do that.
Who are they? Get to know your ideal customer
When it comes to direct-to-consumer (DTC) brands, there is no shortage of methods for growing your email list.
First off, make sure your best practices align with on-site form signups and popups featuring promotions, discounts, incentives, exclusive content, and referral programs that are valuable to the type of customers you want on your list.
To determine the best path forward for your brand, it's essential to know your customer. Build your ideal customer profile (ICP) and use the available data to learn their habits and preferences.
Learn what they care about, where they live, what problems they need to solve, and what channels they use. Where do they spend their time online? How do they curate their image and present themselves to the world? That data will help you narrow down your strategy and meet them where they are.
Keep it fresh
Growth is one thing. But at the end of the day, regular list maintenance will make or break your list building strategy. Keep your list clean. Encourage subscribers to keep their contact information up-to-date through popups and reminders. And most of all? Show subscribers why your emails deserve to be in their inbox. Keep them interested and engaged with content that speaks right to them, their challenges, their aspirations, and their needs.
From welcome emails to abandoned cart messages, event series announcements to new product releases, a strong subscriber list allows myriad touchpoints for a next-level and highly customizable drip marketing campaign.
Brands that know a thing or two about subscriber list growth
1. Yoga with Adriene
A true darling of home fitness, Yoga with Adriene is not an overnight or accidental success. Yoga with Adriene has 10.8 million followers on YouTube and a seemingly endless selection of free yoga practice videos in her library (more than 500!), attuned to every yogic need.
With videos for core conditioning, psoas release, total beginners, and everything in between, Yoga with Adriene help her followers build at-home practices, one guided session at a time.
A strong SEO presence ensures she lands at the top of search results for free yoga videos and a weekly newsletter helps her stay in touch with her audience and share stories that inspire and elevate her brand. And by regularly offering 30-day yoga challenges, Adriene is able to routinely grow her subscriber list while keeping her content fresh and engaging. Each month's yoga series is the perfect opportunity to promote list signup to her YouTube followers.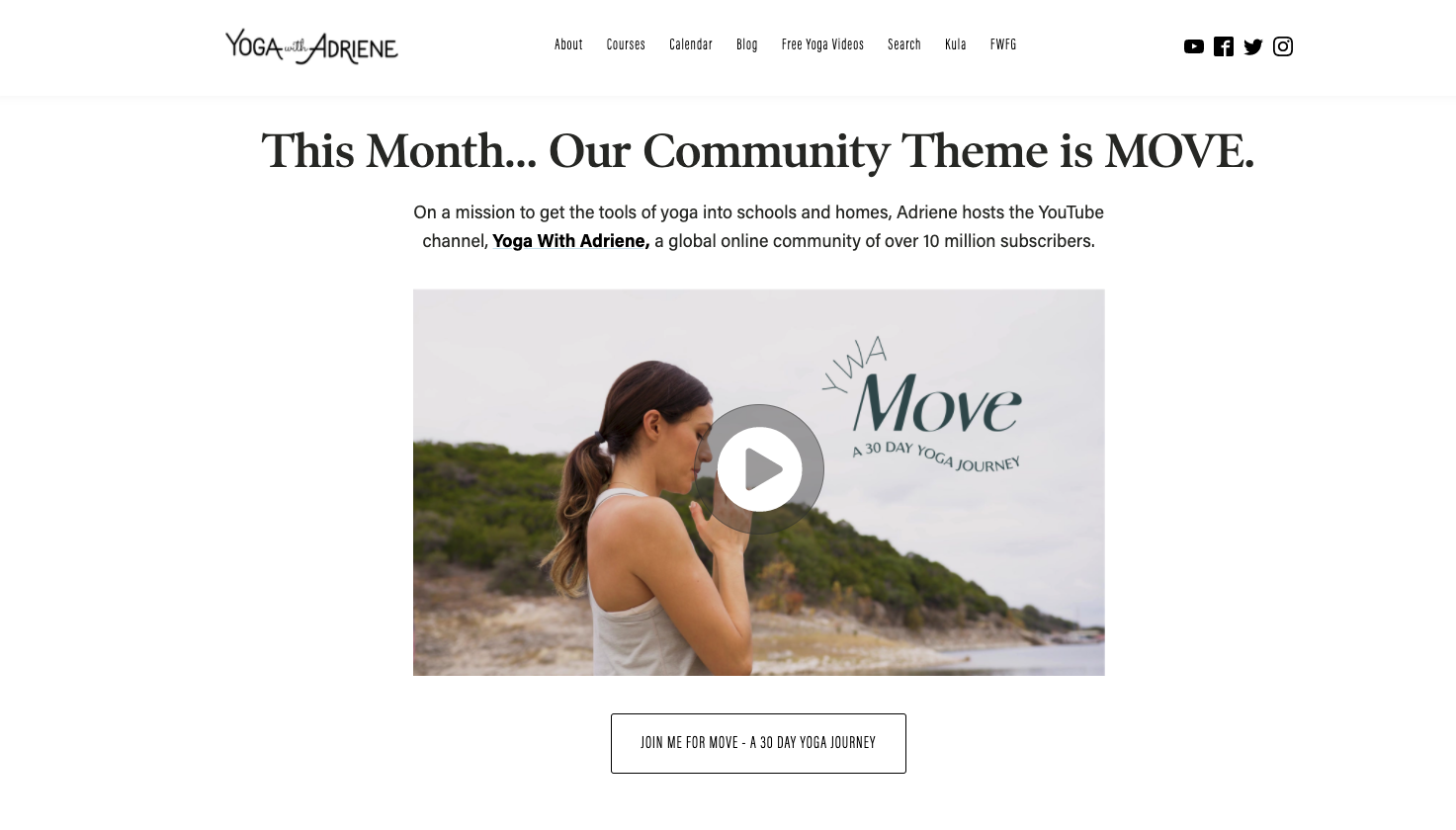 2. Glossier
Founded in 2014, Glossier is a digital brand rooted in true passion, social media know-how, and a fierce dedication to their customer. CEO Emily Weiss initially founded the blog, Into the Gloss, where beauty, skincare, and makeup-obsessed followers could discuss their holy grail brands and products.
The blog became a launchpad for Glossier and indispensable in building the brand. Of course, the brand truly found its niche and reached new heights through social media, with influencers and key partnerships playing a crucial role to promote and spread the word about the trendy brand.
To stay close to their customers, Glossier's home page features a popup to immediately prompt subscription, and essential makeup sets and limited collections offer an easy entry into the best and most notable products from the cult-favorite brand.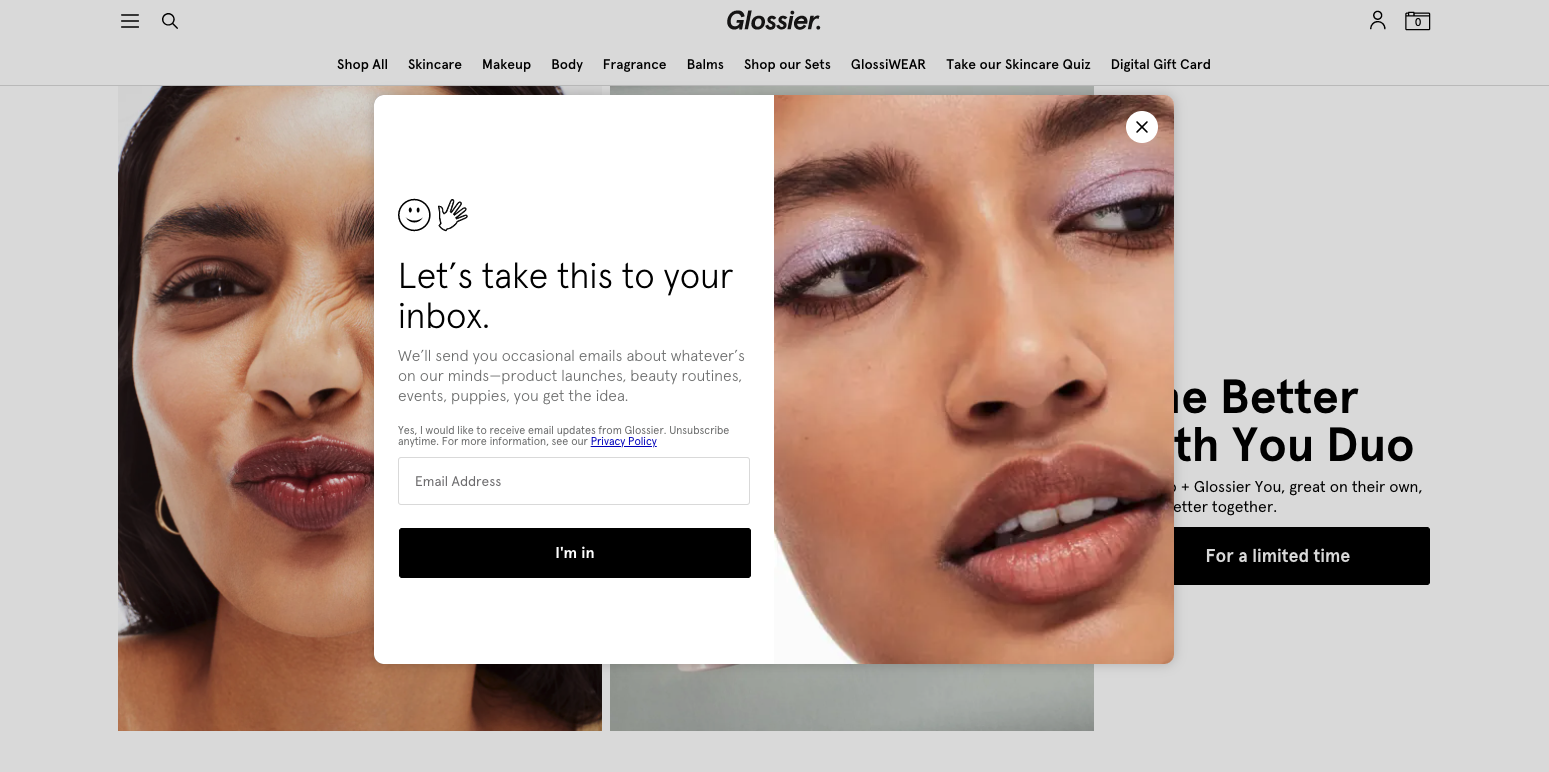 3. Telfar
Buzzy brand Telfar needs no introduction. Telfar sells luxury apparel, accessories, and iconic handbags through strategic, limited, and highly anticipated drops.
They promote their upcoming product drops to their active and engaged followers on Instagram and Twitter and to their email subscribers. Their email campaigns are the perfect place to announce exciting collaborations (their recent partnership with Ugg is definitely worth a look) and let their audience know about the latest releases.
To manage expectations, a popup on the home page informs visitors that Telfar bags sell out in minutes and encourages all visitors to join their mailing list to stay up-to-date on the latest offerings and happenings.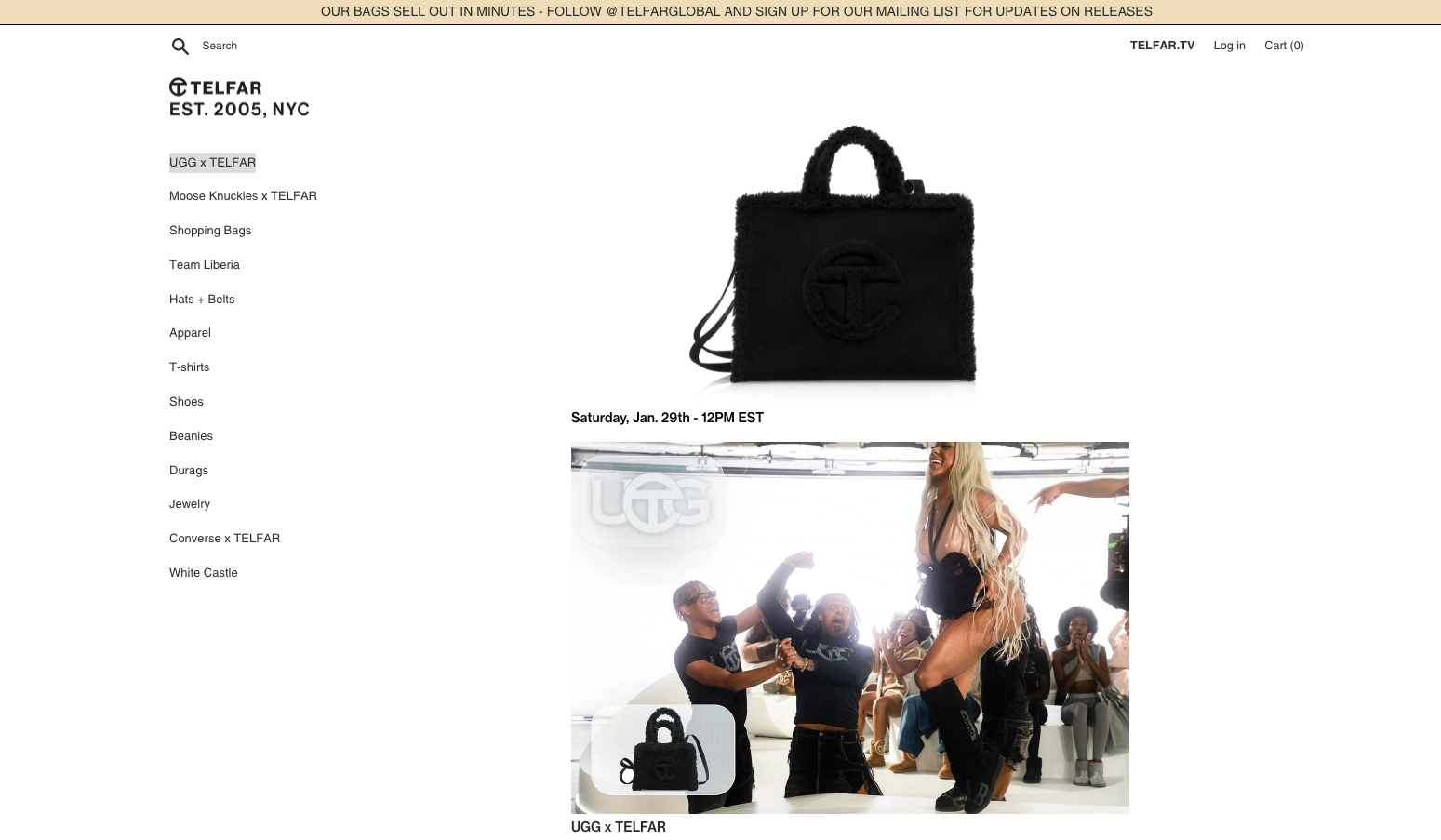 4. Savage X Fenty
When Rihanna's name is attached, you know to expect fabulosity. And Savage X Fenty, the legendary lingerie arm of Rihanna's global brand, certainly delivers. The entire enterprise is built on a subscription model.
Subscribers have access to exclusive discounts, promotions, bundles, and first dibs on new and limited monthly drops.
Savage X builds brand loyalty through size-inclusive products with pieces designed to celebrate a range of skin tones. To keep the content interesting and subscribers engaged, Rihanna herself makes frequent appearances in promotional images and advertisements to showcase styling tips and modeling key pieces in each collection. So there are myriad reasons to be a subscriber and ensure first-look access to the freshest styles and designs.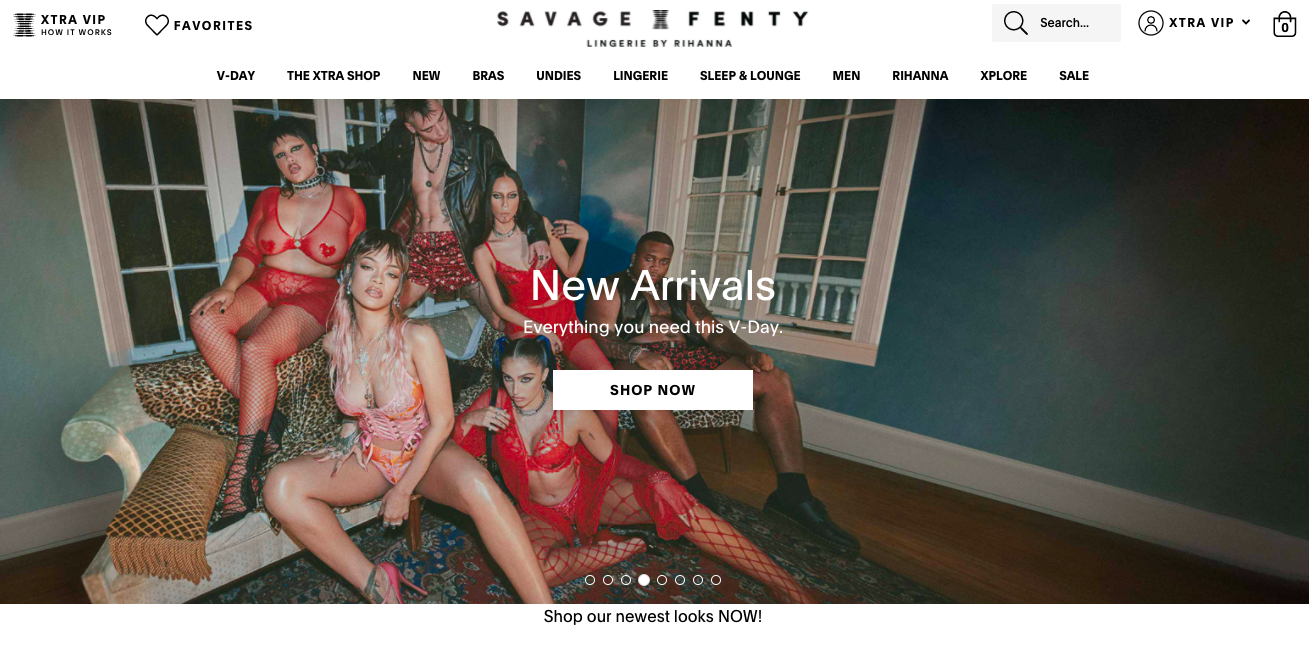 5. Hello Fresh
Subscribers are at the heart of everything Hello Fresh accomplishes. A subscription-based meal delivery service, Hello Fresh offers a fresh take on wholesome dinners with an ever-evolving library of recipes.
Each week, members choose the meals that strike their fancy so they can plan ahead for delicious, at-home dinners. And because their service is flexible, subscribers can skip and cancel weeks as needed.
Between meals, Hello Fresh contacts subscribers via email to offer inspiring content and frequent updates about new recipes, seasonal flavors, and key partnerships to encourage members to come back for more. And to bring in new subscribers? They offer first-time customers deep discounts, free gifts, and mouthwatering bundles.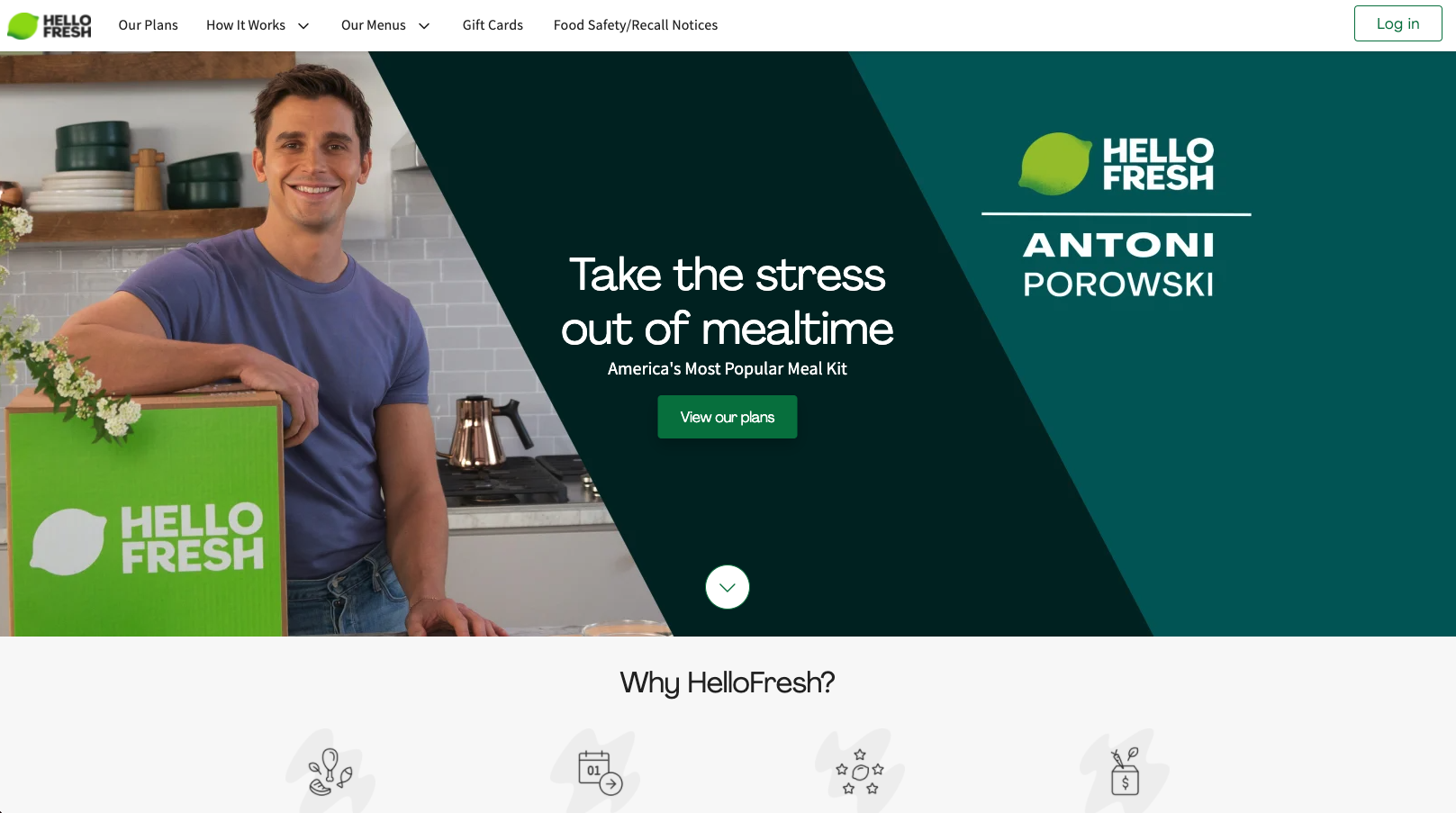 How do I maintain my subscriber list?
As we look at the marketing landscape in 2022 and beyond, subscriber lists will continue to hold a vital place in any brand's strategy. Look for opportunities to engage and offer a personalized experience for your customers, including:
User-Generated Content.

Show off your customers! Whether you're starting your own Tiktok trend or resharing posts tagged with your Insta handle, interacting with your followers on socials will continue to be a leading tactic and trend.
Customer Interaction.

If a subscriber reaches out to you, be sure to respond! Engagement isn't a monologue; it's a two-way street! And to build brand loyalty, you need to show up for your customers and demonstrate that you care.
Audience Segmentation.

Customer and audience segmentation can't be overstated. Drip campaigns are a surefire way to meet your customer where they're at and guide them towards sales conversion. Pay particular attention to touchpoints like new subscriber communications, abandoned cart emails, and product recommendations.
Promotions and Bundles.

Make it easy for your customers to track down your best and most popular products with discounts and exclusive collections. It's a simple way to draw attention to the products you most want to promote and let your customers try out multiple products at a reduced price.
Final thoughts
Get to know your ICP. Hone in on what motivates and drives her through data. And start there when creating your subscription list strategy. Try out different methods until you find the combination that best works for you and your brand.