Last week was an emotional time at Drip.
Our CEO, John Tedesco, affectionately called JT by most, has announced that he's moving on from his role and from our Board of Directors to spend more time with his family.
While we all understand his decision, it doesn't make it easy to say "see you later." JT has always been people-first, whether that's been our customers or us, he's held true to that.

JT joined us in 2017 when Leadpages, a lead generation and landing page platform, of which he was acting CEO, acquired Drip.

Over the last eight years, and throughout several transitions within the company, JT has been a guiding inspiration to every employee at Drip.

From leading our weekly meetings with the energy we honestly need on a Wednesday morning, or diving into personal meetings to help us overcome any obstacle, professional or otherwise, JT has made an incredible impression on each of us at Drip.
What Happens Now?
It's no question that JT is leaving behind big shoes to fill.

However, shortly after explaining his departure, he announced that his role would be taken on by Board member Pam Webber.

JT met Pam through HimforHer, an organization dedicated to accelerating diversity on for-profit boards. This organization helps bring talented women and board opportunities together to foster different perspectives in companies.

Pam joined the board in 2021 and worked closely alongside JT and the rest of our Senior Leadership team to help steer Drip in the right direction. She knows us well, and is just as part of our DNA as anyone else in the company.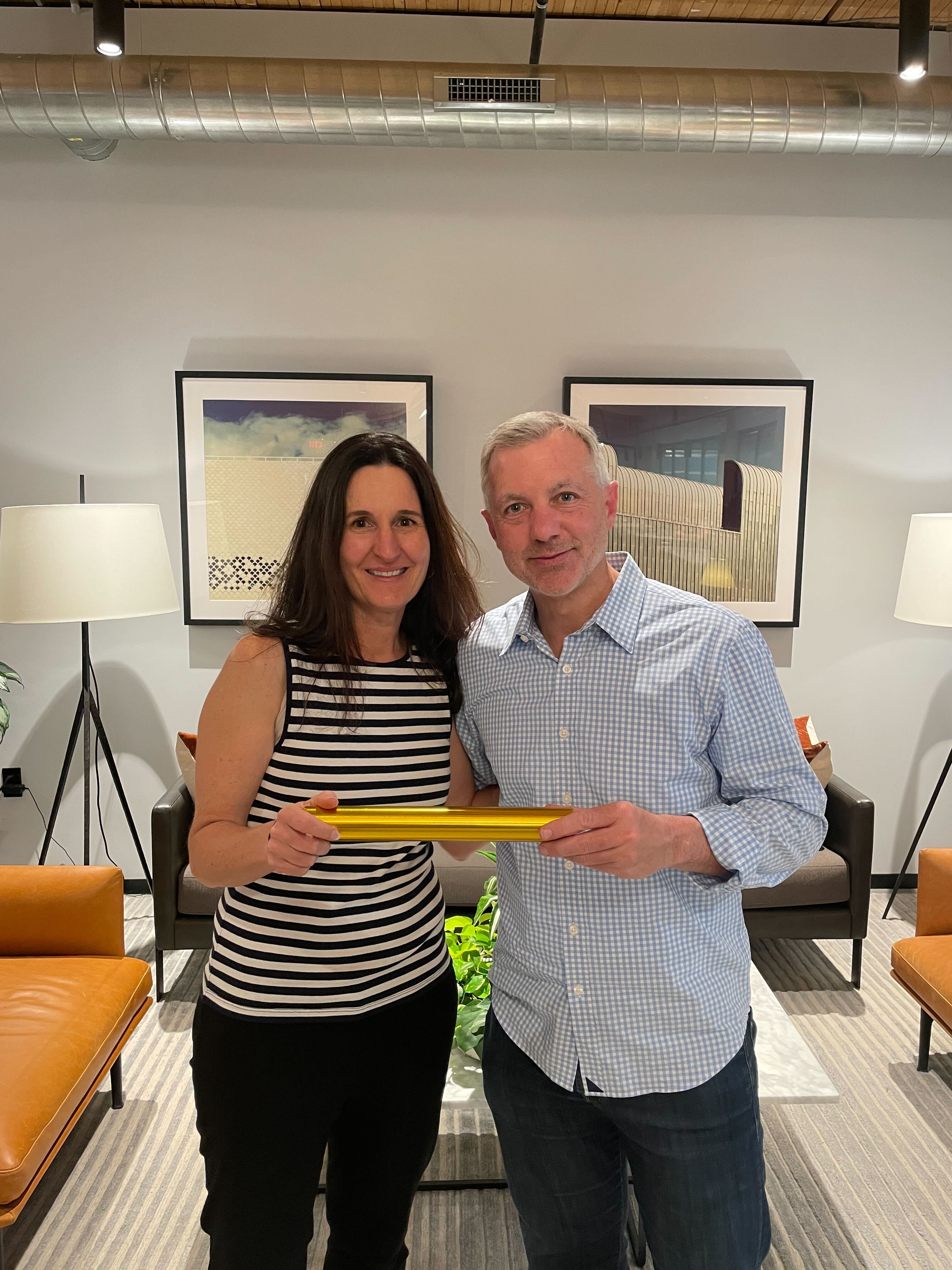 Pictured: John Tedesco (right) passing the baton to Pam Webber, new CEO of Drip.
About Pam Webber, and What She Brings to Drip
Pam comes to Drip with a wealth of knowledge in the ecommerce and digital marketing industries.

She was working in ecommerce before it was cool.

An ecommerce and marketing professional, she discovered her passion for helping ecommerce businesses succeed while at eBay 20 years ago. Since then she has held leadership positions at PayPal, 99designs and JustAnswer.

She also founded her own ecommerce company, weeDECOR, which enabled her to see first hand the challenges SMBs have in driving growth

She joins Drip with incredible perspective from all corners of the ecommerce world. If there's anyone that can fill the shoes JT is leaving behind, Pam is just the person to do it.
What Changes for Drip Customers
Absolutely nothing.

You'll continue to enjoy the platform we've built for you, and we'll continue to keep making it even better every day.

You'll still get the awesome customer service and support we're dedicated to providing for you. Your success is still our success, and your customers are still our customers.

We're still dedicated to helping you build brand love that will transform your customers into loyal advocates.

All of that is still part of our DNA, and it always will be.

We can't wait to see where Pam is going to lead Drip, and how that'll help Drip — and our customers — grow.