One of the best ways to show support and solidarity for small businesses is with your wallet.
We love to support independent ecommerce brands, so to celebrate Asian American and Pacific Islander (AAPI, for short) Heritage Month we're spotlighting some of our favorite AAPI-owned brands.
From a brand repping South Asian beauty, to Southeast Asian flavor packets to inclusive eyewear, there's something for everyone. Use your spending power for good and celebrate AAPI Heritage Month by shopping with one of these brands.
Hungry for more? Check out our directory of 100+ AAPI-owned brands.
Kulfi Beauty
If you haven't already heard of this brand, Kulfi Beauty is here to loudly and proudly represent South Asian beauty, voices, and stories. After years of not seeing herself in the cosmetics industry, founder Priyanka Ganjoo went from helping other brands to creating her own.
"I kept waiting for a brand that celebrated and centered us South Asians in its narrative. All I found were brands that tokenized and appropriated our culture, without even creating shades that worked for our skin tones! I always felt like an outsider. Finally, I said to myself, this isn't good enough. So I left the world of corporate beauty and started Kulfi." — Priyanka Ganjoo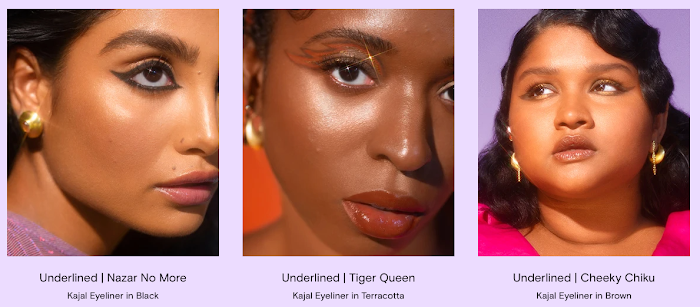 Source: Kulfi Beauty
Wing on Wo & Co.
Wing on Wo & Co is the oldest shop in New York City's Chinatown, founded in 1890(!!). They sell quality porcelain, dinnerware, teaware, jewelry, and accessories.
They're also home to the W.O.W. project, an initiative to sustain ownership over Chinatown's future by growing, protecting and preserving Chinatown's creative culture through arts, culture, and activism.

Source: Wing on Wo & Co.
Asian American Girl Club
If you're looking for some comfy leisurewear, look no further. Asian American Girl Club is an apparel company determined to redefine what it means to be a modern Asian American woman. The brand was created by an Asian American woman, for Asian American women.
"My goal was to create something by girls that look like me, for girls that look like me. It was an idea borne out of passion and a yearning to connect and share with others. It was a call to action and an invitation for friendship. It's a creative expression to make things that show who I feel I am on the inside."— Ally from AAGC

Source: Asian American Girl Club
Overwhelmed by the high volume and price of kitchenware at big-name retail stores, Eunice Byun and Dave Nguyen set out to define a new category of tasteful kitchenware, designed and curated for modern home cooks like themselves.
Their products center design, ease of use, and value. This direct-to-consumer brand believes that every home chef should have the same quality tools as Michelin star chefs.
"Whether you're a professional chef or a first-time home cook, whether you're making three fried eggs or a three-course meal, whether you have a custom wine fridge or a hand-me-down mini-fridge—kitchens are a sacred source of pride in our homes.
They're the living rooms that have connected people for thousands of years, and we hope to make our subtle mark on that rich history by helping people create more space for the meaningful moments our kitchens deserve." — Material

Source: Material
Omsom
In Vietnamese, OM SÒM is a phrase that means noisy, rambunctious, and riotous. And, according to Vanessa and Kim Pham, mostly used by parents to scold their unruly children. A fitting name for a brand whose mission is to bring proud, loud Asian flavors to your fingertips any day of the week.
Omsom brings authentic, yummy Asian flavors to your home with their Southeast and East Asian flavor packets.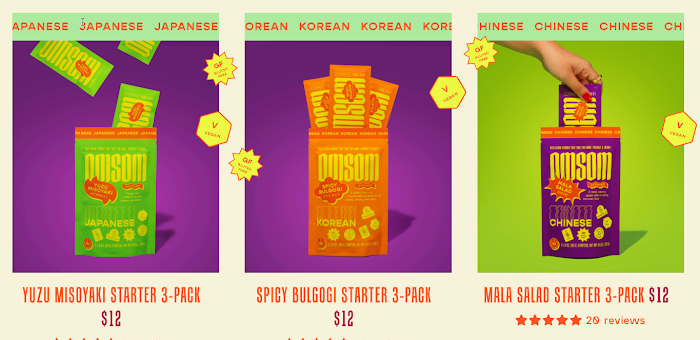 Source: Omsom
Copper Cow Coffee
If you've ever had Vietnamese coffee, then you know. It might be the most addicting thing ever. Copper Cow Coffee blends Vietnamese culture with sustainability, offering everything you need to pour the perfect cup of coffee.
This direct-to-consumer coffee brand is "quality-obsessed, eco-friendly, and proud to be part of the 2% (and growing) of women-owned companies with venture funding."

Source: Copper Cow Coffee
Diaspora Co.
Founded in 2017, Diaspora Co. aims to create a radically new and equitable vision of the spice trade. Born and raised in postcolonial Mumbai, Sana Javeri Kadri is passionate about decolonizing a commodity back into a seasonal crop and transforming a broken system into an equal exchange.
For Kadri, "it's also about creating a business for us, by us. Complicating and deepening what 'Made in India' means, and how we tell our own stories of freedom, struggle, and diaspora through food."
Diaspora Co. partners with small, multi-generational family farms to bring their organically farmed, single-origin spices to your door. And the best part? They pay these farmers an average 6x premium for their organically farmed, single-origin spices.

Source: Diaspora Co.
Vegetarians, listen up. This one's for you. Sach Foods is the direct-to-consumer brand bringing the world's first organic, artisanal, and flavored paneer (a firm, fresh cheese with a creamy texture). Sach means 'honest' in Hindi, which exemplifies the versatile, wholesome, and delicious qualities of paneer, as well as Sach's commitment to food that's healthy for humans and the planet.
You can find their yummy Paneer on their website, or at Whole Foods in select states.

Source: Sach
Paw Wag Company
The Paw Wag Company is a small, minority-owned, and woman-owned family business. You'll find adorable pet clothing, accessories, and supplies at their online shop. I mean… why doesn't your pet need a pair of clout glasses!?

Source: The Paw Wag Company
Happy Dog Bistro
Happy Dog Bistro offers all-natural, hand-made, single-ingredient pet treats. They promise food for your furry friend that has no additives or preservatives, protein-rich, and species-appropriate. You can find dehydrated treats, dental chews, and freeze-dried snacks in their ecommerce store. Yum!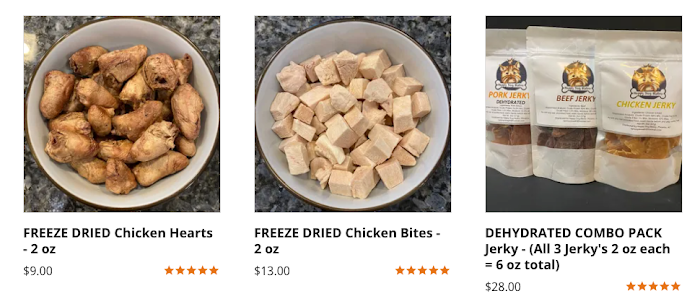 Source: Happy Dog Bistro
Chunks
If you love colorful, quirky, accessories, let me tell you about Chunks. They sell hair accessories made from acetate, a highly durable, plant-based material. Chunks accessories are proudly made in China, stating that "it's time to end the shame about WHERE companies produce and emphasize HOW companies produce."
"We are proud to have such high-quality partners in China and believe in representing our manufacturing openly because there are so many incorrect assumptions about it. We are committed to open and constructive dialogue with our manufacturing partners and our customers." — Chunks

Source: Chunks
Covry
Anyone of Asian descent in the US who has gone glasses shopping knows that the "one-size-fits-all" model is hardly accurate. Covry was founded in 2015 in an effort to break away from the traditional model, and they make inclusive eyewear for faces of all shapes and sizes.
Their Elevated Fit® frame is what makes them unique. Featuring longer nose pads, a reduced frame curvature, and a narrowed nose bridge to elevate the frame sits higher on your face and away from your cheeks. Covry offers a wide variety of frame styles and a 5-day 5-frame at-home try-on.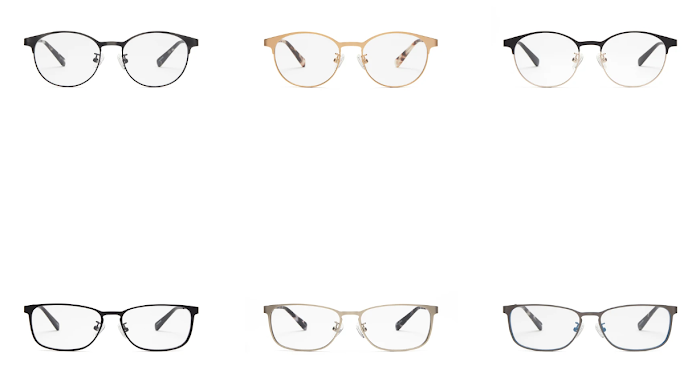 Source: Covry