Shopify and Etsy are both for selling and marketing your products, but which one is the right choice for your business?
In this "Shopify vs. Etsy" guide, I'll walk you through key similarities and differences between these two ecommerce platforms so you can make an informed decision.
In one corner, we have Shopify, the platform that makes it easy to build a complete ecommerce storefront and has tools and features that will help you manage everything from attracting customers to order fulfillment.
In the other corner, there's Etsy, an online marketplace with basic, easy-to-use tools that will get you up and running alongside other sellers.
Which ecommerce platform is the best for you? Let's find out.
Shopify vs. Etsy: An Overview
Before I dive into features and comparisons, let's take a minute to find out what exactly Shopify and Etsy are in their own right.
What Is Shopify?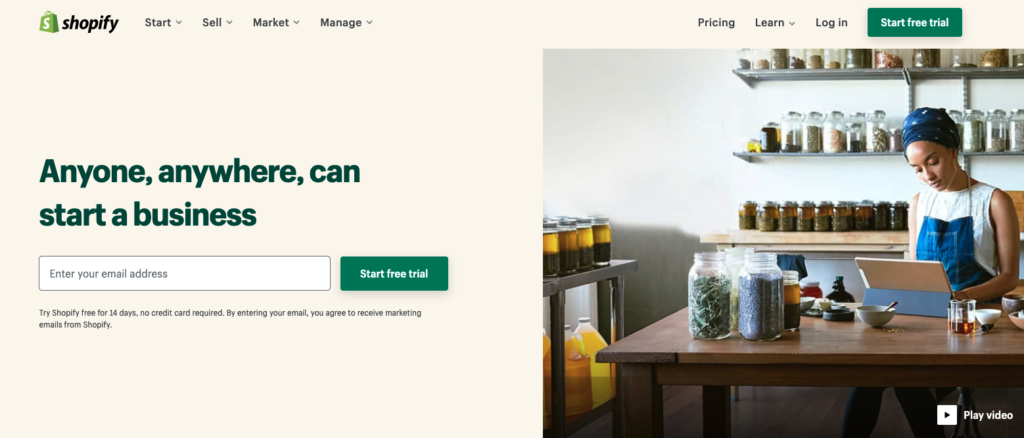 Shopify is an ecommerce platform with some of the best ecommerce features on the market. You can use Shopify to manage and grow your business, track orders, sync with third-party tools (such as your accounting platform), and monitor customer orders and stock levels.
What's better, Shopify has a large collection of apps you can use to extend the platform's functionality. Of course, some of them are costly and can increase the overall cost of using the platform.
When it comes to customers, Shopify doesn't cater to single business size. Instead, it targets every business from small ecommerce sites to large enterprise storefronts.
You can sell anything from physical to digital goods and services on the platform, but you'll need to bring in your own traffic. Since Shopify isn't a marketplace and instead lets you create your own store, it doesn't come with a ready pool of buyers.
What Is Etsy?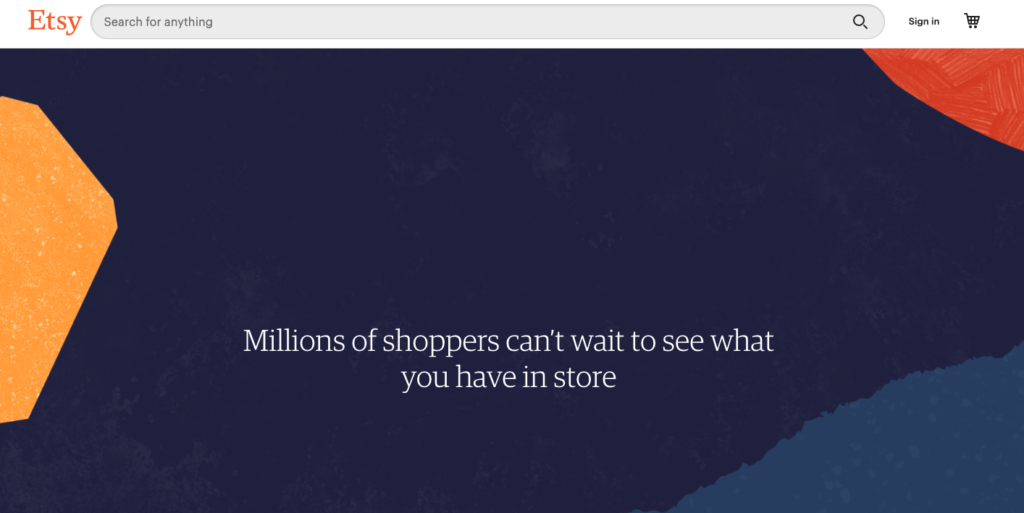 Unlike Shopify, Etsy is an online marketplace. Visitors come to the platform to search for a specific kind of product, such as vintage pieces, handmade goods, and craft supplies.
Etsy's business model reduces the amount of promotion you need to do upfront to bring in shoppers.
Getting started on Etsy is simple, and the platform is ridiculously easy to use. Once you set up your account, upload product images, and add product descriptions, you're ready to sell.
Etsy's ease of use comes at a cost—the platform doesn't offer you the same freedom of customization as Shopify does. Every shop on Etsy looks roughly the same, so you'll need to use your products and descriptions to set your shop apart.
You can sell on Etsy without paying a monthly fee, other than listing fees, transaction fees, and processing fees. Etsy also has a "Plus" option that provides more features for a low monthly cost.
Finally, the company offers "Pattern by Etsy" which gives you the option to set up a separate website and URL for your business. However, these sites don't show up among the search results on Etsy.
Shopify vs. Etsy: Key Features
Now that you're more familiar with what Shopify and Etsy do, let's take a closer look at the key features they offer.
For convenience, I divided their features into three categories: ecommerce tools, design and customization options, and marketing tools.
Ecommerce Tools
Shopify offers a built-in mobile shopping solution, making it easier for mobile customers to browse and buy from their devices. Since 55.4 percent of the world's Internet users stated that they bought something on mobile the previous month, mobile commerce is too important to ignore.
The Shopify platform also integrates with more than 100 external payment gateways, so no matter where in the world your customers are, there's a payment gateway they can use.
If your visitors don't make it all the way through checkout, Shopify has you covered there with its abandoned cart recovery tools.
Using these tools, you can recover lost sales by sending texts and emails to potential customers along with links to their abandoned carts.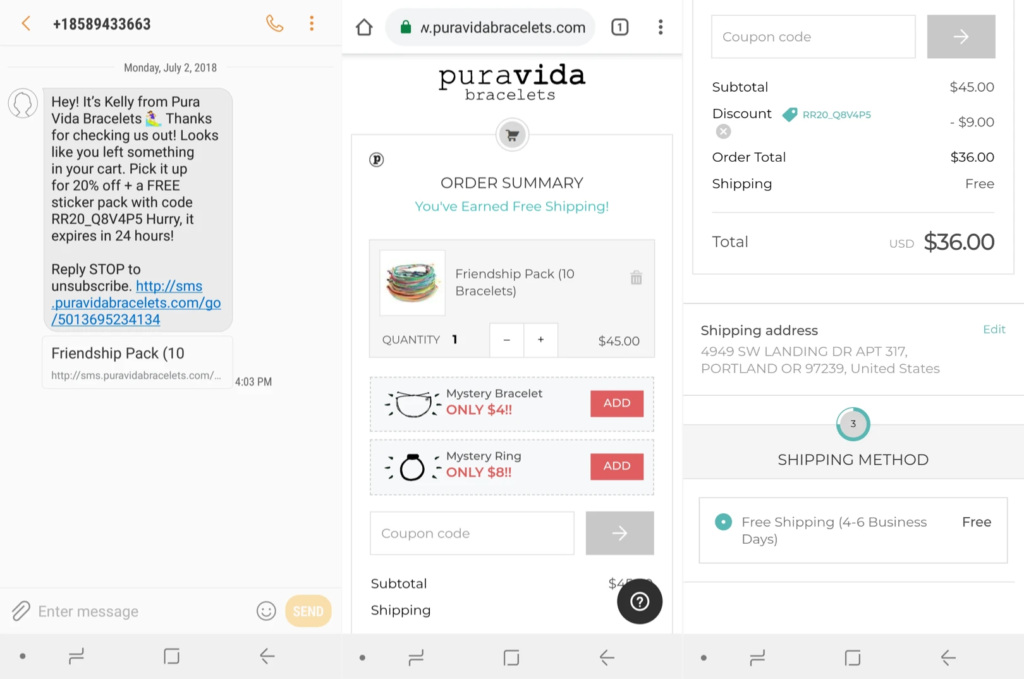 While Etsy's ecommerce tools are more basic than Shopify's, that might work for some sellers who don't need all the bells and whistles that come with a more robust platform.
For its part, Etsy makes mobile commerce easy with a mobile app for iPhone or Android devices and offers postage and shipping discounts to sellers so you can save on shipping and fulfillment costs.
Design and Customization Options
When it comes to website design and customization options, Shopify is hard to beat. It offers more than 70 professionally designed themes. Plus, every template comes with its own settings, so you can customize every part of your storefront and build a brand that resonates with your target audience.
Shopify also gives you the option to host your entire store on its full-featured content management system. However, if you prefer to have more control over your website, you can host it on your own.
With Etsy, you get a sleek design that looks great and displays your products well, but you don't have many options for customization.
Etsy shops all follow the same layout, so you can add your store name and logo, but that's really it as far as branding goes.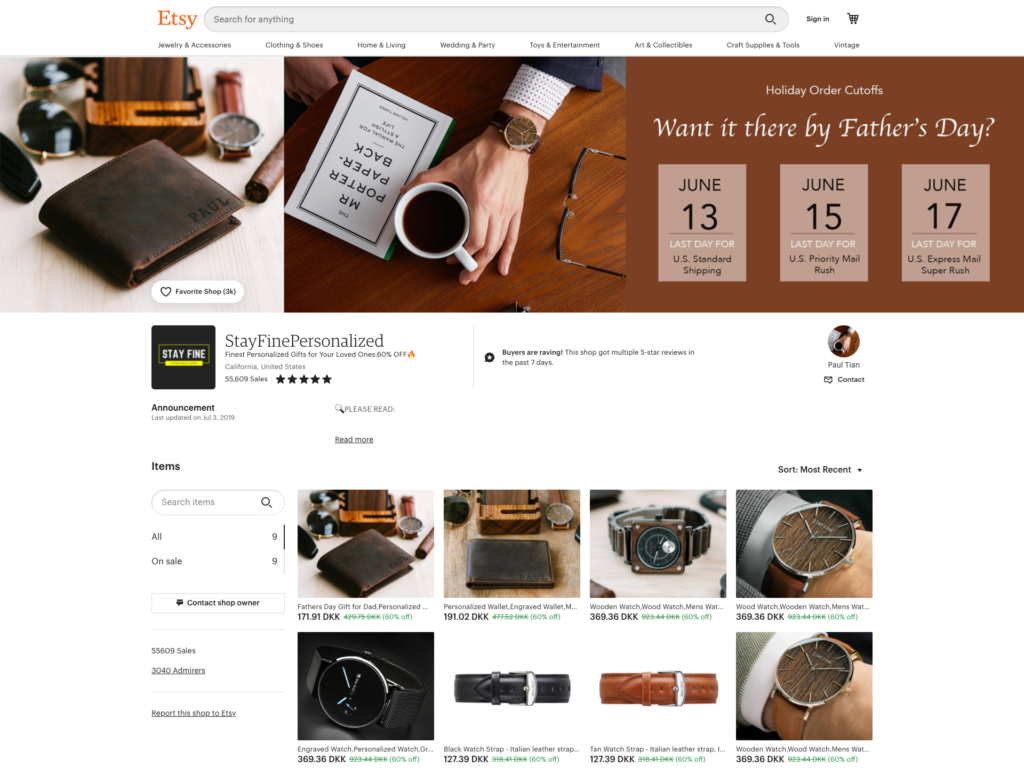 To make your shop stand out on Etsy, you need to get creative with your product images and descriptions, and hopefully, get those clicks.
Marketing and SEO
Shopify is an SEO-friendly platform, which is good because you'll be competing with the entire Internet to get your online store found.
To make your store more appealing to search engines, Shopify lets you customize your H1, title, and meta tags and also automatically generates a sitemap with your products, pages, and blog posts. Plus, you get to use your own domain name (or purchase one through Shopify), so you can really push brand recognition.
Unlike Shopify, Etsy is an online marketplace with only 33 million buyers searching for your products on the platform. Some Etsy shop owners find the built-in customer base enough.
However, you can still use SEO on Etsy to improve your shop's and products' visibility on both the platform and search engines. Of course, with 50 million products on Etsy, you have to make yours stand out.
Shopify vs. Etsy: Ease of Use
Next, let's look at how Shopify and Etsy compare in terms of ease of use. This is important so you can get as much out of your platform as possible.
Shopify's Ease of Use
Shopify's dashboard shows you everything you need to know about your store—orders, products, analytics, total sales, sales by channel, and more. This makes it easy to understand how your store is performing so you can make data-driven decisions about your products and marketing.
The platform also includes advanced features like email marketing integration, inventory management, and granular reporting.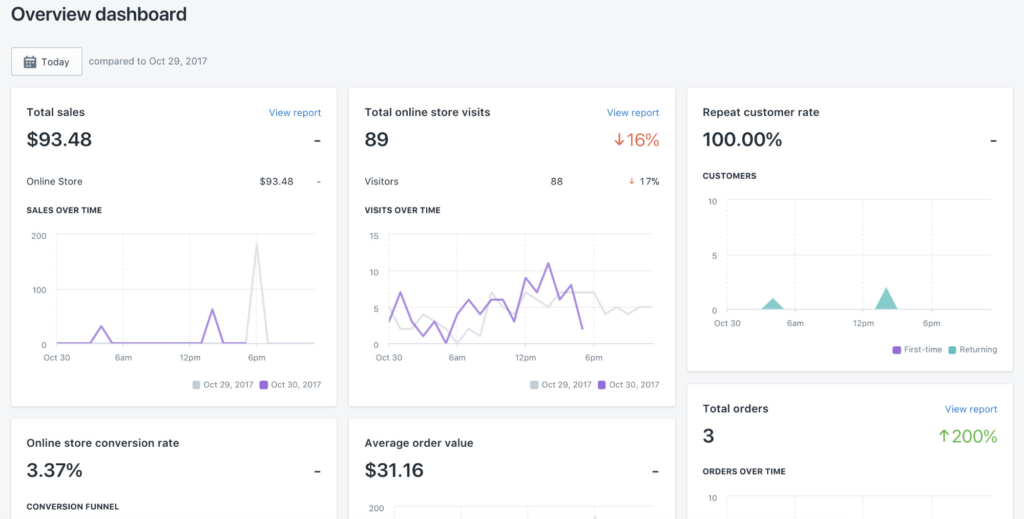 With every integration and every additional feature, the learning curve gets a bit steeper. Despite being a feature-packed ecommerce platform, Shopify is surprisingly easy to learn, use, and master.
Etsy's Ease of Use
Etsy's dashboard also gives you information about orders, products, and customer statistics.
Still, due to having fewer advanced features, you're not going to be getting the granular reporting you might want. If you want to increase the platform's ecommerce functionality, you'll need to use third-party integrations.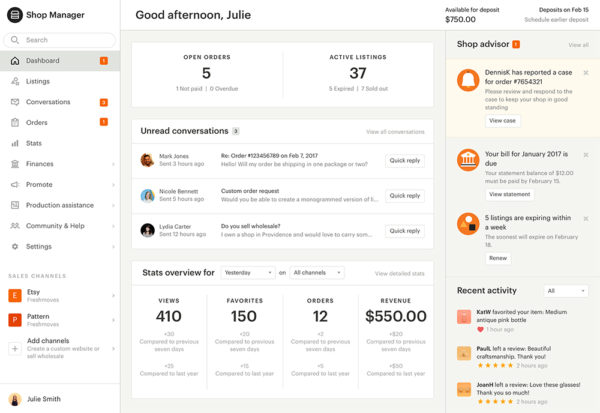 Etsy is super simple to use. Compared to Shopify, there's just less to learn.
Shopify vs. Etsy: Pricing
Another important thing to consider when you're weighing your options between Shopify and Etsy is cost. Let's take a look at each.
Shopify's Pricing
Shopify has higher upfront costs than Etsy with four plans:
Shopify Lite: $9/month
Basic Shopify: $29/month
Shopify: $79/month
Advanced Shopify: $299/month
As the monthly cost increases, you get access to more features like advanced reporting, additional staff accounts, and increased discounts on shipping.
In addition to your monthly fee, you'll also be responsible for payment processing fees. Shopify's payment processing fees are lower than Etsy's and get lower as the price you pay monthly goes up.
Basic Shopify: 2.9% + $0.30
Shopify: 2.6% + $0.30
Advanced Shopify: 2.4% + $0.30
Etsy's Pricing
As I mentioned earlier, Etsy offers a Plus plan for $10/month that gives you access to a few additional features, but Etsy's standard plan doesn't have a monthly fee. You will, however, be responsible for:
Listing fees: $0.20 per product
Transaction fees: 5%
Payment processing fees: 3% + $0.25 on everything you sell.
Etsy's payment processing fees are a bit higher than the average, and if you have higher-priced orders, the fees might cut into your profits in a big way.
Shopify vs. Etsy: Support
So, what happens when you run into trouble? This section looks at how Shopify and Etsy measure up when it comes to supporting.
Shopify's Support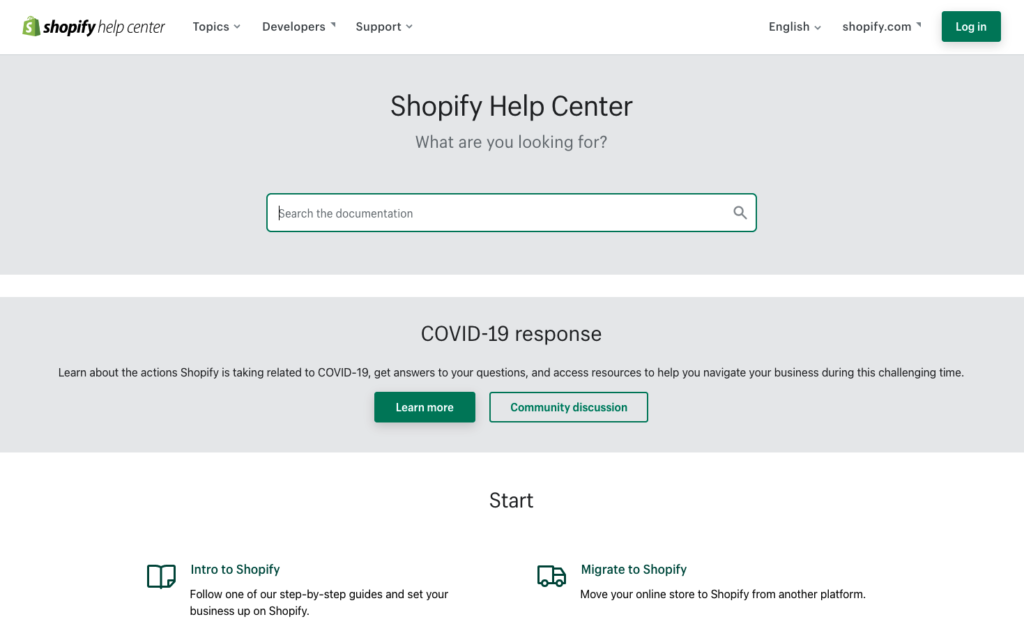 There are several ways to get support from Shopify. Not only do they offer 24/7 phone and live chat support, but they also have email support, forums, and you can even reach out to them on social media.
Higher-level Shopify plans include access to advanced specialist support, too.
In addition to the support options, Shopify's Help Center includes a range of self-help articles and guides, along with a video tutorial library that covers some of the more common support issues you might have.
The Shopify forum is also a powerful support feature. It has an active community of users who've been there and done that twice.
Etsy Support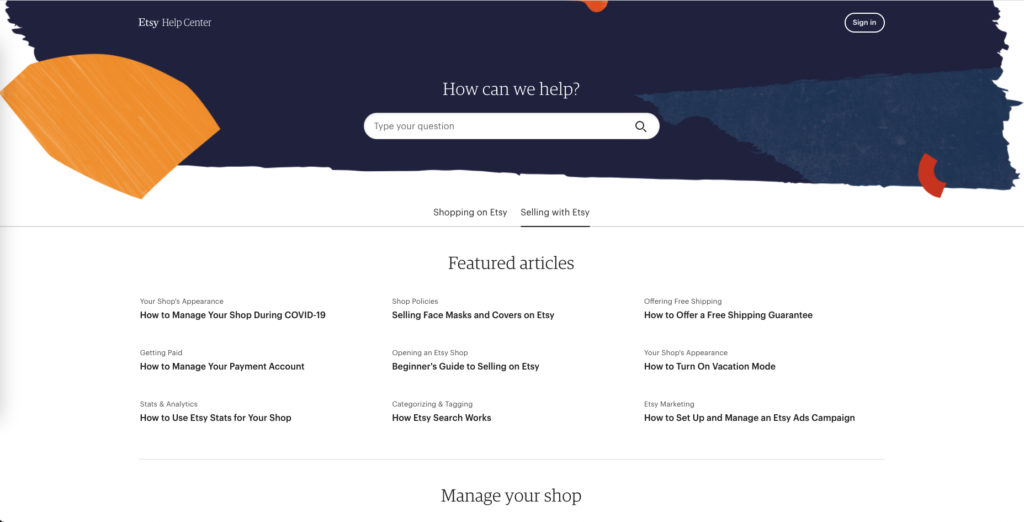 Etsy's support options are somewhat limited compared to Shopify's. The platform also has a Help Center with a search function so you can look for solutions to your problems on your own. There's also a forum where you can connect with other Etsy users and maybe find answers to your issues.
If the Help Center and forum don't solve your problem, you can always email Etsy's support staff or schedule a call.
Shopify vs. Etsy: Which Ecommerce Platform Is the Winner?
And here we are, at the end of our exploration of Shopify and Etsy. So, which ecommerce platform is the best?
As is the answer with so many things: it depends.
Shopify is a robust ecommerce platform filled with tools that are perfect for small to mid-sized businesses. But, if you're a new seller, have a small inventory of products, or focus on vintage or handcrafted, artistic products, Etsy might be the best bet.
Of course, you could always use them together. Here's how:
Use Etsy to test the market. Since Etsy has such easy entry, it's a great place to test your product's viability. Then, use Shopify to build your brand and lay the foundation for long-term business success.
Build a multi-channel business right from the start. Maintaining both Etsy and Shopify storefronts gives you exposure to multiple audiences.
Give yourself room to grow. If your Etsy shop is successful, you're probably going to find yourself getting frustrated with its limitations. In that case, you can use Shopify for your main ecommerce store and use Etsy to continue selling the products that have consistently performed well on that platform.
Conclusion
Both Shopify and Etsy have their own set of advantages and disadvantages, but Shopify consistently outperforms Etsy in every area except pricing.
However, when you're choosing between these two platforms, you'll want to consider your own business goals, target audience, and the products you're selling instead of just jumping on the option with all the bells and whistles.
If you're looking for Shopify alternatives, check out this guide I wrote comparing Shopify with WooCommerce.