As a marketer, there's probably one feeling you want to evoke in your audience more than any other:
You want your audience to get excited about your product so they'll become loyal customers.
So how do you evoke this feeling?
By implementing a product marketing strategy that captures your audience and gives them a reason to purchase your product.
And that's exactly what you'll learn to do in this article.
I'll show you examples of brands that have mastered product marketing and explain how you, too, can market your products so that you engage your audience and get more customers.
I'll show you examples of brands that have mastered product marketing and explain how you, too, can market your products so that you engage your audience and get more customers.
Product Marketing Examples
What Is Product Marketing?
Product marketing does not have one set definition as it varies depending on the context in which it's used.
In this article, from The Adaptive Marketer, it's defined as:
"The function accountable for the success and growth of a product by connecting customer needs to product capabilities. The value of Product Marketing comes from its deep understanding of markets, customers and their needs."
Thus, to market your products successfully, you must have a deep understanding of your customers and the market.
If you understand this, your products will be easier to position on the market, and you'll have the necessary knowledge to attract new customers.
When you promote products, you should also consider how your product satisfies your target audience's needs and how it can help them overcome pain points—depending on your type of product, of course.
Lastly, with the rapid development of online markets, you need to ensure that your product remains relevant, as the market and its consumers evolve.
So how do you do that?
In the following, I'll show you six successful product marketing examples, and how you can achieve the same.
6 Product Marketing Examples Done Right
When you want to promote your products, you need to position it in a way that will attract new prospects.
To do so, you should always consider the following questions:
Who is this product for?
What does this product do?
How is this product different than what's out there already?
You're unlikely to come up with a completely new product that no one has ever seen before, which is why product marketing is about positioning your product in a unique way that lets you stand out from the competition.
Here are six businesses who've taken a unique approach to market their products—and how you can, too.
1. ASOS
With a market capitalization of $6.5 billion, it's safe to say that ASOS has succeeded in building a reputable business.
Part of their success is, of course, the way they market their products.
One challenge that many online clothing stores like ASOS face when trying to sell their products is that their customers don't have the option to try the clothes on before purchasing.
But ASOS has found a way to overcome this obstacle, not only by offering free shipping and returns worldwide but in the way they present their products on their website.
They make use of visual marketing to ensure potential customers can see the product from all angles.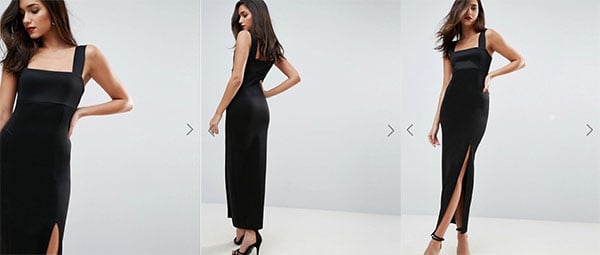 They've also included videos so consumers can see how the clothes look "in action."

Since 93% of consumers consider visual appearance to be the key deciding factor in a purchasing decision, it's important for online retailers to use visuals to show what the product looks like and how it works.
ASOS also makes use of social proof on their product pages by having people upload photos of the clothes they bought with the hashtag #asseenonme.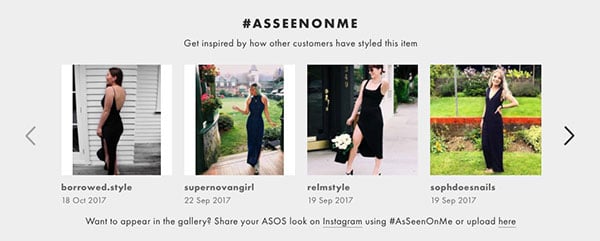 By doing so, ASOS builds credibility because potential customers can see that others have bought their products and are using them.
AND it's easier for people to see how the clothes look on other people (read: regular sized people who don't model clothes for a living).
The takeaway here is that you should always consider the obstacles your target audience might have regarding purchasing your product online (or offline).
2. Poo Pourri
In his book: Drucker Management, Peter Drucker states: "The aim of marketing is to know and understand the customer so well that the product or service fits him and sells itself."
Peter Drucker is right in this statement, but the reality is a different story.
No product can sell itself without marketing—I'll even challenge you to find one that does.
Even a bare necessity such as toilet paper doesn't sell itself, and the reason is that countless toilet paper brands are vying for consumers' attention.
So while toilet paper itself might sell itself, the different toilet paper brands need marketing to sell their toilet paper.
Now, you might be wondering why I'm talking so much about toilet paper, and the reason is that the next product on this list made me think of it.
Poo Pourri is a toilet spray that eliminates the odor of #2.
This is no new invention, but Poo Pourri has found a way to break the tabu around this common problem, and market their product in a fun and humorous way.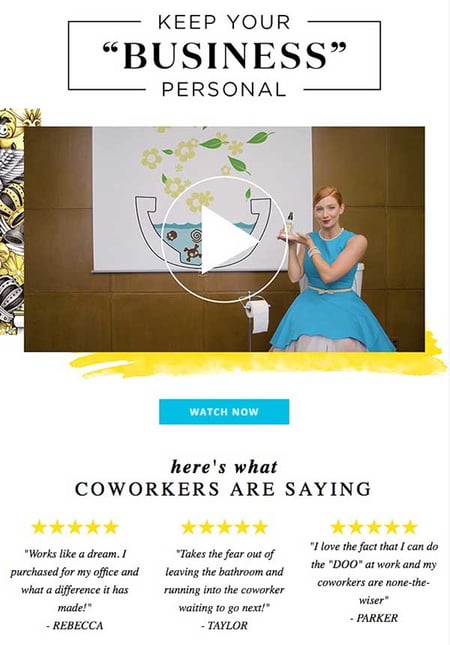 They put our thoughts and fears about going to the bathroom into words and try to start an online conversation about this problem.
The product itself can't be marketed the same way as, for instance, clothing, because it's not the product itself that's attracting customers, it's the problem it helps people solve.
Poo Pourri uses visuals such as images and videos to illustrate different common scenarios in which their product is used.
One example is this video:
Poo Pourri doesn't sugarcoat their marketing, and they've found a way to position their "not naturally funny" product in a humorous and unique way.
3. Man Crates
More businesses are incorporating humor into their product marketing strategies—and for good reason.
According to a study by Nielsen, 50% of European and American consumers prefer humor in marketing over any other messaging theme.
Man Crates have adopted this strategy as well, but differently than most businesses.
Their product is mainly made for a male audience, but they market it to women who're looking to buy gifts for the men in their lives.

As a woman, I can testify to the fact that men are HARD to buy presents for. They never wish for anything, and if they do, it's typically socks and underwear.
I know I'm generalizing here, but I'm sure plenty of women will know what I'm talking about.
Man Crates have identified this pain point and have positioned their product as the perfect gift for men—which is something many women didn't know existed.
This strategy is incorporated in many of their marketing strategies, including their website, social media, and email marketing: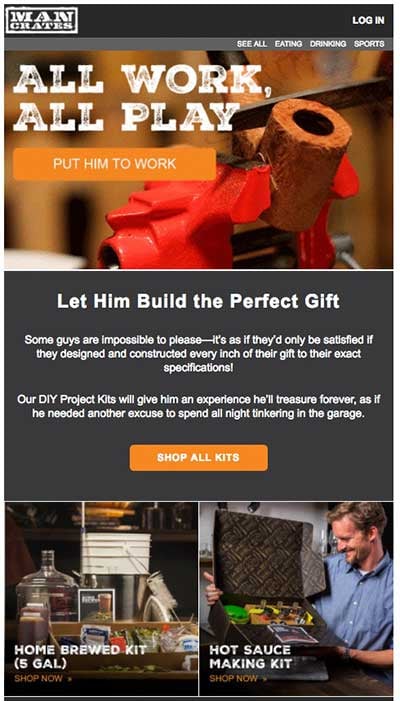 They also use video marketing to promote their outstanding customer service. This works especially well because their target group (women) might have more questions about this type of product than if they were buying something for themselves (at least I would have).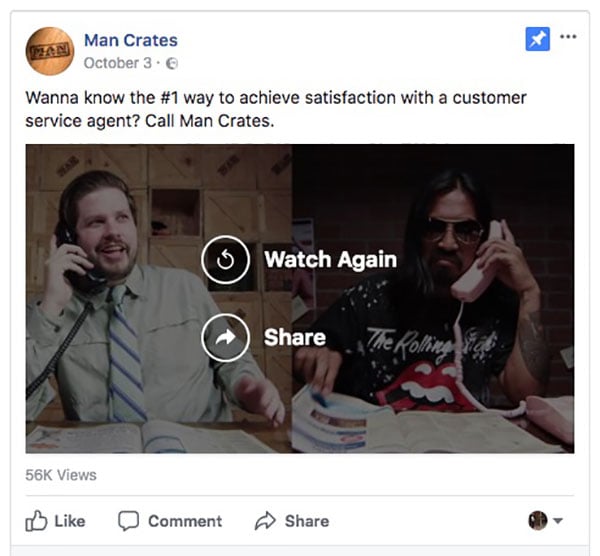 By positioning their product this way, Man Crates tap into a new audience where competition isn't as high, and they use their understanding of this audience cleverly to attract more customers.
4. Bellroy
Online wallet store, Bellroy has taken a similar approach to their product marketing as ASOS.
They use videos to show the details of their product from different angles, to illustrate its simplicity and elegance.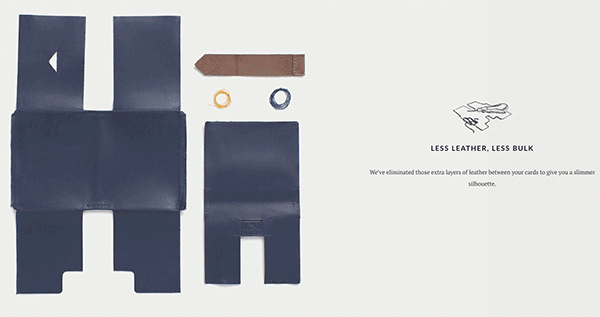 Bellroy also understands the problem of their audience:
Fitting a wallet into a back pocket.
Bellroy's target audience is predominantly male, and because many men don't use purses to carry their wallet, it needs to fit into their back pocket.
The problem is that the more cash and cards you have in your wallet the bigger it gets and it either won't fit in a back pocket, or it will bulge out making your rear end look uneven.
To differentiate their product from their competition, Bellroy has a comparison tool on their website.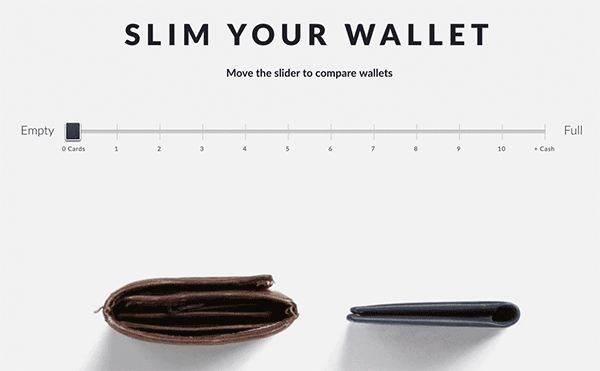 You can adjust the slider to match the number of cards you have in your wallet including cash and see the difference in size.
To make the purchasing decision even easier, they've also included a guide to choosing the right wallet depending on your needs and wishes.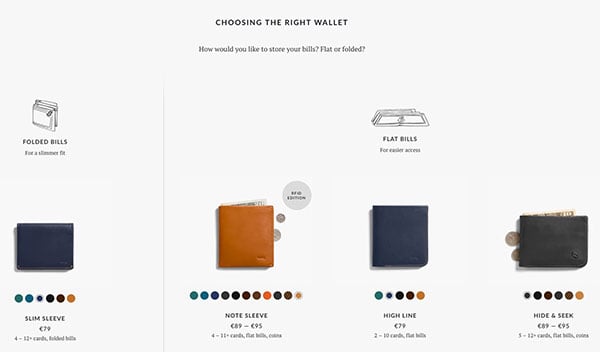 Once again, marketing a product comes down to understanding the needs and pain points of your target audience, and provide the best solution attractively.
5. Oreo
You probably already know it.
The black cookie sandwich with the creamy white filling.
The Oreo cookie is known worldwide and part of the reason why is how it's marketed.
One of the most effective marketing strategies is to tap into your audience's emotions.
This is especially important when you're selling groceries.
You want your product to evoke feelings when eaten, so they'll remember that feeling and crave it (and your product) again.
Oreo does just that by being fun and imaginative.

They evoke curiosity in their audience by asking: Wonder if we gave an Oreo to you. Where would your imagination go?
This question makes their audience escape into an imaginary world where anything is possible if you just eat an Oreo—and it works.
Oreo also uses newsjacking to promote their products, especially on social media.
Whenever a special event or date occurs, Oreo finds a way to incorporate that into their product marketing.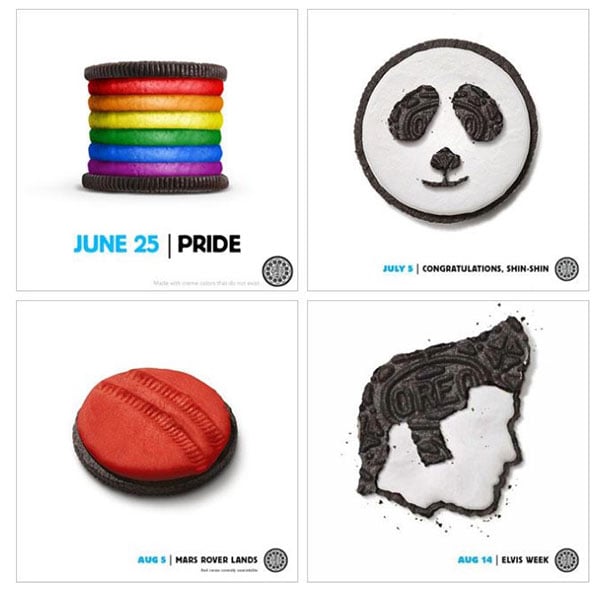 Once again, Oreo stays true to being the fun and imaginative brand that can make an "ordinary" snack seem fun and interesting with playful colors and videos that tap into the feelings of their audience.
6. Volkswagen
The more expensive a product is, the more customization consumers want.
Expensive products require more consideration before purchase, and when consumers have to spend more money, they also want to be able to customize their products to match their needs and wishes.
Volkswagen has made this possible, by adding a "Build Your Car" feature on their US website.
This lets prospects build a customized car and see what it will look like and what the total price will be.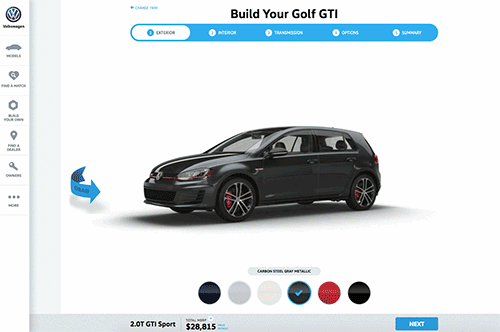 In doing so, Volkswagen gives prospects a chance to visualize their purchase, making the gap between awareness and purchase smaller.
They also eliminate the annoying car salesman who won't stop talking, by allowing potential customers to learn about the different features and have a play around with them independently.
And even though you're not in the market for a new car, this feature is a fun way for people to dream a little and keep the brand top of mind. I built an awesome Golf GTI in 5 min, and it's now on my Christmas wishlist (a girl can dream, right?).
Lastly, Volkswagen also included a nice feature that lets you see which nearby car dealerships have the car you just built.
The takeaway here is that if you sell quite expensive products that typically need more consideration, you need to give people a chance to visualize the product and be able to customize it so they don't mind paying extra to get the exact product they want.
Conclusion
Getting product marketing right is hard work as it requires a profound understanding of your audience, and their needs.
But once you know what your audience wants, you'll have the foundation you need for a great product marketing strategy, and then you can use the tactics from this post to position your product in a unique and creative way on the market.
Show people why your product is the best and give them the opportunity to explore the product in detail. Then they'll be more likely to convert into lifelong customers.