International Women's Day (IWD) is one of the world's biggest and longest-standing awareness days.
Now held annually on March 8th, it first took place back in 1911.
Although that inaugural event was supported by more than one million people, it wasn't until the United Nations adopted IWD in 1977 that it grew into a truly mainstream global holiday.
Since then, its stature has grown and grown, with search increasing sevenfold since Google Trends data begins in 2004: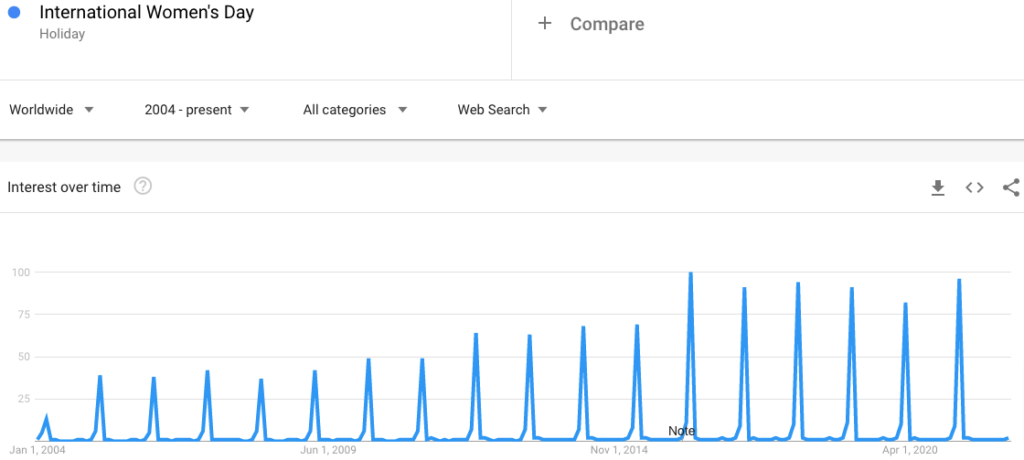 Simply put, it's become too big for (most) brands to ignore.
Chances are a substantial proportion of your customer base—and your workforce—identifies as female. So staying silent isn't an option.
Especially as 57 percent of US consumers want the companies they buy from to take a stand on issues such as racial equity, social justice, and anti-discrimination, according to research from The Corporate Social Mind.
But knowing you need to speak up is one thing; finding the right thing to say is an entirely different matter. While International Women's Day is not a traditional ecommerce holiday, it's an opportunity for you to reach out and build relationships with your customers.
To help inspire your messaging ahead of this year's event, I dug into Drip's email marketing vault to find my favorite International Women's Day email examples.
Let's get started.
9 International Women's Day Email Examples
1. Sweaty Betty
As a women's activewear brand, there was simply no way Sweaty Betty could afford to overlook IWD.
Rather than offering 10 percent off a pair of yoga pants, it decided to lean into the advocacy side of things by announcing the launch of the Sweaty Betty Foundation—a registered charity that works to empower teenage girls at school, in their communities, and online.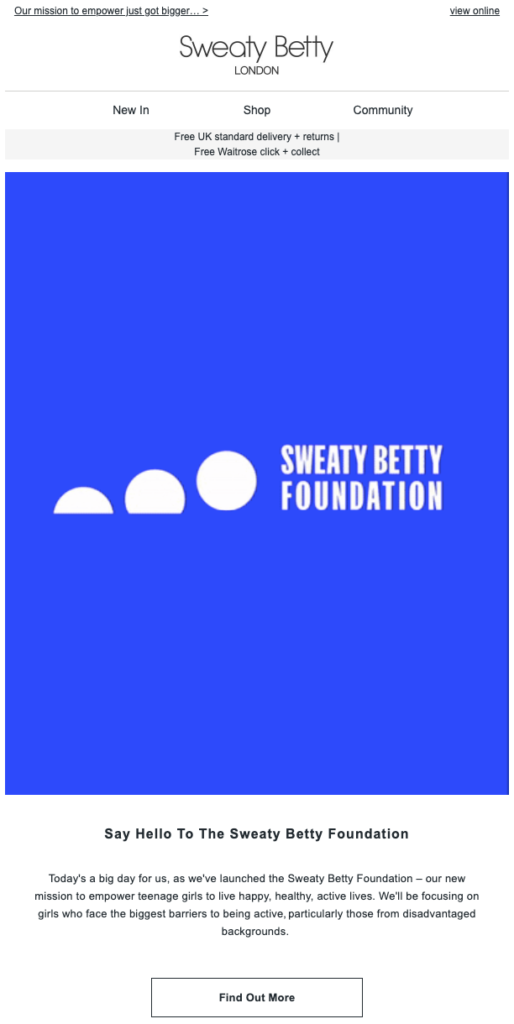 This International Women's Day email works so well because it's not trying to sell anything. It's 100 percent focused on introducing the charity, which helps to paint Sweaty Betty as a brand that genuinely cares about female empowerment.
That's extremely important because consumers are becoming increasingly skeptical about brands' corporate social responsibility (CSR) efforts.
Indeed, a survey of 395,000 consumers from Havas revealed that only 47 percent of brands are seen as trustworthy, with 71 percent of people having little faith that brands will deliver on their CSR promises.
In the face of all that consumer cynicism, the last thing you want is to shout about how you're dedicated to female empowerment, then immediately turn International Women's Day into a marketing opportunity.
2. The White Company
Sticking with the CSR approach, the interiors brand The White Company also chose to highlight its effort to empower women. But it took a slightly different—and more achievable—tack to Sweaty Betty.
Not every brand has the resources, reach, or brand awareness to launch its own charity. Rather than going it alone, The White Company opted to promote an existing initiative—the #ChangeAGirlsLife campaign from UK charity The Prince's Trust.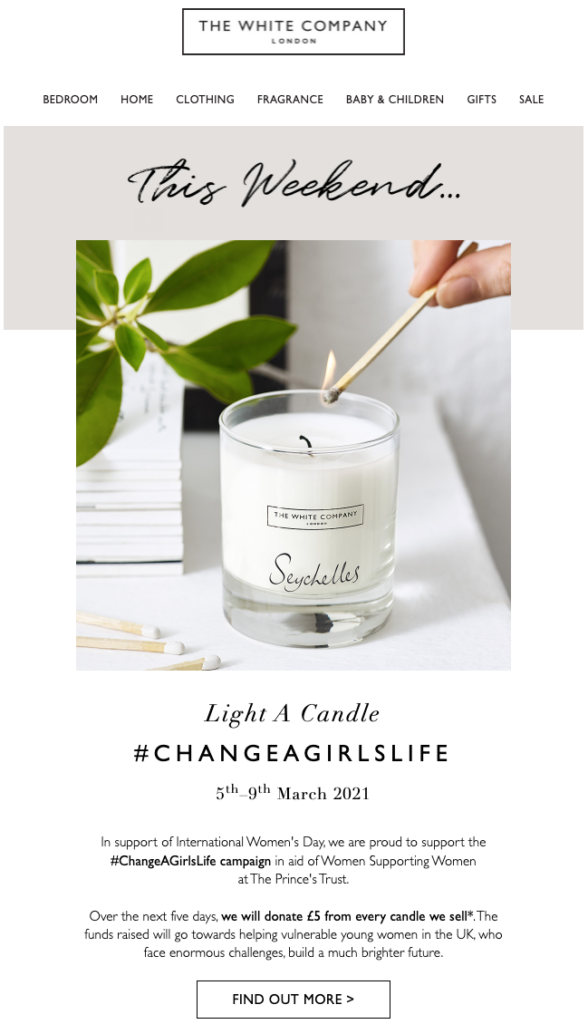 There's plenty of upside to this approach. First, it enables The White Company to support a cause that's extremely relevant to International Women's Day, without crowbarring itself into the center of the narrative.
It's a comparatively "quick win" because it leverages an external campaign, meaning The White Company doesn't have to handle all the logistics of starting a charity from scratch.
Finally, from a commercial perspective, it allows the brand to use IWD as an opportunity to drive sales without looking cynical by donating a portion of every purchase to the Women Supporting Women movement.
3. Fabletics
Unless you're a nonprofit organization, the ultimate goal of your marketing efforts is to sell more.
So there's nothing innately "wrong" about leveraging International Women's Day to promote your product, provided you get the messaging right.
Problem is, "right" and "wrong" are often very subjective matters. And I'm a man, so I'm not the best person to proclaim whether an IWM email hits the mark or falls short.
However, for what it's worth, I think this example from Fabletics gets it right: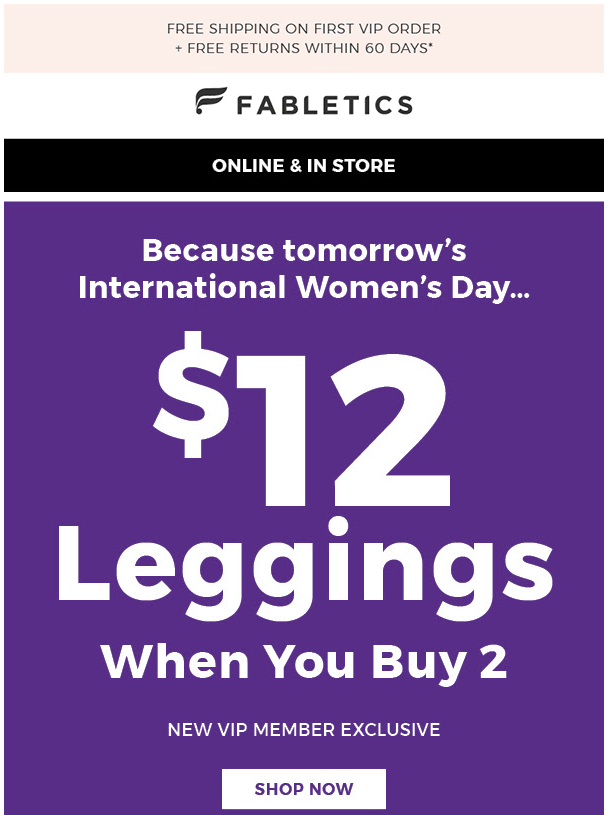 Okay, so it leads on a "hard sell", but it's not trying to pull the wool over anyone's eyes or mask the promotion behind a surface level of CSR messaging.
Not only that, but when you dig into the email, it becomes apparent that Fabletics is taking real action to support and empower women.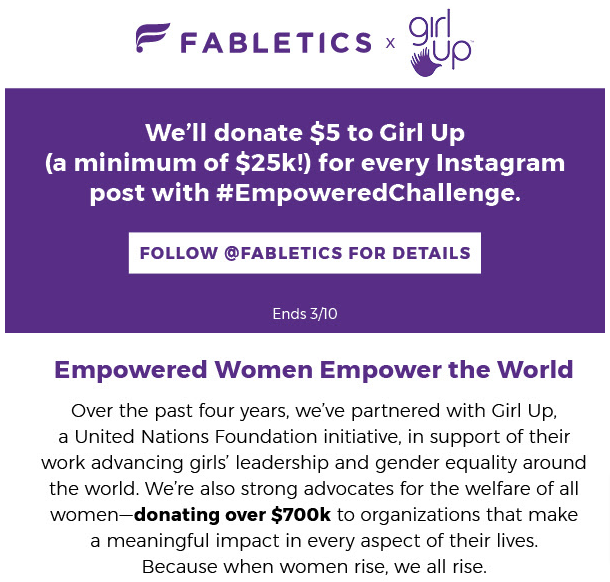 Putting a monetary value on its support for women's welfare organizations is a powerful statement, making it clear that the brand isn't just using IWD as a promotional opportunity.
4. Sunski
It's (comparatively) easy to craft impactful messaging around International Women's Day if your audience is predominantly female. Things become a little trickier if that's not the case.
Hopefully, no one's going to object to you supporting women's charities or preaching a message of equality. But does it make sense to run a promotion or discount if a large proportion of your audience is male?
Maybe, maybe not.
Yet you still want to do something to mark the occasion. So what's the solution? Well, sunglasses brand Sunski shows us one option.
At the bottom of an email sent in the run-up to International Women's Day, it simply offers a "parting thought" reminding its audience that IWD is on the horizon and incorporating a call to action (CTA) that urges people to find out more about the event: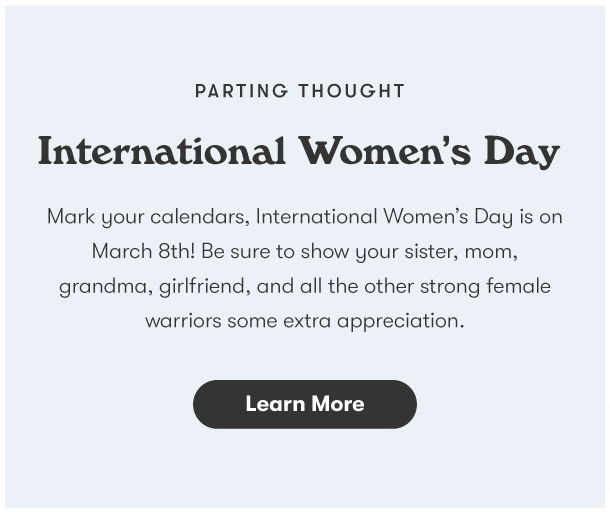 Sure, it might not be the most ground-breaking International Women's Day campaign you've ever seen. But it allows Sunski to get involved in a way that's subtle and not too showy.
5. Buffy
International Women's Day is the perfect opportunity to amplify female voices. And what better way to do that than by giving the incredible women within your own organization a platform to speak up?
That's what bedding brand Buffy does here:

It's an authentic way to mark IWD, with the added bonus that it helps your audience get to know your team—in turn encouraging them to build a firmer bond with your brand.
Another interesting element of this International Women's Day email example is the CTA. As you'll have noticed, it's not trying to sell anything. Instead, the call to action leads you to Buffy's Instagram profile—it's about building the brand rather than closing the deal.
That might sound counterintuitive for your email marketing, but be aware that taking an overly salesy approach around "awareness days" could be a turn-off for your audience.
6. Vinomofo
According to the Women's Business Enterprise National Council, the number of female-owned businesses in the US rose by 58 percent between 2007 and 2018, while the total number of businesses increased by just 12 percent.
However, half of all women-owned businesses fall into three industries:
Healthcare and social assistance
Professional, scientific, and technical services
The ambiguously titled "other services"
In other words, there are broad swathes of the business landscape that are still largely untouched by female ownership.
If you happen to be in (or involved in) an industry that's short on female leadership, why not use International Women's Day as an opportunity to flag up businesses that are bucking the trend?
This is precisely what wine delivery brand Vinomofo does here:
To be clear, Vinomofo is an Australian brand, so the exact figures around female business ownership will differ. But from its IWD email, it's clear that female Aussie winemakers are pretty thin on the ground.
If you're a business that sells products from multiple brands, this is such a smart approach.
Think about it: by highlighting female-run winemakers, Vinomofo gets to drive sales while still supporting International Women's Day in a totally organic way. It's the perfect blend of advocacy and commercial nous.
7. Asics
Numerous studies show that women are more stressed than men. So mindfulness and stress relief are definitely relevant topics for your International Women's Day email marketing.
If you can give your audience a genuinely useful tip or two to help them feel less pressured, they'll definitely appreciate it (and remember you). And if your advice comes from some experts rather than marketers, all the better.
In this example, Asics teamed up with a triumvirate of inspiring women—long-distance runner Sarah Lahti, hormone coach and personal trainer Rabea Kieß, and professional netballer and new mom Eboni Osoro Brown—to offer practical guidance on how to lighten your mental load.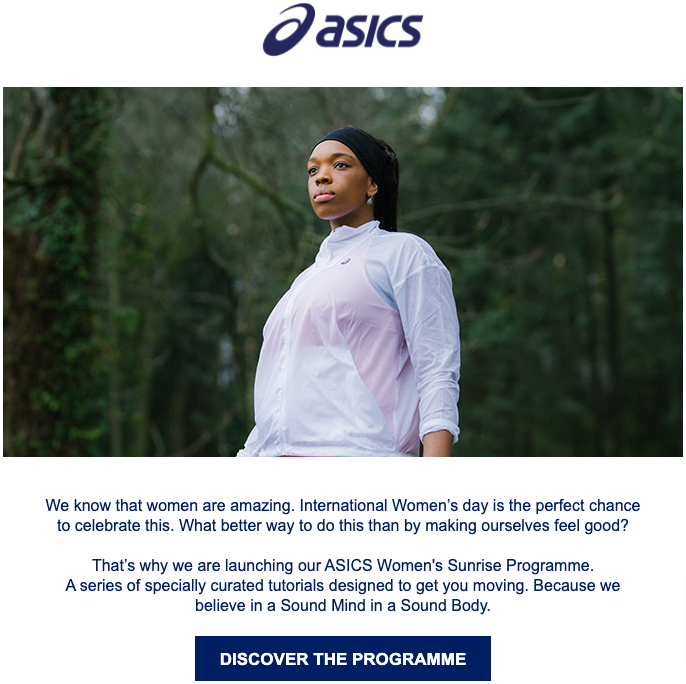 If you're going to launch some kind of International Women's Day campaign, it helps to do it in a way that feels authentic to your brand.
That's definitely the case with Asics—a brand whose name is an acronym of the Latin "Anima sana in corpore sano" ("You should pray for a healthy mind in a healthy body").
8. Monki
Monki is a womenswear brand with an audience that skews younger and female. That puts it under a lot of pressure to come up with a meaningful International Women's Day campaign.
Why? Because younger women care more about equality-related issues than their older counterparts.
Indeed, Pew Research Center found that 76 percent of Gen Z women believe having more female candidates running for political office is "good for society", compared to 54 percent of women in the Silent Generation.
So Monki didn't just launch a limited-time sale or a multi-buy offer to coincide with IWD 2021; it launched a whole new clothing collection.

If International Women's Day is a big deal for your audience, it makes sense for you to shout about it. And a new product launch is definitely one way to do that.
However, this is about more than just selling some fancy new sweaters. For the launch, Monki teamed up with Plan International, a development and humanitarian organization that works in dozens of countries worldwide.
That means 20 percent of proceeds from sales of its new range were donated to support the #GirlsGetEqual initiative through Plan International Sweden.
9. Michael Kors
So far, I've looked at advocacy campaigns, product launches, mindfulness initiatives, and special promotions.
But as one of the world's most prestigious fashion houses, Michael Kors had to do something a little… fancier.
So it launched its own Instagram filter to mark IWD 2021.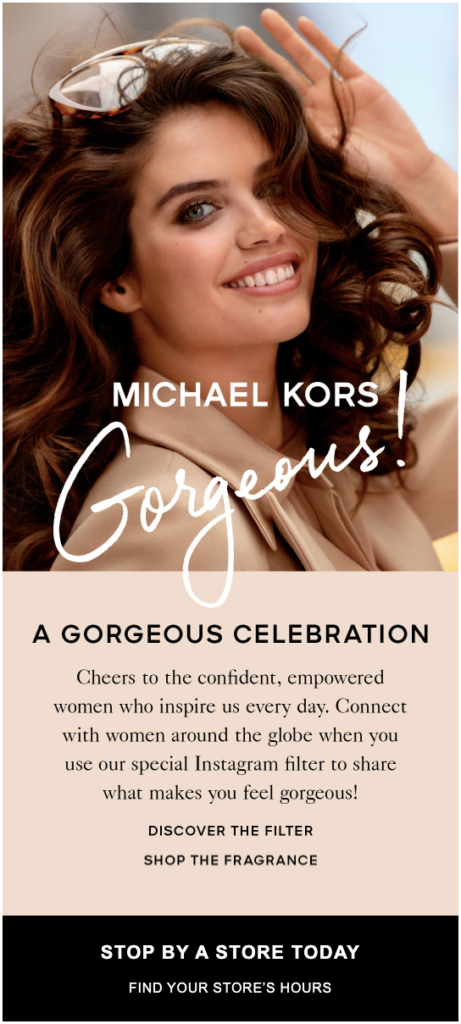 It's not hard to see the appeal of custom filters for brands, with an eMarketer forecast predicting that adoption of social media augmented reality filters in the US will climb from 29.9 million users in 2018 to 48.3 million in 2022.
The idea behind the Michael Kors campaign was for consumers to use the Instagram filter to share what makes them feel gorgeous. So the brand wasn't just doing its bit to celebrate International Women's Day; it was also encouraging its audience to create user-generated content (UGC).
Again, that's a smart approach, with research from Stackla revealing that consumers are 2.4 times more likely to describe UGC as "authentic" compared to brand-created content.
Conclusion
Whether or not your audience skews females, International Women's Day can't be ignored.
For a growing number of consumers, it's no longer acceptable for brands to stay silent on equality-related issues.
That doesn't necessarily mean you need to launch your own social movement to campaign for women's rights. But at the very least, you should be taking the opportunity to celebrate the women within your own business.