The online apparel industry is on fire. In the US alone, it went from generating $68.4 million in 2017 to $123.7 million in 2020.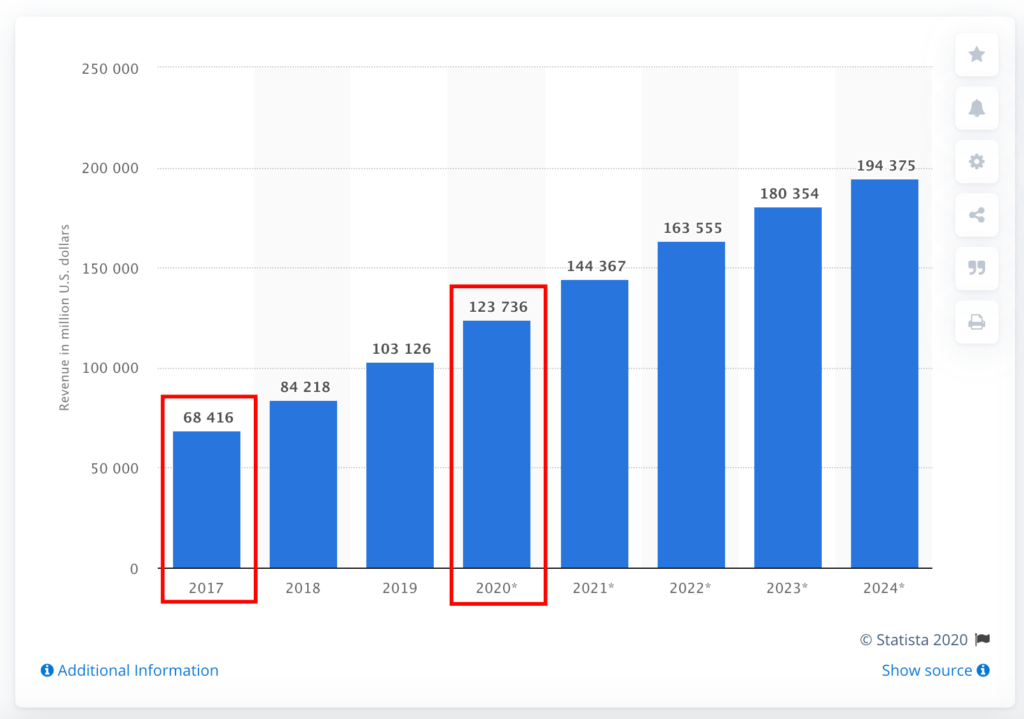 That's nearly double. And this growth trend is expected to continue for the foreseeable future, where experts predict it will reach $194.3 billion by 2024.
What's interesting, though, is that "online apparel is increasing at a faster pace than all of US e-commerce," according to Digital Commerce 360.
Aaron Orendorff of Shopify Plus adds that "lower digital barriers to entry for all clothing merchants offer the opportunity to market, sell, and fulfill orders globally and automatically."
Put this all together, and it shows the potential of selling online apparel and that now is the perfect time to jump into this industry. Maybe this is something you're still considering.
Or maybe you've already launched a digital apparel store and are looking for some direction to take it to the next level. If you fall into either of these categories, this article is for you.
Here I'm going to cover what it takes to succeed in online apparel. I'll discuss some common frustrations clothing shoppers have, what motivates them to buy, and the core techniques you should focus on.
I'll then include several apparel website examples, highlighting what these brands are doing right so you can apply their strategies to your own brand.
Table of Contents
Common Shopper Frustrations
First, I think it's helpful to have an understanding of what gets in the way of apparel shoppers making a purchase. According to SalesCycle, there are nine main reasons why people abandon clothing purchases online.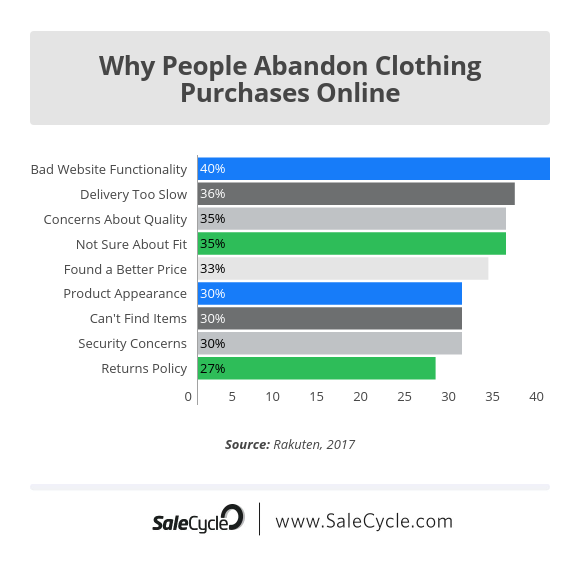 As you can see, bad website functionality is the biggest dealbreaker, which leads to 40 percent of shoppers abandoning their purchase. Next, there's too slow of a delivery at 36 percent, followed by concerns about quality at 35 percent, and not sure about fit also at 35 percent.
Besides that, finding a better price elsewhere, poor product appearance, not being able to find particular items, security concerns, and unfavorable return policies can also prevent shoppers from completing a purchase.
Therefore, these are some specific issues to keep in mind when constructing and optimizing your online apparel store. Making sure that you don't fall into any of these traps should make it easier to build rapport with shoppers and encourage them to complete their purchase.
Why Shoppers Buy Apparel Online
On the other hand, there are a handful of factors that motivate shoppers to buy apparel online.
According to SalesCycle, the three biggest were:
Having more choice (33 percent of shoppers)
Can find a bargain (30 percent)
Clothes are cheaper online (27 percent)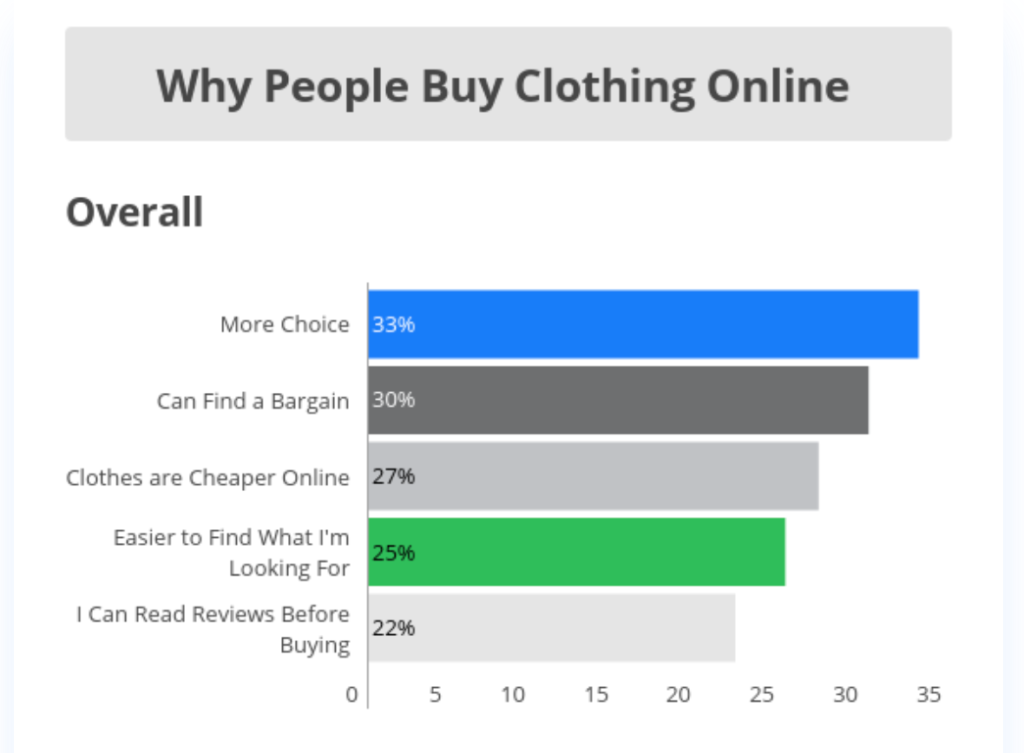 Besides that, being able to easily find what they're looking for was also important for 25 percent of shoppers, as well as being able to read reviews before buying for 22 percent.
Key Areas to Focus On
Now that we know what turns shoppers off, as well as what motivates them to buy, we can identify some specific areas to focus on, which include the following:
Having great website functionality
Offering simple navigation and search to quickly find products
Selling high-quality products
Clearly explaining product fit and making size recommendations
Offering multiple images of products so shoppers can gain a full perspective of their appearance
Providing unbiased ratings or reviews from previous customers
Having fast delivery options
Offering safe, secure checkout
Apparel Website Examples You Can Learn From
Here are some of the best of the best online apparel brands and some specific areas where they're crushing it.
1. ASOS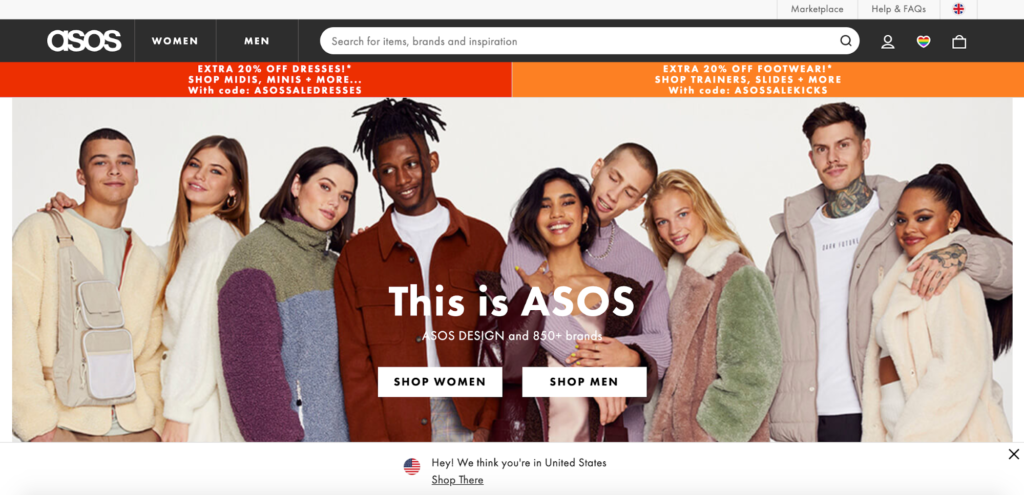 If you've read any other Drip blog posts before, you've probably realized that we include ASOS in a lot of examples. And for good reason.
They've managed to stay fresh and relevant over their 20-year span of being in business, with one of their main selling points being their ever-improving website.
The second a shopper lands there, ASOS does two critical things. They offer amazing site functionality, and they offer streamlined navigation so shoppers can quickly find what they're looking for.
For example, they have two sections that instantly ask a shopper whether they're looking for women's or men's products.
They have an easily visible search bar at the top, where a shopper can quickly search for a particular item they're interested in. And, they have a little section at the bottom that says they think the shopper is based in the US based on their ISP.
The shopper can confirm that by clicking on that link, taking them to the US version of the ASOS site.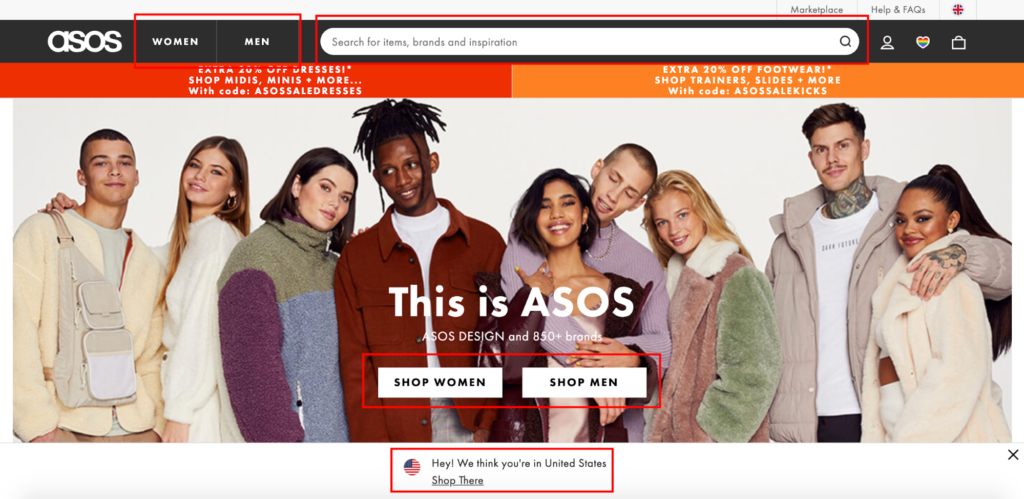 So the moment someone lands on ASOS, they see a professional design with crisp-looking images of models wearing their products, along with super simple navigation.
Using this approach is vital for getting your foot in the door with apparel shoppers, so there's a lot you can learn right there. But when you look closer and view individual products, it's clear that ASOS checks the boxes in other key areas as well.
For instance, they offer product images from multiple angles, along with a zoom feature so a shopper can get a true sense of what each product is like.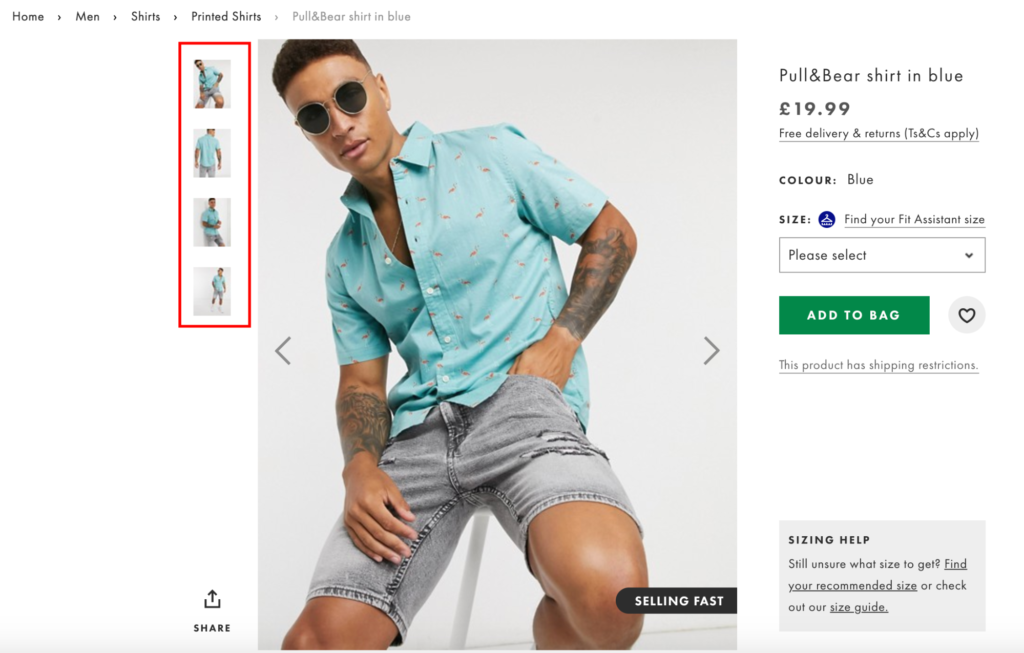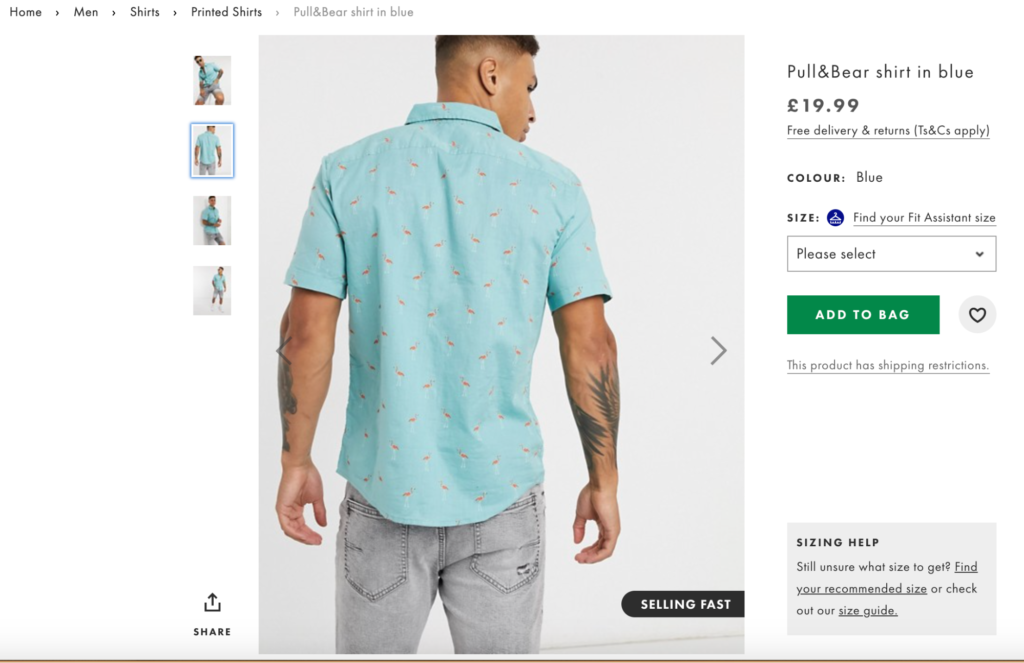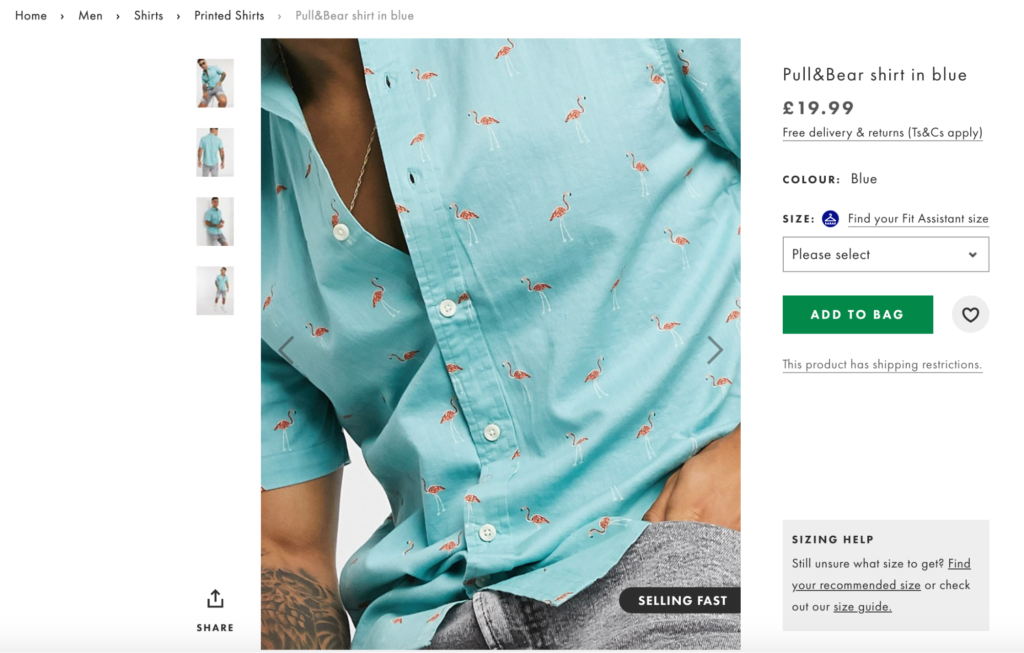 They also offer plenty of product details, including information on sizing and fit.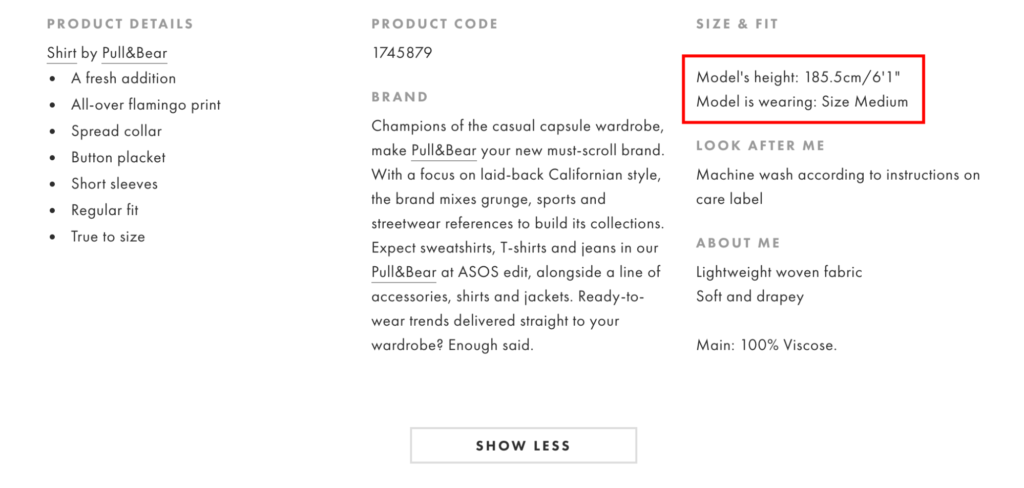 And ASOS takes it one step further to ensure their customers get the right fit by including a sizing help guide.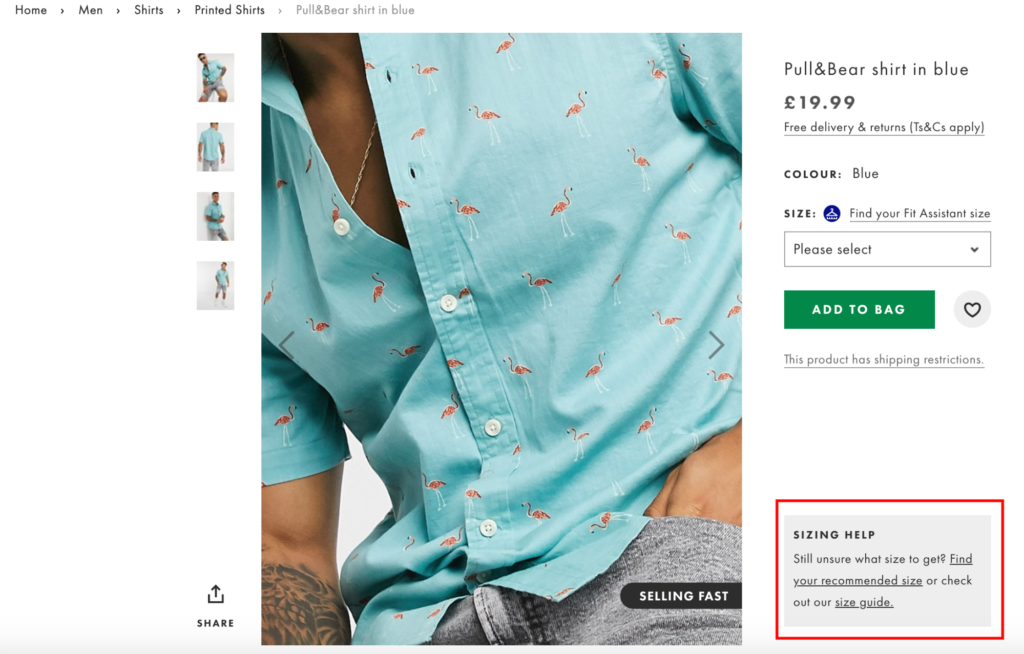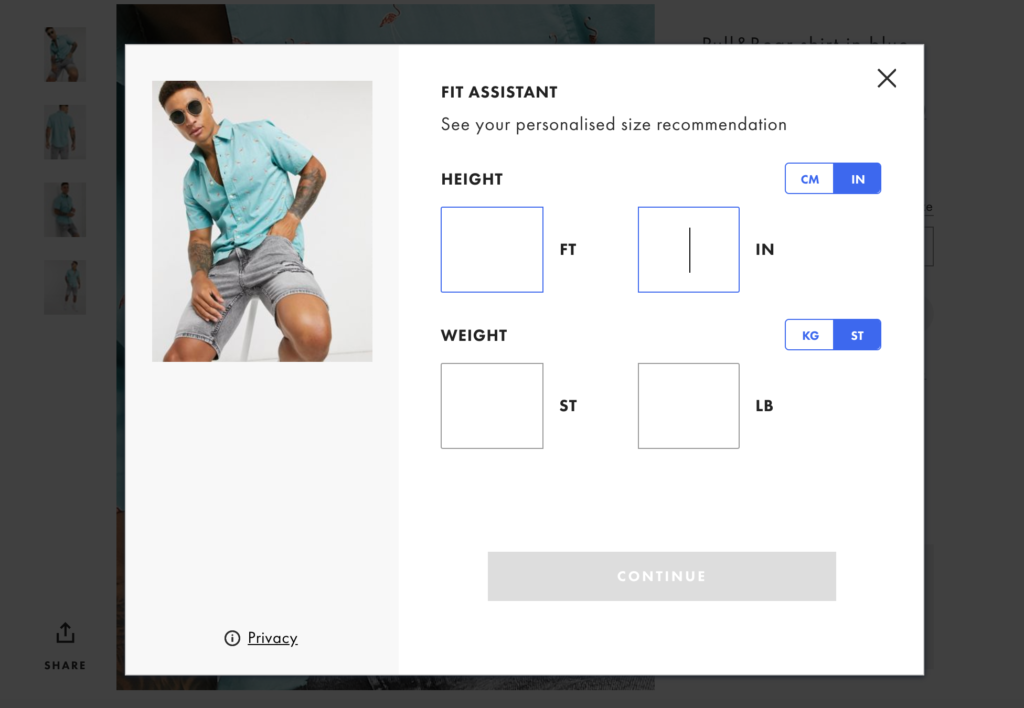 This not only improves the odds of a shopper finding the perfect fit, but it also reduces the chance of a return. And in the long run, this increases the likelihood of repeat sales.
In fact, 61 percent of shoppers are "very likely" to order more clothes from a brand if the first item they order fits well. And 28 percent are "likely" to do so.
In terms of delivery, ASOS offers next-day delivery to customers in the UK and includes an in-depth section on their site about this information.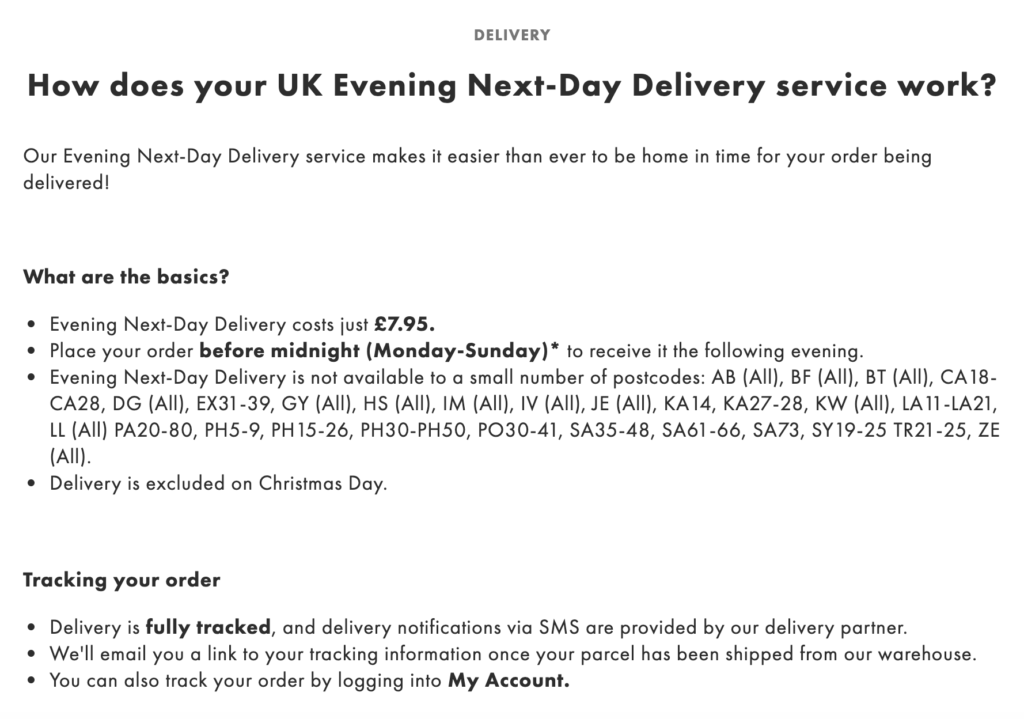 Finally, they let shoppers know that they take cybersecurity very seriously and even include a dedicated page on their site about it.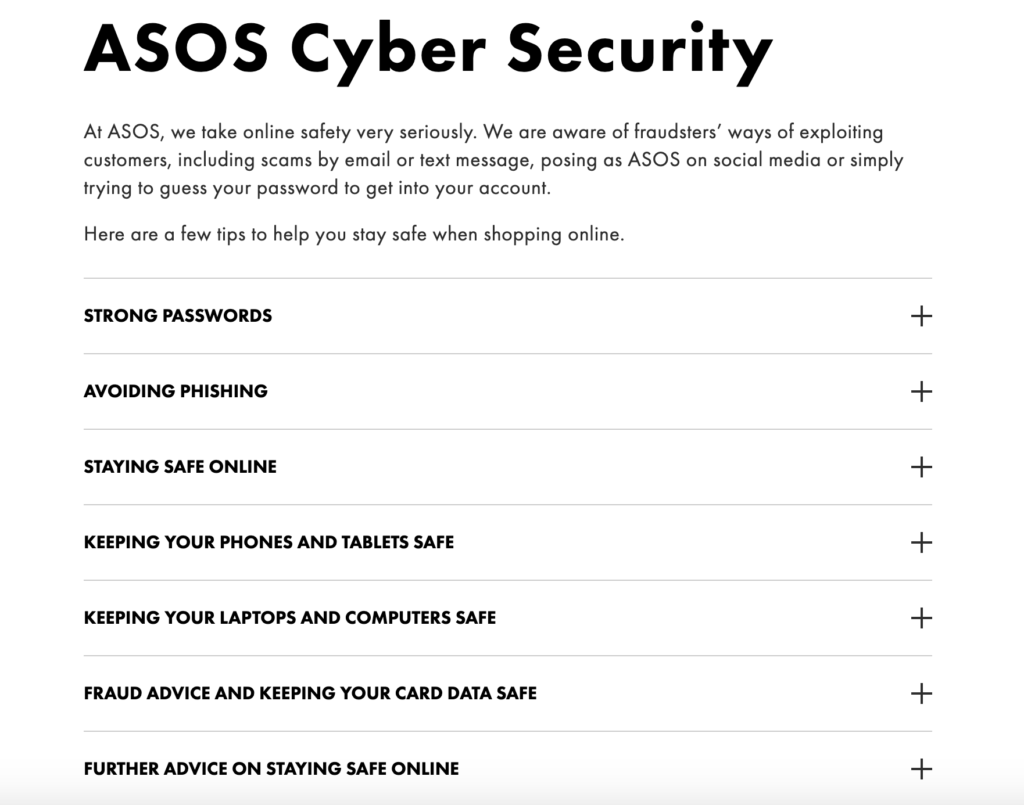 Put all of this together, and it's easy to see why ASOS is one of the best apparel website examples in the industry.
2. New Look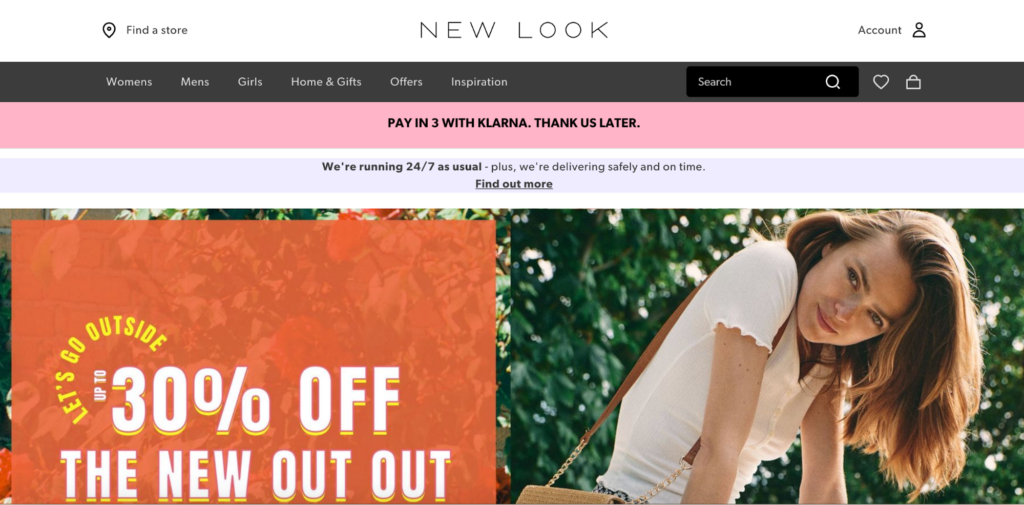 New Look is another British apparel company that's put a lot of effort into creating a seamless shopping experience.
For starters, their website has great functionality and quick navigation. Upon landing on New Look's site, a shopper can search by broad categories, like womens, mens, girls, and so on.
Or, they can use the search bar to type in a specific product they're looking for.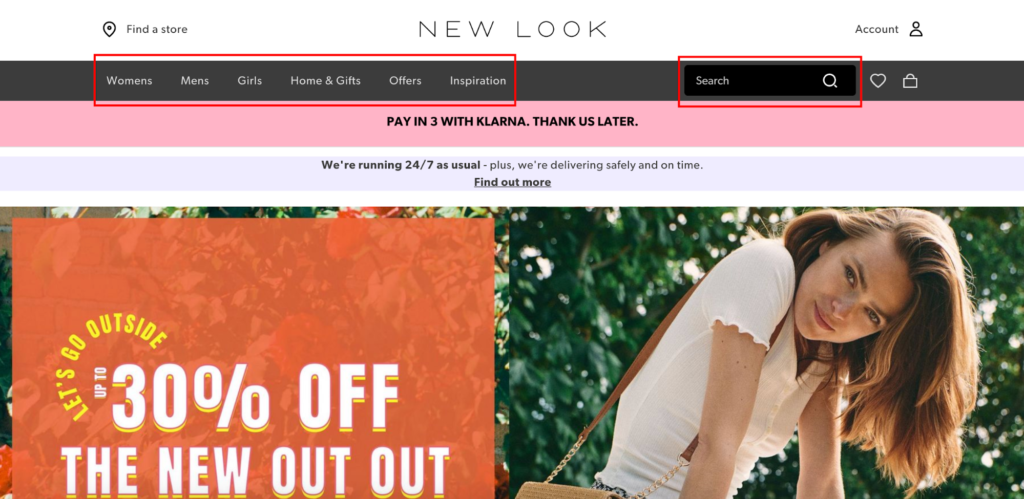 Scroll down just a bit, and shoppers can find additional categories, including curves, petite, tall, and maternity, for added personalization.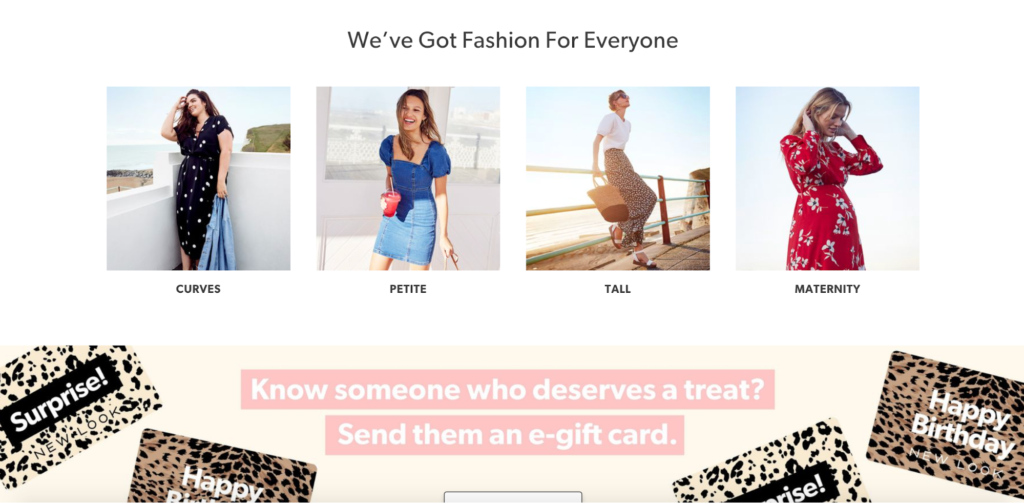 After looking a bit closer at an individual product, it's clear that New Look's selection is high quality, and each item offers several images from different angles.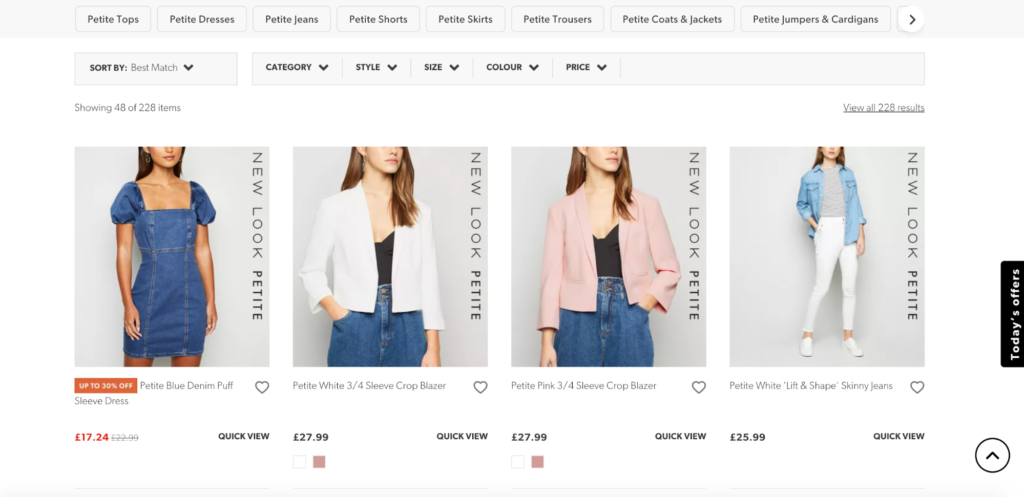 Take the Petite White ¾ Sleeve Crop Blazer, for example.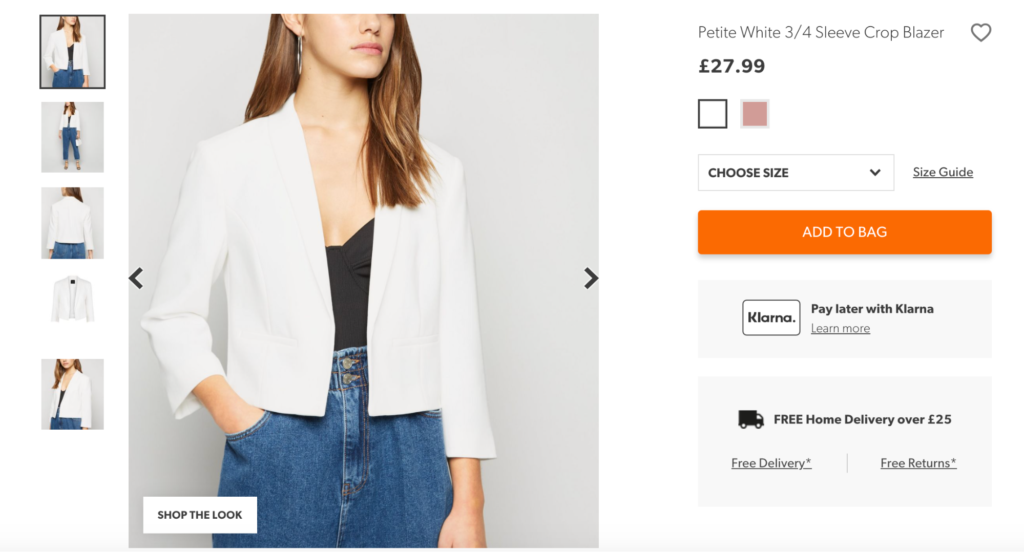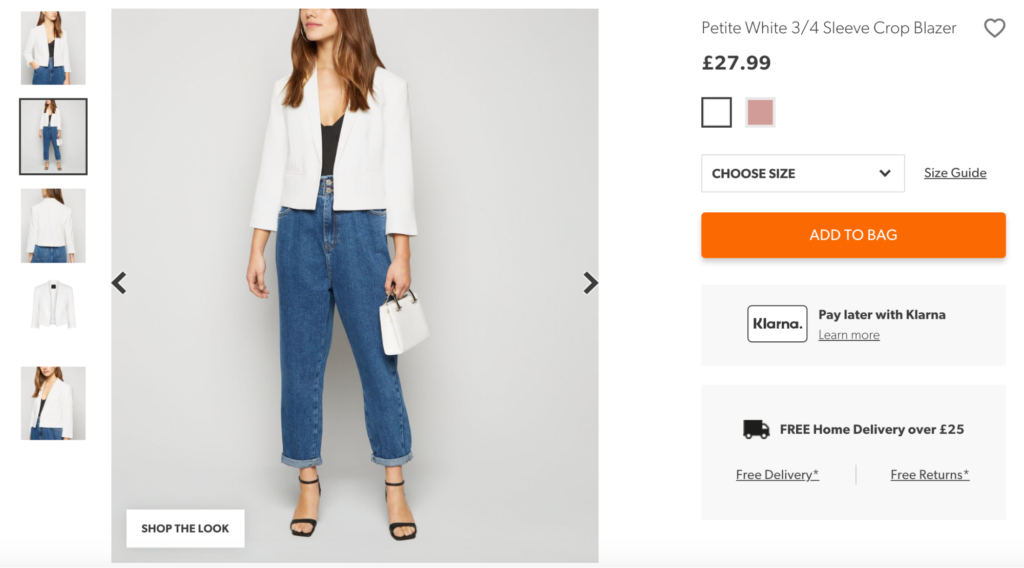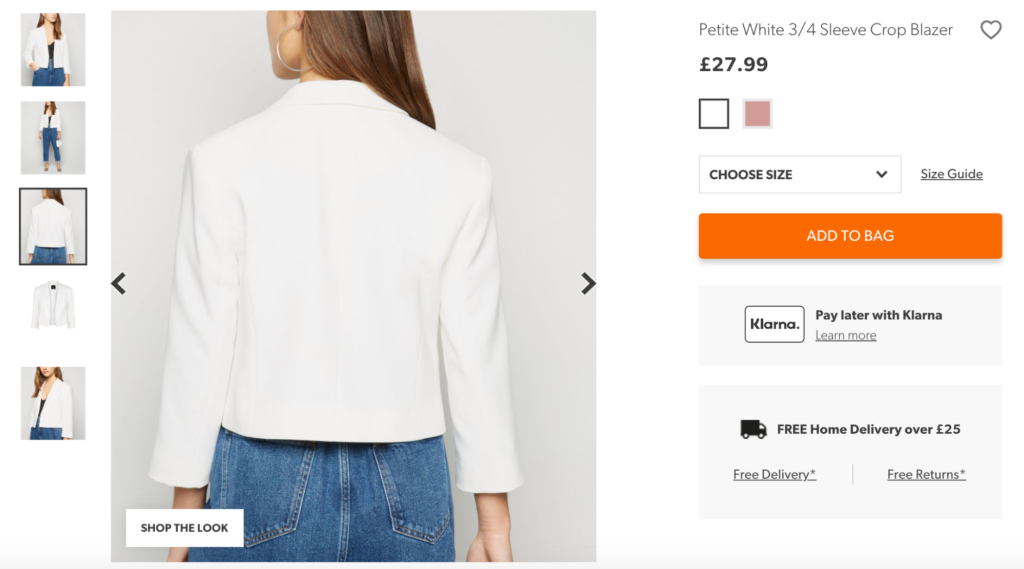 This, along with the zoom feature, allows a shopper to get a true sense of what it looks like.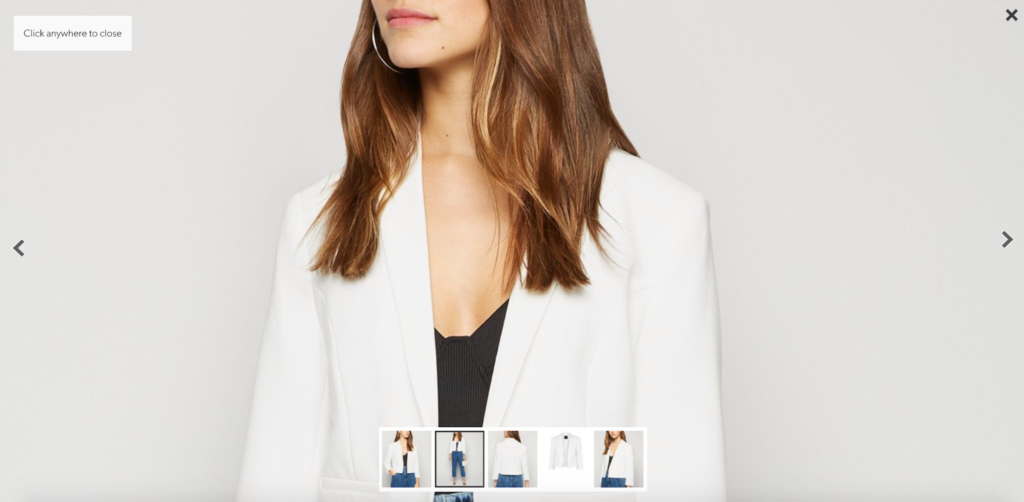 New Look also offers product details and a care guide, letting a shopper know about the subtle nuances, including how tall the model is for a size reference.
They simply click on "Show More" at the bottom.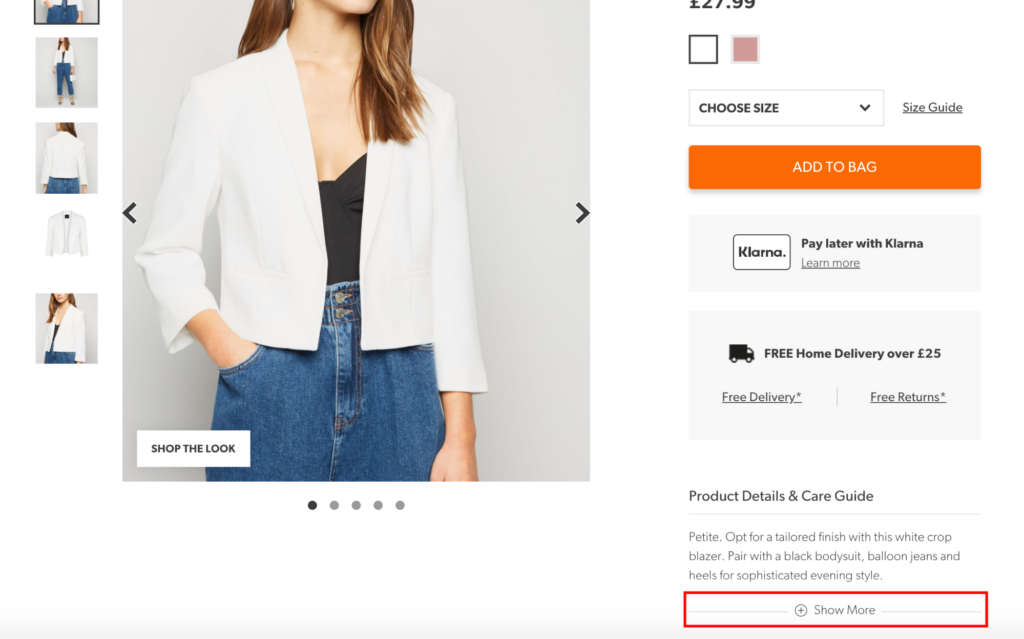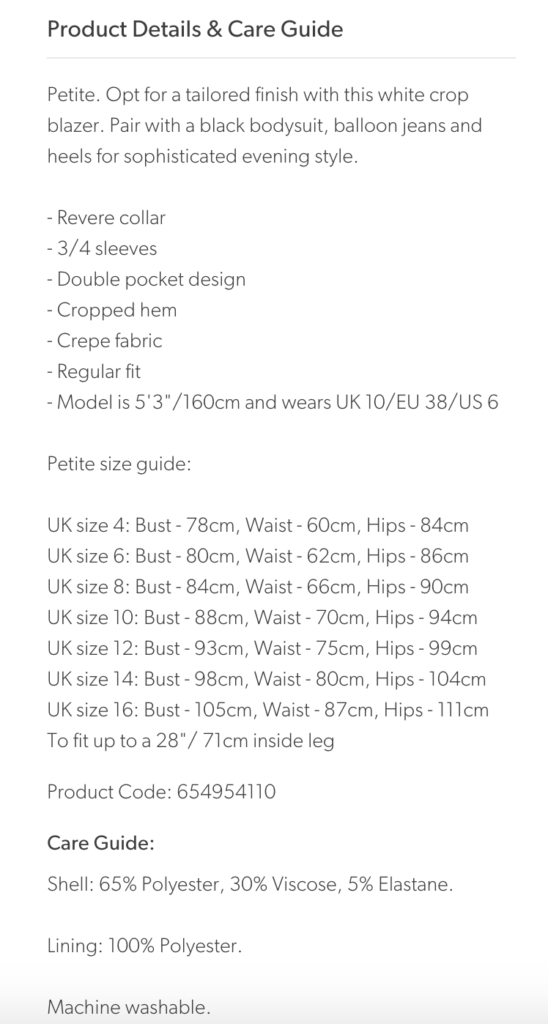 There's also a size guide to ensure a shopper chooses the perfect size.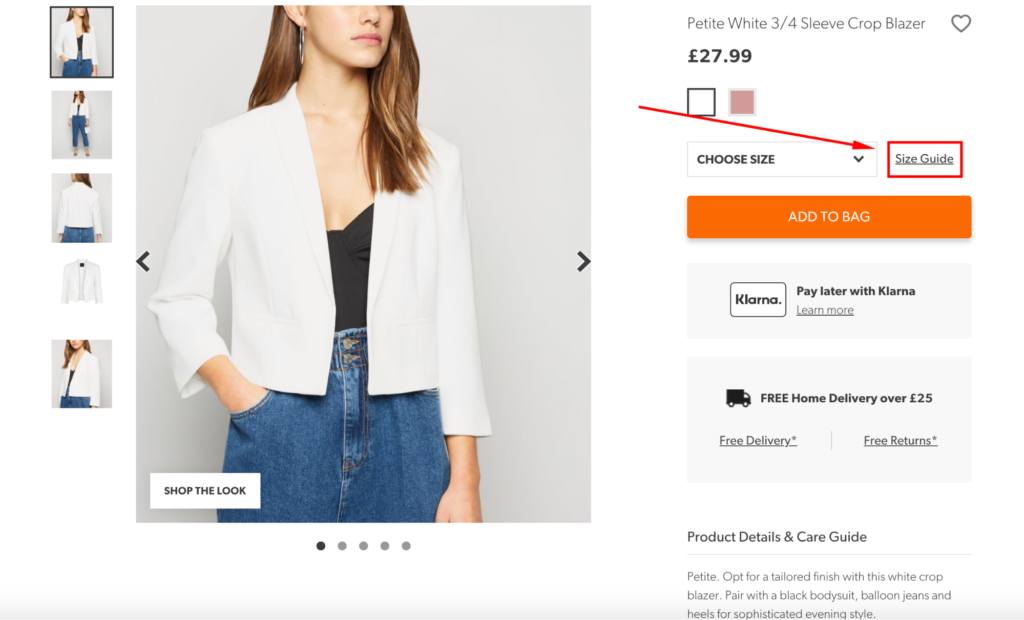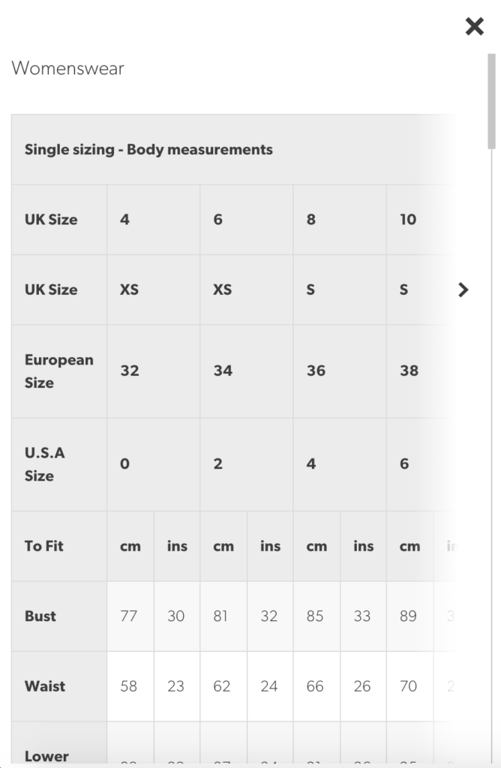 When it comes to addressing delivery concerns, New Look has that covered as well. They explain that they offer free home delivery on orders over £25 and include a full rundown of the fast delivery options they have, including next day delivery.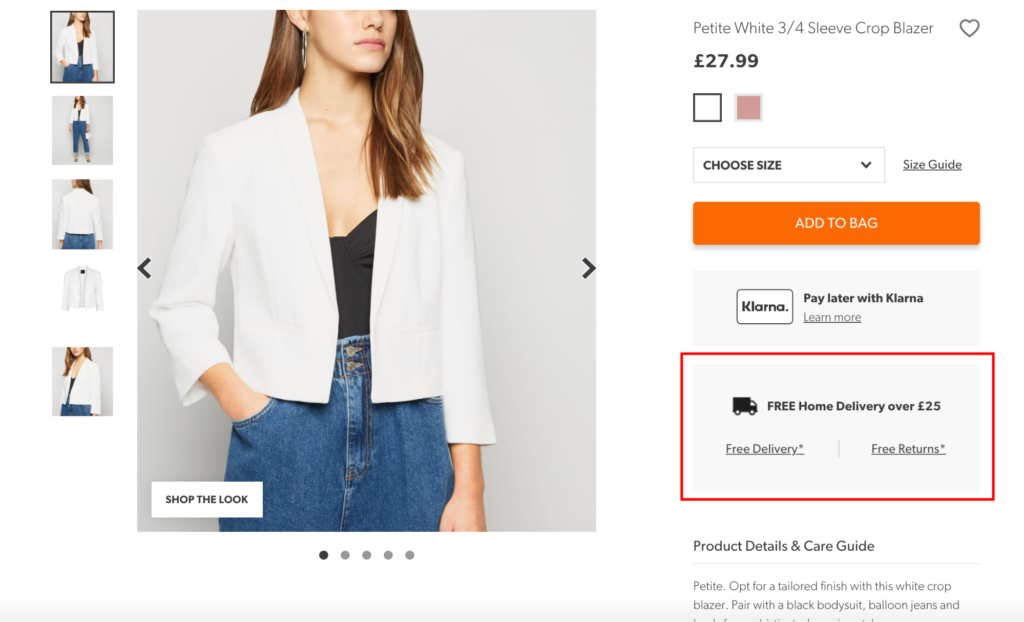 And to ensure shoppers feel safe handing over their payment information, New Look clearly states that they use secure checkout.

If a shopper wants to learn more about the security measures New Look takes, they can get all of the information they need on this security page.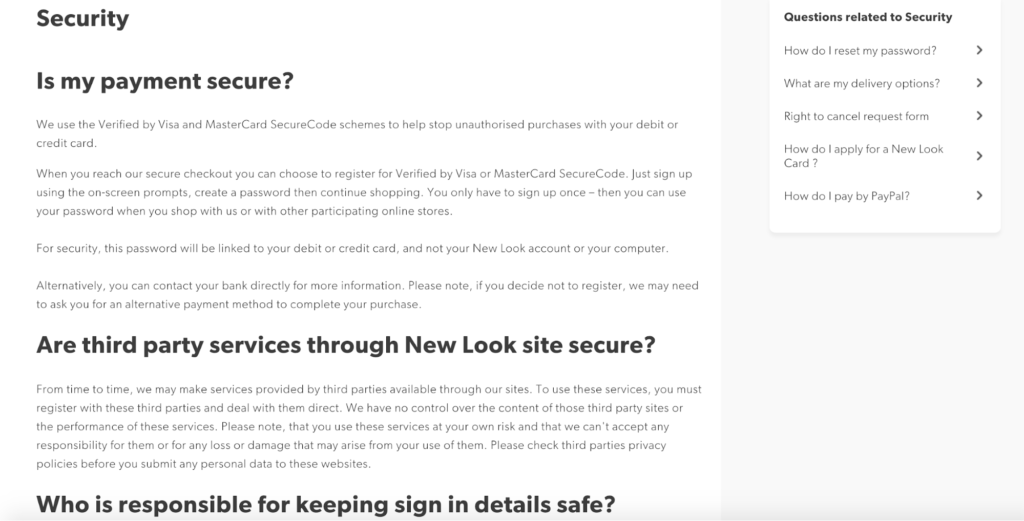 As a result, this should quell any potential security concerns a shopper may have and motivate them to go through with their purchase.
3. Next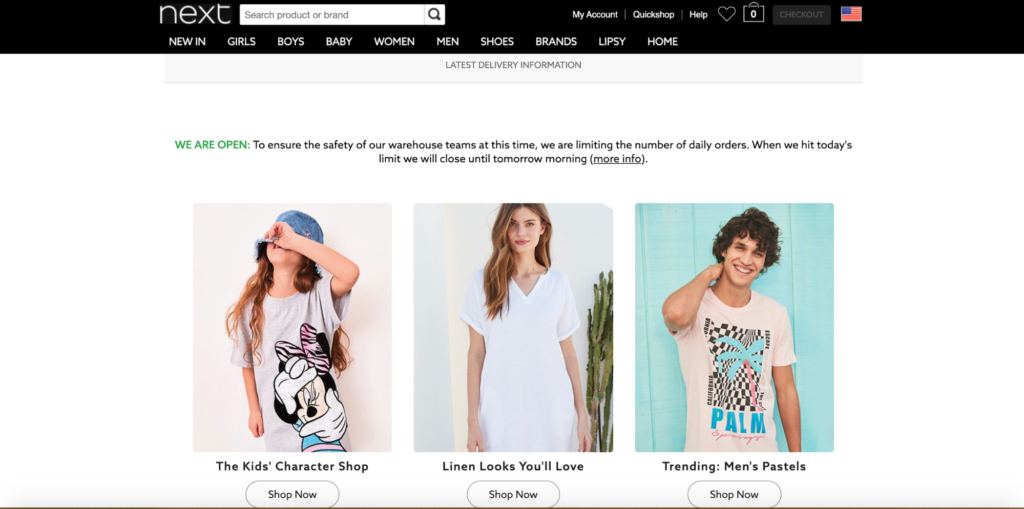 Here's another brand that definitely "gets it" and delivers a seamless e-commerce shopping experience from start to finish.
One of the first things shoppers notice when landing on the Next website is that it has solid functionality and intuitive navigation. A shopper can quickly narrow their search by category.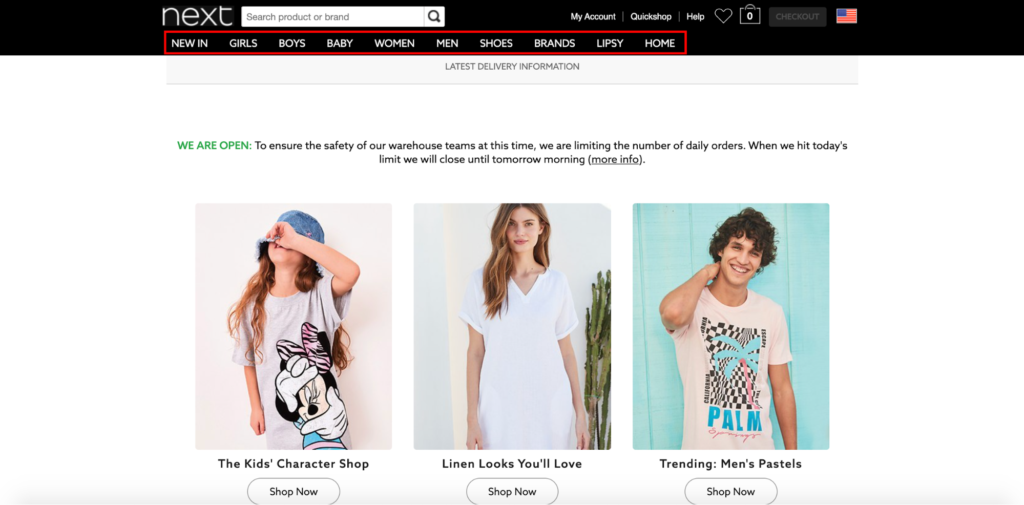 Or, they can enter their own search criteria if they have something particular in mind.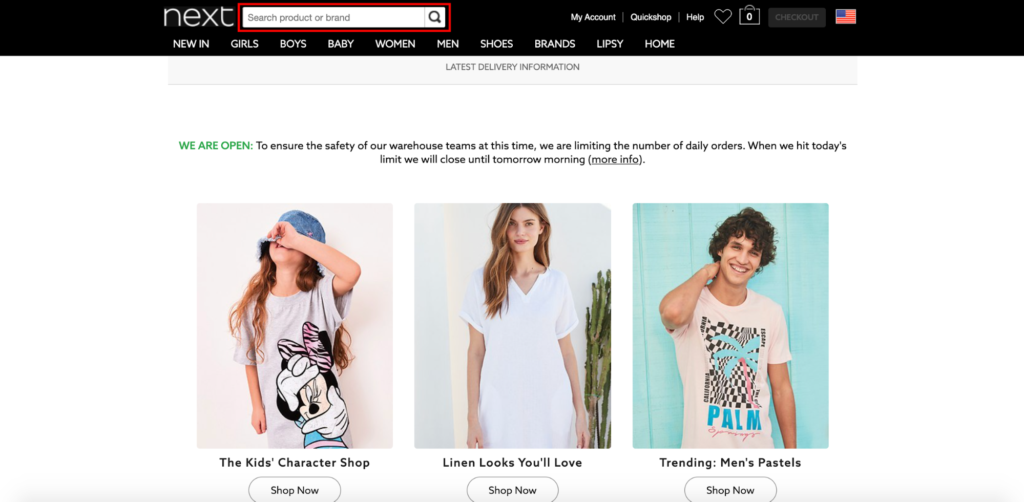 By perusing Next's selection, it quickly becomes clear that they've got high-quality products and present them in a way that's visually appealing.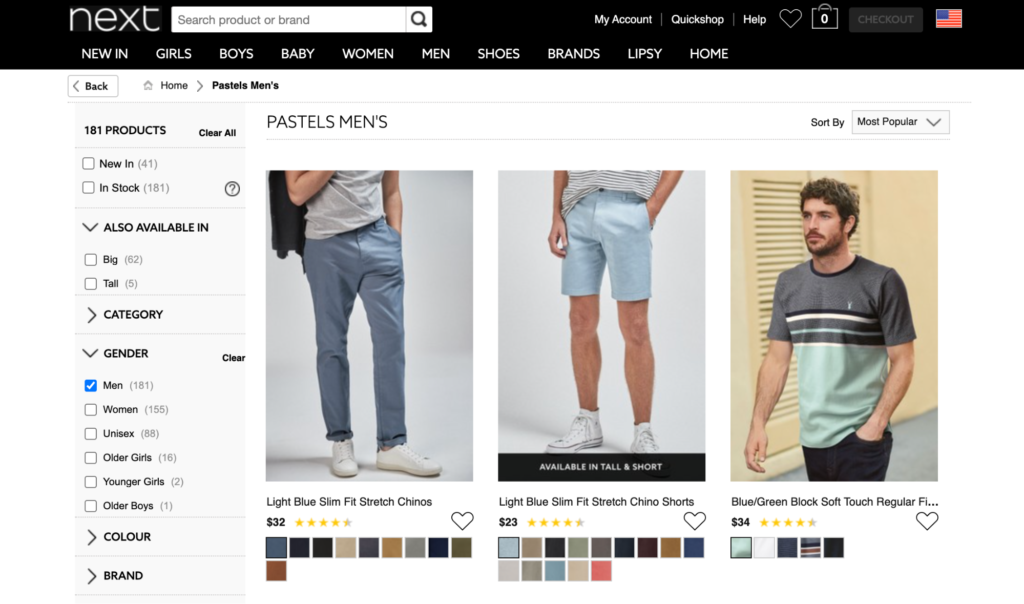 Like the other apparel website examples I've mentioned, Next does a great job at showing their products from all angles and allows a shopper to zoom in to get a better sense of what the fabric and overall texture looks like.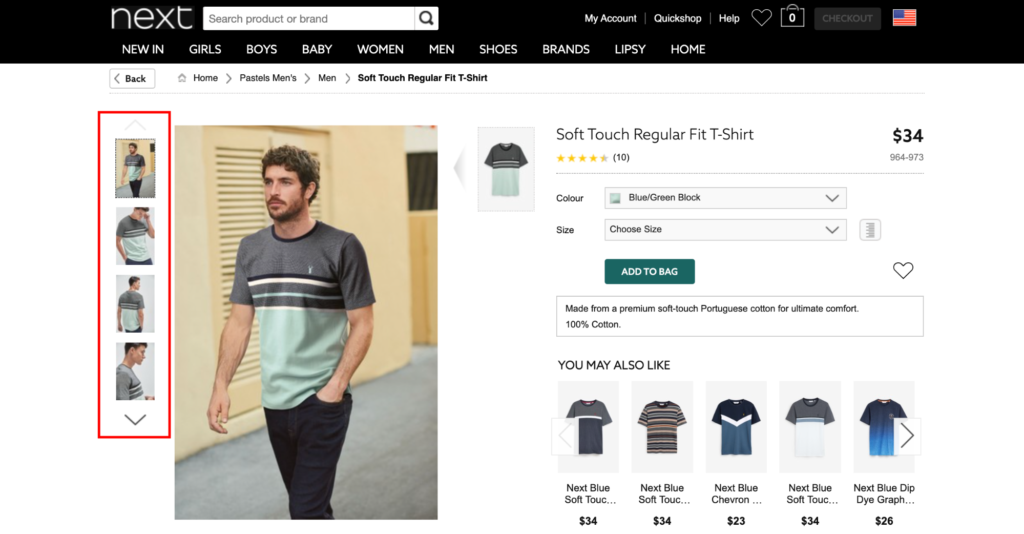 They even offer "Superzoom" for a real closeup.

As for sizing, they've got that covered by offering a size guide where they explain how to measure in order to find the perfect fit.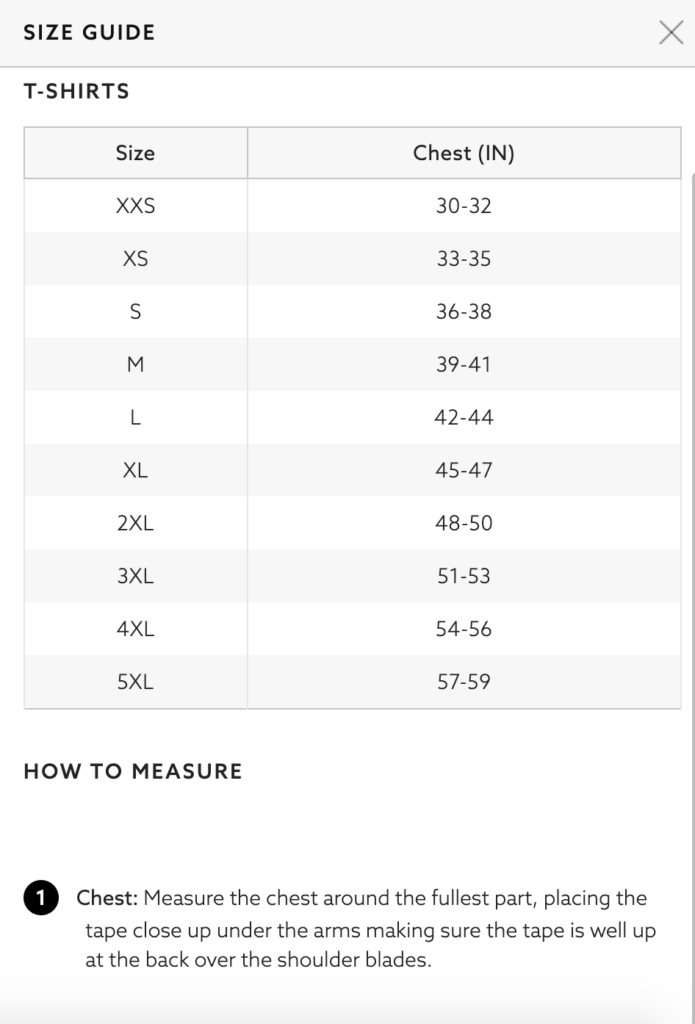 And one feature that I really like is the rating and reviews that Next includes toward the bottom of the page.
This particular men's shirt received a 4.5 out of 5 based on ten reviews. And shoppers can see exactly what previous customers had to say about it.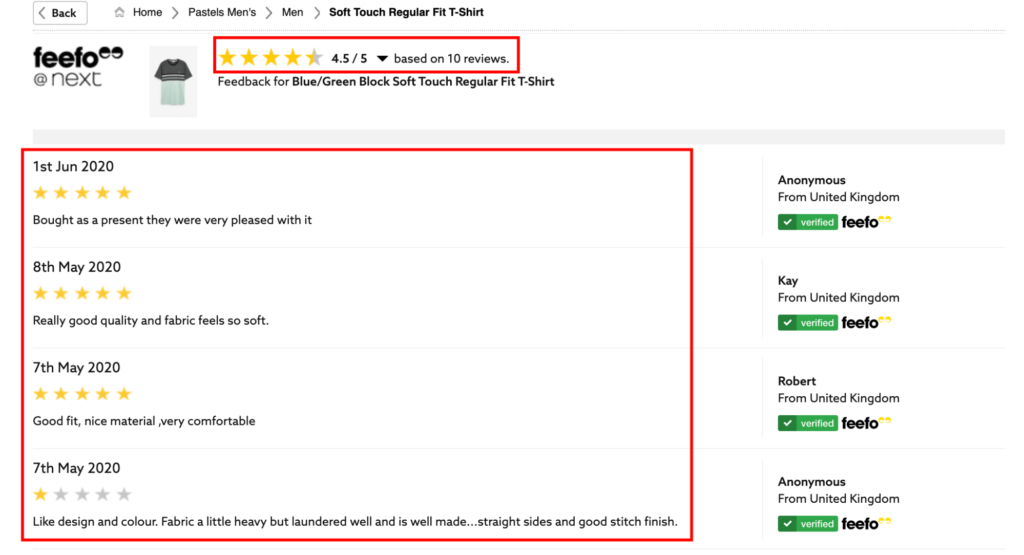 As I mentioned earlier, 22 percent of people buy apparel online because they can get ratings and reviews.
So having this information readily available on the product page is a great way to build trust and make shoppers feel more comfortable making a purchase.
Besides that, Next does an excellent job at cross-selling by including links to similar products a shopper may like, as well as other products that pair with this men's shirt to complete the look.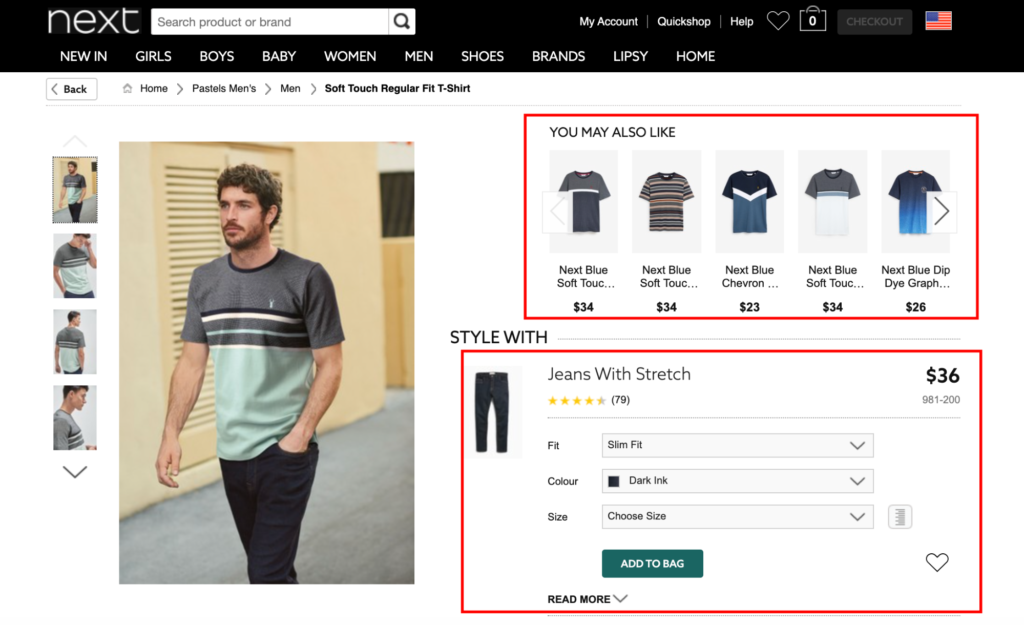 Not only does this help maximize the average order value, but it also provides helpful information to shoppers, where they can quickly find relevant products they may be interested in without having to look for them manually.
And whenever someone is checking out and registering their information, Next shows that they keep everything secure.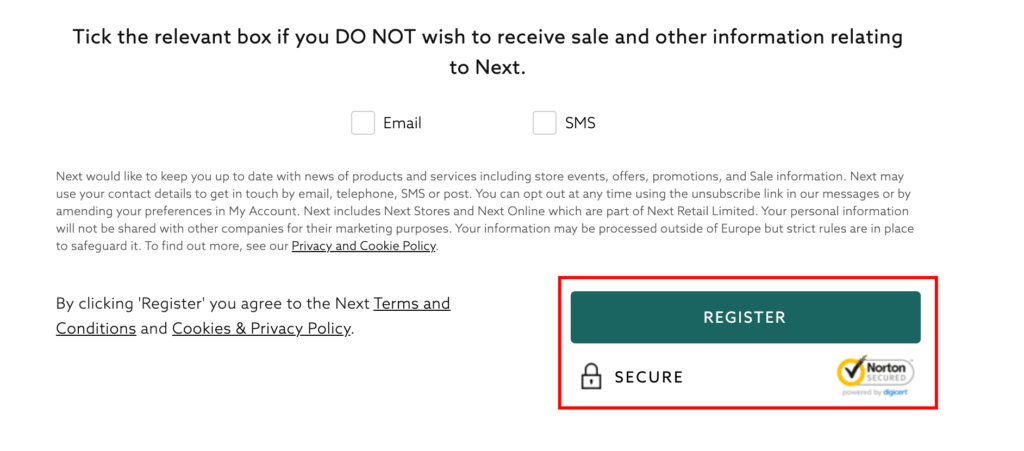 The Norton icon is instantly recognizable and helps put a shopper's mind at ease. This means Next is another clothing brand you can get a lot of takeaways from.
4. Combatant Gentlemen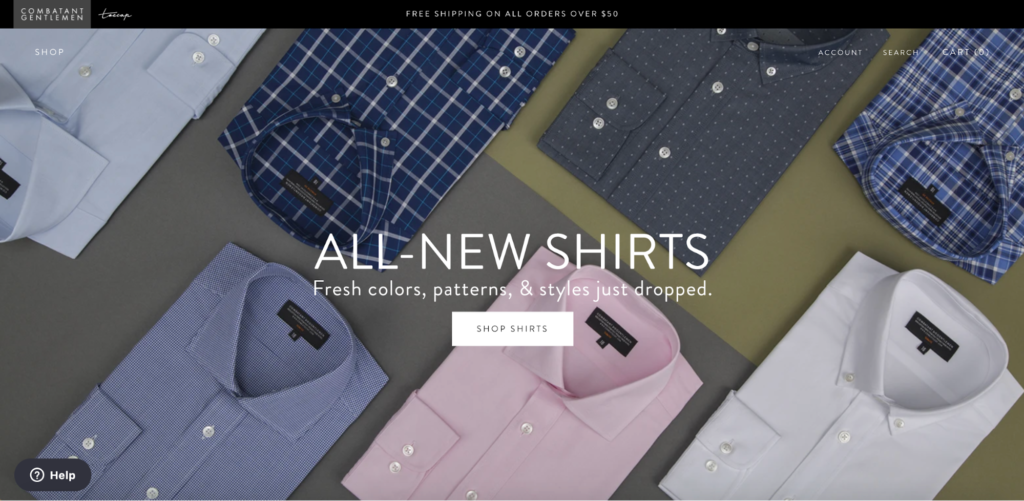 The last of my apparel website examples is Combatant Gentlemen, which I think is an awesome name for a men's brand. Their site has a clean, minimalist feel to it, which looks great.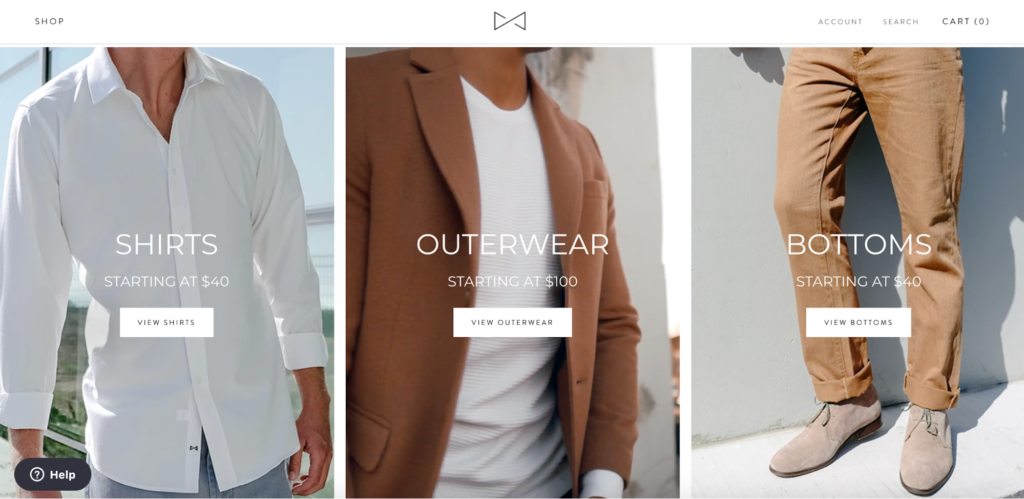 And by clearly highlighting product categories and including an easy to use the search bar, shoppers can find what they want without any hassle.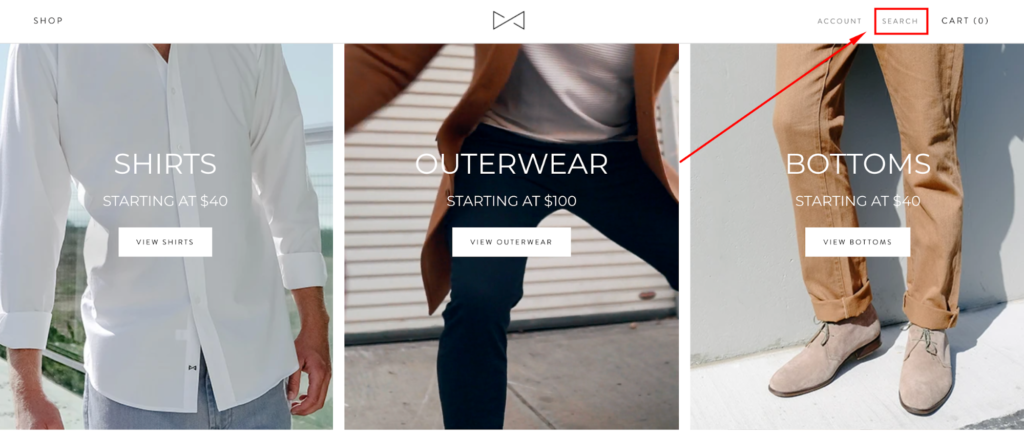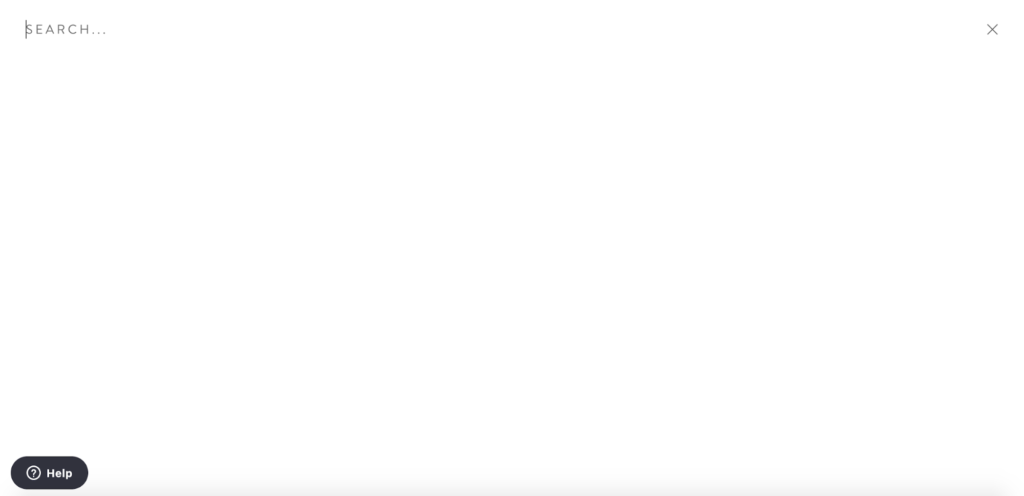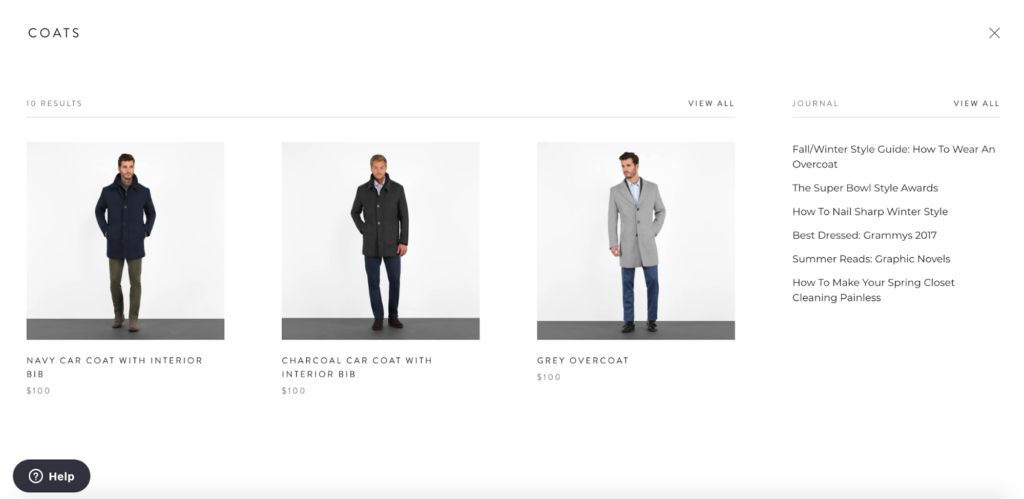 A little exploring, and you can tell that their products are of high quality. As for Combatant Gentlemen's product pages, they're simple yet robust, including all of the information shoppers need, such as:
Clear pricing;
Concise product descriptions;
Several pictures from multiple angles; and
Product zoom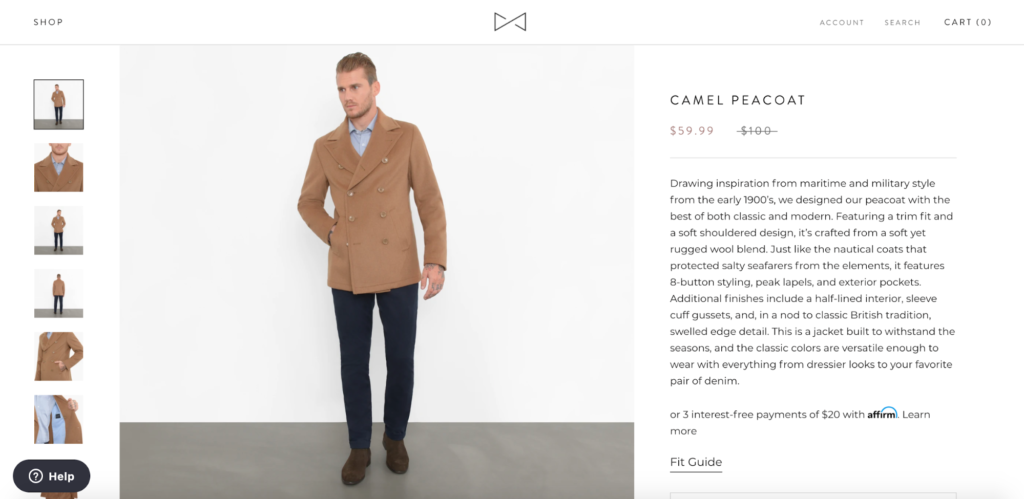 They also include a fit guide that fills a shopper in on sizing and explains how to measure.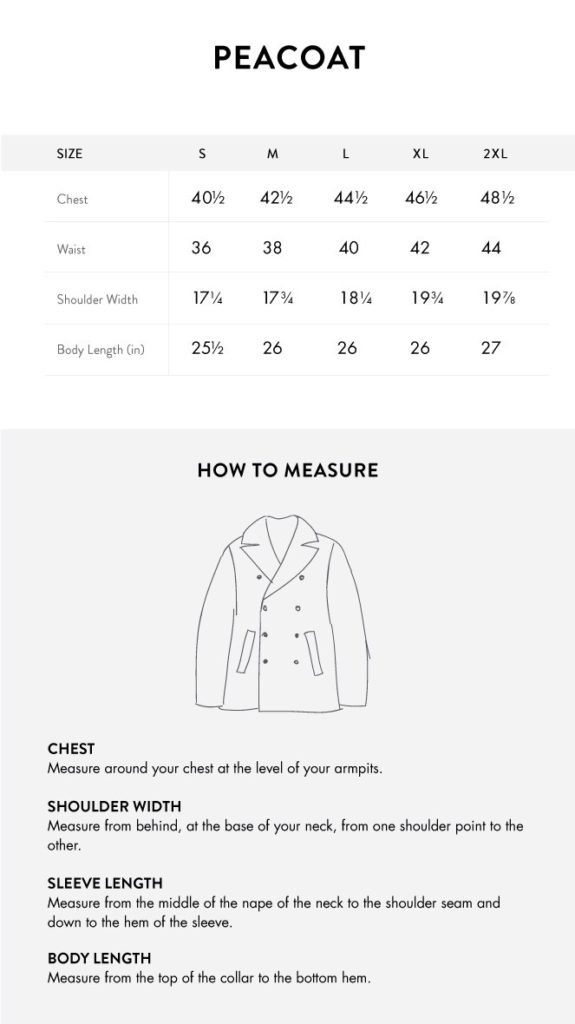 Another cool feature of this product page is "Styled on Social," which includes images of the product (the Camel Peacoat) from Instagram.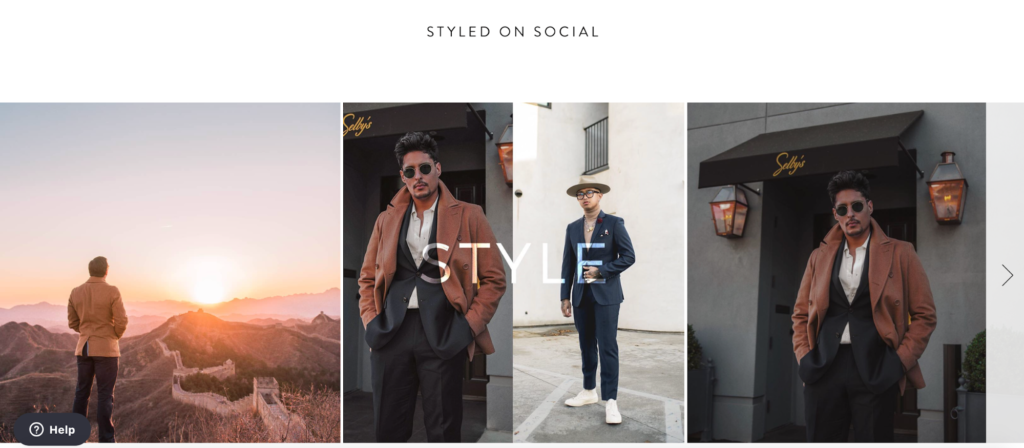 This helps validate the product even more and should persuade a higher number of shoppers to complete their purchase.
When it comes to quick delivery options, Combatant Gentlemen lets a shopper know that they can receive the product fairly quickly by ordering within the next 10 hours and 17 minutes.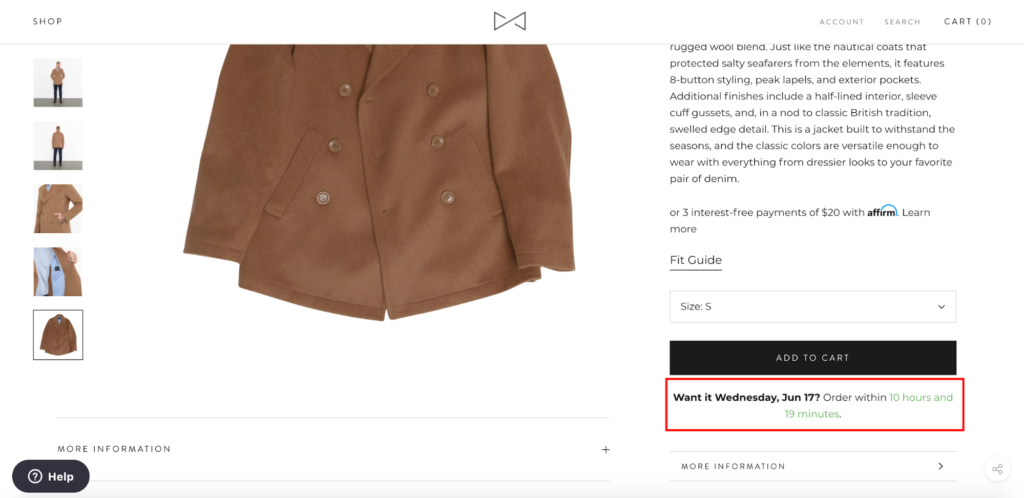 So again, this is another example of the basic formula you'll want to follow when optimizing your apparel website.
Conclusion
Now is the perfect time to get into online apparel. Not only are there huge opportunities, but the average revenue per user is also steadily climbing, going from $270 in 2018 to a predicted $301 by 2022.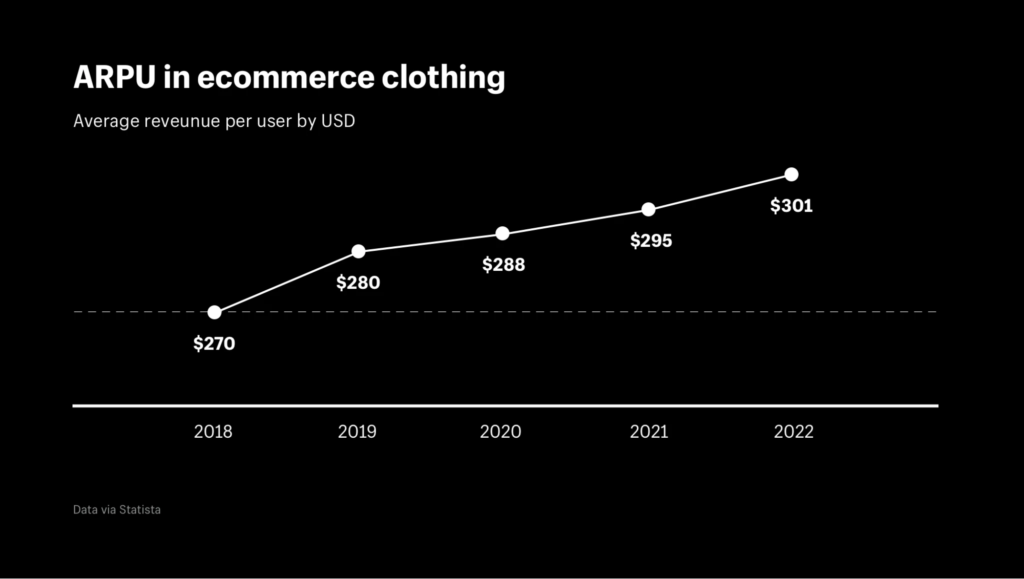 As long as you offer quality products and provide an enjoyable digital shopping experience, there's no reason you can't turn your store into a success.
These apparel website examples showcase the essentials like smooth site functionality, intuitive navigation, displaying size info, and so on. Learning from them should prevent you from making the wrong mistakes and help you create a store that shoppers absolutely love.