Dream of being your own boss? So do lots of other people, including 64 percent of the UK workforce and 65 percent of Americans. And I'm sure you'd see similar figures across a bunch of other countries.
I get it—after all, I did it myself.
But sadly, not every business is destined to become the next Amazon, Google, or Sleeknote.
Much-quoted data from the US Bureau of Labor Statistics show that about one in five new businesses survive for 12 months or less, while only half make it to the five-year mark: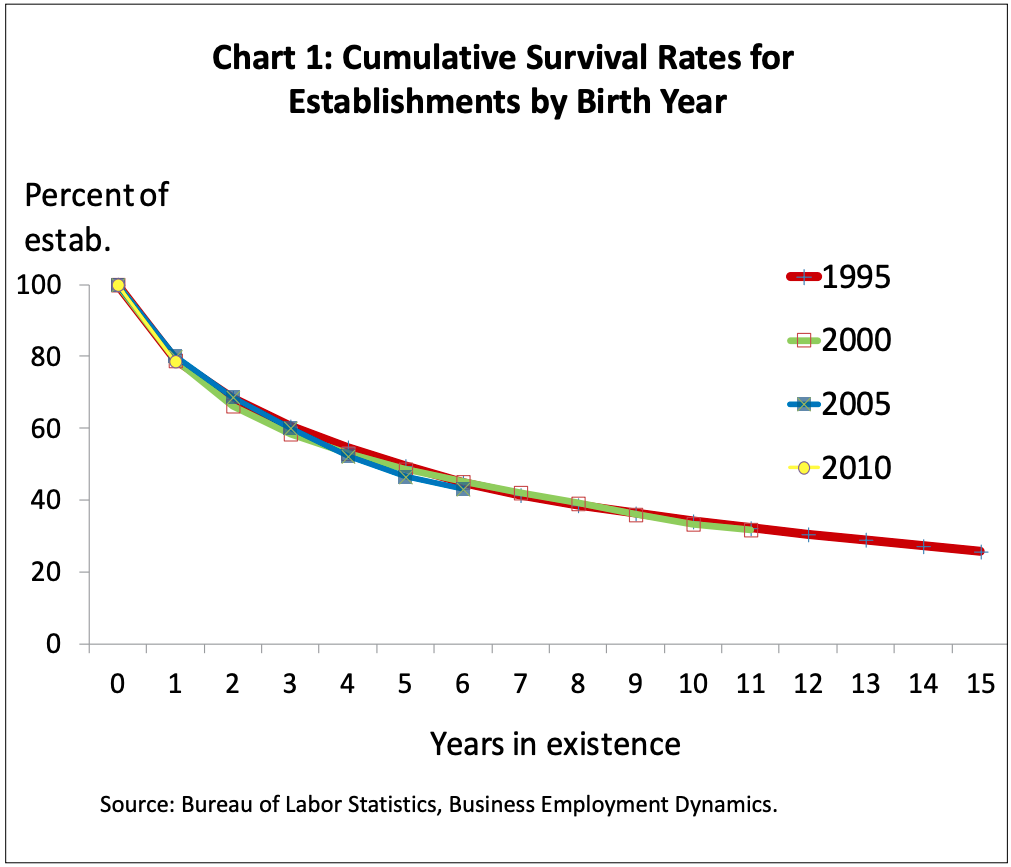 So what separates the successes from the also-rans and the never-weres?
While some people will tell you the secret to "making it" lies in adopting a rise-and-grind mentality, truth is there is any number of reasons why some businesses thrive and others fail.
But I can categorically tell you there's one thing every successful startup has in common, and that's a killer e-commerce business plan.
What Is an E-Commerce Business Plan?
E-commerce business plans are roadmaps that plot the route to achieving your business goals. They set out who you are, what products you sell, and how you plan to operate (among many other things).
Just like a real roadmap, e-commerce business plans also highlight potential hazards, helping you plot alternate routes well in advance.
No one expects you to stick precisely to your original plan throughout the entire lifespan of your business. But by gathering business-critical information like cash flow, sales projections, and marketing budgets in a single place, your business plan can help you build a persuasive pitch to win backing from investors, which can be absolutely vital at the start of your journey.
And even if you're not looking for external funding, figuring out your strengths, weaknesses, and objectives early on will save you a lot of pain down the line.
Why Do I Need an E-Commerce Business Plan?
I know what you're thinking: "I've got a to-do list as long as my arm; why should I spend days or weeks writing a business plan? Why can't I just get on with it?"
You're not completely wrong. Honestly, if you think buying a house or having a baby is stressful, try starting a business.
One study claims the biggest challenge founders face in the first three months is building a customer base, but there are countless others.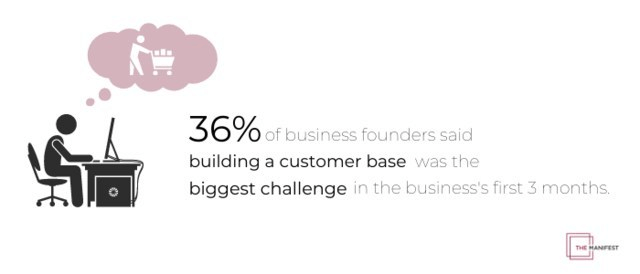 From dealing with suppliers to building a website and chasing invoices, it's one headache after another, and you never feel like you have enough time to give each problem your full focus.
But you really can't afford to overlook your e-commerce business plan. Here are five benefits to creating one.
1. Understanding the Competitive Landscape
You might like to think of yourself as a visionary, but I can pretty much guarantee that someone, somewhere has had a similar business idea to yours.
They might have been doing it for years, or they might be gearing up to hit the market at the same time as you.
Either way, you need to know about them, and the research you carry out while building a business plan will naturally help you do that. Which means you'll be better placed to differentiate yourself through marketing.
2. Getting to Know Your Audience
Another key element of creating a business plan is assessing the market you're trying to reach. That means digging into who you're selling to, where they hang out online and "in real life", and what they're looking for in a product like yours.
Why would they buy it? When would they buy it? How much would they spend on it?
All of that will help inform your messaging.
3. Locating Potential Investors
Unless you have a metaphorical (or literal) gold mine to fall back on, money is definitely going to cause you a few headaches in the early days of your business.
Even successful e-commerce companies struggled to keep the lights on when they were just starting up.
Building a business plan will help you identify potential sources of financial backing, like angel investors, business loans, venture capitalists, or wealthy business partners.
4. Finding Your Niche
There's a reason Amazon started out as an online bookstore, rather than immediately selling every product you could ever imagine.
As an e-commerce startup, you need a niche. Ideally, you need to go further and find a niche within a niche. Rather than founding a womenswear e-commerce site, launch one that's 100 percent sustainable and carbon-neutral. Or instead of selling regular sunglasses, sell sunglasses made from hemp (I don't know, I'm just spitballing here).
My point is, all the other research you've done at this stage—studying your competitors, understanding your audience, figuring out your pricing strategy—will naturally guide you toward the best niche with the biggest opportunities.
5. Sourcing Fresh Talent
Admittedly, recruitment might not be on your immediate agenda.
But if things go well, you're going to need a little help in the not-too-distant future. You might need people in the warehouse, a customer success agent or two, a marketing team, a developer, someone to handle the finances… The list is huge.
Problem is, a lot of other businesses want to get their hands on those people, too.
If you don't want recruitment to constrain your growth, start reaching out to potential candidates early, using the information in your business plan to get them bought into your project.
How to Write an E-Commerce Business Plan
Hopefully, by this point, I've demonstrated the value of creating an e-commerce business plan. Now, let's dive into how to do it.
There are no hard-and-fast rules to how long a business plan should be. The more complex the business, the more in-depth the plan. But as a minimum, your business plan should include these seven sections:
Executive summary
Company overview
Market analysis
Products and services
Marketing plan
Logistics and operations plan
Financial plan
You might want to add a few more too. For instance, if you're entering a largely untapped niche, you might want a section dedicated to the audience you'll be targeting.
But for most e-commerce businesses, those seven categories should do the job.
Section 1: Executive Summary
Think of this as the "elevator pitch" element of your business plan.
Your goal here is to sum up the rest of your business plan in no more than one page, communicating key information to time-poor reviewers, and (hopefully) tempting them to read on.
Generally, you should look to answer the following questions:
What does your business do?
What do you want to achieve?
What do you sell?
Who will you sell it to?
What sets you apart from the competition?
How will you raise awareness among your target audience?
What is your current monthly/annual revenue?
What is your projected revenue for next year and the following years?
Who's currently on your team?
What are their backgrounds and skills?
How much money are you asking for (if you're looking for financial backing)?
Section 2: Company Overview
Again, heed the word "overview". Like the executive summary, this is a concise section that demonstrates who you are, what you do, and why people should care.
Whether you're seeking investment or planning your e-commerce marketing strategy, it's vital you get all this information down in one place. Make sure to include your:
Company name
Industry
Business structure (e.g. sole proprietor, partnership, LLC)
Vision, mission statement, and value proposition
Product or service
Business model (e.g. direct to consumer, dropshipping, wholesale)
Team members, including their roles, backgrounds, and salaries
Short and long-term business objectives
Section 3: Market Analysis
A bad product in a good market stands a chance of success.
If you don't believe me, check out your own purchase history—if you're anything like me, you'll have bought your fair share of useless products that sounded amazing when you saw them online.
But a good product in a bad market doesn't have a cat in hell's chance. You might be completely changing the game; solving a problem that's never been solved before. But if no one's prepared to spend money on it, you've not got a business—you've got a hobby.
The market analysis stage of your e-commerce business plan should help you find the right market: one with lots of customers who have an immediate need for the "thing" you're selling (and enough money to buy it). Your market analysis should incorporate the following elements:
The Size of Your Market
It's impossible to come up with a meaningful financial projection without first estimating the number of people who are potentially interested in buying your product.
Of course, to do that, you first need to figure out who your customers are.
The more demographic and psychographic information you have on them, the more accurately you'll be able to gauge the scale of your market.
At the same time, remember to factor in broader industry trends. If you're starting an e-commerce store that exclusively sells gas cans, you might have some early growth potential, but bear in mind there's a good chance we'll all be driving electric cars within a decade—in which case your whole market will have dried up.
Your Competitors
No e-commerce brand is an island.
To stand out against the competition, you need to find some way to differentiate yourself. That could be through:
Segmentation: Focusing on a very specific (and, ideally, underserved) niche within a larger market.
Pricing strategy: Do you plan to undercut your rivals? Or create demand through exclusivity by pricing yourself higher?
Distinctiveness: Ideally, there'll be something unique that distinguishes you from the current market leaders.
SWOT Analysis
SWOT analyses are about assessing your business's:
Strengths: The things you do best.
Weaknesses: The things you're not so good at.
Opportunities: Gaps and advantages in your market.
Threats: External challenges you need to tackle.
Typically, a SWOT analysis is presented as a simple, four-section grid, with bullet points under each heading. Here's a beautifully presented example from the creative geniuses at Asana: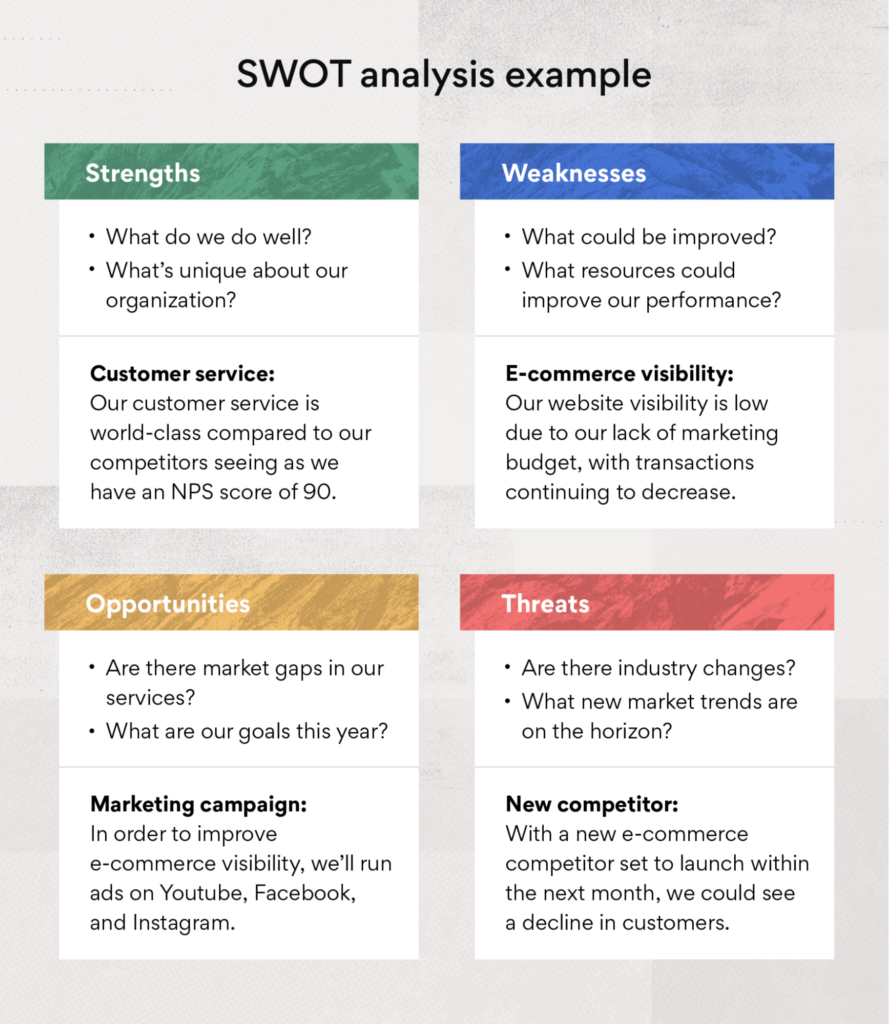 Section 4: Products & Services
In a sense, your whole e-commerce business plan will be centered on your products and services.
However, given their importance to your business prospects, a section of your plan should be dedicated solely to outlining what you're selling.
If you only sell one product or plan to launch with a very small range, give plenty of detail on each. But if you stock a wide selection of products, stick to general features and benefits such as price, unique selling points, and materials.
Additionally, be sure to reference any new products you're planning to launch in the near future, along with any intellectual property you own.
Section 5: Marketing Plan
We know who you are and what you're selling.
Now's your chance to explain how you're going to sell it.
As a marketer, I'm well aware that a marketing plan could easily run to thousands of words, and it can be hard to know where to start—you've likely got a lot of ideas about positioning and messaging. To make your life a little easier, use the so-called "four Ps of marketing" as the backbone of your marketing plan:
Product: How does it meet the needs of your customers? What are its unique selling points?
Price: How much does it cost? What is its value?
Place: Where are you selling it?
Promotion: Which channels will you use to reach your target audience? What messaging will you use?
Discuss the first three relatively briefly, as you'll cover them in greater depth in other parts of your e-commerce business plan.
Reserve the most detail for that final "P": promotion. That's the real meat and drink of your marketing strategy.
Section 6: Logistics & Operations Plan
This might not be the "sexiest" part of your e-commerce business plan, but it's important to discuss the systems and processes that will help you reach your goals. Specifically, you'll want to cover:
Suppliers: Who are they and where are they based? What are their payment terms?
Production: Are you manufacturing your own products, using a third party, or going down the dropshipping route? Can you efficiently scale up or down to cope with changing demand?
Shipping and fulfillment: Are you handling fulfillment in-house or using a third party? Will you ship internationally? How long will it take for products to reach customers?
Inventory: How much will you keep, and where will you store it? How will you manage and track it?
Section 7: Financial Plan
Whether you're seeking backing from an external investor or simply trying to understand your projected revenue and costs, a financial plan is a crucial element of your e-commerce business plan. Most are broken down into three elements.
Income Statement
Designed to demonstrate your revenue sources and expenses over a month, quarter, or year, the income statement also highlights your all-important bottom line. Subtract expenses from revenue and you'll see whether you're in profit or loss.
Of course, if you're yet to launch your e-commerce business, these figures can be projected.
Balance Sheet
The balance sheet is used to calculate the level of equity in your business—that is, the amount you'd be left with if all debts were paid and assets cashed. To work it out, subtract liabilities (things like loan repayments, wages, and accounts payable) from assets (such as stock and equipment).
Cash Flow Statement
Lastly, your cash flow statement is like a real-time version of your income statement. That's because it takes into account when cash goes in and out of your business, based on when payments are received and debts settled.
Calculating and projecting cash flow should help you identify periods when you're likely to be in surplus or short on money, which gives you time to prepare.
Conclusion
Sure, an e-commerce business plan requires a whole lot of work.
But as Abraham Lincoln supposedly said: "Give me six hours to chop down a tree and I will spend the first four sharpening the axe."
All that time spent analyzing your audience, honing your messaging, and crunching the financial numbers will give you a better chance of making it through those tough early days and scaling effectively when the time is right.
And honestly, no one ever said starting a business is easy.