I think we can all agree that content marketing, when done right, is incredibly potent.
Recent data from HubSpot found that 77 percent of companies currently have a content marketing strategy in place, and nearly 40 percent say it's "a very important part" of their overall marketing campaign.
There are a ton of different directions you can go with content marketing, with blogs, eBooks, whitepapers, and video being some of the first that come to mind.
But another type of content that isn't quite as big but is quickly gaining momentum is the case study.
A term that originated with social and life sciences, a case study serves as a narrative that walks readers through how actual customers have successfully used your product.
It offers real-life examples and helps prospects connect the dots, giving them a glimpse of how their lives or businesses could be improved by using your product.
And it can be incredibly powerful, with marketers who use it ranking it as the second most effective content marketing medium, just behind whitepapers.
To give you a crystal clear idea of how companies are using it, here are some drool-worthy case study examples you can draw inspiration from.
Table of Contents
Content Marketing Institute
Given that case studies are such a potent form of content marketing, why not start off with an example from a brand that was specifically built around helping businesses thrive in this department?
Content Marketing Institute (CMI) has a page on their website devoted solely to case studies.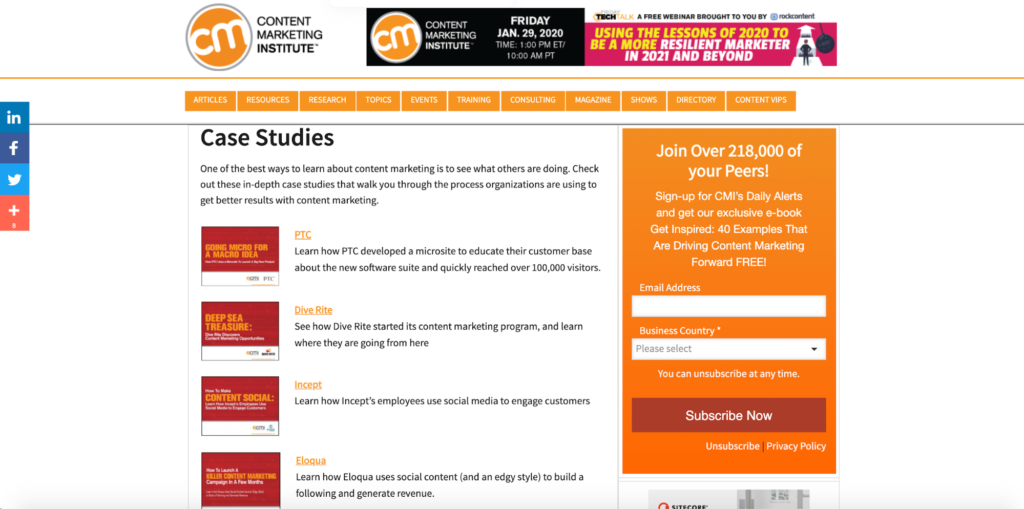 They feature companies from a variety of different industries, but my favorite is this one from Dive Rite, a brand that sells high-quality SCUBA diving equipment.
CMI starts this case study off giving some background on Dive Rite. They say what Dive Rite does, who they help, what industry they're in, how many employees they have, and so on.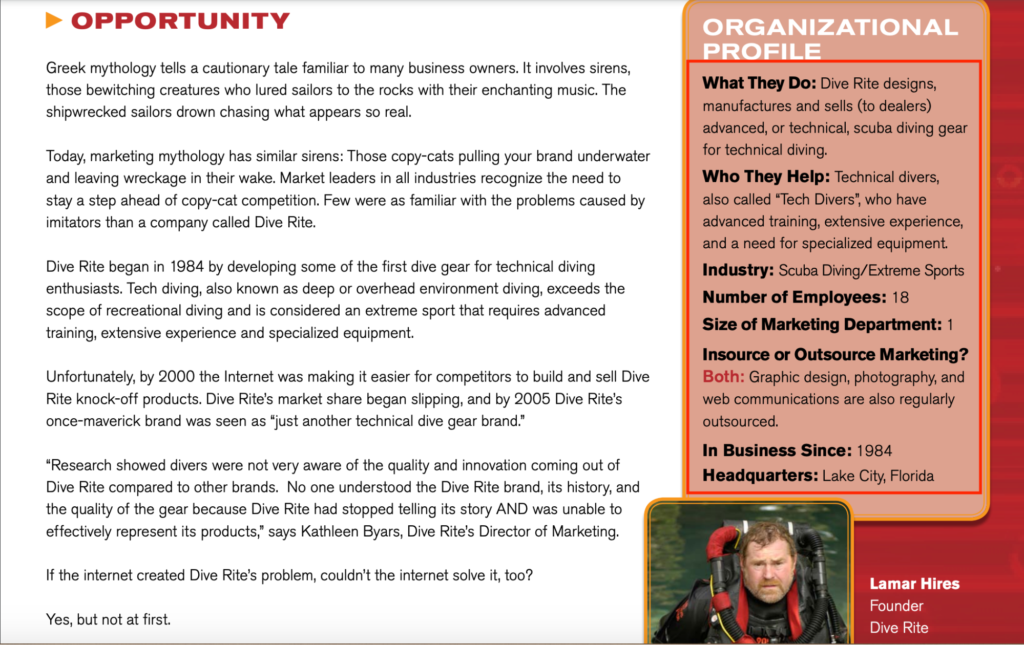 Then, CMI quickly dives into (pun intended) the specific problem Dive Rite was having before using their platform. In their own words, "Dive Rite had stopped telling its story AND was unable to effectively represent its products."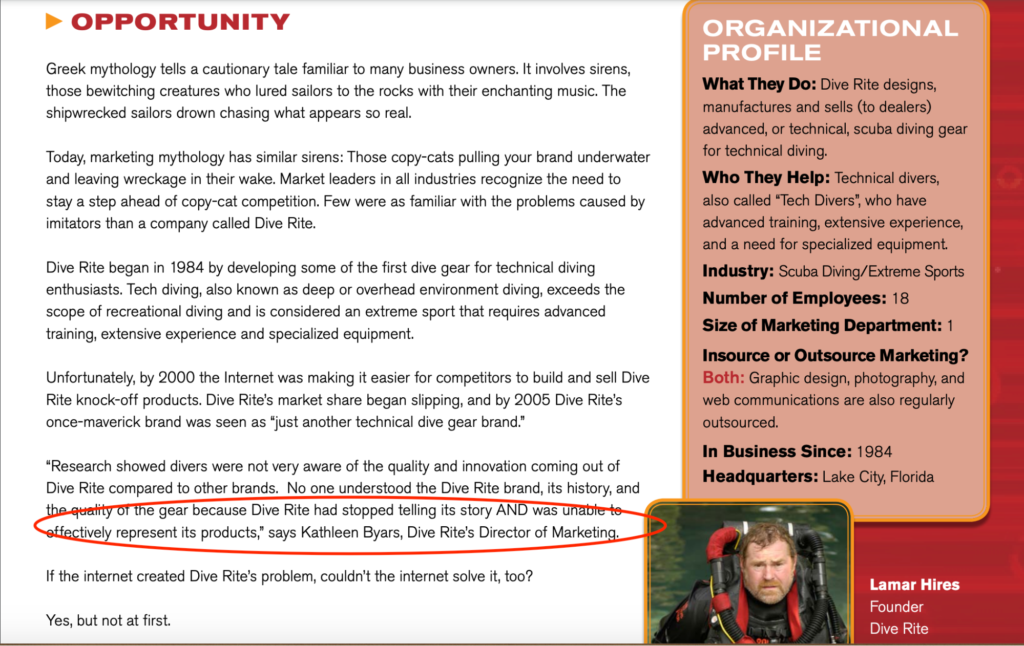 CMI goes into more detail and talks about previous attempts Dive Rite made to improve the customer experience and the difficulties Dive Rite had making prospects aware of the quality and innovation they brought to the table.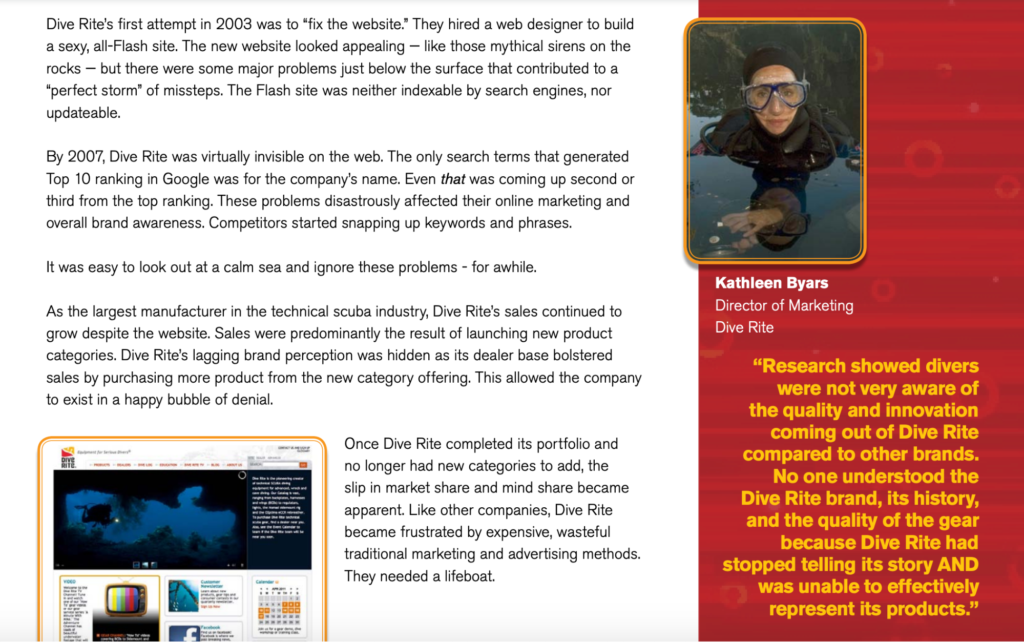 CMI then discusses the solution they devised to solve this problem, which primarily revolved around "developing an overarching content strategy based upon achieving measurable desirable outcomes."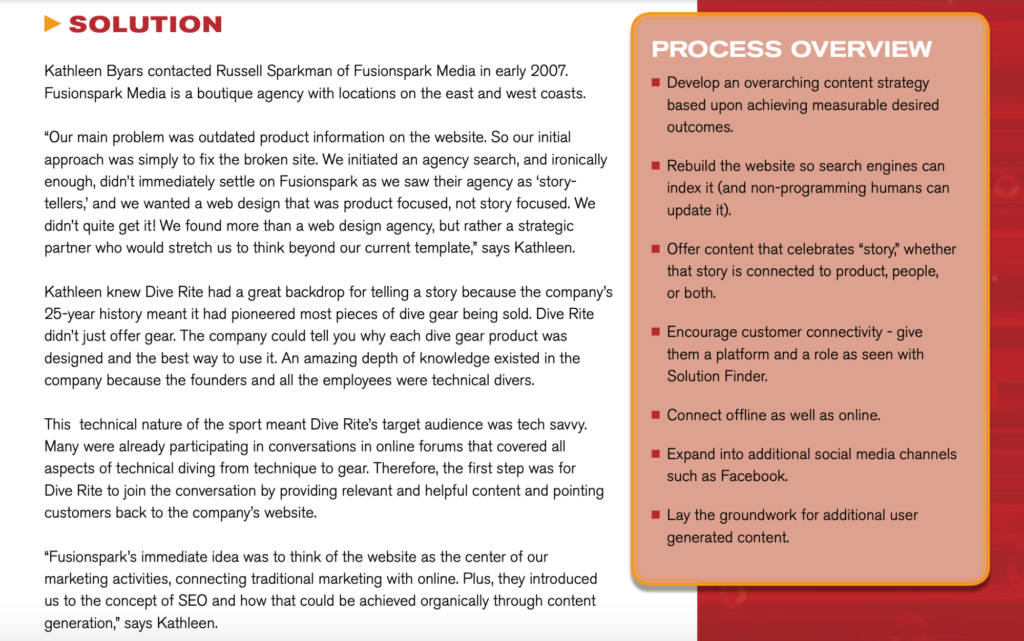 CMI talks about the steps to success they took to get Dive Rite where they needed to be.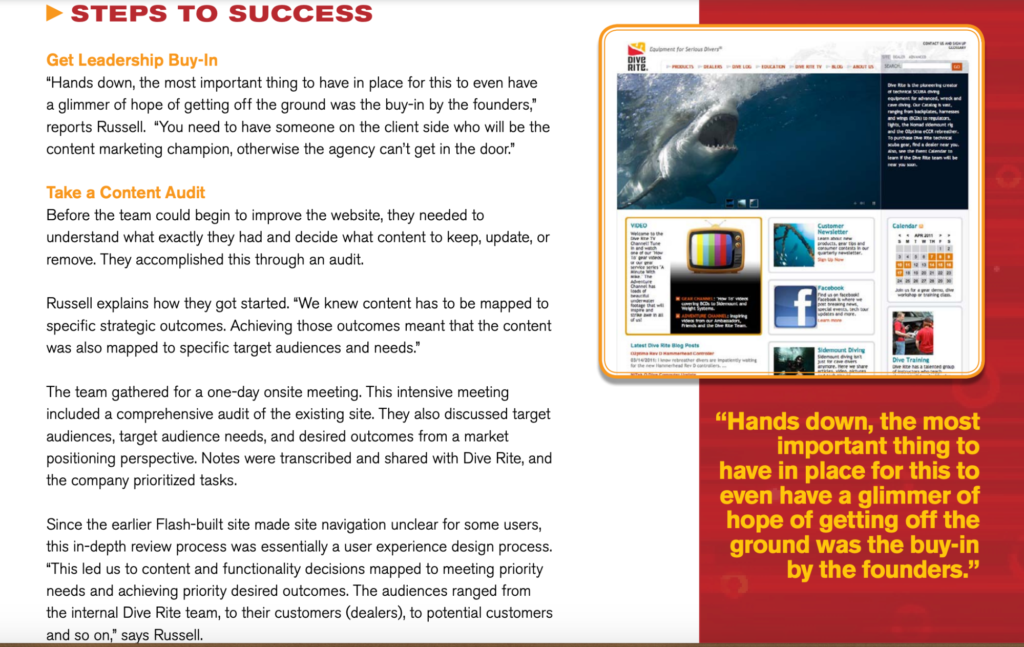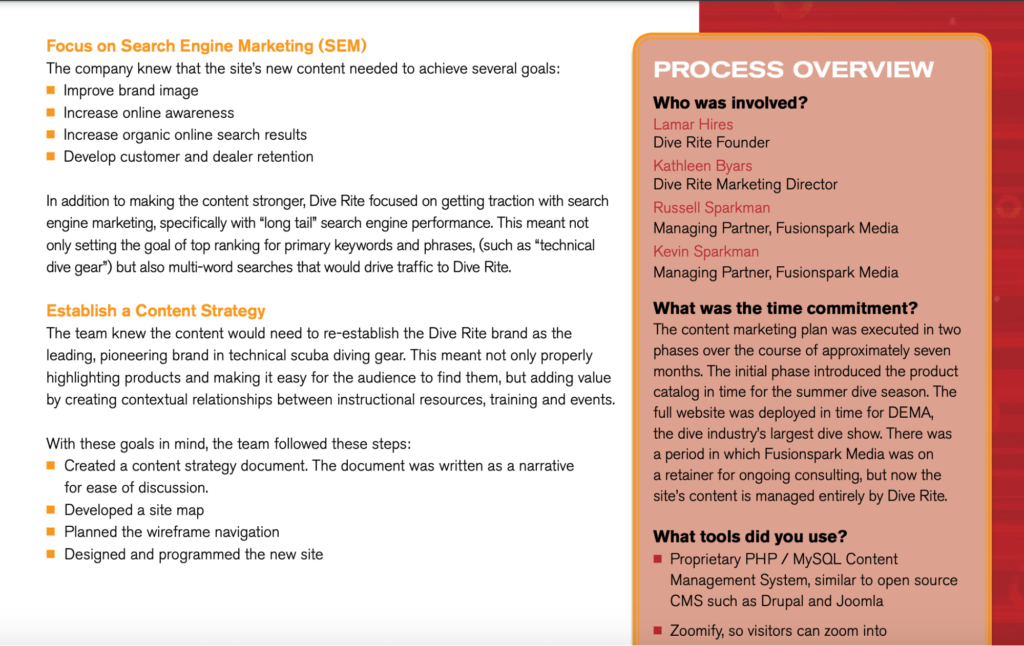 And toward the end, CMI wraps things up with one of the most vital components of any case study—the results.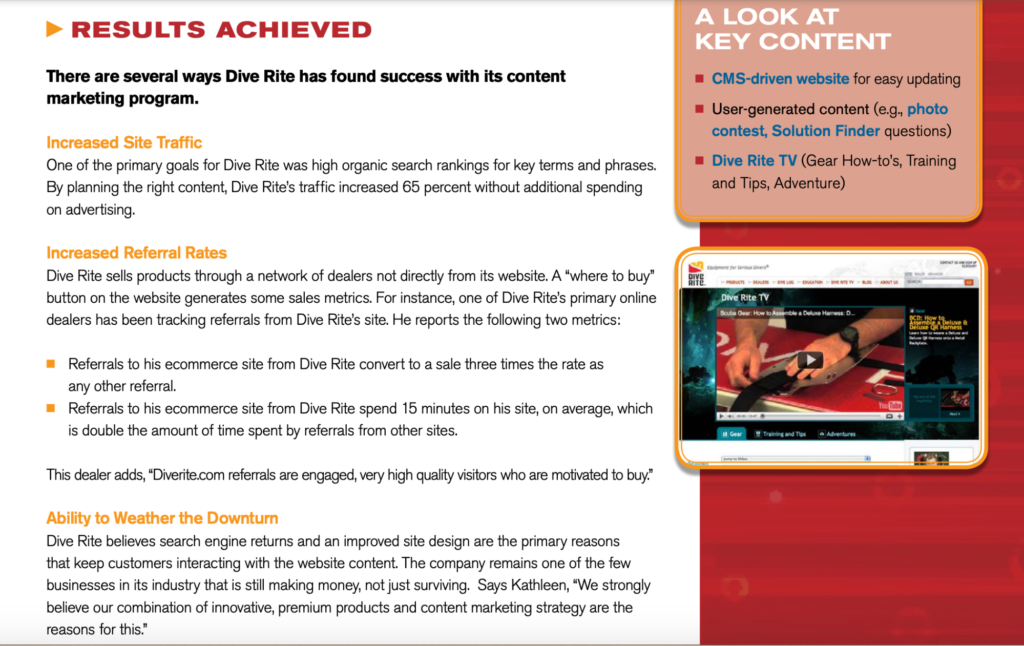 For instance, they specifically mention Dive Rite was able to increase site traffic, boost referral rates, and whether the downturn.
Showcasing concrete results like this is absolutely essential for demonstrating the value of your product, and it's ideal to include data-backed metrics (e.g. Dive Rite referrals convert to sale three times the rate as any other referral).
You can read through this case study in its entirety here.
Chili Piper
Chili Piper is an inbound lead conversion and scheduling app that "helps
sales teams automatically schedule appointments with leads." In a world where speed to lead is essential for rising above the competition, it's been a godsend for many companies.
Like CMI, they also have an entire section of their website devoted to case studies, which really helps add value to their content.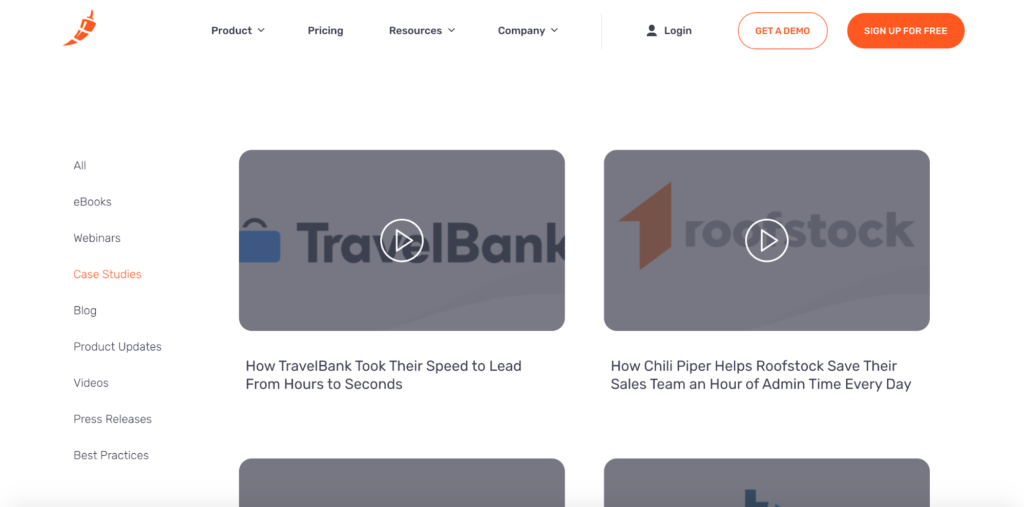 They're all great, but a case study I think is particularly well done is this one from Cloudbeds—an award-winning hospitality management software.
I love how it starts off with an eye-catching stat saying, "Cloudbeds secret weapon books 33-55 percent more demos from their inbound leads."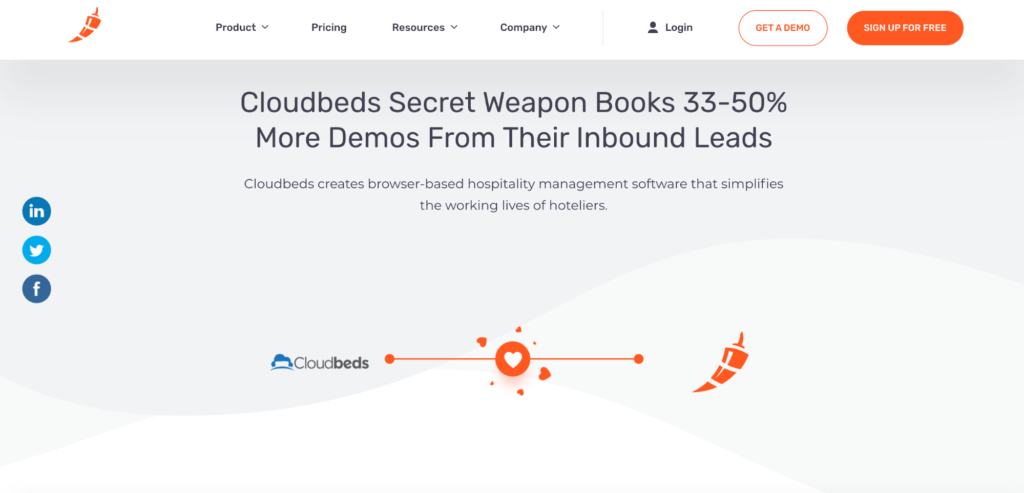 That's the perfect way to grab the attention of prospects right off the bat and should compel a good chunk to scroll down further for the details.
Chili Piper then gives a quick overview on Cloudbeds, explaining how many employees they have, what their goals were, and the problems they were facing (e.g. losing about 20 percent of customers through the booking process).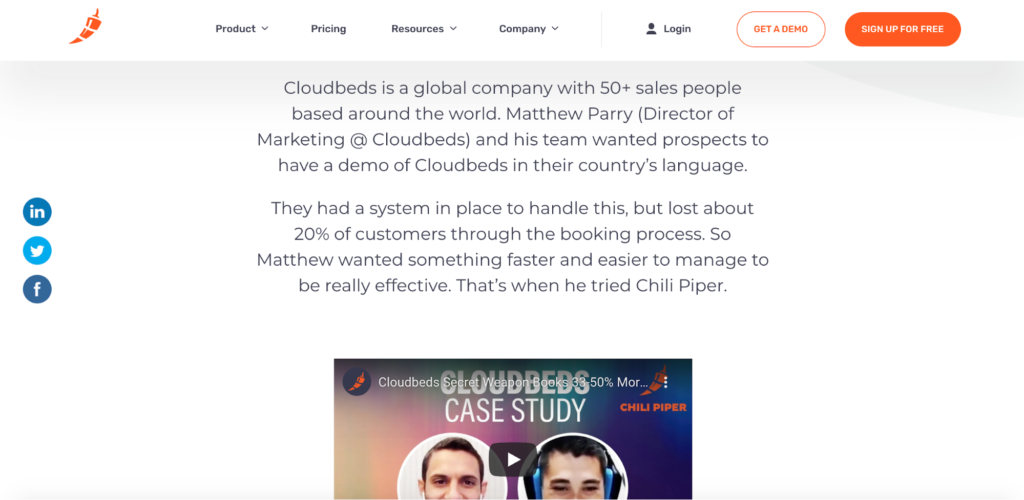 And here's what I really like.
Chili Piper gives a brief video just under 4 minutes, featuring the Cloudbeds Director of Marketing, Matthew Parry (no, not the actor from Friends).
In it, he gives a firsthand account of what his experience was like using Chili Piper and how it dramatically improved the scheduling process, as well as how easy it was to implement the platform.
From there, Chili Piper pinpoints the result, displaying quantifiable data of a 33–50 percent increase in the number of people completing the demo booking process.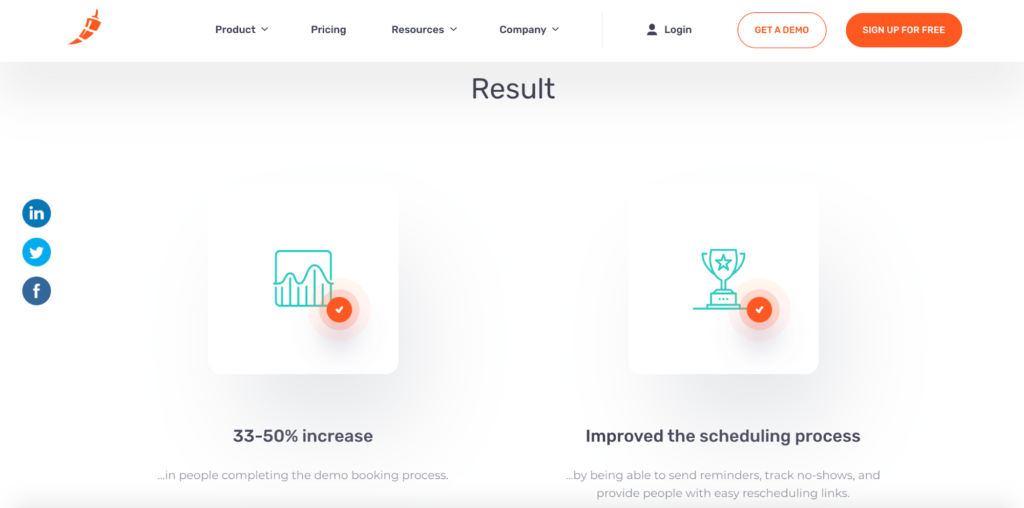 They also explain exactly how this happened, specifically mentioning that Chili Piper was able to significantly speed up the amount of time it took to book leads and create scheduling options to ensure it was available across multiple languages.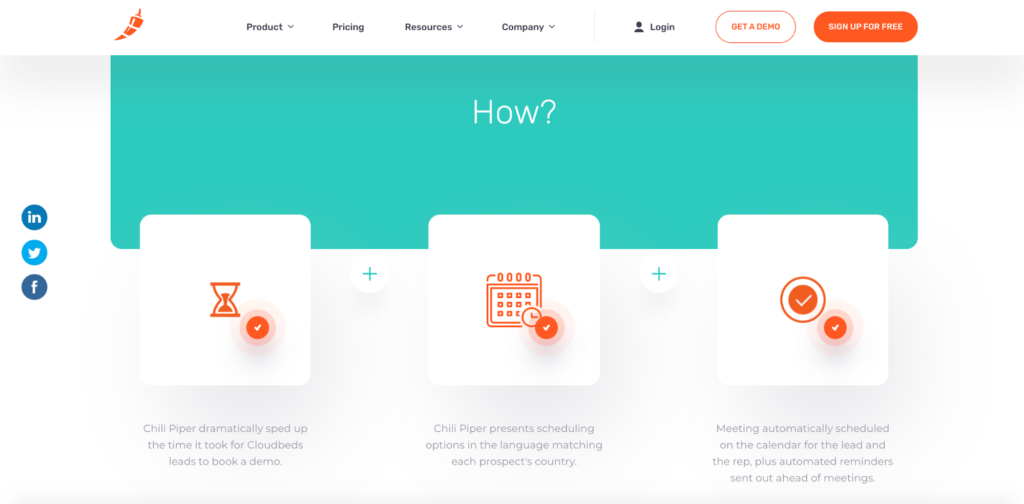 Below that, there's a nice quote from Matthew Parry that helps hammer home the benefits of using Chili Piper.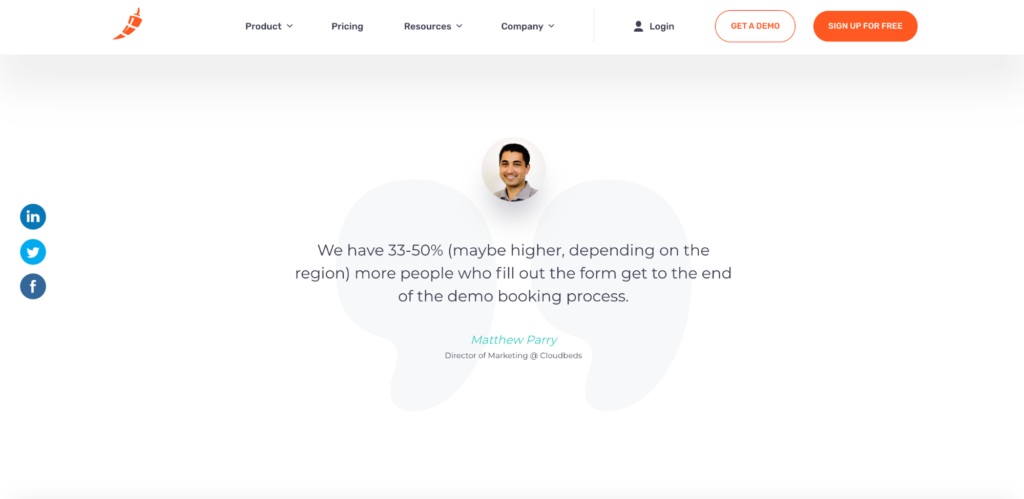 And at the very bottom, Chili Piper includes this well-placed CTA so leads can book a demo with them.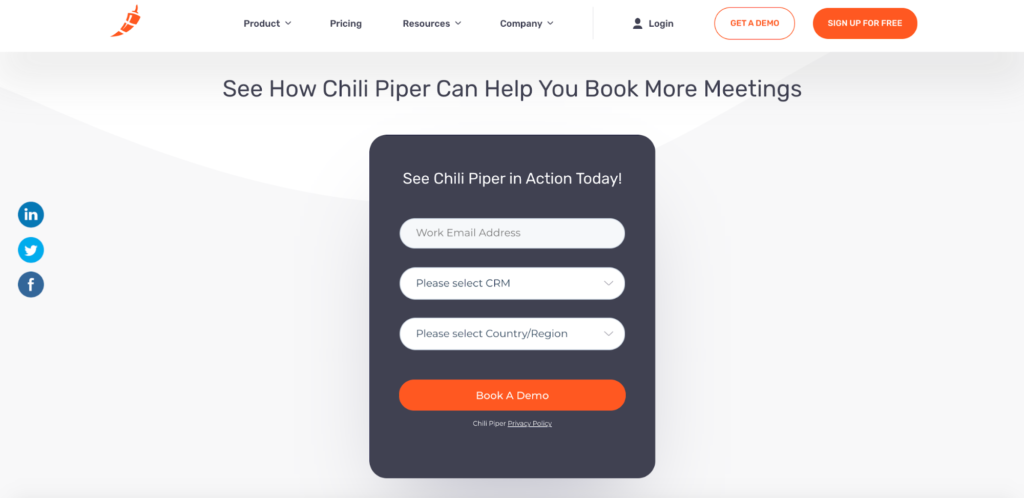 This is one of the best case study examples I've seen because it's:
Quick to read
Easy to digest
Includes KPIs
Gives a firsthand account of what it's like to use the product
Makes it simple for leads to learn more about Chili Piper
For the full enchilada, you can find this example here.
AMP Agency
This is a Boston-based digital marketing agency that has worked with the likes of Playstation, Puma, and Nike. AMP Agency has a great reputation, and one of their most potent forms of marketing is their case studies.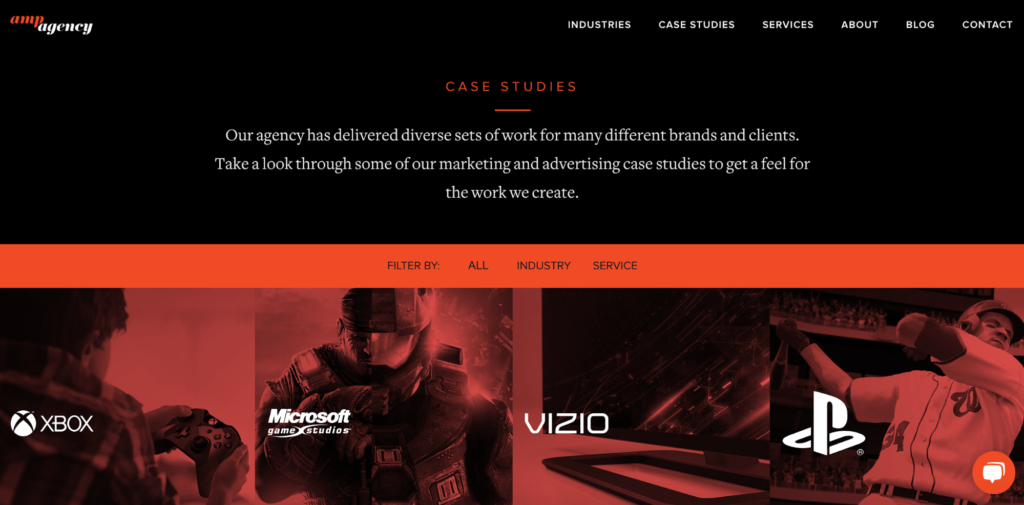 The one I want to focus on for this post is their case study involving Destination Maternity, which sells "a variety of fashionable maternity clothes."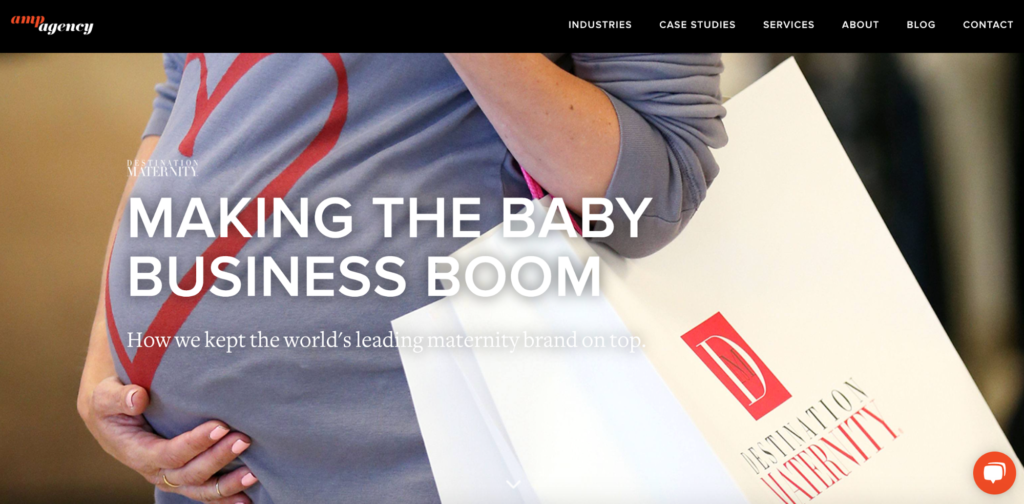 Let's break it down from start to finish. AMP Agency first provides a summary of Destination Maternity, saying they're the world's leading designer and retailer of maternity clothes.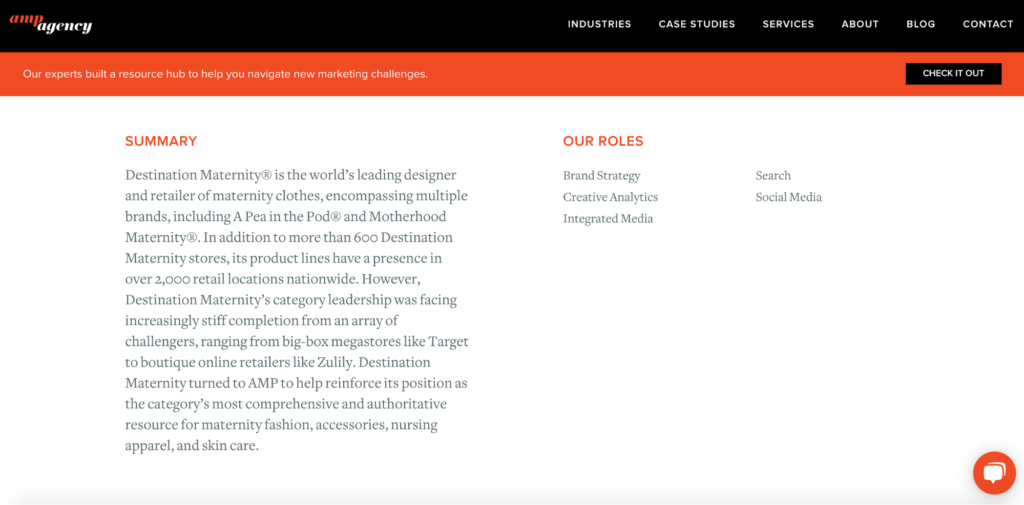 They also state what AMP Agency's roles were in Destination Maternity's campaign. From there, they move on to explaining the challenges Destination Maternity was facing, which was mainly being challenged by newer companies in the same industry where they needed to defend their leadership.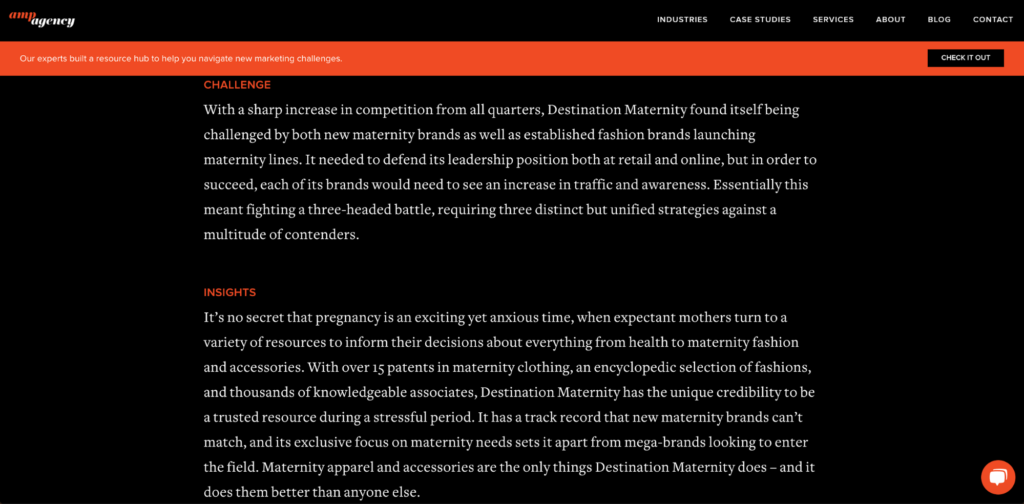 Then, AMP Agency explains the solution they used, which included nurturing brand awareness, building key partnerships, and reaching targeted consumers more efficiently during the right stages of research.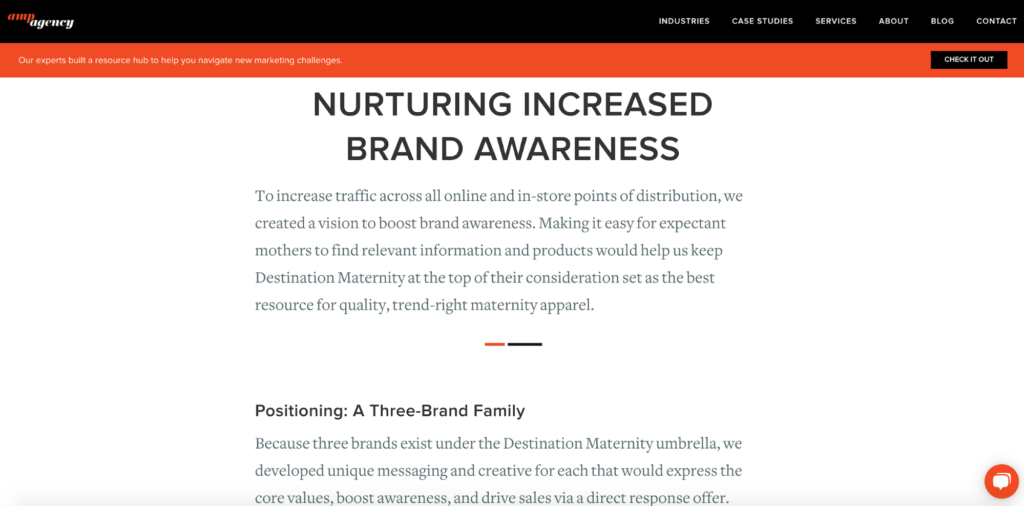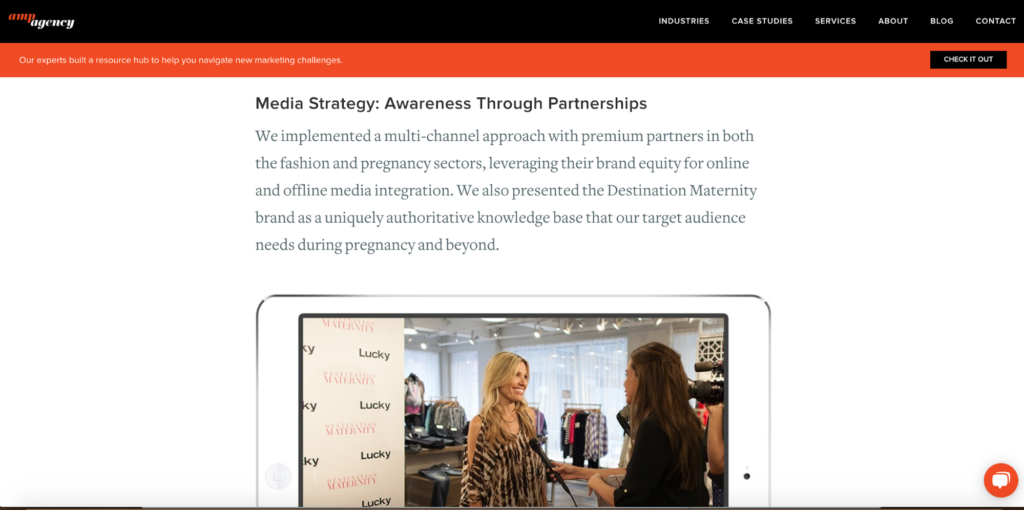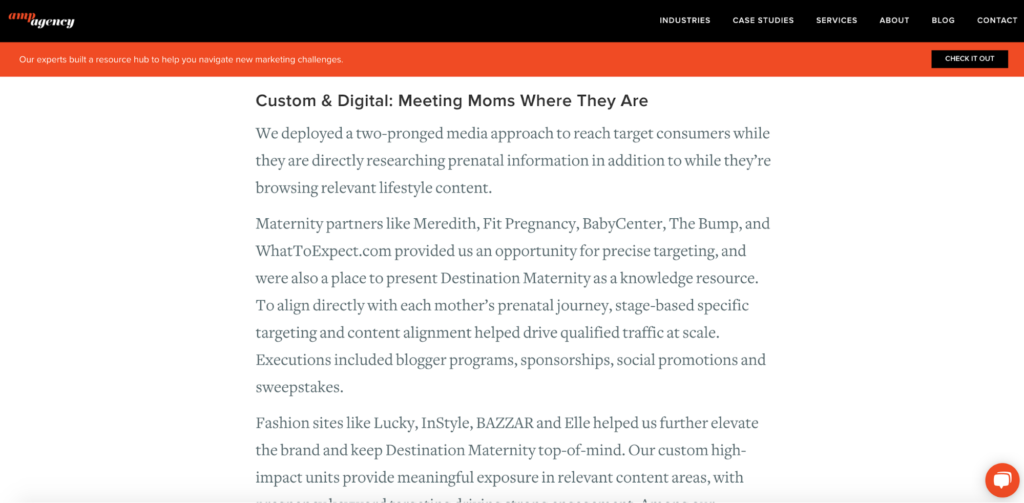 AMP Agency also includes some actual examples of promotions they used in Destination Maternity's campaign.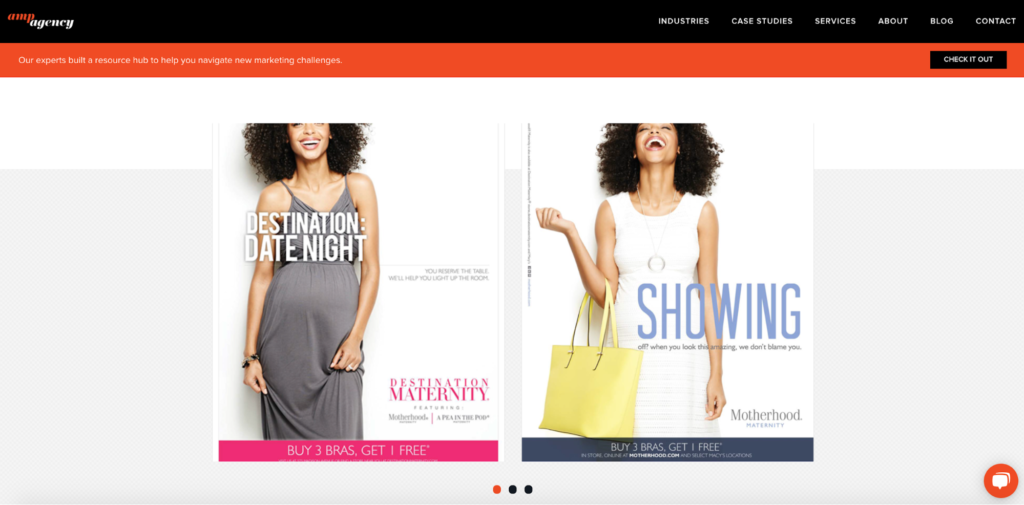 Toward the bottom, there are some undeniable results, where AMP Agency was able to
Generate 51+ million digital impressions for Destination Maternity in 3 months
More than double their click-through rate
Lower their cost-per-click by over 50 percent
Decrease their cost-per-view by more than 90 percent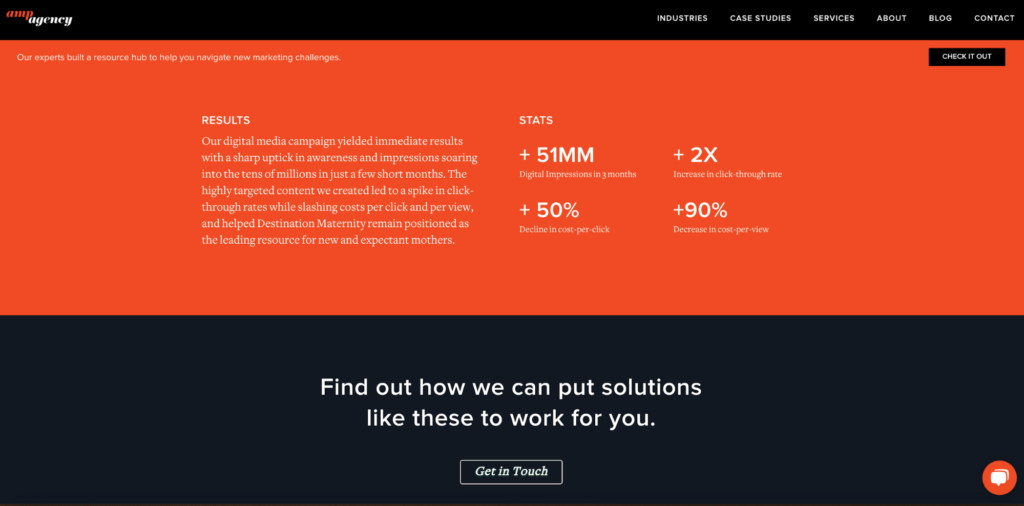 Not bad! I don't know about you, but this really piqued my interest, and the way the data is presented so clearly makes it super easy for leads to absorb. Finally, at the very bottom, there's a CTA, asking prospects to get in touch.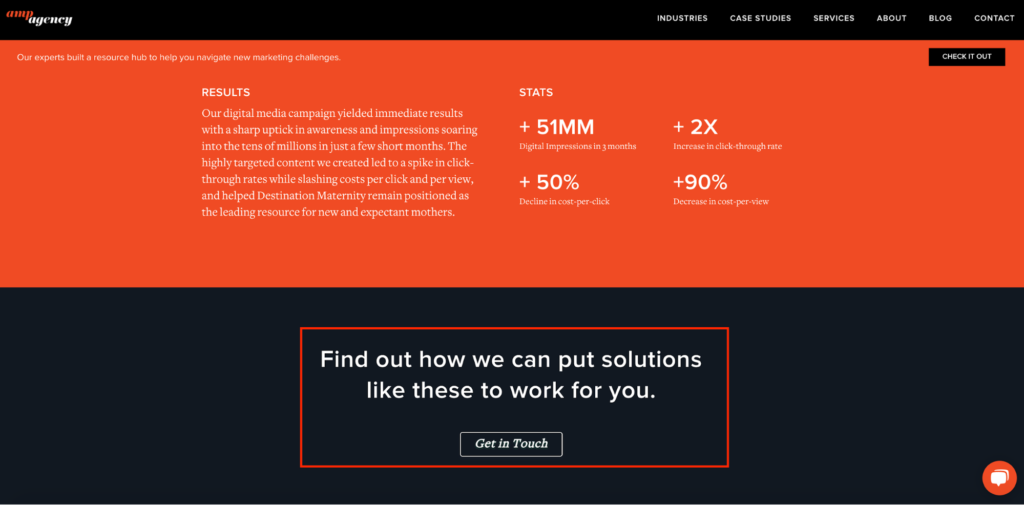 You can find this case study example here.
LeadGnome
Here's a brand that focuses on email reply management to deliver enriched leads. Like all of the other case study examples, LeadGnome has a dedicated page that visitors can browse through to see how their product has worked for different industries.
The example I want to highlight from LeadGnome is this one, which features Vocera, a leading platform for clinical communication and workflow.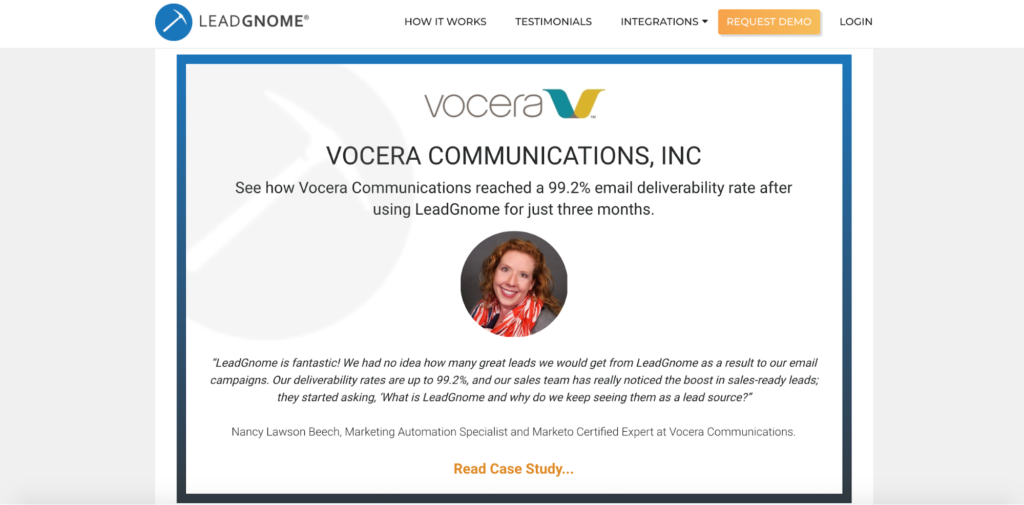 I like this case study because it doesn't mince words. Instead, it gets right to the point and fills readers in on key information. On the right-hand side, LeadGnome provides a brief background on Vocera, stating what their mission is, how many healthcare facilities use their product, and so on.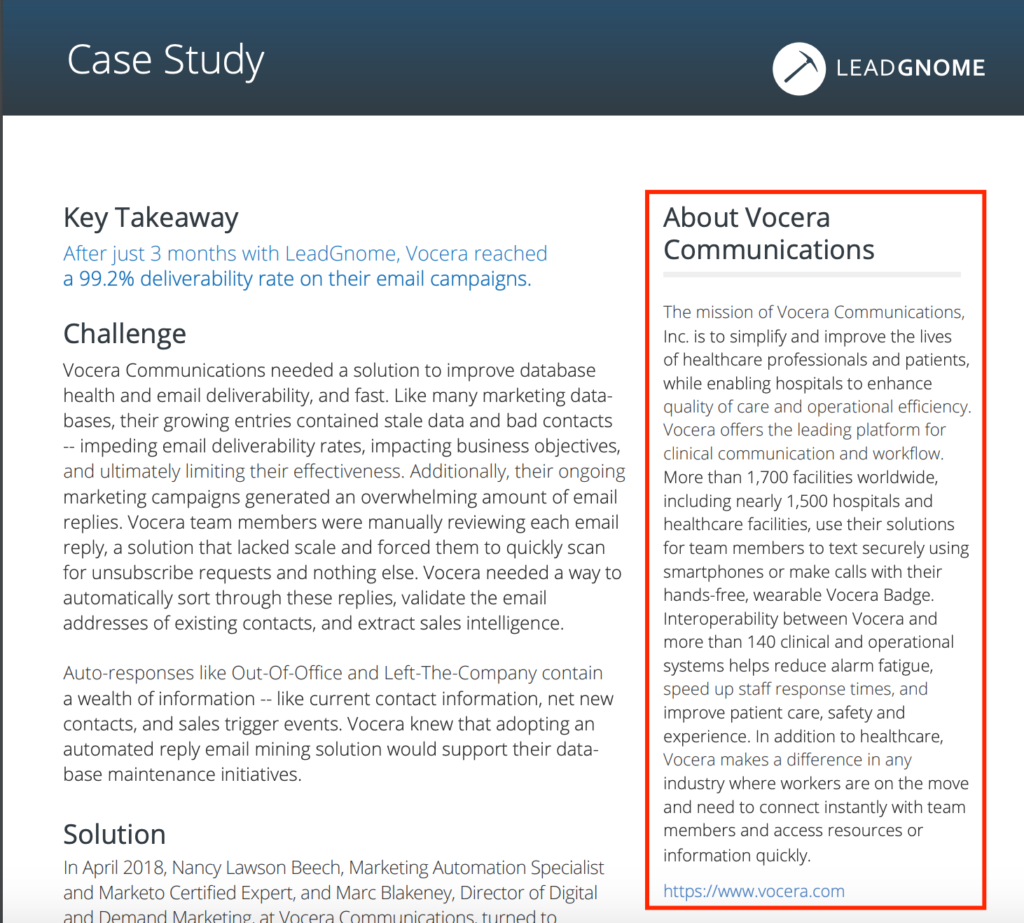 At the top left-hand side, there's a key takeaway that instantly lets readers know why they should be interested.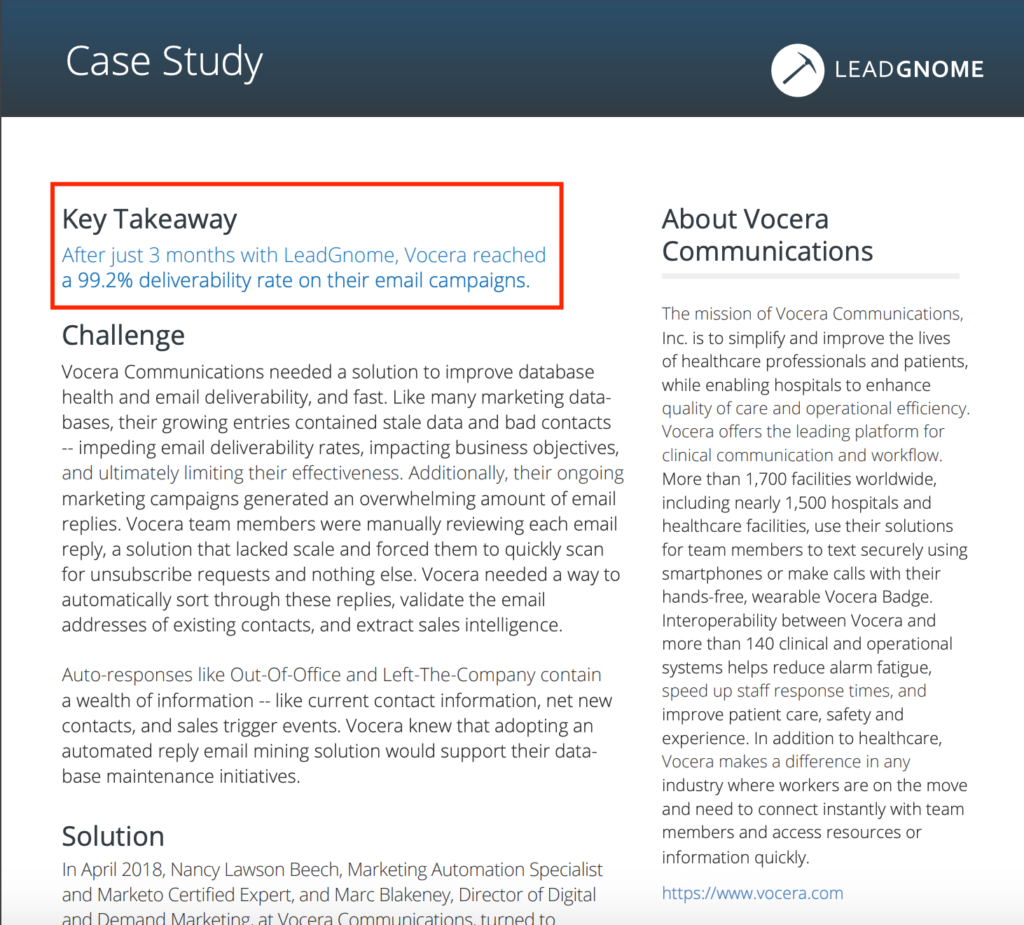 LeadGnome helped Vocera reach a 99.2 percent deliverability rate on their email campaigns after just 3 months. Given that the average email deliverability rate is considerably lower at only 80 percent, this is a stat that will be of interest to many prospects.
There's also the challenge Vocera was dealing with, which was improving their database health and email deliverability and handling a large volume of replies.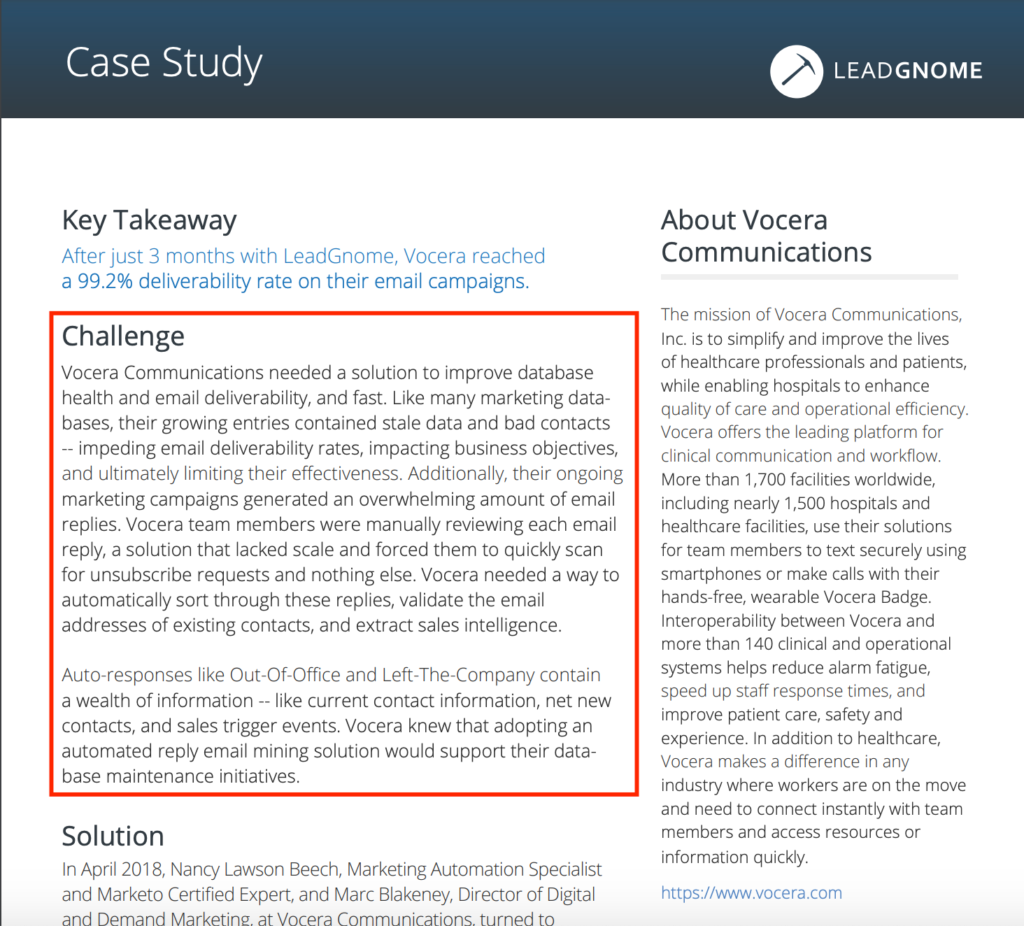 And of course, there's a solution, where LeadGnome helped Vocera "automate the process of mining data from the significant amount of Out-Of-Office replies the company received."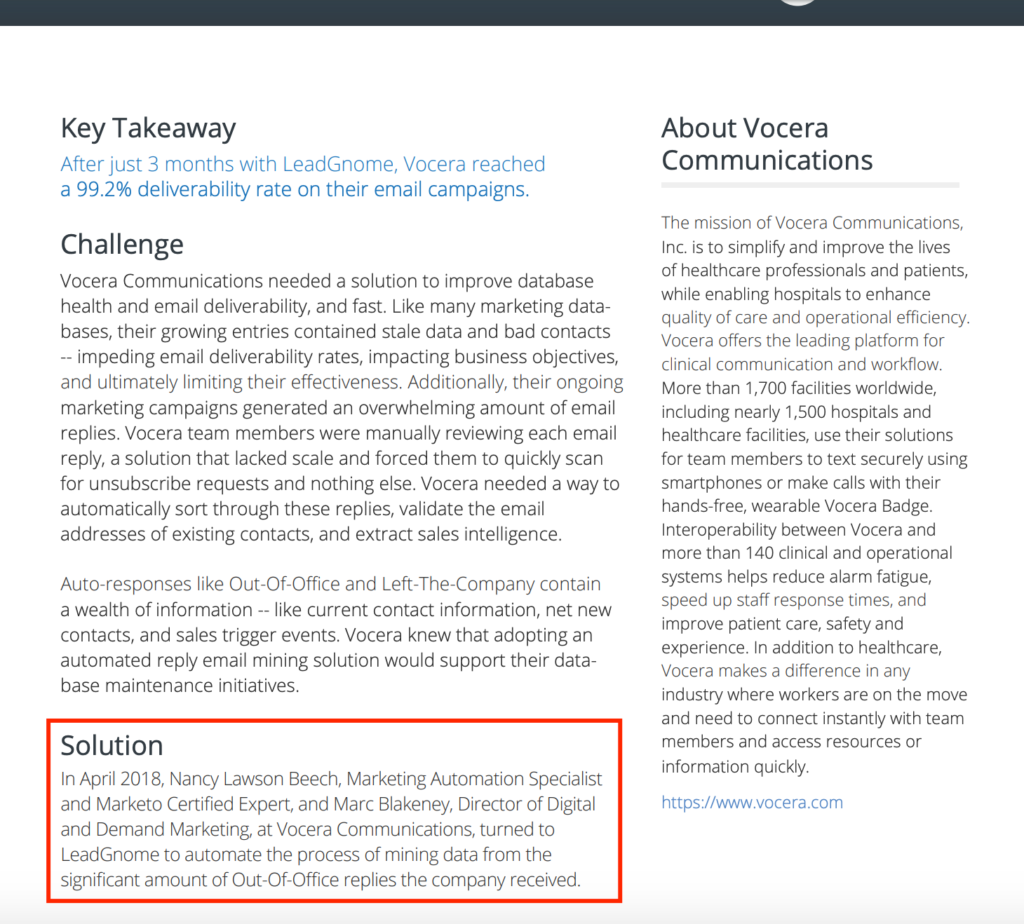 With just a single page, LeadGnome effectively lets readers understand the background and sets it up for what they're most interested in—the results. On this page, LeadGnome quickly outlines the impact of this campaign, including:
Appending over 18,000 existing records with current contact information
Identifying actionable sender verification/spam defender auto-responses
Eliminating more than 1,200 bad contacts
Raising Vocera's email deliverability to 99.2 percent
Generating more than 10,000 new contacts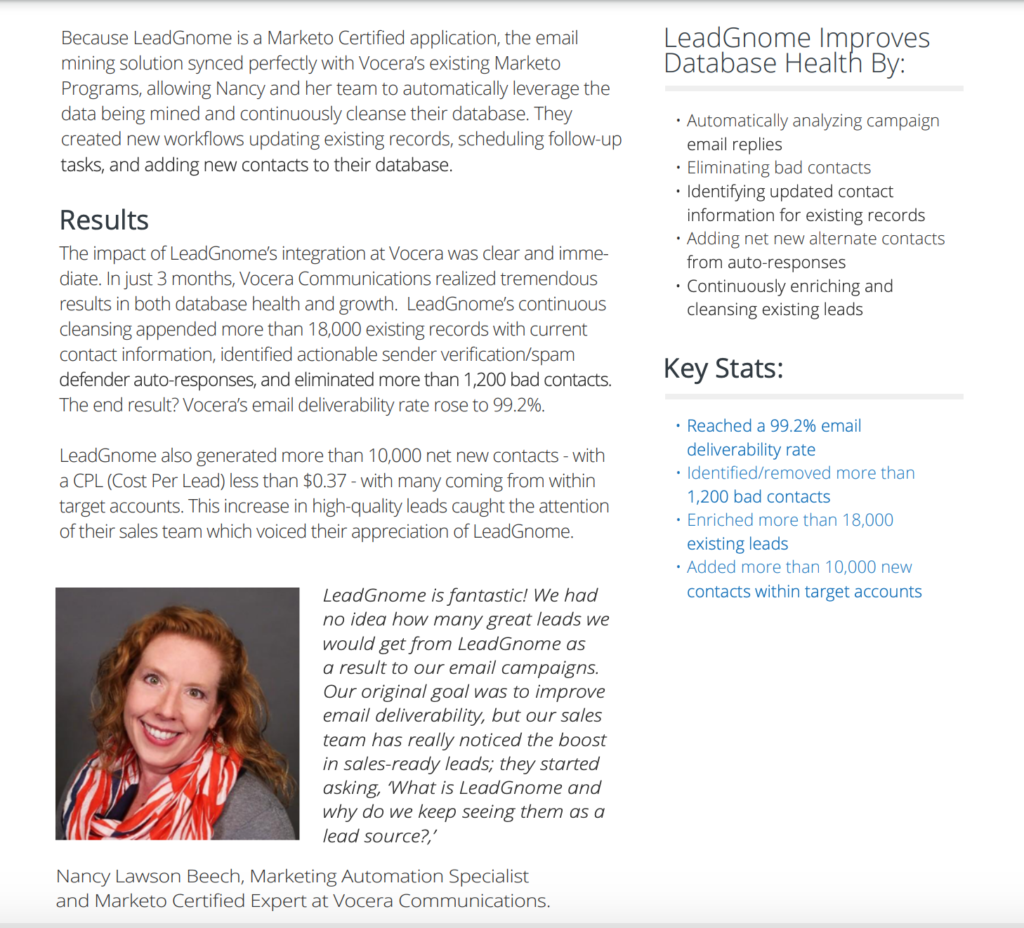 The results alone are really impressive, but to give this case study even more credibility, LeadGnome added a testimonial from Nancy Lawson Beech, who is a marketing automation specialist and Marketo certified expert at Vocera.
I think this helps round everything off nicely and gives the case study a bit more oomph. And considering that the core information is condensed into only pages, this example proves that a case study doesn't need to be long-winded to be effective.
In fact, most are no longer than 1,500 words in length, which is longer than this blog post (about 2,000 words for comparison).
Check it out for yourself here.
Forge and Smith
The last of the case study examples is from Forge and Smith, a Vancouver-based web design, web development, and digital strategy company. Here's what visitors see on their case studies page.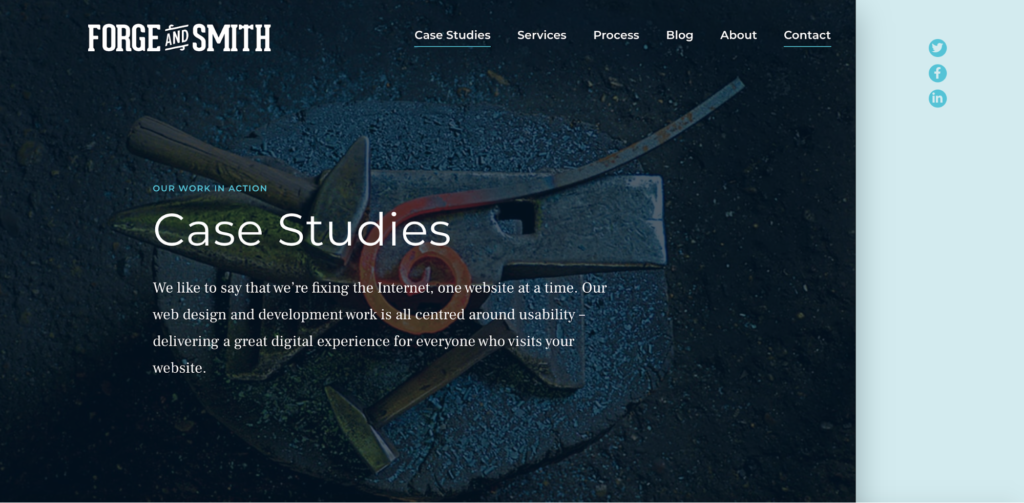 And here's the particular case study I'd like to share with you from One Coffee—a brand that specializes in sustainable single-serve coffee pods. As you might imagine, being created by a web design agency, there's an emphasis on aesthetics, and everything looks fantastic visually.
At the very top, Forge and Smith gives a quick overview of who One Coffee is, as well as their unique value proposition.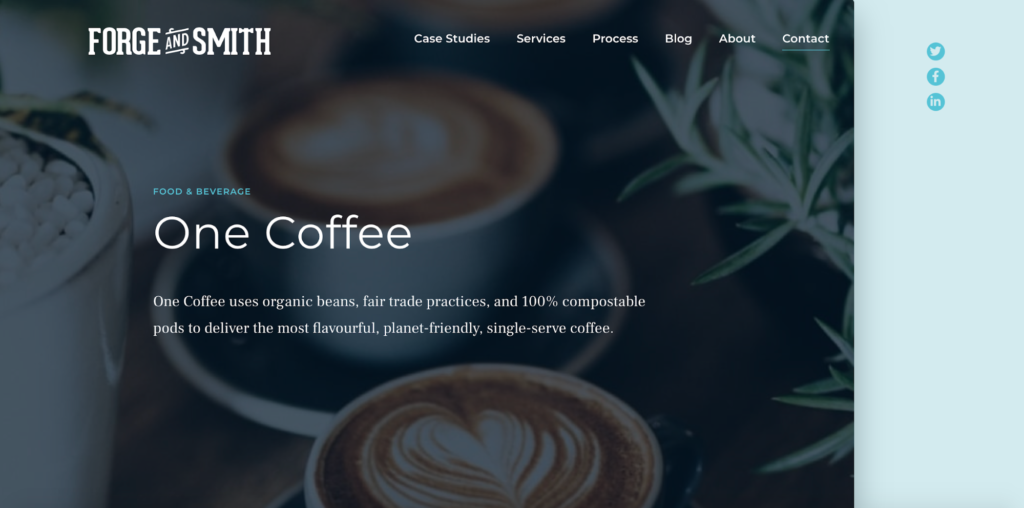 Then, they launch into what the objectives were for this campaign, breaking it down into easily digestible bullet points.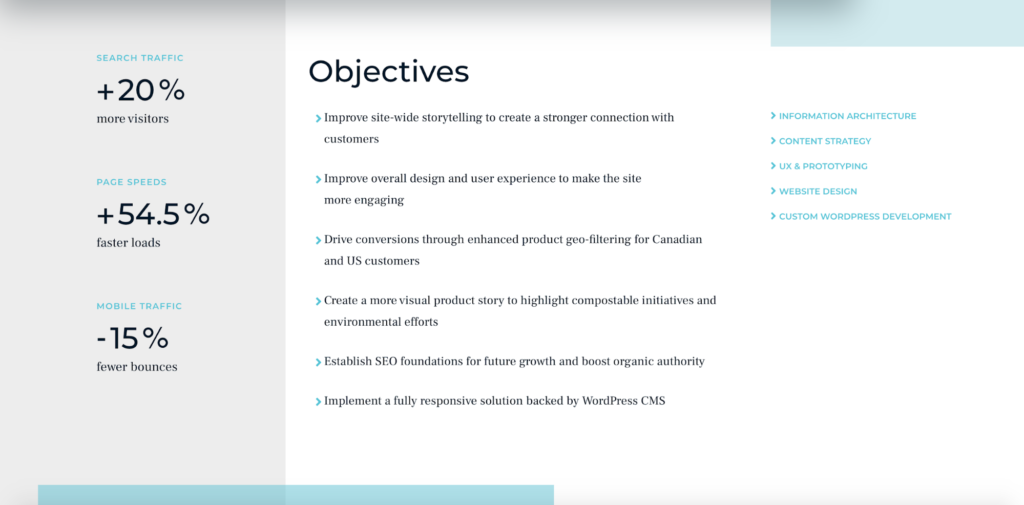 Forge and Smith then proceeds to highlight the different phases of this campaign, including prototyping…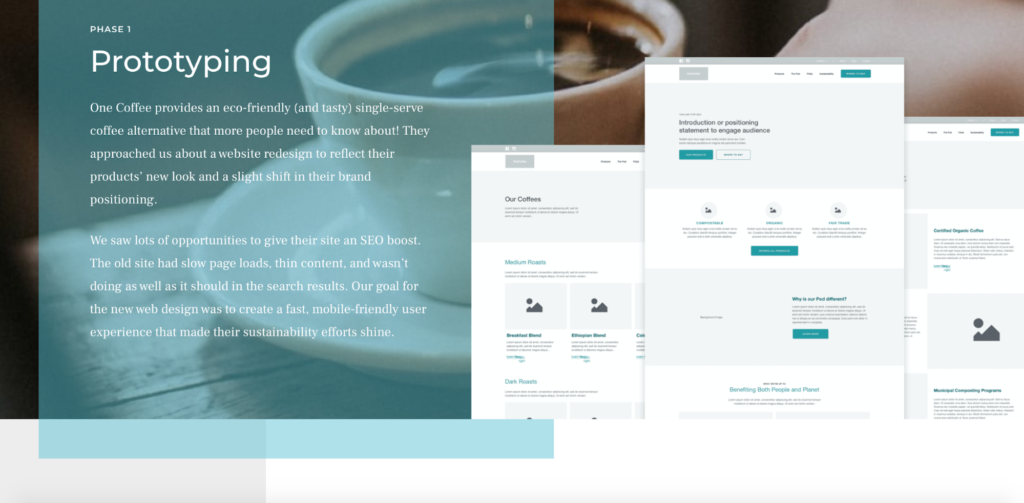 …style concepts…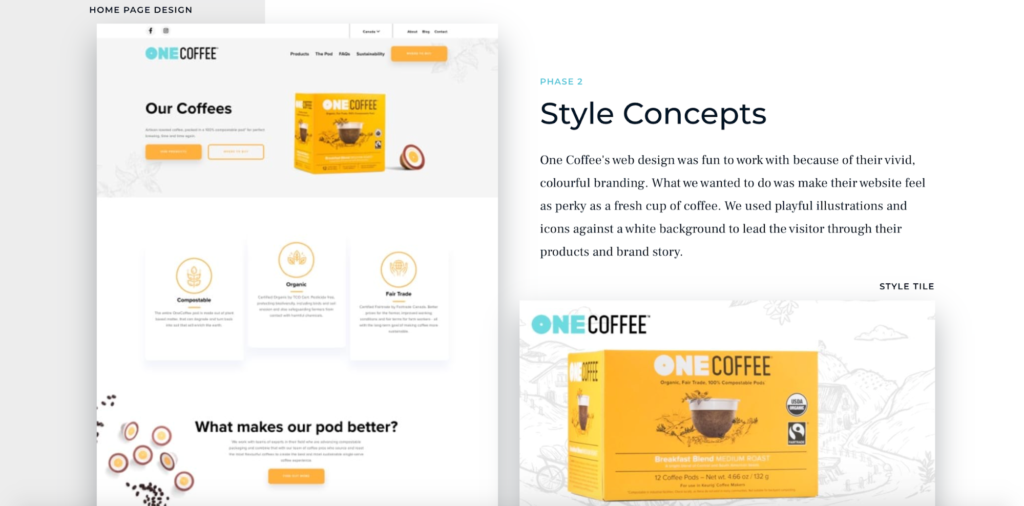 …and how they brought it all together.
I especially like how they use actual screenshots of what the One Coffee website turned out looking like, which helps prospects see firsthand how professional Forge and Smith is.
They also point out the boost their makeover had, mentioning "the new One Coffee site had already seen great growth in search engine traffic and improved page load times."
Although I personally would like to see some concrete numbers here, showcasing website screenshots like this basically acts as the results. And at the very bottom, Forge and Smith provides a link to One Coffee's website, as well as a nice CTA.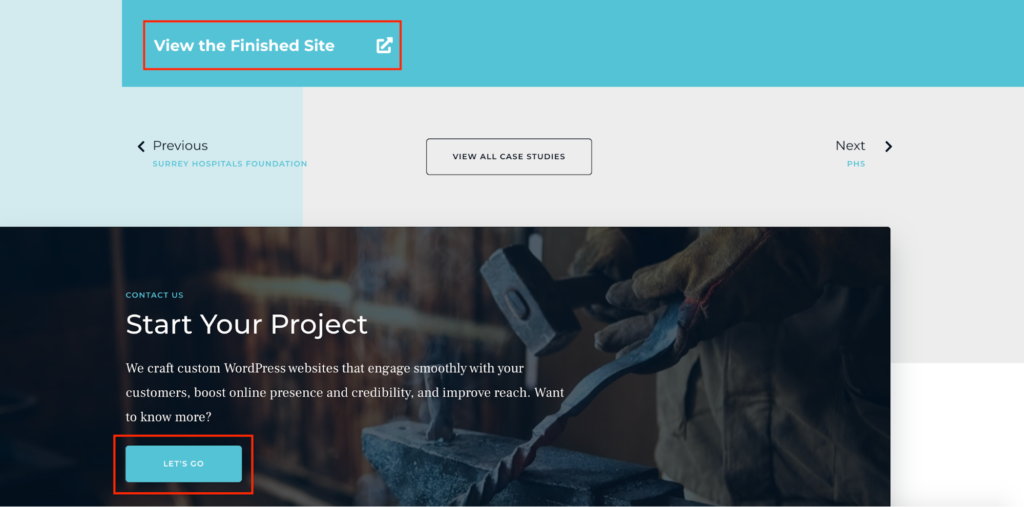 That's a great way to end things and gives leads a convenient way to take the next step. You can see the entire case study here.
Conclusion
The basic formula of a case study consists of the following information:
Who your customer is and what they do
What problem they were experiencing before using your product
How they used your product
What the results were and how they benefited
It's also smart to include a relevant CTA so they can learn more and make a purchase. These case study examples illustrate how to weave it all together and what the final product should look like. And remember, most case studies will be a max of 1,500 words, which means you should always focus on keeping them sharp and concise.
Do that, and you should not only be able to generate a consistent stream of high-quality leads, but convince them that your brand is the real deal so they take action.