Shopify is the foundation on which some of the world's most successful ecommerce businesses have been laid.
Its ecommerce platform gives merchants the ability to quickly launch their online retail business and start reaching customers anywhere in the world. Not to mention, the Shopify App Store allows merchants to add on more sophisticated functionalities without even needing to code.
Today, more than a million independent businesses use it, while an astonishing 3.6 million global jobs are supported by Shopify merchants.
Why is it so massive? Because it helps brands make money. In fact, for every $1 Shopify earns, its merchants generate $40.82.
But the platform's huge popularity poses a challenge for prospective retailers—with so many brands using Shopify, finding inspiration for your own Shopify store is like searching for a needle in a haystack.
Fortunately, I've done the hard work for you. Here are seven Shopify store examples that are killing it, along with the key learnings you can apply to your business.
1. East Meets Dress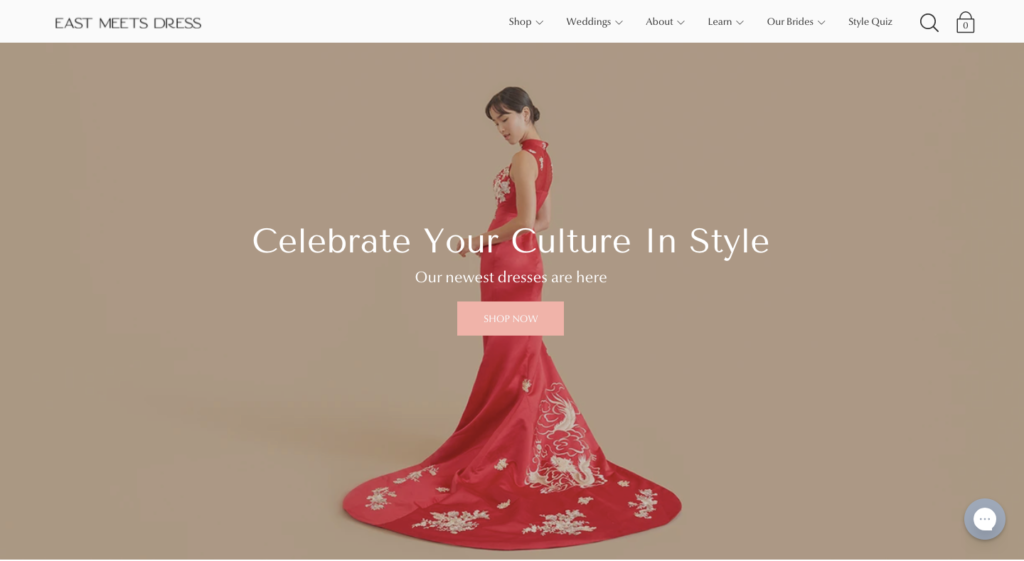 East Meets Dress makes and sells Asian-inspired wedding dresses, predominantly for brides-to-be in the US, although it also ships internationally.
Its top sellers are Chinese wedding dresses, known as "cheongsams" or "qipaos". When the co-founder Jenn wanted to wear a cheongsam to her wedding day tea ceremony but found it difficult to get hold of one, the idea for East Meets Dress was born.
However, Jenn and her co-founder Vivian freely admit they weren't totally convinced by the concept at first. With that in mind, they carried out some market testing to gauge interest in their prospective products.
How? By building a landing page and running a simple Facebook ad campaign.
Despite having just $50 of budget, they got more than 40 interested subscribers over the course of a weekend. That gave them all the confidence they needed that this business could actually work. And they were right.
Takeaways
East Meets Dress clearly demonstrates the value of finding your ecommerce niche before launching a business.
Jenn and Vivian saw a gap in the market—designing high-quality Chinese wedding dresses for Asian-American brides.
It's just so much easier to market a brand that focuses on one core product or audience than a "generalist" store that does a bit of everything.
If you've got a backstory to explain why you got into that niche, all the better.
But East Meets Dress also shows us that you shouldn't leave it all to guesswork or gut feeling. Do your homework to make sure the market's viable before you build and launch your Shopify store.
2. CONTRA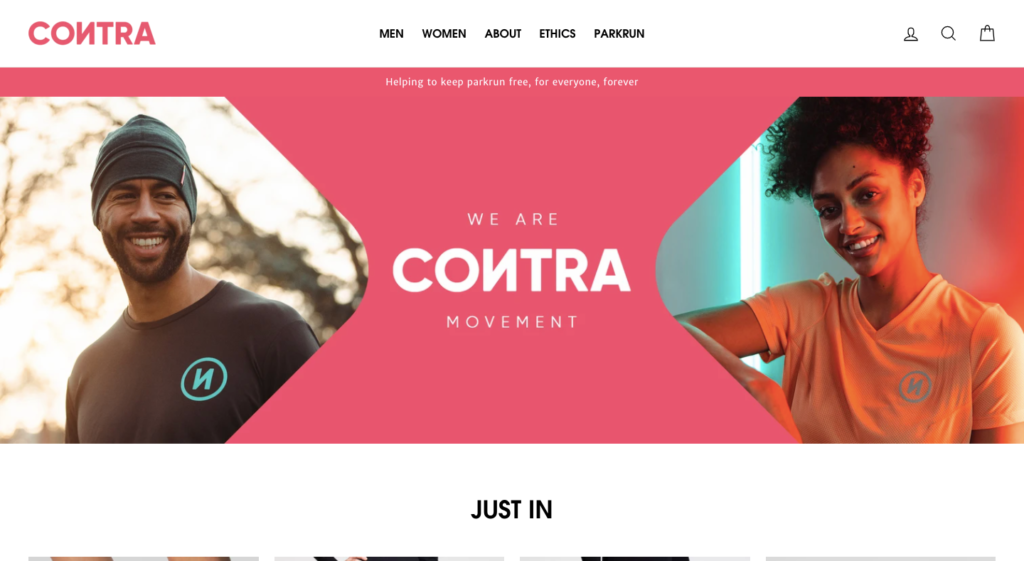 CONTRA is a running gear brand selling base layers, t-shirts, tights, and hoodies in a range of colors and designs. Everything comes in ten sizes for both men and women.
The running wear market is a pretty competitive space to get into. The established players have a significant market share and high brand awareness, so you need to do something special to build an audience.
To make things even more challenging, CONTRA is an ethical, sustainable brand. All its products are manufactured in European factories that pay staff fair wages. Inevitably, that means its products aren't as cheap as some of its rivals.
Yet despite this, they're now making more than $400,000 a year in revenue and shipping almost 600 orders a month.
Takeaways
CONTRA shows us that when your product aligns with the core values behind your business, and your audience genuinely buys into your mission, you've got yourself a strong marketing tool.
The company launched with the goal of reaching ordinary runners who felt marginalized and forgotten by the big sportswear brands.
Importantly, the brand was never driven by a desire to make a massive profit. It was founded by the team behind Parkrun—a UK-based charity that runs free, weekly, community-led, physical activity opportunities around the world—and all profits are reinvested in the charity.
In other words, when you buy from CONTRA, you're not just getting a new jacket or pair of joggers. You're helping keep Parkrun free for everyone. In your own way, you're making the world a slightly better place.
That's a pretty powerful message.
3. Natural Girl Wigs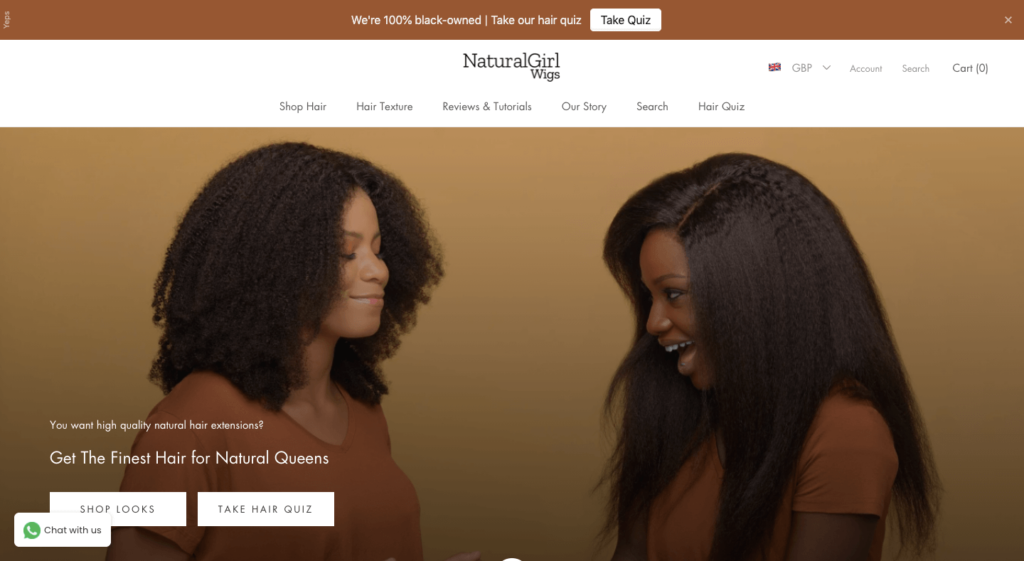 Natural Girl Wigs sells natural textured wigs designed to "promote black beauty and help women live their best lives." It stocks a range of different products, from 100 percent virgin human hair to premium fiber hair.
When it comes to running a business, this wasn't founder Remi Martins' first rodeo. She'd tried her hand at running a beauty store in 2015 but made the mistake of assuming she had to sell every possible type of product from the moment she launched. That didn't go very well.
Separately, Martins was also running an Instagram page dedicated to black excellence. The account got a ton of engagement, so as soon as she posted the new wig style she created in collaboration with her hairstylist, she immediately picked up her first order.
Since then, she's not looked back.
Takeaways
So many ecommerce entrepreneurs make the mistake of trying to launch a business that's perfect from day one.
Don't bother, because it's basically impossible. You'll make a bunch of mistakes in the early days (and probably in the later days, too), so don't be afraid to start out small with a focused, core product offering.
Natural Girl Wigs launched after generating lots of pre-orders for its first product.
All the amazing feedback it generated allowed Martins to push ahead with the business, despite having just $1,000 in capital to spend on raw materials. Since then, Natural Girl Wigs has grown into a six-figure ecommerce brand with 500+ orders a month.
4. SoYoung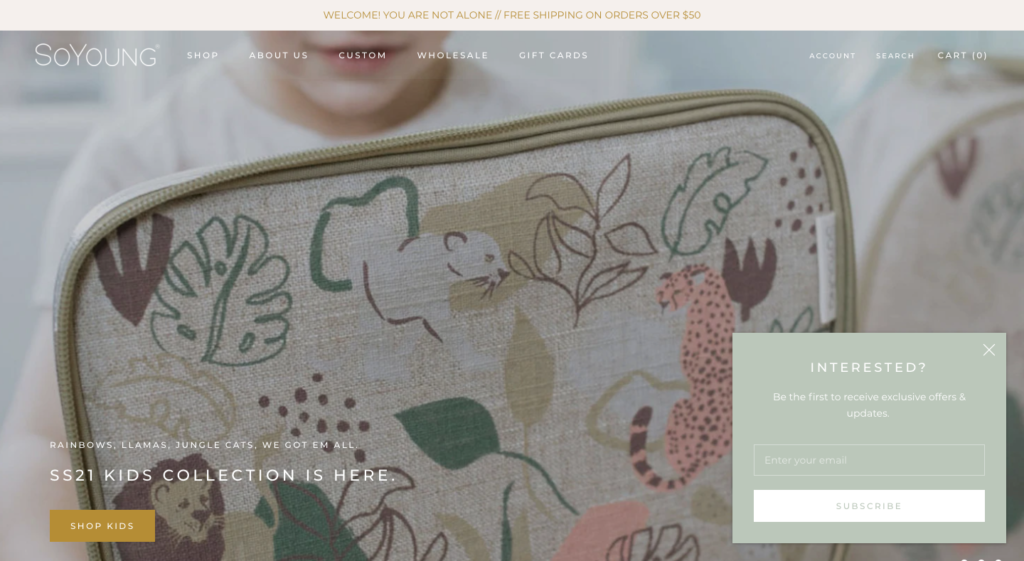 SoYoung is a Canadian brand that sells stylish lunch bags for adults and kids.
To be honest, I don't think about lunch bags very often. When I do, I just think of them as a way to carry my lunch.
But to the team at SoYoung, lunch bags are so much more. They believe the simple act of packing a homemade lunch can have a positive impact on many different facets of life, from reducing your environmental impact to improving your finances.
While its products are minimally designed, they also boast a range of clever details and features like accessory pockets and insulated inserts.
As well as launching a smart product, SoYoung has seen a lot of success through teaming up with complementary brands—specifically, those in the healthy eating space.
Takeaways
Never underestimate the value of cross-promotion.
In the case of SoYoung, its partnerships take various forms, from competitions to photoshoots and even product launches.
Working with healthy eating brands is a very natural tie-up that allows SoYoung to get in front of a wider audience. Not only that, but these collaborations also allow the brand to share its marketing efforts (and costs) with its partners.
More exposure; more reach; more customers; less spend. What's not to like?
5. Runway Catalog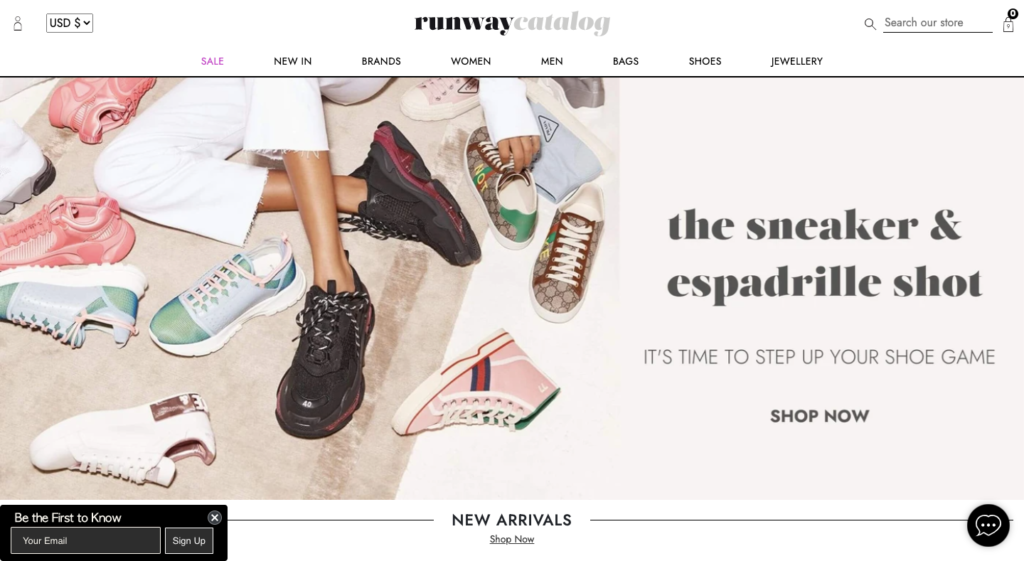 Runway Catalog is a mother and daughter-run fashion retailer that started out as a brick-and-mortar store in Montreal.
It specializes in picking out products and one-offs from big names, boutiques, designer labels, up-and-coming labels, and one-off brands.
How does it track down all these fashion gems? By trawling through department store cancellations, capitalizing on instances of manufacturers making up too much product, and snapping up end-of-season closeout deals.
When other stores overbuy, Runway Catalog comes in to strike the best possible deal and pass the savings on to its customers.
That's a great model, so it's no wonder the store is shipping close to 200 orders a month. However, this whole approach is based around the founders' rock-solid local connections. That carries problems when it comes to scaling the business.
Runway Catalog found the perfect solution to this challenge—affiliate marketing.
Takeaways
Tapping into new markets is a fantastic way to grow an online brand. But there are lots of risks attached.
After all, it's one thing setting up an ecommerce store to serve an audience that you know well, but it's quite another to replicate that model somewhere else. Let alone figuring out all the logistics of reaching customers in those new markets.
As Runway Catalog showed, affiliate marketing can be a massive help here. Having launched an affiliate program, the retailer has been able to expand its presence to Asia, Australia, and Europe.
It's started to pick up visibility off the back of its affiliate relationships without having to invest in a lot of infrastructure and marketing itself.
6. Toyshades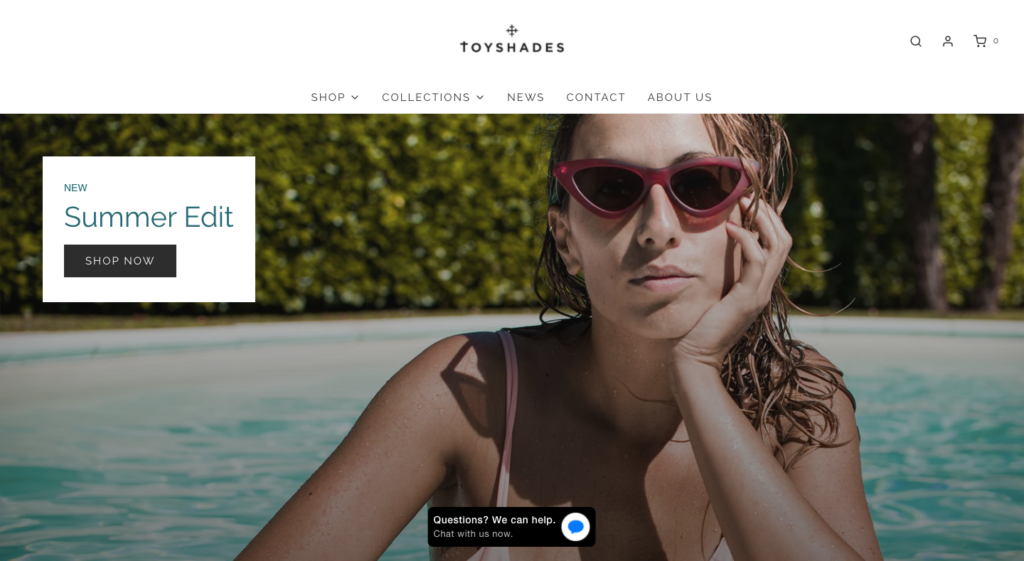 Toyshades is a British sunglasses retailer.
Anyone who's ever spent any time in Britain will know that's an unlikely recipe for success—it's not exactly a country renowned for year-round sunshine. However, Toyshades has made it work by offering high-quality sunglasses at an appealing price point.
On average it receives about 500 orders a month via its Shopify store and now offers worldwide shipping.
That's already pretty impressive. But it becomes even more impressive when you find out the brand's entire supply chain is managed in-house, with suppliers and manufacturers in five countries getting involved before the finished product arrives at Toyshades' office in West London.
Sure, the brand could simplify its supply chain. But then it would have to raise its prices, too—and that's a total no-no.
Not only has Toyshades been able to cope with what could be a massive logistical headache; it's even used it to gain key learnings about audience behavior.
Takeaways
If you think it's all about getting the pricing and product right, you'd be wrong. Understanding the nuances of customers in different markets has been absolutely integral to the brand's success.
By taking charge of its own supply chain, Toyshades has identified a bunch of audience behavior trends. For instances, it's found that:
Germans prefer to pay by bank transfer rather than credit card;
North Americans often prefer deliveries to be "signed for"; and
Iranians prefer a cash-on-delivery service.
Understanding these subtle but important differences has helped Toyshades delight customers wherever they're located.
7. BruMate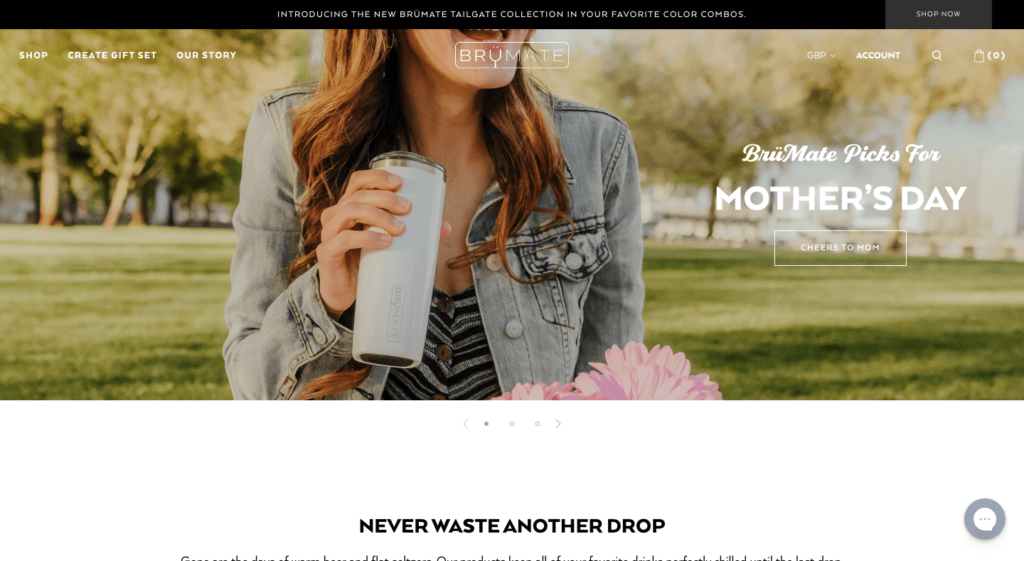 There's nothing like sipping a frosty beer or a chilled glass of white wine at the end of a long, hot day. But unfortunately, your drink doesn't tend to stay cold for long.
That's where BruMate comes in. It makes insulated beer and wine coolers, including the aptly named Winesulator—an insulated wine canteen that keeps a full bottle of wine cold for over 24 hours, perfect for taking to the beach, pool, campsite, or any other glass-free zone.
That's a great idea, right?
Since launching, BruMate has grown into an eight-figure business shipping 20,000 orders a month via its Shopify store.
Takeaways
If you sell a product that solves a real-world problem, you won't go far wrong. Pretty much everyone hates warm beer and wine (well, unless it's a glass of red).
But if it's a hot day, when you're most in need of a chilled beverage, your drink always seems to end up lukewarm faster than you can say "ah, refreshing".
So clearly, BruMate tapped into a great market.
Importantly, it didn't rest on its laurels after its early products sold well. Instead, it kept on innovating, launching new products like an insulated nosing glass for whisky, and even an insulated highball cocktail glass.
Conclusion
I've shared the stories behind seven high-performing ecommerce sites here.
These brands make up less than 0.001 percent of all Shopify stores, yet their routes to success are super varied.
This tells us there's simply no such thing as a "right way" to do ecommerce. You need to do what's right for you.
But we can still pick out a few key themes that cut across all of these brands. Each of them found a great niche, did their homework, and took their product to market without worrying about getting everything "perfect" pre-launch.
And, thanks to Shopify's ecommerce platform, they were able to hit the ground running.