Capturing and keeping consumers' attention is tough. If you don't pull them in straight away, they'll move on quicker than Ross when he and Rachel were "on a break".
In fact, 51.75 percent of visitors will bounce from your e-commerce store. And the average e-commerce conversion rate stands at a measly 1.81 percent.
One way you can turn this around is with a compelling product headline.
It's the first thing visitors see on your storefront. So it provides the perfect opportunity to lure potential customers in and make them want to learn more.
The seven examples in this post are product headlines done right. Use them to inspire your own irresistible headline.
7 Best Product Headline Examples
1. BLK & Bold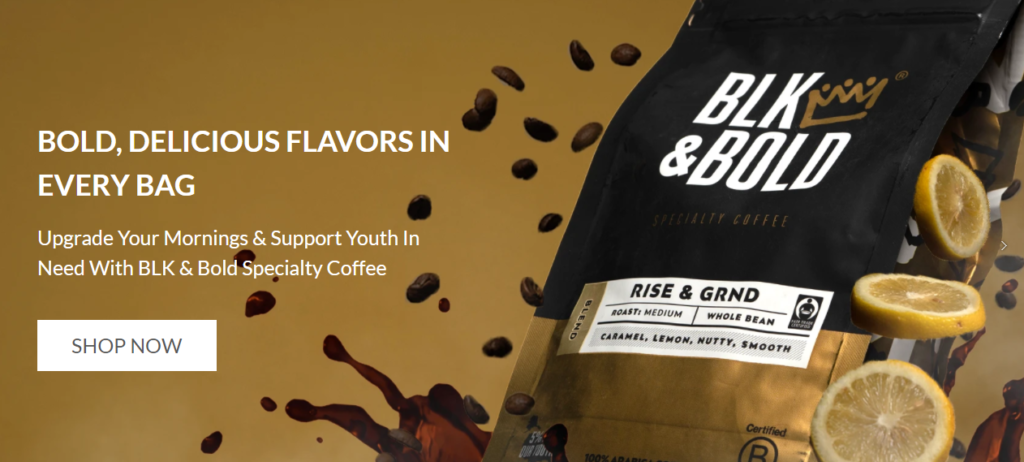 BLK & Bold uses mouthwatering sensory language to capture visitors' attention when it talks about its coffee's "bold, delicious flavors".
Using sensory language, you can invite visitors to hear, see, smell, or, in this case, taste your product. Think about "crunchy chips" or "soft fabrics", for example.
The store goes on to an air of luxury and something special with "Upgrade Your Mornings". This insinuates the coffee people are drinking doesn't compare to BLK & Bold.
Like this company, if you're going to mention what makes you stand out against competitors, you can choose to do it in a subtle way.
Perhaps the most intriguing part of BLK & Bold's headline is "Support Youth In Need With BLK & Bold Speciality Coffee". BLK & Bold donates 5 percent of their profits to at-risk youth.
By mentioning this in its headline, the company makes everybody aware of the fact straight away. Thus, its copy evokes emotion and appeals to the values of the customer.
You can do something similar by considering your ideal buyer and what they care about. Think about why they might buy your product, i.e. their psychographics.
Source: Crobox
Use the psychographic information you have on your buyers, in other words, their personality traits, needs, interests, values, and desires.
Let's say your audience cares about supporting small businesses. Your headline might include, "From Independent Creators". If you're trying to appeal to broke students, you could try the angle "Big Brands. Small Price Tags".
All in all, you need to make your copy appeal to your audience specifically.
2. Taza Chocolate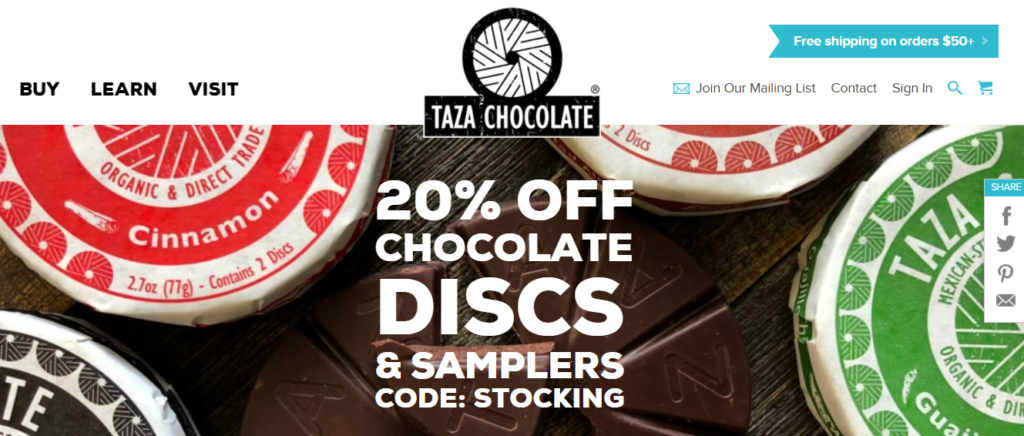 Taza Chocolate uses its product headline to present an offer. Although Taza is a small business, this is a tactic a lot of big e-commerce stores and marketplaces also employ.
Here's the first thing you see when you go on the Target website, for example:

And similarly, here's eBay's header:

This approach works well for companies large and small because deals and discounts grab attention and make the perceived value of a product go up.
If you run a small business, select your current best offer to use in your product headline. You can also use the space to advertise ongoing promotions. Perhaps you offer product bundles at discounted prices all year round.
Taza Chocolate also makes the promo easy to claim by having the discount code right there in the headline. A good deal is redundant if customers can't snap it up easily.
Moreover, its headline is super simple and to the point. This works well because you don't want potential customers to overthink, particularly when it comes to an offer. In cases like the above, a short and sweet product headline is the best way forward.
3. Typo

Here comes another seasonal headline example from Typo.
Adjusting your headlines based on the season ensures that they are relevant to customers. Plus, it helps draw attention to your seasonal offers.
For instance, you may want your product headline to focus on a particular product at one time and a different product in the following quarter. Or say your goal right now is to increase sales but at a later date you hope to build customer loyalty—you can have different headlines that reflect as much.
Like BLK & Bold, Typo does a really good job at appealing to its audience with this product headline. It reads, "Tell me you forgot a gift without telling me you forgot a gift."
This is a line from TikTok and will appeal to a younger demographic.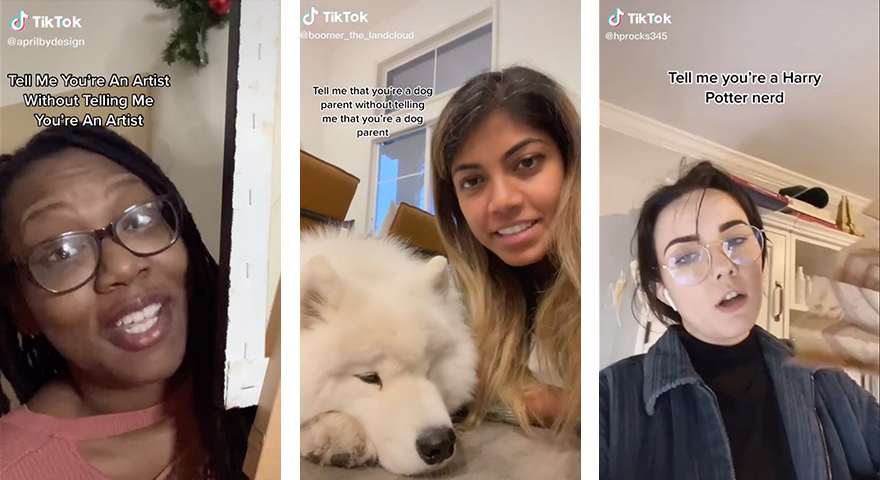 Source: StayHipp
In that same line, Typo also addresses an audience pain point which is something the best product headlines do. Consider how you can provide a solution to potential customers and encourage them to explore your product further.
Finally, note Typo's sub-headline, "Xmas Shipping Cut Off IS JUST AROUND THE CORNER". The sentiment here and the fact that the latter half is in capital letters add a sense of urgency.
Typo does a lot of smart things in this example. Let them be your product headline Yoda.
4. 1stDibs

If you have an e-commerce store, you've likely heard of social proof. This company uses it to its advantage with the headline "It's from 1stDibs!"
It gives the impression that customers are running around showing off their 1stDibs purchases. This makes the company's products sound desirable. Any customer that wants to be on-trend will find the headline particularly intriguing.
Other ways to use social proof in your product headline include using a star rating, customer testimonial, or a similar credential. For example, "Trustpilot's number one rated mattress".
1stDibs also adds an air of exclusivity to its products by saying "There's only one place to find…" and mentioning that its products are "specially curated".
In your product headline, you could use terms like "VIP", "Insider", and "Exclusive". Or get more creative with something like, "Only for [board game] lovers".
It's also worth noting that 1stDibs uses beautiful, descriptive language. You can easily envision the "covetable, cache of treasures". This is a great way to rouse the imagination of visitors and make them desperate to take a look at what those treasures are.
1stDibs get points for whimsy and originality but also for intelligent copywriting.
5. ThreadBeast

As a fashion subscription service, ThreadBeast begins by addressing a major customer pain point that its product solves.
"One less trip to the mall" is simple and effective. It's a smart way to get people who have that problem to take notice. The company also uses short, direct sentences to convey several benefits of their product in a small space.
While the other examples in this post are creative and even use flowery language, ThreadBeast's product headline is more transparently benefits-driven. You have to decide what makes more sense for your brand and your audience.
Naturally, you can't include every benefit and feature—that's what product descriptions are for. But you can select a few main benefits and use them to construct a product headline.
Those benefits should consist of what will make customers' lives better or easier. If you can convey that those benefits come thick and fast, even better.
6. Impossible Foods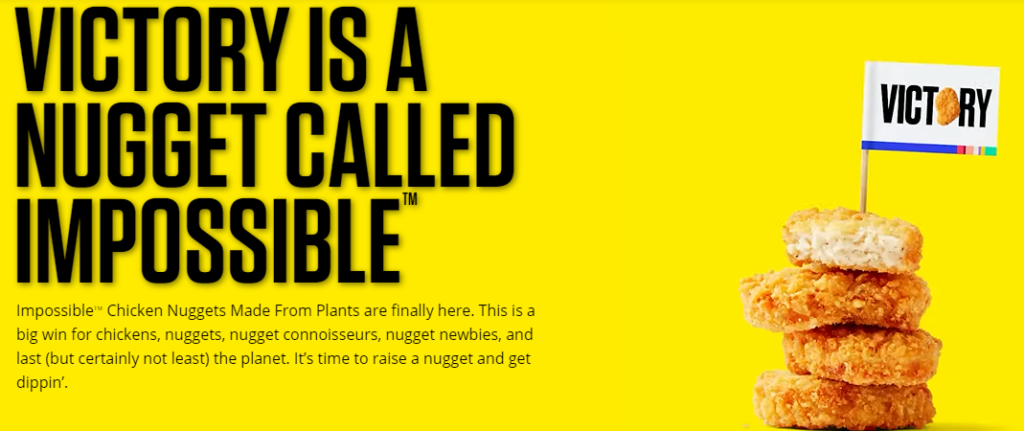 Impossible Foods opts for an intriguing and powerful headline.
It's intriguing because it makes you think, how can nuggets be so victorious? It's powerful because it puts the reader at the center of a story.
The company's product represents a "victory" and a "big win" for animals, nugget enthusiasts, and the planet. With this positive sentiment, it implies that buyers can make a genuine impact by purchasing this product.
Impossible Foods' storytelling gives potential customers the opportunity to be the hero in a story and, and the word "victory" ties in nicely here.
Next, the company invites visitors to take action with "It's time to raise a nugget and get dippin'." In other words, you can have your own Braveheart moment with plant-based nuggets.
You don't need to go above and beyond to recreate Impossible Foods' storytelling. Make your language human and it's easier for customers to identify with your brand.
Storytelling doesn't necessarily mean writing something with a beginning, middle, and end. It's more about engaging the customer and stimulating their imagination.
7. Lunya

Sleepwear company Lunya certainly draws attention with the product headline "GOOD IN BED*". This demonstrates a cheeky sense of humor.
You can also use humor to entertain visitors and make their experience more memorable. For example, here, Lunya would stay at the top of your mind even though there must be hundreds of e-commerce stores that sell sleepwear.
When you hover over the main headline, there's an explanation:
From a design perspective, this is clever. It gets customers to engage with the product headline to learn more after their curiosity is piqued.
In the descriptive sub-headline, Lunya talks about the features of its product, but it also relates these features to benefits as they "keep you cool, confident, and comfortable".
Features alone can be dry and not very enticing. But tell visitors what the features can do for them and you add desirability. For instance, I want to buy a bicycle. Tell me it has an alloy frame and that means nothing to me. But tell me that the alloy frame makes the bike durable and I'm sold.
Furthermore, Lunya clearly has a good understanding of how customers use its products. In other words, people lounge around in their PJs in the daytime too. No judgment here.
Lunya expresses this in its product headline with "as you move about your day—and back to bed." This makes the company relatable and likely will endear customers to them.
It's always a good idea to develop and demonstrate a deep understanding of your audience.
Conclusion
Product headlines are useful for capturing and keeping the attention of visitors to your e-commerce store. The best product headlines encourage engagement and sales.
What's the next step? Have a look at your existing product headlines and analyze how they stack up to these examples.
If there's room for improvement consider some of the tactics the above brands use to make their headlines irresistible, such as:
Address customer pain points;
Describe the benefits of your product(s);
Use enticing sensory language or action words;
Adopt a relatable tone ;
Appeal to your audience's interests and values; and
Make it simple and to the point.