Drip is honored to be on the just-announced list of Zapier's Fastest Growing Apps of 2017, in the company of popular integrations like Facebook Lead Ads, Google Forms, Big Cartel, and many more. Click here to see the whole list, and learn more about Zapier and Drip together.
---
Zapier offers countless ways to connect the apps that are crucial to your digital marketing—and then automate interactions between them.
These automation options become even more powerful, when you fully integrate Zapier with an email marketing automation platform, like Drip. If you haven't already explored how Drip and Zapier work in harmony together, we think you'll find tons of neat things you can do.
You'll notice there are more than 20 triggers and actions in Drip, that can send data to, or pull data from, hundreds of different tools you already use.
In the past, connecting these separate parts of your marketing stack would've required paying an experienced programmer—or it might've been simply impossible altogether.
But with the magic of Drip and Zapier working together, you can connect tools and automate tasks with Drip and Zapier, all by yourself—and you can start for free.
Here's everything you'll need:
Zaps are Zapier's name for the automated tasks between services you connect, like your shopping cart and your CRM, or your quiz software and your email marketing tool. You can start creating Zaps as soon as you've logged in to Zapier. Zaps allow you to pass data back and forth between tools and trigger actions in those same tools, based on events in one tool or the other.

When a Zap pushes data into your Drip account, you can do things like:
Create or update a subscriber.

Trigger an event.

Add a subscriber to a campaign.

10+ other options.
Zaps can also send data from your Drip account to another tool when things happen like:
A custom event is recorded.

A subscriber visits a page on your website.

A subscriber clicks a link in an email.

And many more.
This data transfer allows you to connect Drip to apps that it doesn't already natively integrate with. And in many cases, it enhances the integrations that are already included in your Drip account—like how at Drip, we actually use Zapier to boost our own Pipedrive integration.
Check out how we too use Zapier and Drip to create a 2-way sync with Pipedrive.
Setting up Zapier and Drip is both easy and intuitive. All you need from your Drip account to get started is your API token.
If you've ever used Drip's Basic Rule feature, creating a Zap will be second nature to you. Each Zap is made up of a trigger and an action, just like rules are in Drip. You can use Drip as either the trigger step or the action step. Then, select another app you'd like to send data to, or receive data from.
Here's an example of what Drip looks like as the action step of a Zap: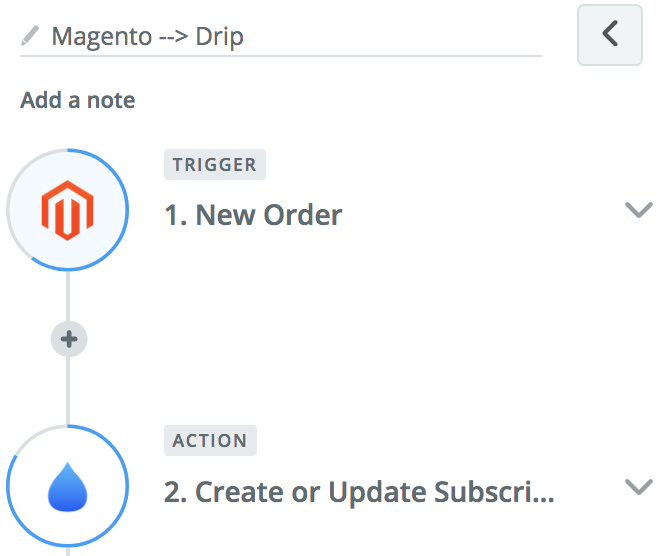 This Zap sends data about a new Magento customer over to Drip, and automatically creates, or updates, that customer as a subscriber in Drip. Pretty neat, right?
And here's what Drip looks like as the trigger step in a Zap: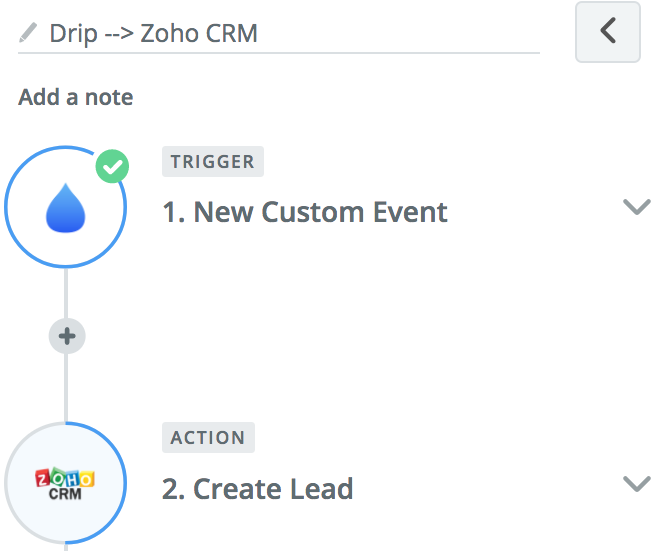 Here, when a custom event occurs in Drip, this Zap sends that data into Zoho CRM, and automatically creates a new lead.
Those examples are only two of a nearly endless amount of interactions you can create between Drip and the many other apps that Zapier integrates with.
For those ready to take their Zaps to the next level, you can also add filters to your Zaps so they'll only perform if particular filter criteria is met. That sounds complicated, but it's actually quite simple.
For instance, in this example, this Zap uses Drip as a trigger and the filter will only allow the Zap to finish if the subscriber's leadscore is greater than 70 in your Drip account.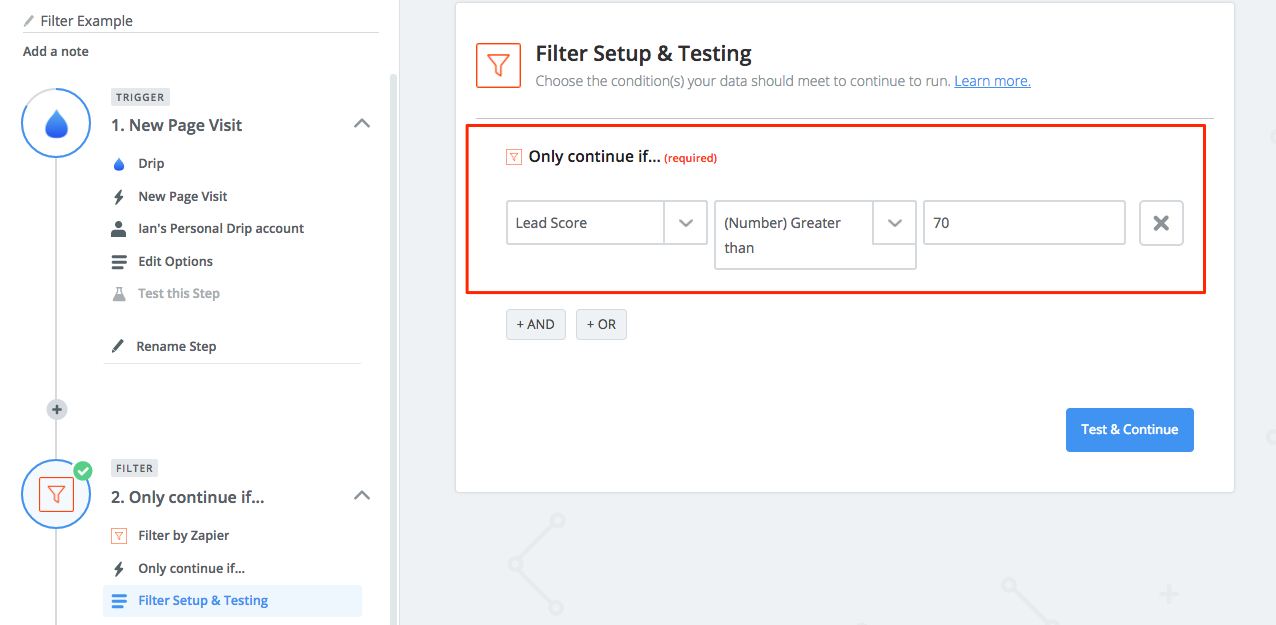 This feature allows you to be selective when choosing how or when certain Zaps do (or don't) fire.
As you create more Zaps that make use of Drip, you can continue to save data sent into your Drip account by simply mapping the incoming information to custom field values, unique to each subscriber.

This data might be pieces of information like a customer's first name or the company they work for. Many Drip customers, especially those that use it like a B2C CRM, find this feature invaluable, as they learn more information about their prospects and customers, and continue to save and then automate against that information.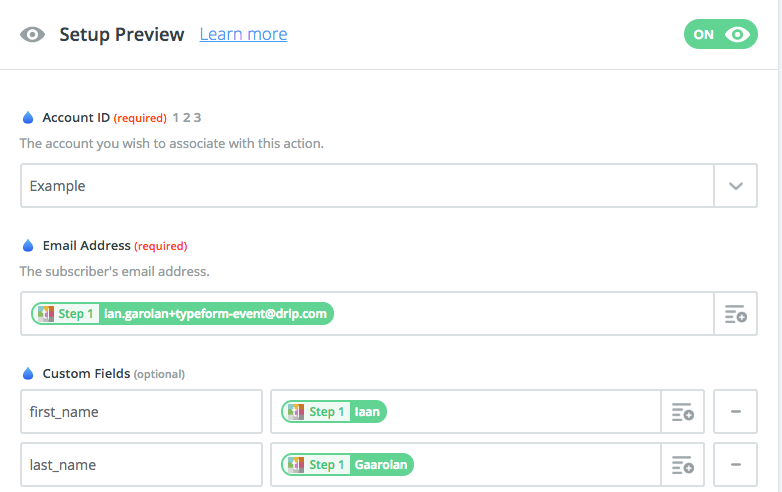 For example, the above Zap maps a subscriber's first and last names to information that was collected in a different app. When that information is saved in your Drip account, you can start using that unique subscriber information to personalize your Drip emails.
You can also apply tags to your subscribers when Drip is used as the action step with the "Create or Update Subscriber" option.
This example demonstrates the application of an arbitrary tag and a tag that is modeled around data that is sent in from another application.
When creating new subscribers through Zapier, adding a tag lets you take advantage of Drip's robust segmentation features. In Drip, you can search for any subscriber with that particular tag in your Drip account and get further insight into how many subscribers were created with the help of your Zaps.
Once you fully use Zapier and Drip together, you'll breathe a sigh of relief, when you realize just how much of your marketing you really can automate. Not to mention the information you gather and the actions you automate will all contribute to more leads and sales for your business.
Zapier and Drip are a powerful combination of tools, that together can become your learning and distribution center for almost every angle of of your email marketing automation.
As a pair, Drip and Zapier make up a well oiled machine that sends Zaps out at exactly the right moment, in order to set in motion any number of events you need to run your business even better.

You'll start seeing more data and streamlining much of your day to day email marketing tasks, allowing you to focus on relationships with your customers.
If you're wondering how you'll ever get all your tools to talk to each other – wonder no more: there's more than likely a Zap paired with Drip that can do it all for you.
Find out just how much easier your life can be, by getting started with a free Drip account as well as your free Zapier account today.
Are you already using Drip and Zapier together? Do you have any favorite use cases or Zaps that make your marketing automation work even more seamlessly together?
Let us know your favorite ways to integrate these tools in the comments, and get inspiration from other Drip and Zapier users there as well!