SMS marketing is a marketing channel used to promote something to prospects and customers via text message.
And you may be surprised to learn of its effectiveness, with an estimated open and response rate of about 98 percent—compared to about 20 percent for email.
So how can you ensure a similar success rate for your business?
In this guide, I'll give you a quick introduction to SMS marketing platforms and their benefits and the best platforms to try.
Best SMS Marketing Platforms to Consider
What is an SMS Marketing Platform?
An SMS marketing platform is an automation tool that fuels SMS marketing. Product updates, alerts, promotions, and transactional messages are sent to a list of contacts who have consented to receive messages from your business.
What Are the Benefits of an SMS Marketing Platform?
There are several benefits of using SMS marketing platforms. Firstly, they facilitate personalized communication with your prospects and customers and boost conversions by up to 80 percent. Depending on the platform you choose, you can even opt to enable two-way communication with customers by integrating a conversation API.
SMSes can also be quickly and effectively disseminated. Your marketing message is automatically and directly to a prospect's or customer's mobile phone without requiring them to open third-party apps. There's also no denying the versatility of SMS marketing platforms. These tools can be used to:
Send reminders (e.g., of a sale that's starting at midnight)
Automate responses
Quantify response rates (i.e., tracking ROIs/conversions)
Maintain and grow a contacts list
Share product updates
Share exclusive promo codes and freebies
Celebrate customer milestones
Finally, SMS marketing doesn't work in a silo. Add it to your marketing mix to support your other efforts—such as social media and email marketing.
Now that we've gotten you schooled on the basics, here's a look at seven SMS marketing platforms worth trying.
1. Twilio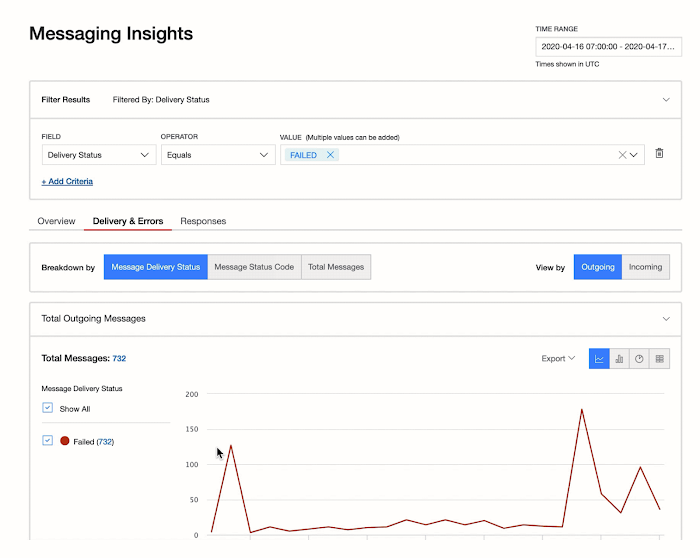 Ideal for: Developers
Cost: See pricing list
Twilio has programmable communication tools for making and receiving calls, sending and receiving text messages, and other functions.
Its SMS marketing platform offers APIs for reliable text messaging delivery and is extremely developer-friendly. You can start by choosing between using API documentation or open-source code samples for shortcuts to common use cases.
If you aren't a developer but possess general technical knowledge, make use of its no-code features to do one of the following:
Use Twilio Studio—its drag-and-drop communications builder—to build or create SMS surveys, chatbots, and autoresponders
Connect to Twilio's API without having to code
In the latter case, you have the option of two APIs: a programmable messaging API (to send SMS alerts, notifications, and reminders) and a conversation API for customer support (through two-way SMS interactions).
Twilio also offers integration with Drip and complies with A2P 10DLC.
2. ClickSend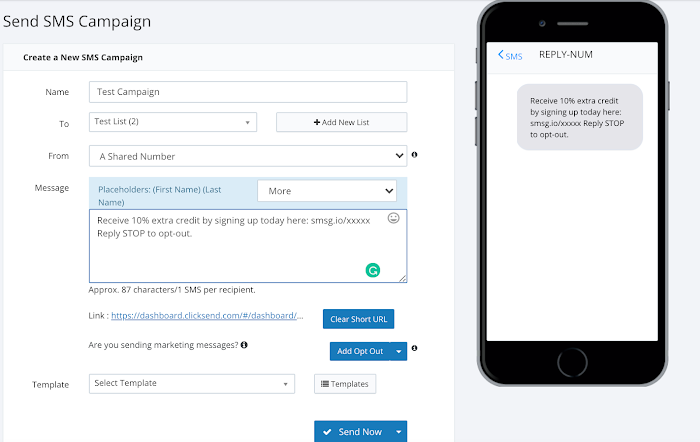 Ideal for: Ecommerce, B2C, and B2B businesses
Cost: Free (inbound messages only); plans from $21.75/month
ClickSend is a cloud-based software that helps businesses send transactional or marketing messages worldwide. It's highly versatile and can be integrated with thousands of apps and most email software.
You'll find a myriad of channels to choose from, including rich messaging, voice gateway, MMS gateway, and SMS gateway. The latter allows businesses to send text messages from any web-enabled computer and includes global coverage too.
One feature worth highlighting is its email-to-SMS service: simply upload a list of recipients (including opt-outs), and your work is done. The platform's automated system is capable of sending up to 4,800 SMSes per minute.
If you're looking to integrate the platform with an existing app, website, or software, ClickSend's SMS gateway API is worth a try—developers can add the ability for their applications to send and receive SMSes.
Alternatively, there's also the option of using its SMPP gateway, which allows for quicker bulk messaging.
3. Airship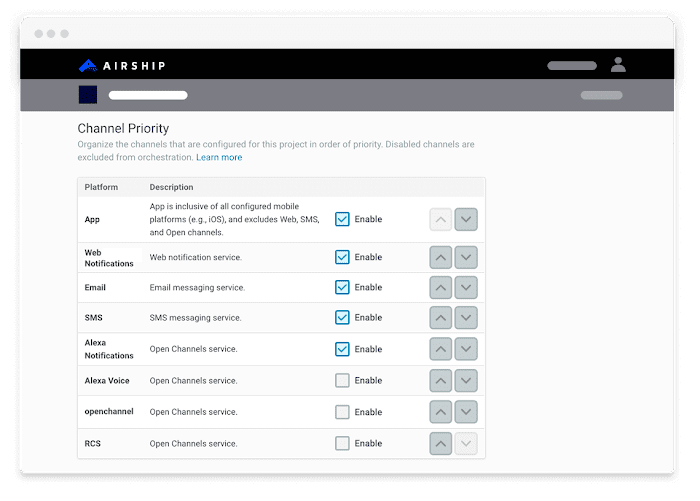 Ideal for: Ecommerce, B2C, and B2B businesses
Cost: Upon request; free demo available
Airship is a mobile app experience company that aims to help businesses maximize their ability to acquire and retain customers.
Its SMS marketing platform, AXP SMS, has three key capabilities to help you create target customers: orchestration, automation, and personalization.
In the latter case, you're able to collect first- and zero-party data and connect it with customer information. And when it comes to orchestration and automation, Airship focuses on using predictive behaviors and customers' location data so that SMSes are delivered at the most opportune times.
All of this data comes together on its dashboard, which includes a feature called Maps. With it, you can create more relevant and contextual customer flows to ensure your customers and prospects are kept engaged.
4. Braze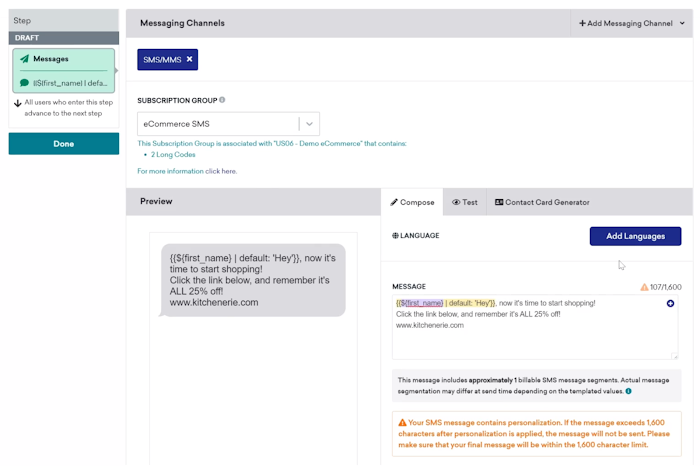 Ideal for: Ecommerce, B2C, and B2B businesses
Cost: Upon request
Braze is a cloud software company with a focus on its customer engagement platform.
In particular, its SMS marketing tool allows you to send interactive marketing messages and transactional text messages—as well as customize sending options. For instance, you're able to use behavioral and demographic data to target the right customers, so your efforts don't go to waste.
There's also a two-way messaging feature and the ability to add native inbound keywords so that customers can control their interactions with your brand.
You might appreciate its analytics dashboard too, which gives you insight into your text messaging campaigns' performance and revenue. If you're running cross-channel campaigns, Braze boasts something called Canvas—a customer journey tool to help you segment, orchestrate, personalize, and test your messaging across different channels (including SMS).
5. SlickText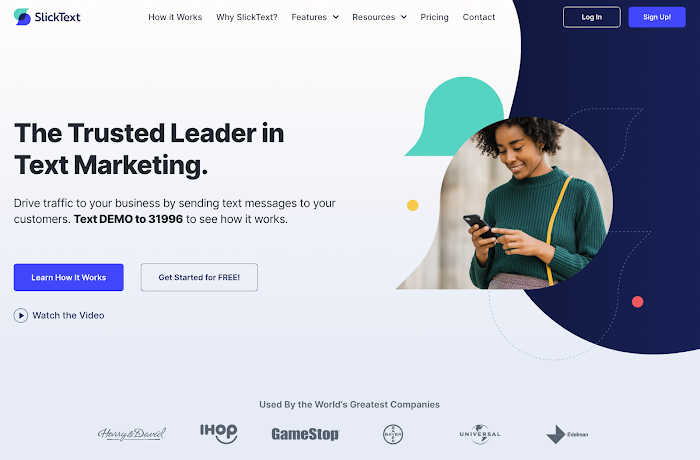 Ideal for: Ecommerce, B2C, and B2B businesses
Cost: 14-day free trial; plans from $29/month
Slicktext is a mobile marketing and mass text messaging service that helps businesses and organizations to communicate better with their audiences.
Expect the usual suspects—from setting auto-replies and activating two-way messaging for customer support purposes to even keeping track of customers' birthdays. Additionally, there's a function to activate and set the frequency of repeated SMSes, as well as attach campaign images to outgoing text messages.
A particular selling point is that all these features can be managed using Slicktext's free mobile app, which the company claims can be used on all devices. This makes it easy to edit or send text blasts on the go, no matter the kind of business you run.
6. Textlocal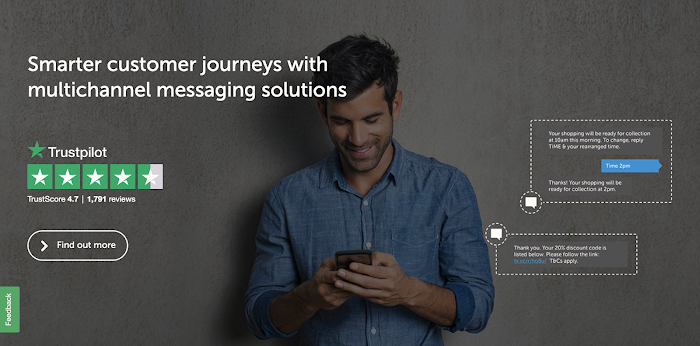 Ideal for: Ecommerce, B2C, and B2B businesses
Cost: Enquire on their website
Textlocal is a UK-based platform that offers bulk SMS marketing for businesses. There are many customizable options to choose from, including the ability to create interactive surveys and vouchers, as well as add attachments and links.
You can even schedule texts based on a customer's behavior or their past orders, which in turn increases their chances of conversion. In terms of delivery speeds, Textlocal claims to be able to send up to thousands of messages per second.
Over on the backend, you have the option of integrating your CRM/internal system with the platform's API gateway or SMS solution, giving you more freedom over how messages are sent. There's also a customizable reporting suite to measure customer satisfaction, along with a tiered account structure so that master accounts can easily manage account permissions for team members.
7. SimpleTexting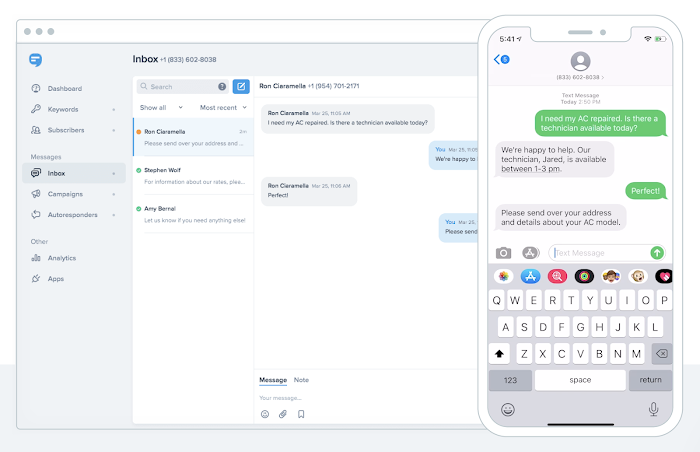 Ideal for: Ecommerce, B2C, and B2B businesses
Cost: Plans from $29/month
SimpleTexting offers SMS, MMS, and text marketing services.
Its basic features include autoresponders, link-tracking, the ability to attach images and personalize texts, as well as integrations for Mailchimp and Zapier.
You can also use text-for-info to quickly build your database of contacts by collecting users' names and email addresses—or send follow-up text messages to new subscribers as part of your marketing drip campaigns.
Then there's the audience segmentation feature, which allows you to create unique keywords to target different audiences, events, promotions, and yet more. These keywords are unlimited regardless of the plan you choose and could help your campaigns go further.
If you're more interested in API options, SimpleTexting offers plans for both small businesses and enterprises that don't require any form of coding.
Final Word
Finding the right SMS marketing platform can be tricky, so start by considering your business' needs and the kinds of interactions you hope to have with customers. From there, seek out trials, and don't be afraid to experiment with different platforms to find something you truly like.