A B2B slogan, which is defined as "a short and striking or memorable phrase used in advertising," helps instantly identify your product or company.
With just a few words, it lets prospects know what you're all about, the value you bring, and what differentiates your brand from the competition.
And though it looks simple on paper, there's quite a bit that goes into it creating a memorable B2B slogan. After all, encapsulating the essence of your product or business so succinctly leads takes some serious skill.
That's why I'm writing this post. I want to cover exactly what it is that goes into creating one, and more importantly, highlight some of the best B2B slogans from real-life companies so you'll know how to approach it.
Table of Contents
Common Characteristics of Great B2B Slogans
A study by Texas Tech University boiled it down to three main factors:
Clarity. A slogan should have a crystal clear message
Creativity. It should be creative, unique, and not "cookie-cutter"
Familiarity. It should help leads become familiar with your brand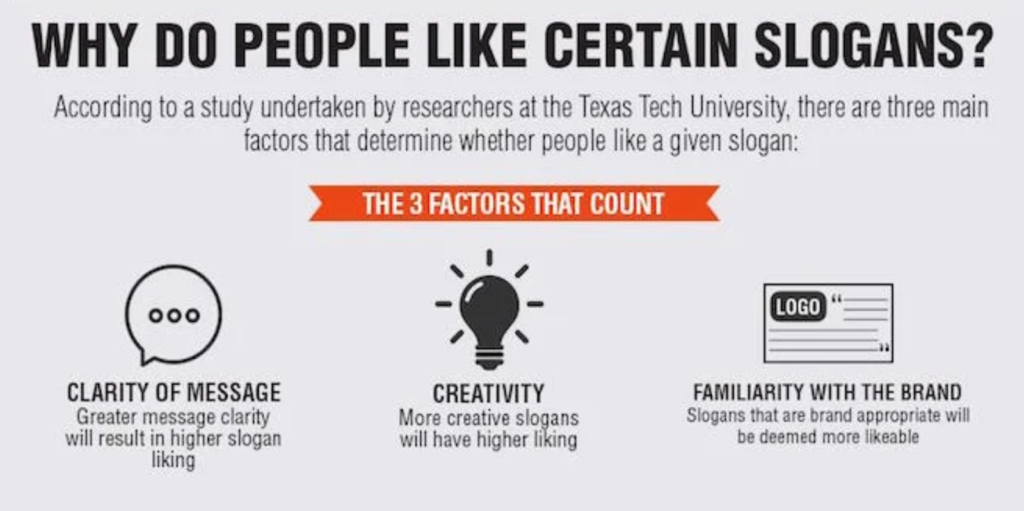 Besides that, it's also important to convey a key benefit and conjure up positive feelings about your brand with as few words as possible. It's all about letting potential B2B customers know how your product or company can make their lives better and developing a base level of rapport by essentially reading a blurb.
Think of it as a trailer for a movie. You're not trying to explain the entire plot. You're just trying to get them interested enough to watch. Once you get them to check out your homepage, landing page, etc., you can tell the full story.
These are important things to keep in mind when developing your B2B slogan and should help fine-tune your message. So with that out of the way, let's take a look at some of the best B2B slogans from brands that have absolutely nailed it.
ServiceNow: "The Smarter Way to Workflow"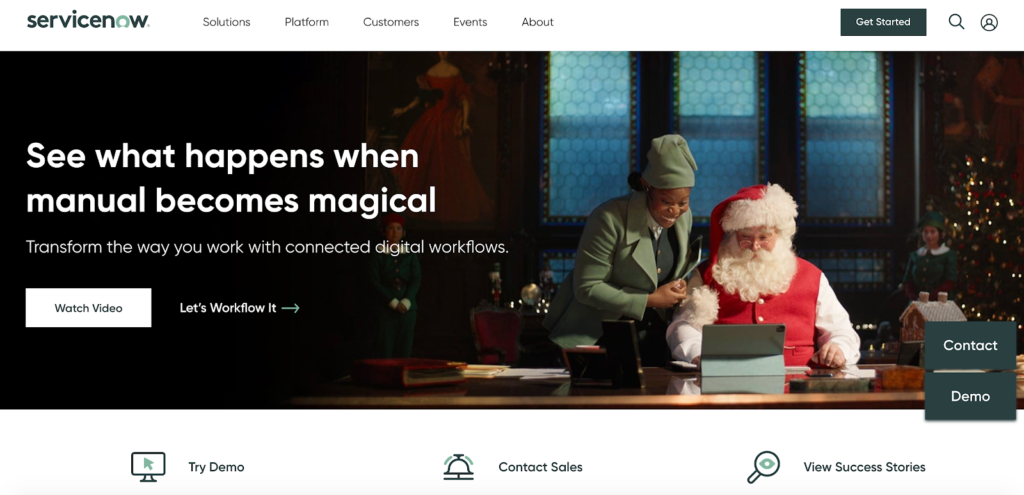 ServiceNow is a cloud computing platform that helps enterprise companies manage their digital workflows. As it says on their website, ServiceNow "allows employees to work the way they want to, not how software dictates they have to."
Its B2B slogan does an excellent job of crystallizing this with just a mere five words. "The smarter way to workflow" lets prospects know what ServiceNow does (they help companies manage workflows) and the key benefit of using their product (the platform is smarter and more efficient than other products/processes).
It's concise and gets the point across without using any superfluous words. It helps quickly familiarize leads with ServiceNow, lessening the amount of cognitive expenditure it takes to figure the brand out. And while it by no means reinvents the wheel in terms of creativity, it's certainly unique and has a nice ring to it.
Ultimaker: "Professional 3D Printing Made Accessible"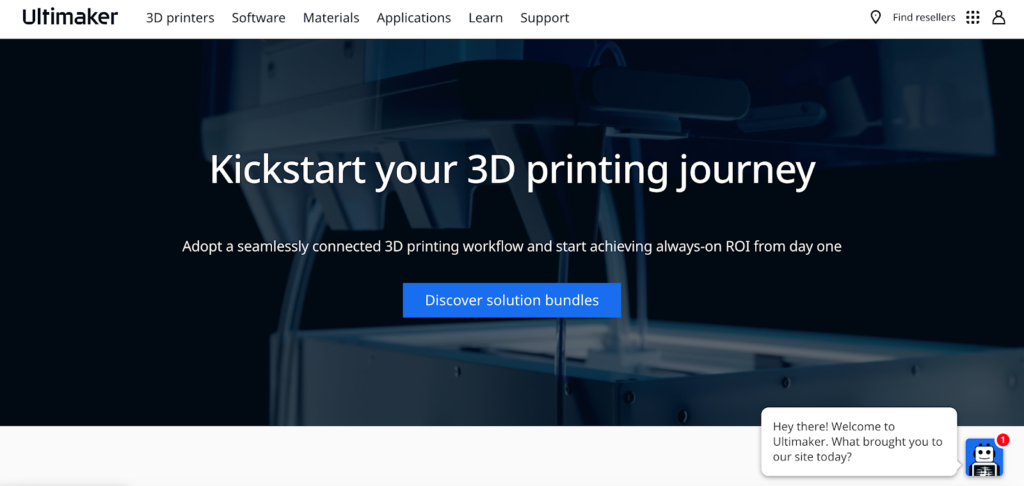 Here's a company that sells "high-quality 3D printers, software, materials, and support" to help businesses scale up and gain better control of production. I love Ultimaker's slogan for three main reasons.
First, it makes it ultra-clear what Ultimaker is selling — professional 3D printing products. It requires absolutely zero guesswork, which is vital for instantly capturing the attention of their target audience.
Next, it succinctly explains the key benefit, which is that it makes 3D printing accessible. This helps distinguish Ultimaker from competitors, while at the same time imparting positive feelings because it gives off the vibe that it's not just designed for mega elite companies with deep pockets. Rather, it's accessible for companies of all sizes and budgets.
Third, it's incredibly concise. I don't know about you, but I couldn't come up with a B2B slogan with more pithiness than this one. It gets straight to the point and is really easy to digest. As a result, it definitely gets the job done and should pique the interest of any business owner who's interested in using 3D printing to rev up production.
Zapier: "The Easiest Way to Automate Your Work"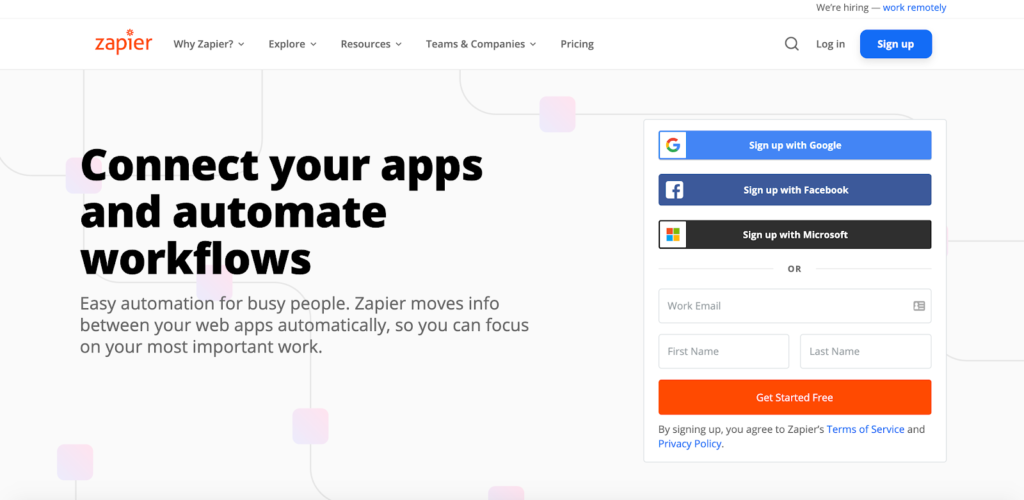 This is a company that's gained a lot of recognition as of late, and rightfully so. Zapier is an amazing platform that allows users to move through web apps seamlessly and automate tasks that used to be painstaking.
They're also on point with their branding and their slogan, "The easiest way to automate your work," shows that they know how to get through to their target audience.
Let's start with the obvious—this slogan communicates perfectly the key benefit of using Zapier and helps differentiate it from its competitors. I don't know about you, but I love easy.
Saying "the easiest way" instantly grabs my attention and no doubt gets the same reaction out of many other prospects. It also signals that leads aren't going to find a more simple product out there, which creates positive feelings.
In terms of clarity, it checks this box because, without mincing words, Zapier lets prospects know what their platform is, which is a workflow automation tool. This creates a nice setup that they elaborate on when visitors land on their website with this section.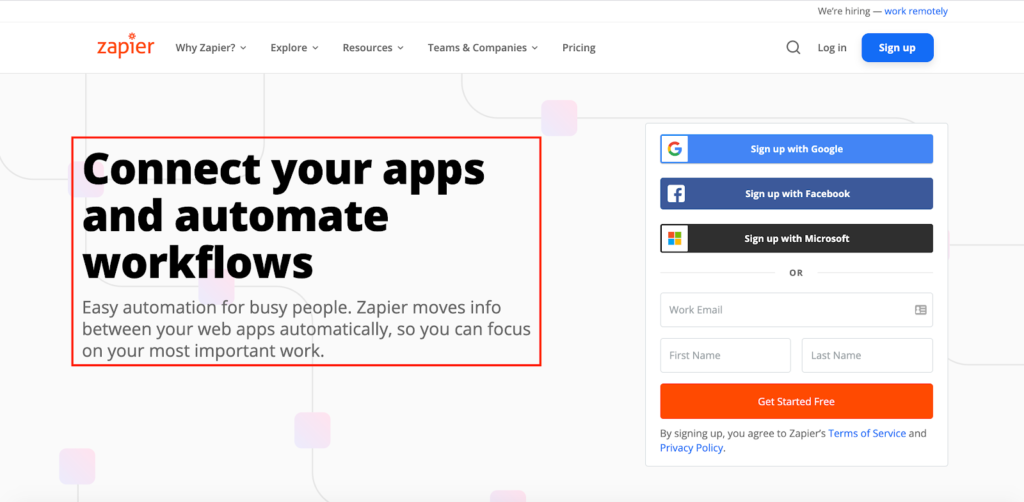 All of the ingredients for a rock-solid B2B slogan are here, and there's a ton of inspiration you can take away from this example.
Splunk: "The Data-to-Everything Platform Built for the Cloud"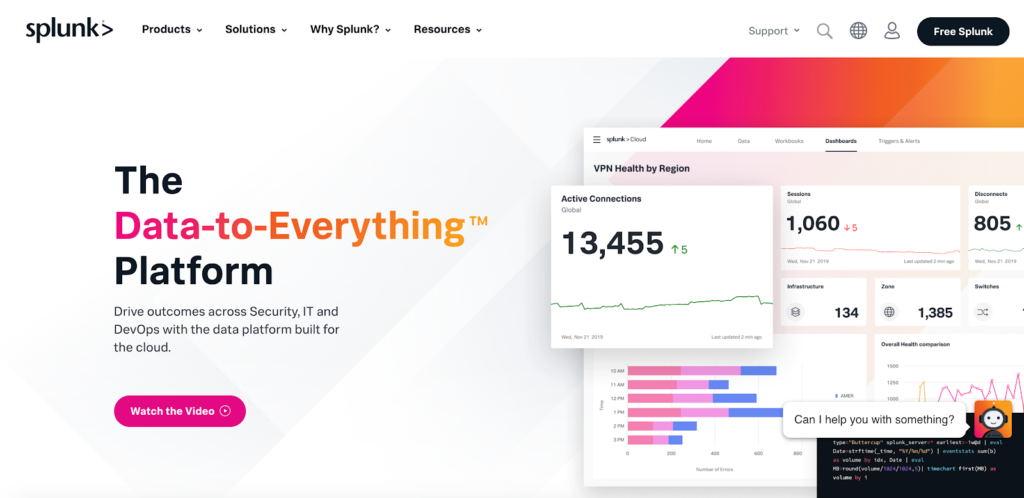 Admittedly, the name Splunk is quite ambiguous and doesn't provide even the slightest hint at who this brand is and what their product does. Their B2B slogan, however, sums it up brilliantly.
"The Data-to-Everything Platform Built for the Cloud" lets potential buyers know that they offer comprehensive cloud-based analytics that helps brands gather detailed data so they can make better decisions. It's crisp. It's catchy. And it gets leads up to speed with very few words.
Just compare the slogan to how Wikipedia describes what Splunk does. According to them, this platform "captures, indexes and correlates real-time data in a searchable repository from which it can generate graphs, reports, alerts, dashboards, and visualizations."
Pretty dry, huh?
But this pithy slogan speaks to the full scope of Splunk's capabilities without droning on and on about it. It establishes familiarity and is very creative with the "data-to-everything" part. So, for businesses looking for a robust analytics solution that covers all the bases, it's hard not to be attracted to this slogan from Splunk.
Slack: "Where Work Happens"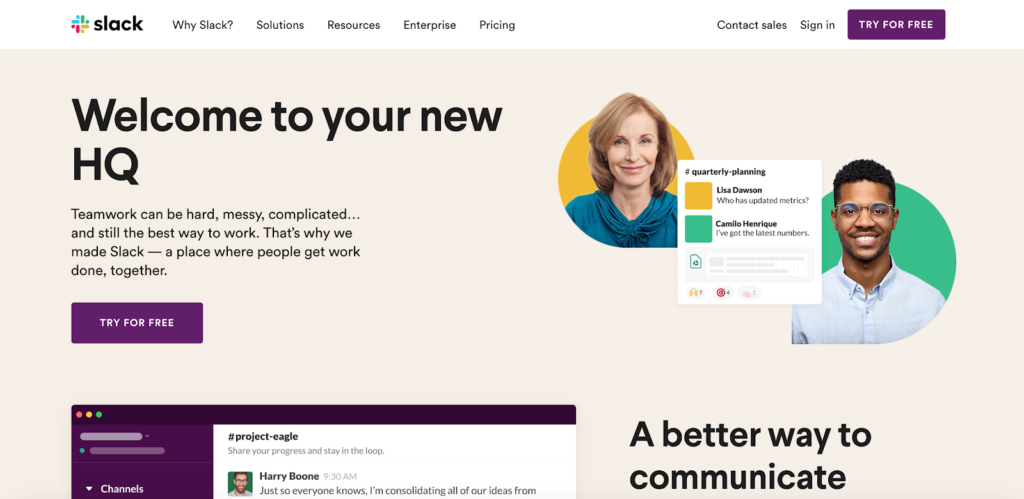 Pretty much everyone knows about Slack by now. They're one of today's go-to tools for team communication and for keeping day-to-day work activities organized and chaos at bay.
Slack has gained a great reputation in the industry and has a legion of loyal users. Besides offering a legitimately helpful platform that's uber intuitive to use, they've had killer branding right from the start when they formed back in 2009.
And their slogan "Where work happens" is a great example of that. Clocking in at just three words, it's about as short of a slogan as you can get, yet it encapsulates what Slack does and why it's beneficial. It doesn't get the entire message across, of course. That's the purpose of Slack's homepage.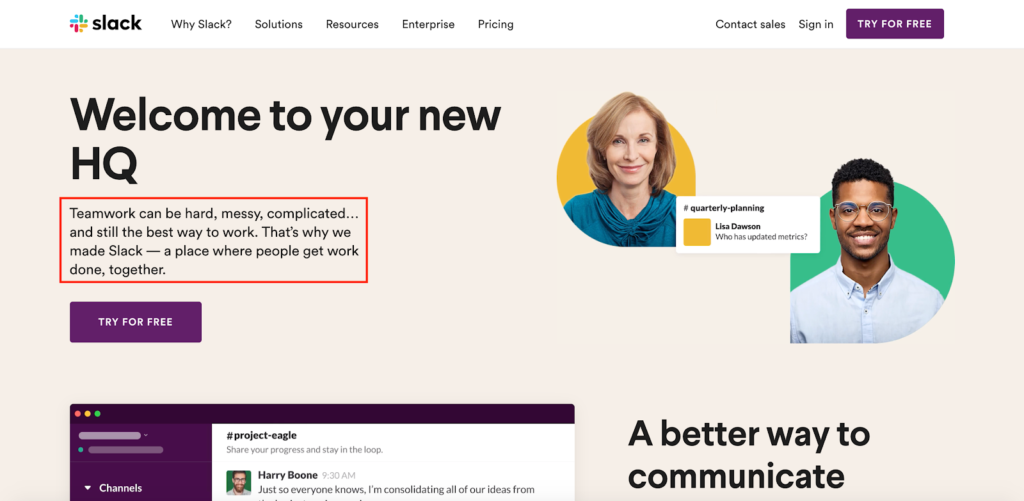 But it gives prospects enough to go on to grab their attention and want to learn more. I also think it's one of the more creative slogans and reflects the minimalist feel of this platform.
Clarity…check
Creativity…check
Familiarity…check
Key benefit…check
Positive feelings…check
Conciseness…check
BigCommerce: "Ecommerce for a New Era"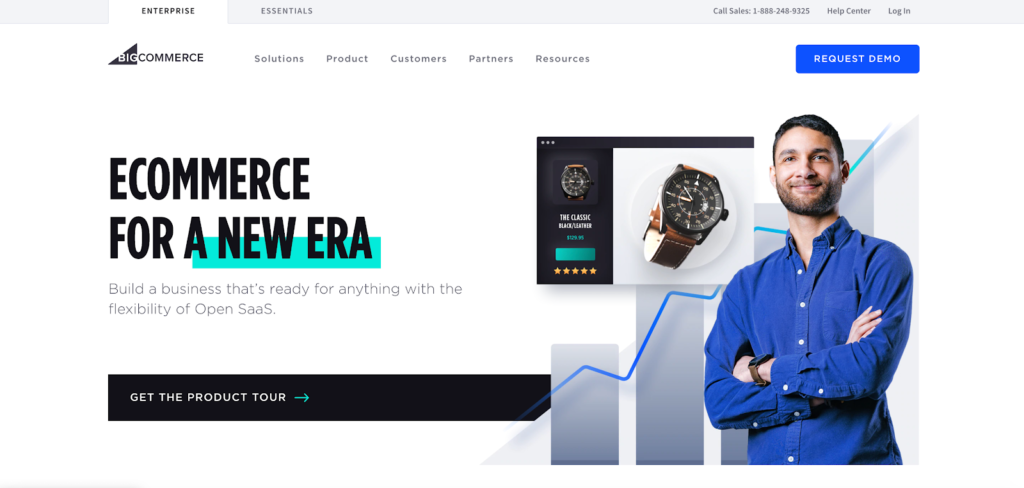 E-commerce is a massive industry and generated over $4.2 trillion globally in 2020.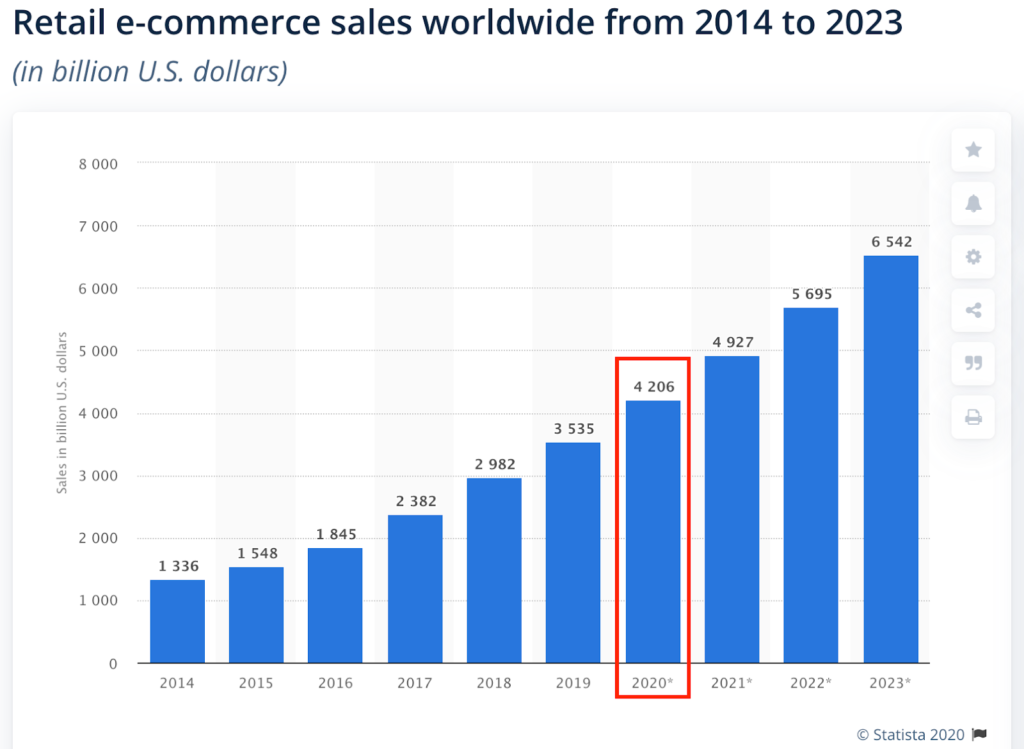 And there are some huge players, with Shopify, Magento, and WooCommerce being some of the most widely recognized.
But BigCommerce is another brand that's really catching on as of late and is quickly becoming part of the conversation. They do a lot of things right, including being great at branding—something that's evident with their slogan, "Ecommerce for a new era." It accomplishes a lot with just five words.
For starters, it instantly lets prospects know they're an e-commerce brand, which is vitally important considering that their name, BigCommerce, doesn't necessarily convey that they're on the digital side of things. By simply looking at the first word in the Slogan, people know what they're dealing with.
Next, it uses creativity to show leads what distinguishes BigCommerce from the rest of the pack. They're built for a new era of e-commerce, which triggers positive feelings because leads know that this company "gets it" and isn't living in the past. This jives with the overall feel of the BigCommerce brand, which focuses on being ready for anything.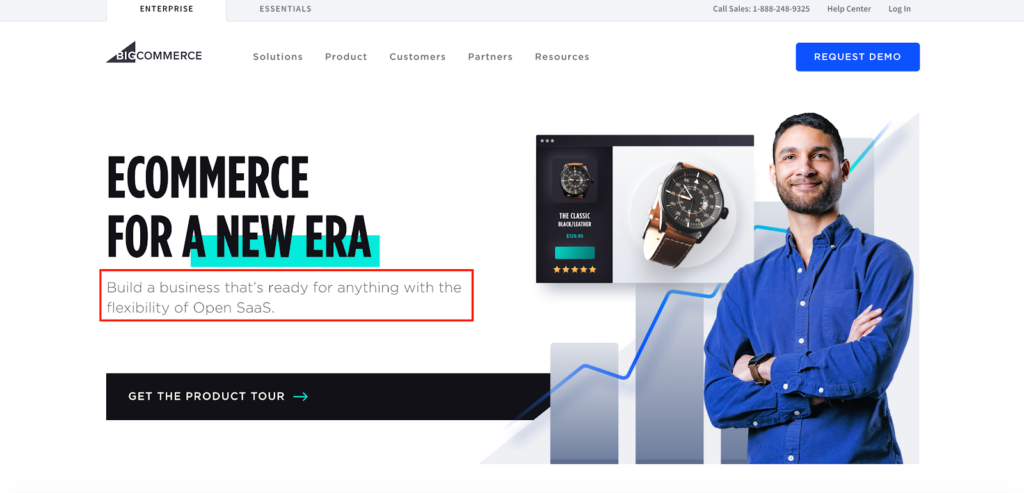 It also has a great ring to it and rolls off the tongue. I know that it made me want to click on the link to check out the BigCommerce website when I saw it in the search engine results.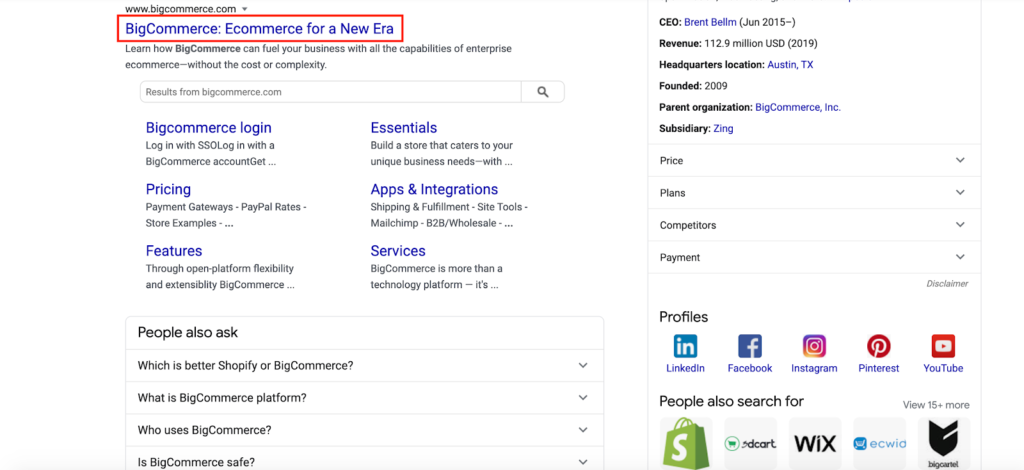 And that's the exact type of feeling you want to elicit when creating your own B2B slogan.
Upwork: "In-Demand Talent on Demand."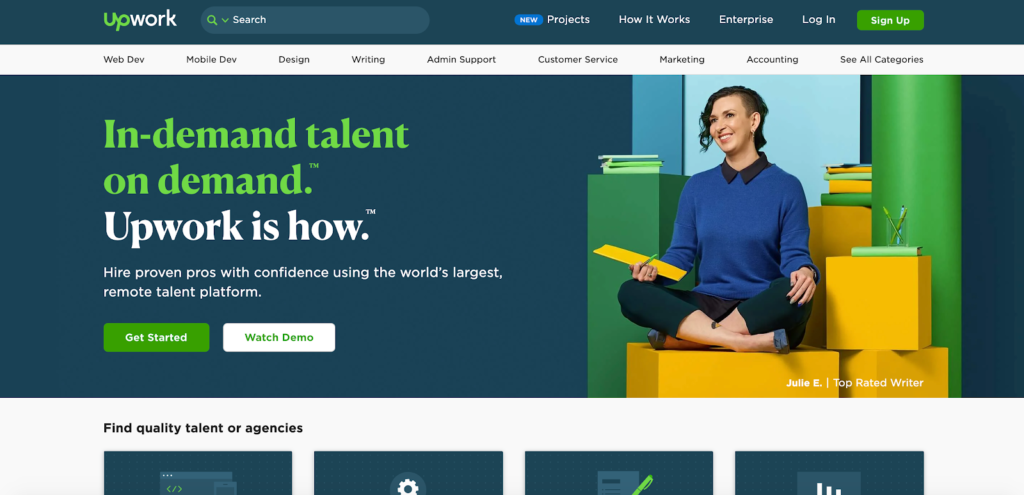 If you're unfamiliar, Upwork is one of the world's most popular freelance platforms. More specifically, it "connects businesses of all sizes to freelancers, independent professionals, and agencies for all their hiring needs."
And I absolutely love their B2B slogan of "In-demand talent on demand." Here's why. The second someone reads it, they instantaneously know what Upwork is offering.
It's a platform that helps connect businesses with quality talent on demand. They don't have to stop and think about it and try to connect the dots. The slogan tells them everything they need to know lickity split.
When it comes to being catchy, it doesn't get much better than this example. It really has a nice flow to it and incorporates wordplay without sounding cheesy.
The creativity level is off the charts, and you can tell that Upwork really put a lot of effort into coming up with this one of a kind slogan. And finally, it does an amazing job of conveying the benefits of using this platform.
Companies can find top tier talent quickly and painlessly, as it's on-demand. There's no waiting around for professionals to come to them, and they can tap into Upwork's outstanding talent pool for a wide range of projects, which they can learn more about on the homepage.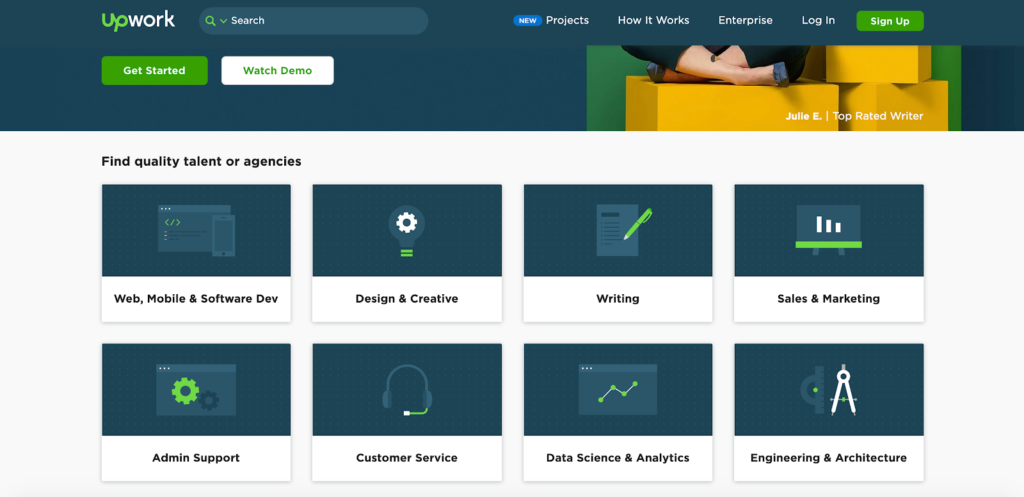 All of these different elements coming together like this make Upwork's B2B slogan one of the best in the business.
monday.com: "One Platform, Better Teamwork."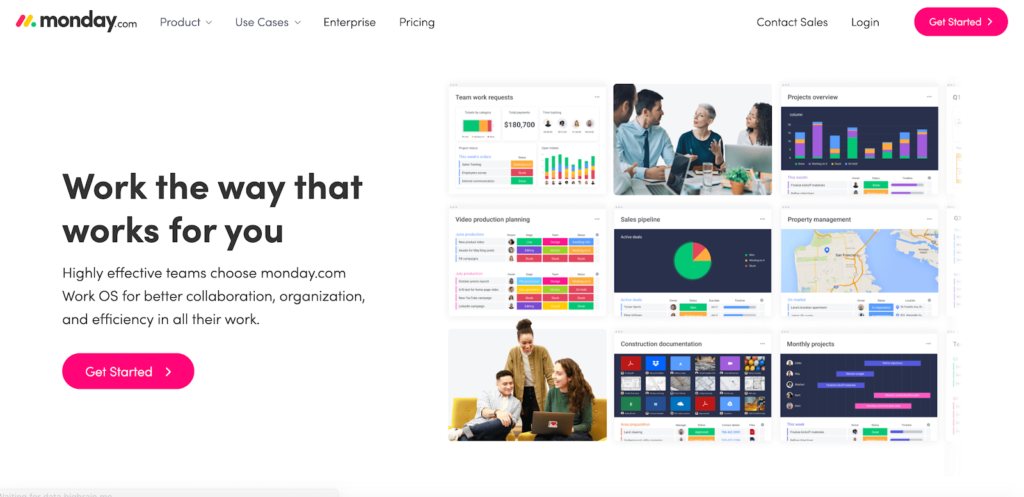 monday.com "is a work OS that powers teams to run processes, projects, and workflows in one digital workspace." But their slogan summarizes all of this in way less words with, "One platform, better teamwork."
Just put yourself in the shoes of a potential customer who's looking for a project management tool for a second. They obviously want something that's going to simplify things so they can manage their team without any headaches.
They also probably want a platform that's all-encompassing where they don't have to constantly jump around to stay on top of projects.
This slogan from monday.com is the ultimate one-two punch that should get a good chunk of prospects interested in learning more. It oozes brevity and gets a comprehensive message across in only four words.
It's clear what monday.com does and doesn't leave prospects scratching their heads as to what's going on. It also explains the key benefit, which is being able to handle all aspects of team management from one convenient interface. So there's a lot you can learn from this brief yet highly effective slogan.
Conclusion
Let's recap. The best B2B slogans are clear, creative, and instantly establish familiarity with your brand.
They also convey a key benefit and make leads feel positive about you.
Besides that, they're sharp as a tack and don't rattle on needlessly with extra words. In fact, most use a max of just six words.
There's definitely an art to creating great B2B slogans, but understanding best practices along with seeing real-life examples like this should hopefully get your creative juices flowing.
That way you can create your own unique slogan that's tailor-made for your brand to pull in more high-quality, ultra qualified leads.