If there's one thing more difficult than writing engaging summer emails, it's writing click-worthy summer email subject lines. With all the recent developments happening around the world, it's even tougher to do so in 2020.
Since there's no secret formula that works for every industry or business type, the angle you take in your summer subject lines depends on your brand, products, and more importantly, your subscribers.
Whether you're planning to say "Summer is canceled," or "Shop the summer sale like nothing happened," I've done the groundwork for you, so you don't have to spend hours researching how top e-commerce brands send summer emails that get opened every time.
Take inspiration from these 61 summer email subject lines and you'll craft your own in no time.
Summer Subject Lines to Inspire Your Own
1. "You this summer: 🙆‍♂‍🕺🏄‍♂‍⛹‍😎"
Just because it's summertime, that doesn't mean that your subscribers' inboxes are completely deserted. That being the case, you still need your subject lines to stand out among the crowd to get your emails opened and read.
One foolproof way of creating salience in subject lines is to use emojis, and your summer emails are no exception. Check out this brilliant example from ASOS:

In this subject line, emojis not only makes the email stand out, but they also convey the company's message without many words. You can already tell that ASOS has an idea about summer 2020 (and it's a fun one).
ASOS's emoji choice isn't random, though—they represent outdoor activities you could do in an ordinary summer. In addition to the emojis, ASOS smartly uses the power word "you" to invite the reader to the discussion.
All things considered, ASOS makes you open the email without much thinking, and inside, you get to read a bit more about how the company disagrees with the "Summer is canceled" angle: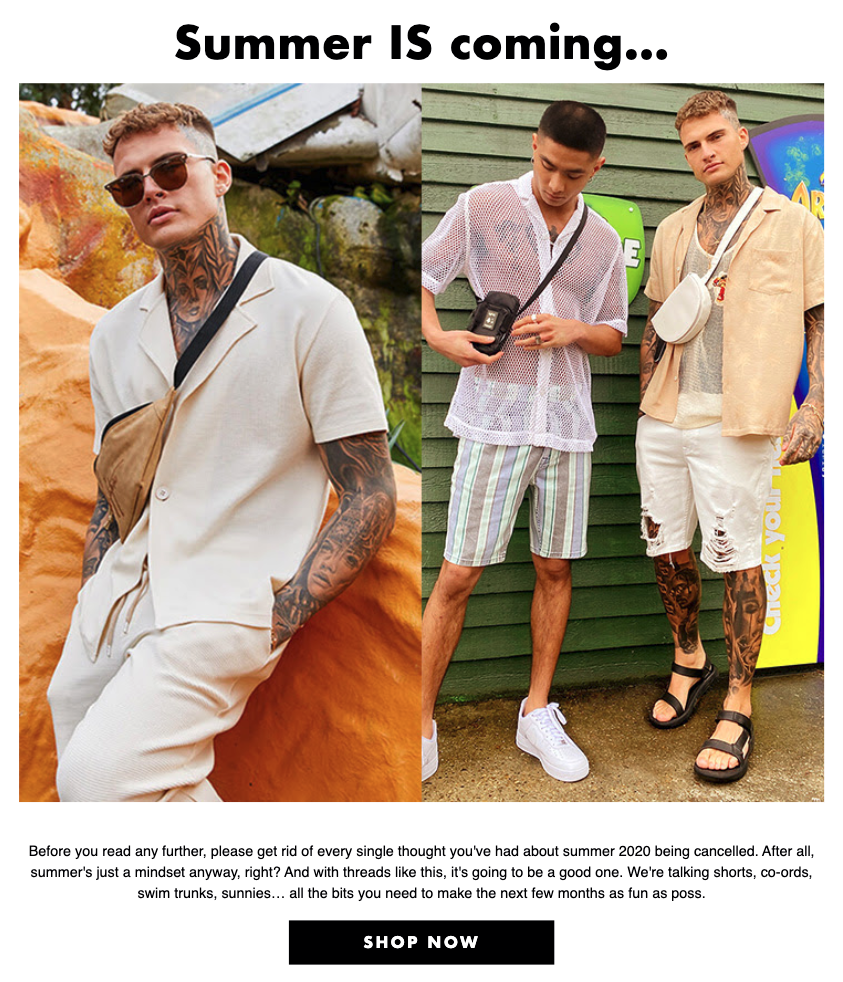 If you want to follow ASOS's approach, minus the emojis, you can experiment with unusually short or long subject lines in your summer emails, or, better, combine both methods to create salience.
More Like This…
Pull&Bear: 🕶 + 👟 + ☀️ = Summer!
Crocs: Florals are in for SUMMER 🌸
ASOS: Summer, say 👋 to prints
Philosophy: Dear diary, this Summer… I'll be a little style hunter! 👗
Pura Vida Bracelets: What's hot this summer 🔥☀️🔥
Bath & Body Works: on the calendar: summer & sale. 🗓
Ulta Beauty: Oh, hey summer 😎
Bath & Body Works: 🐥summer. semi-annual sale. it's back. 🐥
Pull&Bear: Shorts + Tops + Sandals = Summer vibes 🖤
Estee Lauder: Escape to Summer ☀️🌊
west elm: 😎 Summer Sale: Up to 50% off 😎
2. "Summer means two things"
While salience is an effective tactic to get your summer emails opened, evoking curiosity is another timeless method you can apply to your summer subject lines.
By posing challenging questions or making thought-provoking statements, you can pique your subscribers' curiosity and nudge them to open your emails immediately.
Prose, on the other hand, chooses a third path, where they open a curiosity gap with an ordinary statement in this subject line:

With this simple curiosity gap, the company teases the content of its summer email. That's why you open the email to see what summer can possibly mean, without thinking any further.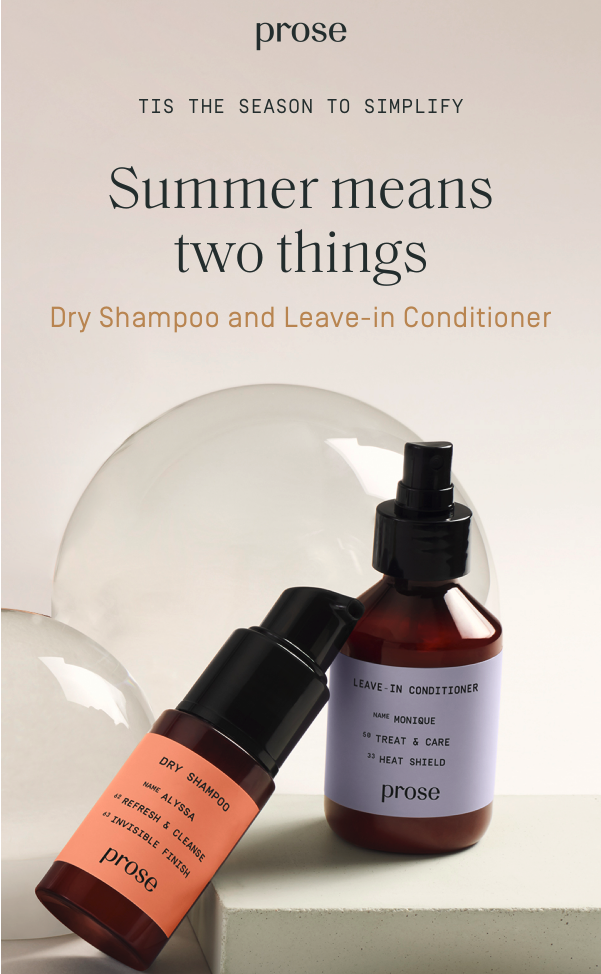 (And, in case you've been wondering, summer means dry shampoo and leave-in conditioner, according to Prose.)
Prose's method is easy to replicate, either through questions, challenging or contradictory statements, or obvious facts. Make sure that your subject line is relevant to the season, and that you close the curiosity gap you opened earlier in the subject line.
More Like This…
Function of Beauty: A zero effort summer hair technique?!
Aerie: Your new summer shorts are inside
Ulta Beauty: 🥅 Our summer goal 👇
3. "Just Approved: The Best of Summer Skin Care"
If you're a longtime reader of our blog, you'll know that no email is complete without social proof. And although social proof by itself works like a charm, coupling it with the above strategy can bring unexpected results to your subject lines.
That's exactly what Violet Grey does in its summer subject line:

In this subject line, Violet Grey uses social proof to its full potential, firstly, with the curiosity-evoking approval stamp, and then, by using the term "best of."
When you read the subject line, you wonder who just approved what, and want to learn more about the best of summer skincare before any FOMO kicks in.
Thanks to this smart combination of social proof and persuasion triggers, Violet Grey makes it easy for you to open its summer email to see what's "just approved":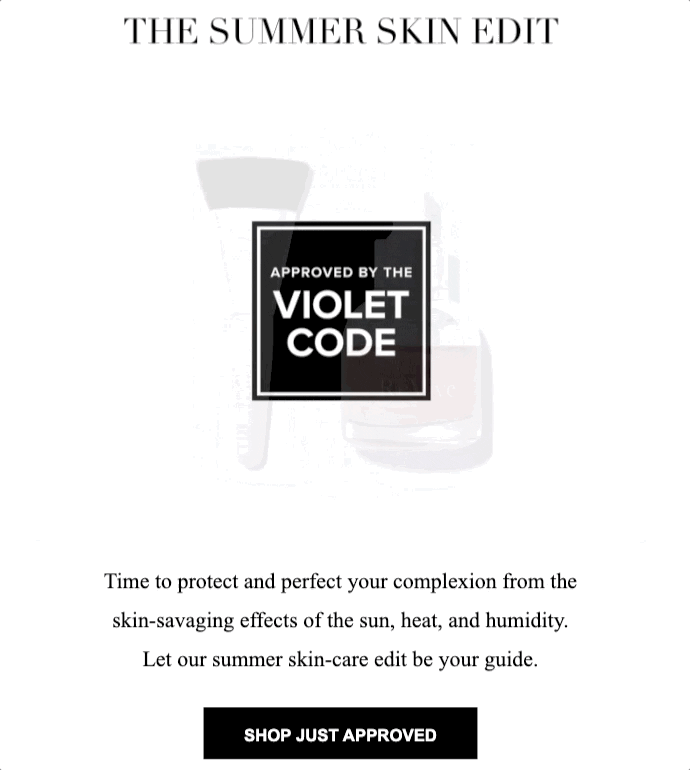 In the email, Violet Grey curates a list of products suitable for the summer to make life easier for you. More interestingly, under each product, they feature a testimonial, which adds even more social proof to the email.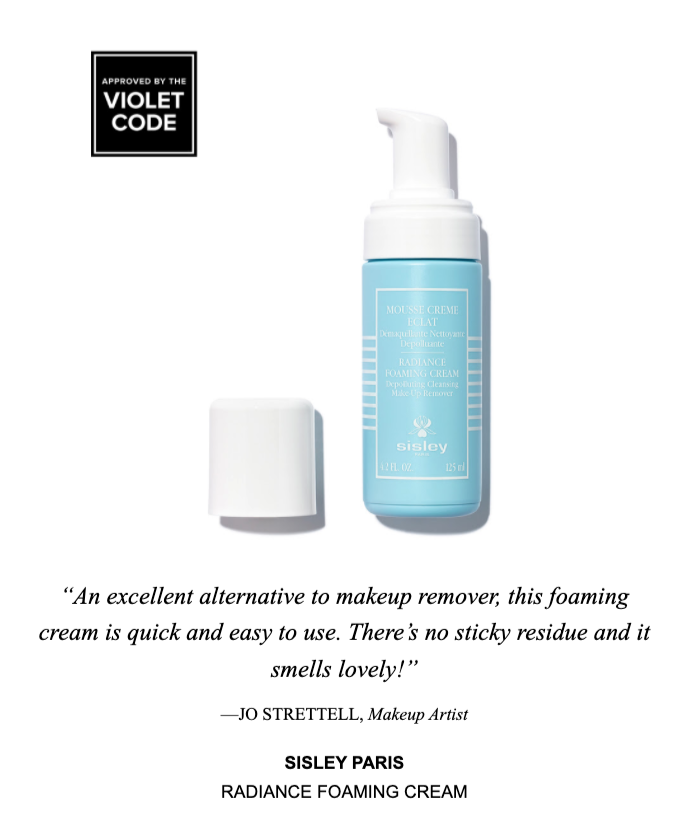 Informing your subscribers about what's trending or useful this season is a great way of engaging them without sounding too promotional.
More Like This…
Monki: Trending now: Summer romance
JRINK: The Top 5 Flavors for Summer
Kate Spade: our best summer dresses are here
Banana Republic: Just In: Effortless Summer Styles
Patagonia: Summer favorites
Pull&Bear: This summer's colour: lilac! 🍦
4. "The only shorts you need this summer…"
While some brands find it enough to promote seasonal bestsellers subtly, others take it one step further. J.Crew follows the latter path, as they go beyond "summer essentials," and speak to your greed, instead.
Take a look at one of their subject lines:

Making a bold statement, J.Crew claims that its shorts aren't just popular, but they are so good that you won't need a second pair.
When you open the email to meet your future summer shorts, you see that J.Crew gives you more than one option: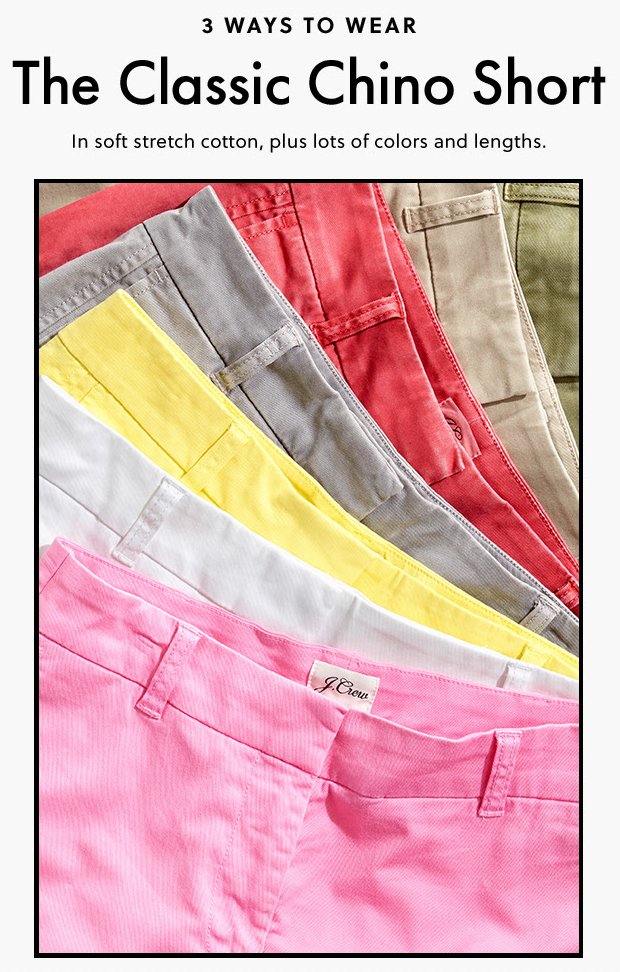 In this mini email guide, J.Crew shows how you can wear this versatile piece in different ways, so you can start shopping from the styles you feel closer to: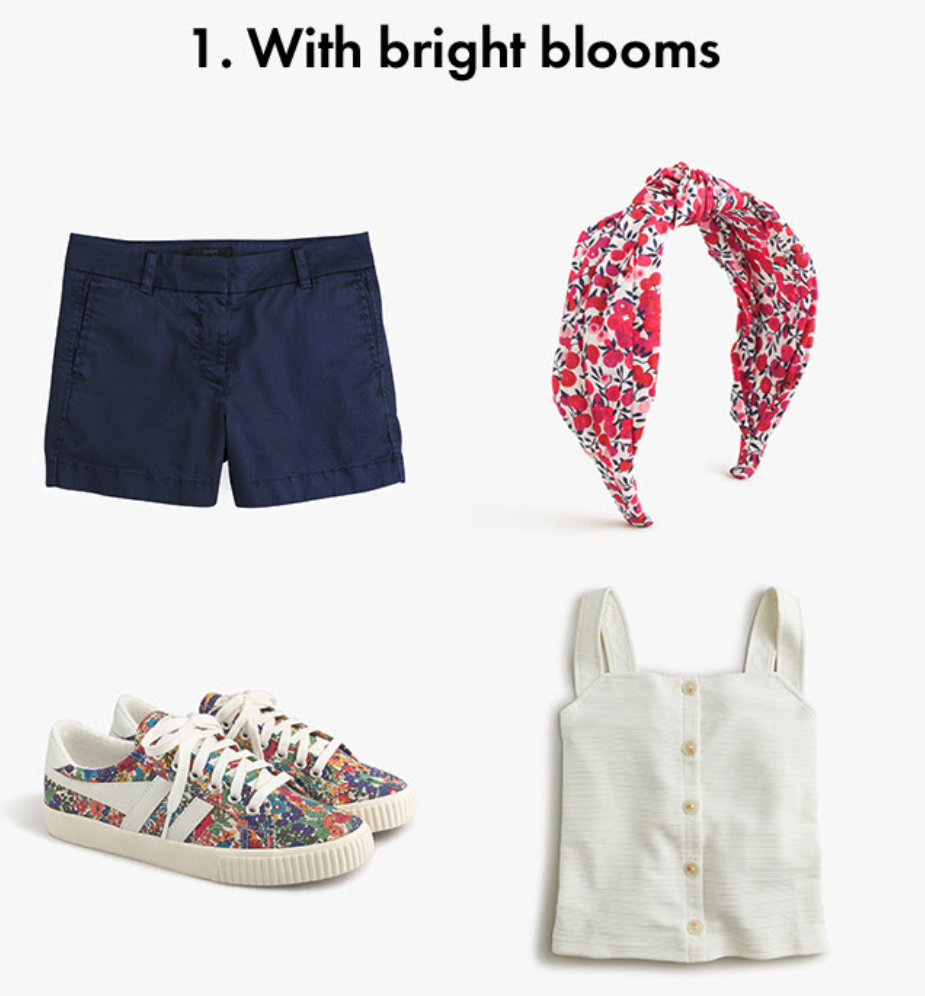 This way, J.Crew not only shows its products in context, but also helps you style them in different ways.
Whether your products are this season's "must-haves" or just "perfect for the summer," be vocal about them in your summer email subject lines. Use this angle with caution, though. Otherwise, you may sound too condescending. Simply show how and why your products are the best choice for this summer and support it with valid arguments in your email.
More Like This…
Ralph Lauren: Summer Essentials
Sweaty Betty: The leggings made for summer workouts
Abercrombie & Fitch: The ultimate summer must-haves.
Urban Outfitters: The 7 pieces you need this summer ☀️
Allbirds: Your Perfect Summer Sneakers
J. Crew: Your summer-after-summer uniform
Lavish Alice: Summer Dresses You Need ☀️
Banana Republic: Pursuit Of The Perfect Summer Pant
Monki: The best summer dresses out RN!
NYX: This NEW body oil is a summer essential!
Anthropologie: Best Dress(ed) for Summer: YOU!
SHEIN: Summer shopping isn't complete without these picks
5. "Summer's in the Bag ☀️"
No matter what the season is, a little humor can go a long way when used right. Even if you're not a big fan of funny emails, you can still add a humorous touch to your summer subject lines to make them more attractive.
You can see it in action here, in Snowe's subject line:

You don't need to write up a hilarious joke in under 40 characters. As is the case in Snowe's subject line, a bit of wordplay can help you get noticed in busy mailboxes.
From this subject line (notice the capitalized b,) you can tell that Snowe is after a pun. When you open the email to find out more, you see that Snowe is announcing a special promotion: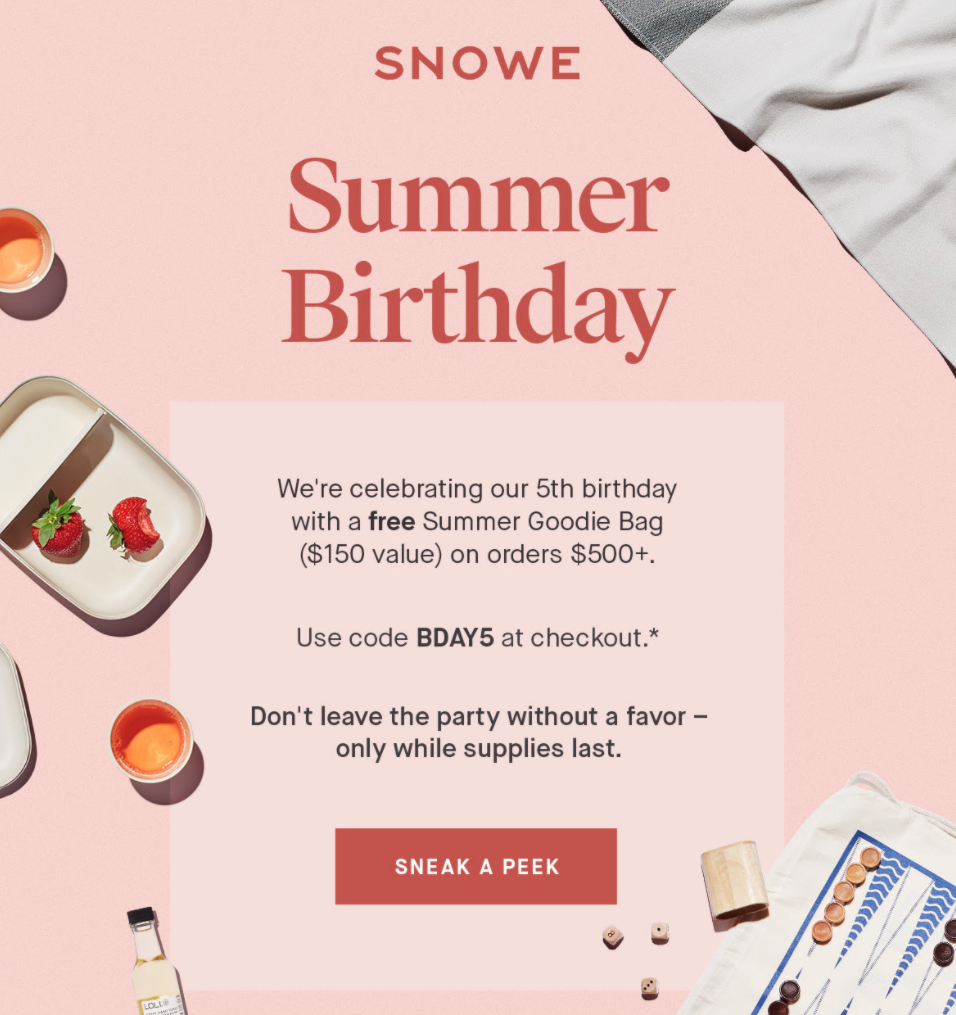 Instead of simply writing "free goodie bag with each order," they evoke curiosity in their subject line with subtle wordplay.
In the remainder of the email, Snowe also explains how summer's in the bag: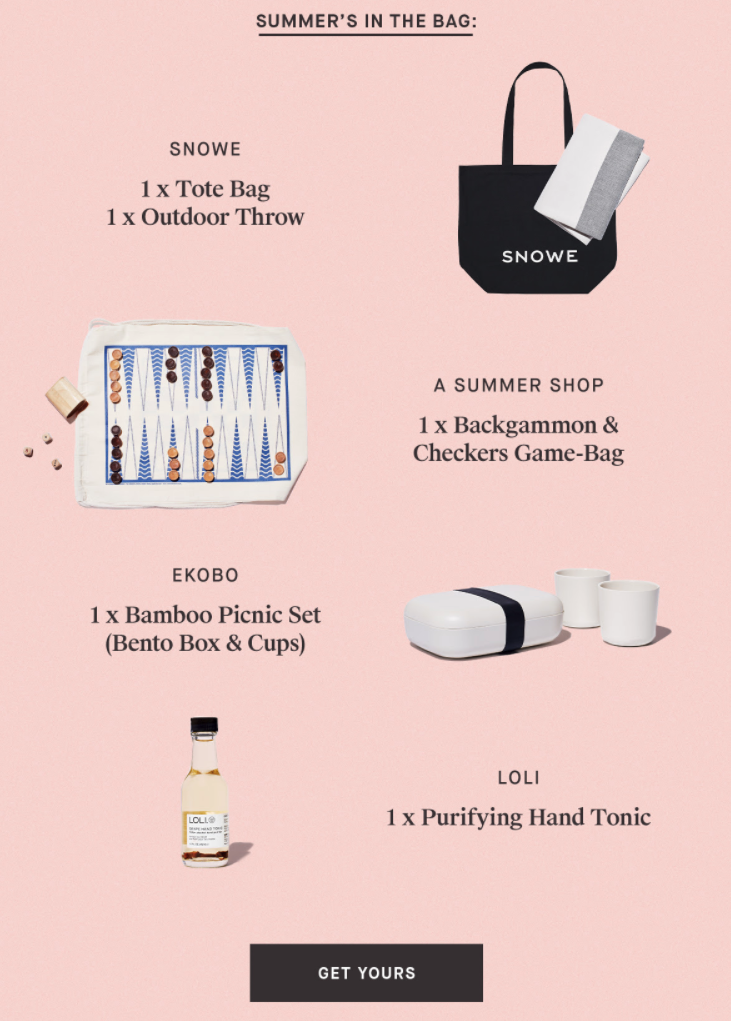 If you'd like to add subtle humor to your seasonal emails, take Snowe's path, and experiment with puns in your emails. And if humor isn't your cup of tea, check out the examples below to see alternative ways to frame your summer promotions.
More Like This…
Macy's: 40-60% off that summer wardrobe refresh
Abercrombie & Fitch: Summer Sale is still ON.
MORI: Ta-da our Summer Sale has more pieces
west elm: Say hello to the summer sale ⛱️
AllSaints: Best of the Summer Sale
Old Navy: These shorts are *actually* $10 & summer is *actually* here!
Tuft & Needle: Summer is here. So are big savings.
Blue Apron: Get that instant summer feeling with $80 OFF.
Morphe: 5 deals for a good-lookin' summer
Tailgate: The summer sale keeps shining.
Crate&Barrel: Summer clearance is *so* good this year.
6. "Your Refresher Course in Summer Skincare"
We don't only like the brands that can make us smile; we also like the ones that offer solutions to our problems. (Take Beardbrand, for example, known for its brilliant educational content.)
Educating your subscribers about their common problems and incorporating product marketing into the solutions is a smart way of nudging them down your sales funnel.
L'Occitane uses this strategy to educate its prospects around summer skincare and makes sure to announce it in its subject line:

If you're on L'Occitane's email list, a refresher course in a seasonally-relevant subject sounds excellent, so you open the email without much thinking.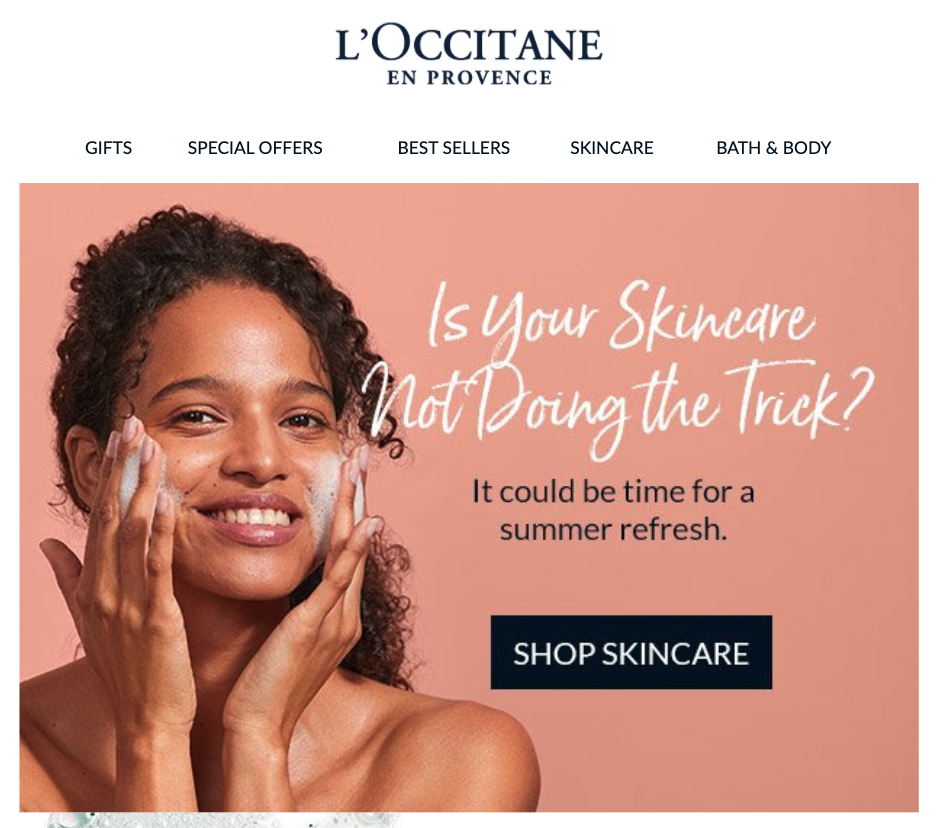 In it, L'Occitane invites you to reconsider if your skincare routine is good enough for the summer and hints that it might be time for a refresh.
Next, they give you a step-by-step recipe for summer skincare: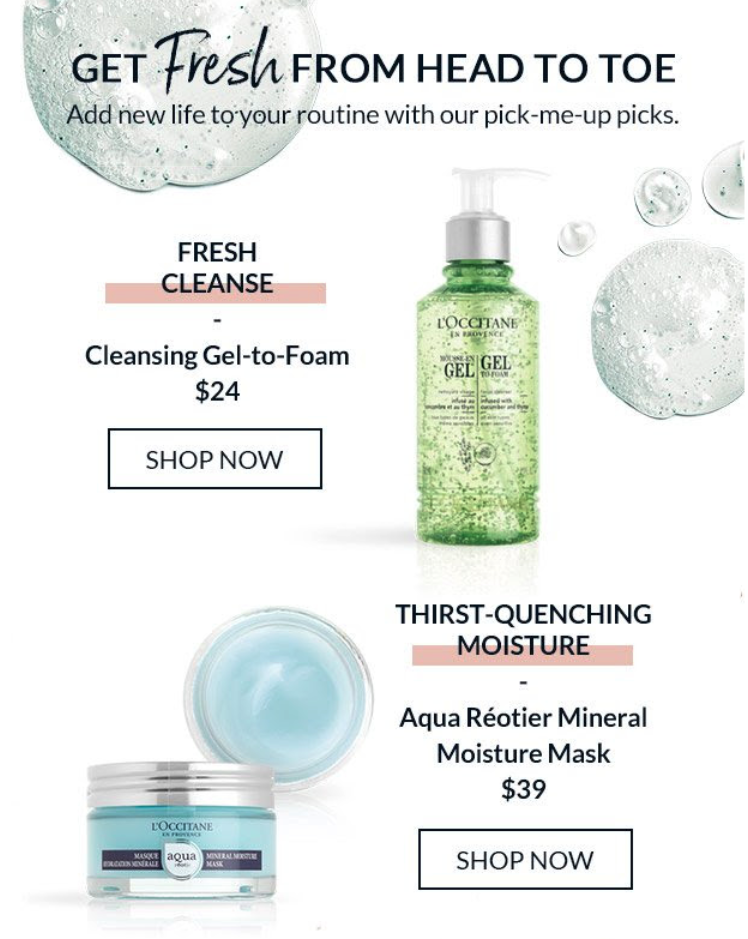 Framed as a "skincare course," L'Occitane cleverly promotes its regular products by making them relevant to the summer.
Although L'Occitane doesn't teach you much in this "course," they still plant the idea that you might need to switch up your summer skincare game, and now, you know the best products for that.
You don't necessarily need a blog or an extensive guide to educate prospects in your area of expertise. Sometimes, all it takes is an email with a list of products ideal for the season, and, more importantly, why customers should use them this summer.
Remember to tease your course in the subject line by either promising a solution to a common problem or inviting the reader to the conversation by asking a question.
More Like This…
Function of Beauty: Is your hair ready for summer?
Bobbi Brown: Summer Inspiration: Rosé Glow.
American Eagle: Your guide to summer shorts (up to 60% off!)
Torrid: Summer Layering 101
MORI: The safest way to sleep this summer
7. "How to dress for a summer indoors…"
While many brands claim that, this summer, things are just the way they used to be, others, such as Topshop go for the "staying home" angle. Unsurprisingly, they carry this angle into their subject lines, too.
Take a look at this subject line by Topshop, who focuses on staying inside this summer:

Topshop's subject line complies with the above example from L'Occitane. At first glance, it seems like a how-to guide, with a twist for this unique summer. This is how the email begins: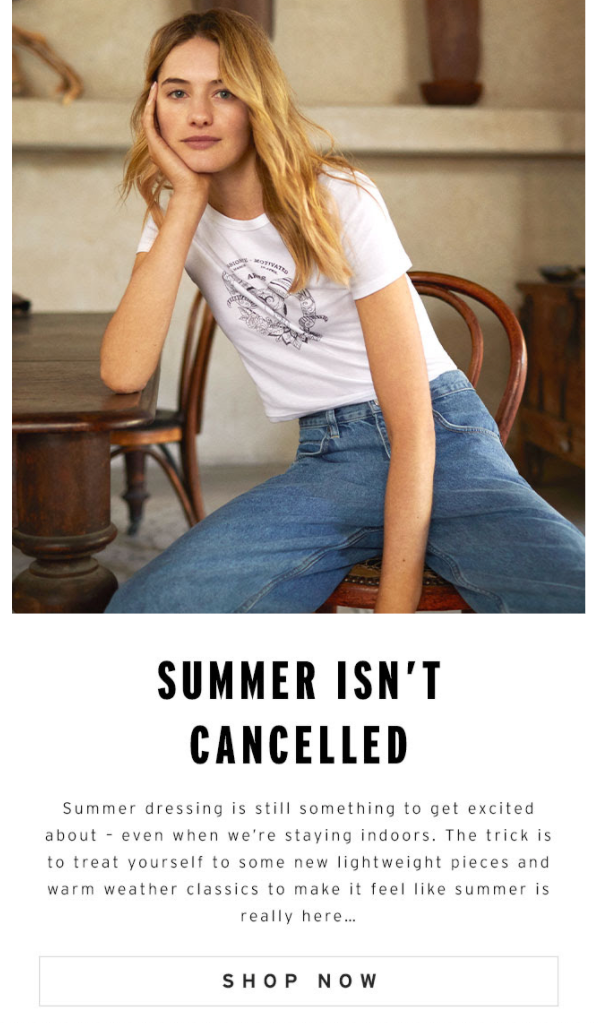 Instead of taking a negative turn at the current situation, Topshop takes the bold approach by saying "Summer isn't cancelled," much like ASOS in the first example.
With this email, Topshop aims to overcome a challenge many apparel brands face this season: creating demand for summer clothes at a time where consumers can't go out as much as they used to. That's why Topshop suggests you should still treat yourself with summer clothes, no matter what.
Next, Topshop gives you a few options for how you can do that. And they don't just show how you can wear these items, but also recommend different options based on category and price range: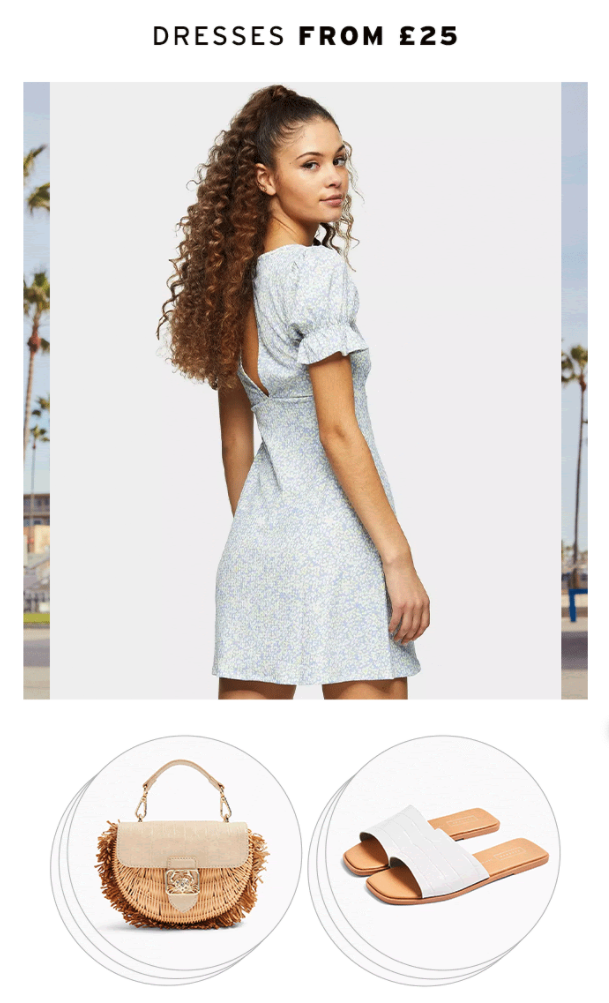 Even if you want to take the canceled summer angle in your subject lines, there are many ways to manage the situation without directly talking about canceled plans or staying indoors all the time.
Brands like the above find the perfect balance between managing frustration and promoting their products smartly this summer. Following their path, you can easily do the same, too.
More Like This…
west elm: Take it outside 🌞 Up to 40% off Garden Furniture, decor & more
One Kings Lane: Quick-ship outdoor furniture to enjoy all summer long
Tarte: Summer's not cancelled!
PatPat: Hear that? Summer's calling
Bath & Body Works: summer suds. ✔️sunshine. ✔️virtual celebration. ✔️
Rockets of Awesome: Bring the beach inside this summer! 🏖️
Conclusion
Summer 2020 is a special one, but no matter where you're standing, your summer email subject lines need to be sharp as usual (if not better).
Take inspiration from how these top e-commerce brands write high-performing summer email subject lines and you'll craft your own in no time.