For ecommerce brands, the best way to avoid a fright this October 31st is to nail your Halloween campaigns.
Spooky season is one of the year's biggest shopping occasions, with the National Retail Federation (NRF) predicting a record $10.6 billion in consumer spending for Halloween 2022. Over two-thirds of Americans planned to celebrate the occasion, with per-person spending expected to exceed $100.45.
(To put that in context, it's more than the average American spends on Super Bowl and Independence Day-related purchases.)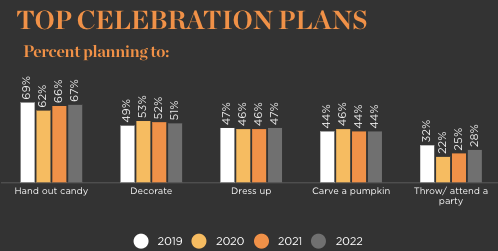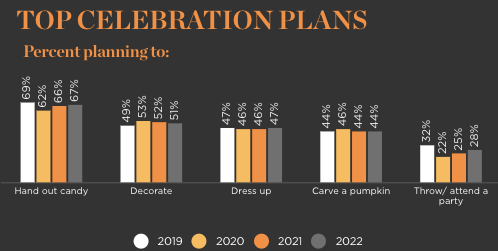 Take a look at the most popular product categories…
Costumes ($3.6 billion)
Decorations ($3.4 billion)
Candy ($3.1 billion)
Greeting cards ($0.6 billion)
…and you'll see Halloween presents opportunities for a wide range of brands.
So it pays to come up with slightly more creative messaging than "No tricks, just treats".
To help you out, we've rounded up nine of our favorite Halloween popup examples from real-world brands like BlackMilk Clothing, Killstar, and ModCloth.
Let's get into it…
1. Grow Your Email List In Advance
As with any seasonal shopping event, the first step to a successful Halloween is to top up your email list. Because the more addresses you capture, the more people will see your Halloween email marketing campaigns.
Seeing as we're talking specifically about Halloween, your standard popups won't cut it.
Give them a seasonal makeover, just like this example from clothing and lifestyle brand Killstar: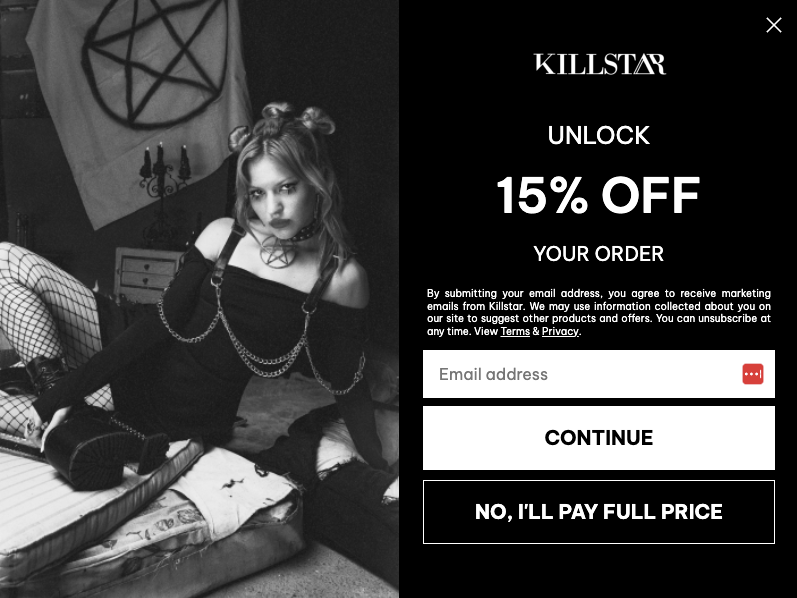 Remember to give your audience some sort of incentive to sign up.
Killstar offers a pretty hefty 15 percent discount for joining its email list; many brands provide smaller discounts, or offer a different sort of incentive altogether—such as free shipping, a free gift, or early access to new products.
Be sure to calculate your customer lifetime value before deciding on your email capture offer; it'll help you grow your list sustainably (i.e. without giving away more than you can afford).
2. Tease Your Halloween Collection (& Capture More Emails)
Ever thrown a Halloween party but nobody came?
Umm, yeah, me neither (cries).
Anyway, if you were planning to organize a big bash for October 31st, you'd probably start by gauging interest upfront. Once you've got a bunch of confirmed attendees, you can relax, safe in the knowledge you won't be doing the Monster Mash alone again this year.
That's essentially what BlackMilk Clothing did with this Halloween popup example: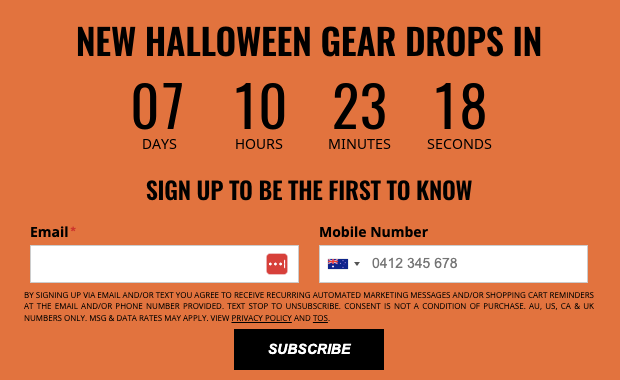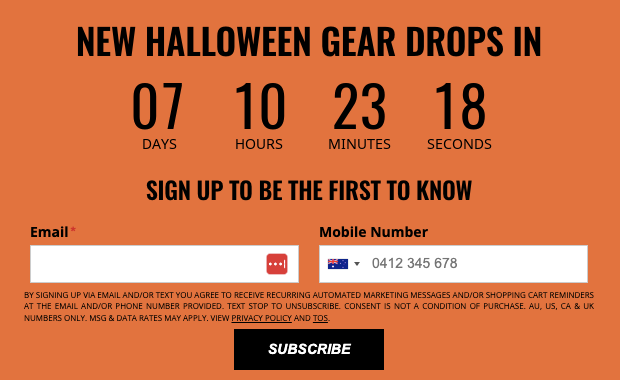 By prompting customers to register for updates about its Halloween launch, the brand can feel confident that those shoppers will rush to purchase the collection when it drops.
And because there's no sense in leaving these things to chance, BlackMilk captured both an email address and a phone number, giving it the best possible chance of reaching customers on launch day.
This is a smart tactic, with 95 percent of marketers agreeing that some form of multichannel strategy is important for their organization.
Another key point about this popup:
The countdown timer creates a feeling of scarcity and urgency. It's effectively saying: if you don't register, you might miss out when our Halloween collection arrives.
All of which means BlackMilk didn't even need to offer a discount, or free shipping, or any other kind of promotion to capture customers' contact details.
3. Promote Halloween Pre-Orders
One way to drum up excitement for your Halloween launch is to email and/or text customers when your collection drops, a la BlackMilk Clothing.
But that's not the only viable approach.
Another equally effective tactic is to let customers pre-order your soon-to-launch Halloween products, like Goldilocks Goods did in this popup example: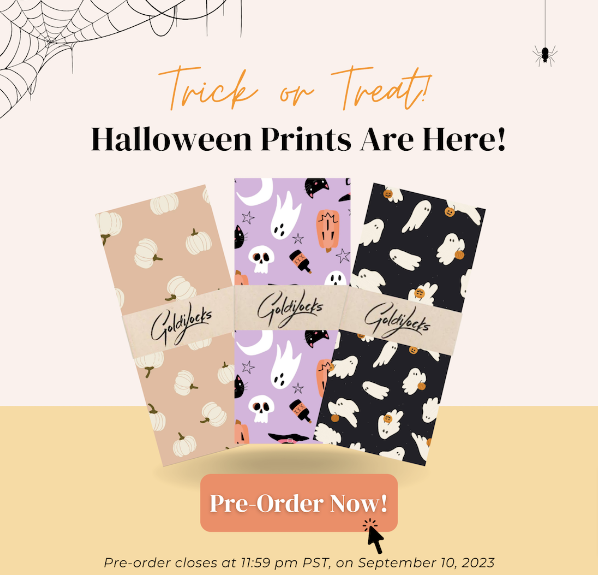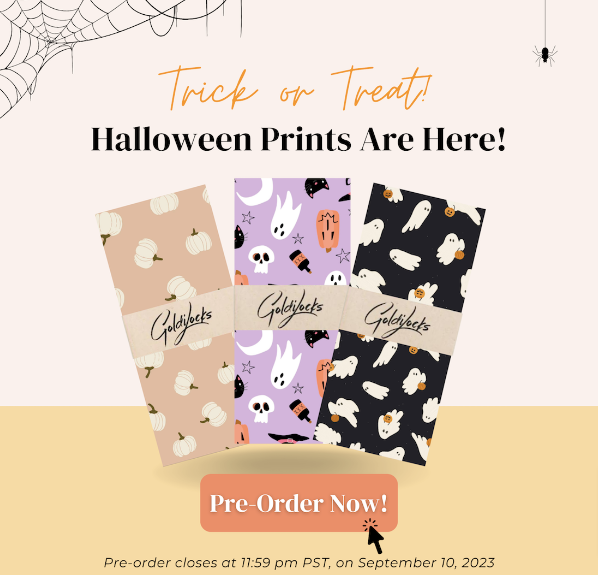 Notice how the brand adds scarcity into the mix by warning customers that pre-orders are only available for a limited period.
And that's not the only benefit of pre-ordering.
It also acts as a kind of soft launch for your new product or collection, allowing you to assess customer interest before you decide to make a major investment in manufacturing or ordering seasonal products.
Because the last thing you want is to spend big on a bunch of Halloween inventory, only to have it eating up space in your warehouse when November arrives.
4. Point Shoppers Toward Your Best Products
For all our talk of digital detoxes and getting off social media, the amount of time we spend online has slightly increased in recent years, from an average of 6.19 hours in Q3 2015 to 6.4 hours in Q1 2023.
Must be good news for ecommerce brands, right?
Not necessarily. Turns out that while we're all extremely online, the length of an average "session"—that is, the time someone spends browsing a specific website—is on a downward trajectory, falling by 7.5 percent between 2021 and 2022.
What does this tell us?
Consumers are becoming more impatient. They're less inclined to spend valuable time clicking around your website hunting for the perfect product.
So it's your job to help them find your most attractive inventory, fast.
As October 31st looms ever larger on the horizon, consider using popups to steer shoppers in the direction of your Halloween collection, like Blue Banana did with this Halloween popup example: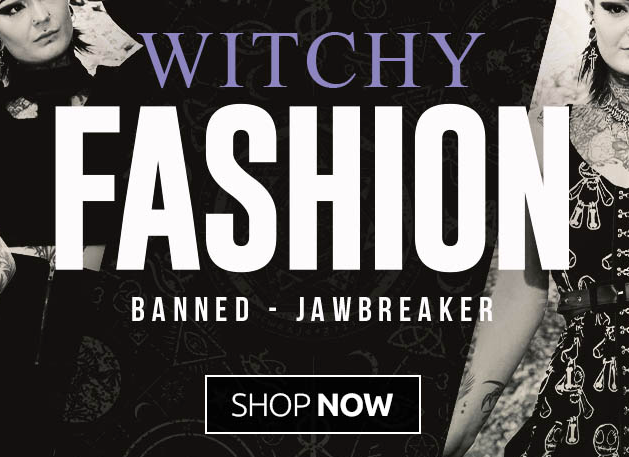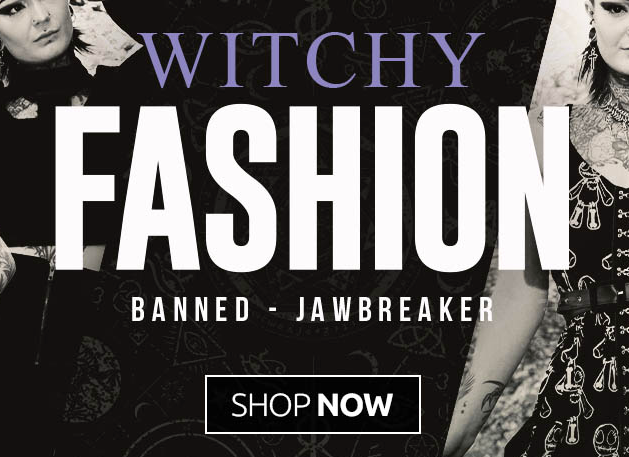 It's up to you how early you implement a popup like this.
If Halloween is a massive deal to your audience, there's no harm in launching your seasonal popups way in advance of the big day—we've seen plenty of brands pushing Halloween messaging as early as mid-July:


So don't feel you have to wait for Autumn to arrive to pull the trigger on your Halloween campaign. Give the people what they want!
5. Qualify Your Audience's Interest in Halloween
According to the NRF, 69 percent of Americans planned to celebrate Halloween in 2022.
That's a lot of people. But it also means that almost one-third weren't intending to get involved in the festivities.
Guess some people just hate having fun.
Fact is, Halloween isn't for everyone, so don't try to (metaphorically) force pumpkins, black cats, and witches hats down people's throats.
Instead, take a leaf from Blade & Rose's book by allowing your audience to qualify their interest in spooky season: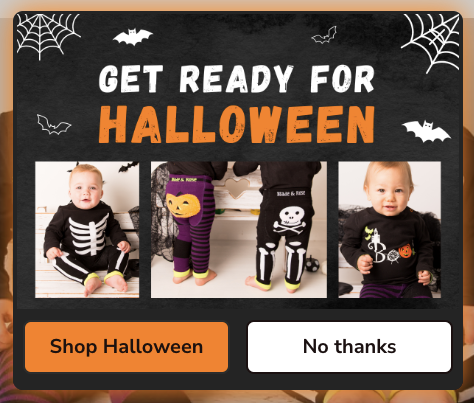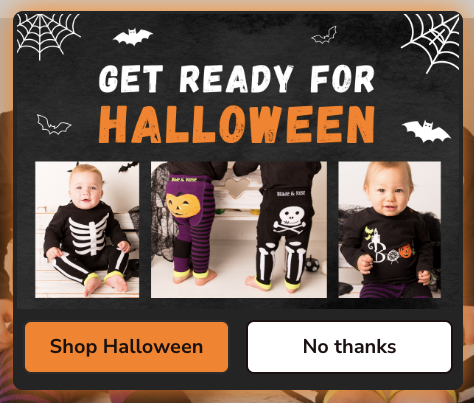 If a visitor clicks "No thanks", you know not to hit them with any Halloween-themed messaging next time they land on your site.
6. Gamify Your Halloween Popups
Despite all the ghosts, ghouls, and goblins, Halloween is meant to be fun.
So why not take the opportunity to experiment with some playful popups?
Here's a simple example from the folks at HalloweenCostumes.com, who added a spin-to-win element to their email capture popup campaign: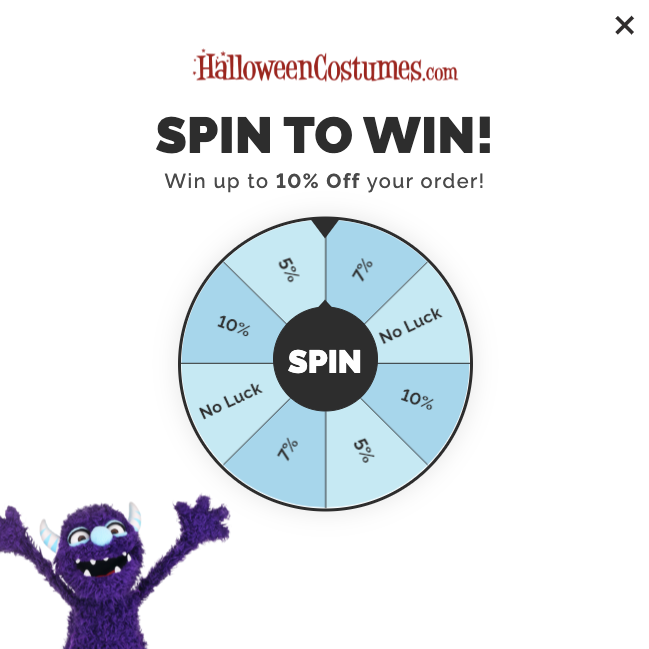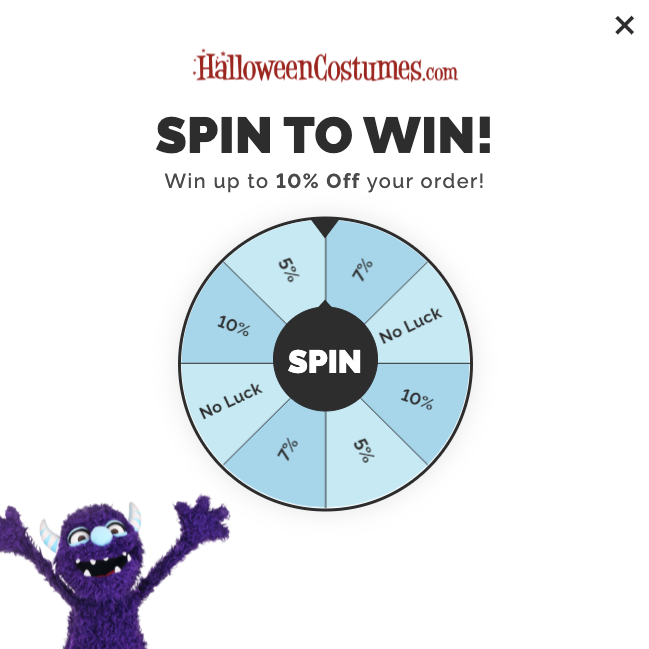 The idea is pretty simple: you click "Spin"; the wheel whirls around and lands on a random prize; then you enter your email address to claim your winnings.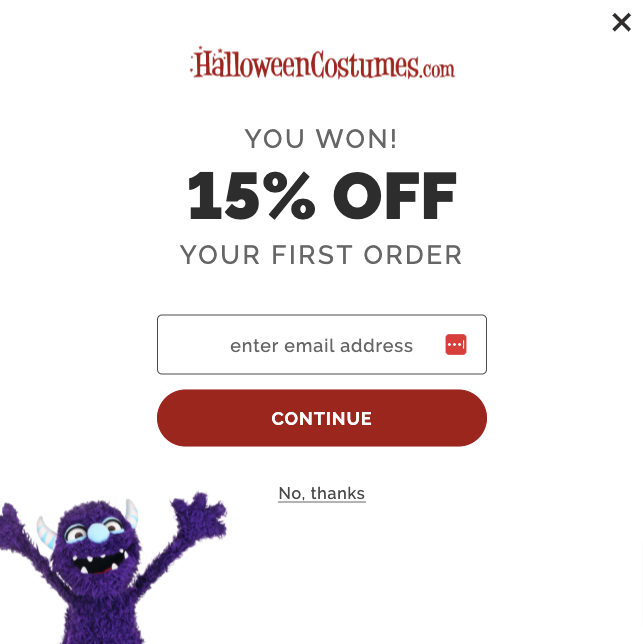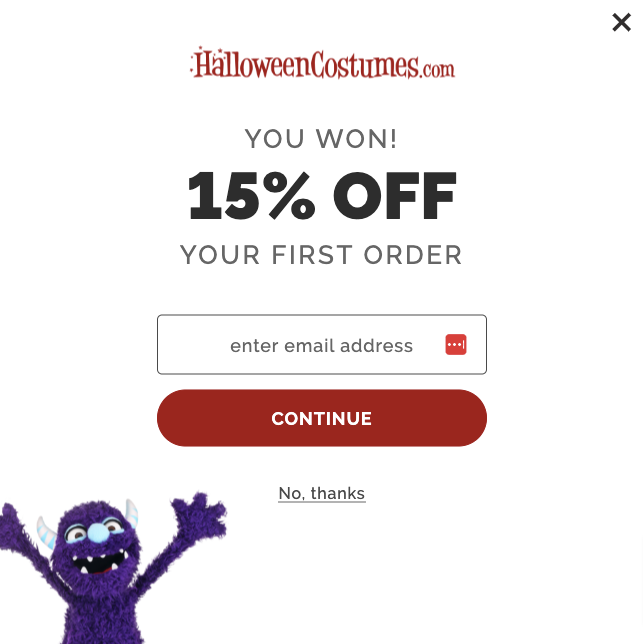 But simple marketing campaigns are often the most effective, with an analysis of 513+ million popup displays revealing that spin-to-win popups see an astonishing average conversion rate of 30.3 percent—compared to just 3.8 percent for traditional email capture popups.
Even if your brand is a little too serious for this type of frivolity, Halloween is a fantastic opportunity to throw off the shackles and test some more light-hearted messaging.
7. Get Creative With Your Halloween Popup Copywriting
We've already seen one example of how Halloween gives brands carte blanche to flex their creative muscles. This doesn't just apply to the types of popups you run; it also relates to the tone of your marketing copy.
In our next Halloween popup example, women's clothing brand ModCloth truly leaned into the seasonal theme: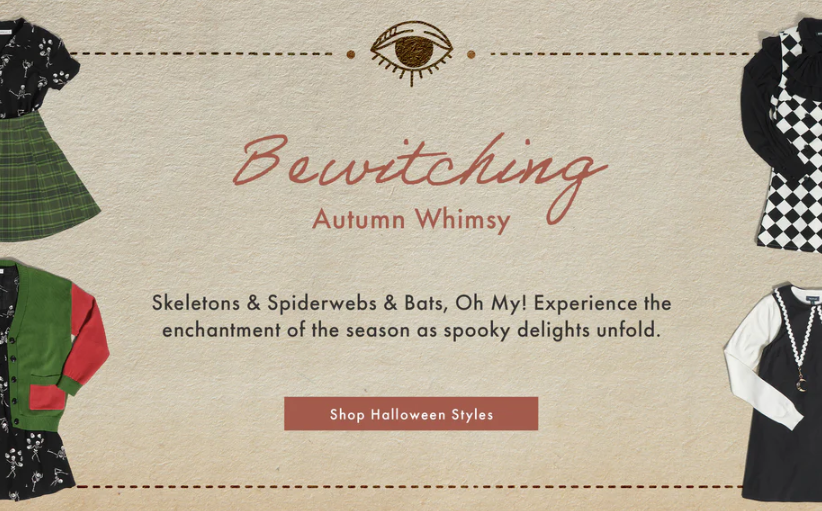 Barring the surprisingly run-of-the-mill call to action, every part of the copy in this campaign is practically oozing Halloween spirit.
And why not? It makes sense to get your customers in the mood when they're shopping for Halloween-themed products.
8. Offer Free Shipping on Halloween Orders
Did you know delivery cost is the joint-most common consideration for consumers when deciding whether or not to buy from a given ecommerce site?
That's right: when they're weighing up their purchase decisions, shoppers are more likely to be swayed by the cost of shipping than the price of the product itself!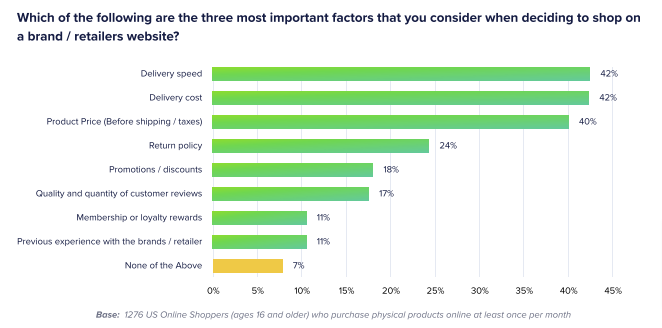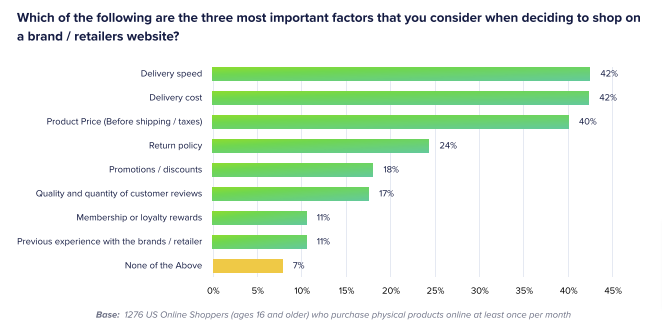 This just goes to show the value of using free shipping as an incentive.
Halloween Express clearly understands the power of free shipping. In our next example, the retailer adds an on-click popup to its product pages: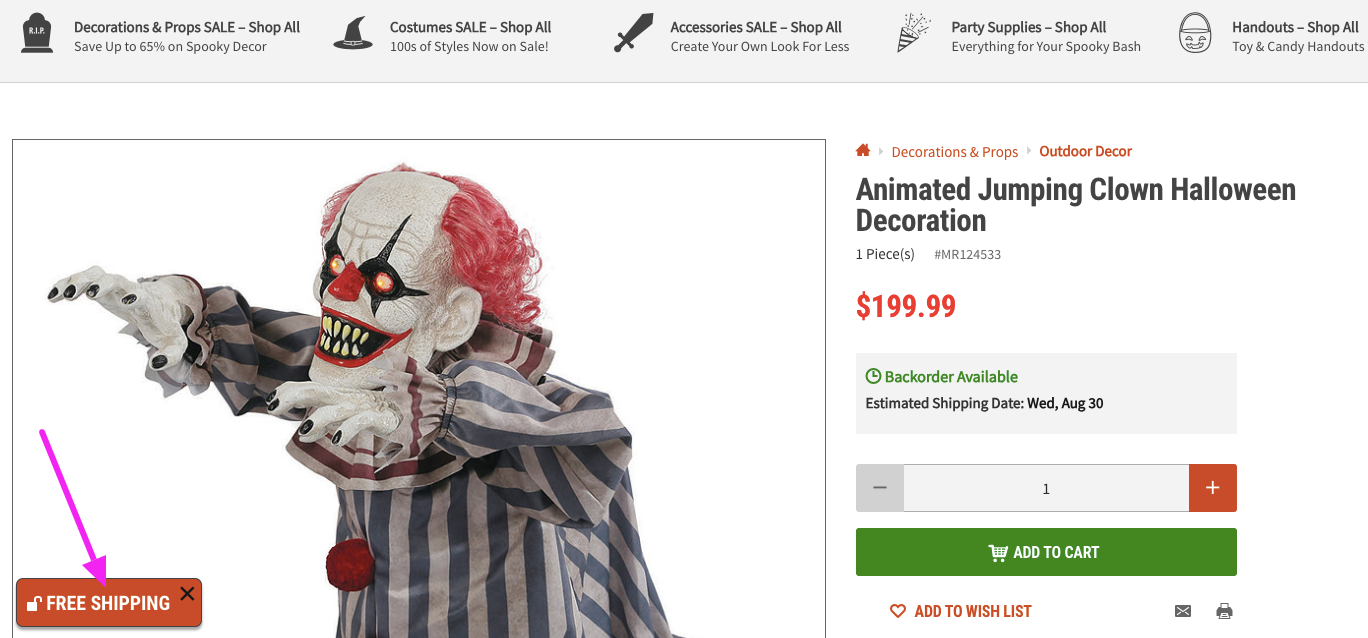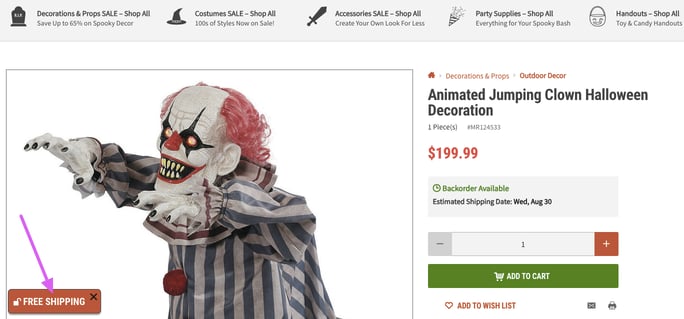 When you click the prompt, it expands into a popup offering free shipping on orders of $49+ to shoppers who hand over their email address: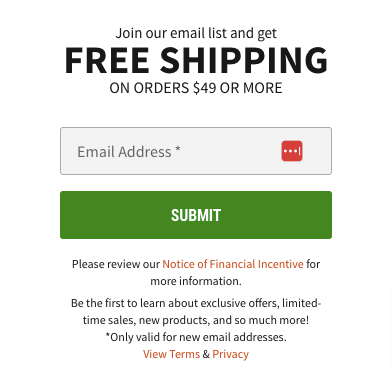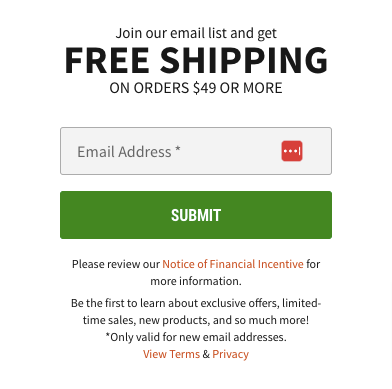 While we're on the subject, it's worth noting that on-click popups can be extremely effective.
Given their discrete nature, they inevitably attract less attention than traditional popups, but that's not necessarily a problem. In fact, it can be a benefit—for two main reasons:
On-click popups are less distracting, so they're less likely to interrupt customers who are about to make a purchase.
People will only click to expand the popup if they're interested in the offer (in this case, free shipping).
Thanks to reason #2, on-click popups see significantly higher conversion rates that other triggered popup types: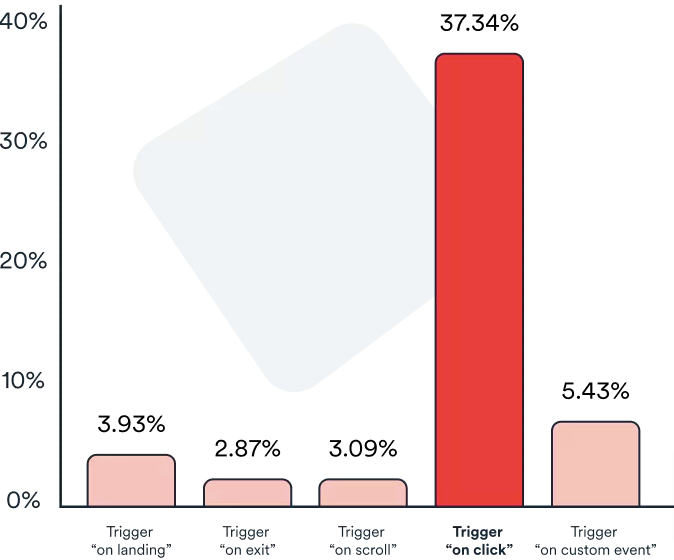 Image source
So they might generate fewer overall impressions, but just as many—if not more—more leads. It's all about quality rather than quantity.
9. Push Your Halloween Sale
Earlier in this article, we mentioned how much it sucks to be left with a ton of unsold seasonal products.
It's not just that you haven't recouped your initial investment; those products will go on costing you money in storage costs until you eventually sell them.
And given that Halloween products are only relevant for one day a year, you shouldn't expect to shift them any time soon.
For that reason, many brands make the savvy decision to launch Halloween sales days—or sometimes mere hours—before October 31st arrives.
That's precisely what stationery brand Baron Fig did in our final Halloween popup example: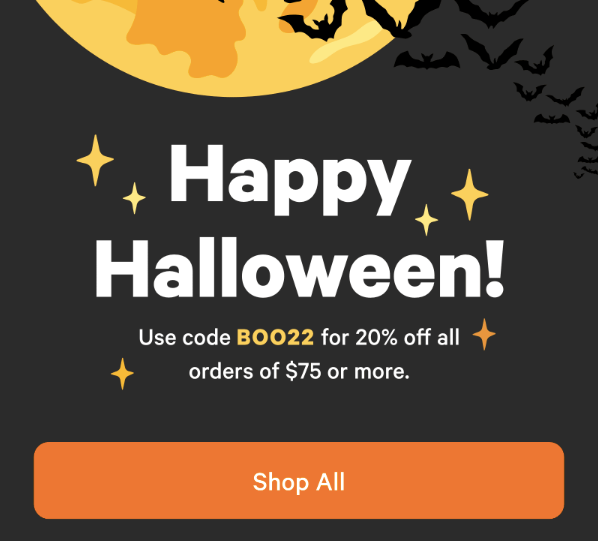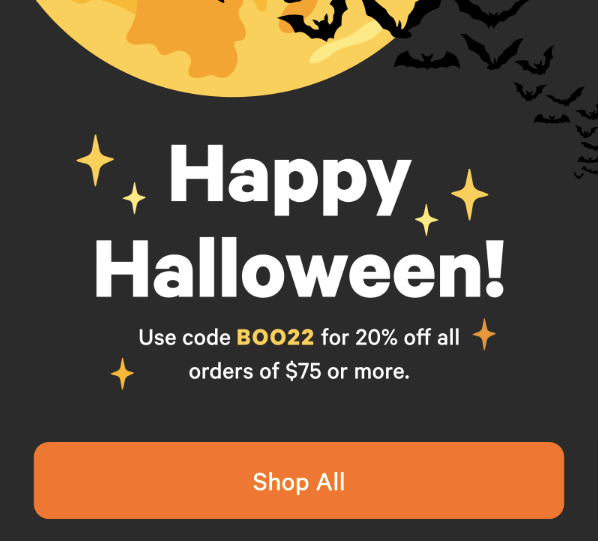 The use of a Buy X, Get Y incentive makes sense here, because Baron Fig obviously wants to shift as many Halloween products as possible in a short space of time.
Level Up Your Onsite Campaigns With Drip
Used intelligently, onsite marketing can expand your marketing list, guide first-time website visitors toward relevant products, and target loyal customers with promotions they'll love.
But let's be honest: we've also seen countless examples of terrible onsite campaigns. Campaigns that interrupt the user journey and cheapen the whole shopping experience.
That's why you need Drip.
We're not your average popup or form-building tool. Our platform lets you drag and drop your way to fully customizable popups, slide-ins, and sidebars that perfectly match your branding and voice.
But don't take our word for it. Check us out for yourself by signing up for your 14-day free trial!