The travel industry has slowed down dramatically in the past year for obvious reasons.
But as restrictions ease and things gradually return to normal, travel is picking back up—both domestically and internationally. So, there should be a considerable increase in the number of people traveling over the course of 2021 and beyond.
This means it's the perfect time for your travel agency to get back in full swing and reel in new customers. One of the best ways to get the most from your online traffic and convert a higher percentage of your leads is by using email popups.
And when done correctly, they flat out work, with one studying finding they helped boost leads by 162 percent and increased newsletter subscriptions by 114 percent. To point you in the right direction, here are seven of the best travel agency popup examples we've seen.
Table of Contents
1. Pack Up + Go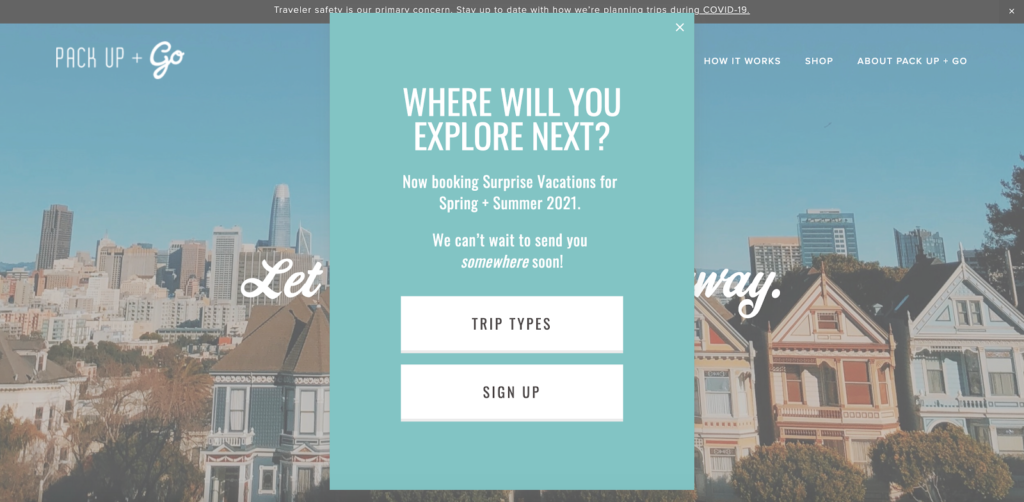 Pack Up + Go is a travel agency with an interesting angle. Customers tell them their budget and fill out a quick survey, answering questions about their travel dates, preferences, interests, and other information. Then, Pack Up + Go plans a surprise destination for them.
While it's probably not ideal for planning-obsessed travelers that like to stick to a rigid itinerary, it's a cool concept that's perfect for more adventurous spirits. I'd personally be interested in trying this out at some point.
This popup works because it quickly directs a visitor's attention to Pack Up + Go's offering by asking, "Where will you explore next?"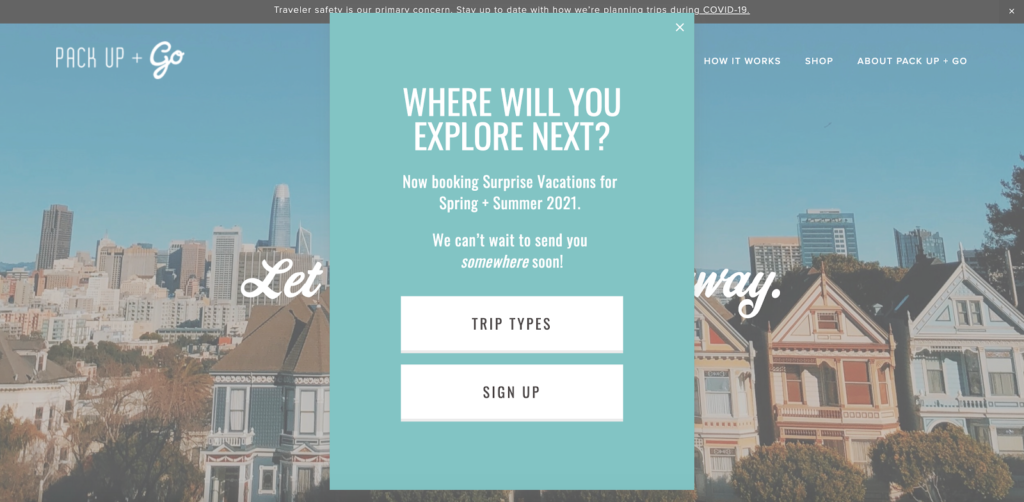 Below the header is some quick info letting visitors know they're now booking vacations for spring and summer 2021—something many people are no doubt wondering about.
And this travel agency offers two clearly written CTAs just below that where visitors can either click on "Trip Types" or "Sign Up." If a visitor clicks on "Trip Types"…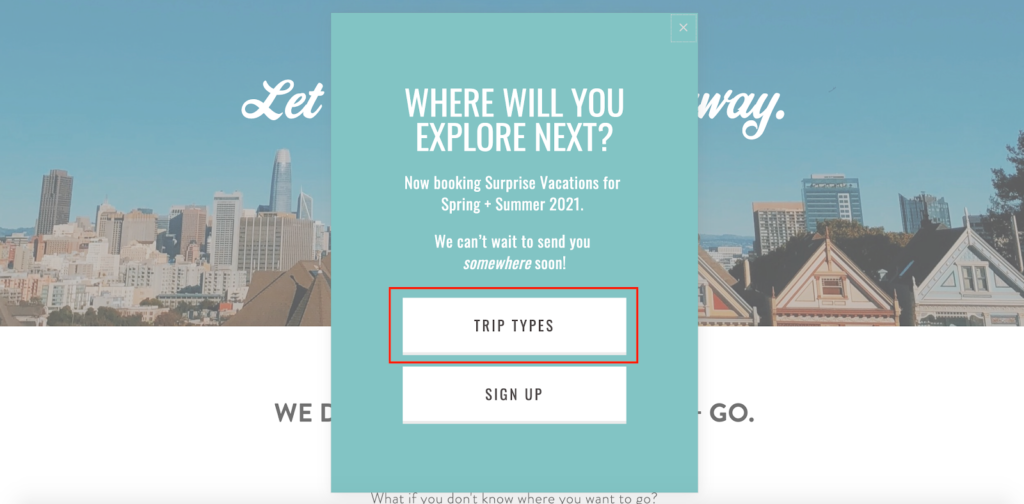 …they're taken to this page, which gives them an overview of the process, quickly getting them up-to-speed.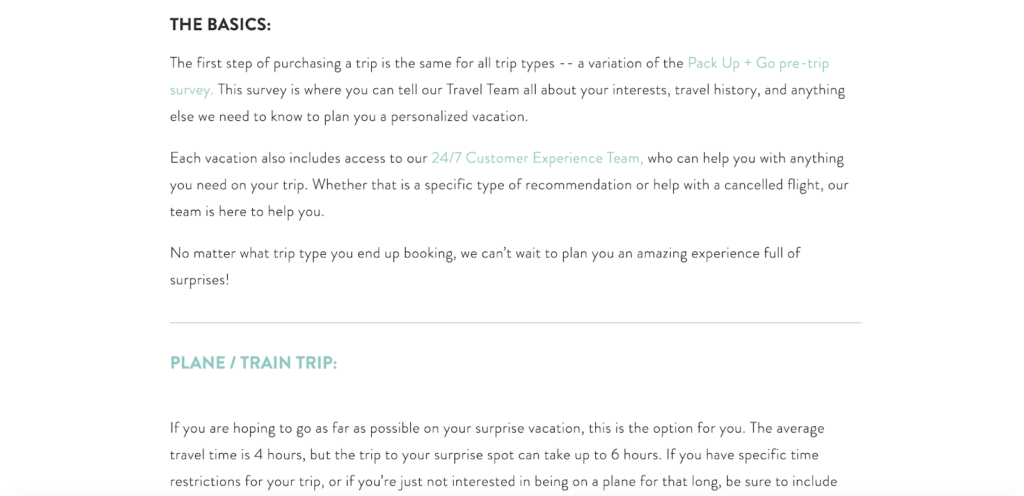 Or, if they click "Sign Up"…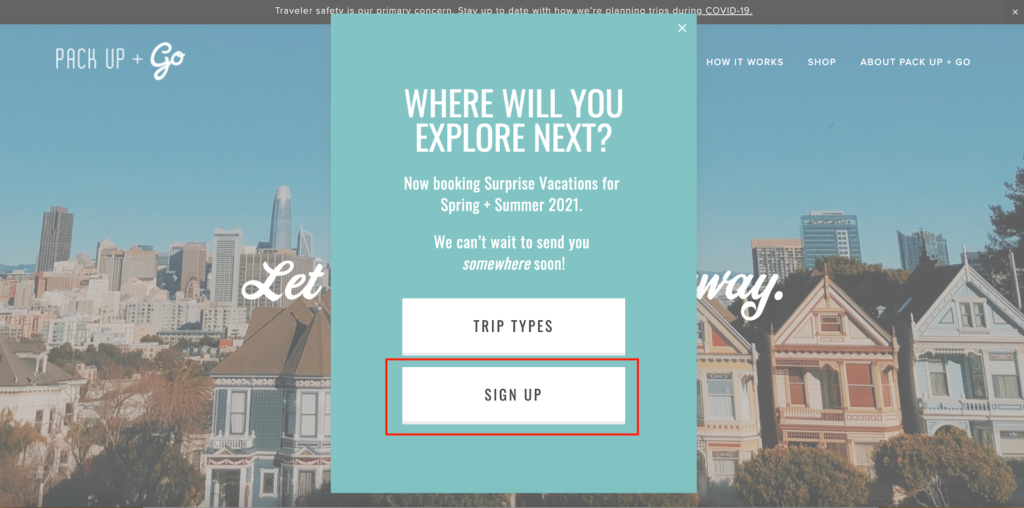 …they're taken to this page where they can tell Pack Up + Go about their travel history, interests, preferences, and budget to get started.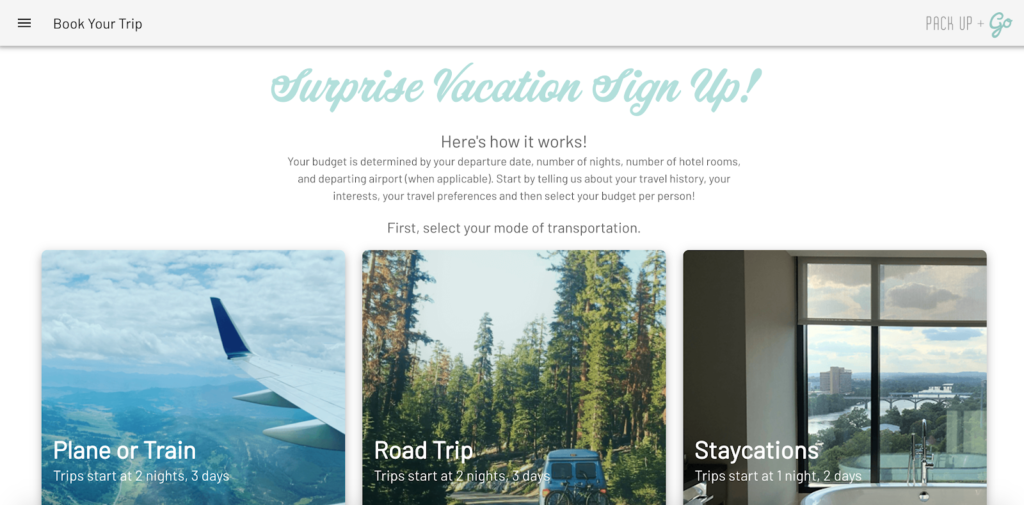 So, rather than just having prospects aimlessly browsing through their website, this travel agency's popup quickly directs them to essential information with very little effort. That way, visitors know what's going on, and Pack Up + Go greatly increases their chances of converting.
In terms of design, this popup's strong points are its:
Clear, attention-grabbing headline
Clean, minimalist design with plenty of space between elements
Easy to follow CTAs
2. AAA Travel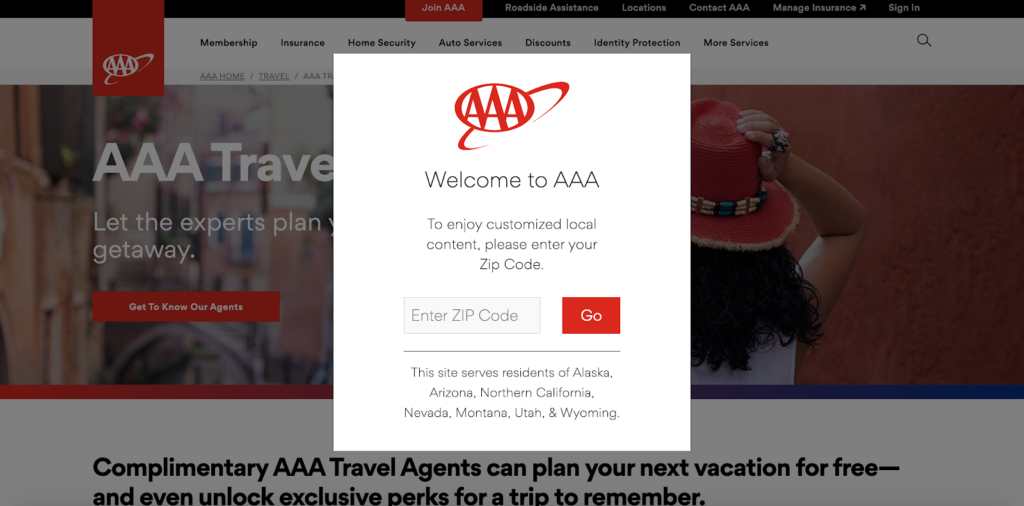 This is a branch of the American Automobile Association (AAA) that "partners with leading travel industry vendors to secure exclusive benefits and money-saving offers, from cruise packages and hotel discounts to car rental deals and all-inclusive vacations."
AAA Travel specifically caters to residents in western America, including Alaska, Arizona, Northern California, Nevada, Montana, Utah, and Wyoming.
And in order to provide an ultra personalized experience, they feature this popup that 1) welcomes visitors to the website and 2) asks them to enter their ZIP code so AAA Travel can give them local content.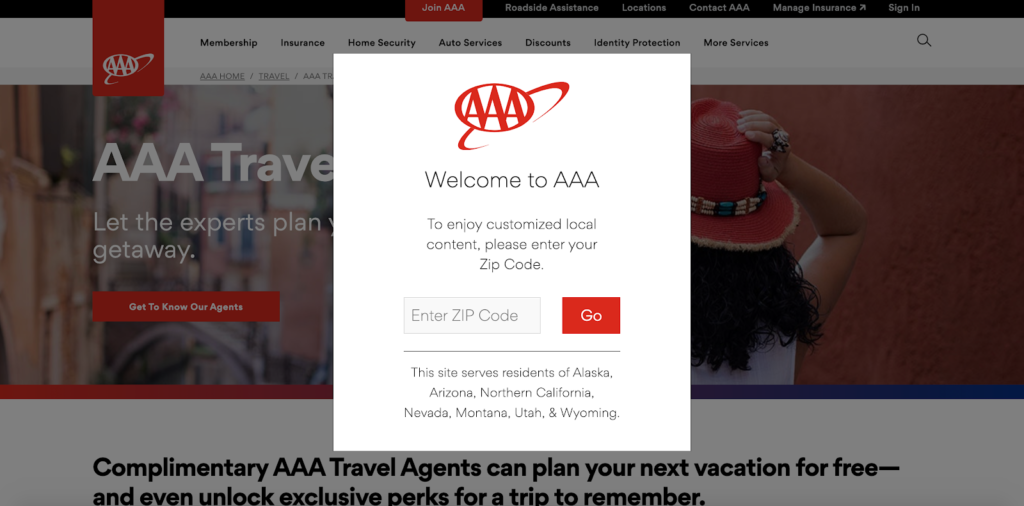 They simply enter their ZIP code in the box and click "Go."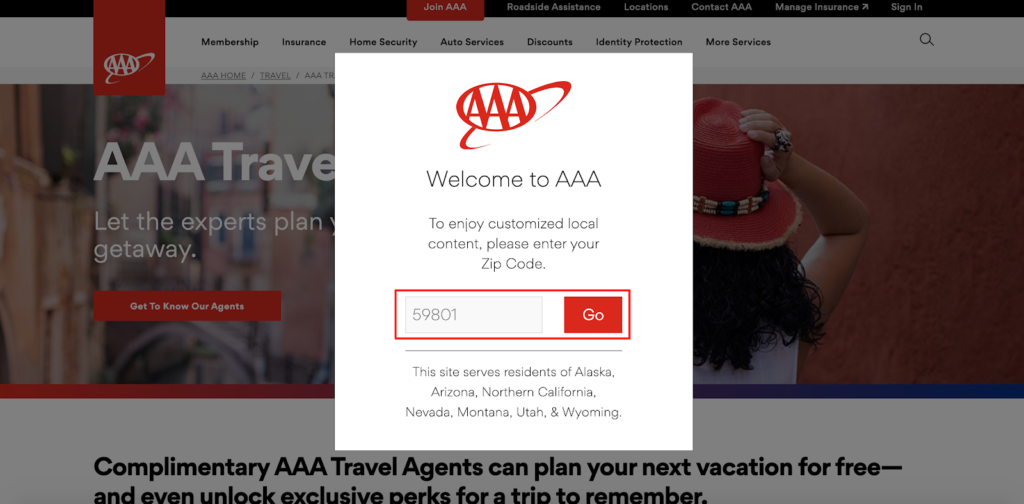 I'll use a ZIP code from Missoula, Montana for this example. After entering it, the rest of the experience is customized based on the visitor's location.
In fact, the URL even switches to this one, which is specifically for travelers in the mountain west area of Montana in the US.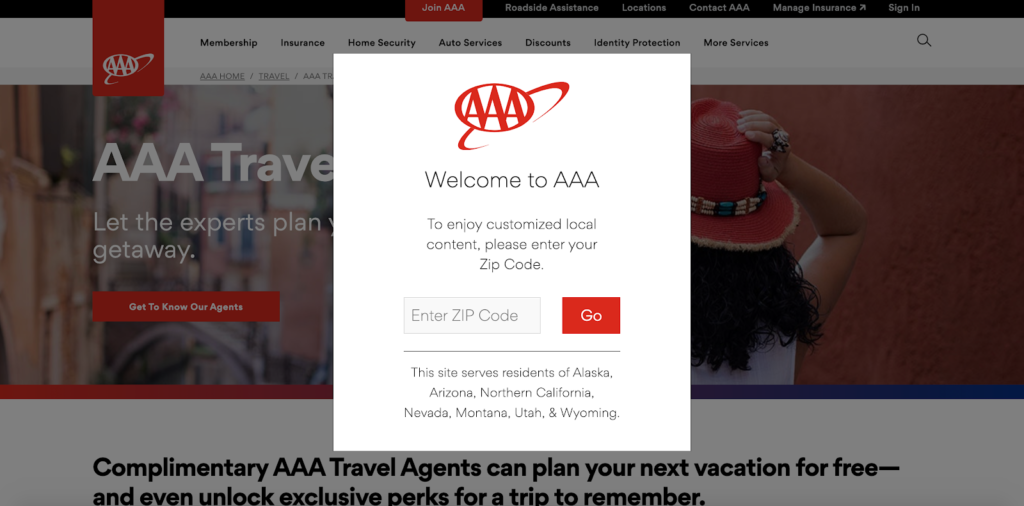 It includes simple, straightforward instructions, asking visitors to enter their local ZIP code to receive customized local content. The CTA is clearly marked and contrasts nicely with the red against the white background.
And finally, it takes full advantage of personalization—something that's incredibly important when you're looking to appeal to prospects and stand out from the competition.
Sorina Mone of Magnolia CMS notes that most modern travelers are looking for content that's specific to them, and using personalization techniques like this is critical for delivering the right content at the right time. So, there's plenty to be learned from this travel agency popup example.
3. Booking.com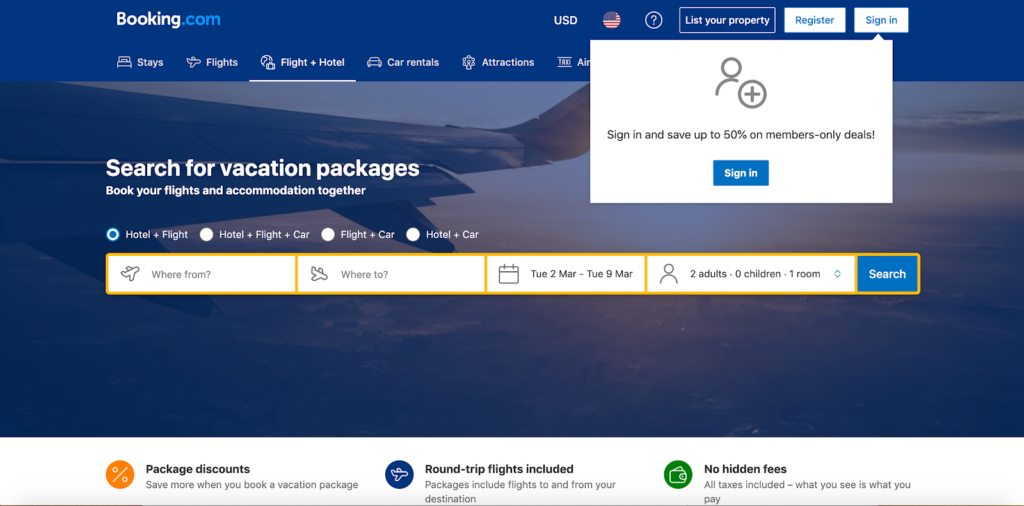 The next brand needs no introduction. Almost everyone is familiar with Booking.com by now, and this Dutch travel agency allows customers to book 120,000 destinations worldwide.
This isn't your conventional popup that appears front and center of a website. Instead, it's a bit more subtle and is designed to bring attention to one particular section of Booking.com's site—the "Sign in" page.
A quick look at the popup, and the interest of visitors is instantly piqued when they see that by signing up they can save up to 50 percent on member-only deals.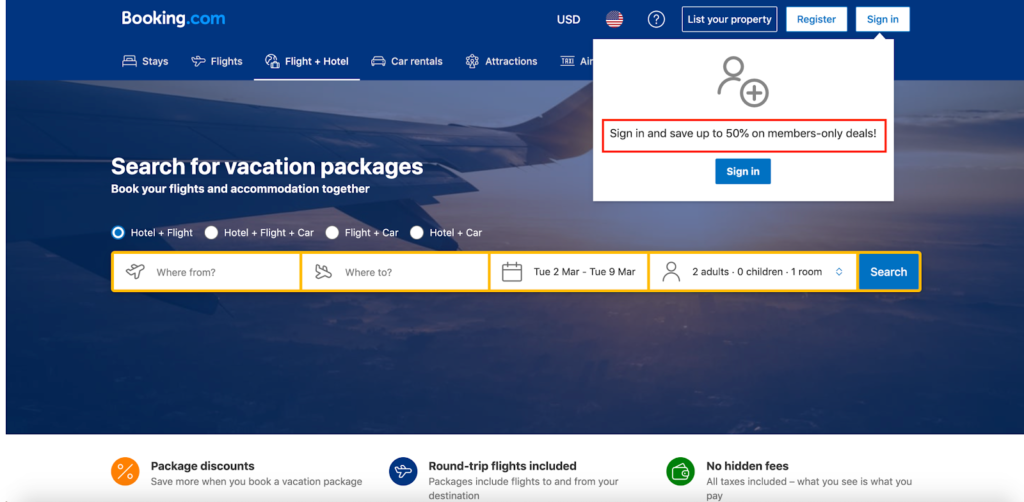 That's huge! All visitors have to do is click on the conspicuously placed CTA…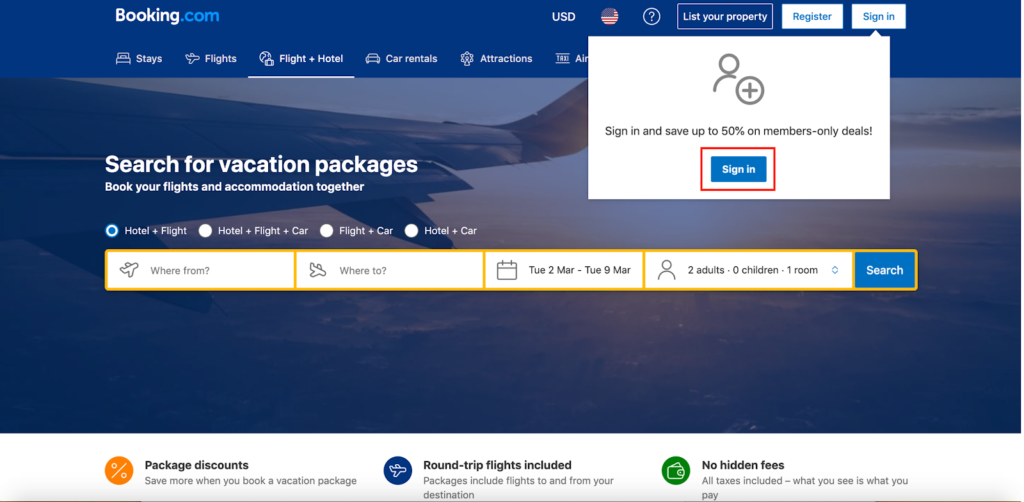 …and they're taken to this page where they can sign in or create an account.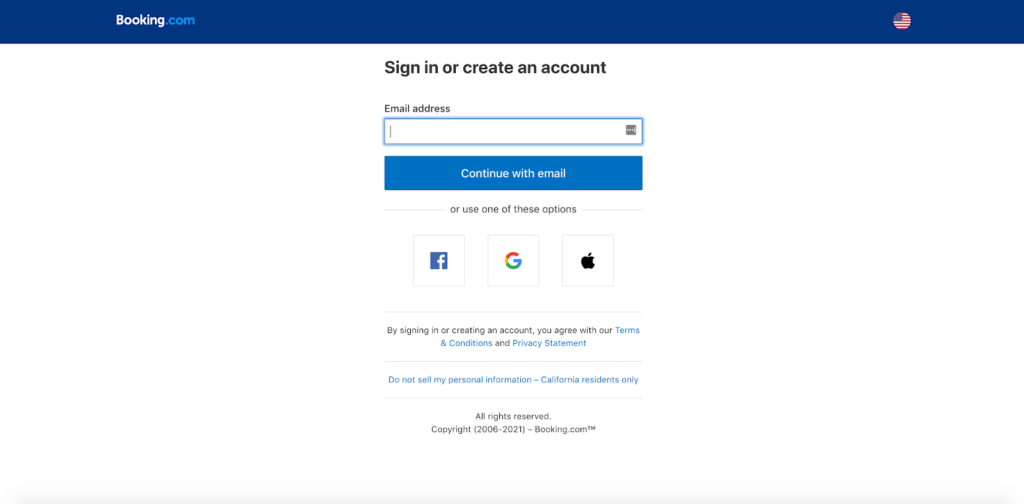 By using this popup strategy, Booking.com is able to dramatically increase the number of people who sign up. And from there, they can gradually nurture leads and send them targeted content to encourage a purchase.
This example shows that you don't have to be ostentatious with your popup and go nuts with bright colors or huge headlines. You just need it to attract eyeballs and include an offer that's enticing enough to get visitors to take action.
4. GetYourGuide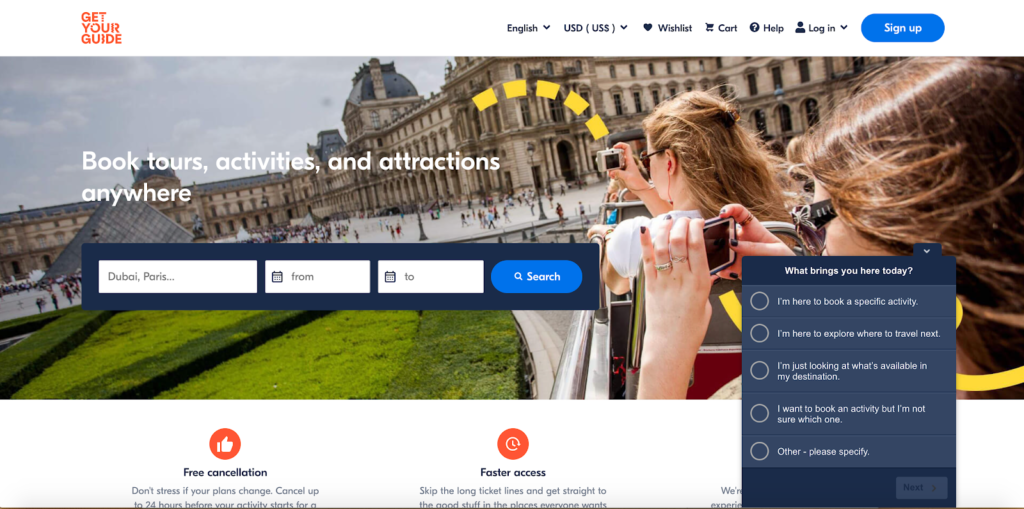 Here's another example of a subtle popup from GetYourGuide—a Swiss online travel agency that allows customers to "find, compare, and book sightseeing tours, attractions, excursions, things to do, and fun activities from around the world."
Its main purpose is to gather data to create a better experience for visitors over time. To do that, GetYourGuide asks visitors to say why they're viewing their website.
For instance, visitors can select, "I'm here to explore where to travel next."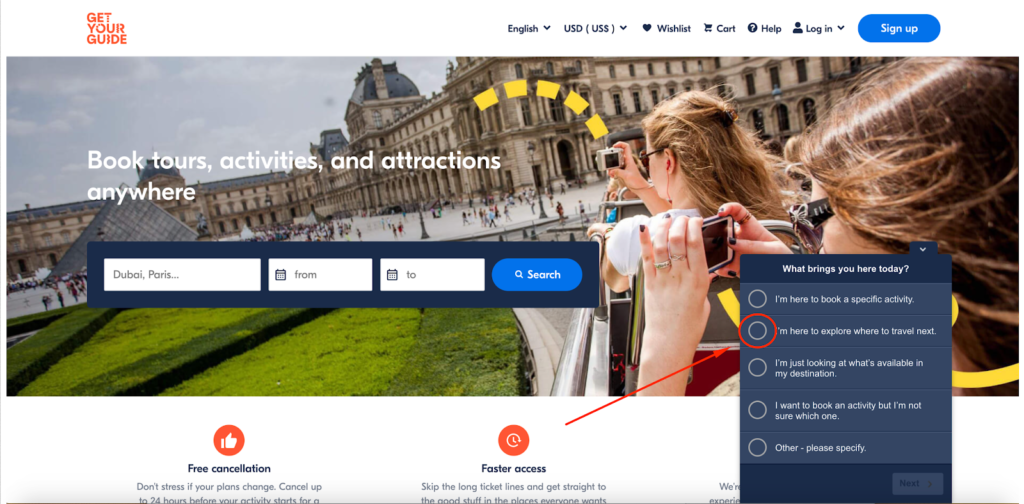 After clicking on that, GetYourGuide thanks them for helping out and explains that gathering feedback like this helps the travel agency improve. Then, they ask for the visitor's consent by either clicking on the check mark for yes or the "X" for no.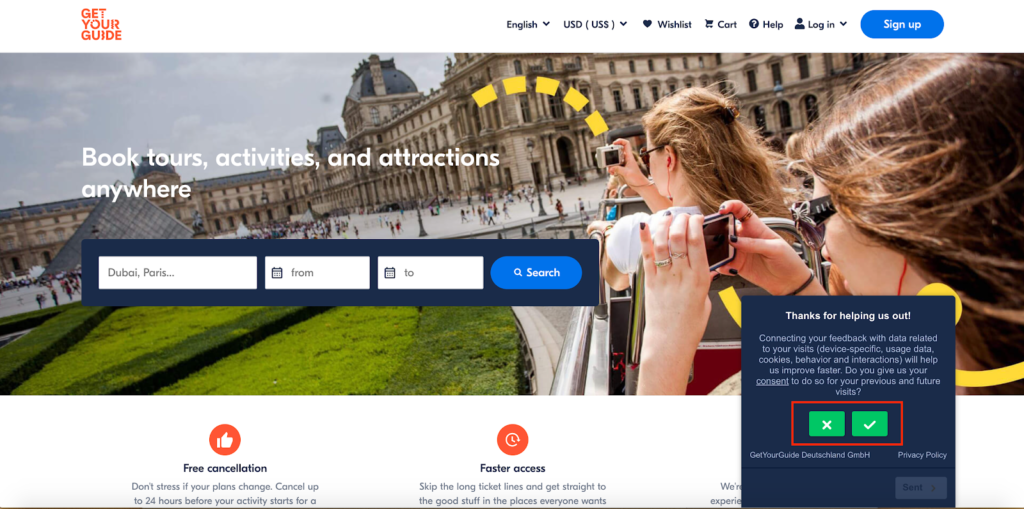 By doing this at scale, GetYourGuide can learn more about their visitors, which helps them gradually optimize their offerings to create an A+ customer experience.
So, if you're looking to gather feedback to better understand your customers, this is a nice idea to try out. And like the example from Booking.com, it shows that you don't have to be flashy about it.
In fact, your popup doesn't even have to be directly in the center of the page. As long as it naturally attracts attention without disrupting the user experience, you should be good to go.
5. Skylux Travel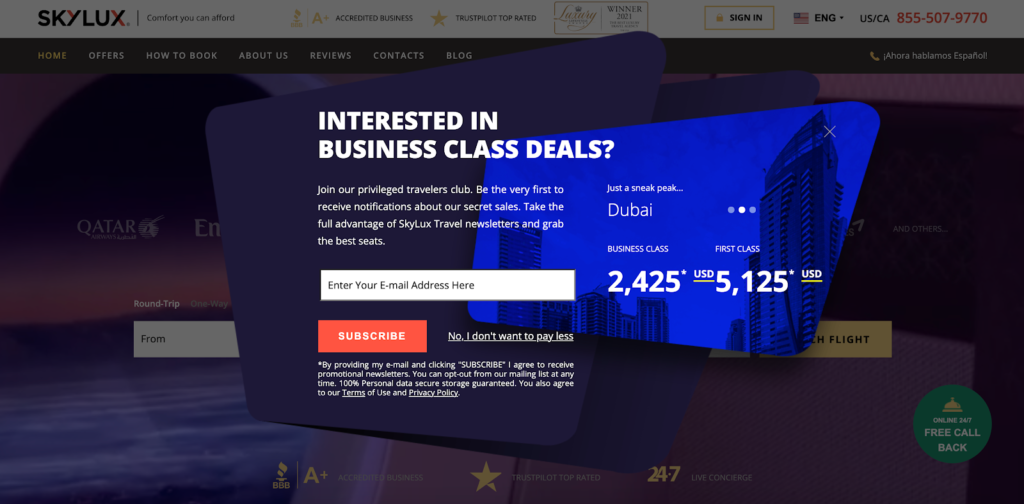 Here's an agency that helps travelers find cheap business and first class flights around the world.
Skylux Travel is all about making luxury flight accommodations more affordable, which is what helps them pull in a larger demographic than competitors who cater solely to high-end customers with deep pockets.
Their popup is a simple email capture form where visitors can join the Skylux Travel privileged travelers club to receive notifications on secret sales and find the best seats.
It starts off with an eye catching headline of "Interested in Business Class Deals? Then it provides a quick overview of what visitors get by signing up.
And on the right-hand side, Skylux Travel displays a slider featuring real-time deals on business class and first class flights to major cities like Dubai and London.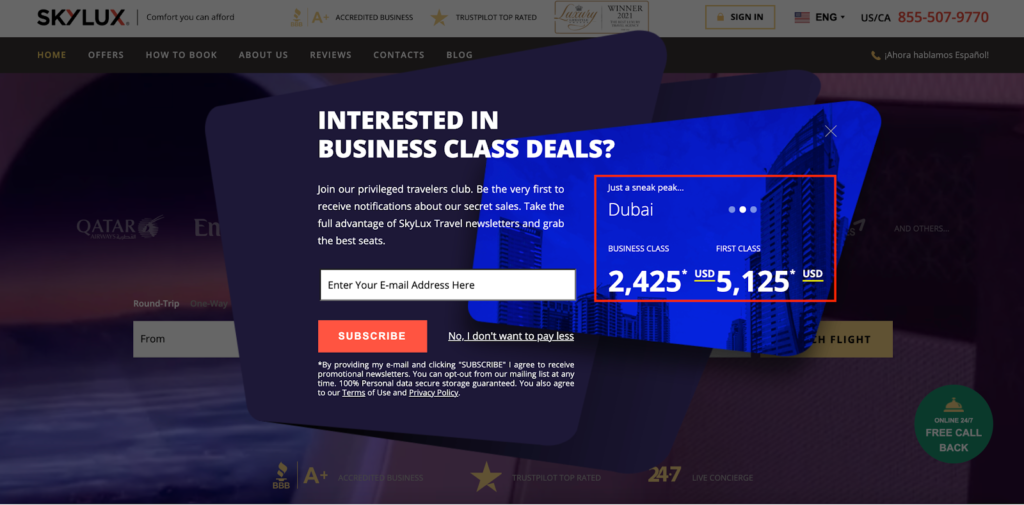 All visitors have to do is enter their email address in the box and click the "Subscribe" CTA.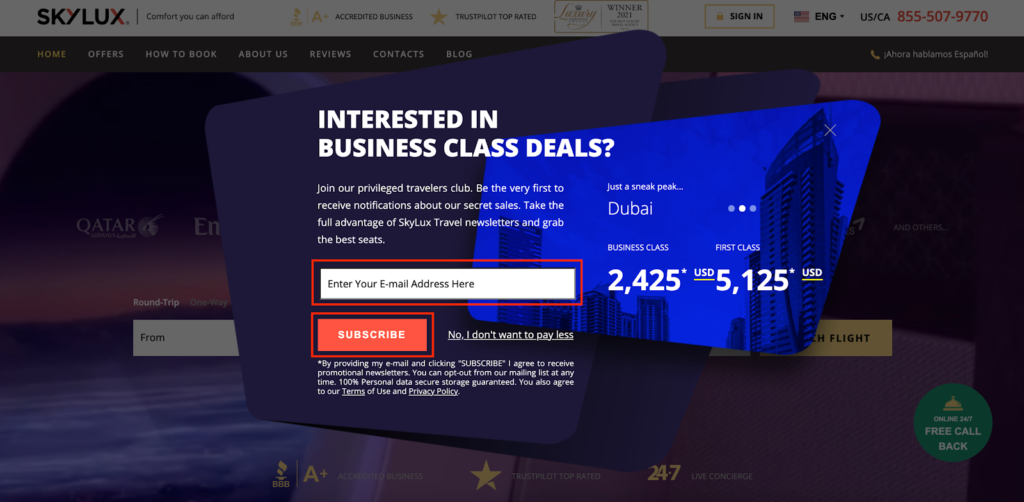 This travel agency popup works because:
The design jives perfectly with the luxury feel of the brand (black and purple are commonly used to achieve this vibe)
The text is nicely spaced out
Visitors can quickly absorb the information at a glance without having to do any investigation
The brand includes actual numbers of real deals
The CTA is simple and straightforward
And for visitors who aren't interested, they can exit out of the popup without any fuss by clicking the "X" icon or anywhere outside of the box. If your goal is to entice travelers to join your newsletter, this is a fantastic template to borrow from.
6. CheapCaribbean.com
After scouring well over a hundred different travel agency websites, one major trend emerged. The vast majority of sites feature a search box where visitors enter their departing location, where they're heading to, travel dates, and desired accommodations.
And in most cases, this section is placed prominently—typically in the center of the homepage. That's fine, but it does create a problem if you want to place a popup so visitors see it above-the-fold without having to scroll down.
But I think this travel agency popup example from CheapCarribean.com—a brand that helps customers book vacations in the Caribbean, Mexico, Bahamas, and Central America—has a nice workaround for this issue.
They place their popup in the bottom right-hand corner of their homepage so that it overlaps slightly with the search function, while still effectively getting their offer across. Check it out.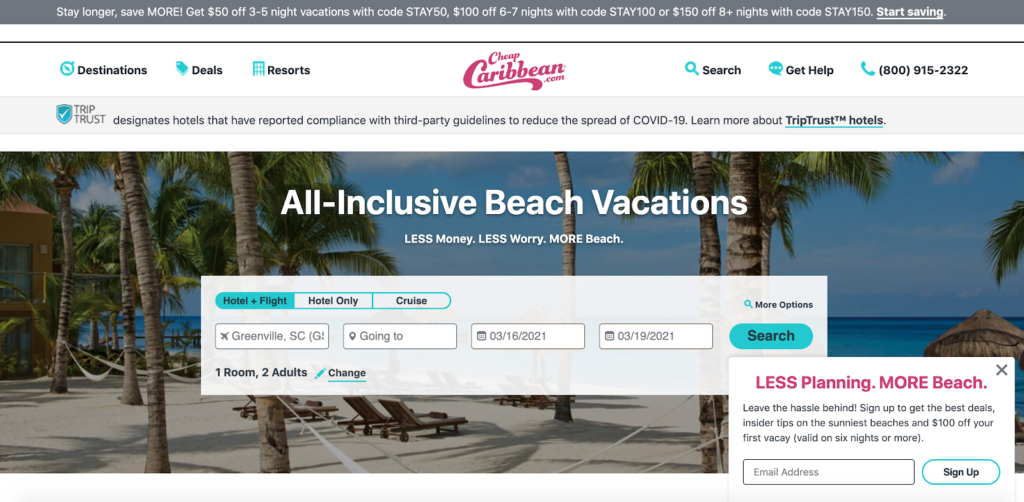 Visitors can clearly see the search feature and enter their information. But they also see CheapCarribean.com's attractive offer in the popup below. The headline "LESS Planning. MORE Beach." in reddish-pink letters certainly stands out.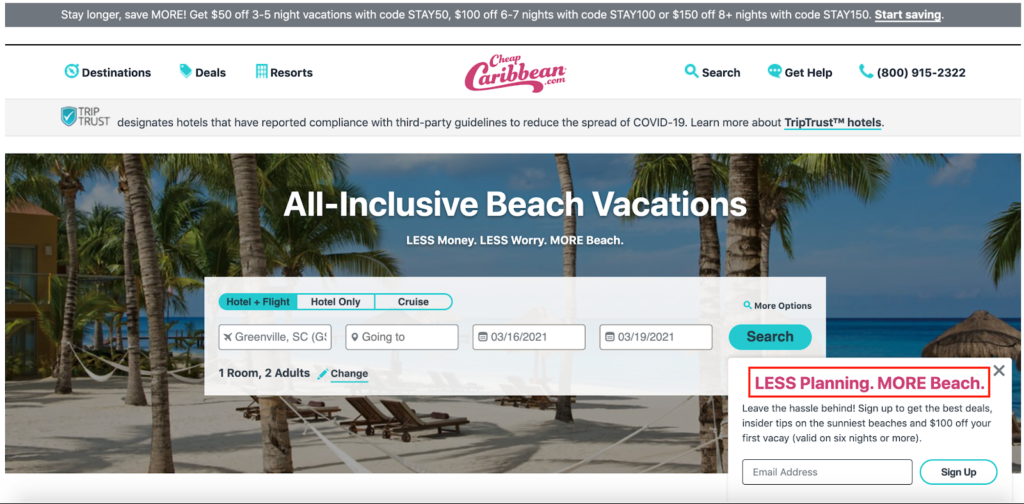 And the concise paragraph below that does a great job of explaining the benefits readers get by signing up to the CheapCarribean.com newsletter.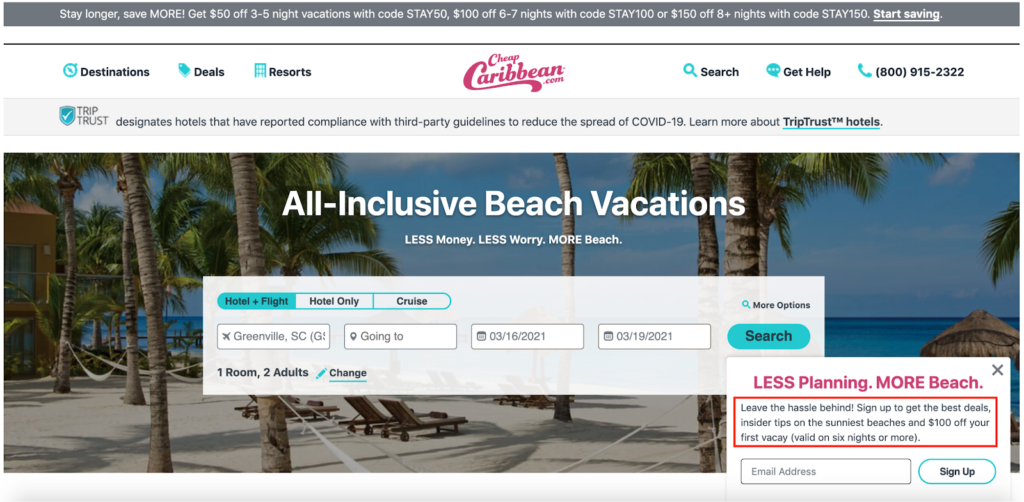 They get the best deals, insider tips, and $100 off their first vacay. Nice! I like this popup because it's so simple and because it's got the "firepower" needed to get the attention of visitors.
Aesthetically it looks great, and even though it's a small popup in the corner, the text and other elements are spaced out to not look cluttered. If you use the classic search box above-the-fold on your travel agency homepage but still want to inject a popup, this is a smart approach to take.
7. All Inclusive Outlet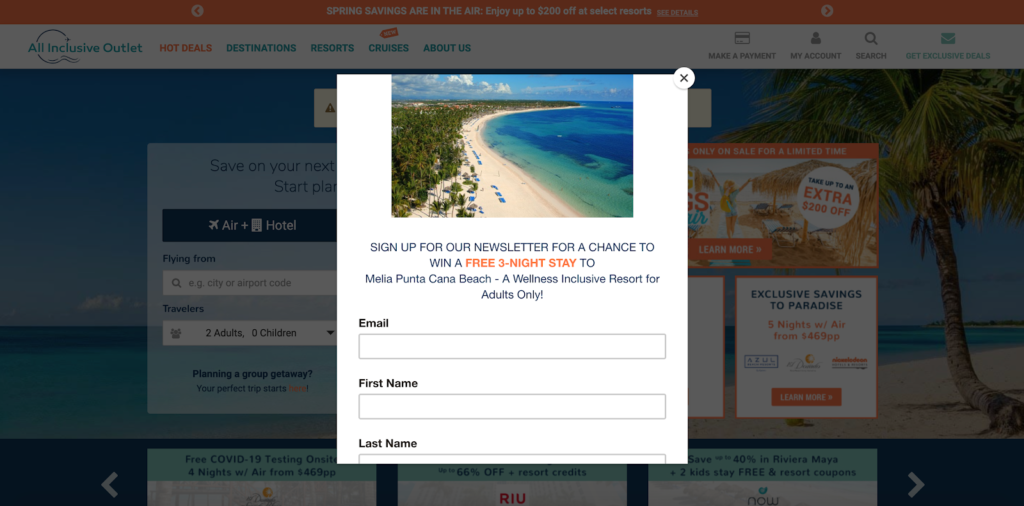 My final example is from All Inclusive Outlet—an agency that allows customers to "choose from 400+ world-class resorts, shop exclusive deals, and book a discount all-inclusive vacation today." It's very straightforward, asking visitors to sign up for their newsletter.
But their offer is a definite attention grabber that trumps what many of their competitors are doing. Here All Inclusive Outlet gives subscribers a chance to win a free 3-night stay at Melia Punta Cana Beach. One of the premier destinations in the Dominican Republic.
This popup features a beautiful image of the beach, which instantly helps visitors connect the dots, and the signup form gets right to the point.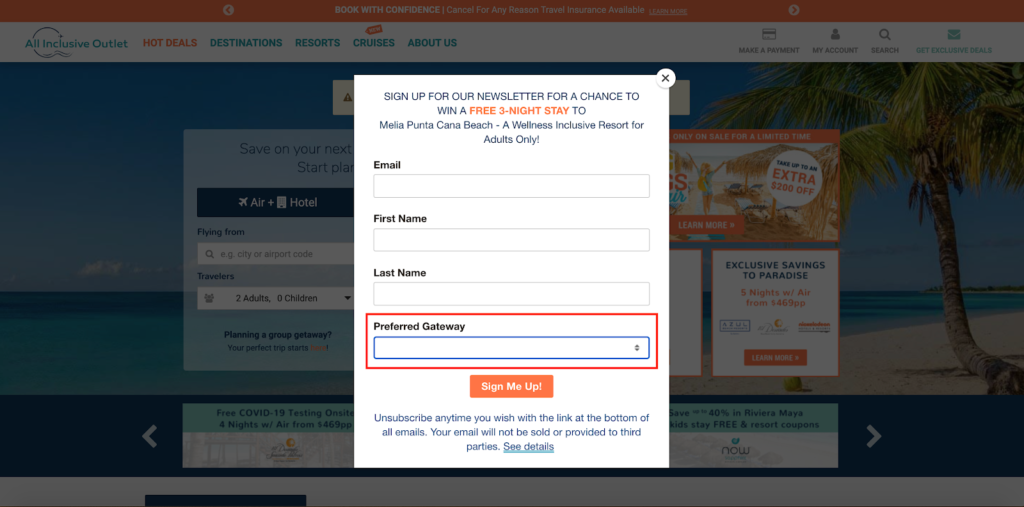 And to ensure their email offerings are personalized, All Inclusive Outlets uses the "Preferred Gateway" drop-down where subscribers can choose the primary city they'll be travelling out of.
As I mentioned before, personalization is everything in the travel industry. So, anything you can do to make the visitor experience more personalized is going to have a positive impact.
Conclusion
The travel industry is a competitive one. As of early 2021, there were over 66,700 travel agencies in the US alone. With a total business growth rate of 19.2 percent.
The traffic that you bring to your site is precious, and you want to make sure to direct visitors to your key offerings and give yourself a chance to nurture leads that aren't ready to convert right away.
Popups are far and away one of the best ways to go about this and allow you to quickly get visitors up-to-speed. The travel agency popup examples I've highlighted here show some specific ways to compel visitors to engage and get them to take action.
And you can use these ideas to create your own winning popup.