It's a dilemma for most online marketers… You want to capitalize on the rise of mobile traffic, in terms of conversions … but you also don't want to give mobile users a bad user experience or violate Google's interstitials guidelines.
The good news is, converting mobile users and staying on Google's right side doesn't have to be mutually exclusive—you can "eat your cake and have it too."
So, with that said, here's how to convert mobile visitors into subscribers without hurting the user experience.
Table of Contents
1. Promote Product Categories (Georg Jensen)
Most online stores have multiple product categories. This is straightforward when browsing on desktop, but on mobile, it's harder to navigate due to the limited screen space.
One solution, then, is to simplify mobile browsing by using a popup to guide users to popular product pages.
Georg Jensen Damask, for example, shows mobile users a "teaser" in the bottom left-hand part of the screen. When users click it, the retailer invites users to explore their tablecloth selection.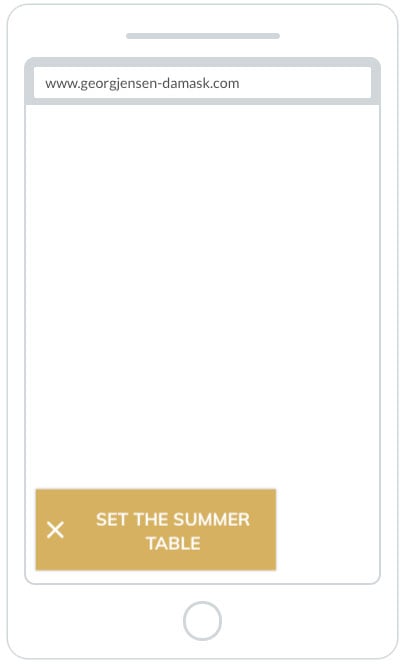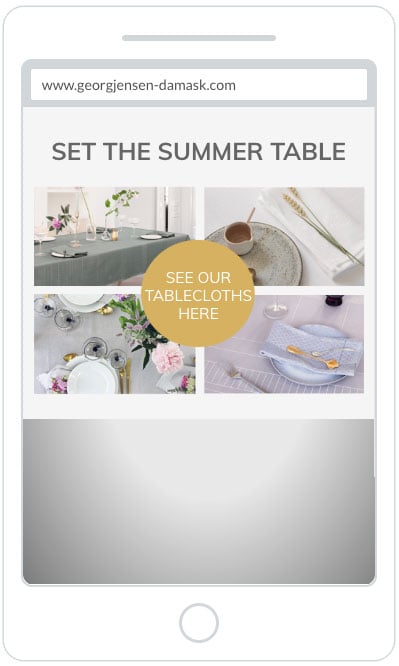 Georg Jensen Damask prides itself on luxury products with stylish designs, and as you can see in the popup, they put a lot of focus on creating inspiring product images.
When you sell high-end products, like Georg Jensen Damask, you can assume visitors want inspiration for how to best use the product they're looking at.
With this type of popup, Georg Jensen Damask teases their products with four different product images—each with a different style to cater to the visitors' individual preferences.
It's sometimes difficult incorporating product images into your mobile popups given the limited screen size. But Georg Jensen Damask shows that it can be done in a beautiful, simple, and elegant way–without hurting the user experience.
2. Size Guide (Matalan)
During the fourth quarter of 2017, 24 percent of all digital e-commerce dollars were spent via mobile devices.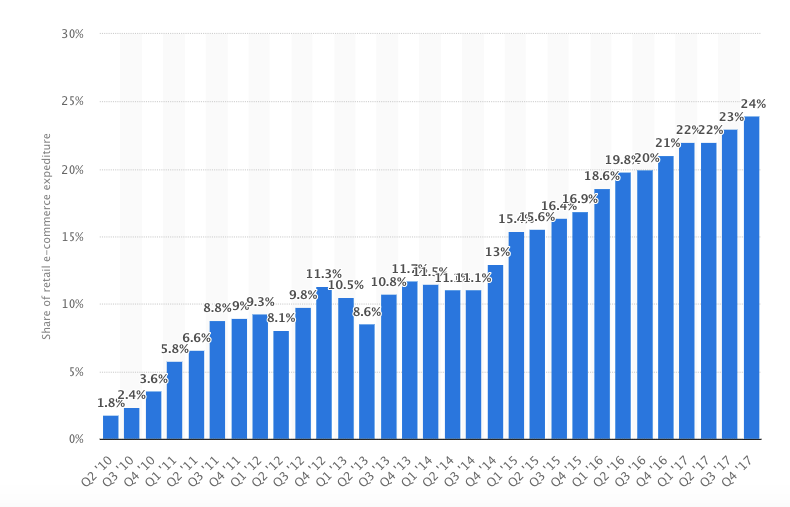 But asking mobile users to buy is not a given. The more visitors have to click on mobile devices, such as on product pages, the more likely they will jump ship before making a purchase.
To minimize the number of clicks on mobile, try offering an integrated size guide on your product pages.
That way, potential buyers avoid having to return to a page they were viewing to find their right size.
With an onsite campaign triggered by a click, you can show a size guide on a product page and allow users to close it when they're done with it.
With this strategy, Matalan reduced the number of clicks it takes to find the right size to two. (Notice the placement of the size guide button above the "Add to Bag" button.)
The placement of the size guide button is clever because, on mobile, we move our eyes from top to bottom as we scroll. So, when you've clicked the size guide and found your size, what's the next thing you see?
The add to cart button, making the user journey smooth and intuitive for the visitor.
3. Promote a Sale (Skoringen)
You know the importance of creating hype when hosting a sale on your site.
Just think about Black Friday. Why do people line up hours ahead of opening hours?
Because they were told to do so.
Maybe not directly, but when you tell people there's a sale going on, it automatically triggers their FOMO.
That's the kind of hype you want to create with any sale on your site. There's a simple way you can drive more traffic to your sale on mobile and that's using a sticky bar.
Skoringen, for instance, invites mobile visitors to check out their summer sale: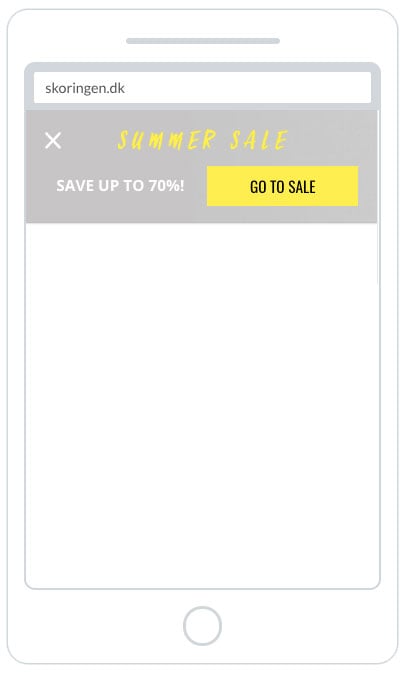 The sticky bar contains all the necessary information needed for visitors to take action: a catchy headline, supporting copy, and an actionable call-to-action button.
And the best part?
The bar only covers a fourth of the screen space, making it Google-friendly.
4. Offer a Discount (Lyckasmedmat)
So far, we've talked about how to amp up mobile sales.
Now it's time to take a look at how to convert mobile visitors who aren't ready to buy yet.
While there are several ways to ask for an email address, one effective strategy is to combine a discount offer with urgency as Lyckasmedmat does on their mobile site: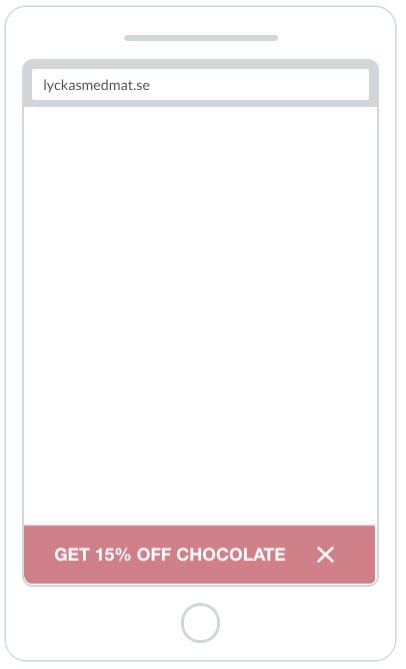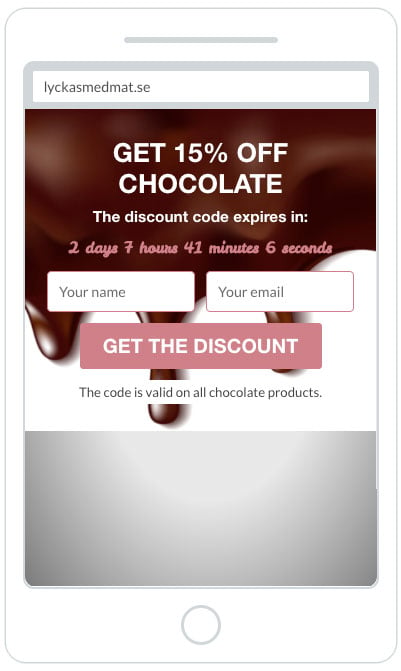 The teaser creates curiosity ("15% off chocolate"). Then, when mobile visitors click to learn more, they see the details of the offer and how long they have to claim it before it expires.
By adding a countdown timer to their mobile popup, Lyckasmedmat triggers FOMO and increases the likelihood of visitors signing up.
It also makes the offer more exclusive due to the time limit.
5. Host a Giveaway (In-Italia)
It's no secret that everyone loves free stuff.
And giving an email address in exchange for a potentially high gain is a small price to pay. (Why do you think people pay to join the lottery?)
There's no guarantee you'll win, but the slight possibility is enough to convince almost any online shopper to try.
Travel agency, In-Italia, knows that their mobile visitors love traveling. But they also know that buying a vacation is not something they do spontaneously.
So, they host a vacation giveaway to invite their mobile audience to sign up for their newsletter: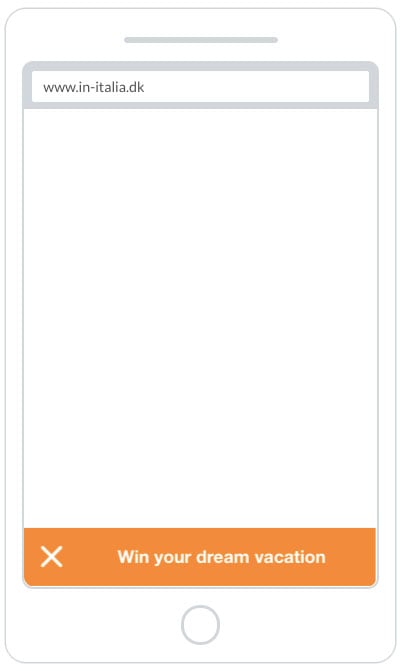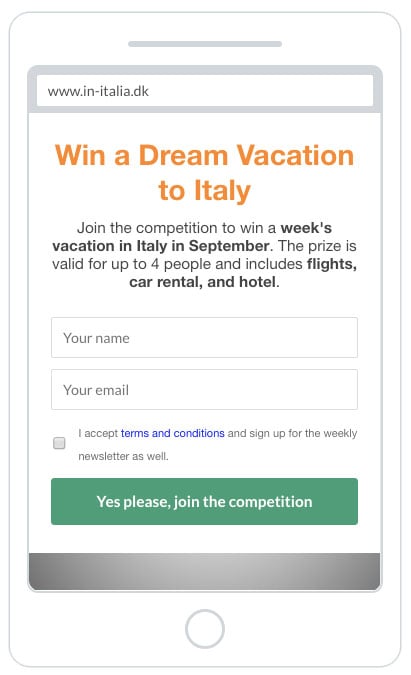 When opting in via a giveaway, visitors are likely to imagine what it will feel like to get their hands on the prize—regardless of what you're offering.
That means the people who joined the competition are more likely to buy the product they could have won (or another product) if you send them an offer right after the competition ends.
So, remember to follow up by email with everyone who didn't win. By offering them a chance to win and visualizing the prize, you've shortened the journey from idea to action.
6. Get Insights (Copenhagen Airport)
Asking for feedback isn't always easy.
But it is necessary.
Getting insights on products and features from the people using them is the only way to find out how to improve (and there's always room for improvement).
Feedback is especially important when it comes to mobile.
With the limited screen space, it's harder to build smooth mobile experiences. So, when you do, make sure you get feedback from your visitors.
You can do as Copenhagen Airport, and ask your mobile visitors to rate their experience and comment on it: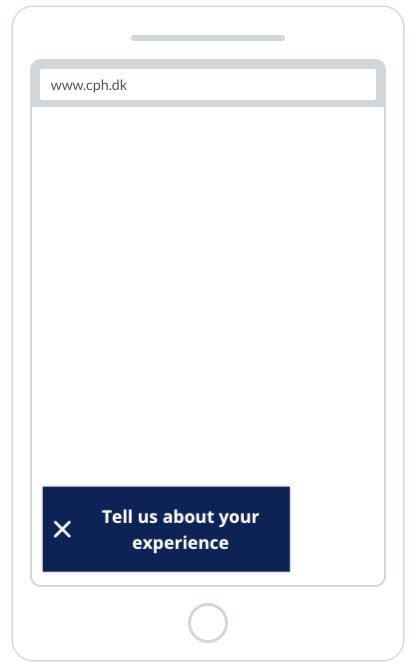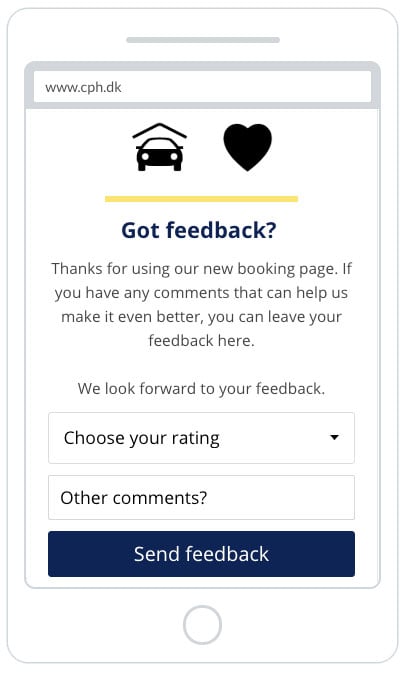 They recently launched a new booking page and wanted to know what their mobile visitors thought of the new page.
With a simple dropdown and comment field, mobile visitors can quickly add their rating and write a comment without having to go through a third-party survey page.
When you're collecting feedback, the fewer clicks users have to make, the more likely users are to give feedback.
It's not just clever, it's effective.
7. Offer Support (Lynton)
There's one problem all online marketers experience sometimes:
Technical issues.
Whether it's a button that doesn't work, a bug in your checkout flow, or your entire site succumbing to heavy traffic, we've all been there—and if you haven't, you will in the future.
What's important is what you do about it when it happens.
You let your visitors know you're having issues, of course, and that you're working to fix it.
Here's how Lynton handled a problem they had with their telephones: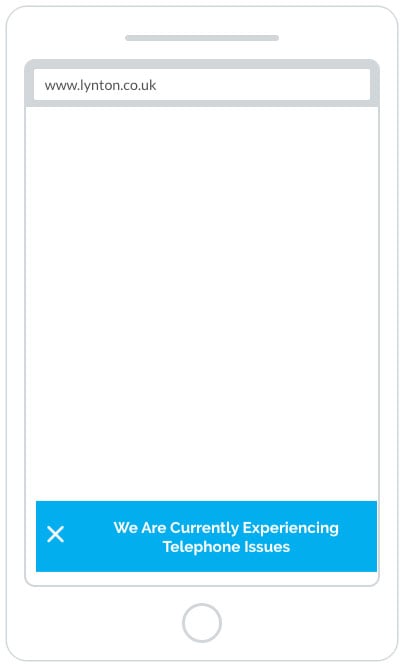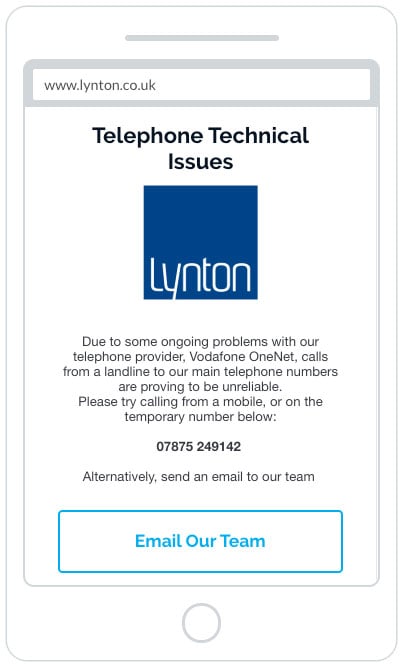 They're not only transparent and give visitors a heads up, but they also provide an alternative solution while they're working to fix the problem.
With the lack of patience mobile users have, it makes a world of a difference when you're upfront and let visitors know what's happening.
8. Promote Social Channels (WoodUpp)
Social media and mobile go hand in hand.
Ninety-six percent of US Facebook users access through mobile and the same goes for 91 percent of Danish Instagram users.
That's why a lot of e-commerce businesses use social media to drive user engagement.
In many cases, social channels are used to drive traffic to your site. But it also works the other way around.
For example, if you sell products that have a long decision stage, first-time visitors are most likely not ready to buy yet.
So, if you sell products, you can assume first-time visitors are looking for inspiration. They're trying to determine whether the product is right for them. And that's where it makes sense to send mobile visitors to your Instagram profile (or other) to get inspiration.
Here's how WoodUpp encourages new mobile visitors to follow them on Instagram: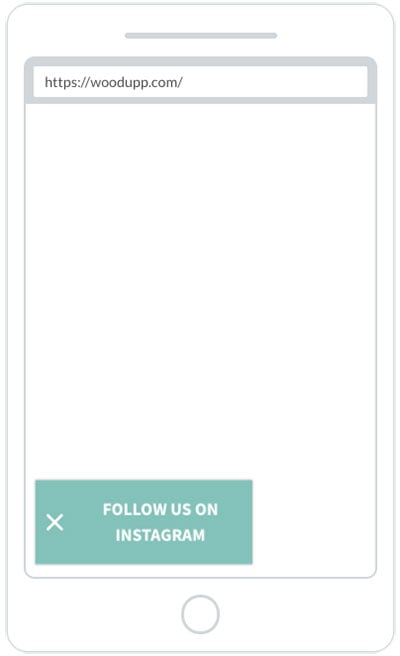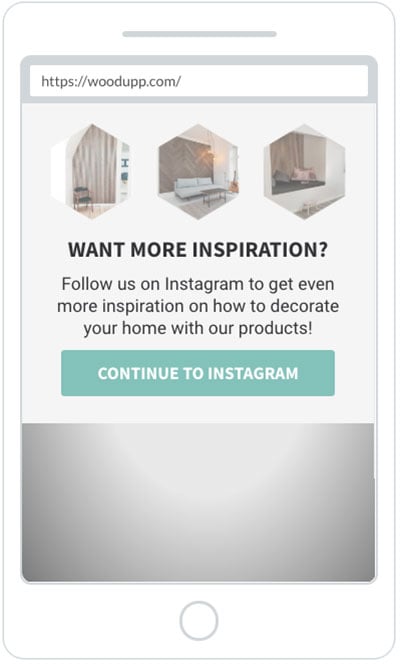 On their Instagram profile, they showcase beautiful product images AND encourage customers to share photos of the products they've bought for social proof.
When you inspire, you'll also be the first brand potential buyers think of when making a purchase decision.
And if you use this strategy, make sure to have a link to your site in your Instagram bio.
Conclusion
With online businesses vying for mobile consumers' attention, it's becoming more important for marketers to capitalize on the growing mobile traffic.
Mobile popups are not a thing of the past. They're very much part of the future. And if you want to engage your mobile audience it's time to jump on the bandwagon.
Don't be afraid of Google. When you customize your popups for mobile, you'll better the mobile experience on your site and your mobile visitors will thank you for it.