Every SaaS startup on earth wants more "buzz" and attention. After all, once your website is built to capture leads, what's better than getting a flood free traffic into your funnel?
Perhaps you've planted yourself in the social media garden, and started sharing content – but there are so many other companies vying for people's attention, it's hard to build an audience.
That's why your social media posts need to offer something irresistible. It's not enough to just put your name out there – you need content that will delight, excite and invite people, and drive the traffic right to your website.
In this post we reveal seven types of social media updates that'll help you acquire users and grow your business.
Let's dive in.
1.      The Entertaining Company Video
Creating video content is easier than you may think. If you're going to take the trouble, then make sure the video isn't boring – add something that will make people smile and remember your brand.
The folks at HootSuite are veterans of the social media game and know a thing or two about how to attract visitors with video. The startup had record-smashing results with one of their promotional videos, in which they took the opening sequence from the popular Game of Thrones TV series and morphed it into A Game of Social Thrones.
While producing the video was costly, the end product was entertaining enough to garner thousands of shares within days and boost their marketing results significantly.
2.      The Weekly Series
Give people an irresistible urge to keep coming back to your site by constantly providing really useful information. A regular, weekly series related to your SaaS audience can provide a lot of value. If your advice empowers and educates people, your traffic and (and goodwill with leads) is sure to grow.
Break the information up into bite size segments, and choose some of the most striking and valuable bits to post on Facebook, Instagram and Twitter. Make sure your title is specific – showing exactly what reading the update will provide.
Visitors who take the trouble to click through to your page should be rewarded with something useful as promised, instead of just another sales message. In this way you will build your brand into a trusted authority and win the long game of entrepreneurship.
Here at Drip, we publish a weekly Funnel Hack Friday series, showing founders and growth hackers how to grow their business with marketing automation. A regular weekly series takes work to maintain, and therefore, stands out in the world of "me too" social media content today. Consider trying a simple weekly Twitter or Periscope Q&A at the same time every week, and give your audience something to look forward to.
3.     The Share-worthy Visual
Content with relevant images gets 94% more views than content without relevant images. (Source)
In the world of social media marketing, original photos, charts, and infographics are often called "visual assets." These posts are more than just eye-candy. A striking image or infographic is an asset because it can generate traffic, shares, and links to your website for years.
Below a fantastic infographic from KISSmetrics, a B2B software company. And as we'll discuss in a minute, it's never been easier to create stunning visual assets without breaking the bank.

Source: Email Marketing is Changing
Images shouldn't just be visuallyattractive. They should also encourage readers to share the post and find out more.
When done right, an infographic can rack up hundreds or thousands of shares, although some do argue that it's just an annoying fad. Fad or not, to quote Forbes:
"When your content is compelling, design can and should be used to communicate this content along with your audio, written, interactive, and video content."
It's often true that 'simpler is better', so you don't necessarily need to be a design pro. If you've got a good graphic idea, you can use a free web app like Piktochart to create simple infographics from their templates.
4.      The Social Survey
This one is a secret weapon among social media experts who get results.
Instead of constantly sharing your own content, you can use social media to engage your audience, and even crowdsource ideas for new integrations, software features, podcast guests, UX concepts, or marketing campaigns.
Justin Brooke, founder of IMScalable, uses the "social survey" masterfully to engage his audience and give them an actual voice in his content strategy.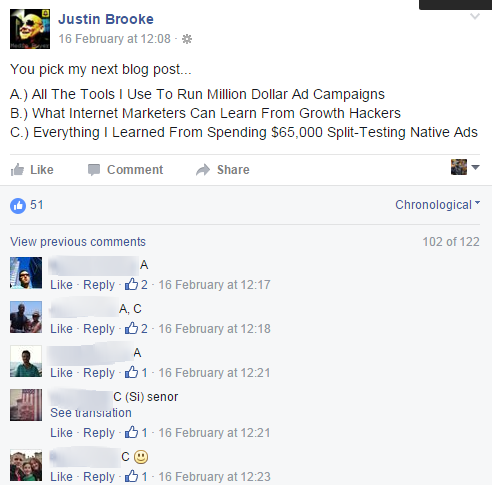 You'll rarely get this kind of engagement by posting a regular link to an article.
Pro Tip: when your Facebook posts bring in a lot of engagement, Facebook rewards you by increasing the organic reach of your future posts.
According to Neil Patel (via Shortstack):
"If posting a great quote brings in 25 likes and 30 shares, those people are most likely to see the next post that your business puts up."
Make social surveys a regular part of your social strategy, and you'll get more traffic and new followers from ALL of your posts.
5.       The Curated Resource Guide
Put together a list of resources to help convince people that you're there to help them (and not just to lure them into another sales pitch). If you've taken the trouble to sniff out the best tools or resources for your own company– why not share them on your next update?
It's important to make sure your links are all valid and working, and take the trouble to rate or briefly describe what the resource can offer. Your hard work is bound to pay off and build massive goodwill among your leads, who are saved the trouble of buying bad products or sifting through reviews to decide.
If you're still not sure what to share, you can always ask visitors what kind of information they're mining for. Use a tool like Qeryz to learn what problems your readers are struggling with. Then put together a list of recommended tools to help solve them.
6.      The Interactive, Shareable Quiz
Interactive quizzes have become a gold rush on Facebook. The fact that they're interactive and that you can compare your results to those of your friends makes them very share-worthy.
An article in the New York Post states a shocking statistic:
"The most popular quiz — 'Which State Do You Actually Belong In?' – has generated about 41 million page views."
The article hypothesizes that these quizzes are massively popular because we have an instinctive need to compare ourselves to others. Then again, perhaps it's just a way to kill time – or add a little humor to an otherwise boring day. Whatever the cause, the right quiz can gain a lot of traction in your space, while adding genuine value to people in the answers you show them.
Creating your own shareable quiz has never been easier with services like Qzzr (from Buzzfeed), Interact, or Quizworks.
7.      The Inspirational Post
Countless studies have shown that people are more likely to share something with a positive and inspirational message than a negative one. Who doesn't want to share a little joy with their friends?
Your own inspirational post should align with your brand. And you'll likely need to brainstorm a few ideas before you nail the concept.
Has your SaaS product helped any of your customers go from metaphorical rags to riches? Has your company overcome the odds to achieve an inspiring outcome? Do you have a greater overarching mission?
Use these ideas to generate social media updates that make people feel good, and associate those good feelings with your brand.
Conclusion
If your social media isn't generating the interest you'd hoped for, don't give up. Maybe the problem lies in having a cohesive strategy.
Use the ideas in this list to upgrade your updates from 'mildly interesting' to 'irresistible'. Attract the eyes and the imagination of people with the perfect social media updates, and you'll find the buzz around your startup growing by the day.
Question: What was your startup's most popular social media content of all time? Let us know in the comments.