When used correctly, website popups can be extremely powerful.
Not only for collecting emails, but also for turning visitors into first-time customers, and buyers into repeat purchases.
With targeted website popups that offer visitors an incentive, such as a 10 percent discount or a valuable lead magnet, you can grow your email list with quality leads.
This gives you a chance to continue the conversation with email marketing and turn subscribers into customers.
And if you're one of the 270,000 e-commerce sellers who chose Magento for their online business, you're in luck.
I've made a list of some of the best Magento popup examples to make sure you don't lose out on any more customers.
Table of Contents
1. Timberland
If you like good shoes, you've probably heard of Timberland.
Owned by VF Corporation, Timberland is marketed towards people looking for high-quality, durable footwear appropriate for the outdoors.
If you want a customer to submit their personal information willingly, you need to prove the value of the action you want them to take, and Timberland understands this.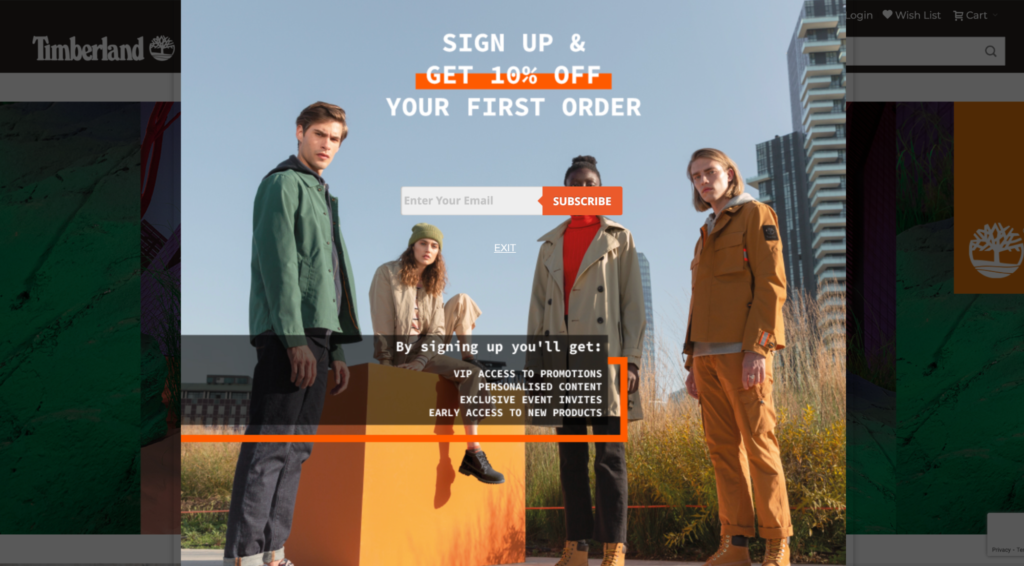 It clearly mentions the benefits of signing up for the Timberland newsletter to entice visitors. Moreover, the whole thing is summed up in four short bullets that use power words such as "VIP access," "personalized," "exclusive," and "early access."
That's not it. Timberland also leverages high-quality visuals to boost its popup conversion rate. This makes sense considering popups with images convert 83 percent better than popups without images.
If popups with image backdrops aren't your cup of tea, you can combine a solid-color background with an image, as Timberland does on its Dutch website: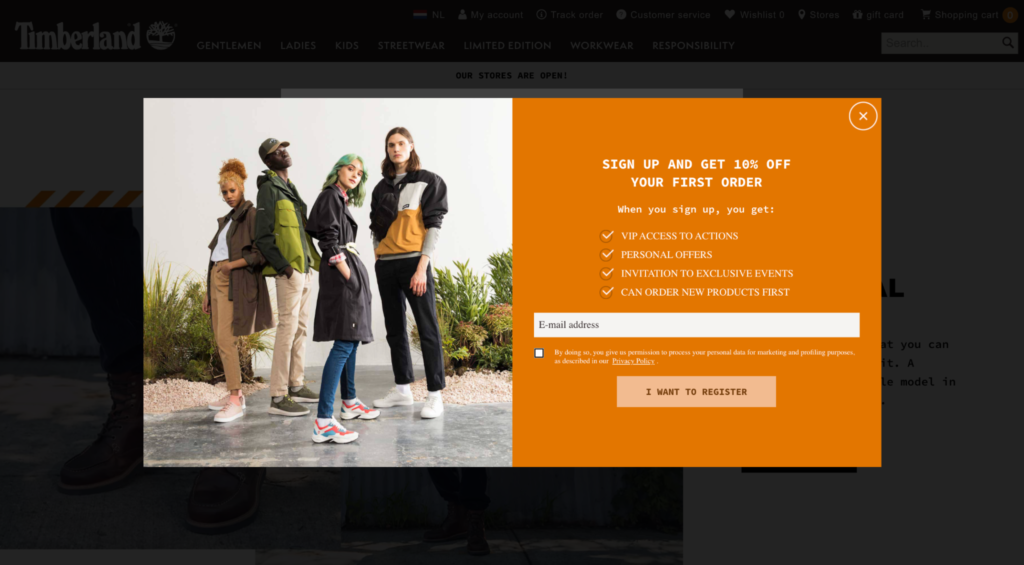 This email popup has an aesthetically-pleasing image on the left and a solid color background for the newsletter benefits. The rest of the popup elements remain the same as the previous one.
2. Sigma Beauty
Sigma Beauty strives to transform your beauty routine, and its website doesn't disappoint, too.
Many consider Sigma Beauty as one of the best Magento websites because of its design aesthetic and navigability. While these factors stand true, I really like how the beauty company uses a discount popup so well.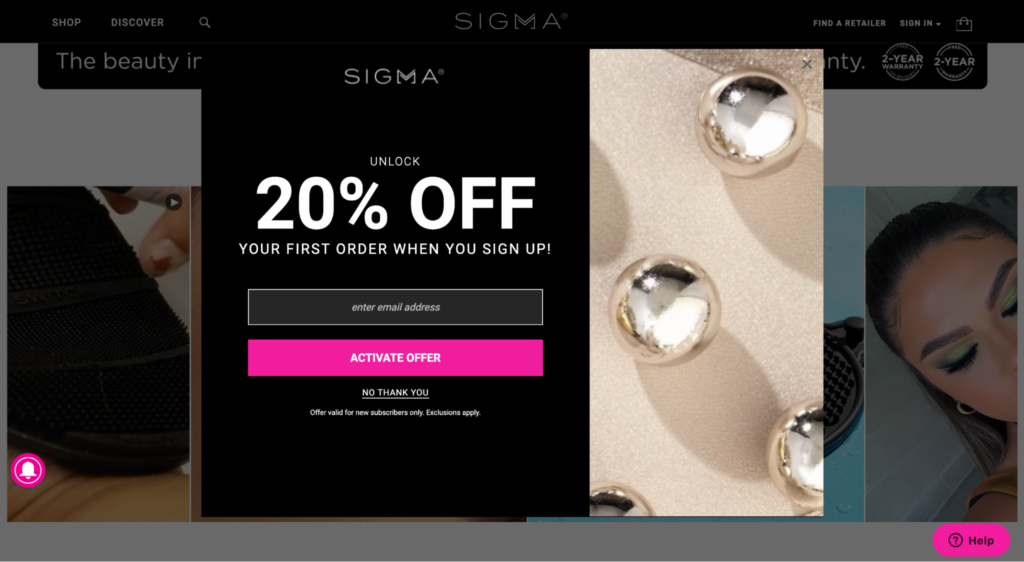 Right off the bat, there are three important things about Sigma's popup:
It gives you an incentive to sign up: a 20% discount on your first order.
It spells out exactly who the offer is for: only new subscribers can use the discount.
It asks for minimal information: shoppers simply have to enter their email addresses to unlock the offer.
In our research, we found that having fewer input fields in your popups can lead to more conversions.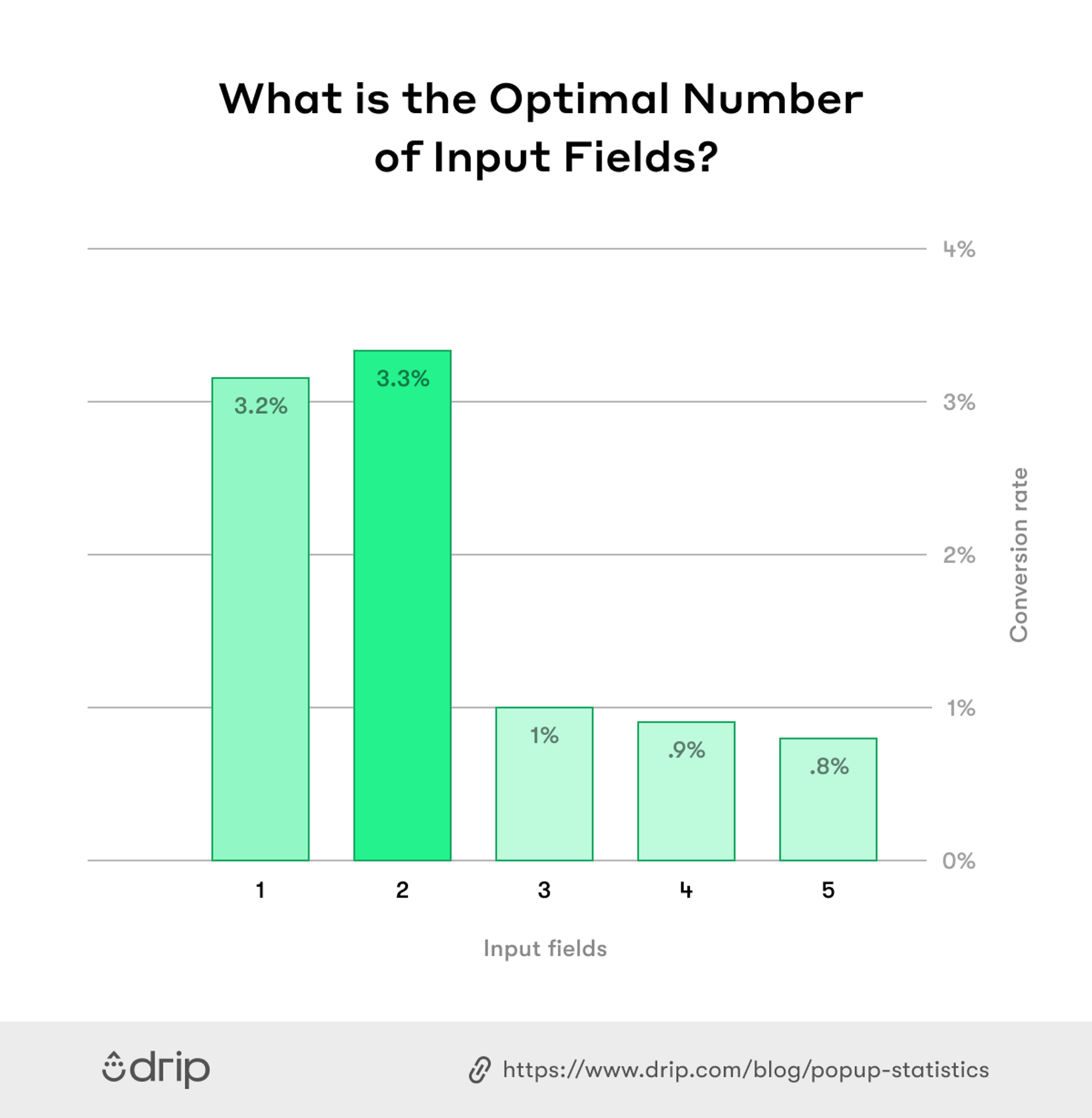 With a consistent font and color scheme, making it pleasing to the eye, and a contrasting CTA button, the popup instantly catches the visitor's attention.
All in all, Sigma's Magento popup proves you don't always have to go over the top to highlight your offer.
3. Graze
Graze aims to reimagine snacking by giving it a healthy twist.
To boost its sales, Graze uses a sales promotion popup that appears on your screen as soon as you add any snack to your cart.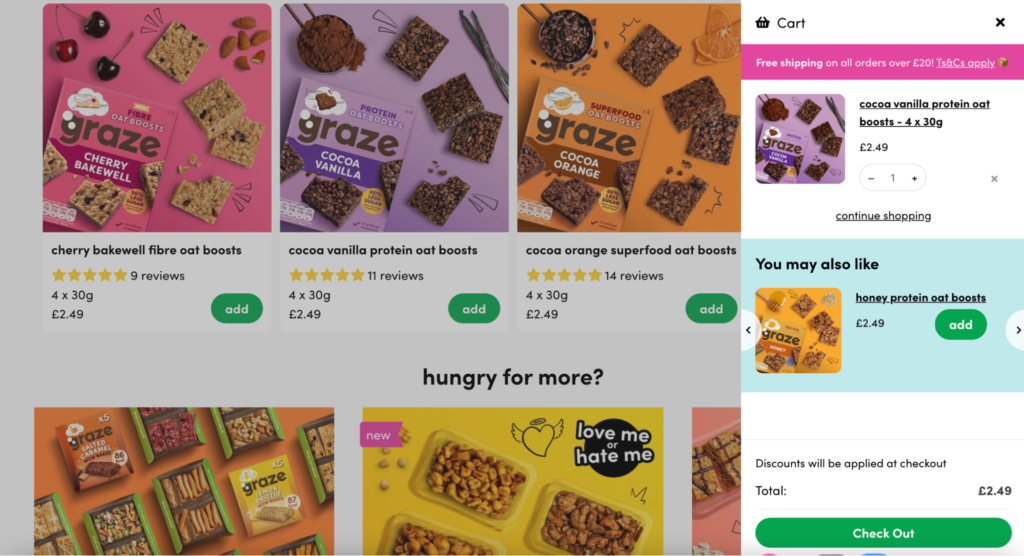 This is smart since cross-selling only works as intended if you do it at the right place and at the right time. Otherwise, you'll end up with an annoyed visitor who might just abandon your store altogether.
Graze's popup has a scrollable "You may also like" section that shows four additional snack options with the same price point. Showing similar or relevant items, as Graze does, can increase your average order value, contributing to a successful cross-sell campaign.
A compelling incentive in your Magento popups, whether it's a free sample, free shipping, or a free product, can also help get customers to spend more without hurting the user experience.
4. Christian Louboutin
Next on our list of Magento popup examples is Christian Louboutin, the luxury shoe brand that branched out into handbags, fragrances, makeup, and men's footwear.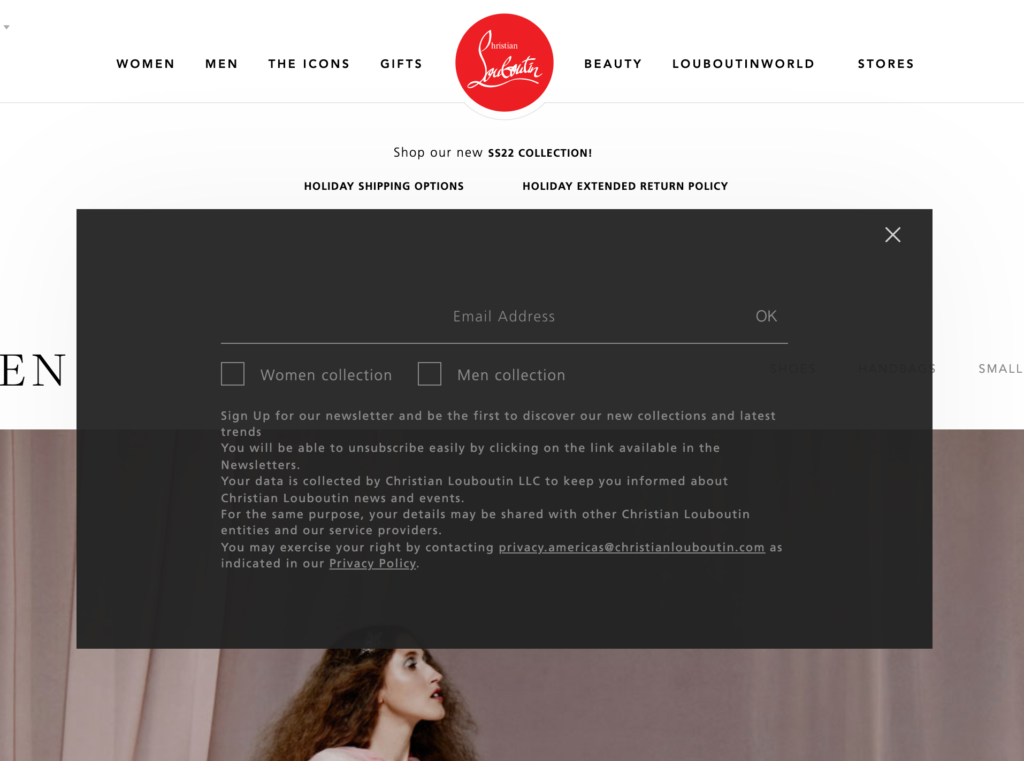 Surprisingly, Louboutin's website popup design is quite basic.
All it asks its visitors is to enter their email addresses and specify whether they want to receive updates about the women's collection or the men's collection.
No complex design elements. No stroke of its iconic red hue.
Admittedly, I have seen better-looking popups. But the main reason why I chose it is to emphasize the importance of transparency.
Louboutin's popup tells the shopper what to expect (updates about new collections and latest trends) and assures them they can unsubscribe from the newsletter later. More importantly, it explicitly informs the shopper their data is being collected and may be shared with other Christian Louboutin entities and service providers.
While the popup may not stand out for its design, it wins my trust by being transparent. For an e-tailer, winning the customer's trust is critical. Not only does it contribute towards repeat purchases, but it also builds credibility.
5. Lamin-X
Lamin-X provides an entirely new market of lens, paint, and surface protection to the automotive aftermarket products industry.
Lamin-X also has two unique popups on its site. The first popup is a cart summary: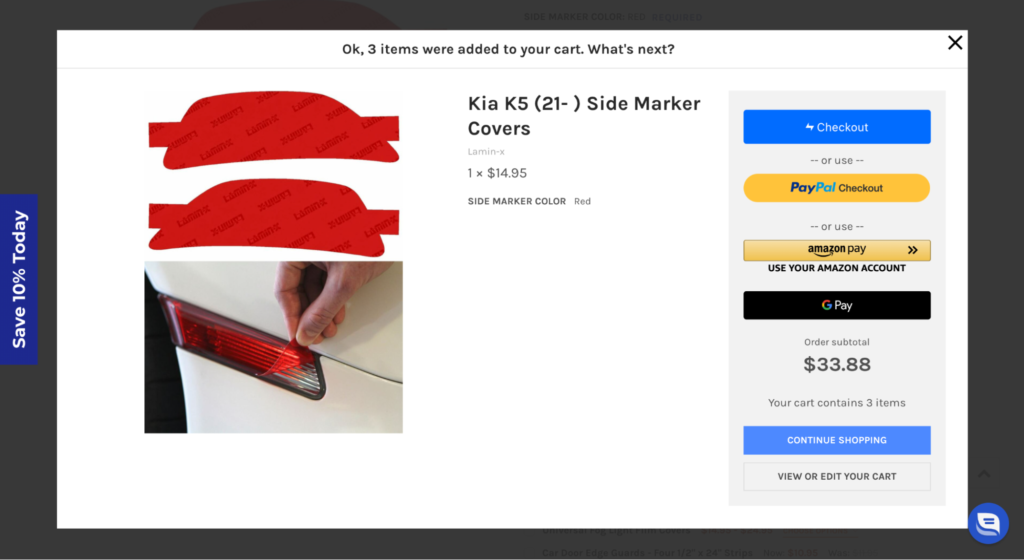 The modal appears every time you add an item to your cart, showing you the last item added to your cart and the order subtotal. Other shopping cart options like "Checkout" and "Continue Shopping" are also part of the popup.
A discreet yet enticing discount offer pops up on the left-hand of your screen. This second popup appears when you click the teaser: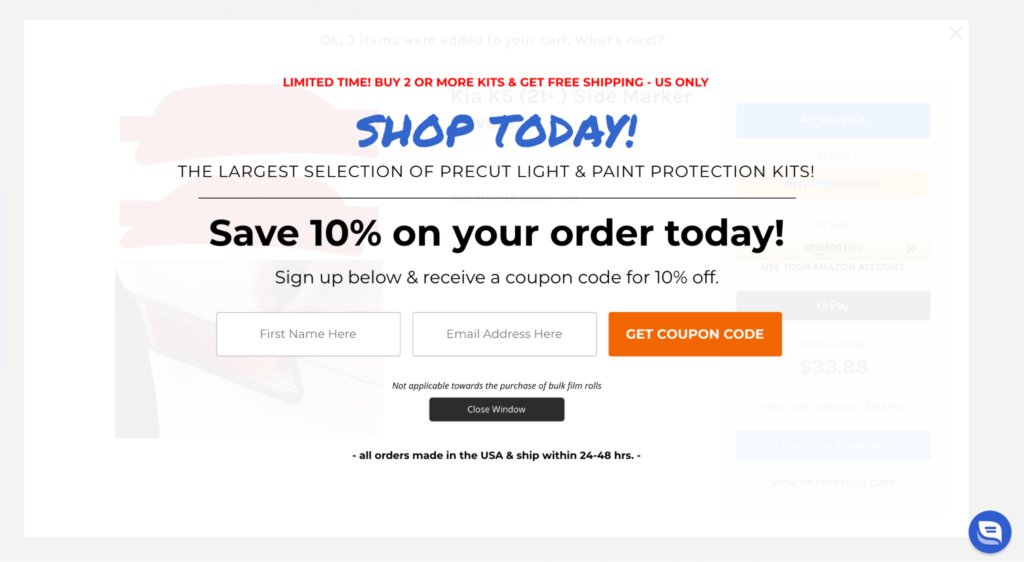 This popup gives visitors a subscriber-only discount offer. To get the 10 percent discount coupon, you'll have to enter your details and click the "Get Coupon Code" CTA, after which you'll receive an email from Lamin-X containing the exclusive coupon code.
The popup also hints at additional offers offered by the company and explains terms and conditions concerning the coupon and free shipping. Doing this can prevent any misunderstandings down the line.
As I mentioned before, customers value transparency. So, be sure to make your offers and incentives as clear as possible.
6. Helly Hansen
Last on my list is the popular Norwegian sportswear brand, Helly Hansen.
Like its range of sportswear and workwear, Helly Hansen's popup doesn't disappoint.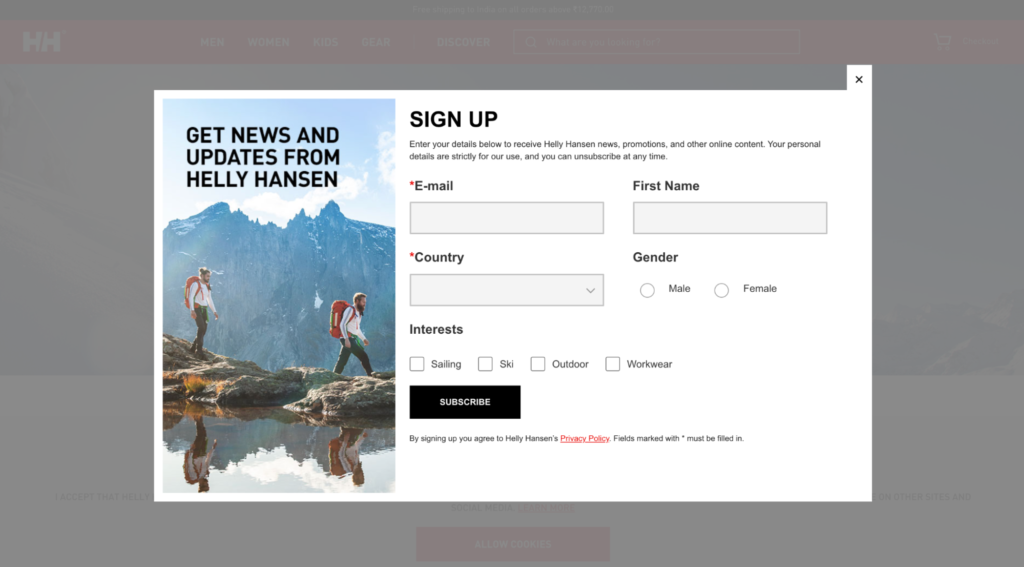 Compared to my previous examples, Helly Hansen's newsletter popup has more input fields. But if you look carefully, you'll see that not all fields are mandatory.
Visitors can simply enter their email and country to subscribe to Helly Hansen's newsletter. Filling in all the fields will give them personalized recommendations, promotional offers, news, and other online content about Helly Hansen.
Other than this, the popup follows the usual popup optimization best practices, such as adding a relevant image, including subtext that assures users their data is safe and that they can unsubscribe any time, and a uniform color palette.
While the CTA button catches your eye and is well-placed, I would choose something more impactful and urgent. More so because of the popup's straightforward look and to-the-point text.
Phrases such as "Get Exclusive Access" could work better than a simple "Subscribe" to get more signups.
Conclusion
Every website visitor is unique. They have different tastes and preferences and are in different places in the buyer's journey.
Your job is to help them throughout the way, removing any friction that could possibly stop them from moving to the next stage.
Luckily, onsite campaigns like the above can help—provided you use them well.
I hope this roundup of the best Magento popup examples has given you some useful ideas to help you achieve that. Take inspiration from our above list and create popups for your own Magento site today.