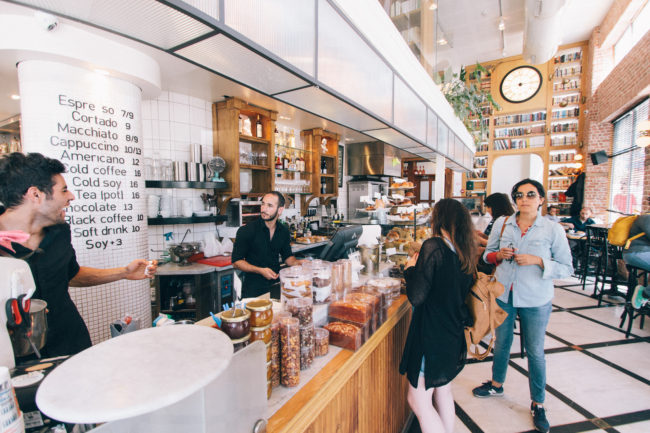 Any good entrepreneur is almost always subconsciously geared to attract new customers. That sales funnel is constantly a priority – after all, more customers means more income. Much time and thought goes into that one activity – which is only natural, because it's vital.
But how much thought and effort do you invest in your Customer Lifetime Value (CLV)?
There's usually a cost to acquire new customers. Even if you're not spending a fortune on advertising, it still takes time and dedication to reel in new prospects and seal the deal. And not all of those new customers will necessarily bring the same value once they're on board.
Getting the most out of the customers you already have and extending the length of your mutually beneficial relationship can be far more rewarding than looking for new ones. Loyal customers will continue to bring in revenue, and nurturing them is an intelligent way to secure and increase your profit. It's a strategy that will pay off in the long run.
This post reveals five practical ways to turn one-time buyers into loyal customers that will continue to add value to your business.
1. Take a Personal Interest in Your Customers
Do some digging to find out what matters to your best customers, and what they enjoy. They're people, not just statistics, so taking an active interest is the first step to building a lasting relationship. Try to determine what kinds of things really push the buttons for your ideal customer.
There are lots of ways to accomplish this. Browsing their social accounts is a good place to start. Pay attention to what your customers are talking about, reading, and liking online. Otherwise, you can always add a questionnaire to your web page or email newsletter. Ask them what kind of content they would like to get from you, and then respond accordingly.
Author and investor James Altucher takes a personal interest in his audience by hosting a free Q&A on Twitter every Thursday.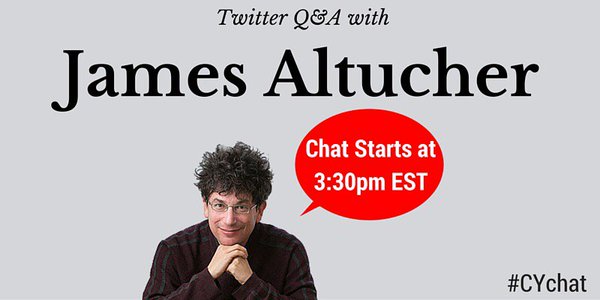 Consider having your co-founder or Head of Customer Success host weekly live Q&A chats with customers on Facebook Live or Blab.
An easier way to take a personal interest in your customers is asking a direct question to your welcome email. Include: "hit reply and tell me your #1 challenge right now with [problem you solve]." When you take the time read and reply to emails, your customers will take notice, because so few companies do this.
If you can then become a source of information and insight, and offer something that delights your customers, you're off to a perfect start.
2. Upsell Complementary Products and Services
McDonalds will always urge you to upgrade your burger to a meal, donut shops sell coffee, and toy stores sell batteries. It's not a new tactic, but it works. Upselling and cross-selling to existing customers is often less hassle, and cheaper than finding new customers.
Think of ways to complement what you're selling. Give your customers something extra, something that the competition hasn't thought of offering yet. Try to diversify what you're selling –  you can use one of the following tactics:
Offer bundle packages at a discount.
Create a complimentary information product such as an e-book or short course.
Form an alliance with related businesses that offer commission structures or finder's fees.
According to RJMetrics in The Secret to Growth and Scale in SaaS, "companies in the $40-75MM revenue range attribute twice as much new revenue to upsells as the median company."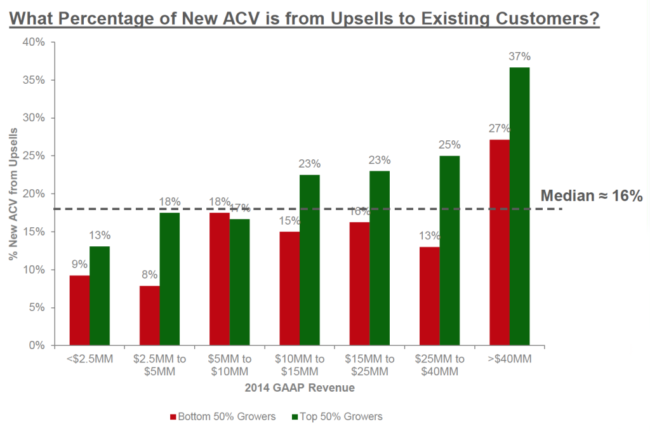 Take a minute to absorb the above graph. It shows (arguably) the most untapped opportunity any business.
In this graph, we see a clear link between how much of a company's new revenue comes from upsells, and the company's rate of growth overall. In other words, one of the secrets to high-growth SaaS businesses is that they grow by upselling a lot of existing customers–not just by gaining new customers at the ground floor.
The same is true for many industries. If you sell courses and ebooks, maybe you can add one-on-one Skype coaching at $500/mo. Or if you're a SaaS startup, add a premium plan with extra features and support for corporate clients at $1,000/mo.
No matter what industry you're in, begin brainstorming high-ticket products or services you could offer. A portion of your existing customers will buy.
3. Offer a Long-Term Reward for Lifetime Loyalty
Zane's Cycles from Conneticut offers loyal customers an irresistible deal – owner Chris Zane says: "I'll give you lifetime service, guarantee you the lowest price, and fix you a cappuccino." It's a tactic that worked for him. His customer lifetime value numbers shot up, and his approach turned out to be a wise business move. It's an example that we can learn from, even if we're not selling and servicing bicycles.
According to an insightful study conducted by the Harvard Business Review:
Any company pursuing a strategy of grabbing customers as quickly as possible without regard to their potential for long-term relationships is in for a very bad surprise—as are its investors. The bottom line: increasing customer retention rates by 5% increases profits by 25% to 95%.
Think about what your customers could benefit from, and if there's something that you're able to give them that doesn't cost you a fortune, why not offer a loyalty perk? Incentives can be in the form of points, rewards, free items, discounts, status, or anything that makes sense in your line of business.
4. Include Customer Success Stories in Your Content
A great way to encourage loyalty is to share your customers' stories in your content. This creates an environment that feels like a community, instead of a soulless web interface.
Show how one of your customers used your product to achieve success or make a difference in somebody's life, and give credit where it's due. Share it in a social media post or email newsletter, or feature it on your website. By celebrating the success of others, you're also advertising the value of your product or service.
Create an environment that draws customers in and makes them feel like a part of a successful community. If you can show how your product has produced results, boosted business, or solved a real-life problem for a customer, others will be more likely to follow suit.
For one good example, have a look at this link: Bain & Company use this same strategy to foster trust in their products and promote loyalty.
Bryan Harris of VideoFruit does a great job of making customers of his Get10kSubscribers course a focal point of his blog. In fact, he wrote an exhaustive post about his process for capturing case studies.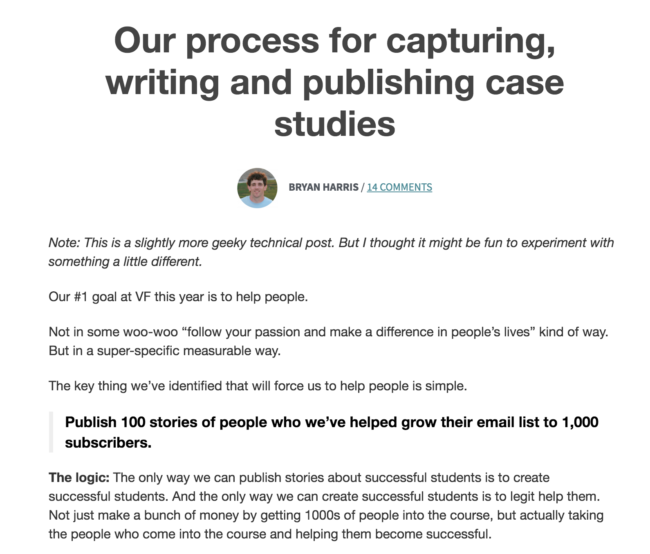 Promote your customers, and they will reward you with their loyalty.
To get started, you can create a simple survey in Google Forms or SurveyMonkey to ask your existing customers about their successes. If you're just getting started, offer to interview your customer personally and write the case study for them to give them some exposure.
You can use SumoMe's "call for case studies" email as an example of how to email your list. Even if you don't have 100,000 readers, you're still offering tremendous value to someone by promoting them and writing a case study for them… with almost no work on their part.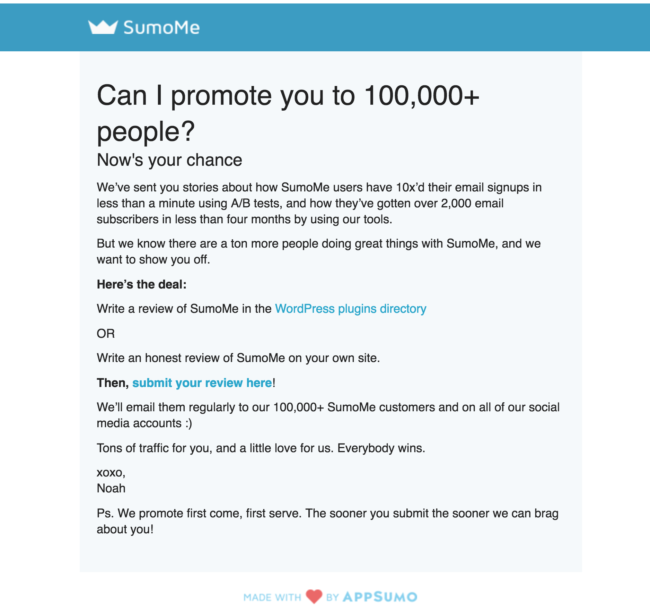 Pro tip: Success stories make great additions to your post-purchase campaigns. This way, new customers get inspiration by seeing how other customers are getting value from your products. Providing proof that your stuff works will inspire people to stick with you for the long haul.
5. Give Your Customers Something Unexpected (and Awesome)
Everyone loves a pleasant surprise. Giving your customers something useful or thoughtful as a bonus will help to promote loyalty. Help Scout shared some great examples of how to do it – seemingly insignificant little touches of quality or consideration are the glue that will make your customers stick.
The principle of reciprocity means that doing something nice for someone will more than likely motivate them to return the favor. It can be as simple as a heartfelt thank you note, or an unexpected snack included in a delivery parcel. It also applies to how you solve glitches and problems, and whether or not you make sure complaints are dealt with thoroughly.
First you need to make sure you're giving your customers what they expect, then you need to wow them by going one step further.
At Drip, we've tried to go one step further by offering a $1/mo plan for world-class marketing automation. If you have fewer than 100 contacts, you can use Drip for $1 per month (forever).
Over on the Leadpages blog, in How We Just Lost $1M + The Hardest Product Decision We've Ever Made, Clay Collins wrote about the decision to downgrade the pricing plan of hundreds of Drip users, while making marketing automation available to beginners for just $1 per month.
Click Here to Try Drip for $1 per month
Conclusion
You work hard to attract new customers and grow your business, and that's a good thing. But in order to keep growing in a sustainable manner, you need to converting more loyal, long-term customers.
In the short-term you'll reduce the cost of acquiring new customers, but the real payoff comes after a year or two, when customers who've been with you from the beginning are still bringing in revenue.
Let's recap exactly what steps to follow:
Take an interest in your customers and find out what makes them tick. Offer them something that can really help them, and inspires them to stay with you.
Figure out ways to diversify what you do, and upsell to the customers you already have.
Make it attractive to remain your loyal customer by offering some kind of loyalty incentive.
Create a community around your product by sharing success stories and featuring your loyal customers in your content.
Keep satisfying your customers by going above and beyond what they expect. Delight them.
In keeping with the advice in the first heading above, we'd like to invite you to let us know what kind of articles you've found most useful, and what you'd like to see us write about next. Share your thoughts in the comments section below!