By the time somebody reaches your donation page, they're so close to the finish line. They're almost ready to give to your cause.
At this point, your goal is to make sure they follow through. And an appealing page and user-friendly donation form can make all the difference here.
These elements build confidence and trust that the donor's dollars are going to the right place. A well-designed donation form also means there are no roadblocks that might prevent a donor from handing over their cash. You can even use your form to encourage recurring donations from the get-go and more.
With all of this in mind, let's take a look at some fantastic examples of donation forms that you can take inspiration from.
7 Best Donation Form Examples
1. Girls Write Now
Your donation page should include a sort of sales pitch for your cause. It should incorporate aspects such as your mission statement and explain why the cause is so worthy.
Keep this info close to your donation form. So when a visitor is wowed by your pitch, making a donation is the next logical step.
Girls Write Now is a mentoring organization with a focus on diversity, equity, and creating the writers and leaders of tomorrow. It makes a persuasive pitch in its "5 Reasons to Give. Write. Now." just above its donation form.

It's punchy and easy-to-digest like a mini blog post. You could also use a few bullets or a numbered list next to your donation form to get your points across quickly and clearly.
The actual contents of the list give the cause credibility. For example, it states that the nonprofit ranks "in the top 4 percent of programs nationwide for outstanding performance". Like any good sales pitch, you should use hard evidence to prove the efficacy of what you're doing.
Girls Write Now also mentions that mentees have published on renowned and well-known sites such as the New York Times and BuzzFeed. This also adds credibility as any reader will know of these sites and (likely find it impressive).
You could do something similar by mentioning any well-known organizations you've partnered with or any influential people that support the cause.
2. Black Lives Matter
As a nonprofit or charitable organization, bagging repeat donors is no doubt one of your key goals and your biggest challenges. So it's a good idea to encourage ongoing donations from the get-go.
The Black Lives Matter Global Network Foundation gives users the option to make a one-off donation or set up monthly donations in the same form.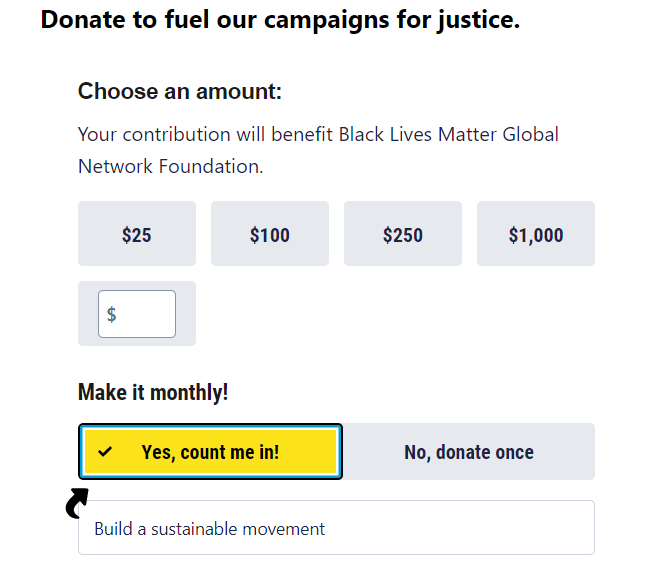 You can do the same and add the option to donate weekly, monthly, or yearly to your form. And make it as simple as this form where users only need to click one tab or tick one box to set up recurring donations.
Most organizations will likely add a monthly option but consider what makes sense for your organization and take inspiration from how your existing regular donors like to donate.
To further encourage repeat donations, the BLM Global Network Foundation includes the tagline "Build a sustainable movement". Its well-written copy reminds you that social justice isn't a one-time thing.
Consider how you can emphasize the fact that you need ongoing support and why. Then create a succinct statement to express your point as the BLM Global Network Foundation does.
3. Albert Kennedy Trust
Another way to encourage repeat donations is to stay in touch with previous donors. Considering the fact that global donor retention rates have shrunk slightly over the past few years, you'll need to employ tactics like this to keep people on board.
The Albert Kennedy Trust, an LGBTQ+ youth homelessness charity, gives donors the chance to opt in to email, telephone, SMS, and/or post communications in its donation form.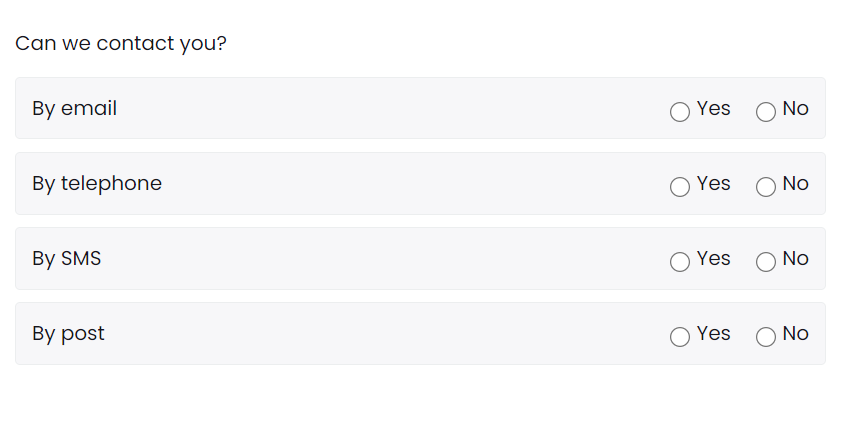 Giving donors the option to choose how you can contact them is smart. It makes for a better user experience. Plus, they're more likely to open a message on a channel they use often.
You should emulate the Albert Kennedy Trust here to give you an opportunity to build up a database of donors. You can then contact them by email to:
Thank them for the donation;
Give them updates on the campaign or charity;
Share stories and case studies;
Tell them where their contribution went; or
Share fundraising figures, such as what your goal is and how close you are to meeting it.
All of the above keeps even one-off donors engaged and makes people much more likely to donate to the cause again.
4. Climate Emergency Fund
When you create a form, there are a few vital design elements you need to keep in mind. Most of all, your form must be designed in a way that makes it super easy to use.
If your form is too complex, users may give up halfway through and abandon their donation. Our data suggest that form conversions start dropping significantly after two input fields.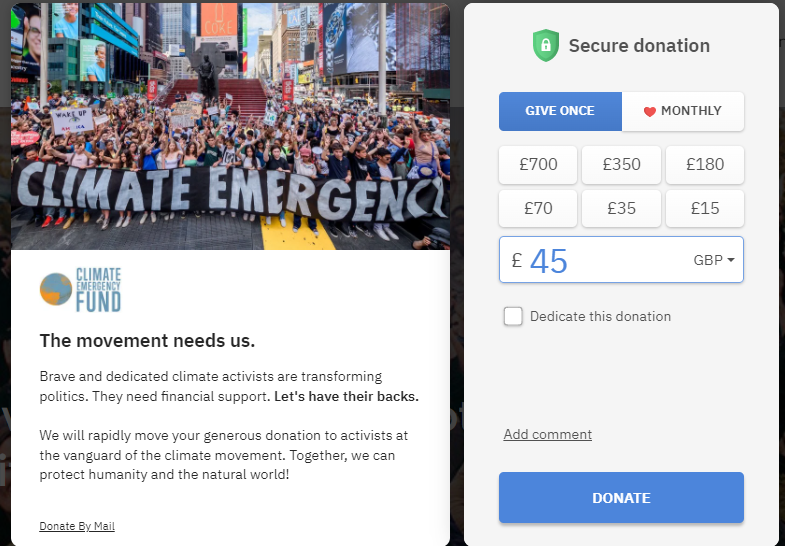 It walks you through donations one step at a time. In step one, you choose the amount. In step two, you choose between monthly or one-off. And in step 3, select your payment method.
Multistep forms like this prevent users from feeling overwhelmed or put off by the idea of filling in a ton of information in a long-form all at once. Choose a multistep form over a traditional form to break down and simplify the process for users.
This form uses big, clear buttons and minimal copy to keep users moving through the steps quickly and easily. You can easily make a donation even without reading the copy on the left.
Take inspiration from the overall style and design of Climate Emergency Fund's donation form make it your own with branding.
5. Autostraddle
To ensure your visitor follows through with their donation, you must instill confidence and trust. People want to know that your cause is legit and that their money will be utilized in the right way before they're willing to part with it.
Autostraddle is an LGBTQ+ blog with an emphasis on culture and community. It uses the copy next to the donation form to build trust.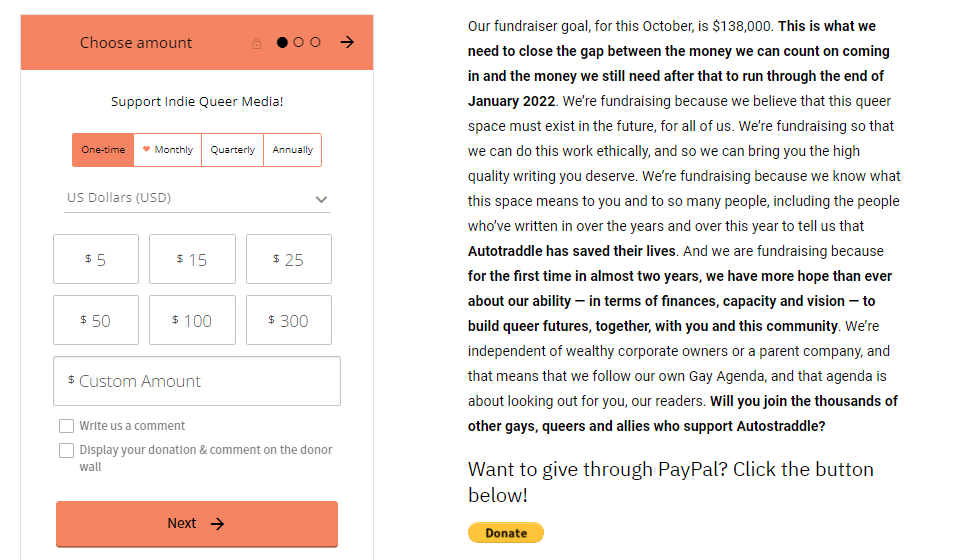 The site shares the exact monetary value of its fundraiser goal. This implies that the folks behind the site have worked out exactly what they need and where it will go. You can do something similar to show that you haven't just pulled a figure out of thin air.
Autostraddle also describes precisely why the site needs funding when it says, "We're fundraising so that we can do this work ethically," and "We're independent of wealthy corporate owners or a parent company." This level of transparency builds trust.
Autostraddle also uses this section to evoke emotion in the audience and express why its site is a worthy cause. They explain that the site represents a safe space for people in the community and people have even written to them over the years to tell them it "saved their lives".
All in all, this is a good example of how to use a donation page for something that isn't a charity, for example, a blog or a podcast. Go beyond the "buy me a coffee" trope and you're more likely to get donations.
6. Canadian Urban Institute
When you ask somebody to share any kind of information they're wary nowadays. This is magnified when it comes to financial information.
Your average person online is fully aware of what companies can do and do, do with their data. (And they don't like it.)
Plus, data breaches and information leaks are well-publicized nowadays. So people are conscious of whether their information will be secure whenever they fill in an online form.
The Canadian Urban Institute brings together local pros, leaders, academics, and activists to collaborate on all things to do with city building. It features a secure payment gateway as part of its donation form.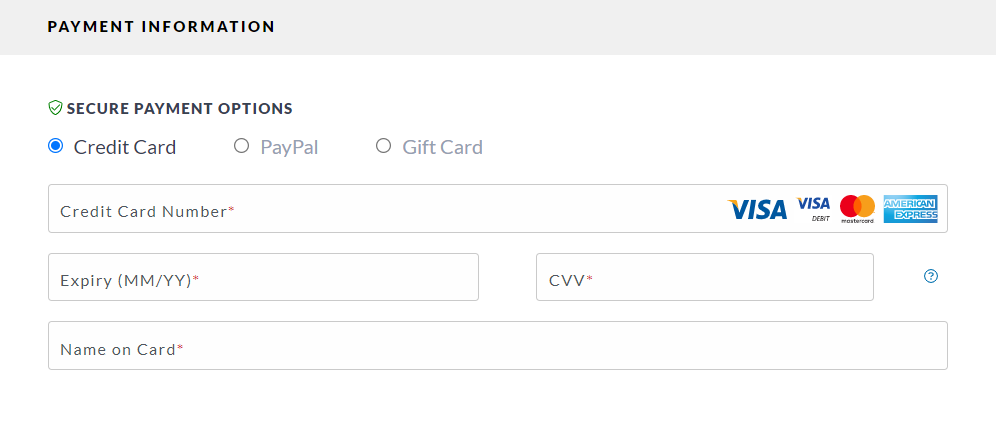 First off, the section is labeled "Secure Payment Options" with a little shield symbol. This emphasizes that it's secure. Plus, it features the logos of major credit card companies. As these are recognizable to users, they're subconsciously put at ease.
And if anybody is still unsure about the security of their financial details, they can use PayPal or a gift card to donate instead, which are known to be secure payment methods.
Similarly, you should add multiple secure payment methods to your donation form, as well as trust badges that put people's minds at rest. Some charities even accept crypto donations now which appeals to those concerned with privacy.
7. The Donkey Sanctuary
How do you make a form free of too many distractions but still appealing? Use powerful imagery.
Studies show that people are more likely to give when they are able to identify a beneficiary than when they learn statistical information about the scale of a problem. In other words, they're more likely to respond to a person or other recipient and their story than generalized numbers about the cause.
And we all know how many words a picture speaks.
When you use an image alongside your form, it evokes emotion and gives some insight into what the charity or nonprofit does without the need for words. There's no better example than this one from the UK-based organization, The Donkey Sanctuary.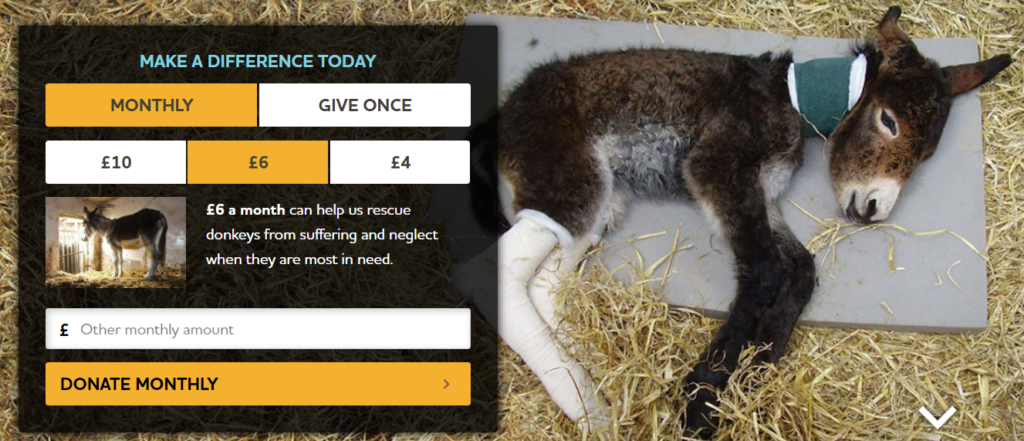 Conclusion
When a potential donor finds your donation form, the ultimate goal is to get them to complete it. There are a number of key takeaways from these examples to help you encourage users to follow through with their donations, such as:
Use the donation page to draw people to your cause;
Collect donor information so that you can follow up with them in the future;
Provide multiple secure payment options to prevent any roadblocks;
Be transparent, show credibility, and build trust; and
Keep the form simple and make it as easy as possible for people to donate.
What's next? Take a look at your donation form to find possible improvements.