There are many ways to nurture B2B leads and build a strong rapport with them until they're ready to buy.
But hands down one of the most effective continues to be email marketing.
If you can collect their email address, you can add them to your newsletter and send them targeted content to familiarize them with your brand, highlight the benefits of your product or service, and build a solid relationship.
So, even if they're a little unsure initially, this gives you the chance to win them over in time.
And when it comes to collecting emails, a well-crafted email popup is arguably the best way to go about it.
Here are six of my favorite B2B popup examples you can learn and draw inspiration from.
Table of Contents
1. Contently
Contently is a complete content marketing platform "that powers the creation of personalized content across every stage of the customer journey."
Here's what their popup looks like.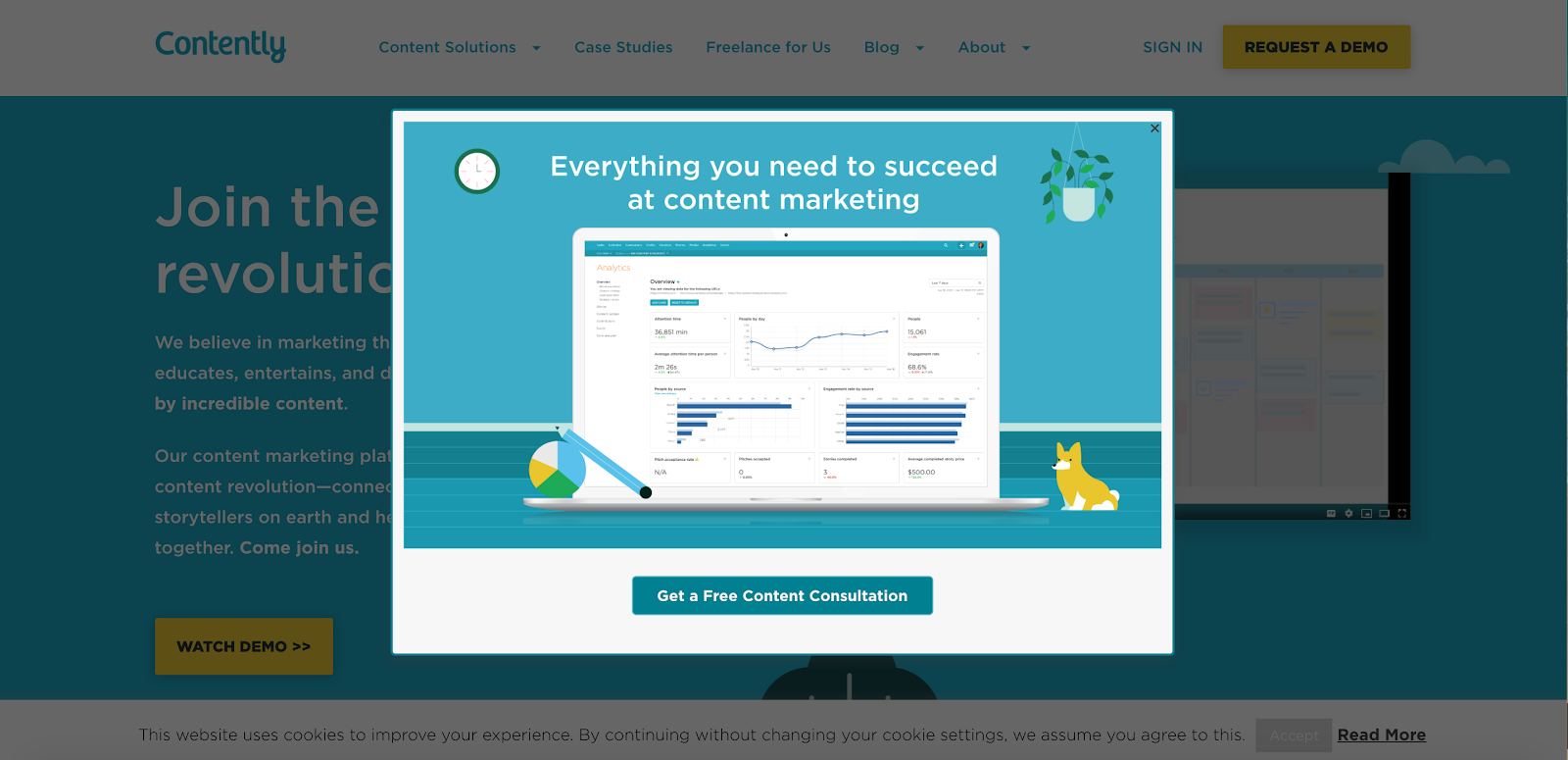 And here's why I like it.
First of all, it's extremely visual with an eye-catching image placed front-and-center.
This is important because we discovered through original research that popups that contain images have an average conversion rate of 3.80%, while those without images only convert at 2.07 percent. That's a whopping 83.57 percent higher.
Next, there's an excellent header.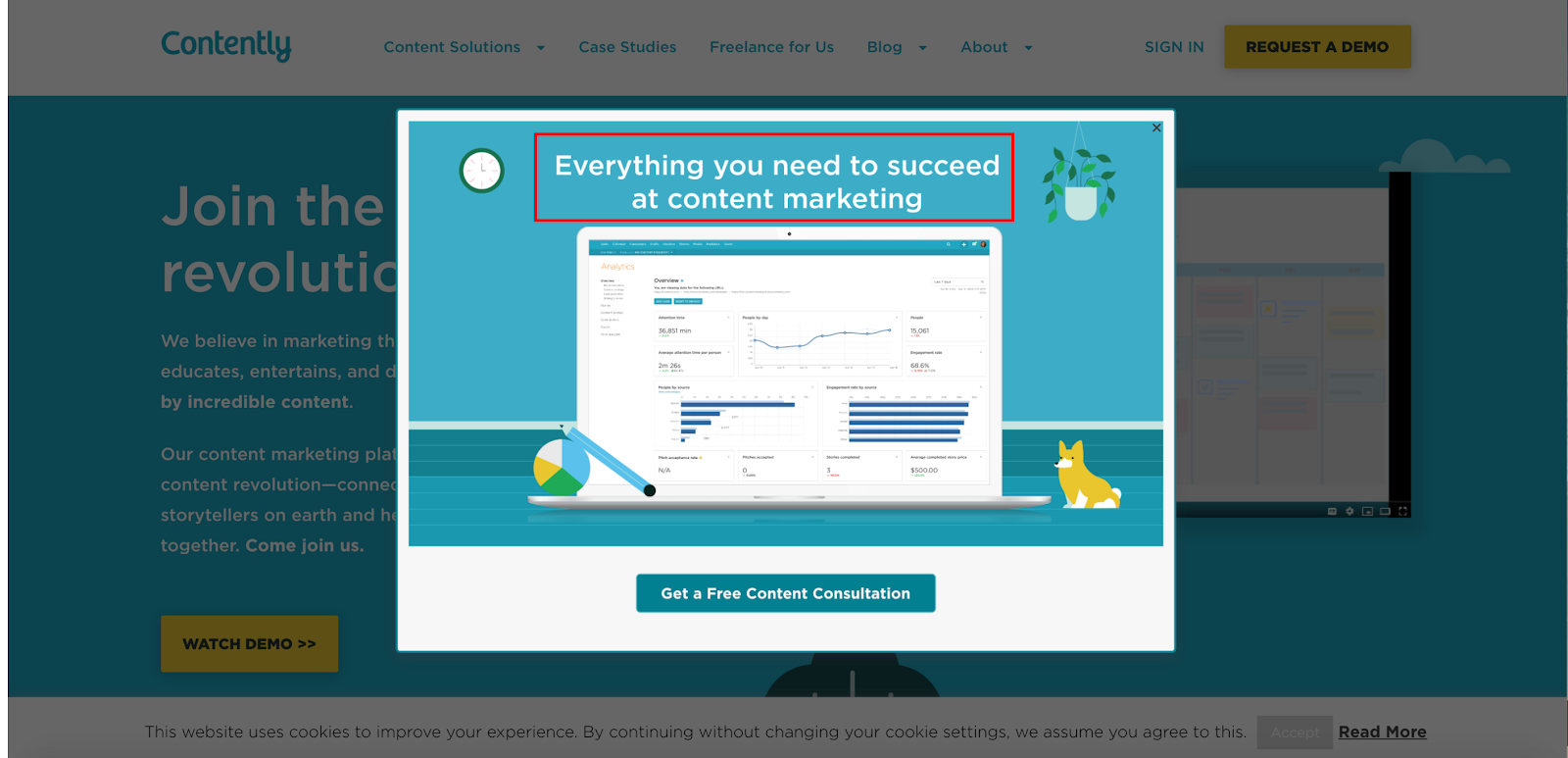 Saying "Everything you need to succeed at content marketing" is simple, to the point, and instantly piques the attention of visitors.
It addresses the "what's in it for me?" aspect that everyone is interested in, which helps lower their guard. In turn, this should get a considerable percentage of visitors to seriously consider the offer rather than instinctively exiting the popup.
Finally, the CTA absolutely nails it.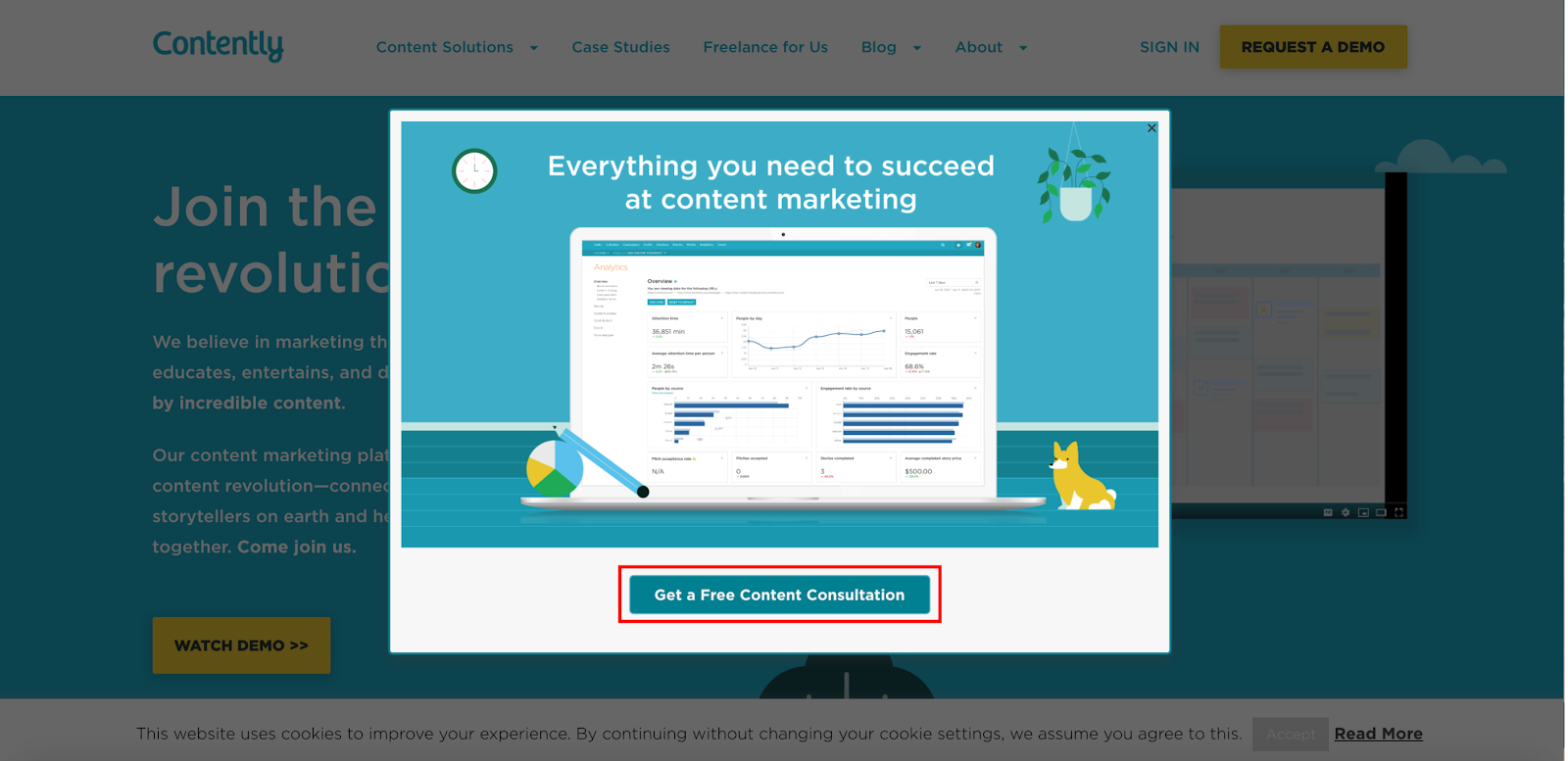 Saying "Get a Free Content Consultation" lets visitors know exactly what step they need to take and what they'll get by doing so.
In this case, they're taken to this page where they're asked to fill out their contact information, along with some basic company information so they can get a free content consultation from an expert.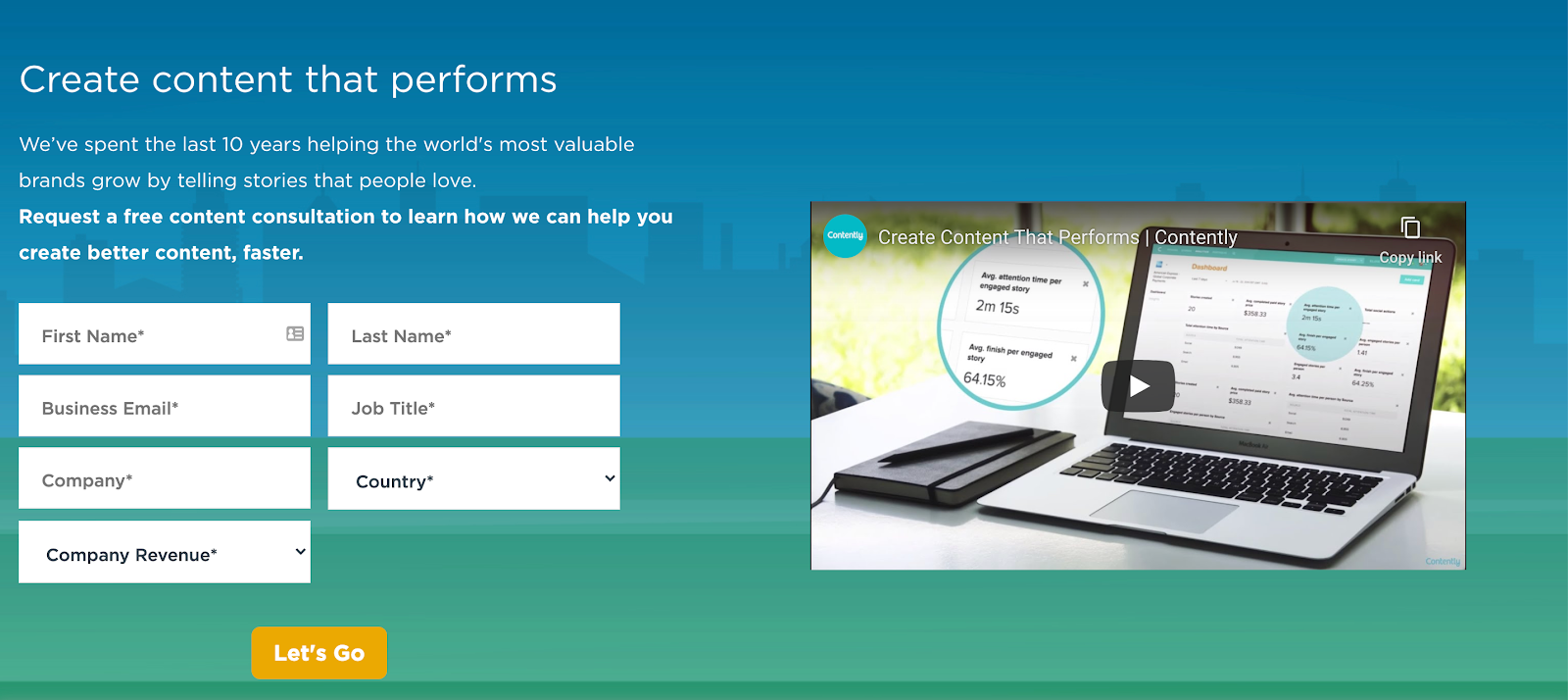 So, the main takeaways here are to make your B2B popup visual-centric, use a strong header and CTA, and generally keep it simple so visitors can figure out what you're asking without demanding too much cognitive bandwidth from them.
2. Convince and Convert
Here's another B2B brand that provides content marketing consulting, along with social media strategy, digital marketing, and customer experience strategy.
It's very comprehensive.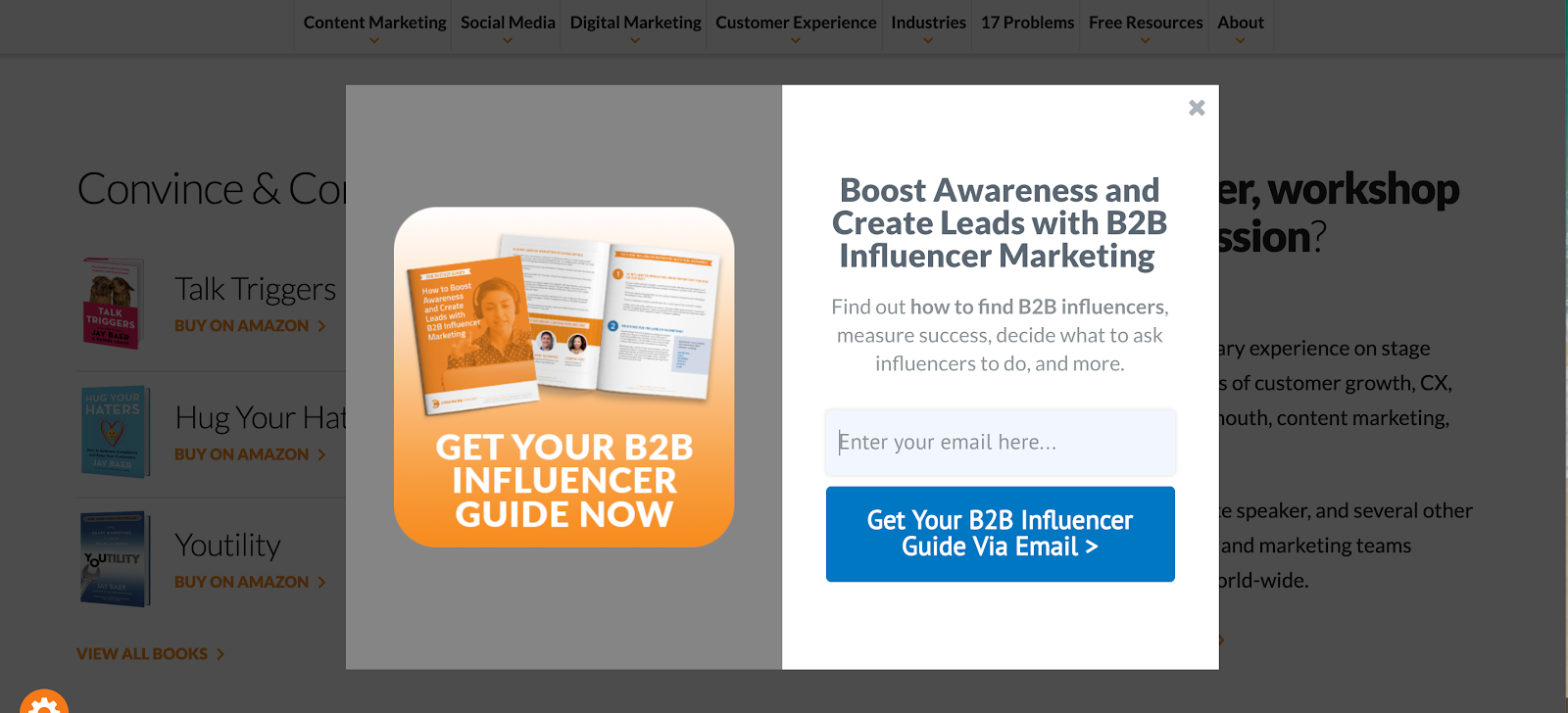 Again, this popup has a strong visual component with the image on the left-hand side standing out. For me, that was the first thing my eyes were attracted to.
And the copy right below the image lets visitors know exactly what Convince and Convert are offering—their B2B influencer guide.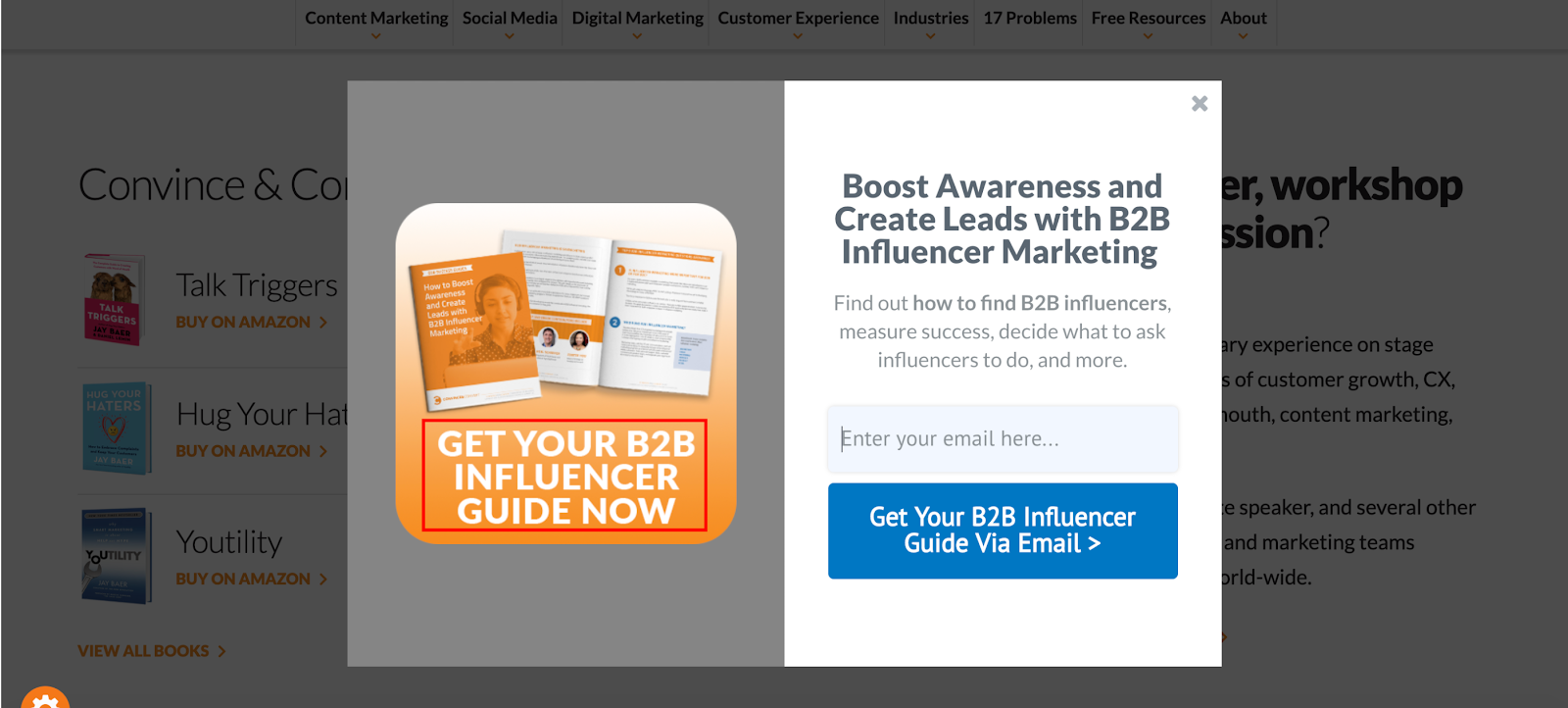 The main header on the top right-hand side expands on the offer, letting visitors know what's in it for them, whereby getting the B2B influencer guide, they can learn how to boost their brand awareness and generate more leads.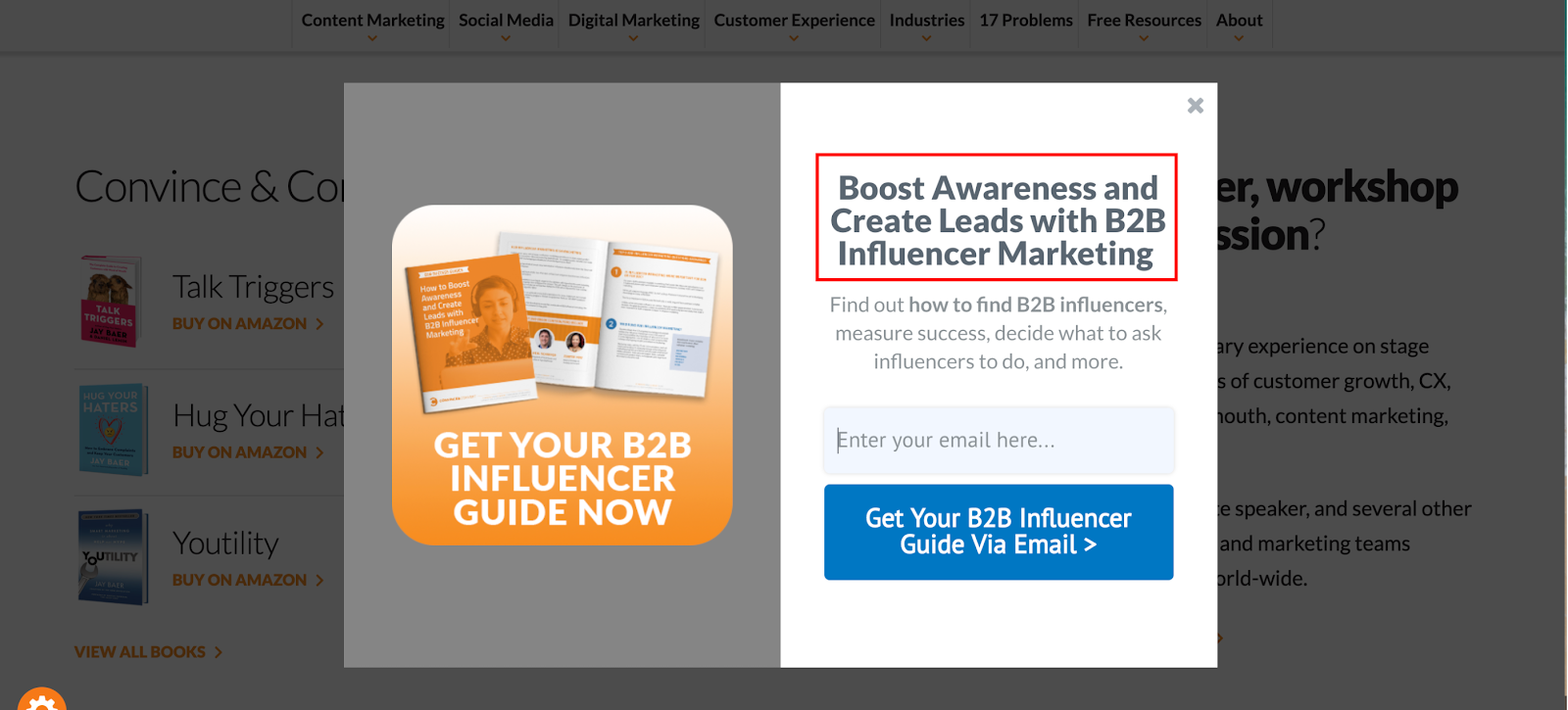 And the text below that elaborates more, going into greater detail.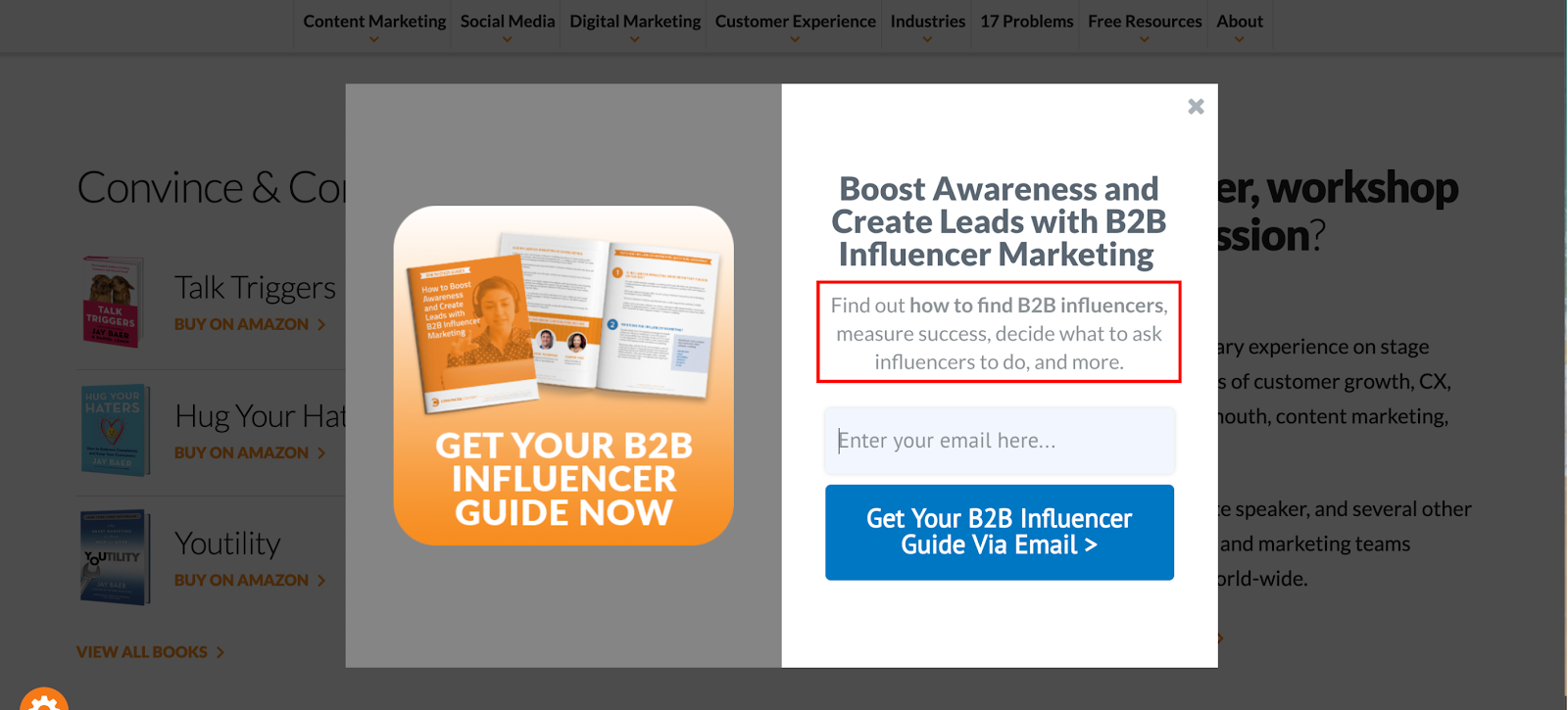 So, the header and text act like a great one-two punch that should grab a good percentage of their visitors' attention and get them legitimately interested in the offer.
Lastly, Contently has a strong CTA that follows best practices like featuring a button with plenty of contrast and using action words.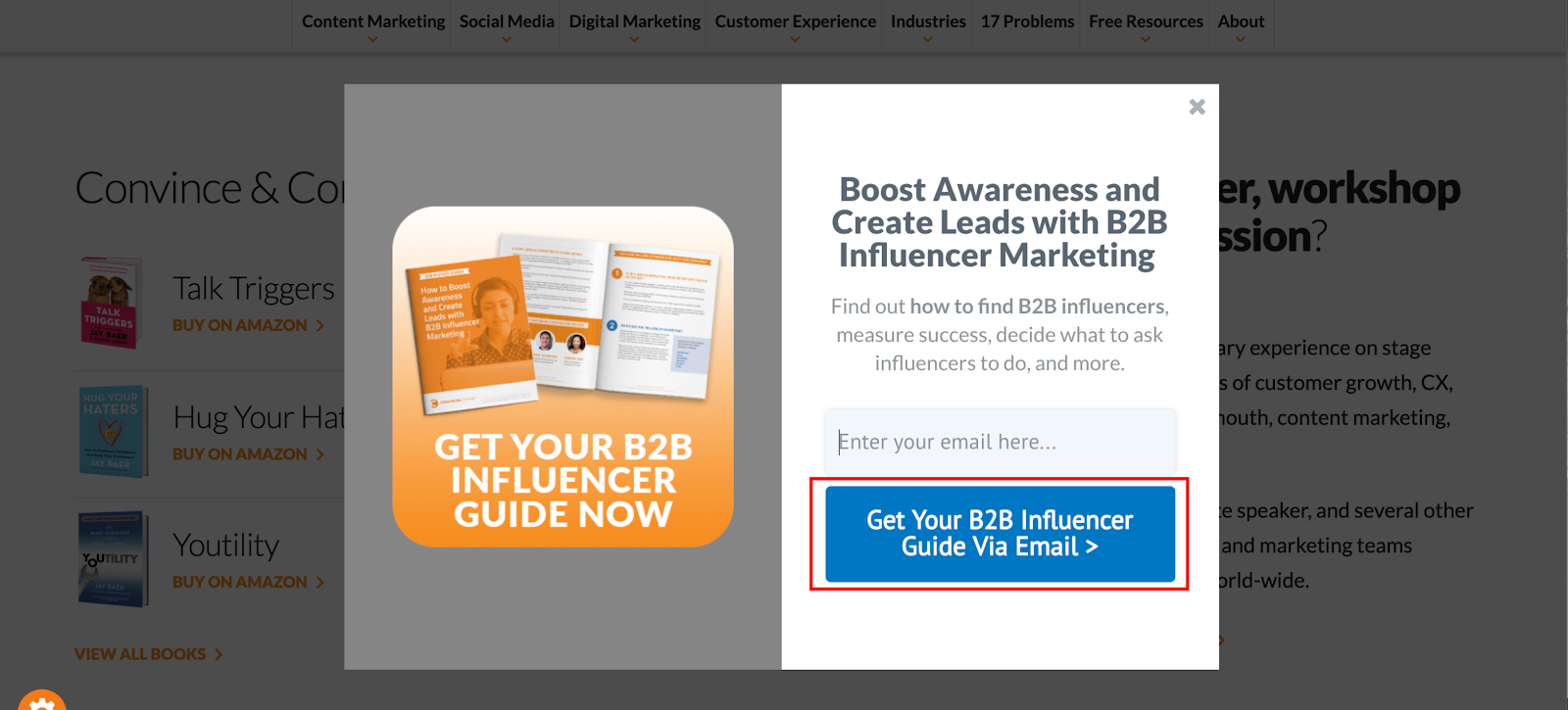 Notice that there's nothing vague about it. The formula for this popup is simple, but it does everything it needs to grab the attention of visitors and get them to sign up.
3.

Drip
Okay, admittedly I may be a little biased with one as it is from Drip. But objectively speaking, this is one of the best B2B popup examples I've come across recently. So, I couldn't help but share it.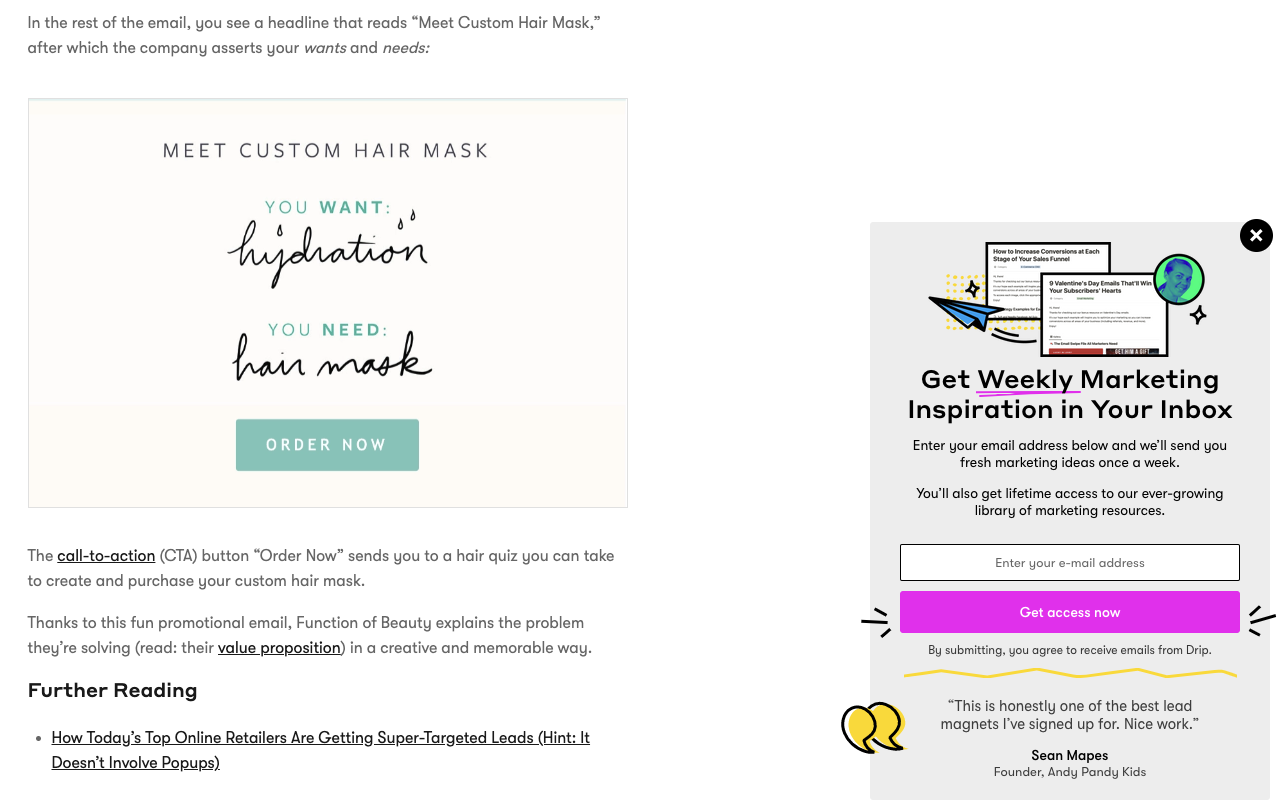 The number one thing this popup has going for it is the value proposition. It lets Drip visitors know they'll get access to ultra-insightful future posts and a lot more.
We first pique their interest with this engaging header.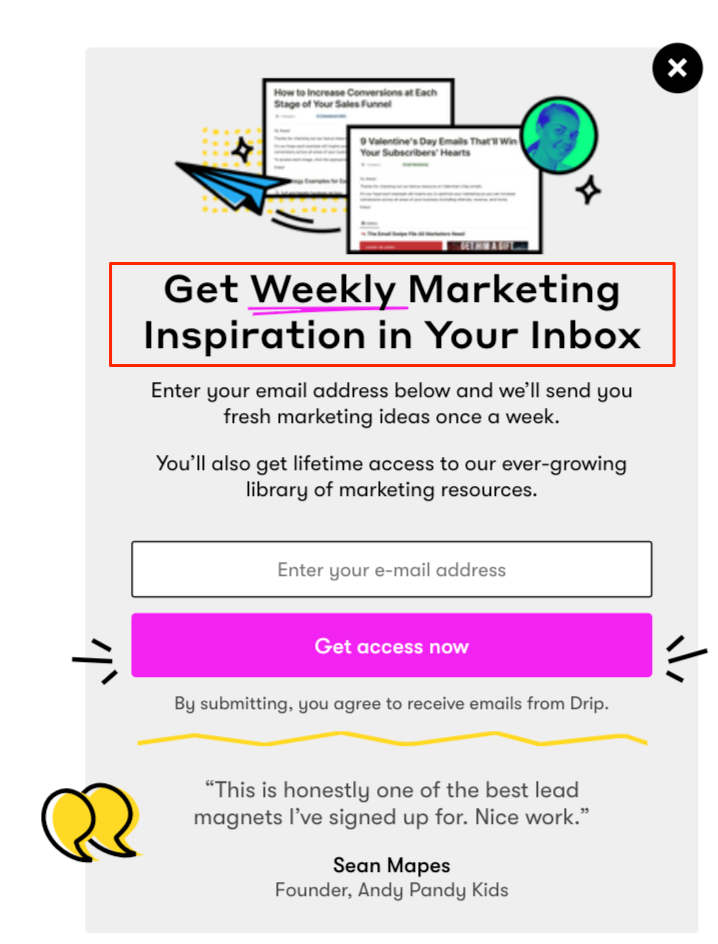 And just below it, we elaborate, letting visitors know some of the epic things they'll get by subscribing, such as lifetime access to our best marketing resources, along with fresh marketing ideas once a week.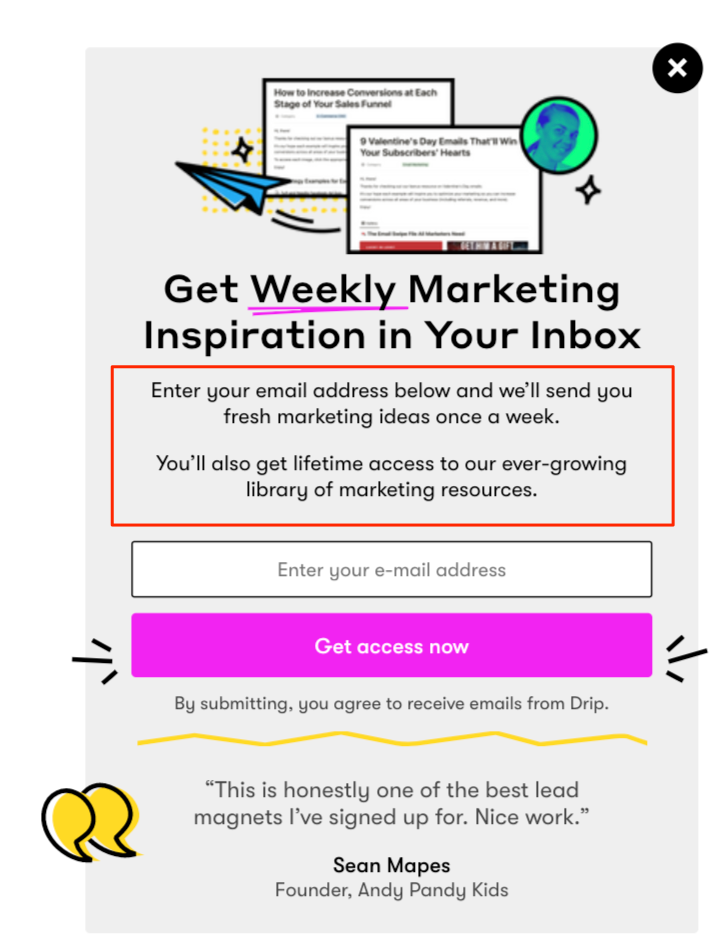 The CTA is good and features a high contrast button that uses the same magenta color you'll find throughout Drip so that it stays "on brand."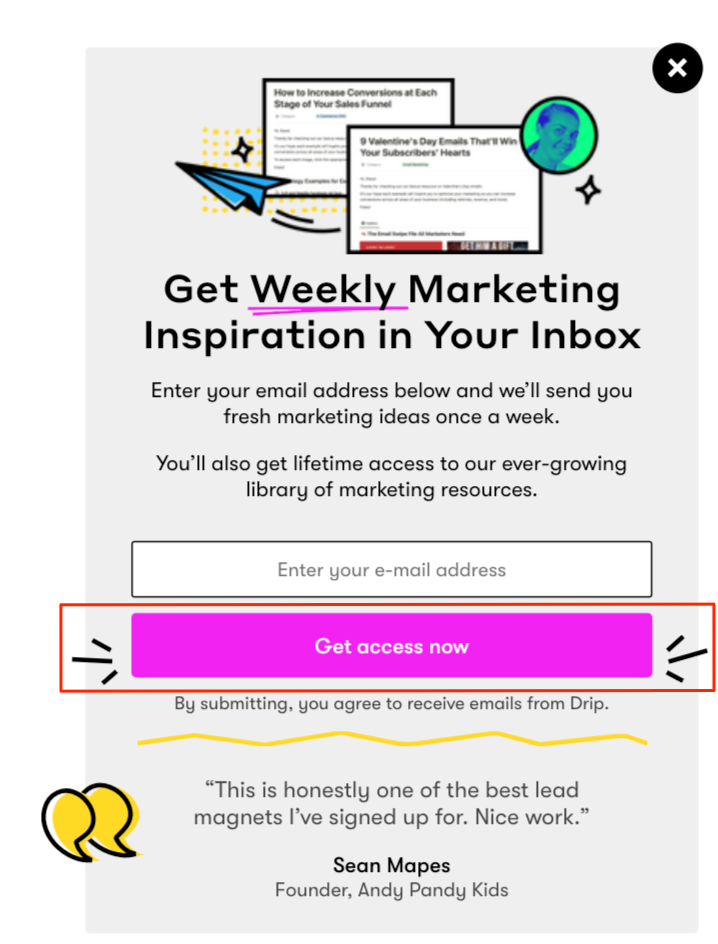 And one other thing is the brief testimonial below the CTA that adds social proof to our marketing resources and weekly newsletter.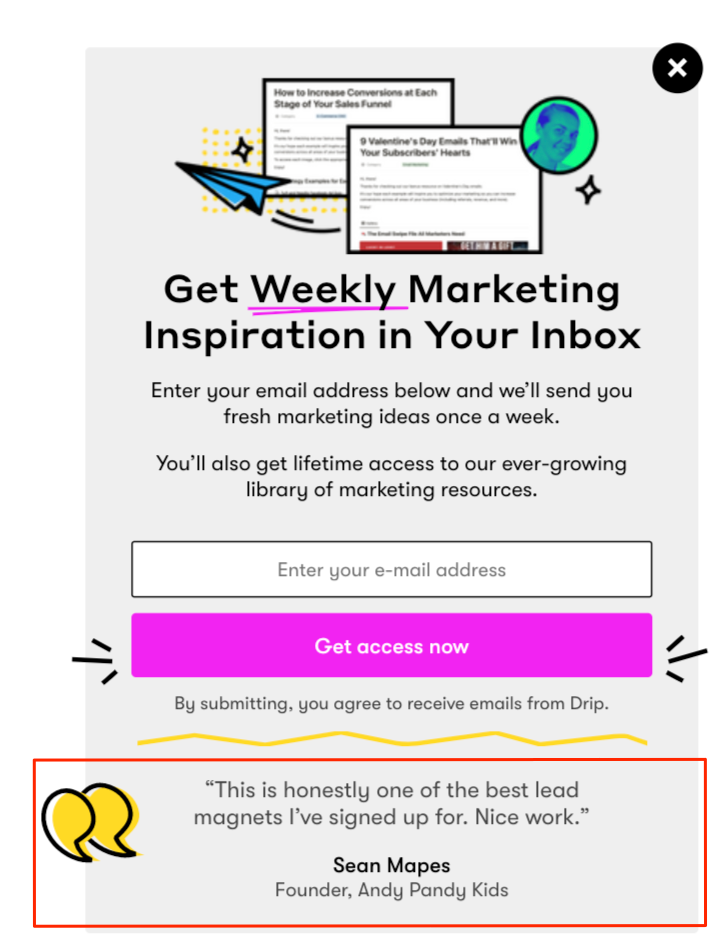 I think this really helps flesh everything out and provides the added bit of information many visitors need when deciding whether or not to subscribe.
I should also point out that we make it super easy to exit out of this popup, which is important for preventing disruptions and annoying visitors.
That's a big deal because a popup should never lower the customer experience. It should enhance it.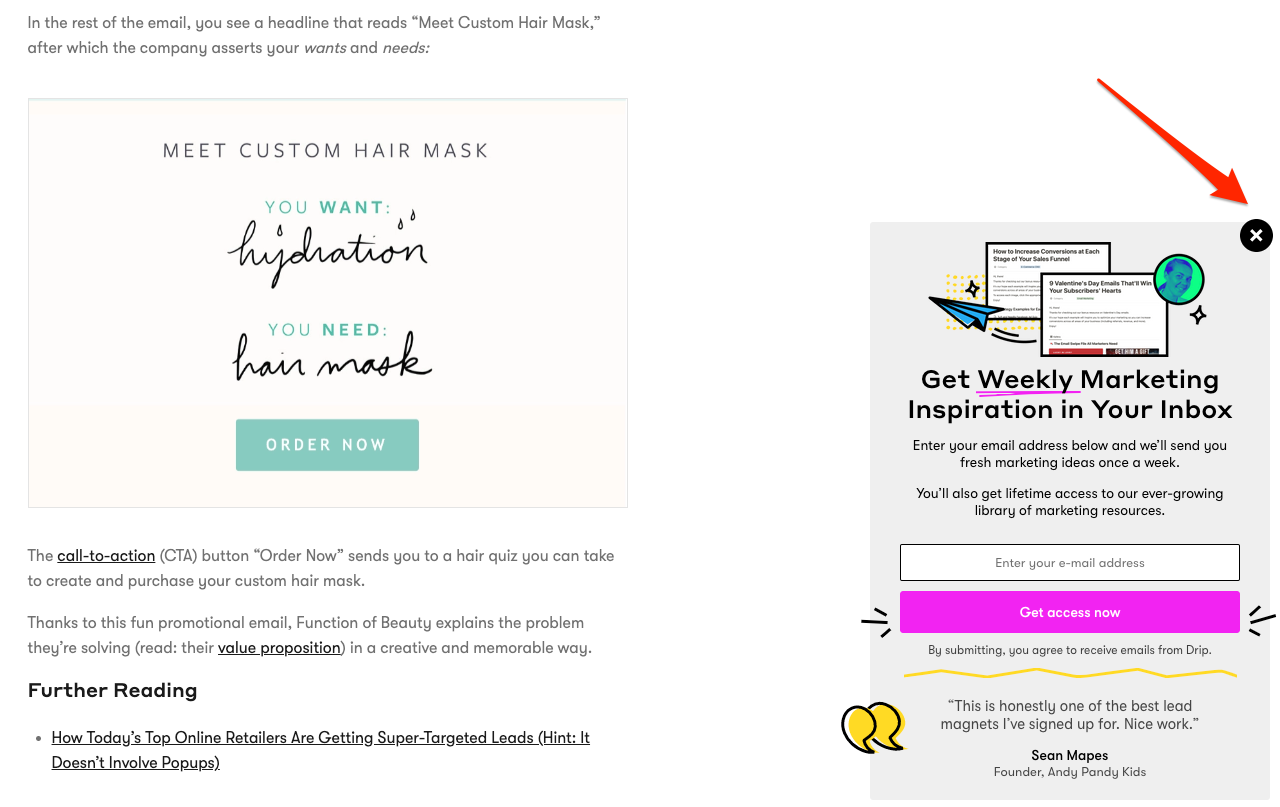 Whenever a visitor exits, the popup turns into a "teaser" at the bottom right-hand of the screen that they can easily re-open if they change their mind later on and want to subscribe.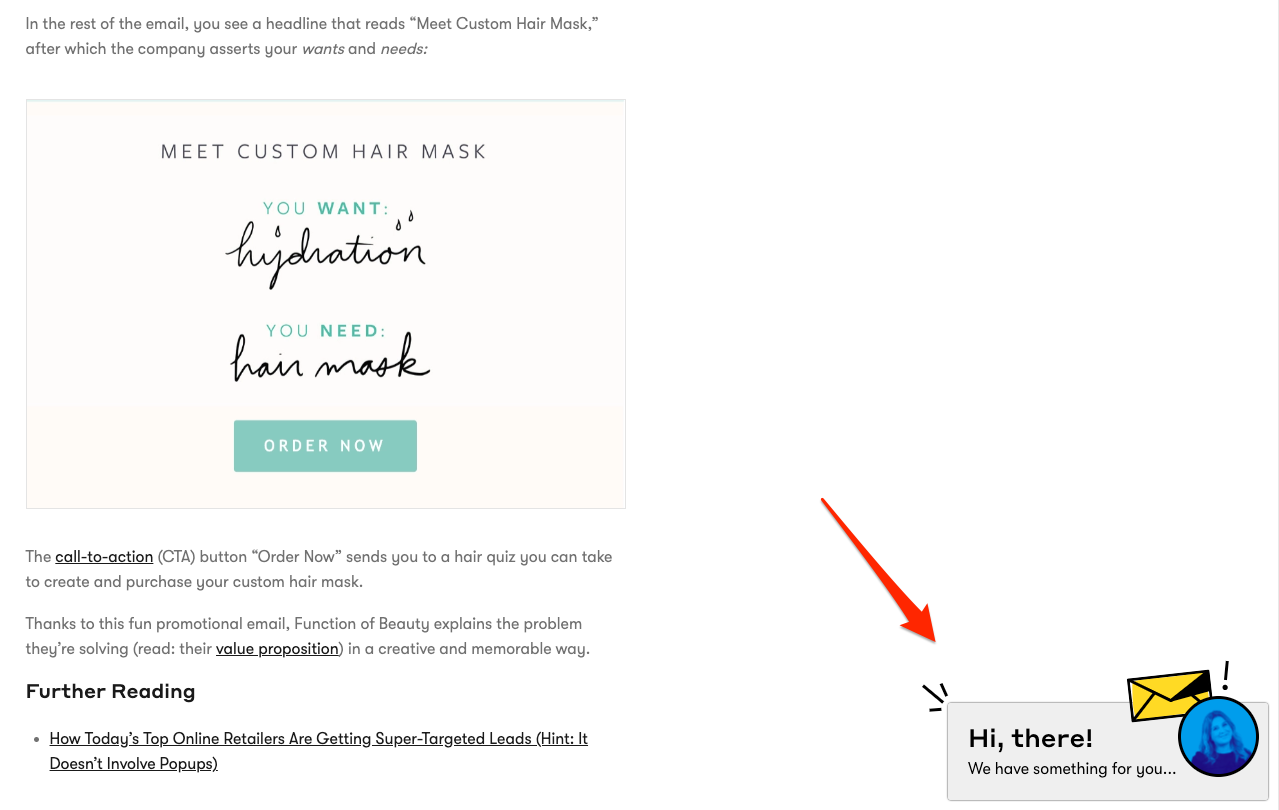 I find that using a teaser like this is a great way to raise the overall conversion rate without creating friction with visitors or being punished by Google for using an interstitial.
For more on teasers, check out this post, which includes some great examples.
4. MobileMonkey
Let me start off by saying that this is by far one of the most simplistic B2B popup examples I've encountered.
MobileMonkey gets right to the point with their popup, quickly spelling out exactly what their offer is and why visitors should be interested.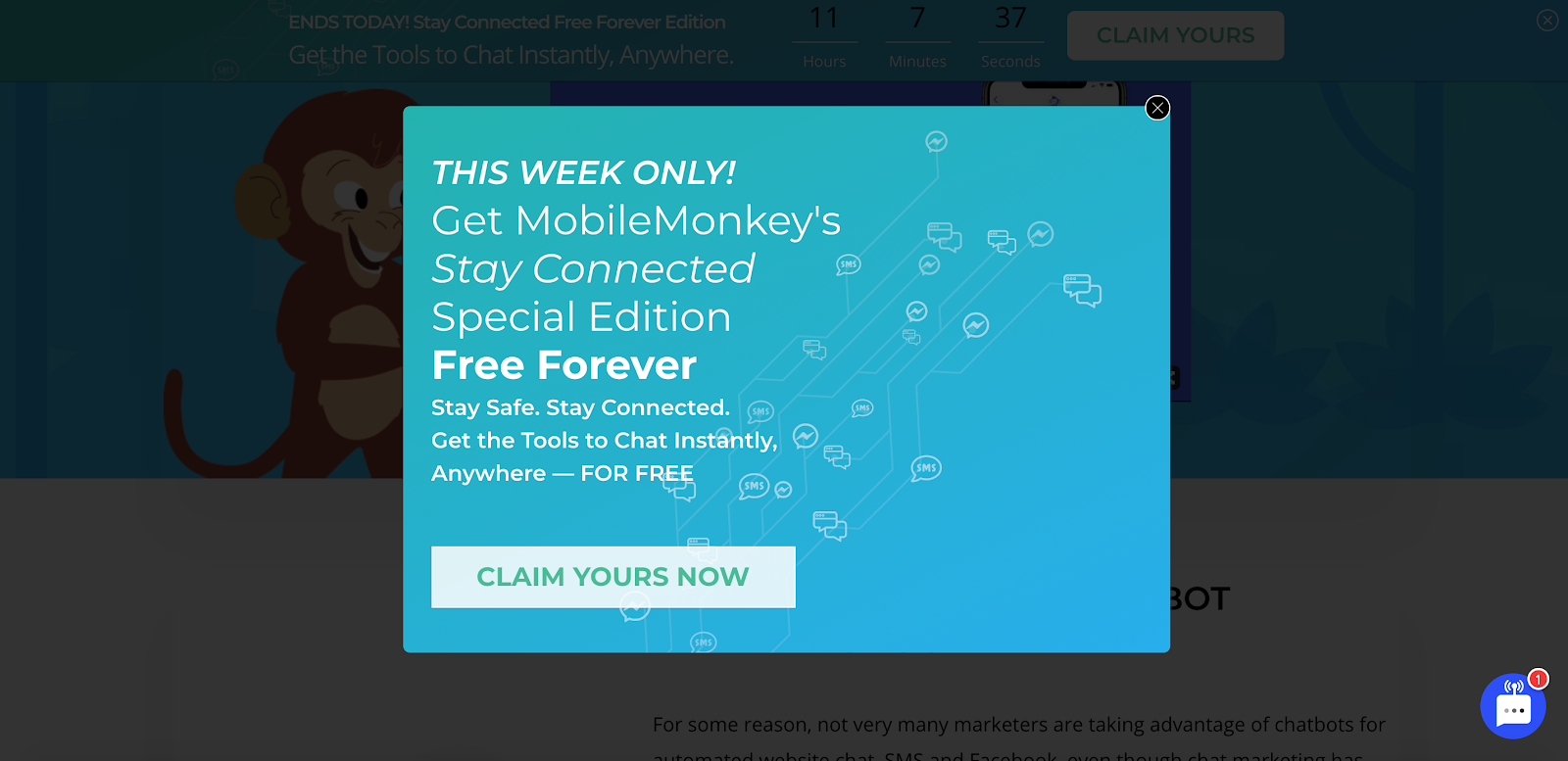 Now let me highlight the strengths of this popup. To begin, they create a sense of urgency by using "THIS WEEK ONLY!" in all caps for their main header.
As you're probably aware, urgency can have a major impact on conversions, with one study finding that it can potentially increase overall sales by as much as 332 percent.
You want to be ethical of course and not use underhanded, manipulative tactics, but basic techniques like this can most definitely motivate more visitors to opt-in.
The following section beneath that saying "Get MobileMonkey's Stay Connected Special Edition" brilliantly communicates their offer, while staying concise with the wording.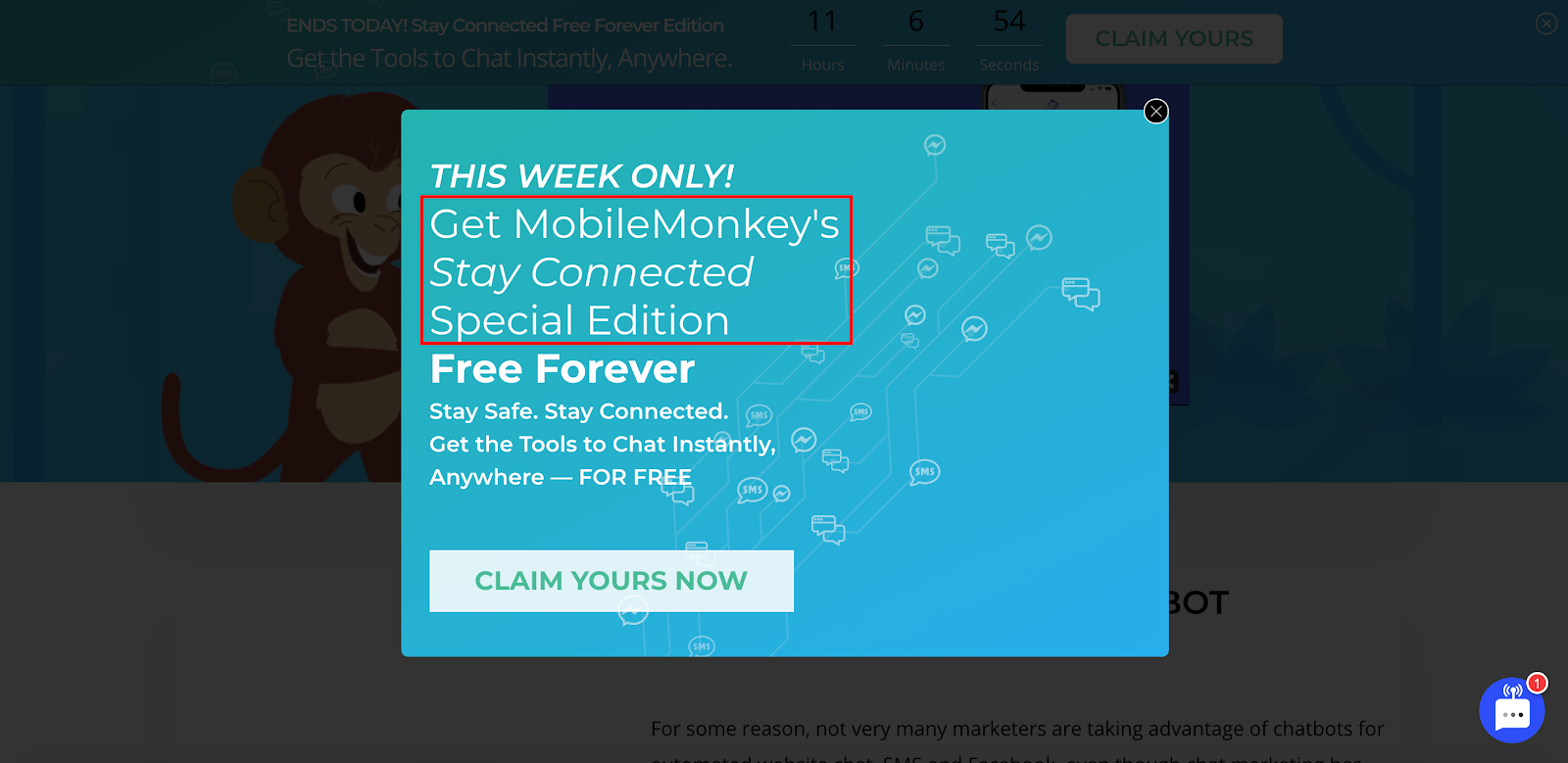 Here they simply let visitors know that for this week only they can get access to a special edition of their app by signing up.
And after that, they say "FREE FOREVER," also in caps, which is huge for really piquing their visitors' interest.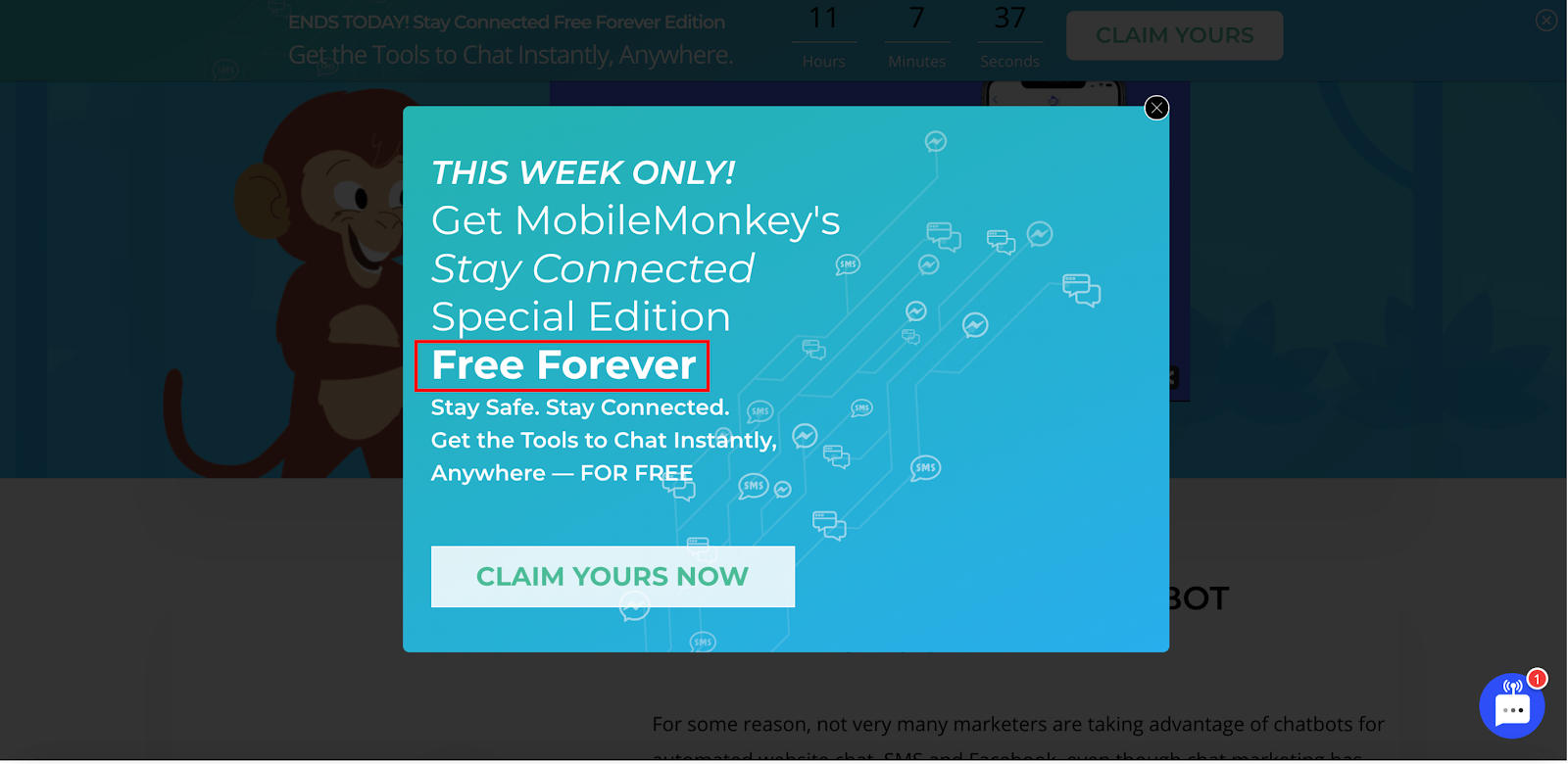 I know that I personally perked up when I saw that it was completely free with no strings attached.
This is followed by some additional text that attaches even more value to MobileMonkey's UVP.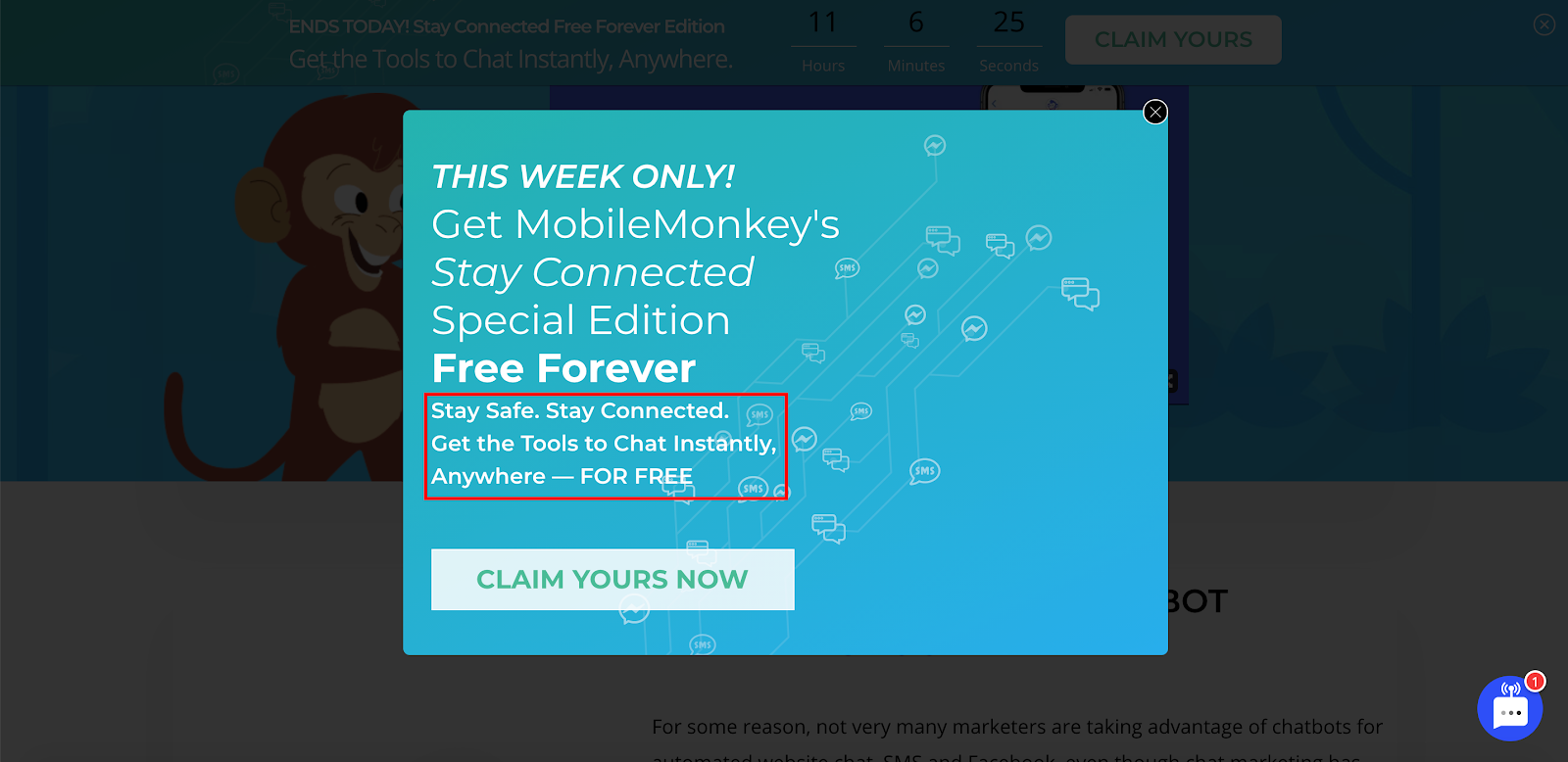 And at the bottom is a straightforward CTA, letting visitors know what to do next.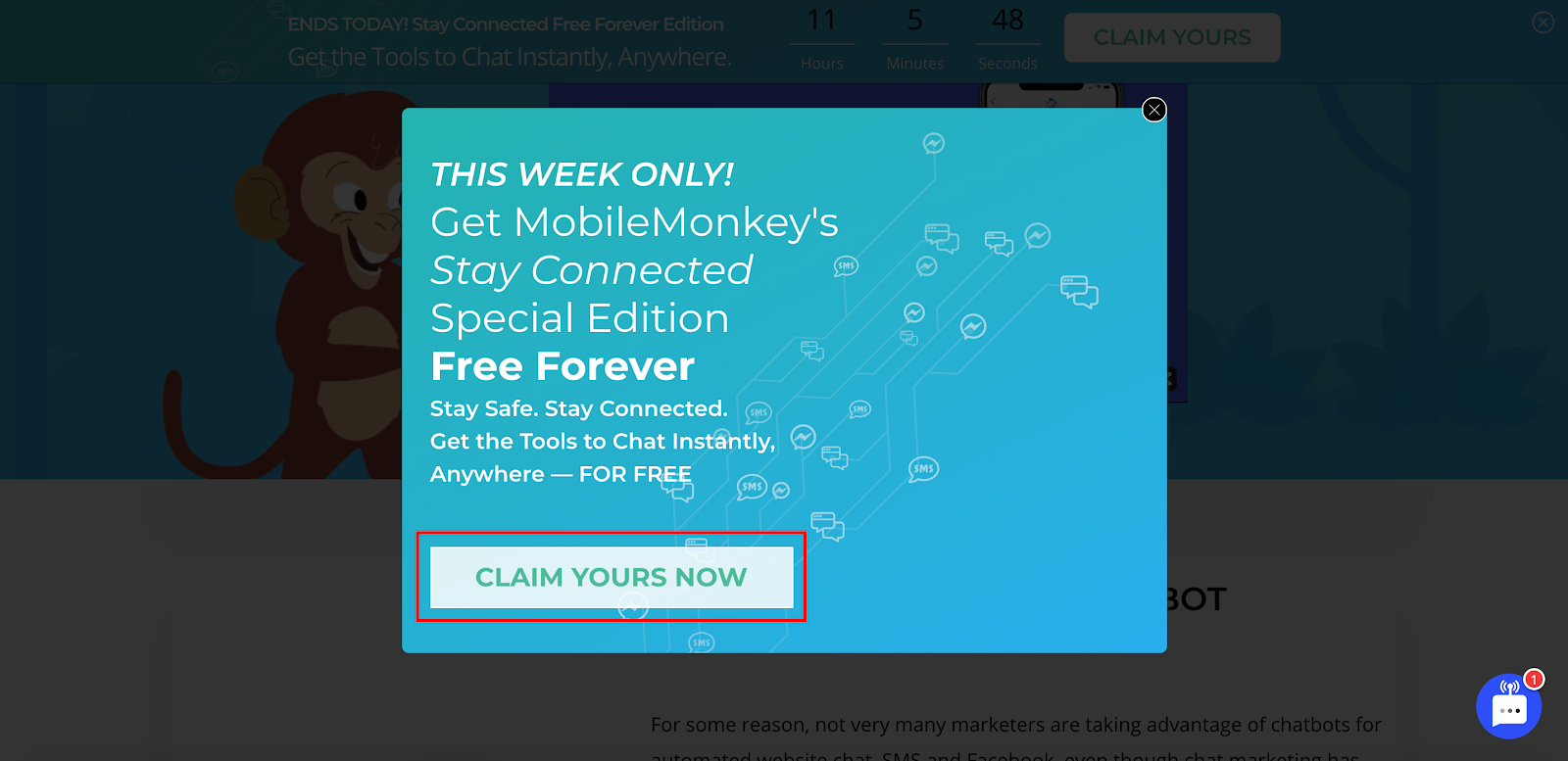 Put it all together, and this B2B popup does an excellent job of getting visitors interested in a great offer and succinctly highlighting the benefits, along with what they need to do in order to take advantage of it.
The only thing that would make this popup better is if they included a nice image somewhere on the right-hand side.
5. Social Media Examiner
This is a media company that's one of the best resources for everything social media marketing related. I find myself browsing their site quite frequently, in fact.
And I like Social Media Examiner's popup for four main reasons. First, it looks great.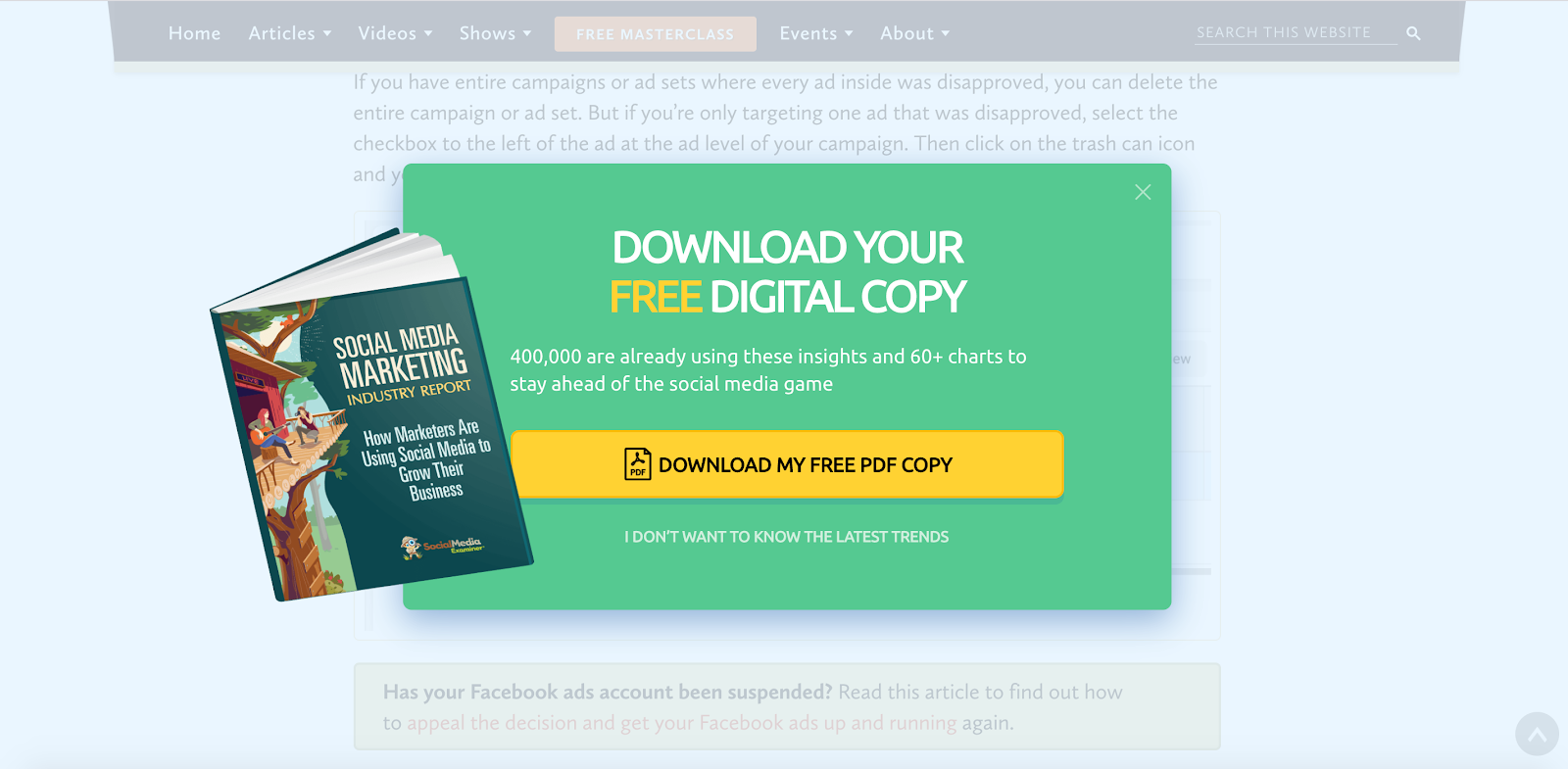 It instantly grabs the attention of visitors, and the combination of the green background, yellow CTA, and image on the left-hand side really pop.
So, rather than feeling at best inconvenienced and at worst, repulsed, which is how I personally respond to not so well designed popups, this one makes me glad that I stumbled upon it.
And if you can nail the visual component of a B2B popup, as Social Media Examiner does here, you've already won half the battle.
Second, it features a really nice offer that delivers real value.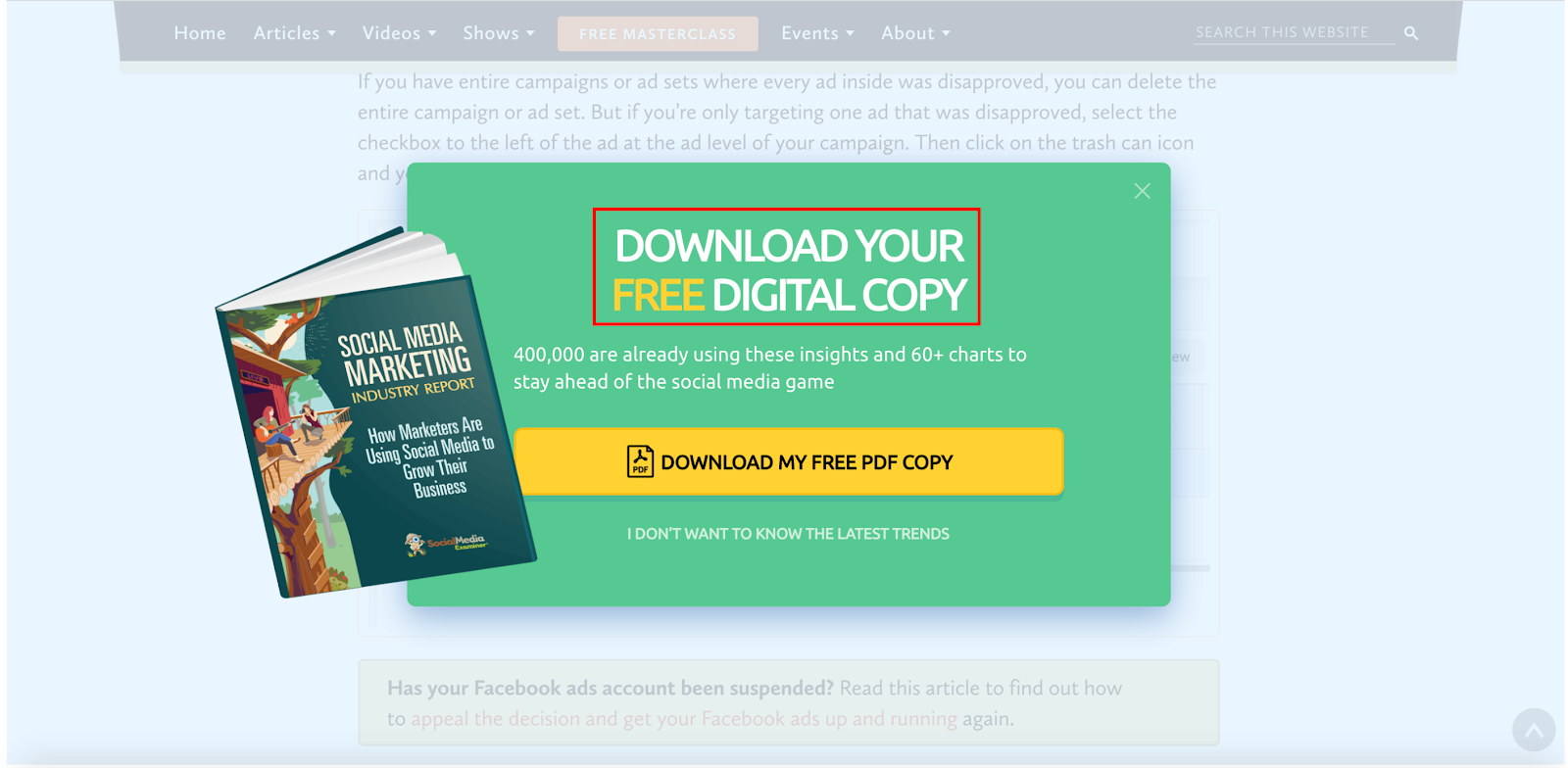 Although a free industry report by no means reinvents the wheel, it definitely has value that can help business owners step up their social media marketing game and grow their companies. So, visitors quickly know what's in it for them.
Third, they use quantifiable numbers to A) lend credibility to the report and B) let visitors know what's inside.
In the text below the header, it says "400,000 are already using these insights," which establishes instant social proof and lets visitors know that the report is legit.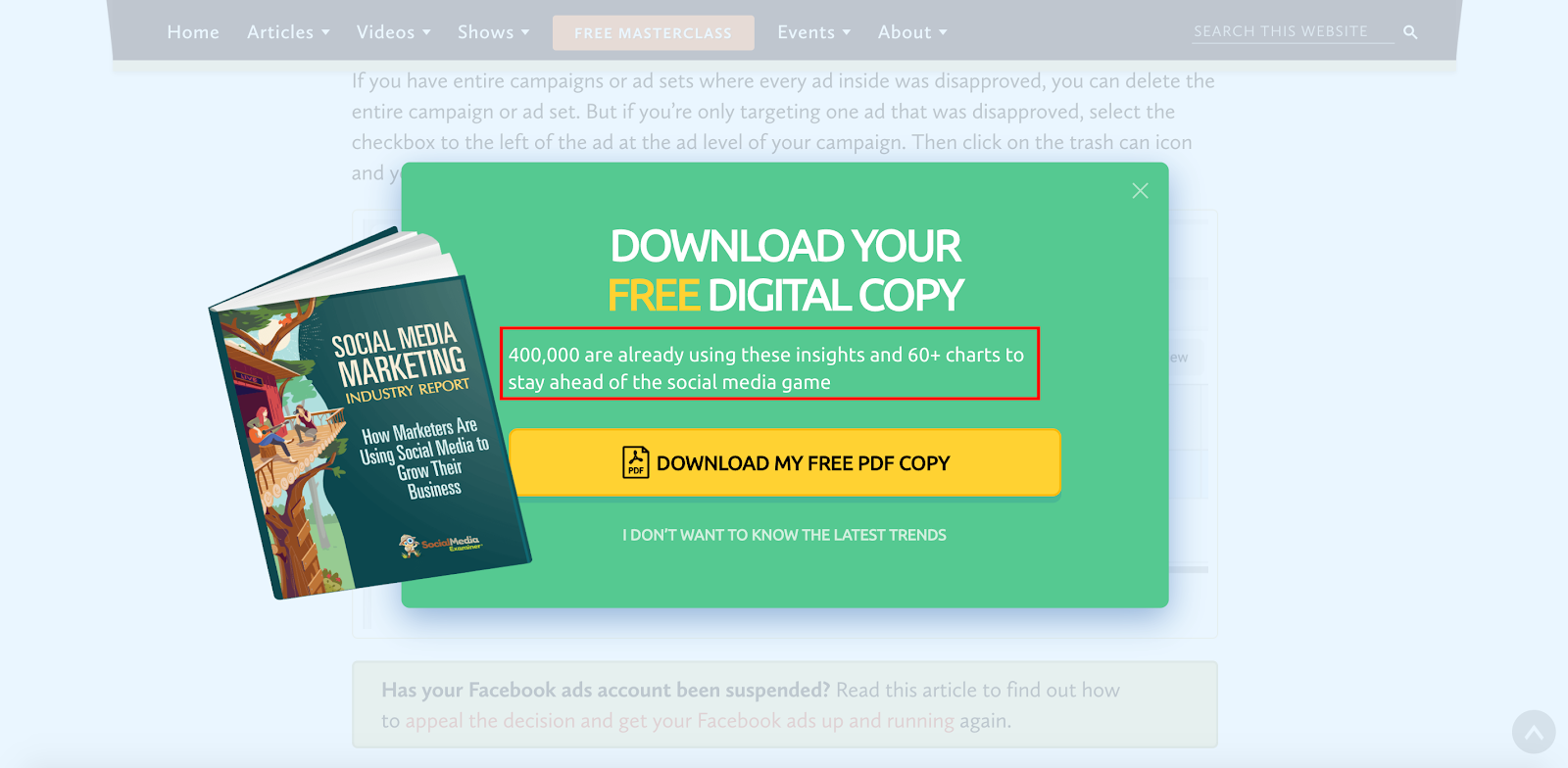 It also says it includes "60+ charts to stay ahead of the social media game," which as a fan of visual data is something I can really appreciate. And I'm sure many other people feel the same.
Fourth, there's a killer CTA where the yellow button beautifully contrasts with the green background, and it tells visitors precisely what action they need to take.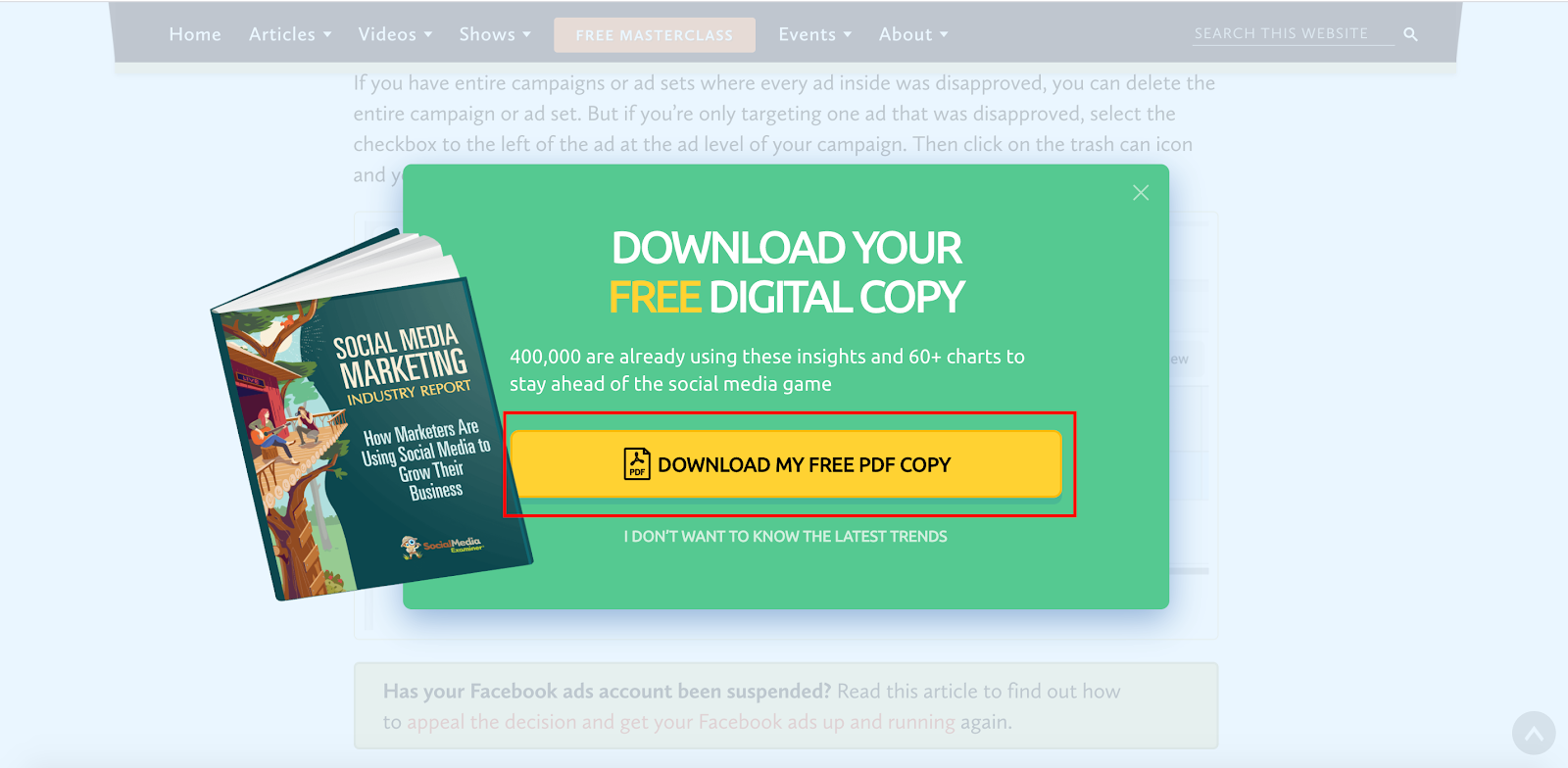 I also thought that the little PDF icon to the right of the text was a nice touch.
This B2B popup example checks all of the boxes and is one you can draw a lot of inspiration from.
6. ConversionXL
ConversionXL is the go-to conversion optimization platform for many businesses and offers some of the most in-depth online courses for enhancing every aspect of a website.
So, it only makes sense that they would create a rock-solid B2B popup that would entice visitors to provide their email address.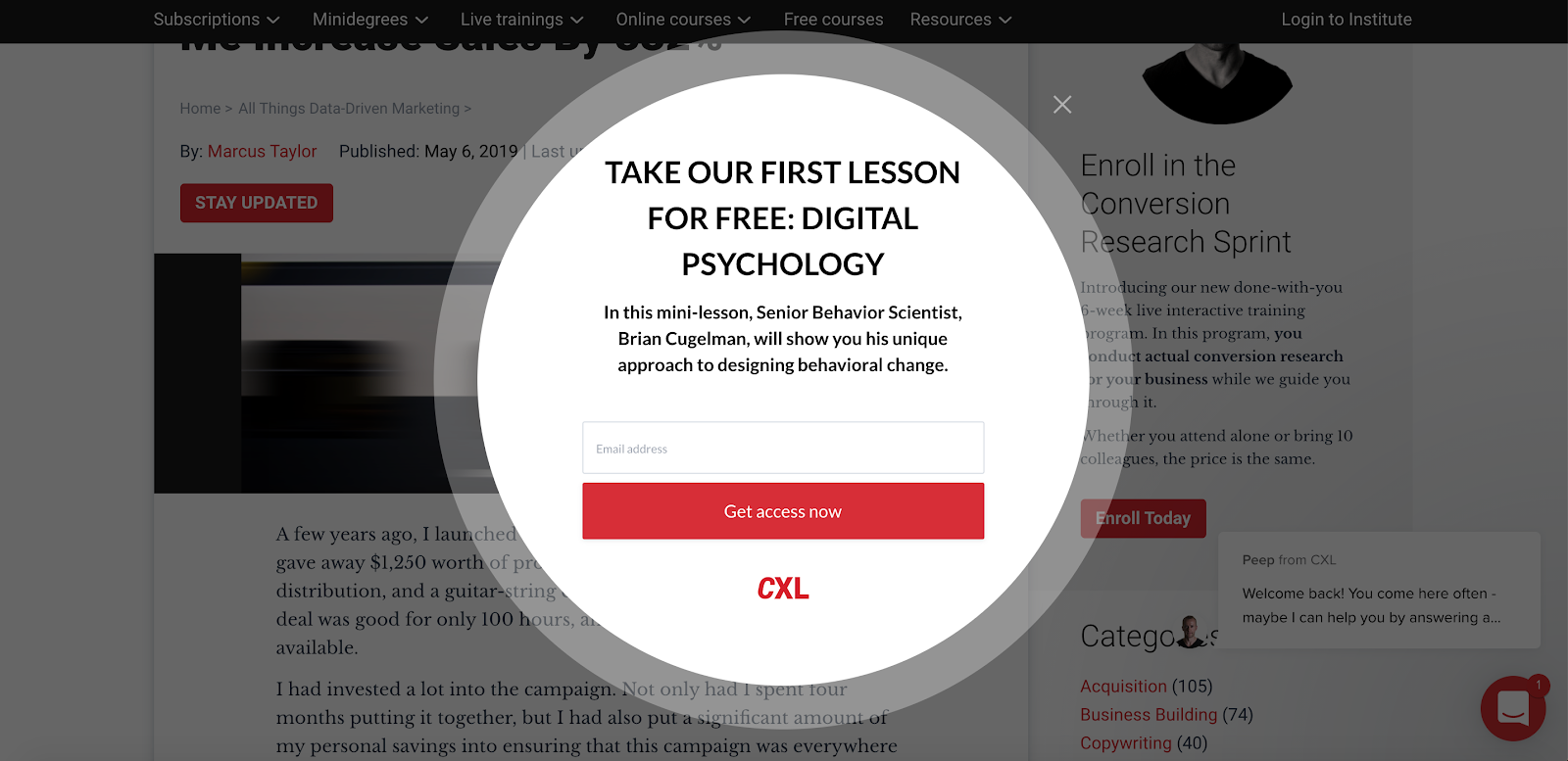 And here's what's great about it. The first thing that I notice is that it features a distinctive round design that I don't see used very often.
That right there should help grab the attention of many visitors, especially when a rectangular design is the default.
Here ConversionXL is literally thinking outside the box.
The next element to point out is the clear, concise header saying "TAKE OUR FIRST LESSON FOR FREE: DIGITAL PSYCHOLOGY."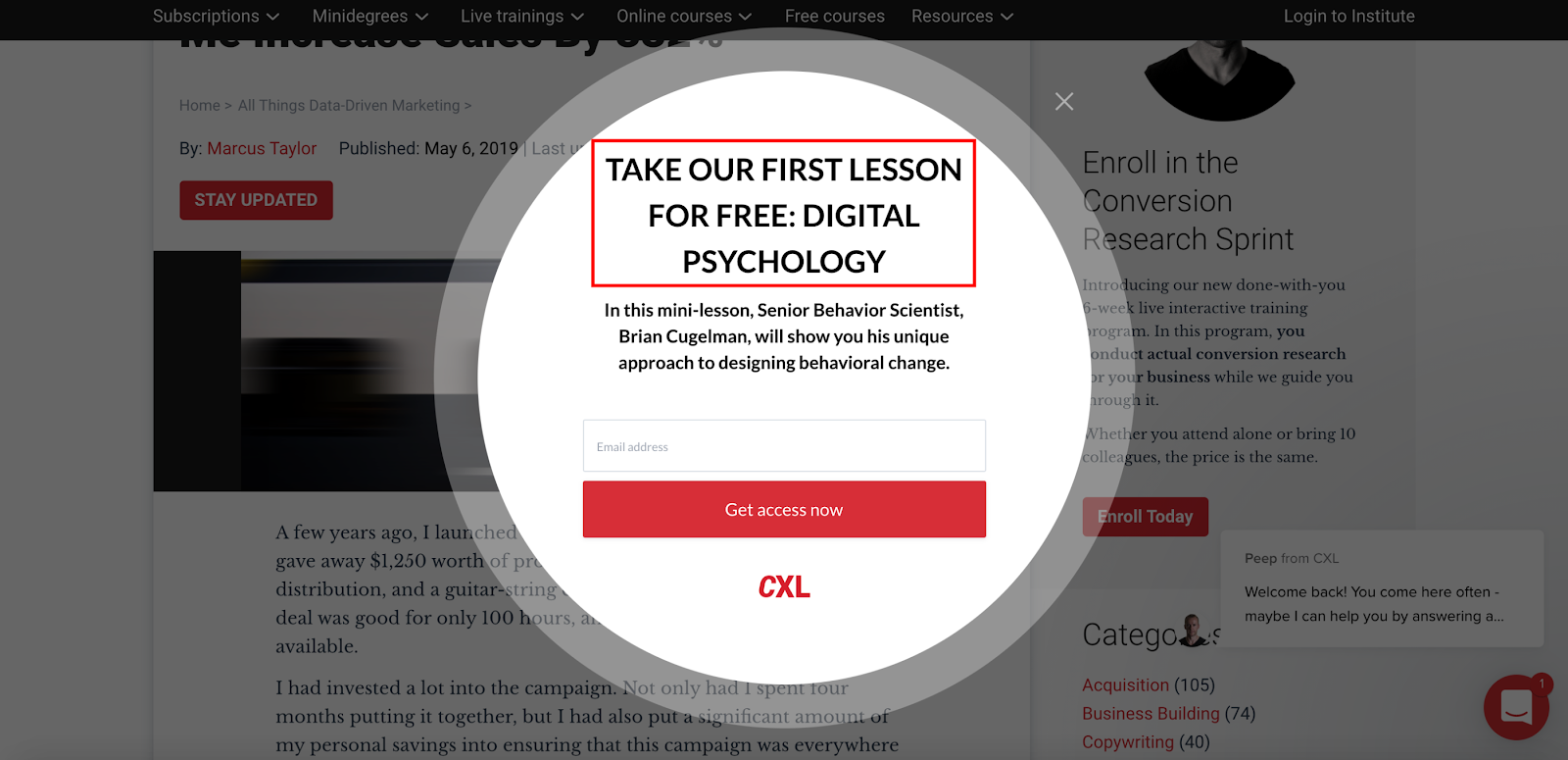 It's a definite attention grabber, and clearly stating that it's free should be enough to get many people to give the offer serious consideration.
Just under that, ConversionXL provides some extra details, letting visitors know exactly what they'll get in the free mini-lesson and that it features their Senior Behavior Scientist, Brian Cugelman, which quickly adds more credibility.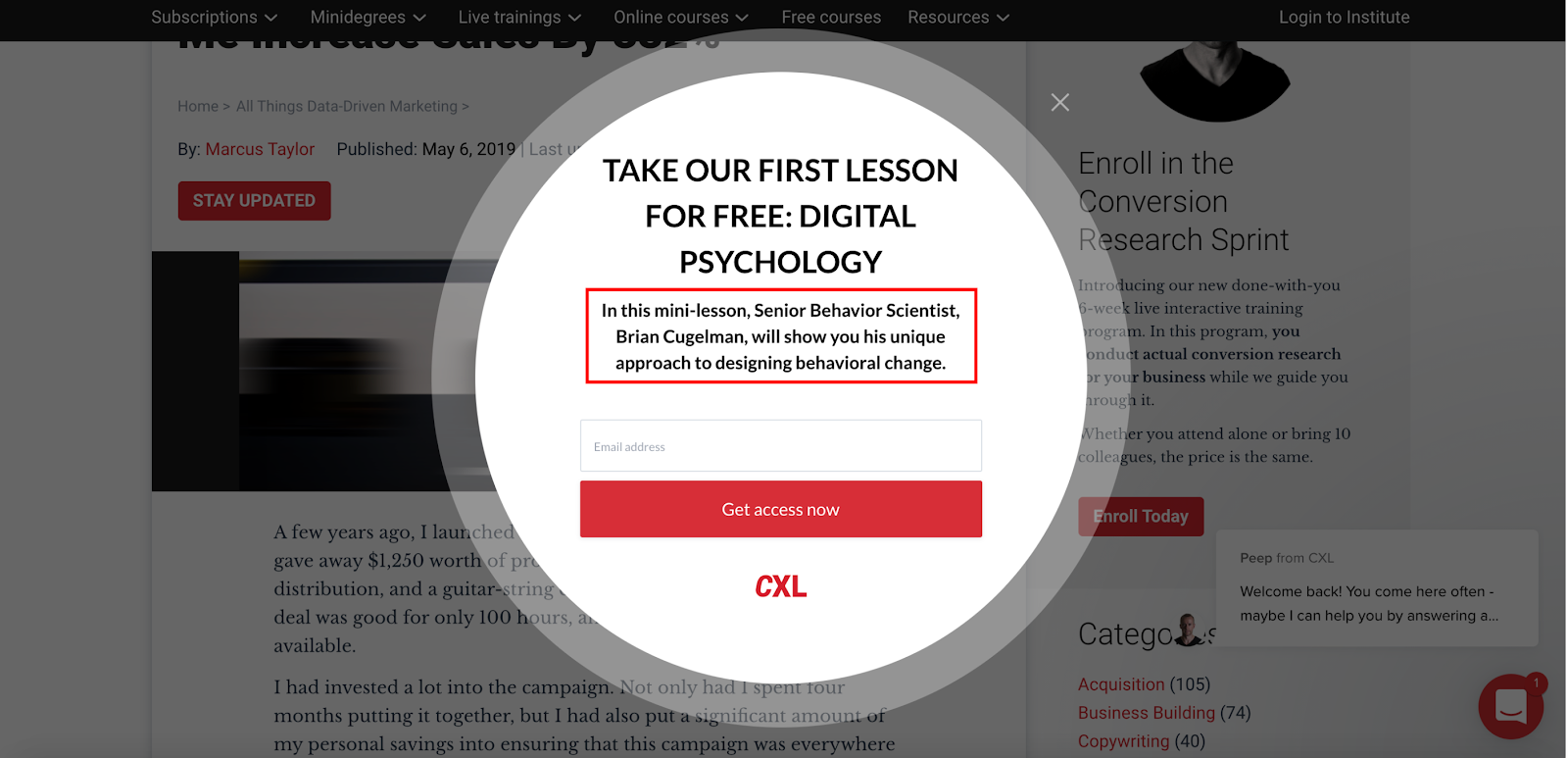 And lastly, there's a fantastic CTA, which features a red button that creates contrast and stays on-brand with ConversionXL's color scheme.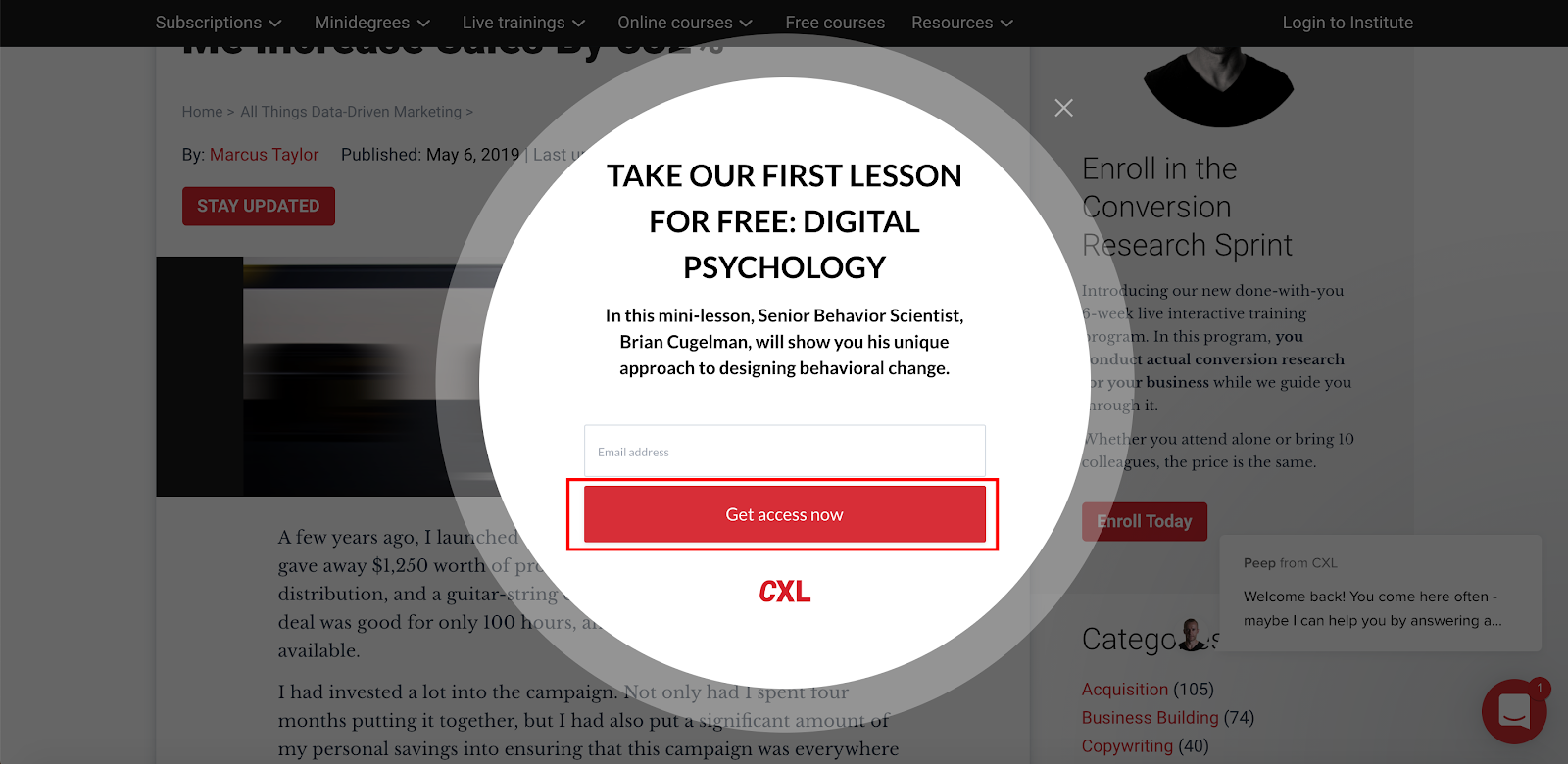 Also, notice how they don't overthink it with the wording. It simply says "Get access now," which lets visitors know what will happen by clicking the CTA.
This is tangible proof that you shouldn't try to "get too cute" with your popups. Just stick with best practices and focus on offering real value to your visitors, and you should be in good shape.
Conclusion
As you can see with these B2B popup examples, there are some definite patterns that go into creating a winning popup.
Mainly, it involves:
Using great-looking visuals to generate initial interest
Quickly letting visitors know what you're offering and why they should care
Clearly demonstrating the value of your offer
Creating a highly visible CTA, telling visitors what they need to do next
It's also nice to throw in some social proof whenever it makes sense to add validity and show that your offer is legit.
And if you want to give visitors a second chance to sign up if they don't opt-in right off the bat, I suggest using a teaser, which you can create with Drp.
That way the visitors who do exit aren't lost forever.
Just use these B2B popup examples as inspiration to fine-tune your own popups and take your opt-in rate to the next level.