There's arguably no better way to get visitors to engage with your brand and take action than to use email popups.
They're exceptional attention grabbers and succinctly let shoppers know about your offerings. They're also incredibly versatile and can be used in a wide variety of different ways.
For this post, I'm going to showcase some of the best automotive popup examples I've come across so you can see just how many possibilities there are.
I'm also going to highlight the best practices these brands use to make their popups…well…pop. So by the end, you should walk away knowing the full range of applications and get some ideas on how to use popups for your own automotive site.
Let's get right down to it.
Table of Contents
1. Ford Canada
Headquartered in Oakville, Canada, this company makes cars specifically for Canadian drivers and carries an "exciting lineup of SUVs, crossovers, hybrids, trucks, and vans."
Ford Canada uses a timed popup, which only appears after a visitor has been on the site for a certain period of time (common increments are 5, 10, and 20 seconds).
By the way, our research found that 8 seconds is the sweet spot for timed popups, and they convert 3.62 percent better than popups shown before or after that.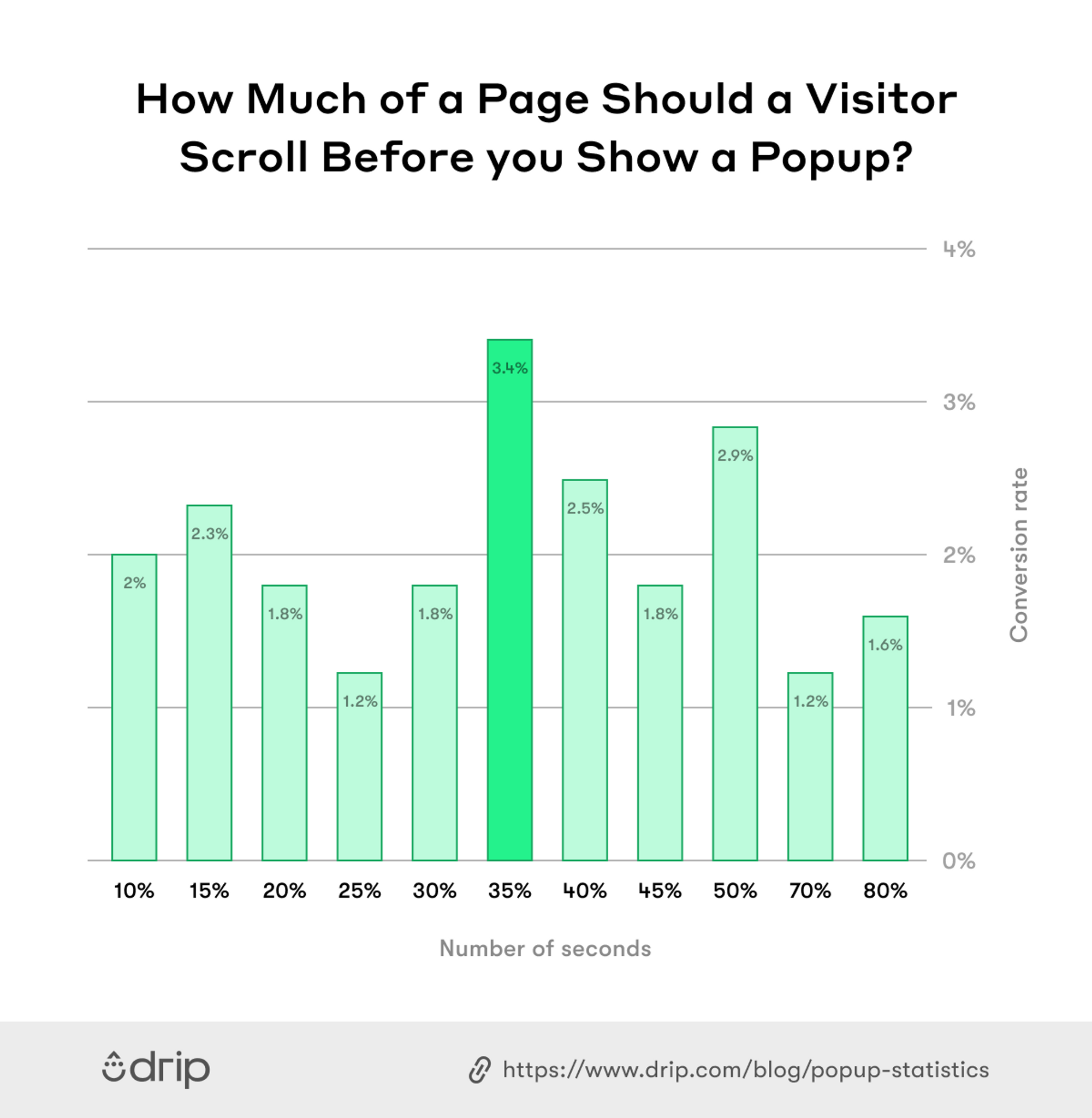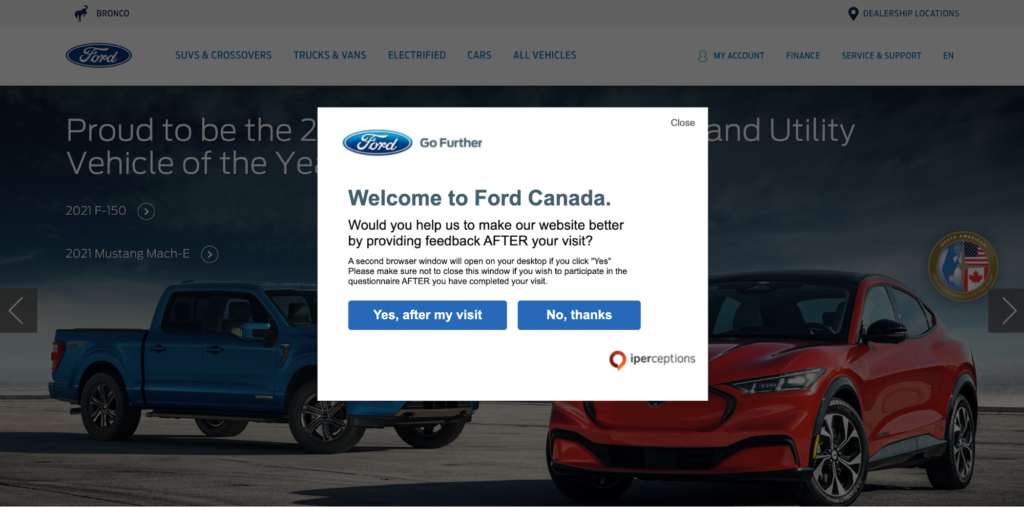 Many brands like this technique because it gives visitors a chance to get settled in and ensures a base level of engagement.
I know that I sometimes get a little annoyed if I get hit with a popup the second I land on a site and haven't had the chance to feel it out yet. And if a visitor quickly bounces in just a few seconds, it's likely that they wouldn't be interested in what you're offering in your popup anyway.
This example from Ford Canada lets visitors get acclimated before seeing the popup. As for its purpose, this brand makes it clear that it's to gather feedback after a prospect is done with their visit.
They concisely ask the question, "Would you help us to make our website better by providing feedback AFTER your visit"…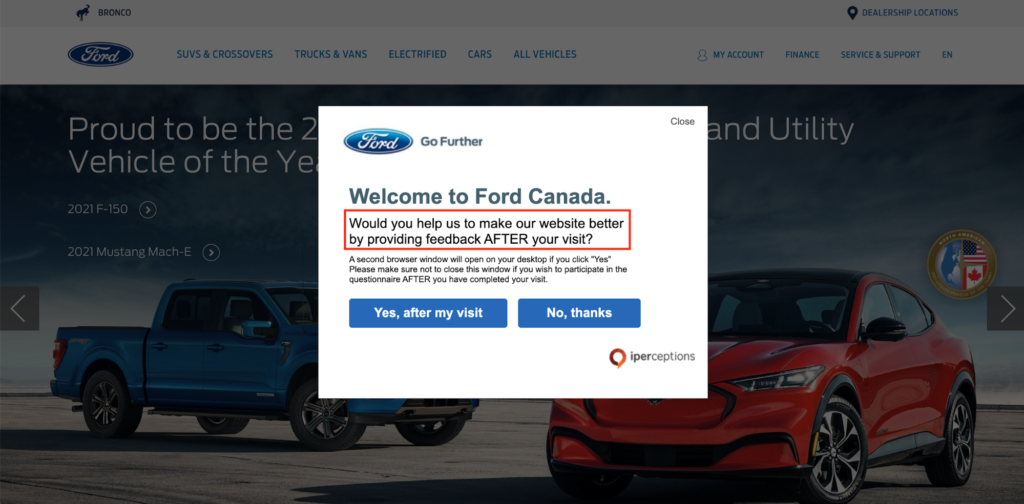 …and include two straightforward answer options at the bottom.
And to prevent disruptions for visitors that aren't interested, Ford Canada features a conspicuous "Close" icon in the top right-hand corner so they can easily exit.
Also, notice the abundance of negative space they use here.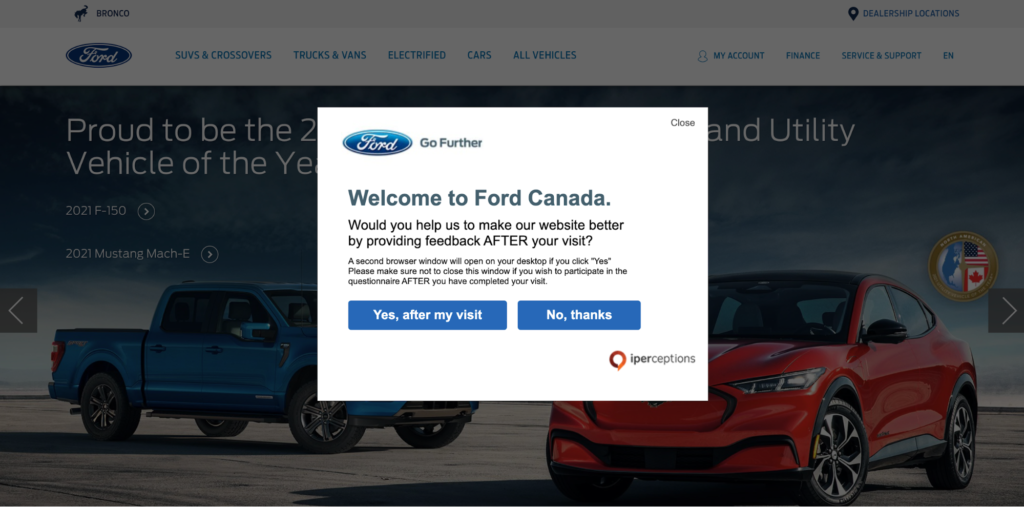 The information is well organized, and there's no clutter, allowing prospects to quickly digest it and make a choice. So, if the goal of your automotive popup is to obtain feedback, this is an excellent example to borrow from.
2. Scott Clark Honda
This is a Honda dealership in Charlotte, North Carolina. Their popup is built around one of the most time-tested strategies of offering a sweet discount.
Here Honda buyers can get $300 off any new vehicle by getting a voucher.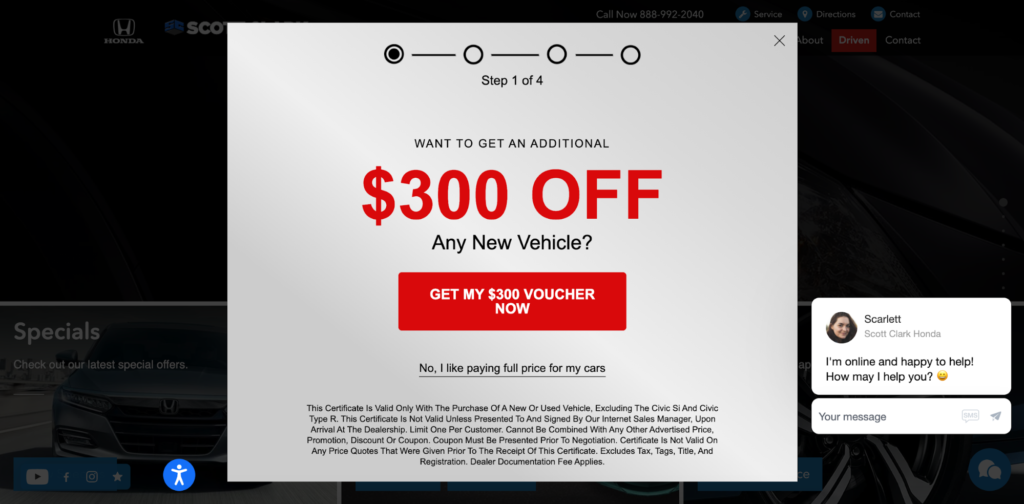 Scott Clark Honda makes it ultra-clear what the offer is by spelling it out in a bold red font and using a simple CTA.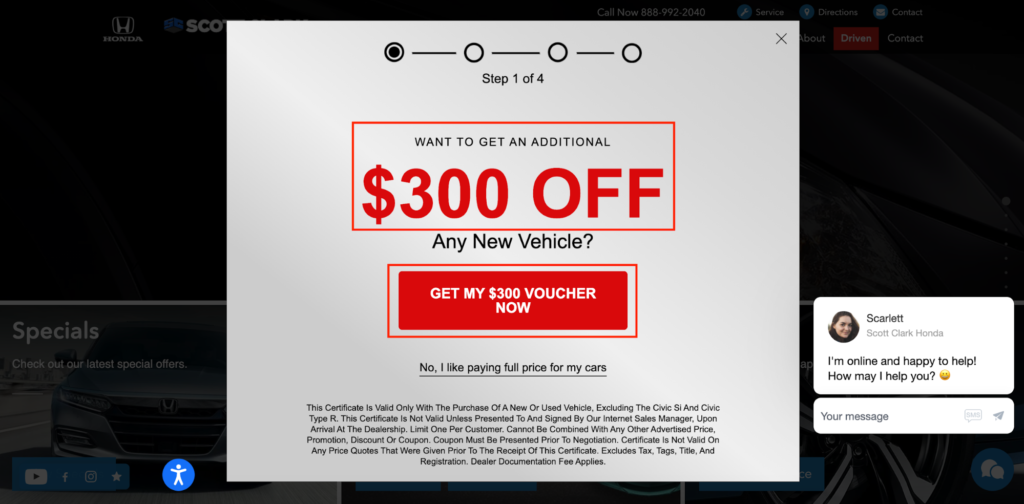 To get the voucher, the visitor simply clicks on the CTA and they're taken to the second step.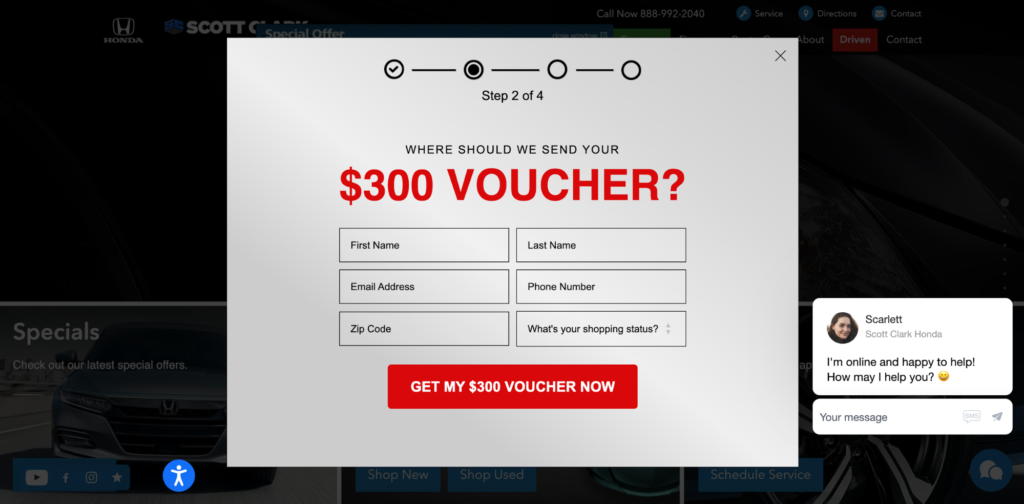 Then, they fill out the form, click the CTA, and can select the exact model they want.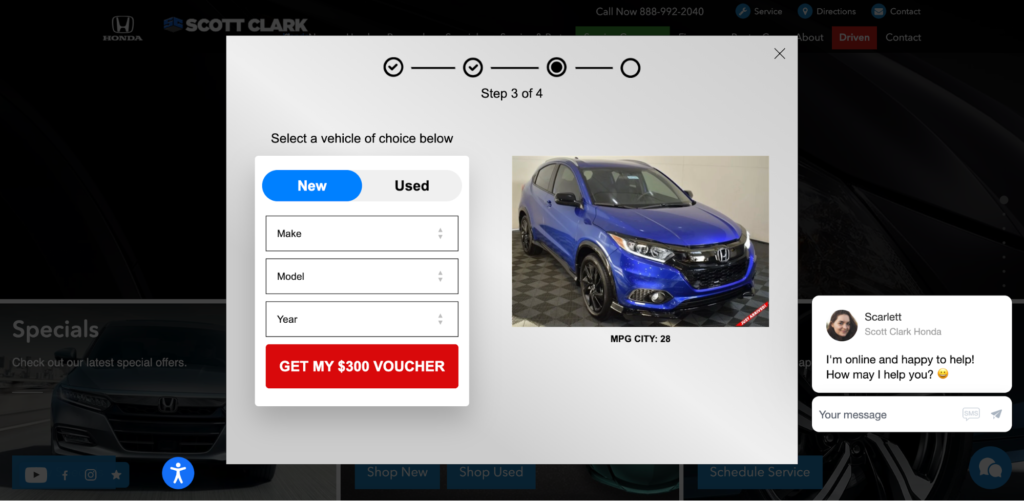 This approach allows the dealership to quickly pique the interest of many car buyers and features an attractive incentive that a sizable chunk are receptive to.
That way Scott Clark Honda is able to get a lead's:
Name
Email address
Phone number
Zip code
Shopping status
From there, they can fully customize their outreach and send targeted offers through email, greatly increasing the odds of ultimately making a conversion.
And while $300 off would probably kill the profit margins of many brands offering lower priced items, it's only a drop in the bucket for an automotive dealership like this one. If they sold a $25,000 car for example, shaving $300 off the total price would still be a massive win.
This isn't to say that you have to go this big with your discounts to have an impact, but it does show how effective something like $300 is at grabbing the attention of visitors and getting them to take your offer seriously.
3. AutoAnything
"AutoAnything is America's leading truck accessories and auto accessories site with in-house experts ready to help you with all of your auto and truck parts." This is one of the best automotive popup examples because of the fact that it's so simple.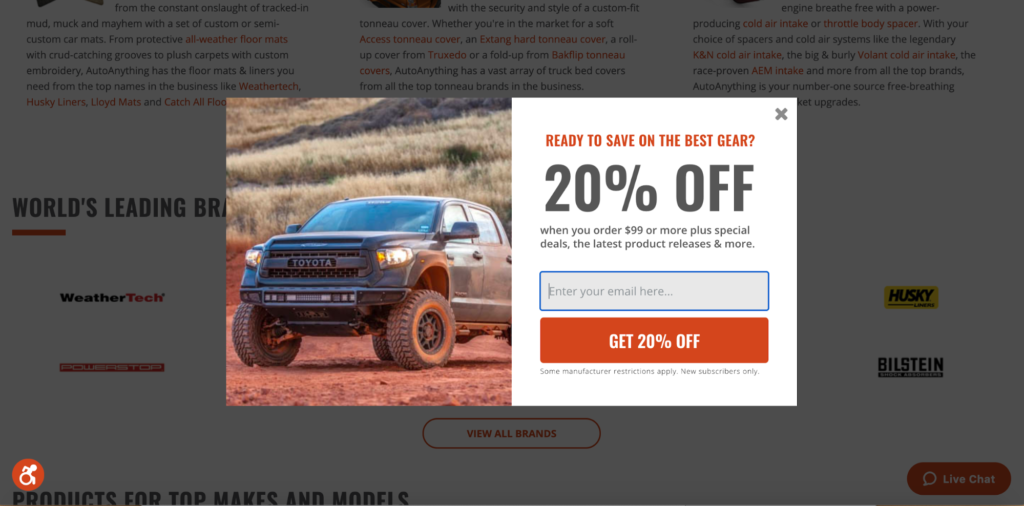 It gets straight to the point, letting shoppers know they can get 20 percent off the best gear when they order $99 or more, along with special deals, the latest product releases, and more.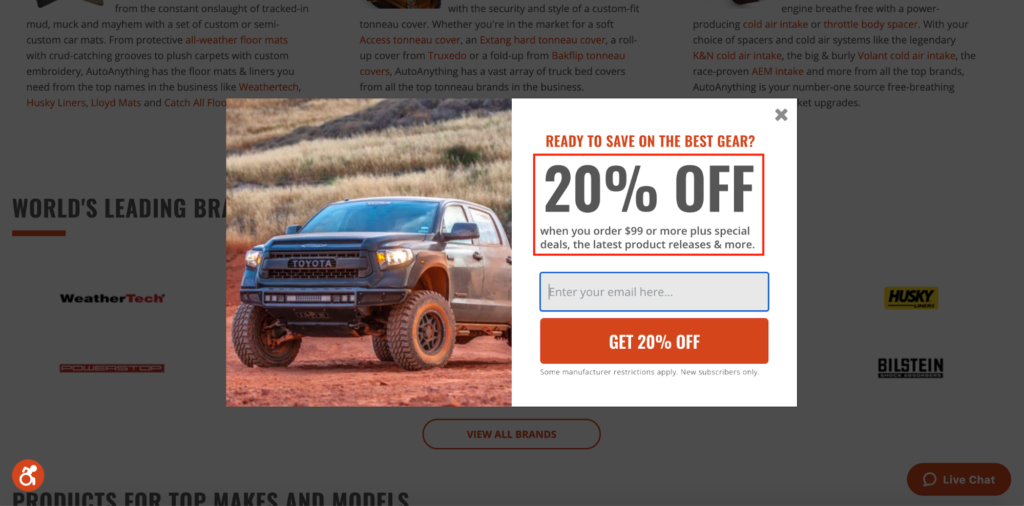 All they have to do is enter their email address and click the CTA (which, by the way, is very well written).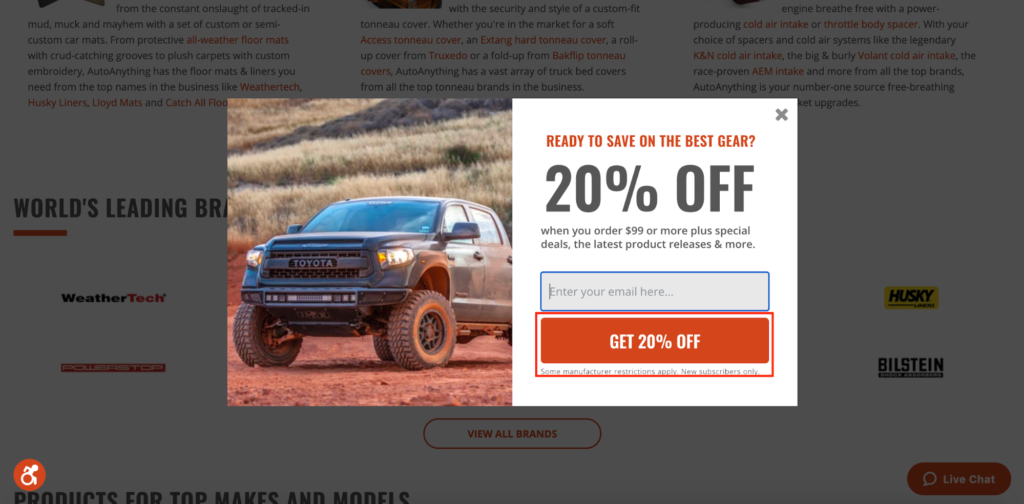 I also like that this popup features a professional-looking image of a truck on the left-hand side. As we mentioned in a previous article, popups that have images have 3.8 percent more conversions than popups without them.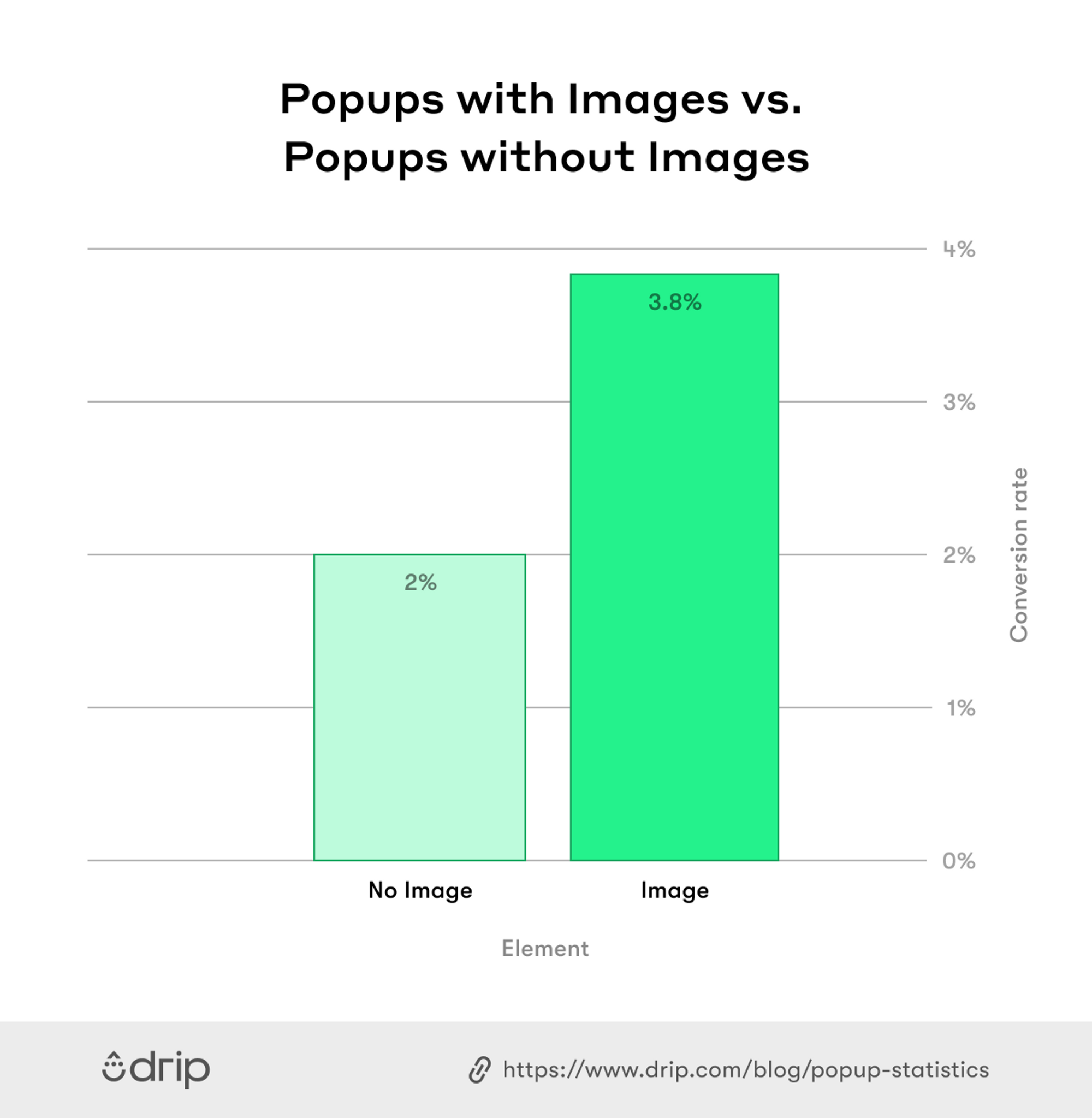 In turn, this brand is able to accomplish three important things:
Efficiently capture emails
Build a robust list of qualified leads they can nurture
Increase sales because leads must spend at least $99 to get the 20 percent discount
By default, it encourages shoppers to go ahead and take the plunge and buy right away.
And as you're probably aware, it's much easier to sell to existing customers than new prospects. To quantify, "the probability of selling to an existing customer is 60–70 percent, while the probability of selling to a new prospect is 5–20."
So, this is a fantastic template to base your own automotive popup off of when you're looking to get your foot in the door.
4. Buy Auto Parts
Here's a brand that sells "wholesale auto parts, car parts, truck parts, OEM car parts, and performance parts and accessories." Their website is well laid out and makes it a breeze for shoppers to find exactly what they're looking for by year, make, and model.
Buy Auto Parts also makes great use of a popup. Check it out.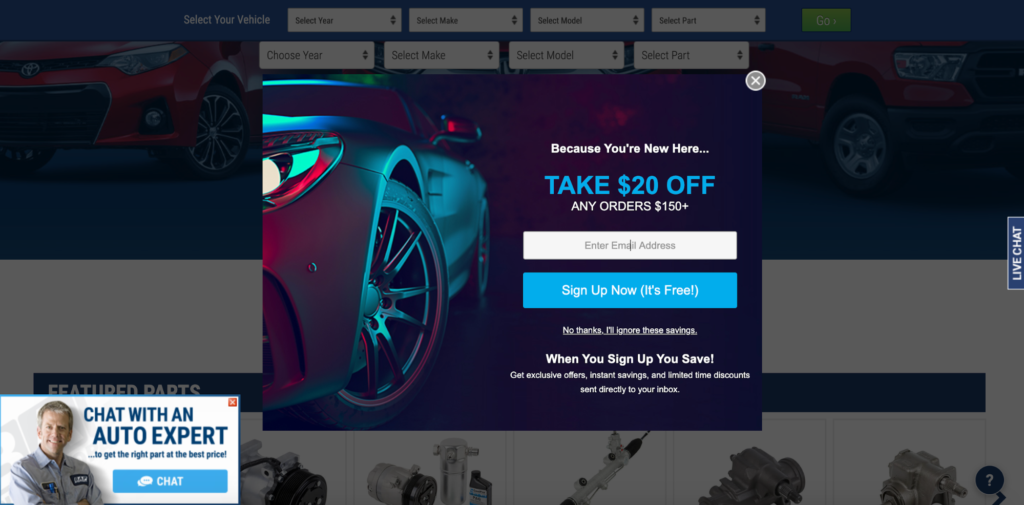 Let's start with the obvious. It features a stunning image on the left-hand side that visitors' eyeballs can't help but gravitate to. Next, there's an attractive offer that shoppers can see at a glance where they can get $20 off any orders over $150.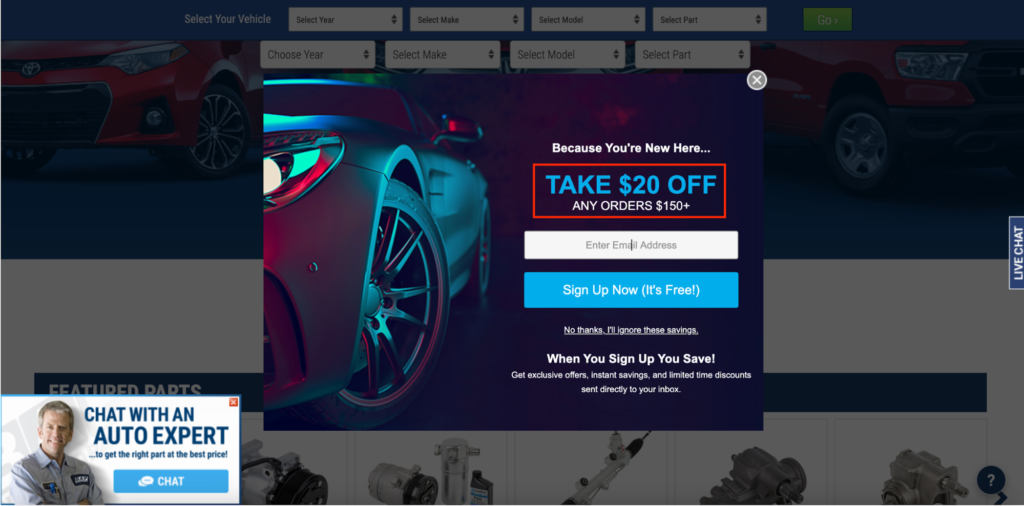 Buy Auto Parts uses bold light blue text that contrasts perfectly with the popup's background. They also include extra information at the bottom that lets visitors know the other perks that come along with signing up, including access to exclusive offers, instant savings, and limited-time discounts.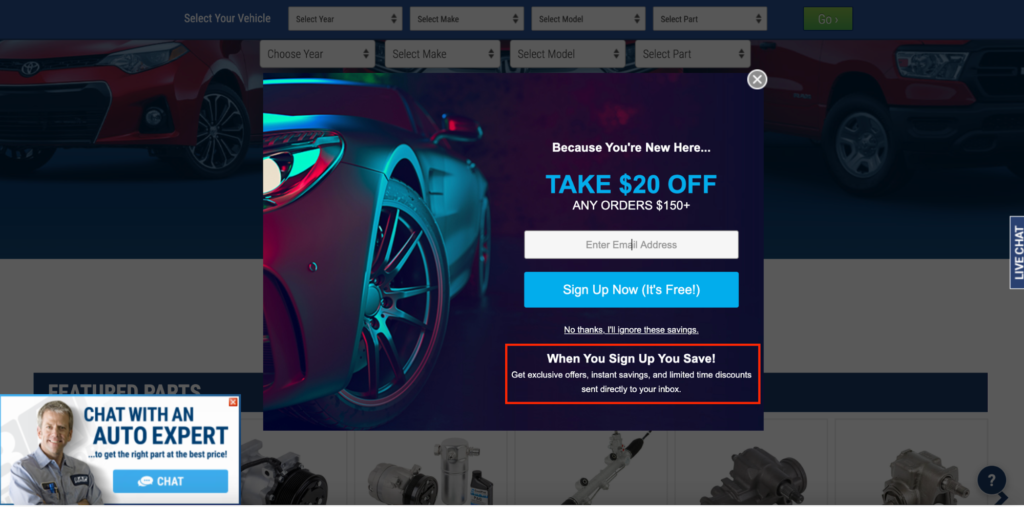 The CTA gets the job done, and makes it crystal clear the action shoppers need to take, mentioning that it's free.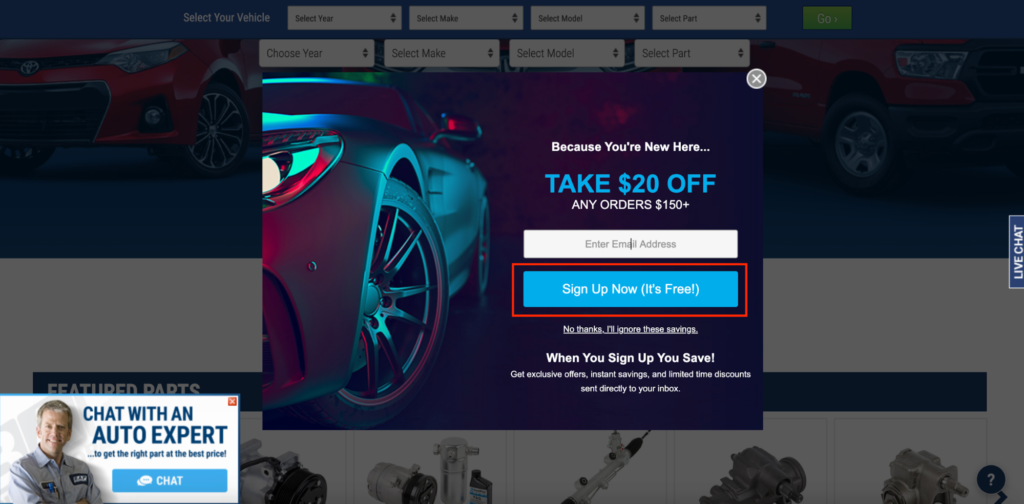 This brand also makes it simple to exit out of the popup to not irritate anyone who's not interested. There's a well-marked "X" icon in the top right-hand corner, or a shopper can simply click anywhere outside of the popup to get out.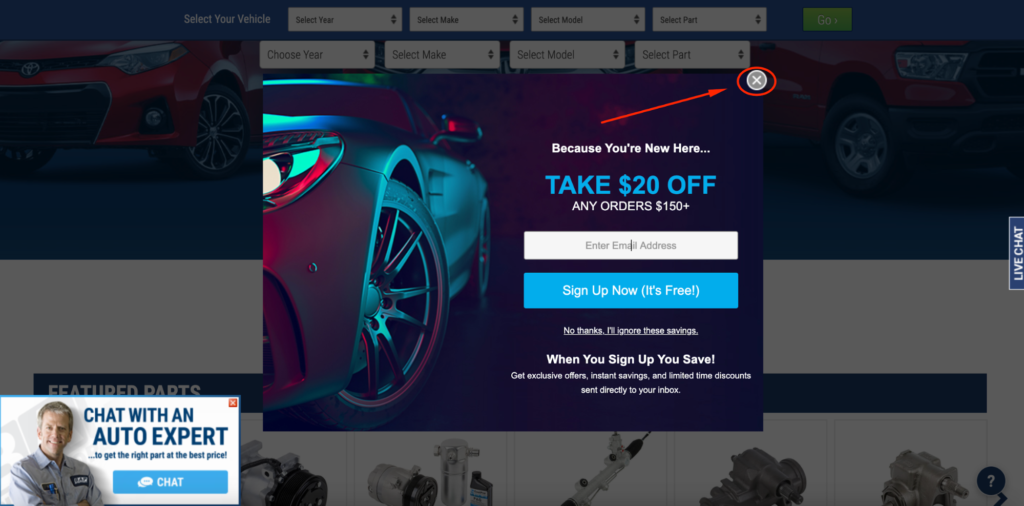 Finally, the colors they use are 100 percent on brand and perfectly match the look of the Buy Auto Parts website.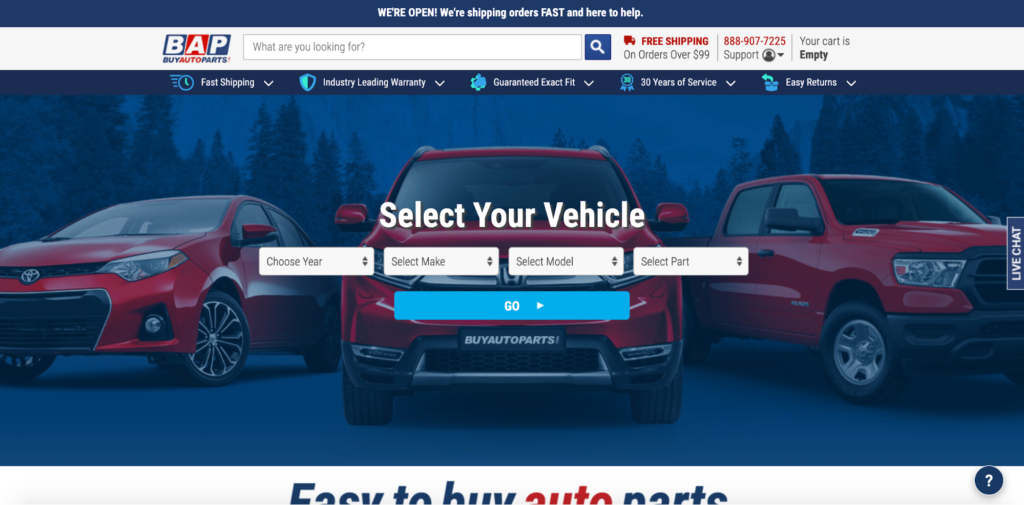 The dark purplish-blue flows seamlessly and jives well from a branding standpoint. And this type of homogeneity is something you should also strive for with your own popups.
5. JEGS High-Performance Parts
This is the "second-largest mail-order company of automotive equipment in the United States." JEGS High-Performance Parts has an absolutely massive online store where shoppers can find virtually any part they need.
Here's what their automotive popup looks like.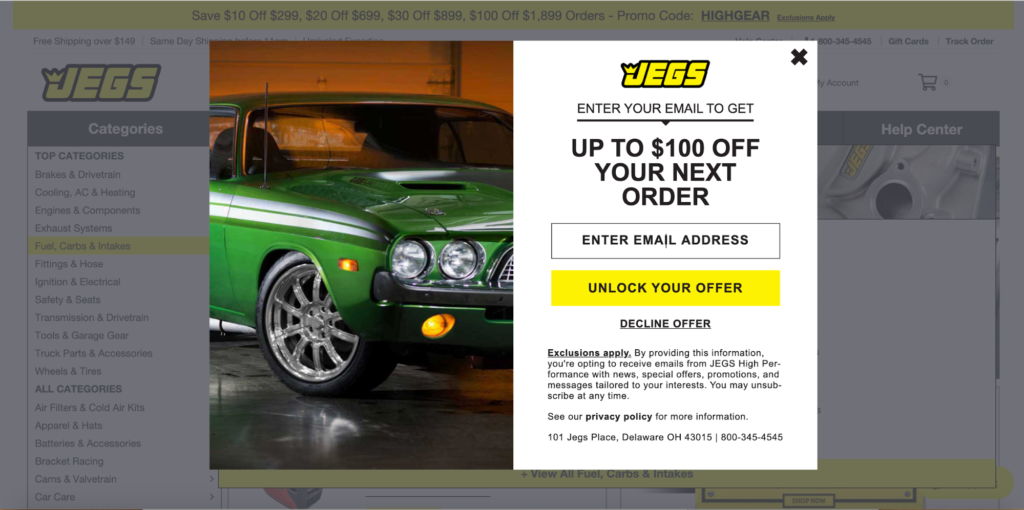 The first thing most shoppers notice is the high-quality image of a car on the left-hand side. This combined with the enticing offer on the right-hand side of $100 off your next order serves as a one-two punch, which gets many people dialed in from the start.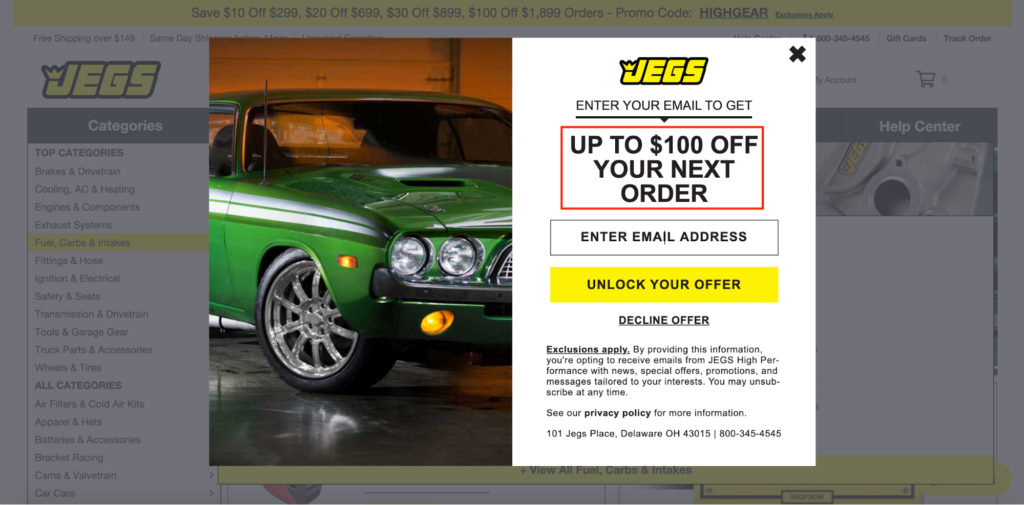 Toward the bottom, JEGS goes into a bit more detail about what shoppers will receive by signing up, including company news, special offers, promotions, and targeted messages based on a subscriber's personal interests.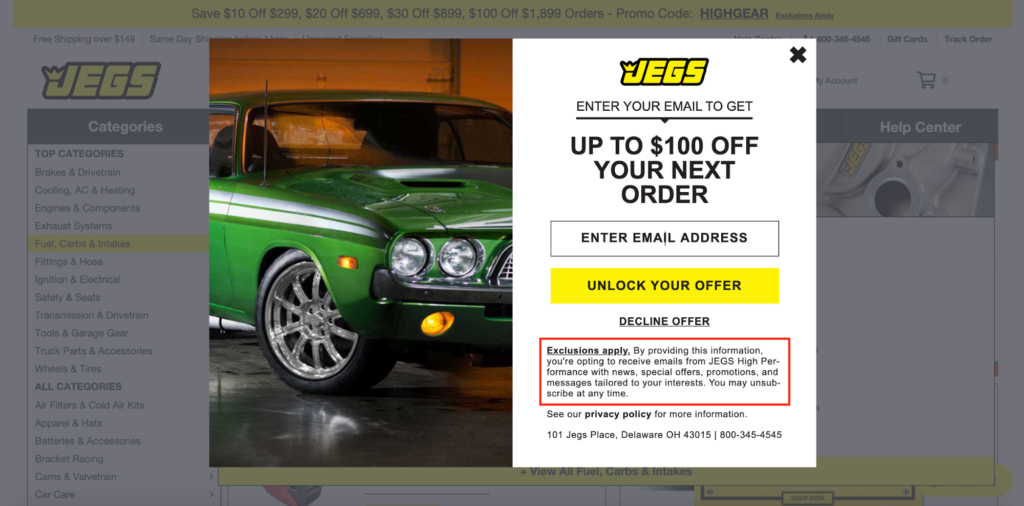 The CTA certainly pops and uses effective wording to get visitors to take action.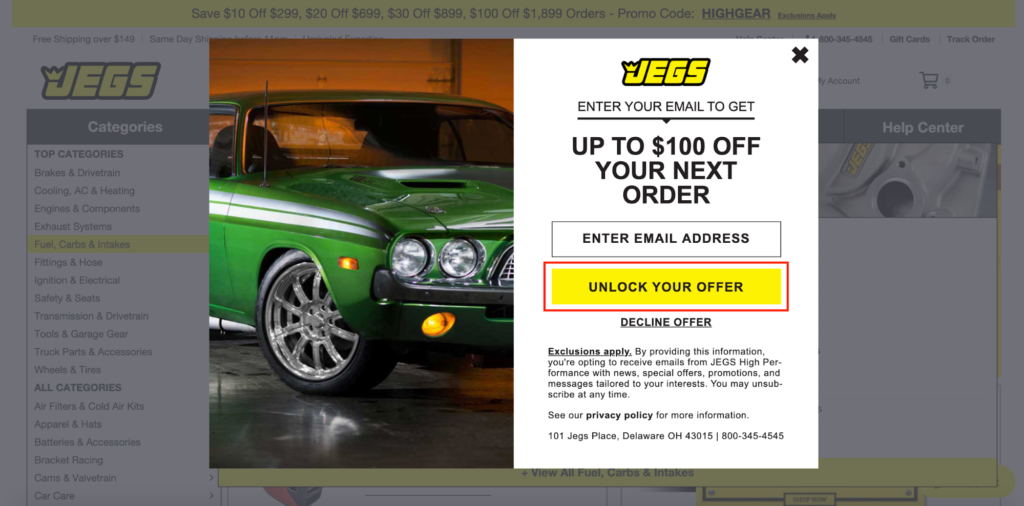 And for those who aren't interested, they can easily exit the popup and continue browsing without any drama. There's an "X" icon on the top right-hand corner, a "decline offer" link under the CTA, or they can simply click anywhere outside of the box.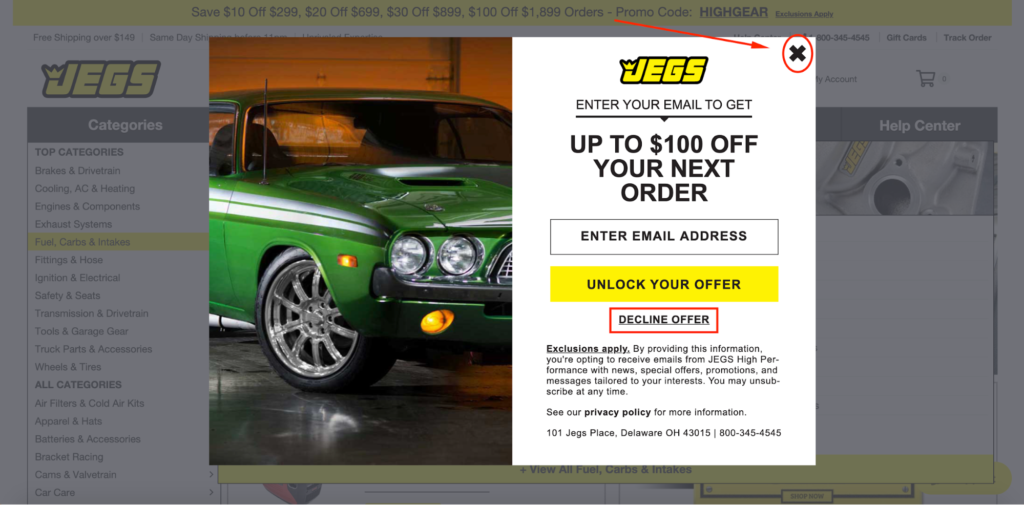 In terms of branding, JEGS keeps it cohesive with the rest of their website, featuring their signature yellow, white, and black colors.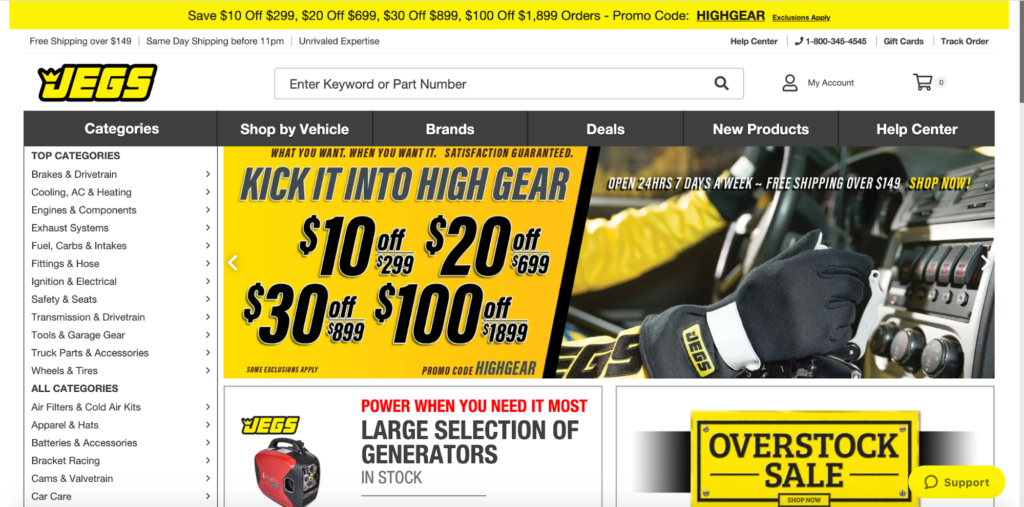 And the overall layout of the popup looks clean and uncluttered, making the information easy to digest.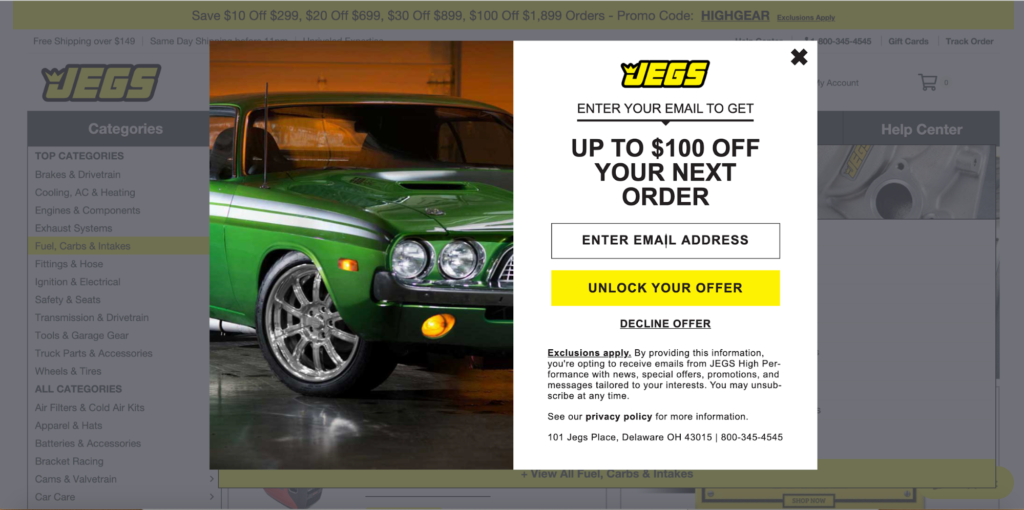 In short, this example follows all of the core automotive popup best practices and shows that you don't need to get fancy to have a big impact.
6. Mac's Auto Parts
Mac's Auto Parts specializes in classic and vintage car parts and accessories, focusing specifically on Ford, Lincoln, and Mercury. Like many of the other examples I've mentioned, their angle is to collect email addresses, which they do by offering 15 percent off.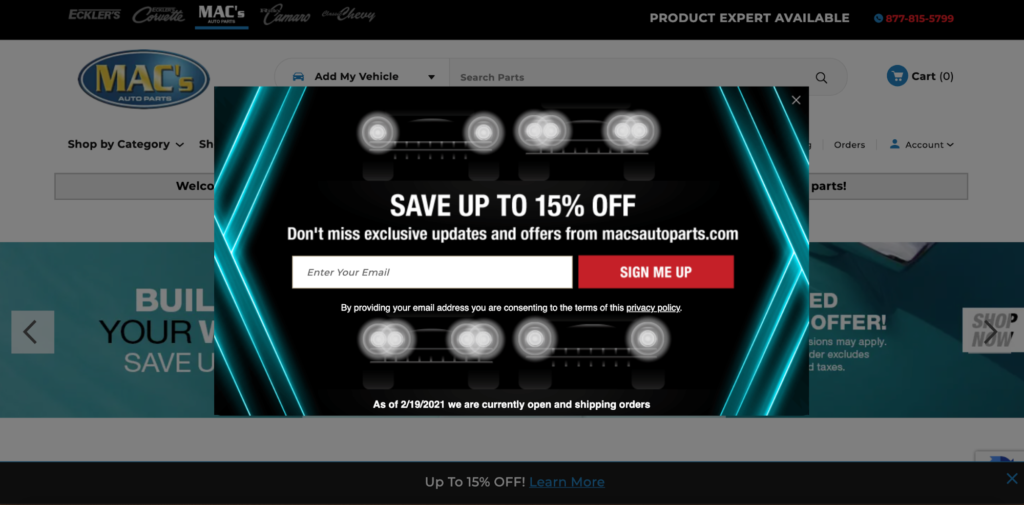 They're by no means reinventing the wheel with this offer, but it's certainly enough to pique the interest of a good percentage of their shoppers. And there's no beating around the bush.
Mac's Auto Parts gets right into the offer and uses a nice bold header to let shoppers know about it. Just below that, they point out that by signing up, shoppers will also receive exclusive updates and offers.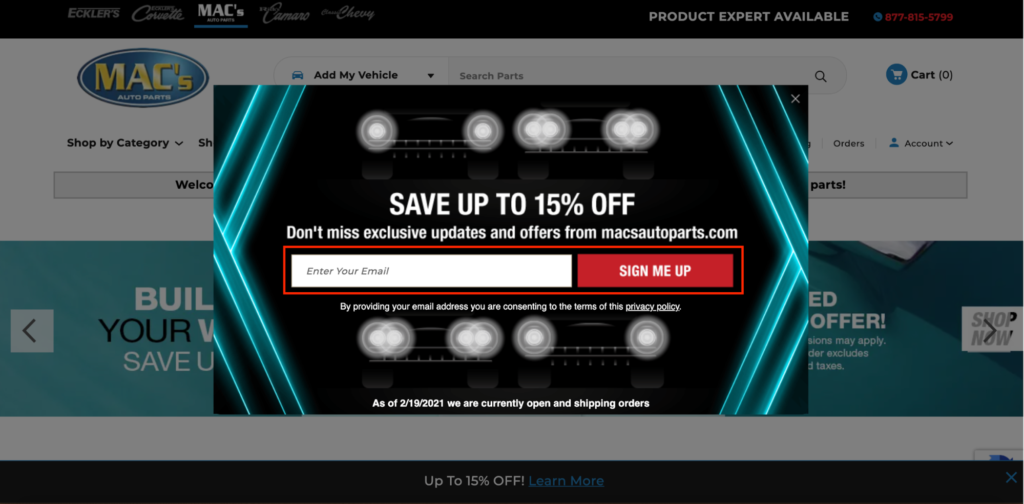 The form is also dead simple to fill out with just a single field, and there's no confusion with the CTA that says, "Sign Me Up."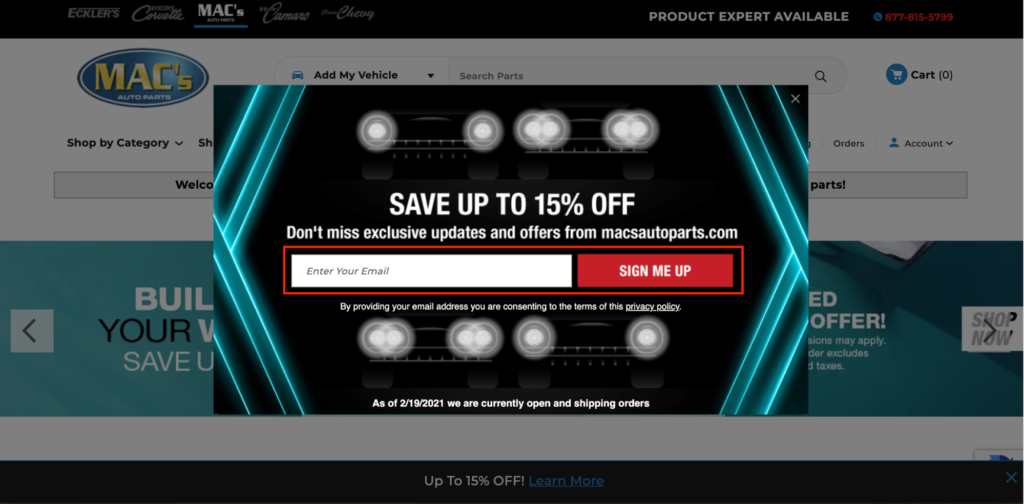 Let's also talk about aesthetics. The entire background is an image of vehicle headlights with teal-colored lights on the sides, which contrasts perfectly with the light website background.
Also, notice that the teal, black, and white stays on brand with the color scheme of the website.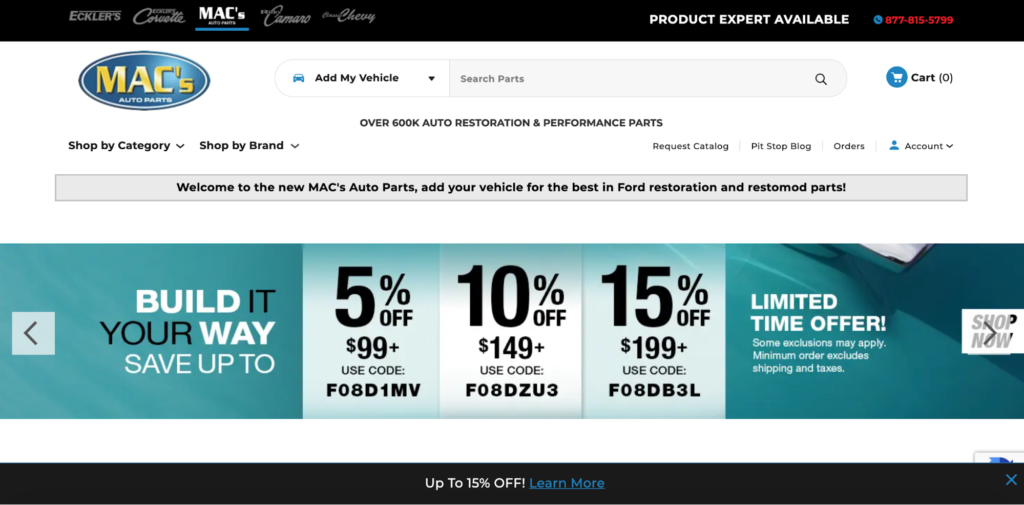 As I mentioned in another post, a popup should always compliment your website. But at the same time, it also needs to distinguish itself from your website's content to grab a shopper's attention. And this is an excellent example of that in action.
7. Deutsche Auto Parts
The final brand I'm going to discuss is Deutsche Auto Parts who focuses on selling Volkswagen and Audi parts online. Like most of the examples I've mentioned, their goal is to capture email addresses for lead nurturing.
But rather than offering a discount, they use this popup that asks shoppers to enter the make, model, and year of their vehicle so Deutsche Auto Parts can send them future offers.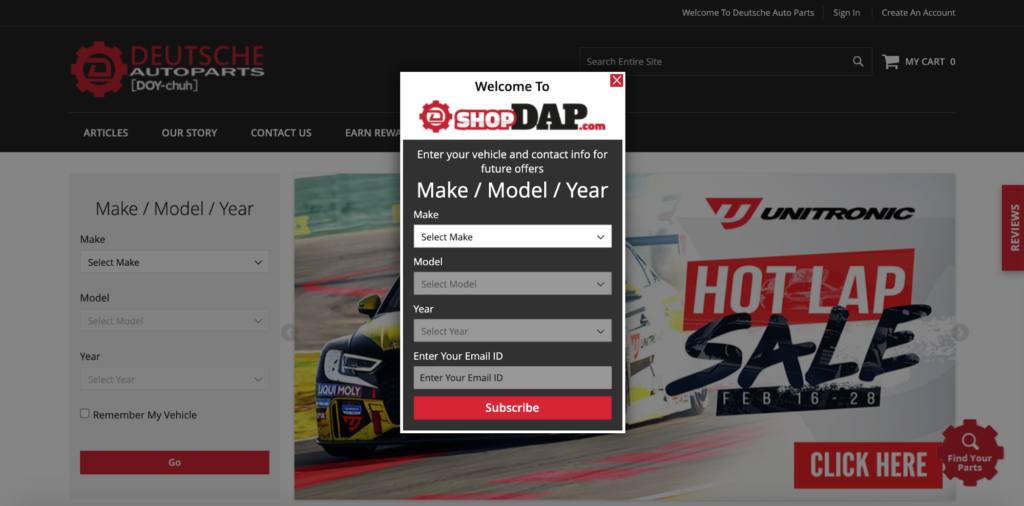 They offer convenient drop-down fields so shoppers don't have to do any manual typing.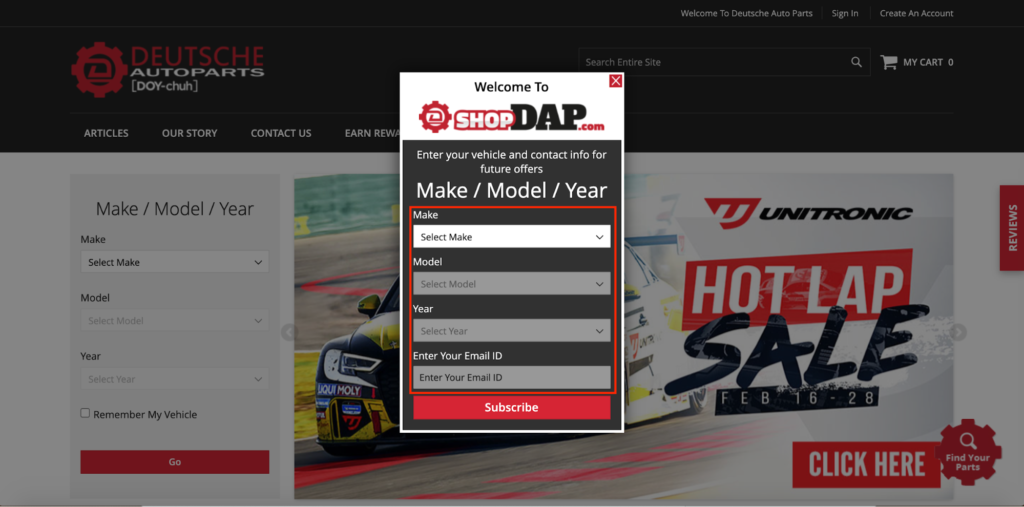 And the "Subscribe" CTA is about as straightforward as it gets in terms of directing visitors to complete an action.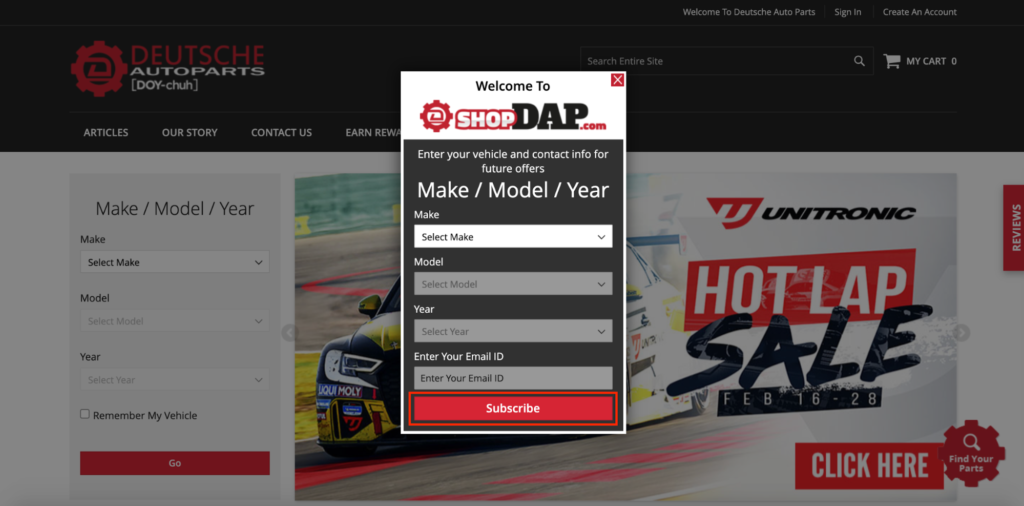 Like most other well-crafted automotive popups, this one incorporates the same branding colors found on the website — red, white, and black in Deutsche Auto Parts' case.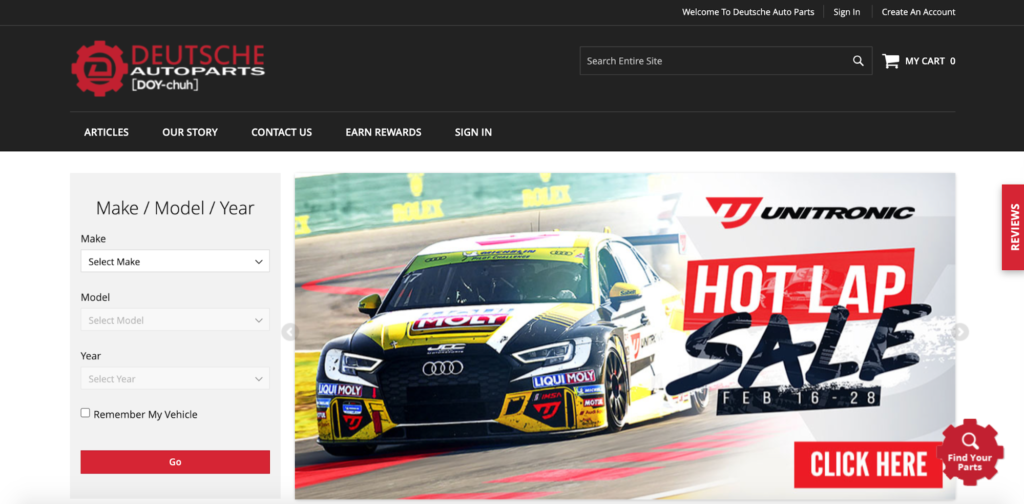 So, if you want to create an attractive offer that doesn't require an immediate discount, this is a potential angle you can take.
Conclusion
I learned something interesting from my research. Not a lot of automotive sites use popups.
After scouring well over 100, I only found a handful that featured them—most of which were auto part supply stores. Popups for vehicle brands and local dealerships were practically non-existent.
And that's good news for you because it means putting in the effort to create a winning popup that can give you an edge on the competition.
The automotive popup examples discussed here should give you a better idea of how to approach the design and some specific types of offers you can use to get shoppers to follow through.